There are many that suggest a walk from St Ives to Zennor, but we think the other way around is the best way to do it – the fact that this was the basis for one of our staff away days has nothing to do with it, of course.
With the joys of St Ives awaiting you, this 6.5 mile, 3 to 4 hour route can be challenging at times with steep ascents and the occasional clamber. But for these views, it's worth it. This undulating section of the South West Coast Path follows the ins and outs of headlands and inlets, cutting through the tough foliage and dodging the less-easily-moved boulders that dot this landscape.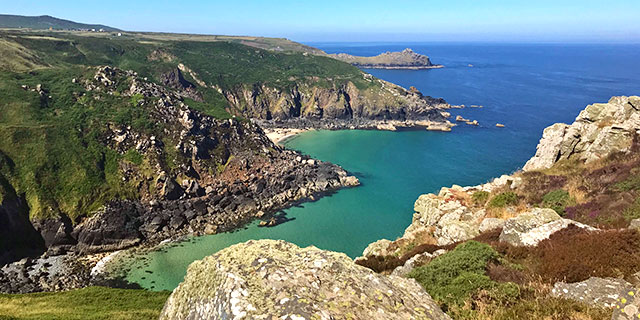 Starting from Zennor, we recommend a bite to eat in the Chapel Guesthouse and Cafe before you head off towards the coast path. Pass the renowned Tinner's Arms and follow the path towards the sea, and before long you'll be leaving the village behind you and approaching Zennor Cliff. From here, you'll be rewarded with views up and down the Cornish coast, and the sparkling sea stretching out northwards.
If you're after a bit of history, this little headland is home to mill houses that once formed much of the area's income, and to the west is Pendour Cove, eternally tied to the well-known Cornish tale of the Mermaid of Zennor, a mysterious woman who it is believed drew a Cornishman to the watery depths with her singing.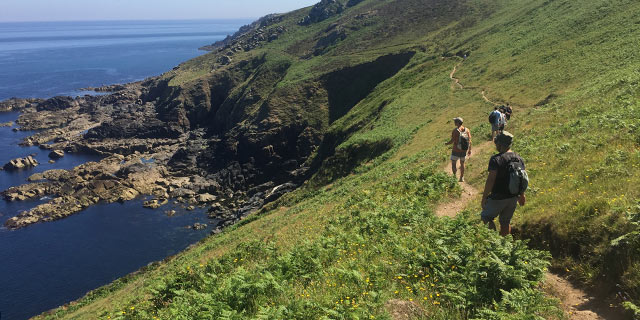 Round the corner, and start heading east towards St Ives. Admire the set of stunning coves that appear, with bright blue water just begging for a swim. A few of these are accessible, though usually require straying from the coast path and so we suggest caution if you're considering it.
As you follow the coast path and take in the scenery, it is of course the norm to encounter walkers travelling the other way, and estimations of distance, time and hilliness are often exchanged. There is a lovely camaraderie along this walk, even if everyone's guesses of how far to go are a little on the optimistic side.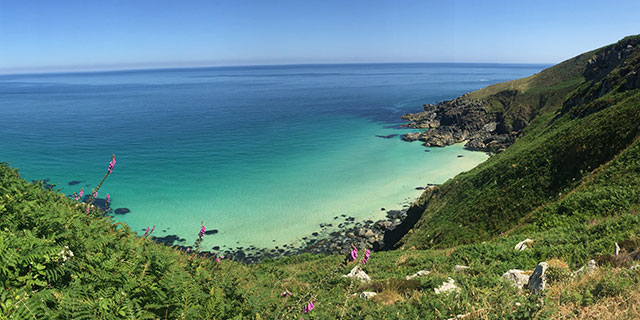 As you approach St Ives, the views don't stop giving. Looking over the top of the town and towards Godrevy Lighthouse, you'll get to enjoy a gentle descent to your end point. If you need to cool off, consult our guide to St Ives' beaches, or if the weather has turned less friendly we suggest sloping off to the Sloop for a well-earned beverage. If you're in need of some food, we've got that covered too with our best bites to eat in St Ives.
Planning this walk soon? You can always check the weather from our St Ives webcam.
Has this walk taken your fancy? Find somewhere to rest your weary feet from our collection of St Ives cottages.