When it comes to Christmas, sometimes it's the bigger the better, whether it's more mince pies or more of the people you love. We love rounding up the whole family or our favourite friends for some festive celebrations, whether it's on the big day or for the whole Christmas week.
To make your get-together even more special, we've compiled a collection of large cottages, perfect for groups and multigenerational gatherings, that will welcome and delight everyone from the giggling baby to the proudly beaming grandparents.
So, whether you want a cosy cottage near a pub so Mum and Dad can sneak away knowing Grandma and Grandad are entertaining the kids, or you want a giant living room with a fire so you can spend your evenings playing charades and watching every Christmas film known to man, we've got a Christmas cottage for you.
Ready to plan your festive holiday with family and friends? Here are some of our favourite large cottages for Christmas…
Cape Wrath Lodge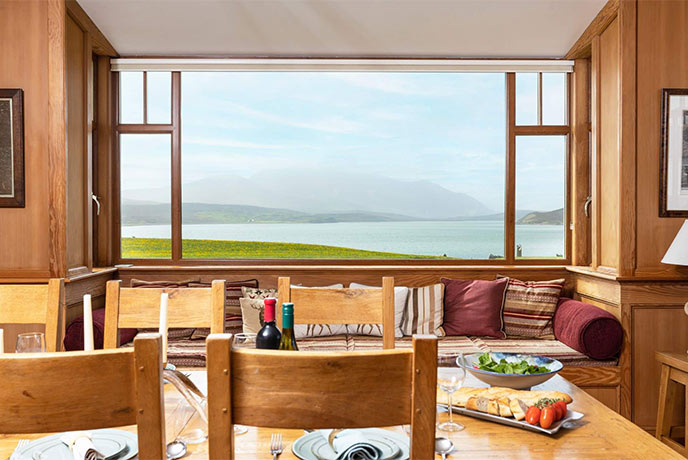 Durness, Scottish Highlands | Sleeps 16
Best for: A wild and wonderful get-together
From the very tops of the surrounding mountains to the depths of the estuary that flows past, Cape Wrath Lodge enjoys simply astonishing views in every direction. Inside, jaws will continue to drop as you explore the incredibly-decorated home. An electric organ waits to accompany a raucous and oh-so-festive sing-a-long, a cinema promises Christmas movie nights aplenty, and the semi-professional kitchen has everything you need to whip up a Christmas dinner for the ages. Tucked away in the beautiful Scottish Highlands, Cape Wrath Lodge has some wonderful walks and nearby landmarks to explore, from Smoo Cave in nearby Durness to the picturesque beaches that line the coast.
The Summer House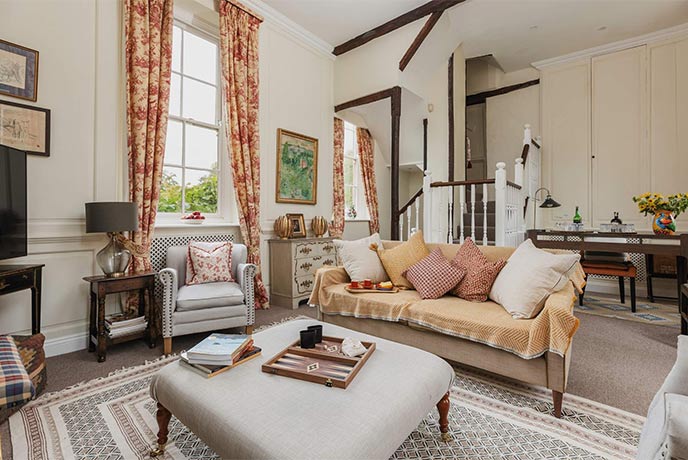 Chipping Campden, the Cotswolds | Sleeps 6
Best for: A quintessential Christmas
From the honey-hued stone that gives the Cotswolds its rustic charms to the countless Christmas markets and displays of lights that turn the pretty nearby towns and villages into a Christmas card, The Summer House is perfectly placed for a rather magical Christmas. Grade II Listed and boasting all of its original features, this dreamy home-from-home promises evenings gathered around the fire and days spent exploring winding lanes and chocolate-box scenes. Nearby Chipping Campden is full of cosy cafés and welcoming pubs, ensuring your seasonal stay is full of festive treats.
Castlemans Coach House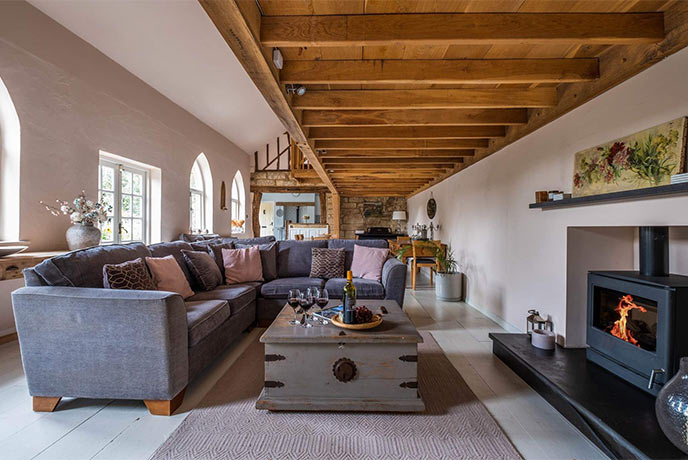 Battle, Sussex | Sleeps 8
Best for: A very characterful Christmas
From the vines that crawl up the front of the house to the incredible wooden fixtures that can be found throughout the rooms, Castlemans Coach House boasts oodles of character and charm, perfect for a very merry Christmas. Speaking of a very merry Christmas, this red-bricked home-from-home sits within walking distance of a fabulously cosy pub, so you can easily get into the spirit of the season! Dogs are welcome here, and with the fascinating and wonderfully historic 1066 country surrounding you, fill your days with country walks and as many pub stops as you like.
Mill House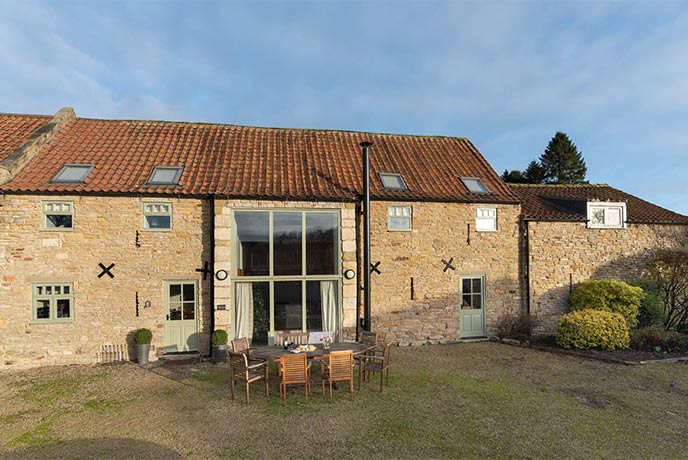 Thirsk, Yorkshire | Sleeps 10
Best for: Christmas on the moors
Whether you choose to escape to Yorkshire with nine of your favourite people or 37 (this charming cottage can be found on the same site as three others for a marvellously large gathering), Mill House is a stunning setting for a seasonal stay. Beautifully converted and with shared access to an indoor swimming pool and games room - not to mention the breathtaking North York Moors that sit on the doorstep - there are endless opportunities for holiday fun here. Make the most of Christmas in Yorkshire with a visit to one of the many markets that fill the chocolate box villages with stalls, or settle down in one of the cosy pubs for a festive feast complete with a giant Yorkshire pudding.
The Hollies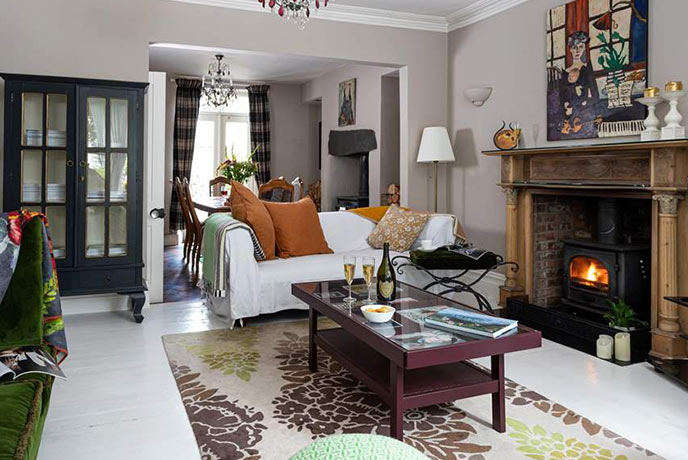 Windermere, Lake District | Sleeps 10
Best for: Lakeside festivities
A minute's walk from the tranquil waters of Windermere, The Hollies is perfectly placed for some crisp, lakeside walks - a wonderful companion to a holiday of festive feasting! Inside the beautiful lakeside home you'll find oodles of space for the whole family, whether you're looking forward to boardgames by the fire or cooking up a seasonal storm in the kitchen with the fabulous Aga. It wouldn't be Christmas in the Lakes without an epic stomp or two, so make sure to pack your favourite walking boots for a staggeringly scenic leg-stretch.
Moonstone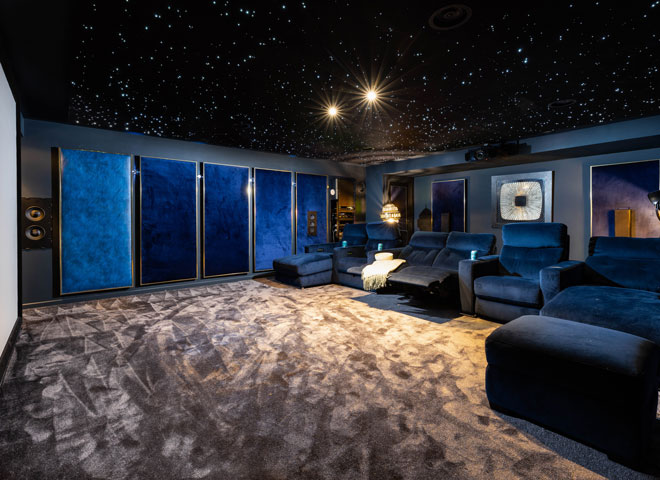 Cheltenham, the Cotswolds | Sleeps 12
Best for: An eco Christmas with a difference
Nestled in the heart of the sprawling countryside in the Cotswolds, Moonstone promises a rather special group stay at Christmas. The state-of-the-art home has been lovingly restored to create a contemporary space that celebrates eco living. Inside the architectural showstopper you'll find a dreamy indoor swimming pool and sauna and a luxurious home cinema where all your favourite Christmas films can be streamed - don't forget the popcorn! Nearby Cheltenham makes for a beautiful destination at Christmas, whether you're looking forward to markets or fine-dining.
Restormel Manor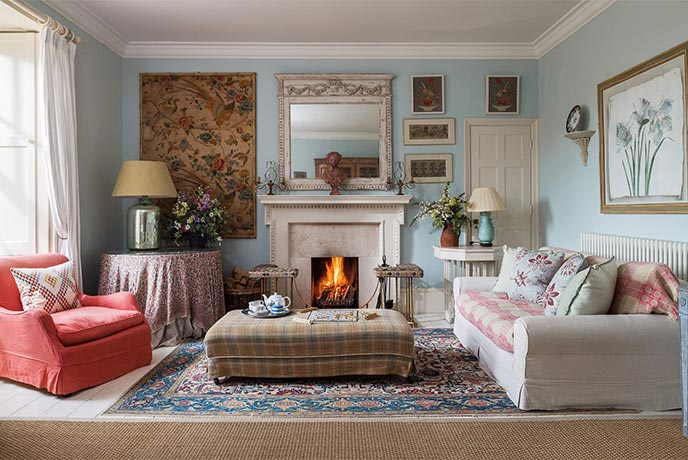 Lostwithiel, Cornwall | Sleeps 18
Best for: Unforgettable special occasions
Surrounded by the tranquil countryside of Fowey Valley, Restormel Manor is part of the fabulous Restormel Estate, which is owned by the Duchy of Cornwall. Deeply historic and wonderfully welcoming, this exceptional manor enjoys many features to ensure your seasonal stay is memorable, from the shared swimming pool, sauna, and tennis courts to the beautifully styled rooms that make up the glorious interior. Spend your days exploring the sweeping grounds or playing a round or two of charades with the family around a roaring fire.
Wreath Farm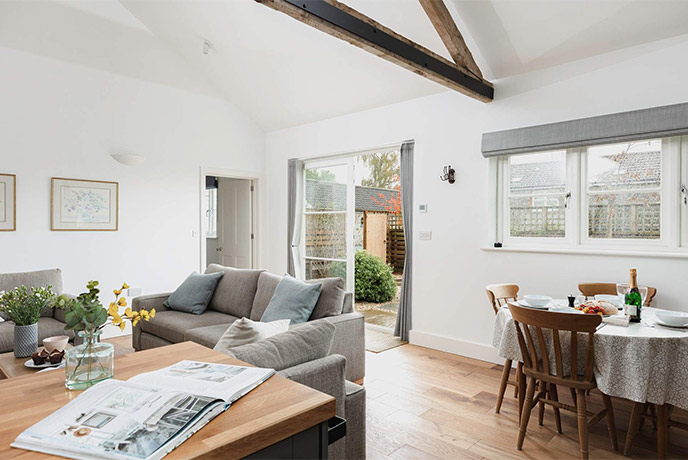 Chard, Dorset | Sleeps 14
Best for: Big get togethers with separate cottages
Incorporating The Stables, The Cowshed, and The Apple Press, this superbly renovated farm is the ultimate destination for those wanting to holiday with friends and family while enjoying your own cottage. Each of the bedrooms boast either a king, super king or zip and link bed, making this rural complex wonderfully flexible. Enclosed gardens ensure dogs have their freedom too, which when combined with the surrounded countryside and nearby Jurassic Coast, creates the ultimate playground for dogs and their excited owners. Nearby Lyme Regis is full of fantastic restaurants, providing the ultimate festive feasts with a beautiful coastal backdrop.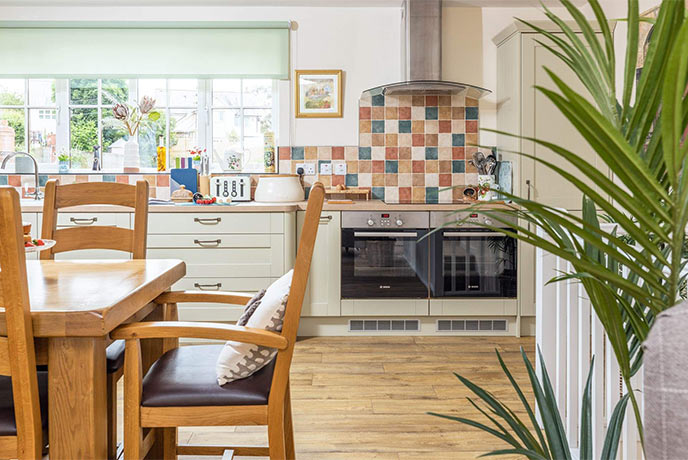 Wellington, Somerset | Sleeps 8
Best for: Epic Christmas Day lunches
If you love cooking up a storm on Christmas Day, this gorgeous cottage in Somerset might just be your dream come true as the stylish kitchen boasts two ovens - plenty of space for extra roasties and pigs in blankets! You'll also find a dedicated wine fridge ensuring your West Country Christmas is as indulgent as possible. We recommend wrapping up warm and heading out to one of the amazing Christmas markets in Somerset, where you'll be able to stock up on all the incredible food and drink the county has to offer - who doesn't love a bit of local cider and cheese!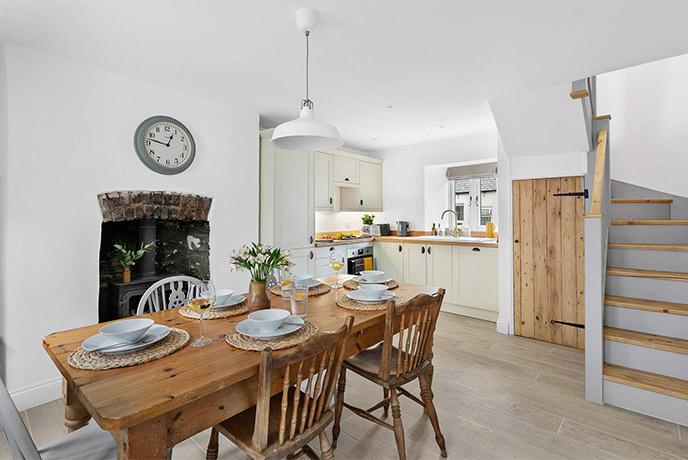 Calstock, Devon | Sleeps 6
Best for: An adventurous Christmas with your favourite people
With South Cornwall, South Devon, and Dartmoor on your doorstep, this beautifully refurbished cottage is perfect if your family is made up of avid explorers and adventurers as there is much to discover in the area (including the pub that's a mere 50 yards down the road). Sleeping six, the cottage itself is ideal for a family get-together (dog included). The wood burners in both the lounge and dining room ensure a toasty Christmas, while the travel cot, high chair, and stair-gate mean you only have to remember to pack the Christmas presents. Oh, and the younger kids will love the bunk-beds!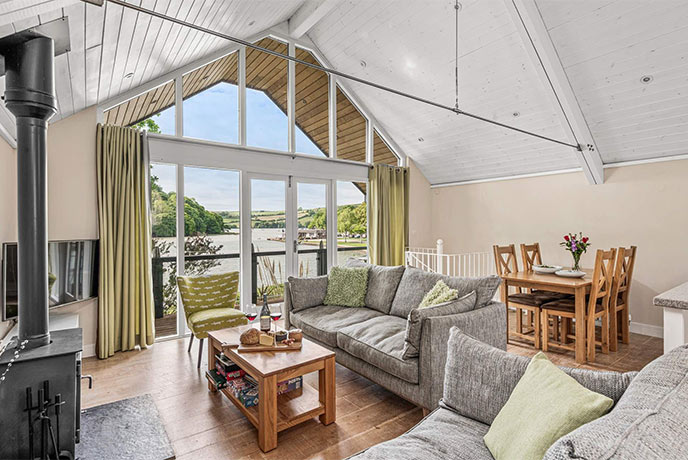 Stoke Gabriel, South Hams | Sleeps 6
Best for: Christmas on the water's edge
With huge, floor-to-ceiling windows that look out over the winding waters below, the open-plan living area makes for a dreamy place to unwind over the festive period, especially when the oh-so-indulgent wood-burner is lit. A tempting 100 yards down the road lies The River Shack where breakfast, lunch, and dinner is taken care of amidst simply stunning surroundings. Combine your meal out with a wintry walk along the waters and you have the makings of a beautifully fresh day out.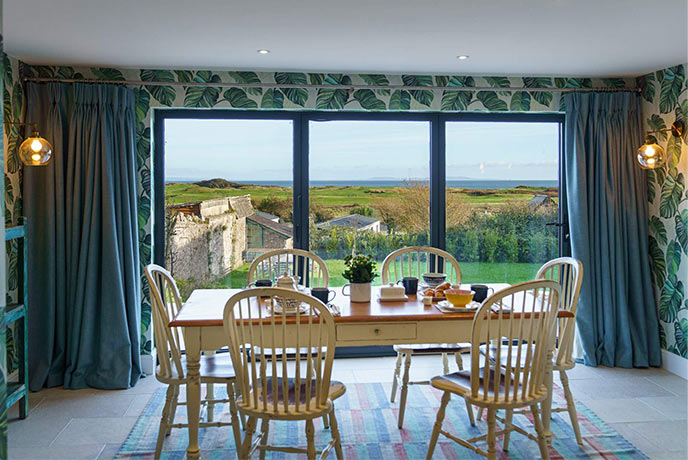 Tenby, Pembrokeshire | Sleeps 12
Best for: Big celebrations in style
Big, beautiful, and oh-so-welcoming, you can't help but fall in love with Landsker House and its chic-to-Christmas charm. You'll find heaps of space in the living room for charades, while the large kitchen makes for a dreamy spot to whip up a mammoth Christmas lunch, all hands on deck. Beyond the windows, the seaside town of Tenby in Wales is your magical backdrop and makes for a fabulous family day trip with the dog in tow. You'll also find a superb Grade II Listed pub just steps away, making your Christmas very merry indeed.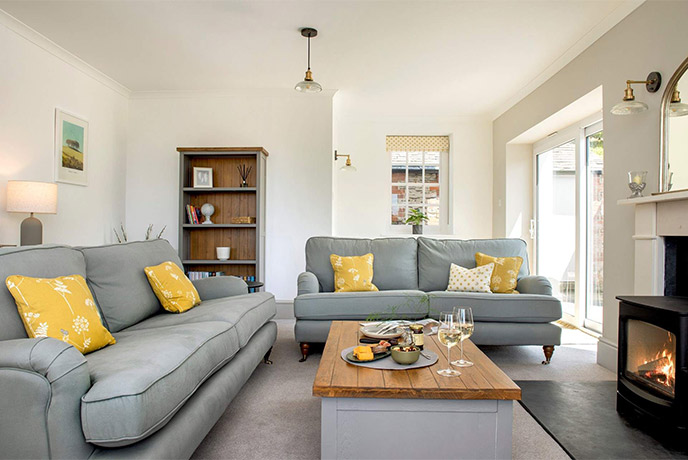 Tintagel, Cornwall | Sleeps 8
Best for: Dramatic Christmas Day walks
Christmas in Cornwall is truly a magical time, with Christmas lights twinkling in the waves and the Bude Christmas Day swim attracting hundreds of brave swimmers excited to take the plunge. Tucked away off the coast at Tintagel, St Morwenna welcomes festive guests for a truly memorable Christmas. One of the most dramatic spots in Cornwall, the North coast comes alive in winter as giant waves crash against the cliffs and fill the air with a salty spray – there really is no better place to walk (especially if you fancy a hearty stroll with a pub stop). After your breath-taking coastal ramble, fall into the warming embrace of the living room with a mug of hot chocolate and the wood-burner roaring and throw on your favourite Christmas film for utter festive bliss!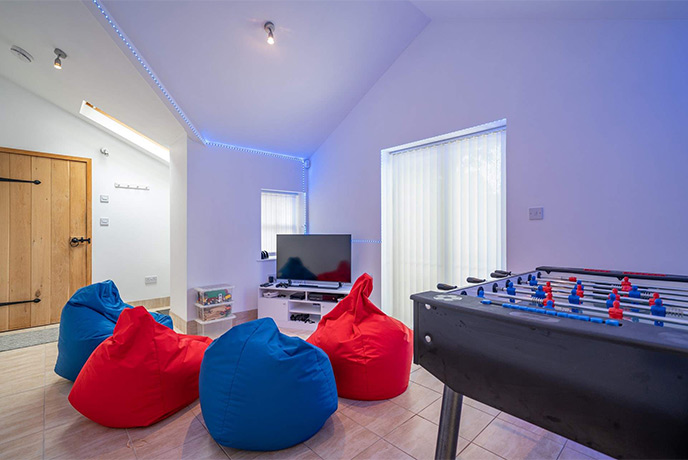 Ryde, Isle of Wight | Sleeps 10
Best for: A coastal Christmas retreat
Sleeping 10 and boasting an awesome games room kitted out with a 4K TV, Xbox One, Wii, and table-football, kids will jump with pure Yuletide joy when they arrive at Harbour View. Spacious living areas ensure there's room for all, with a superb modern kitchen providing the perfect place to whip up a true Christmas feast. Ryde is always a magical sight at Christmas, with lights turning the streets aglow. You can also find some beautiful beaches and Christmas Day swims nearby – the ultimate way to celebrate the festive season!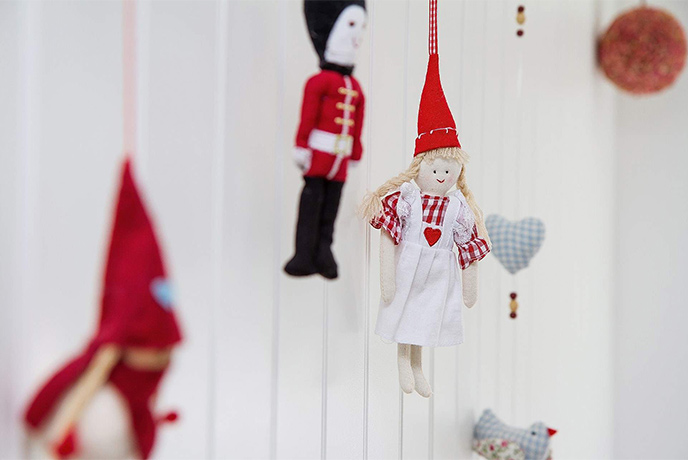 Dartmouth, Devon | Sleeps 6
Best for: A truly child-friendly stay
Filled with charming touches to make the little ones feel totally at home (including toys and children's books), as well as offering a travel cot, high chair, and stair-gate to those who need them, Eeyore's Cottage is a great choice for those holidaying with little elves. In fact, the ties to A A Milne (the cottage was once the home of the author's son and beautiful Winnie the Pooh drawings can be found adorning the walls), this family-friendly cottage will be adored by every member of the family who loves the tales of The Hundred Acre Wood. The house itself is ideal for some December decadence, with underfloor heating in the kitchen and bathrooms and a roaring wood-burner in the sitting room – no cold toes allowed in this cottage! Oh, and let's not forget Dartmouth Steam Train, which can be seen chugging through the surrounding countryside covered in Christmas lights – the perfect festive outing in Devon!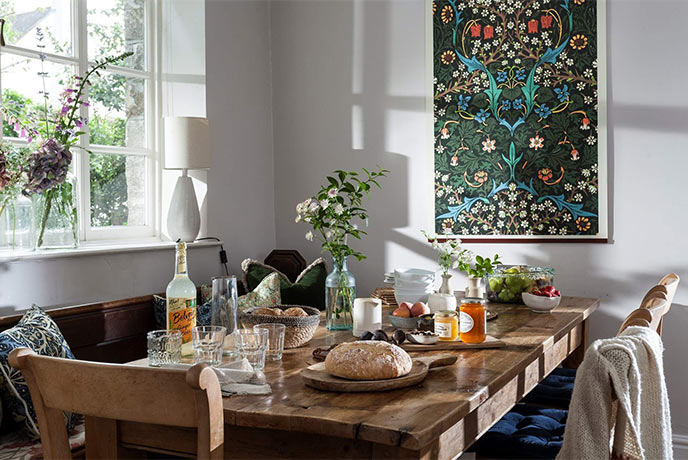 Mawgan Porth, Cornwall | Sleeps 14
Best for: Mammoth family gatherings
There's space for the whole family – dogs included! – at Penmellyn House, which boasts a rich-toned living room complete with wood-burner for those cosy Christmas evenings and a light and airy dining area where epic feasts can be plated up and enjoyed. In fact, with no less than two sitting rooms and two dining areas, you can get together and relax apart during your stay. Staying for New Year as well? With the welcoming pub Ring O' Bells a mere quarter mile away and Newquay nearby (known for its epic celebrations), this bogglingly big holiday home is the perfect base for Christmas and the New Year.
Excited for a Christmas surrounded by loved ones? Explore our fantastically large and beautiful holiday cottages and start planning your festive family getaway.