With snow often starting to fall around mid-December and the county's chocolate-box villages boasting charming thatched cottages and cobbled streets, Christmas in Yorkshire invites you to step into a picture-perfect Christmas card. Oh yes, going from rolling fields of green to a winter wonderland in the time it takes for the first snowflake to fall, this endlessly beautiful county paints a rather festive scene.
Spend your seasonal stay strolling around Christmas markets, indulging in mulled wine and freshly fried doughnuts, or embarking on a tour of Yorkshire's most impressive Christmas lights, which turn the fairy tale villages into twinkling worlds of magic and wonder.
Boasting a very merry selection of toothsome food and drink throughout the year, Christmas turns God's Own Country into a veritable smorgasbord of seasonal treats, whether you're in the mood for a slap-up Sunday roast (with a giant Yorkshire pudding, of course) or a festive afternoon tea.
A calendar full of events will keep everyone entertained throughout the holiday season, while the surrounding landscapes beckon for a winter walk that culminates in a warming hot chocolate. You can even brave the elements for a wonderfully refreshing festive swim in the ocean!
Ready to get in the festive spirit? Here's our complete guide to Christmas in Yorkshire so you can craft the perfect seasonal escape.
Find out more:
Christmas markets
Stalls lined with beautiful crafts and tasty treats, the smell of mulled wine wafting through the streets, and the sound of carollers filling the air with songs so merry and bright, there's just something endlessly magical about a Christmas market in Yorkshire. Here are just some of our favourites, whether you fancy some Christmas shopping or a homemade figgy pudding.
York Christmas Market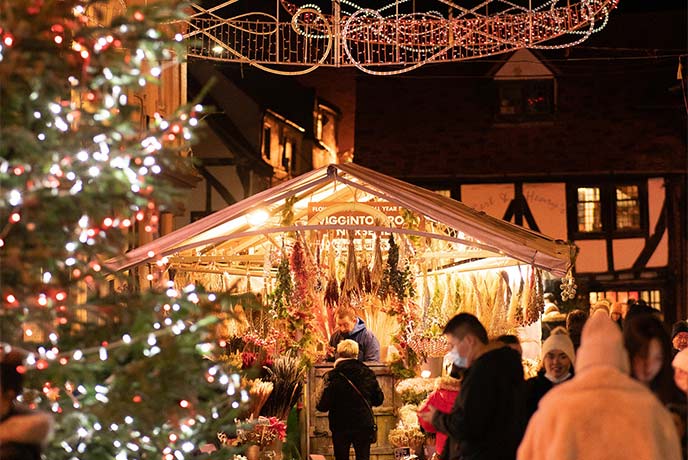 Thursday the 16th of November to Friday the 22nd of December
Taking over Parliament Street in York, this famous Christmas market has been running for over 30 years, giving it plenty of time to perfect its festive spirit. Stalls laden with artisan gifts fill the streets, while the shops beckon with beautiful displays of festive cheer. From the fabulous Winter Hütte, offering shoppers a chance to indulge in some Swiss dining, to the 70 alpine-style chalets that line the street, there are plenty of places to refuel while exploring the historic city.
Whitby Christmas Market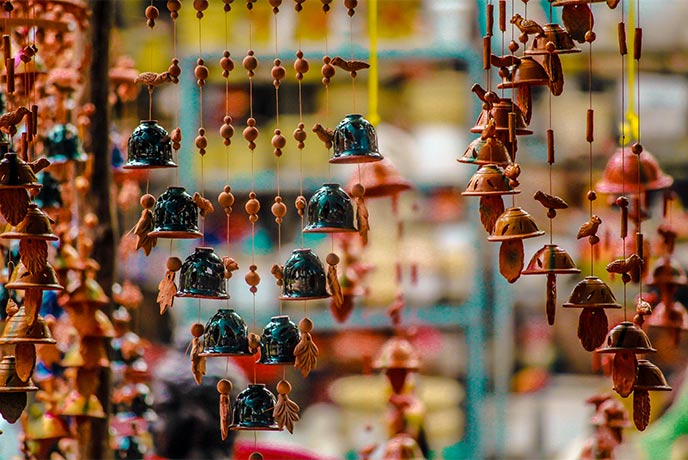 Friday the 17th to Sunday the 19th of November
Whitby is a rather enchanting place to visit whatever the time of year, whether you're planning on popping the question to a fan of Bram Stoker's Dracula at Whitby Abbey or you fancy climbing the iconic 199 steps that afford incredible views (and lots of benches). Christmas is an extra special time in Whitby, with a festival taking over the streets and bringing with it the beloved Christmas market. Held in the Marina car park, you can look forward to a wide selection of local treasures, from arts and crafts to lip-smacking local gins – perfect for a spot of Christmas shopping, whether for a loved one or yourself!
Malton Christmas Market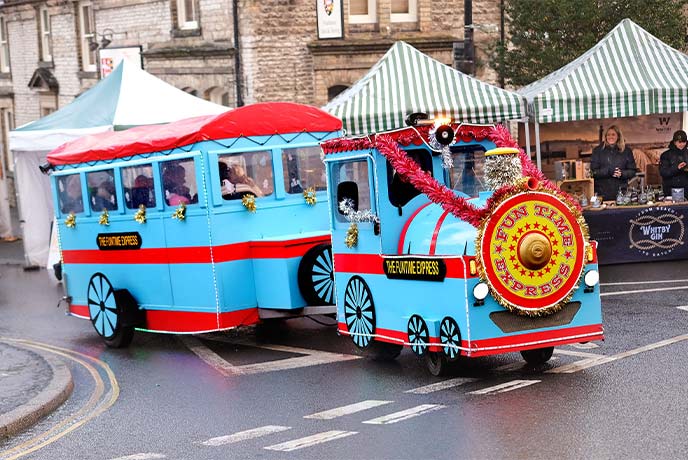 Saturday the 2nd to Sunday the 3rd of December
Famed for its food festival and markets, it will be of little surprise that Malton puts on a rather spectacular show at Christmas. The two-day festival washes over the town, with stalls lining the streets and entertainment filling the air with live music and laughter. The Christmas market boasts a mammoth selection of stalls, from homeware and gifts to merry morsels waiting to fill the festive corners. The town's many fabulous eateries are on hand throughout the weekend too, offering a warm and welcoming spot to enjoy some delicious food as you pore over your Christmas haul.
Christmas events
Whether you love creating something utterly unique for your Christmas tree or it's just not Christmas without a panto (oh, no it isn't!), Yorkshire's calendar of festive events is sure to have something for every seasonal taste.
Christmas trails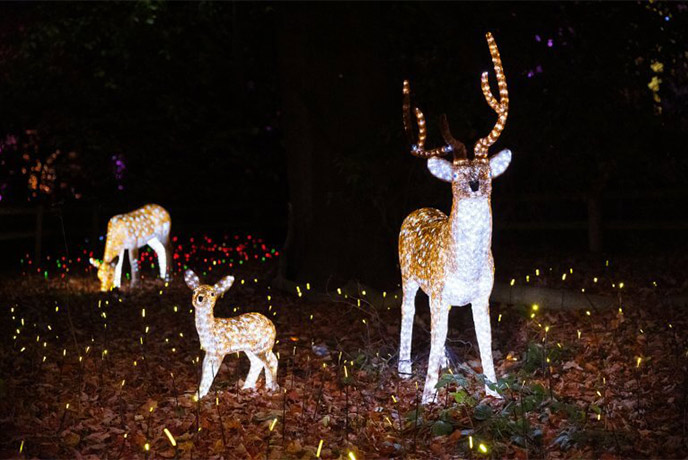 Combining adventure and exploration with Yorkshire's many fascinating historical sites, nothing beats a Christmas trail when it comes to family fun. In York, you can embark on the delicious Gourmet Christmas Food Hunt, which takes you to some of the city's top eateries, while Bolton Abbey holds its annual 12 Days of Christmas trail, which encourages families to explore the winter woodland in order to solve a festive mystery. Or, for something utterly magical, you can combine a good old-fashioned trail with a dazzling display of lights at Stockeld Park's incredible Winter Illuminations, which transform the already Enchanted Forest into a jaw-dropping celebration of light and colour.
Christmas theatre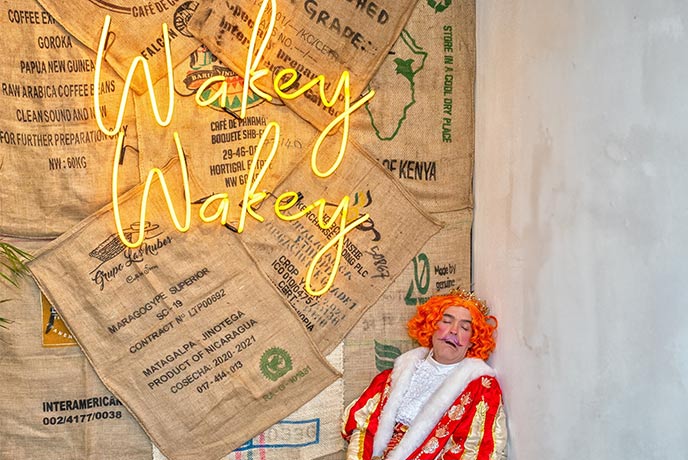 Oh how we love panto, from the cheesy jokes that never fail to make you laugh to the larger-than-life characters that get the audience involved – it really is fun for the whole family. This year, Yorkshire is hosting a variety of fantastic shows, from a rock and roll take on Robin Hood to a classic retelling of Sleeping Beauty. For those who love a traditional tale of literal Christmas spirits, A Christmas Carol will be brought to life on the stage in York. With music written by Alan Menkin (known for his scores for The Little Mermaid, Aladdin, and Beauty and the Beast), this musical is sure to add a smile to even Scrooge's crumpled face.
Festive swims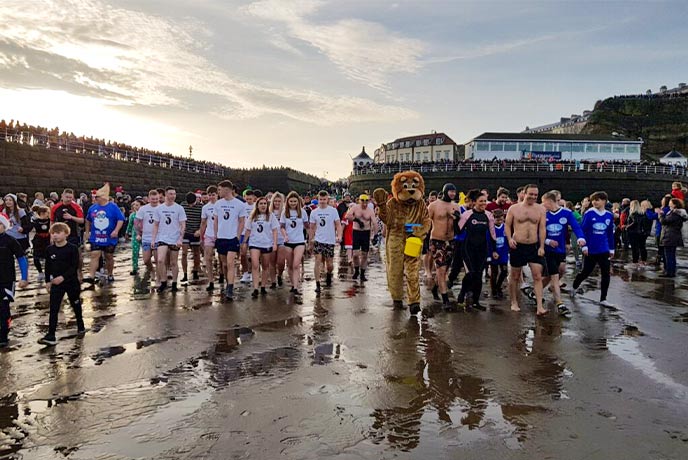 Looking for a Christmas tradition that's more barmy than balmy? The annual Boxing Day Dip in Whitby is a fun-filled community event that's sure to brr-ing a sense of festive mayhem to the air. Hundreds of enthusiastic dippers dart into the North Sea at 10am on Boxing Day, with fancy dress adding a raucous air to the proceedings. You'll need to register to take part in the organised swim, with all donations going to charity.
Christmas crafts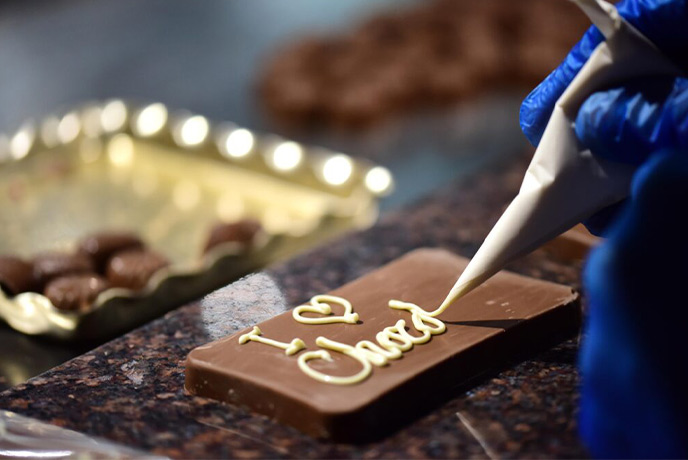 York Chocolate Story is hosting a selection of Christmas chocolate-making workshops throughout December, giving budding chocolatiers the chance to make some chocolate lollies with Santa himself! In North Yorkshire, The Garden Rooms host their annual wreath-making workshop, where you'll have the opportunity to craft your very own festive wreath alongside florist Felicity Cook, before enjoying a delicious lunch. And, for all the thread heads out there, Carlton Towers is running two fabulous sewing workshops. You'll follow expert tuition while crafting your very own Christmas bunting, or Christmas stocking and bottle bag, followed by a lovely light lunch.
Christmas lights
From pretty villages lit up like Christmas trees to kaleidoscopic gardens and historic buildings that steal the show, Yorkshire's Christmas lights promise a truly magical experience. Wrap up warm, this is a road trip you won't want to miss.
Settle, Yorkshire Dales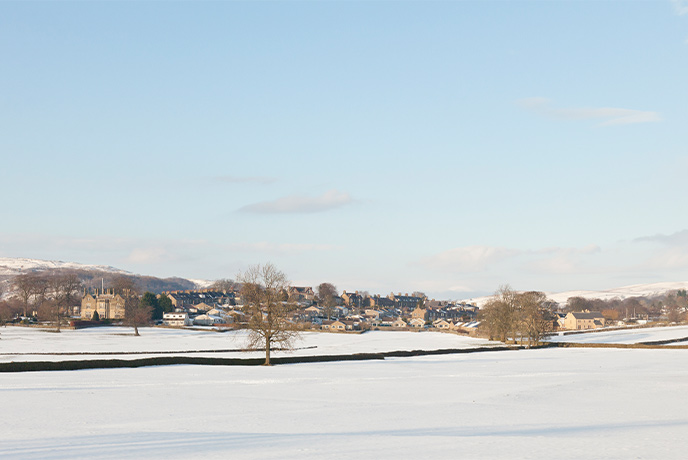 Saturday the 25th of November
Boasting a treasure-filled market, fireworks, and live music, the Christmas lights switch-on event in Settle is always a festive favourite. A variety of activities and crafts will keep the kids happy, from bouncy castles to a magical Santa's grotto, while the fireworks display delights all. The lights are switched on at 5pm, giving you plenty of time before and after to explore this oh-so-pretty town in the Yorkshire Dales.
Light Up Haworth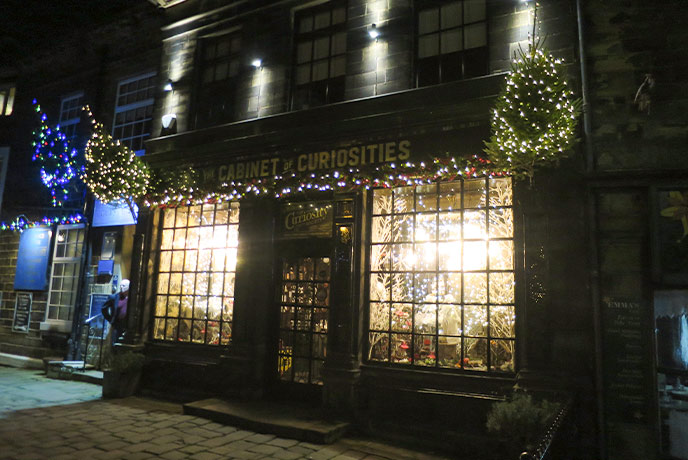 Saturday the 2nd and 3rd of December
Famous for its beautiful, cobbled streets, reaching views, and historic ties to the Brontë sisters, Haworth is always a picture-pretty village to visit, with Christmas adding even more postcard-ready sights. While the village doesn't hold a switch-on ceremony, the first weekend in December is when they hold their Christmas lights celebration, with twinkling lights, magical window displays, and jubilant music coursing through the ancient streets. There's also an artisan market in Central Park across the weekend, giving you every opportunity for a bit of seasonal shopping.
Glow at RHS Garden Harlow Carr, Harrogate
Wednesdays and Saturdays from the 22nd of November to the 30th of December
As beautiful as the gardens at Harlow Carr are in the daytime, it's the after-dark displays that capture hearts and imaginations in winter. A rainbow of lights illuminate the gardens, casting trees in colourful hues that dance in the water like fairies. There are several trails you can follow, with many artfully curated sights around each corner. Bettys Tea House is on hand throughout your visit for a winter warmer, or you can pop into the garden centre for a spot of Christmas shopping.
Christmas at Fountains Abbey, Ripon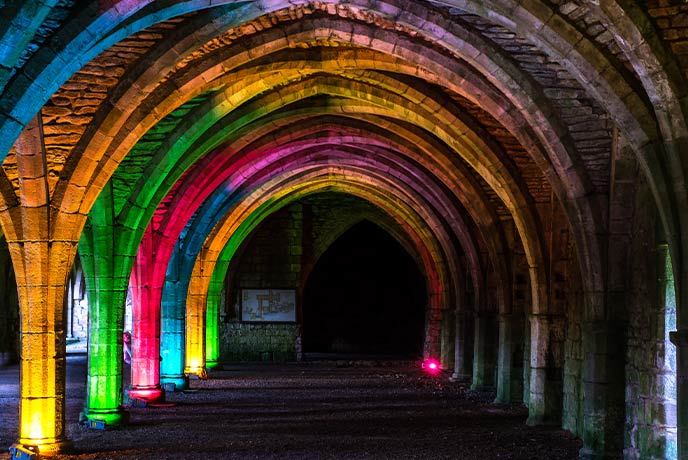 Another of Yorkshire's famous landmarks to light up like a firework for Christmas, Fountains Abbey is a burst of colour through December. The incredible vaulted ceilings and towering columns are a wonder to behold when lit up, casting awed faces in an equally colourful glow. Visit at the weekends, and you'll experience a symphony of sights and sounds as bands and choirs fill the air with merry melodies. You can also join in the free guided tours of the abbey and water garden, a wonderfully crisp walk through one of Yorkshire's most fascinating sites.
Christmas food
Christmas is a time when hearts, souls, and bellies are full, whether you're spending it surrounded by family or with your favourite person curled up by the fire. From festive feasts in top-notch restaurants to seasonal favourites you can whip up yourself, Yorkshire is the perfect place to enjoy some proper Christmas fare.
Cooking at home from home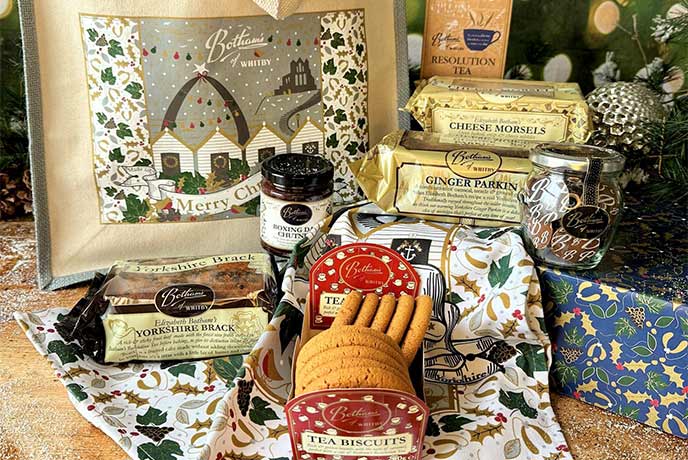 One of the best things about spending Christmas somewhere new is that you get to try a whole bunch of local foodstuffs. In Yorkshire, the county's round-up of farm shops make shopping for Christmas dinner a dream, whether you're looking for a bottle of home-grown wine or a selection of cheeses and meats for a fabulously classic 'picky tea' for Boxing Day. If you're after a truly extensive range of Yorkshire goodies, Botham's of Whitby offers a superb selection of hampers, from sweet treats and breads to local gins and everything you need for an afternoon tea. Make your own festive picnic to enjoy mid-walk or settle into your cosy cottage for a totally tasty Christmas.
Eating out for Christmas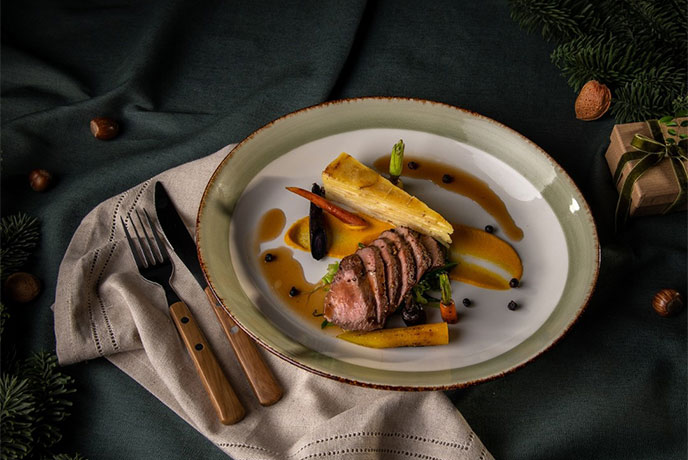 From cosy pubs that specialise in home-cooked fare that warms the soul to incredible Michelin star restaurants that know how to put on a culinary show, Yorkshire's unbeatable eateries are here to make sure your Christmas is celebrated to the foodie max. Offering up a wonderfully festive afternoon tea – complete with a flickering log fire – Gisborough Hall spares no expense when it comes to crafting a Christmassy experience. Indulge in roast turkey finger sandwiches, honey-glazed pigs in blankets, and cranberry scones with jam and brandy cream as you soak up the festive atmosphere alongside a pot of tea.
For a totally unique dining experience, climb aboard one of the heritage carriages on the North Yorkshire Moors Railway for their Christmas Moorlander Lunch Service. Feast on a traditional three-course dinner, including the likes of classic prawn cocktail, roast turkey with all the trimmings, and Christmas pudding with brandy sauce, all while gazing out the window at the beautiful North York Moors. Of course, for those looking for a traditional Christmas celebration, Yorkshire has many fabulous eateries that open their doors on the big day, from The Talbot in Malton to The Golden Lion in Settle. After all, is it really a Christmas lunch without a proper Yorkshire pudding?
Christmas walks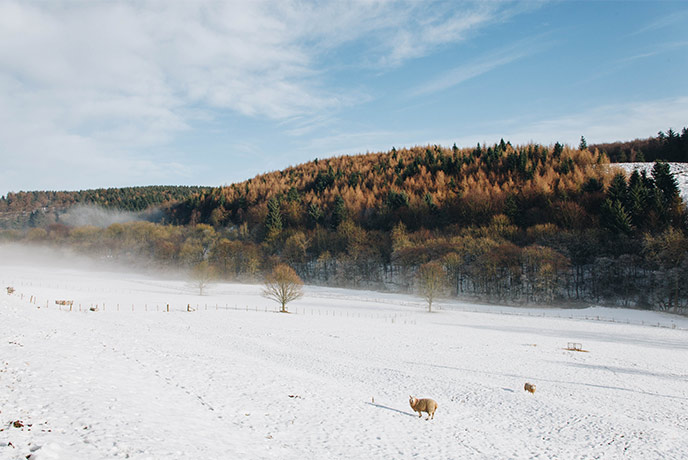 From its wild and rugged moorland that's inspired many a dramatic tale to the rolling countryside that holds country inns within its undulating fields, Yorkshire is a rather special spot for a Christmas stroll. Head to the Yorkshire Dales National Park for some of the county's most iconic landmarks, including thunderous waterfalls and limestone formations, or the beautiful North York Moors for oodles of spectacular space to explore under your own steam.
With such a vast array of places to discover, you really don't need to travel far to experience epic views, offering a wonderful array of short walks you can easily enjoy on Christmas Day. We recommend filling your bags with some mulled wine and mince pies for the ultimate festive trail snack!
Excited to spend Christmas exploring this incredible county? Explore our cosy cottages in Yorkshire and start planning a very merry stay.