Santa will soon be on his annual adventure around the world, and we'll let you into a little secret – your chances of spotting him on Christmas Eve are at their best in one of the UK's Dark Sky areas. Leave the city behind and head to the countryside for a magical festive getaway in a cosy cottage, and a chance to see Santa in the sky…
Christmas Eve traditions are part of a very special treasure trove of memories for the young and old; leaving a carrot for Rudolph and a mince pie and sherry for Santa, hanging your stocking by the fireplace and gathering around the roaring fire for a board game before bedtime. This year, you could make Christmas Eve extra special with a moonlit adventure - wrap up warm and keep your eyes peeled for eight reindeers, Santa himself, and a sleigh full of Christmas gifts flying through the night sky, accompanied by an unforgettable backdrop of twinkling starry nights. And don't forget to keep track of Santa's flight around the world once he's left the North Pole! Here are our top cottages for stargazing and Santa spotting this Christmas…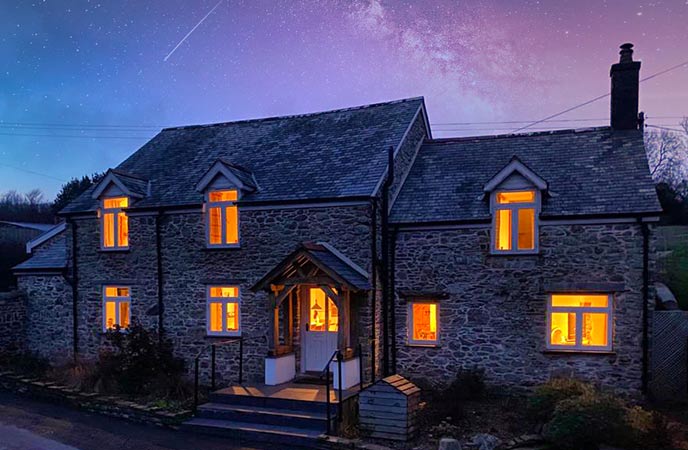 Experience the magic of Christmas with a festive escape to Middle Dean Farmhouse. Situated in a peaceful hamlet in north Devon with easy access to Exmoor National Park, Middle Dean Farmhouse sits within one of the top five dark skies locations in the UK, perfect for Santa spotting. On a cloudless night it's even possible to see the Milky Way!
Book Middle Dean Farmhouse now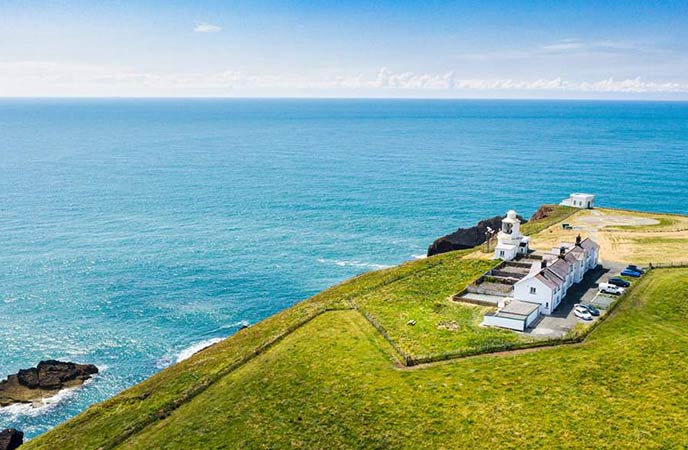 With views just as special by night as they are by day, head to enchanting To The Lighthouse to see Santa make his way along the spellbinding Pembrokeshire coastline. The winter months bring the perfect opportunity to hunker down and hide away in 'The Cabin', a handy sheltered outdoor space, to keep cosy and warm whilst you lose yourself in the pure magic of the illuminated night sky.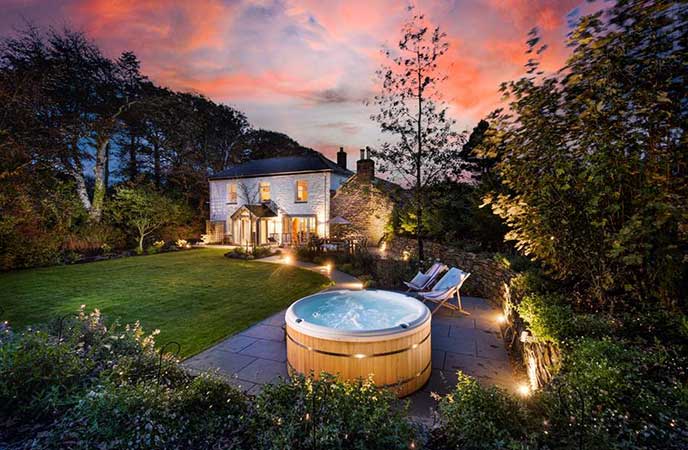 Tucked away on Bodmin Moor in tranquil surroundings, Moss Farmhouse's location is perfect for starry skies and seeking out Santa in the sky. With acres of countryside surrounding it, it certainly won't be hard to find a good spot for stargazing and Santa spotting. And you could even keep an eye out from the blissful warmth of the hot tub!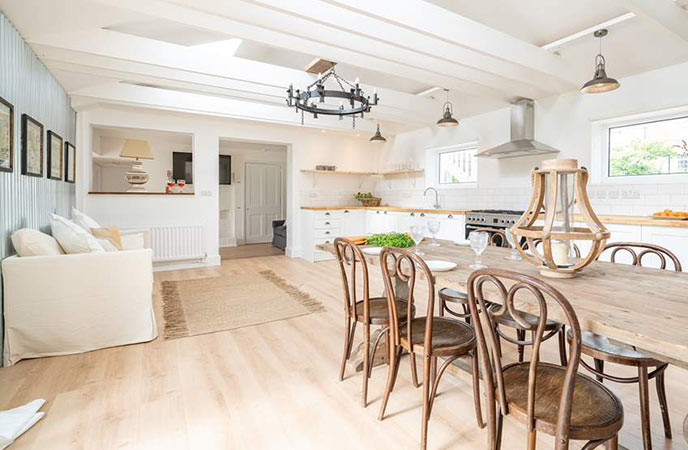 The Isle of Wight is well-known for its stargazing opportunities and Freshwater Bay is one of the best places on the Island to do so. The Gate is a beautiful two-bedroom apartment close to the Bay, so pull on your hat, gloves and scarf, make up hot chocolate and mulled wines to keep you warm and head to the beach to see what (or who) you can spot!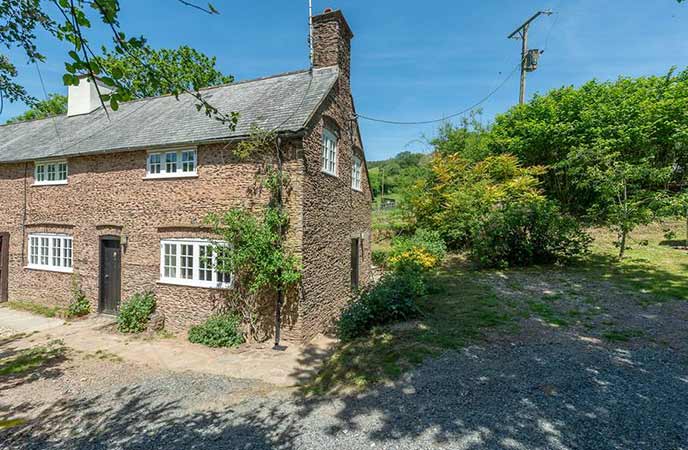 Tucked away within Exmoor National Park International Dark Sky Reserve, with uninterrupted views of the countryside and beyond, Frogwell Cottage is perhaps the perfect spot for Santa spotting and getting lost in the glitter of the night sky. And after your outdoor adventure, you can light the wood-burner and cosy up in this dreamy 19th century rural retreat.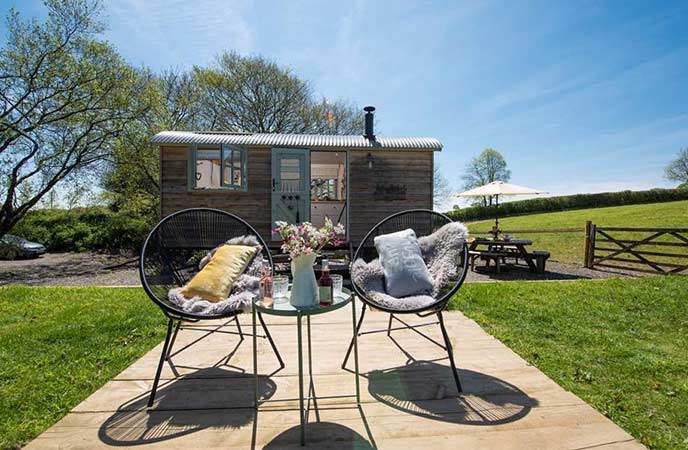 Nestled in a very special setting in the north Devon countryside, Hayley's Hut has no light pollution, making it perfect for a dark skies experience. And with its own designated stargazing roof, Hayley's Hut is an idyllic place to try and spot Santa – and can even be done from the comfort of your bed!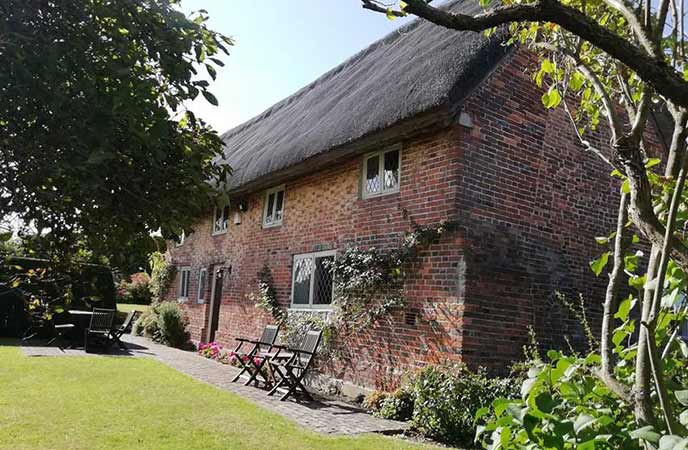 A beautiful Grade II listed 16th century home, Danny Cottage is ideally placed for discovering the magic of the South Downs National Park Dark Sky Reserve. One of only 16 Dark Sky Reserves in the world, the South Downs is a great place to spot starry skies and flying reindeers, before returning to your cosy cottage to relax…Before the excitement of Christmas morning, of course!
Take a look at our collection of Christmas cottages and find your perfect winter escape for stargazing and Santa spotting. Enjoy…