Christmas is always a magical celebration in the heart of winter. Pair it with a holiday away, and its allure becomes manifold, especially for little ones, with the car packed to the roof bars with presents and suitcases, and Mariah Carey blasting on the radio as you drive along the motorway.
For a different, yet uniquely traditional Yule, head to the quietly beautiful county of Somerset and nestle down in a pretty cottage for the season. Bustling Christmas markets wait to be discovered, bedecked and bejewelled manor houses open their doors to reveal their festivities, country inns welcome us in for hearty meals and frost-coated countryside invites us to pull on our boots and explore – let's face it, there's plenty of things to see and do in Somerset, especially at Christmas!
Whether you're taking your family away for a magical getaway or whisking that special someone for a deeply cosy and oh-so-romantic escape, here's our guide to Christmas in Somerset.
Find out more:
Christmas markets
There's something uniquely special about a Christmas market – the merry atmosphere, the twinkling lights, the mouthwatering scents in the air….perfect! Nothing builds the Christmas spirit more than wrapping up in your cosiest coat, popping on a woolly hat and heading out to blag yourself that perfect last-minute present, a tasty snack, and, of course, a glass of steaming mulled wine. Somerset is particularly blessed with a host of Christmas markets to discover, where the air fills with the scent of cinnamon and clove and the harmonies of carollers in full swing.
Bath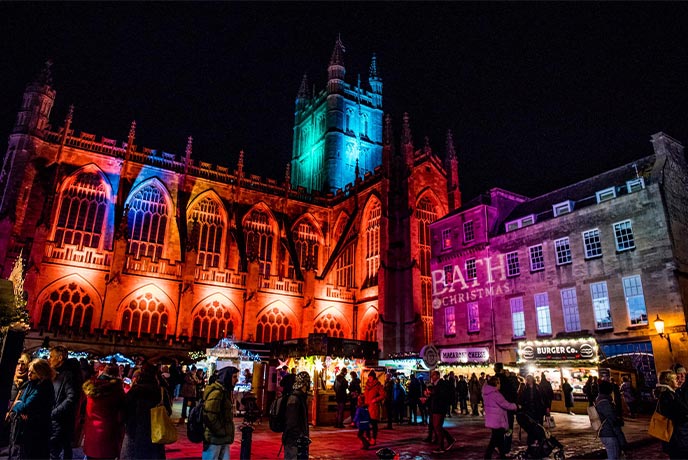 Thursday the 23rd of November to Sunday the 10th of December
Probably one of the most famous Christmas markets in Britain, the huge Christmas Market in Bath boasts the spectacular cathedral as its backdrop, creating an incredible scene of seasonal frivolity. With hundreds of wooden chalets to stroll around, you're sure to find some unique gifts for your loved ones, while the mouthwatering aromas that fill the air mean you'll have plenty to eat and drink too. Little ones will squeal with delight at the enormous ice skating rink at Royal Victoria Park that runs from the 17th of November to the 3rd of January and ensures everyone will be entertained.
Frome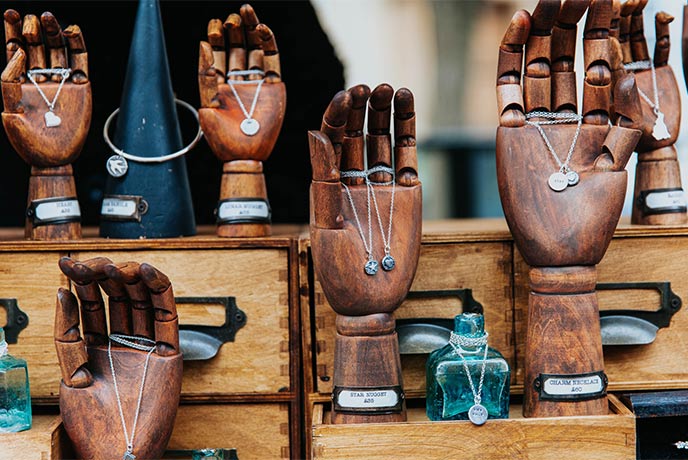 Various dates throughout November and December
The wonderful market town of Frome is fantastic to explore whatever time of year, but it definitely comes into its own around the festive season. Leading up to the big day, it's a wonderful place to visit, whether it's strolling the frost-flecked cobbled streets during the day or for a late night shopping spree in the evening, when the air is fragrant with mulled wine, lights twinkle, and carols wrap around you like a musical hug. Cheese & Grain is the place to visit for the Christmas Maker's Market on the 18th of November for unique presents, while on the 2nd and 16th of December you'll find their Christmas Gift Market selling gifts, decorations, and food. The famous Frome Independent Market has their Christmas special on the 2nd of December and is the perfect place to stock up on festive goodies.
Wells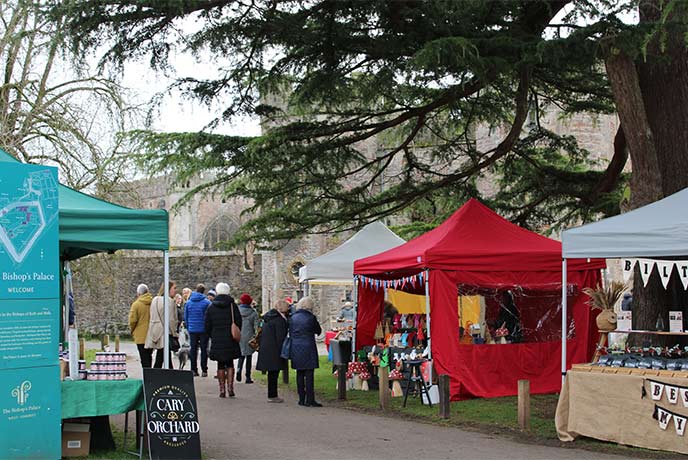 Saturday the 16th of December
The beautiful cathedral city of Wells is the perfect location for soaking up the Christmassy atmosphere, and on Saturday the 16th of December they have their annual Christmas Fair, with over 100 stalls selling artisanal products and tasty food and drink. Wrap up warm, get yourself a steaming cup of mulled wine, and embrace the festive season as you peruse the stalls on Bishop's Palace Green and the Market Place, with live music and entertainment on tap that's sure to raise the spirits.
Glastonbury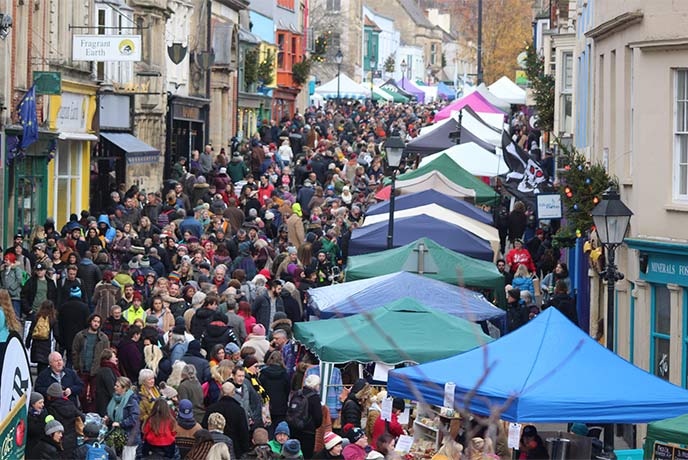 Saturday the 25th of November
For an alternative Christmas celebration, head to Glastonbury and the unique Frost Fayre. Here, the motto is 'peace and goodwill to all' with much merriment and festivities taking place throughout the day, starting at 10am. As well as lots of stalls to explore, there are five stages offering live performances, a 'Children's World' in the town hall with crafts, shows and storytelling for little ones, late night shopping, fairground rides and, of course, Father Christmas. The Abbey will be free to enter with music performances throughout the day and will be lit up at night – a truly magical sight. You certainly won't run out of things to do during your visit!
Christmas events
Somerset happily embraces the festive season and really takes the spirit of Christmas to heart, so you'll have no problem finding a host of events taking place across the county. Here are a few top events to take a look at…
Christmas on the West Somerset Railway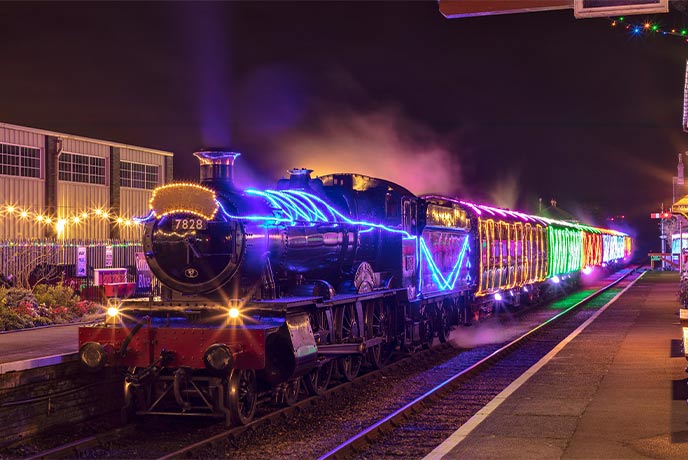 Various dates throughout November and December
Are you a fan of the classic children's film Polar Express? Unleash your inner child and step aboard the historic steam locomotives of the West Somerset Railway.
If the kids can't wait to meet Father Christmas, book you and your family onto the Santa Express. Departing from Bishops Lydeard between Saturday the 2nd to Sunday the 24th of December, the festively-decorated carriages brimming with Christmas cheer are oh-so-welcoming as they wind their way through the wintry countryside of west Somerset on a round trip to Williton. Seated at tables overflowing with presents and refreshments, you'll be visited by the man himself during your ride, ensuring fantastic memories that will last a lifetime.
For something a little more relaxed, board the illuminated train at Bishops Lydeard for the fantastic Winterlights experience, where you'll embark on a gorgeous winter journey along the enchanted train tracks. As you travel, you'll pass through woodlands and countryside twinkling with magical light displays that tell a story, before arriving at Crowcombe Heathfield, brimming with festive spirit. On the return journey sit back and relax in the ambience, setting you up nicely for the Christmas season ahead. This is running from Friday 24th November through to Saturday 30th December.
Crafting at Barrington Court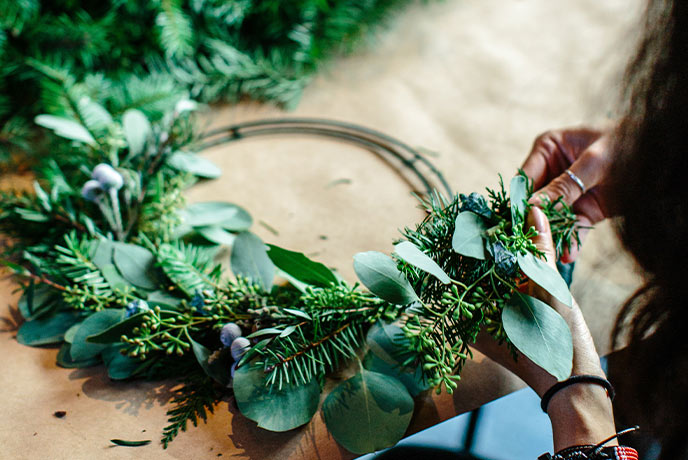 The stunning 16th century Barrington Court near Ilminster opens its doors for Christmas, allowing you to immerse yourself in a spot of festive crafting. Wrap up in your warmest woollies and try your hand at making decorations to hang on the tree down in the farm buildings, accompanied by seasonal storytelling. Afterwards, take a wintery walk around the Jack Frost-bitten gardens, before heading to Beagles café for a steaming mug of hot chocolate and a mince pie or two.
Christmas at Cheddar Gorge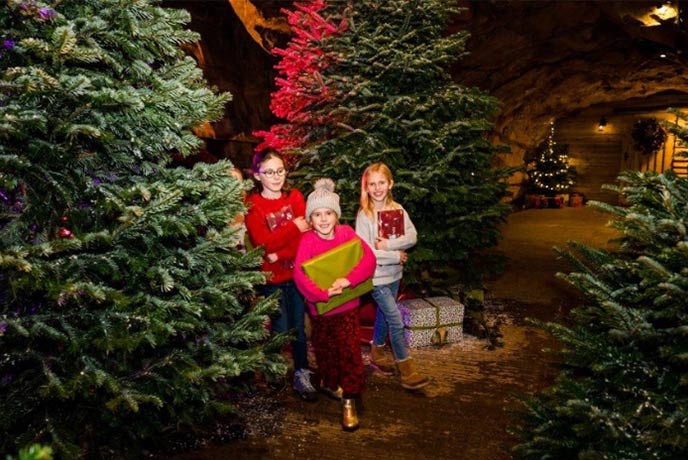 From Saturday the 11th of November
It's not just cheese that's stored in the caves at Cheddar Gorge – at Christmas, you'll find Santa, his elves, and lots of toys too! See Santa's workshop in full swing, whether it's elves checking letters (have you been naughty or nice this year?), inspecting the sleigh, or making toys. Afterwards, listen to festive tales and take part in a singalong, before visiting the man of hour himself.
A Georgian Christmas at No. 1 Royal Crescent, Bath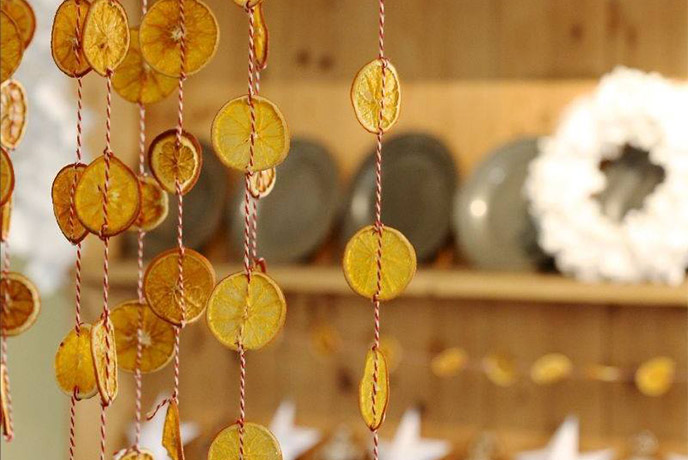 Saturday the 18th of November to Sunday the 31st of December
The stunning museum of No. 1 Royal Crescent in Bath explodes into life in a flurry of Georgian extravagance this Christmas. Wander through the rooms and gaze in awe at the dining room table groaning under the weight of a decadent feast (which includes intricate sugar sculptures), swathes of fragrant foliage such as bay and yew decorating the hallways, and the scent-filled busyness of the kitchen and servant's hall.
Called the 12 Tales of a Georgian Christmas, this fully-immersive tour is a fascinating glimpse into how Christmas would have been celebrated over 200 years ago. For children, there's a Christmas mouse trail to follow with the opportunity to make your own masquerade mask.
Christmas Pudding Race, Baltonsborough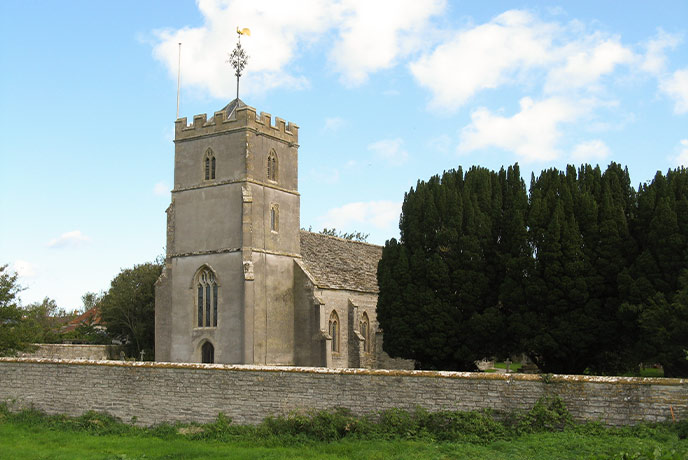 Sunday the 17th of December
Feeling energetic? Why not take part in the annual Christmas Pudding Race in the small village of Baltonsborough, just outside Glastonbury? A charity race covering 5 miles along undulating country lanes, fancy dress is positively encouraged so expect running Santas, elves, Christmas puddings, fairies and even Christmas trees in the crowd.
Christmas lights
From the exuberantly cheery to the subtly atmospheric, the twinkling of Christmmas lights gives Christmas that magical touch. From festooned villages to lit up adventures, Somerset pulls out all of the stops to create a shimmering world to discover.
Longleat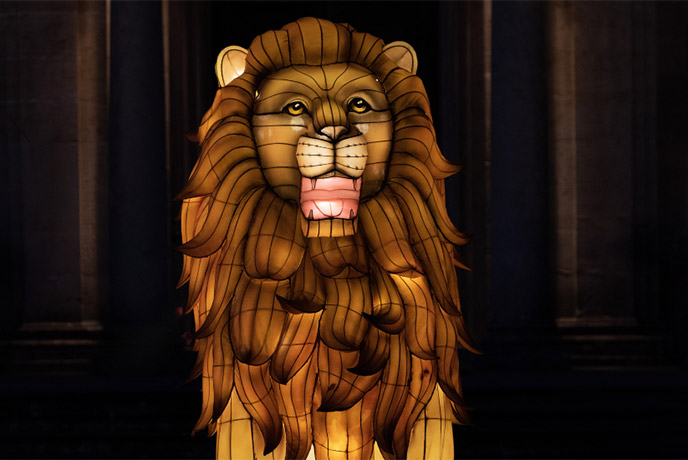 Saturday the 11th of November to Wednesday the 7th of January
Longleat Safari Park near Frome is a firm family favourite and at Christmas it really pulls out all of the stops to create a magical experience for its visitors. The Festival of Light runs every year and offers a mesmerising display of lanterns (over 1,500 of them, some over 15 metres high), each with its own theme, such as The Lion, The Witch and The Wardrobe. Other fantastic things to see include an enchanted Christmas tree show with Britain's biggest singing Christmas tree, a Santa train that takes you through the park to Santa's Grotto, an evening light show illuminating Longleat House, a 60-metre high fountain display, a festive owl show, and guided tours of the house to see it all dressed up in its festive finery. This is a memorable day out for little ones as they fall in love with this wonderful combination of animals and adventure.
Dulverton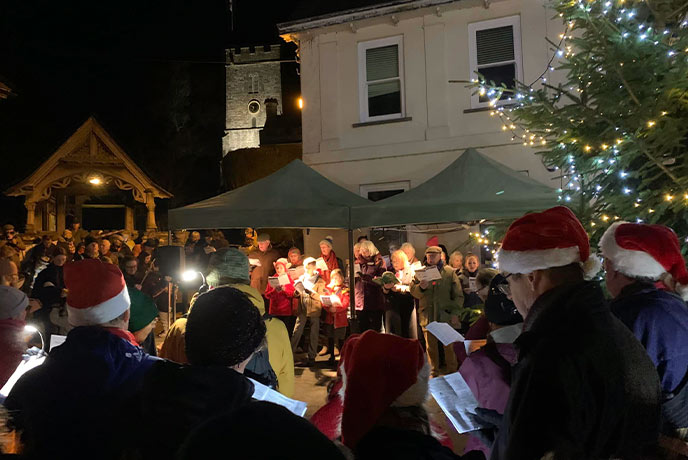 Sunday the 3rd of December
Every Christmas, the pretty Exmoor town of Dulverton comes alive with decorated Christmas trees during the prolonged celebration of Dulverton by Starlight. The shops stay open later and a host of street entertainers, live music, and stalls line the street, culminating in a fantastic fireworks display at the close of the evening - not to mention the enchanting Christmas lights that set the town aglow from here on out.
Wookey Hole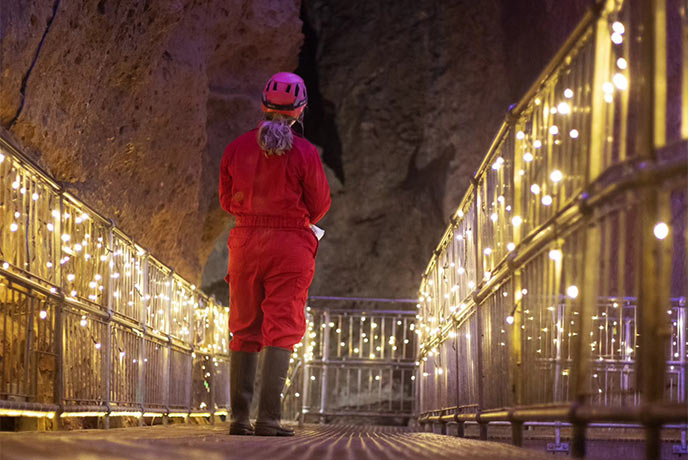 Wednesday the 27th of December to Monday the 1st of January
For something a little different, head to Wookey Hole near Wells for a subterranean Christmas! Their Winter Wonderland spectacle transforms the caves with over 100,000 lights illuminating the way to Santa's North Pole Grotto and a Christmas-themed circus show performed in the Wookey Hole Theatre (look out for the Grinch who wants to spoil everything!). This is a great family activity to do at 'twixtmas' (make sure to book before you go) and really handy as little ones don't need to stay up late to see lights twinkling in the dark.
Hestercombe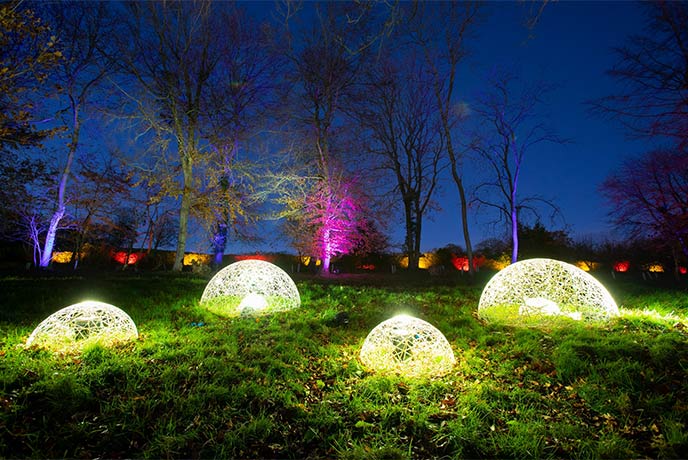 Thursday the 23rd of November to Saturday the 30th of December
Fast becoming legendary, Illuminate at Hestercombe near Taunton is a sell-out event that draws visitors from far and wide. Here, you'll discover the beautiful gardens brought to life in a breathtaking illuminated display, transporting you on a magical light and sound journey with musical accompaniments and water features new for 2023. The trail takes you past spotlights and coloured paths, leading you up towards the Great Cascade and Sibyl's Temple back down towards the Formal Garden. Father Christmas will be in residence from Saturday the 2nd through to Sunday the 24th of December, and dogs are welcome on a short lead. This is definitely one you'll need to book.
Frogmary Green Farm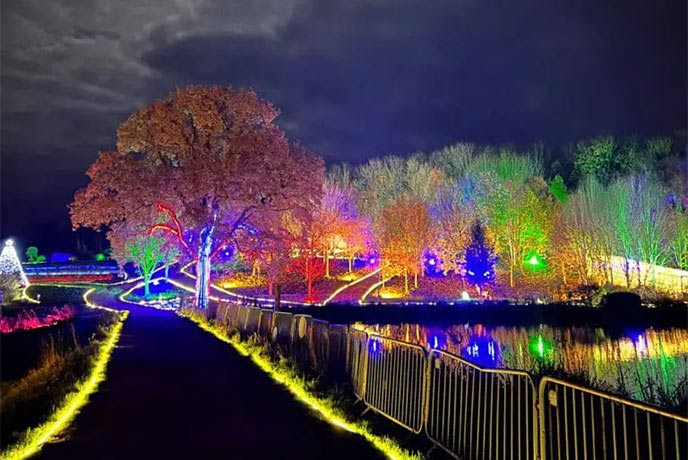 Wednesday the 13th to Saturday the 23rd of December
This award-winning farm near Crewkerne opens its gates every Christmas to visitors wanting to explore their gardens and arboretum, which are illuminated with beautiful lights. A lovely family event that takes place at Frogmary Green Farm, after you've had your fill of the lights head to the Farm and Field Café for a warming drink and festive treats. The White Barn next door will also be open for the same dates with a Christmas market and grotto where you can meet Father Christmas and his elves.
Dunster by Candlelight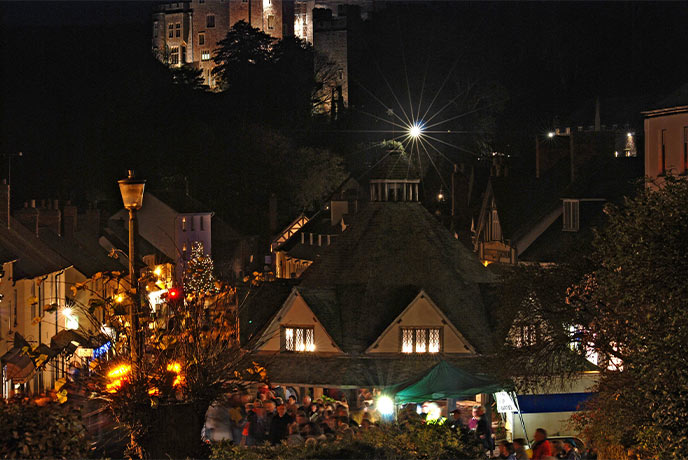 Friday the 1st and Saturday the 2nd of December
The picturesque village of Dunster, with its wide high street leading up to the majestic medieval castle, has changed little over the centuries, giving the place a timeless feel. For a real sense of Christmases past, head here for Dunster by Candlelight, an annual event that sees the historic village come alive with the golden glow of thousands of candles. Founded in 1986, it all starts with a procession of local families who move through the village, lighting all the lanterns as they go. Locals love to dress up for this, and you'll also find choirs, Morris dancers, hand bell ringers and lots of other entertainment, as well as a host of local traders selling tasty treats and gifts.
Christmas food
Famed for its food, Somerset always delivers a mouthwatering Christmas, whether you're all about pigs in blankets or steaming mugs of mulled cider - after all, when in Somerset!
Cooking at home from home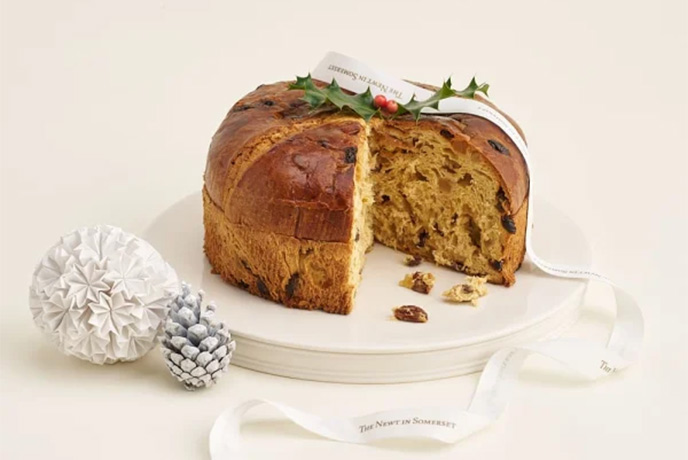 When you arrive at your cosy cottage in Somerset for Christmas, one of the ways to really get into the Christmas spirit of the county is to stock up on lots of delicious local produce. From a carefully-curated cheese board to a locally reared turkey, freshly dug up potatoes to a handmade Christmas cake decorated with candied fruits, there's something extra special in knowing that what you're eating has only come from a few miles away.
This is where farm shops really come into their own and Somerset boasts a wonderful selection to choose from. Rumwell Farm shop is excellent for its free range pork (perfect for ham and pigs in blankets), while their cake selection is second to none. The Newt Farm Shop near Bruton is a glamorous option for a super-special Christmas (with its very own cheese room), and lovely when combined with a walk around the grounds, sparkling with frost and crispy underfoot. Newton Farm near Bath is a must for organic meat, while if you're embracing a Victorian Christmas, head to Goose Slade Farm near Yeovil where their hand-reared geese are a specialty.
Eating out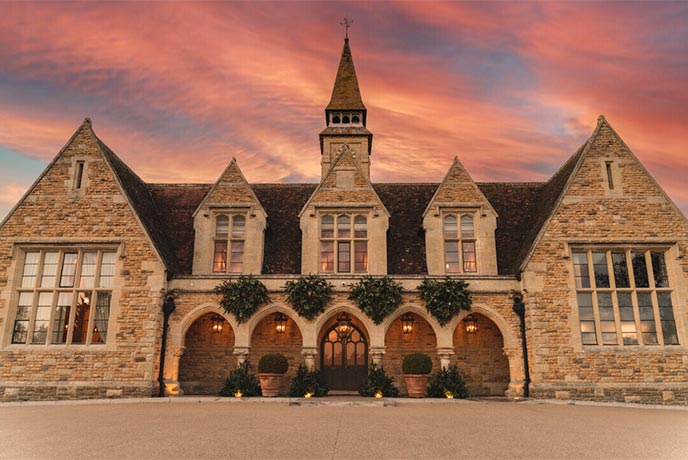 It's fair to say that there are hundreds of fantastic places to eat in Somerset, whether you're looking for something laid back, a little more formal, or something quick and easy while out and about.
Nothing says winter quite like a cosy country pub complete with open fires, hearty food, and a pint of something special in hand, and it's always a welcome interlude after a morning walk. The Cat Head Inn near Yeovil is a historic pub dating from 1580 and, in addition to their tasty winter menu, they're offering a festive two or three course menu – perfect for a relaxed family get together.
Dining out in a restaurant is a perfect way to mark the festive season and handily offers an evening off from anyone having to cook! Matt's Kitchen in Bruton is a bijou, one-of-a-kind eatery with an ever-changing set menu that offers local, seasonal dishes at an excellent price – perfect for a more intimate meal. For a show-stopping meal head to the Clockspire in Gainsborough that's a feast for the eyes as well as the taste buds. Offering an excellent set menu for the Christmas period, the restaurant was previously a school and boasts vaulted ceilings, polished floors, and exposed oak beams.
…And mulled cider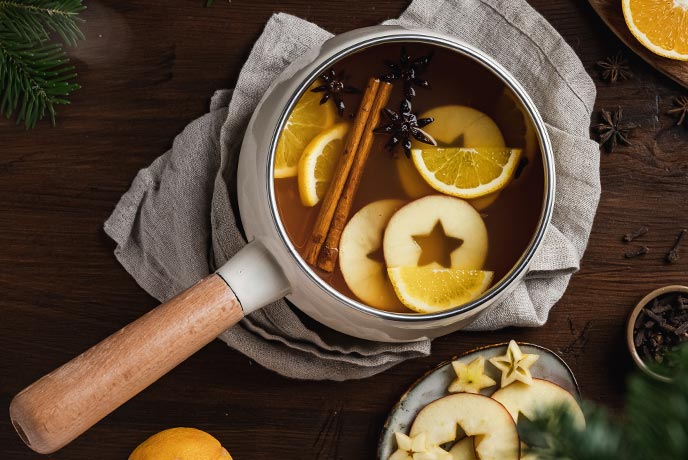 It's safe to say that cider is one of Somerset's most prized brews, and it's more than just a thirst-quenching, chilled drink to enjoy on a hot summer's day. Now there may be many different recipes for this spicy, soul-warming drink but by and large they all tend to include cinnamon, cloves, vanilla and allspice, with citrus fruits such as orange and lemon creating a fruity tang. Add a couple of heaped spoonfuls of fudgy brown sugar, gently heat and hey presto – mulled cider! For an extra-warming effect, add a tot of local gin or rum – yum!
Christmas walks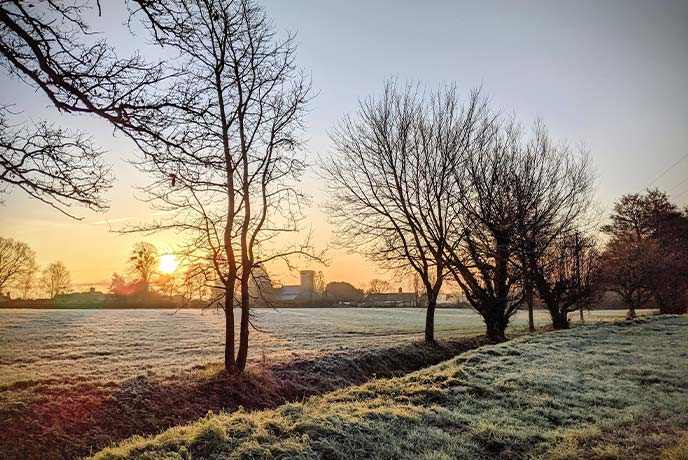 Whether you need to walk off the Christmas feast, take the dog for a jaunt or just fancy a leisurely stroll for a breath of fresh air, nothing beats a festive stomp to blow away the cobwebs. Luckily, Somerset has so many beautiful places to walk, you're spoilt for choice. For a more challenging hike, head to the hills, with the Quantocks and Mendips an excellent choice for an elevated view – just make sure to don warm woollies to keep the chill off.
For complete wilderness, Exmoor is a fantastic choice for a ramble, followed by a glass of something appropriately cheery in a country pub! The West Somerset Coastal Path stretches between Minehead and Burnham-on-Sea and guarantees a blustery walk. A ramble on the beach is perfect for some vitamin sea (followed by fish and chips), while a walk up Glastonbury Tor will give you fantastic views for miles around. If you fancy exploring a frosted forest, there are lots of woodland walks to experience too, from the historical Beacon Hill Woods near Shipton Mallet to the easy-access Ham Hill Country Park.
Feeling inspired to experience Christmas in Somerset? Take a peek at our cosy and welcoming cottages in Somerset and start planning your festive getaway today.