Set within rolling countryside and charming towns – and the odd castle for an extra hit of extravagance – Devon's festival scene is a wonderfully eclectic mix that has an event for every inclination.
With festivals in Devon having been on a temporary hiatus for the last couple of years, they are back and bigger than ever for 2022! With a fantastic selection of family-friendly music festivals as well as celebrations of food, drink and literature, Devon's lineup is looking dazzling and we cannot wait to glitter up and let our hair down. Get the wellies at the ready (because rain or shine, they're a festival staple), here are some of the best festivals in Devon in 2022…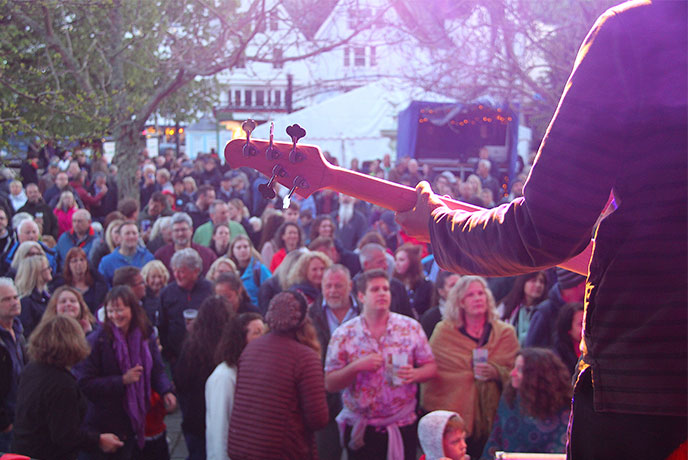 Where: Dartmouth
When: 6th – 8th May
Access: Park & Ride at the top of town
Whip out the calendar and mark this weekend as busy as you're not going to want to miss Devon's kick-off to the festival season. With over 100 performances across three action-packed days, Dart Music Festival is a beacon for family-friendly fun in South Devon. The performances take place all over Dartmouth at various venues (including a historic Tudor fort), giving you every excuse to explore the town as you go. Whether your musical tastes lie in folk, pop or choir, this year's lineup is shaping up to be a corker with a fantastic mix of artists filling the air with tunes. The best part? There's no ticket to buy! Just donate what you can as you amble around soaking up the good vibes and good times.
There are some lovely Devon walks nearby if you want to add even more sightseeing to your visit, including one that takes you past Agatha Christie's house!
Explore cottages in Dartmouth.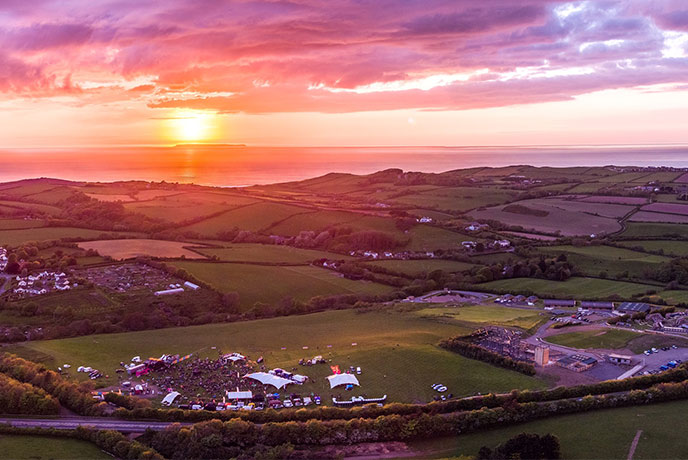 Where: Bideford
When: 14th May
Access: Parking available onsite
Round up the whole family for this one as Pigstock returns to The Big Sheep (one of our top things to do in North Devon) for a family festival like no other… Where else are you going to find live music and pig racing side by side? Headline music, DJ sets and a whole host of activities to keep the kids endlessly entertained, Pigstock have gone the whole hog for this one-day bonanza. Keep the bellies full with trips to the ever-tempting food village and dip into The Big Sheep theme park to make the most of the fantastic attractions.
Explore cottages in Bideford.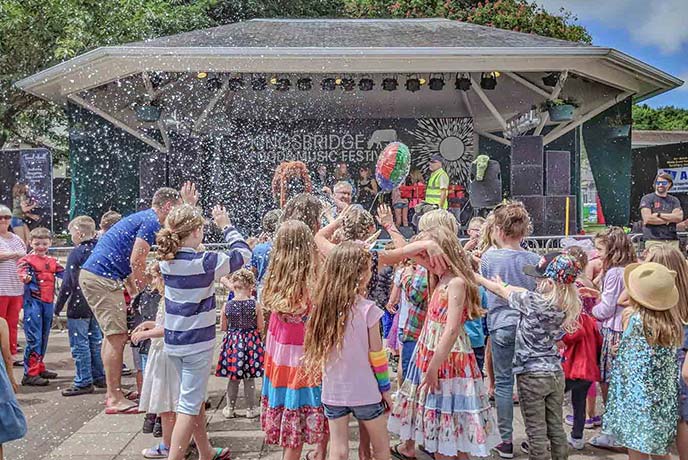 Where: Kingsbridge
When: 27th – 29th May
Access: Large car park at the venue as well as overflow parking at the nearby leisure centre
Giving life to the adage that the best things in life are free, the Kingsbridge Food and Drink Festival welcomes everyone without a ticket in sight. Taste your way through a glorious round-up of locally-sourced and produced food while nodding your head in time with the fantastic live music that fills the air – perfection! There's plenty for kids too, with face-painting, bouncy castles and craft workshops filling up the family-friendly roster.
Explore cottages in Kingsbridge.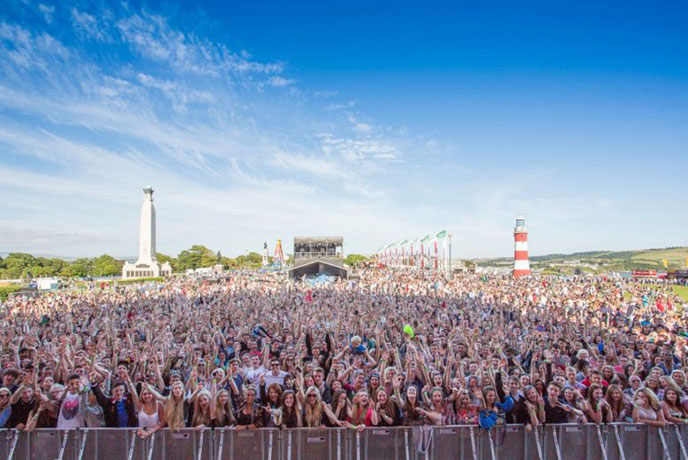 Where: Plymouth
When: 2nd – 4th June
Access: Although there will be road closures in the immediate vicinity of Plymouth Hoe, there are plenty of car parks dotted around Plymouth where you can park and walk over along with plenty of public transport options.
The historic waterfront of Plymouth Hoe is transformed into the epicentre for musical exploits as 1 Big Summer takes to the stage. From 30-piece orchestras to MTV and Plymouth favourite DJ R3WIRE, there is a tune for every taste so you can round up the whole gang for three days of head-banging, boogie-worthy fun. And if the music alone isn't enough to tempt you, The Great British Sausage and Cider Festival on Saturday certainly will!
Want to make the most of your time in Plymouth? It's got some of the best things to do in South Devon, from gin tasting to aquariums!
Explore cottages in Plymouth.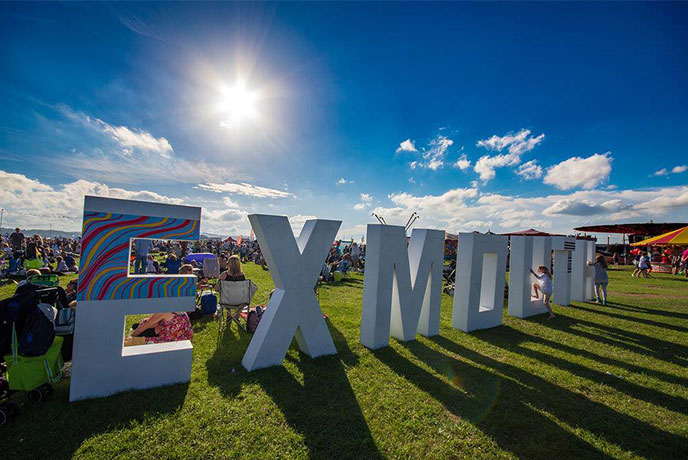 Where: Exmouth
When: 2nd – 5th June
Access: There are lots of car parks around Exmouth, all of which are a short walk or bus ride to the Imperial Recreation Ground
Who doesn't love a circus, especially when it's combined with an array of live music, theatre, local art and copious amounts of the very best food Devon has to offer? Exmouth Festival has certainly perfected this eclectic mix of entertainment as it returns in 2022 for a jam-packed celebration of community spirit. To mark the Queen's Jubilee, this year will see the lighting of the beacon, the Big Jubilee Lunch and much more so make sure to get this free festival in the diary!
Explore cottages in Exmouth.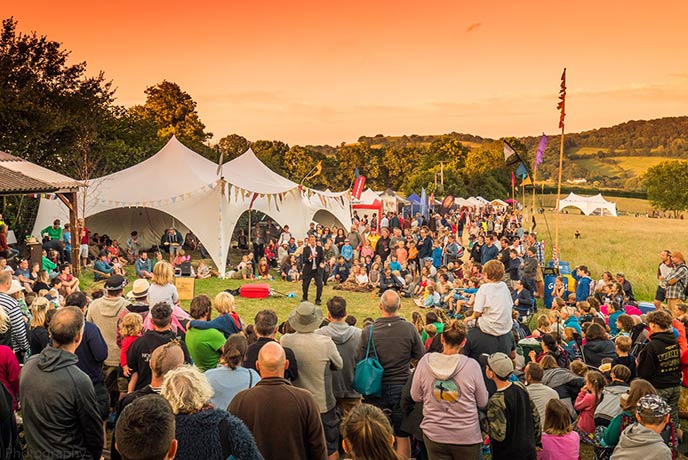 Where: Honiton
When: 1st July – 3rd July
Access: You can book spaces in the car park online
Get your motor running for this fabulous festival that's all about going wild! Goren Festival is a wonderful nature-orientated festival that's fun for the whole family. Listen to wild music as you chomp on some wild food, all amongst the happily swaying wildflowers that sprawl across the surrounding meadows. If you love the great outdoors, then this is the festival for you.
Explore cottages in Honiton.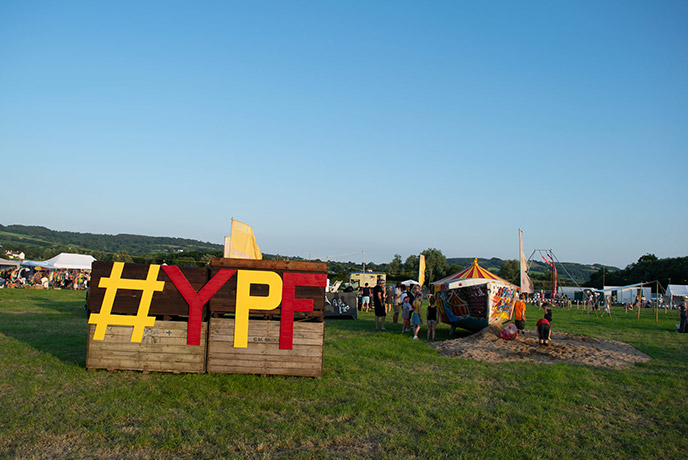 Where: Axminster
When: 15th – 17th July
Access: Ample parking at the festival
Bringing independent festivals to East Devon in utter style, Yarty Party might be one of the newer festivals on this list but it's quickly rising to the top. Family-friendly and offering a musical smorgasbord thanks to the three different stages, this celebration of the best of the South West is a party indeed. Wood carving, holistic therapies and children's workshops add even more to frivolities and ensure everyone is entertained all weekend long.
Explore cottages in Axminster, or if you want a more festival vibe for your stay, check out our unique Devon stays from shepherd's huts to yurts!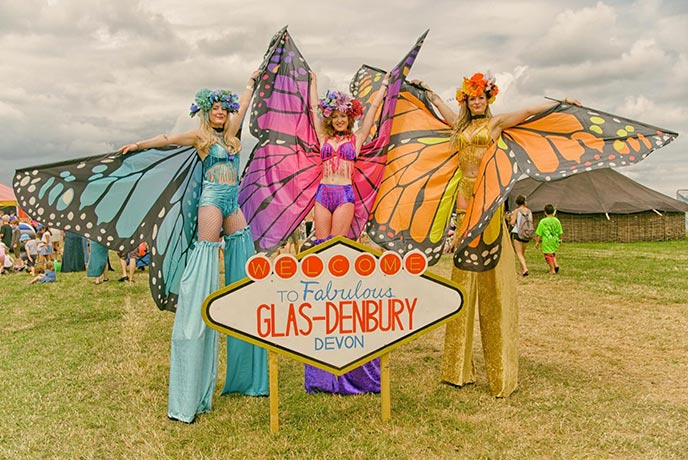 Where: Newton Abbot
When: TBC
Access: Car park passes can be purchased online or there will be shuttle busses running from nearby towns and villages (details TBC)
Awarded 'Festival of the Year' two years in a row by Visit Devon, award-winning Glas-Denbury is a firm favourite amongst locals and visitors. Despite its growing popularity, Glas-Denbury has kept its small festival feel, making it great for anyone wanting a relaxed time filled with soul. Local producers stock the food stalls with mouth-watering treats that almost count as entertainment themselves, while every genre of music imaginable takes to the stage to create an epic soundtrack to accompany the weekend.
Explore cottages in Newton Abbot.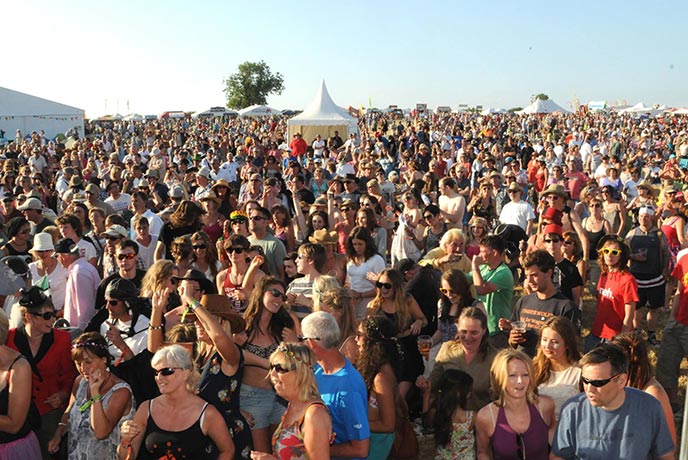 Where: Chagford
When: 22nd – 23rd July
Access: Shuttle bus from Chagford Square
When a music festival takes place in Chagford, what else are you going to name it! Chagstock is a classic example of how a few fabulous musicians and a party vibe can transform an unassuming field into a top festival. Previous performers include The Boomtown Rats, Seasick Steve and Scouting for Girls, and while this year's line-up is still shrouded in mystery, we can't wait for the names (and the beat) to drop.
Explore cottages in Chagford.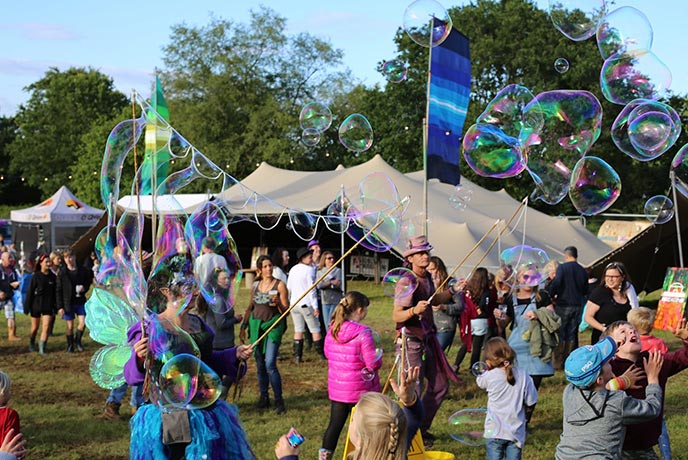 Where: Blackborough
When: 28th July – 30th July
Access: Parking tickets can be bought from Altitude Devon or you can catch the shuttle bus from Kentisbeare
Dubbed 'Devon's little festival with big heart', Altitude is a laid-back celebration of all things music where like-minded people can gather and dance the weekend away. A line-up of live music that really tours the spectrum of genres creates a toe-tapping atmosphere, while a jumble of family-friendly activities from circus skills to aerial hoop workshops keeps the kids (and adults) entertained for hours on end. Oh, and an abundance of world and local foods provide a feast for the eyes and stomach all in one sweet and savoury smelling corner.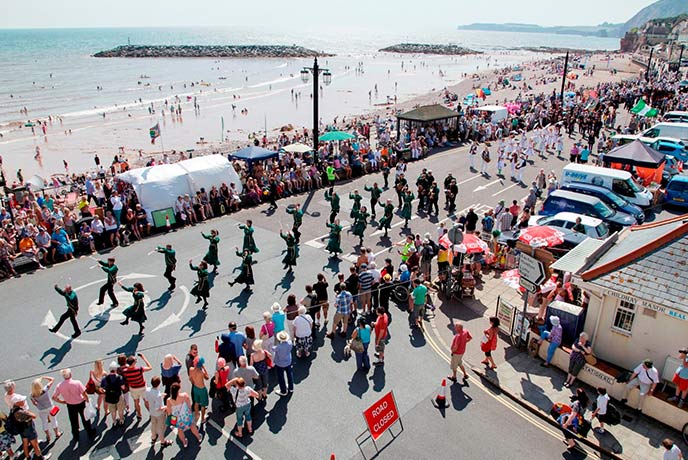 Where: Sidmouth
When: 29th July – 5th August
Access: Festival car park at Bulverton as well as car parks at The Ham East, The Ham West, Roxburgh, Manor Road, Cricket Club, Rugby Club and Bedford Lawn
If you're looking for a celebration of culture and tradition, then the Sidmouth Folk Festival is one for the holiday itinerary. Full of community spirit and with a goal to showcase and commemorate traditional music, dance and song, this annual festival is a buffet for the cultural senses. Allow yourself to be swept up in the momentum of the festival and join them as they keep 'an ear to the past and an eye on the future'.
Explore cottages in Sidmouth.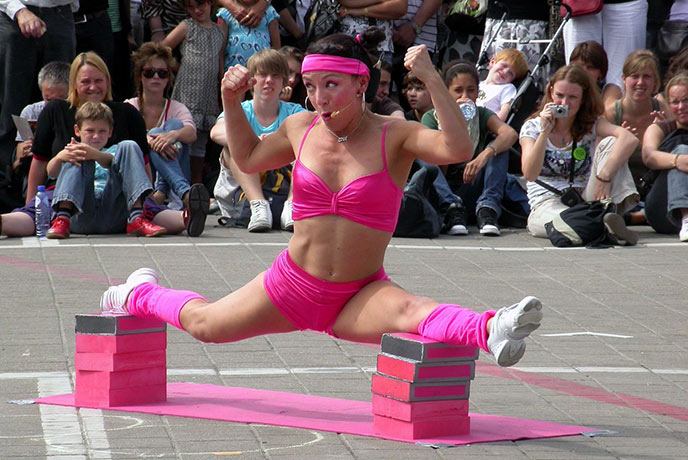 Where: Ashburton
When: 12th – 13th August
Access: Limited parking at the venue so we recommend the Park & Ride service
What do you get when you cross a quaint Devonian farm with the vibes of an eccentric fayre? Two days of utter madness and merriment at The Little Big Festival. Brought to you by the great minds behind the critically-acclaimed and world-renowned Port Eliot Festival, you can expect a whirlwind mix of musicians, circus performers, artists and much more as festival favourites combine with the Ashburton Arts Centre for a weekend of cultural collaboration.
Explore cottages in Ashburton.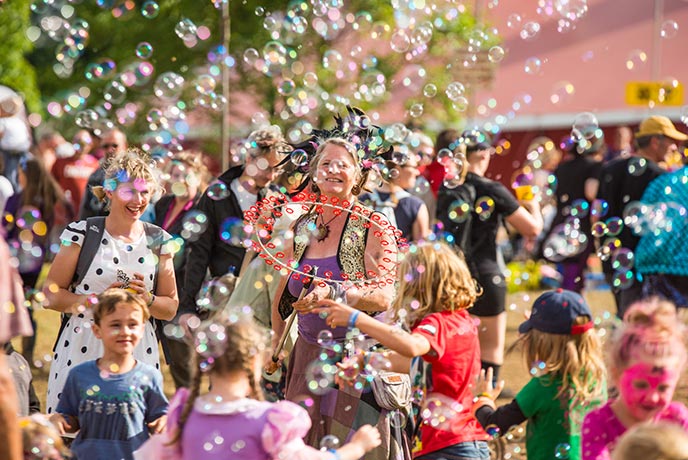 Where: Honiton
When: 19th – 21st August
Access: Parking passes can be bought online or there are free shuttle busses from Feniton Station
With a name like Beautiful Days, it's easy to start looking forward to this weekend festival before you've even bought your ticket. This year's theme of peace and love pairs perfectly with a tremendous line-up of greats from The Levellers to The Dandy Warhols alongside the added extras we've come to love including live theatre and some good old fashioned festival yoga. Oh and a collection of food traders and real ale bars to keep the stomach fed as well as the soul!
Explore cottages in Honiton.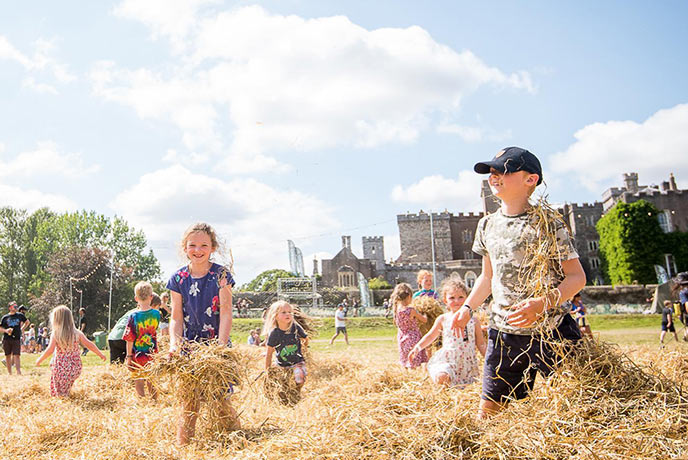 Where: Exeter
When: 25th – 28th August
Access: Parking tickets can be purchased online
Who doesn't want to party with Bear Grylls! Set in the grounds of the lovely Powderham Castle, Gone Wild is all about bringing family and friends together to make memories in the great outdoors. From 50m mud slides to survival skills, you can totally unwind and unleash at this one. Of course, there's still plenty of all the usual festival musts like great music and fully stocked food stalls (don't worry, it's not Bear's usual grub) so you can make the most of your wild experience.
Explore cottages in Exeter.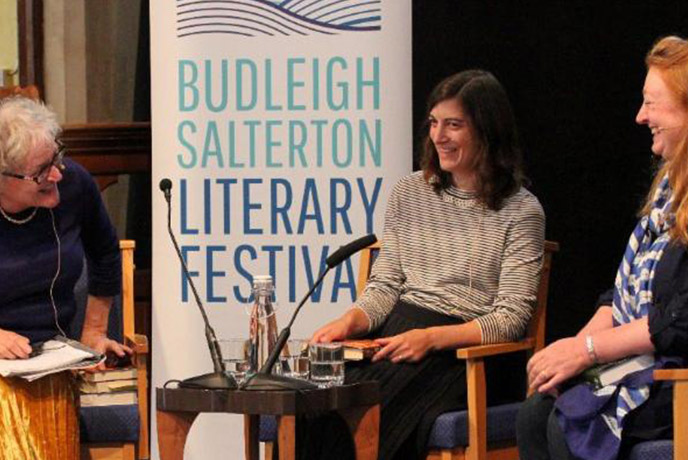 Where: Budleigh Salterton
When: 14th to 18th September
Access: Parking at Lime Kiln car park
Are your top interests books, books and more books? Well, if you go to sleep reading or wake up writing, then this literary festival should definitely be added to your holiday to-do list. With some fantastic speakers that include Hugh Fearnley-Whittingstall and David Olusoga alongside some superb workshops for both writers and crafters, there's little wonder as to why this festival is considered to be one of the leading cultural events in the South West.
Explore cottages in Budleigh Salterton.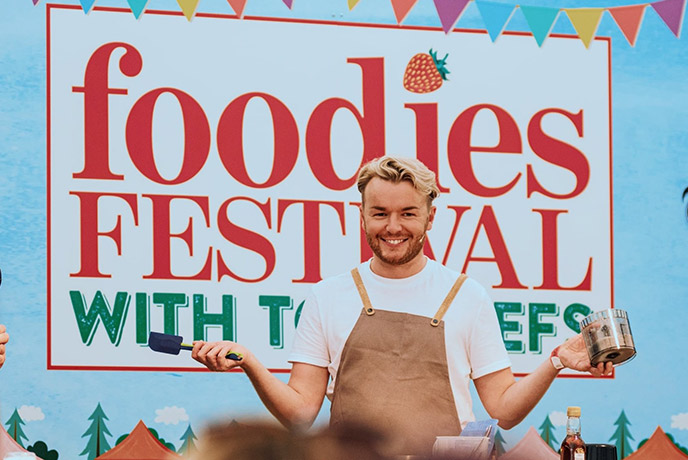 Where: Exeter
When: 16th September – 18th September
Access: There is parking at Escot Park
OK, we'll admit it… food and music are all we need to be happy so imagine our joy when we first stumbled across Foodies Festivals where songs and scones can be enjoyed in the same magical place! This year in Exeter, you can dance until you're hungry to Sophie Ellis-Bexter and Scouting for Girls before following your nose to the incredible food events. Oh, and did we mention there's a cake baking demo by the Great British Bake Off Stars? September can't come soon enough!
Explore cottages in Exeter.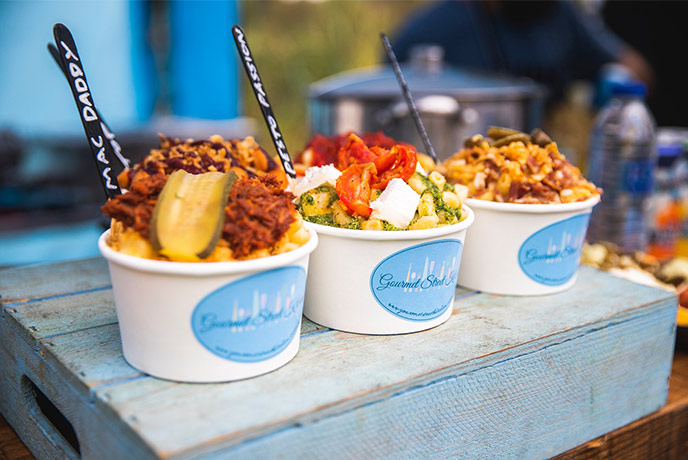 Where: Exeter
When: October (TBC)
Access: Parking onsite (TBC)
Another festival making the most of the stunning setting at Powderham Castle, this foodie's paradise is ready and waiting to round off the festival season with a bang-bang chicken! Come and tour the tastes of the South West as you meet the lovely local traders and producers that make delicious events like this possible. You can also check out the demonstrations so you can leave with a full tummy and a full list of recipes you want to try at home.
Explore cottages in Exeter.
Excited for Devon's festival line-up in 2022? Check out our lovely cottages and start planning your perfect stay.