From the grand atmosphere of the Hall for Cornwall to the coastal delights of the Minack Theatre, Cornwall certainly enjoys its fair share of impressive backdrops when it comes to putting on a show. Making the most of the diverse and often totally wild locales is the eccentric and totally superb Miracle Theatre.
Taking Shakespeare's line of "all the world's a stage" to heart, Miracle Theatre tours the South West in the summer months putting on show after show on clifftops, beaches, and even beneath the impressive satellite dishes of Goonhilly, providing audiences with an ever-changing setting to their plays.
Excited to dive into the eclectic world of Miracle Theatre? Here's everything you need to know about the Cornish theatre company…
About Miracle Theatre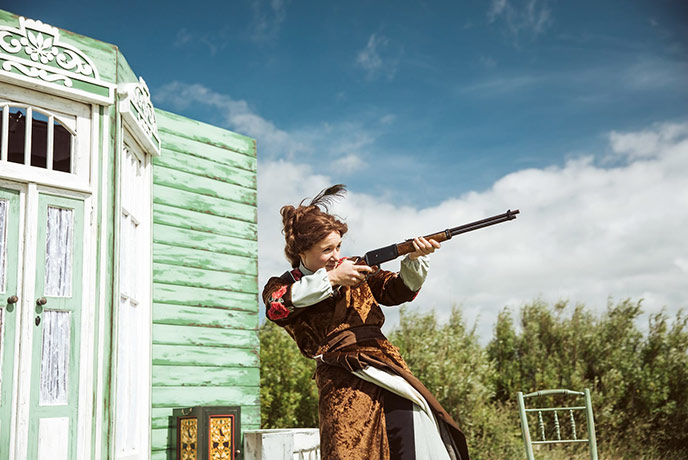 Bringing laughs, tears, and buckets of entertainment to the South West since 1979, Miracle Theatre offers offbeat performances that never fail to leave an impression. Throughout their time on and off the stage, Miracle Theatre has worked with countless amazing creatives with each new play bringing its own blend of wacky style into the light.
From adaptations to retellings and original works, each play put on by Miracle Theatre is different from the last, but this doesn't mean they are totally isolated. Every production is centred around creating entertaining and accessible theatre that everyone can enjoy.
This simple goal is achieved with a witty and often playful use of language, visual appeal, and clever use of technology and sound. Miracle Theatre's recent play Everyman was a fantastic example of this as it featured visual displays, live music, and an impressive, portable 360-degree set, the fleapit.
Other previous productions include the hilariously entertaining original play Starcrazy, a raucous retelling of Aladdin, and countless renditions of the works of William Shakespeare from The Tempest to Romeo and Juliet. They've even worked alongside English Heritage to create a selection of factual (and fun!) plays to perform in castles across the UK.
When and where to catch them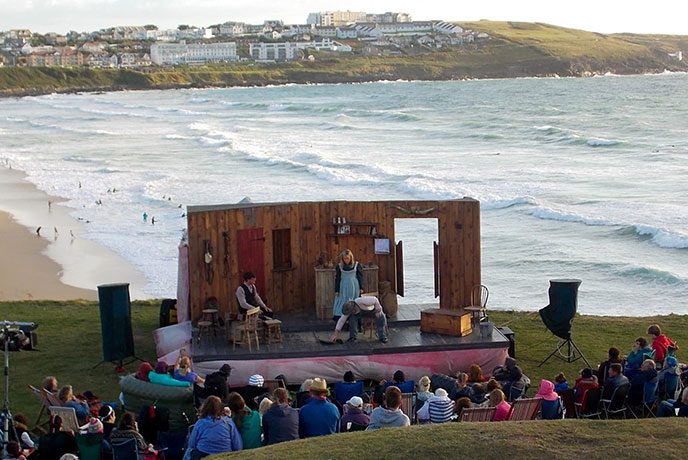 When you've got a backdrop like Cornwall and outdoor theatre companies like Miracle Theatre, why would you ever need to head indoors to catch a play? From the ever-changing coastal scenes that play out their own easy-paced storylines, to the rolling countryside that tells tales of history, tradition, and nature, nothing beats the wilds of Cornwall for set dressing.
It, therefore, stands to reason that in the summer months, Miracle Theatre becomes immersed in their surroundings. While the locations for each show can change year to year, there are definitely some favourites you can expect to see on the line-up from the pretty setting of the Princess Pavilion in Falmouth to the wilds of Bodmin Moor and the sandy throws of Carlyon beach.
While in the summer you can pack a picnic, sunnies, and maybe even a raincoat, the winter months see Miracle Theatre returning to more traditional playhouses as they perform in everything from village halls to grand theatres.
Covering the South West, you can often see Miracle Theatre's iconic pink van tootling along the A30 to bring their latest production to as many people across Cornwall, Devon, and Dorset as possible so always check out their tour dates to see where they'll be appearing next.
Find out more about the wonderful outdoor theatres and theatre companies in Cornwall to make the most of the eclectic offering.
What to watch next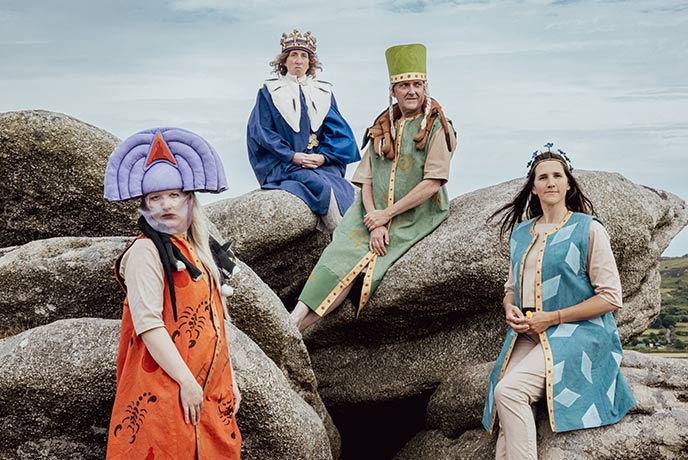 Making the rounds now is Miracle Theatre's most recent Shakespearean reimagining, King Lear, which combines tragedy, farcical whimsy, and no short supply of creative genius – the costumes are particularly eye-popping!
Originally over three hours long and full of archaic language that only literary historians can fully follow, Miracle Theatre has brought King Lear to modern audiences through a careful re-write that keeps the essence of the play while swapping 'thou' to 'you' – phew! The play has also been cleverly adapted to fit five actors, no small feat for a play that has nearly 20 characters.
If you're unfamiliar with the story of King Lear, you can expect a captivating tale that delves into the themes of family, ambition, madness, betrayal, and love and lives lost – your classic Shakespearean cocktail! We recommend picking up a programme, which features a character list complete with quirky illustrations and info on the making of the show.
Ready to venture into another world for an hour or two with Miracle Theatre? Catch them on tour while making the most of a lovely holiday cottage or in Cornwall when they're performing on their home turf.