As soon as you arrive at the Lizard you'll settle into its unique ways, spectacular landscapes and friendly, relaxed atmosphere.
The Lizard Village is wild and beautiful and raw. It's an untamed stretch with a multitude of weaving paths, secret coves and huge expanses of sandy beaches. Within a stone's throw of Cadgwith, Kennack, Coverack and Mullion, the surrounds hold plenty to do and see and there's always something new to explore. If you can bear to tear yourself away from the Lizard village itself, that is.
There is something undeniably different about the Lizard that sets it apart from the rest of the county and the UK. Found at the country's most southerly point, as soon as you arrive you'll immediately settle into a more relaxed way of life. The hubbub of the city will feel miles away and it'll feel like you've landed in your own little haven. Find out more about The Lizard Peninsular.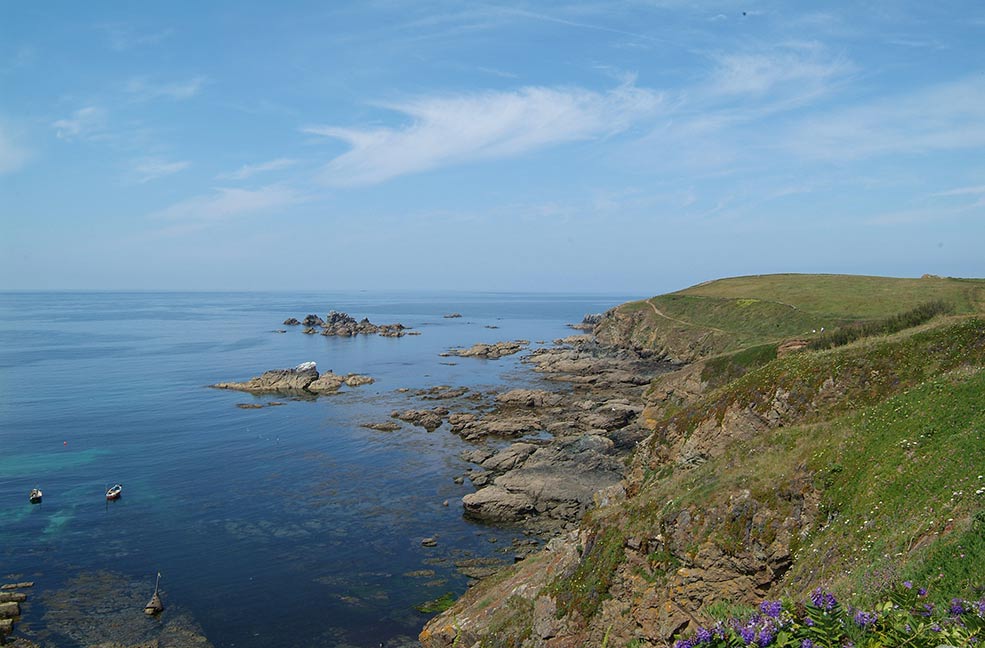 Where to eat and drink in the Lizard
Staying out of reach of commercial chains, the Lizard is home to a spattering of coffee shops, pubs and eateries. Little shops sell local produce for you to enjoy the freshest, locally-sourced food, as well as trinkets and treats like paintings, serpentine ornaments and sea-glass crafts to take home as the perfect souvenir or gift.
Found in the heart of the village, the family-run Retallack butchers is a great place to visit if you're staying in self-catering accommodation. Selling locally-sourced produce, from meat to veg, Retallack is a real gem. Stop by and browse their selection of goods, like the delicious steaks, and have a natter with the locals, it doesn't get better than this.
Being so close to the sea, it'd be criminal not to give seafood a try. Head over to neighbouring Cadgwith where local fishing boats head out most days. In a shop near the beach front you will find the local fishmonger selling a range of seafood caught that day. If you haven't tried lobster, I would particularly recommend. Fishermen always put juvenile and pregnant lobsters back into the sea, so you can enjoy a fresh catch that is part of a healthy, sustainable system.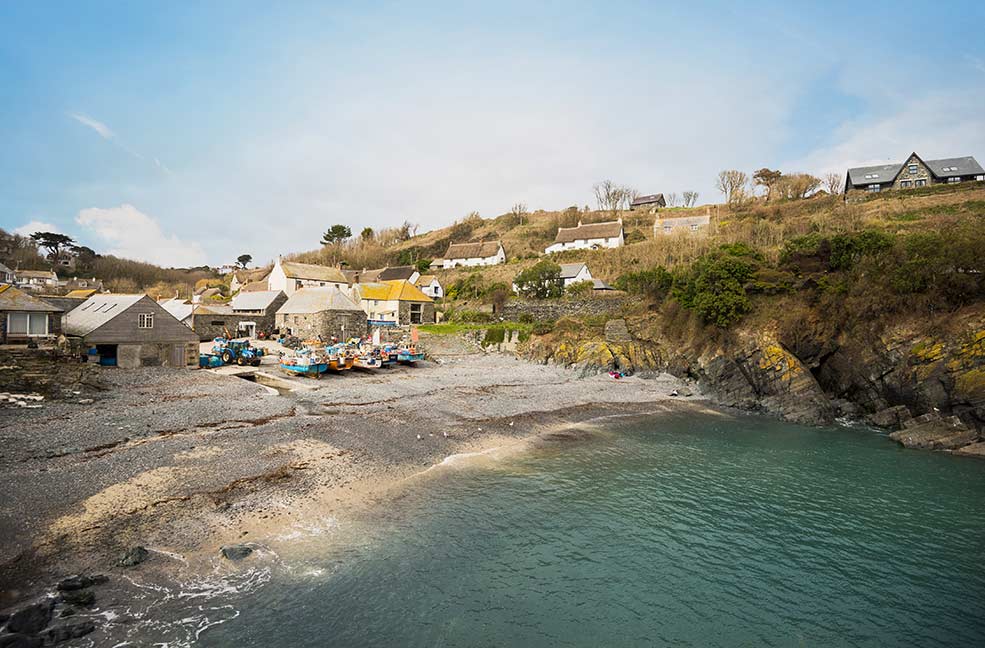 Back into the Lizard village and the local pubs, The Tophouse and The Witchball, are as often filled with locals as they are guests. Pull up a pew and get chatting to find out all about the local history and tales of pirates, shipwrecks and the sea whilst supping on a local ale or gin. There are plenty of pictures on the wall to give you a glimpse into the past and, if you're lucky, you might even find out some secret spots to visit too.
If you're hungry, Coast restaurant serves delicious, fresh food and is found right in the centre of the village. Using local produce wherever possible and with the highest attention to detail, this is the perfect place for a family meal after a long walk or a romantic dinner for two. Sunday roasts are particularly recommended.
For a real room with a view, a trip down to Polpeor Café, found at the most southerly point perched high on the cliffs, is a must. Sit back with a hot drink and hearty meal or cream tea and take in spectacular, uninterrupted views of the sea, keeping an eye out for seals below and even the rare choughs. This unique spot is truly as awe-inspiring and atmospheric when the mist rolls in over boisterous seas as it is when the sun shines and the water turns to glass.
What to see in and around the Lizard
The Lizard Lighthouse and Heritage Centre is a must-see for anyone staying in a Lizard holiday cottage. You can either drive down to the National Trust car park and leave your car there right by the lighthouse, or you can walk from the village. If you choose the latter, you should allow a good 15 minute walk. The Lizard Lighthouse is the county's most southerly land lighthouse and has been guiding ships safely home for over 260 years. Explore the lighthouse and centre and find out all about the Lizard's tallest protector.
A five minute drive outside of the village, many see Kynance as the jewel in the peninsula's crown. Towering islands soar out of sandy beaches, coves nip and tuck and the sea begs for you to dip in your toes. With occasionally strong swells, this beach is better for stronger swimmers (there is no life guard even in summer) and there is a café open in the summer months for visitors to enjoy some grub and a cool drink.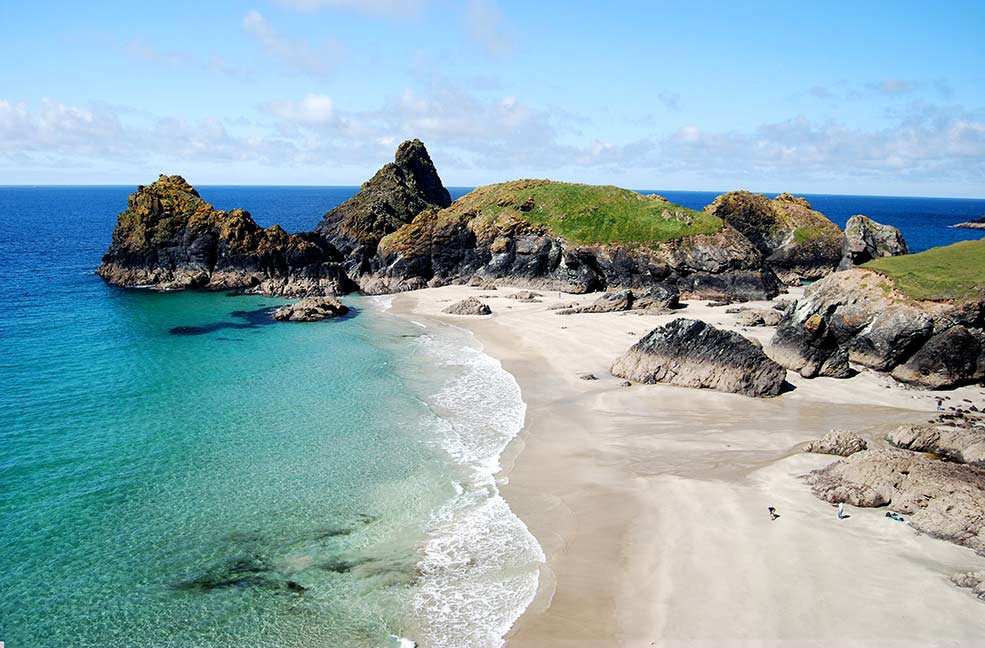 It's well worth studying a map though. Even in summer crowds can be avoided by walking a little further and heading off the beaten track. If you'd like to try your adventurous side but aren't very confident, companies like Lizard Adventure will take you out for a day's coasteering, kayaking, surfing, paddle boarding and rock climbing so you can really immerse yourself in nature.
If you like looking at the sea but like being on it even more, local guides such as Nigel Legge will take you out on boat trips to see the peninsula from a different point of view. Leaving from Cadgwith beach, trips take you along the coast taking in beautiful views of the Devil's Frying Pan, Church Cove and Lizard Lifeboat Station and more. Boat trips are fantastic for both kids and big kids alike, and guests will be entertained by Nigel's many stories along the way.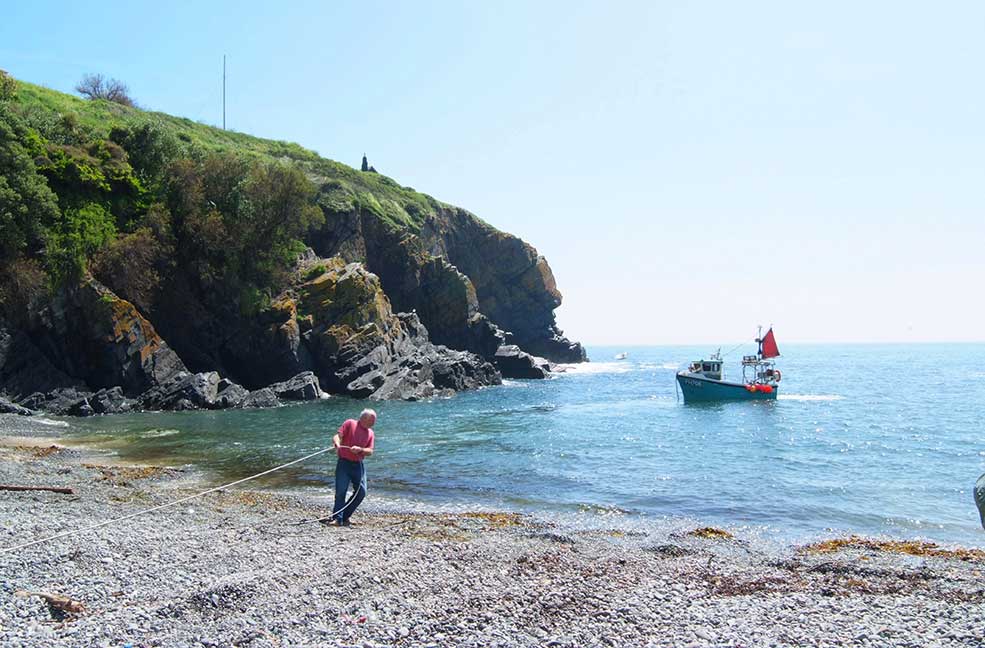 Other places to visit nearby are Poldhu Beach in Mullion and Kennack Sands near Kuggar. Come rain or shine both of these beaches offer a great opportunity to get outside and breathe in fresh, salty sea air. In summer, these beaches are popular amongst families and sports enthusiasts alike and in winter turn into the ideal spots to take a stroll with your dog.
Wherever you choose to stay in the Lizard, you won't fail to be enchanted by this charming, quirky little village and will only want to come back for more.