"Wine is the most civilized thing in the world", so said Ernest Hemingway and we're inclined to agree. Dating back to the 70s, Cornwall has a well-earned reputation for producing some of the finest still and sparkling English wines. With an abundance of awards, and stocking some of the best restaurants up and down the country, Cornwall is a must-visit destination for any wine connoisseur.
From wines and ciders to soft drinks, these vineyards in Cornwall will keep everyone's taste buds happy. So, whether you're a self-confessed wine aficionado or have never tried a glass of English wine before, we've compiled a list of wineries in Cornwall worth a visit. Read on to learn the best spots for Cornish wine tours, with plenty of wineries in north, south and west Cornwall to choose from…
North Cornwall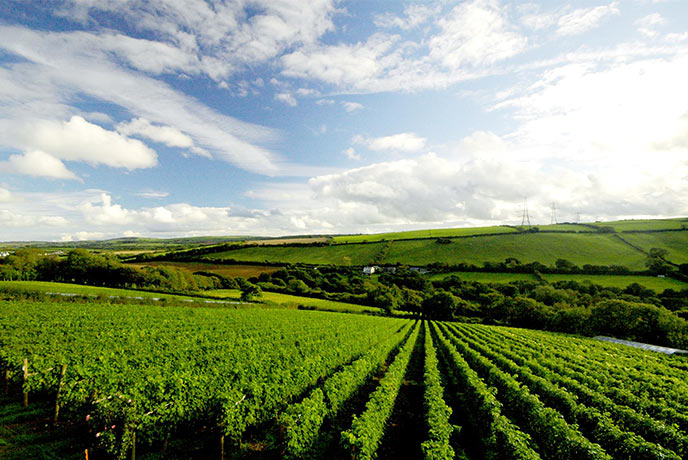 Nanstallon, Bodmin PL30 5LG
In 1989 ex-RAF pilot Bob Lindo and his wife Annie planted their first eight thousand vines in the heart of the Cornish countryside, and they had no idea of the success that was headed their way. After scooping a medal in the national English Wine competition for their very first wine, they've gone on to win countless awards, including the International Wine Challenge Gold Medal for Camel Valley 'Cornwall' sparkling wine. Their Pinot Noir Rosé Brut was described by wine critic Victoria Moore as 'a triumph, it's completely delicious – like a wild cherry blossom nose-kiss'.
Despite its colossal growth, it remains a family run enterprise and promises no snobbery, just a deep appreciation of good wine. If that sounds like your vibe, visit for one of their guided walking tours or kick back with a glass of wine on the terrace and soak up the views. Afterwards, make the most of your location and walk or cycle some of the 18-mile-long Camel Trail.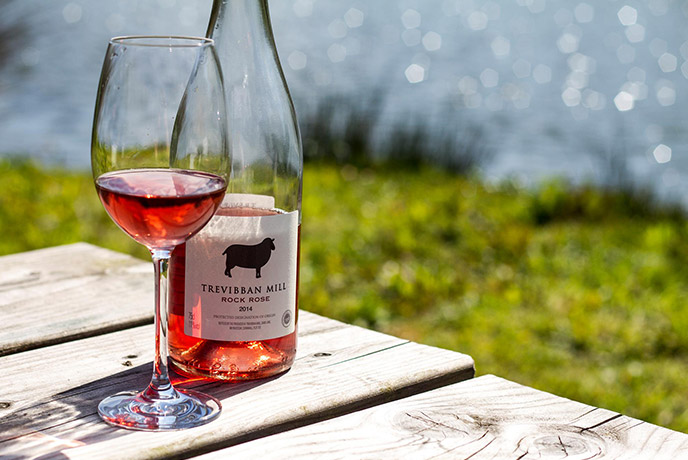 Padstow PL27 7SE
Not far from the dramatic North coast, a short while from the picturesque fishing town of Padstow, you'll find Trevibban Mill, an award-winning working vineyard and winery established in 2008 by Engin and Liz Mumcuoglu.
What was once a working arable farm is now a vineyard and orchard covered with vines and apple trees. The lush surroundings are complemented with a striking, contemporary building which houses the winery where everything, from making the wine to bottling and labelling, is carried out.
Inside, there is a dedicated tasting room, huge event space which can be hired for functions and weddings, and a terrace with views across the wildflower garden and to St Issey Valley beyond. You can take a grand walking tour, guided tour or arrange a tasting, then head here to sip on an estate made glass of something delicious. Afterwards pop into the charming working port of Padstow for a wander around the boutiques and galleries.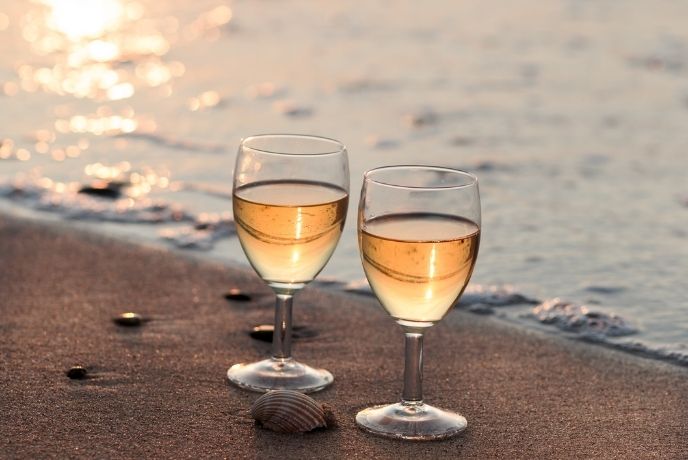 Parc-An-Gramp, Newquay TR8 4JR
The new kid on the block, The Atlantic Vineyard on the outskirts of Newquay is set to open in summer 2022. Set in 30 acres of countryside, this family-run business is on a mission to create sustainable and innovative English Wine. The focus here is on earth-friendly wine, working in harmony with the land to produce wines which reflect the unique character of the Cornish landscape.
The eco-friendly wines here are ethical, organic and sustainable, and created to withstand the infamous Cornish 'mizzle'. To help achieve this admirable mission, the vineyard is off-grid, generates its own electricity and gets its water from a bore-hole. If its eco credentials have piqued your interest, visit the website to sign up to their mailing list where you'll hear about their launch and any future tours and wine tasting events.
Discover what else this dramatic corner of Cornwall has to offer with our guide to North Cornwall.
South Cornwall
Knightor Winery, St Austell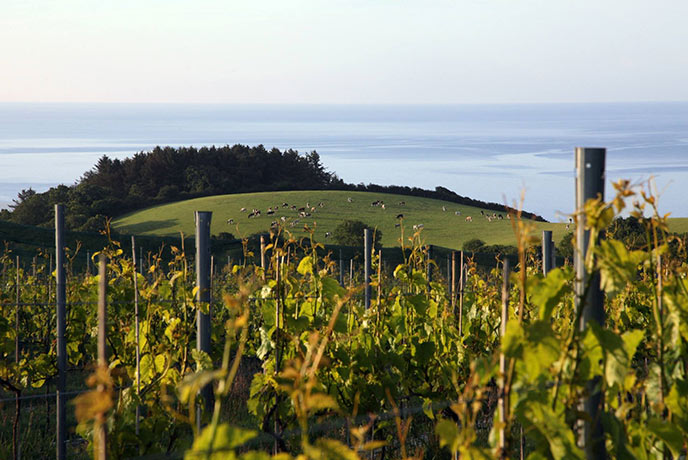 Trethurgy, St Austell PL26 8YQ
Nested above St Austell Bay you'll find Knightor, a working winery, wine shop, wedding and events venue. Knightor is set in four acres of Cornish pasture, orchard and hedgerows. Using grapes grown in their vineyards in Portscatho and Seaton on the South Cornish coast, along with other English vineyards, they create high quality English still and sparkling wines, along with their very own English Vermouth.
If you like lighter wines, you're in the right place. The cool climate and low yields here allow them to produce light, fruitier, lower abv wines with a decent acidity that make them excellent paired with food. A minimal intervention model means that all their wines are naturally vegan, low in sulphates and with any sweetness originating from fruit, not added sugar.
Pop along for tours and tastings or visit the website to find out what events are on. There are regular feasts and celebrations throughout the year that would be well worth a space in your calendar.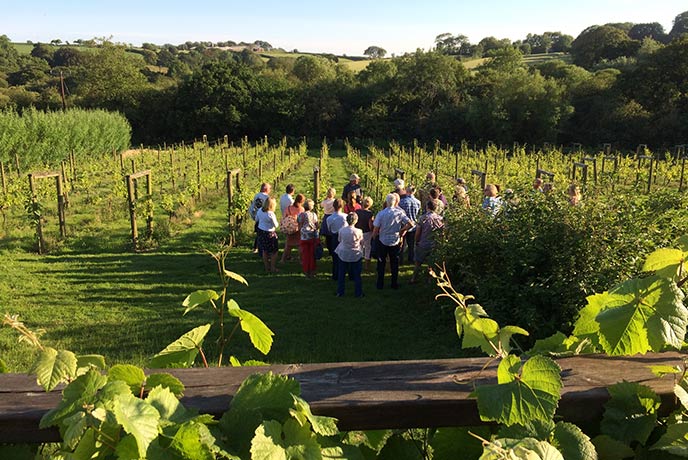 St Ewe, St Austell PL26 6EU
Owned and run by Paul and Liz Sibley, this family-owned winery is found about one mile from The Lost Gardens of Heligan on the south coast of Cornwall. There has been a farm on this land for hundreds of years, with the name Bosue being Cornish for 'House of Ewe'. Paul and Liz even found a reference to Bosue in the Parish records dating back to 1290.
The first vines were planted here back in 1996, as a trial plot and today there are some 3,000 vines at work. The south facing slopes and mild climate work wonderfully with the family's grape growing strategy, which includes varieties Rondo, Regent, Solaris, Johanniter, Phoenix and Orion. These are used to produce award winning wines including still and sparkling white and rosé wines, along with brandy.
The onsite winery allows the family to carry out all parts of the winemaking process right here. The only food miles involved is when the wine is delivered to a customer, making these truly Cornish wines. Speaking of which, you can contact the vineyard to arrange an appointment to pick up your pre-ordered wine, but there are no tours or tastings on offer here. If the winery is shut and you'd like to try a bottle, try Lobbs Farm Shop at Heligan, The Great Cornish Food Store, Ellis Wharton wines or Heligan Gardens shop. Speaking of which, if you're in the area, a visit to the Lost Gardens of Heligan is a must; here you can explore some 200 acres of once forgotten Victorian gardens.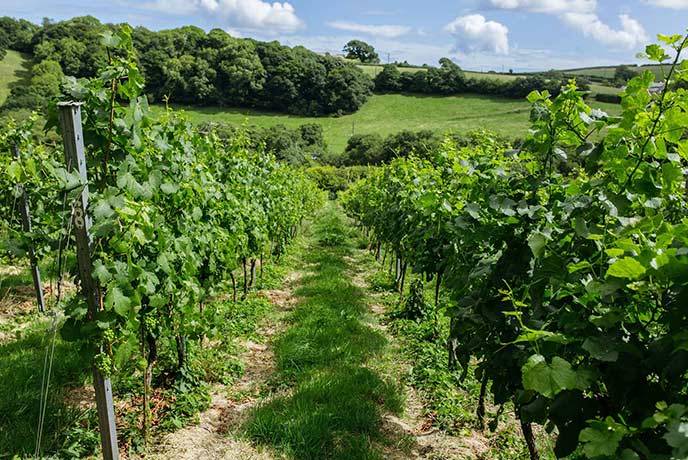 Lower Locrenton, St Keyne, Looe PL14 4RN
Established in a sunny four acres in the East Looe Valley back in 2008, owners Charles Boney and Sue Brownlow were on a mission to create high-quality local hand-crafted wines.
And that they have managed. You can visit the vineyard and check it out for yourself, book on to a tour of the vineyard which includes a two-hour tour of the estate and concludes with a wine tasting session. These are run by one of the owners, Charles, who visitors report is engaging and incredibly knowledgeable about the winemaking process. Book and tour to find out more about their artisan wines hand-crafted in Cornwall.
Tours can be enjoyed from May through to September, with advanced booking advised. If you'd like to pick up a bottle of Looe Valley Vineyard wine, you can buy onsite or online. If you're looking for something to do in the local area after, pop into the picturesque fishing harbour of Looe and soak up the seaside town atmosphere. There are plenty of quaint pubs, pasties and fish and chips to choose from.
Get the most of your visit with our guide to South Cornwall.
West Cornwall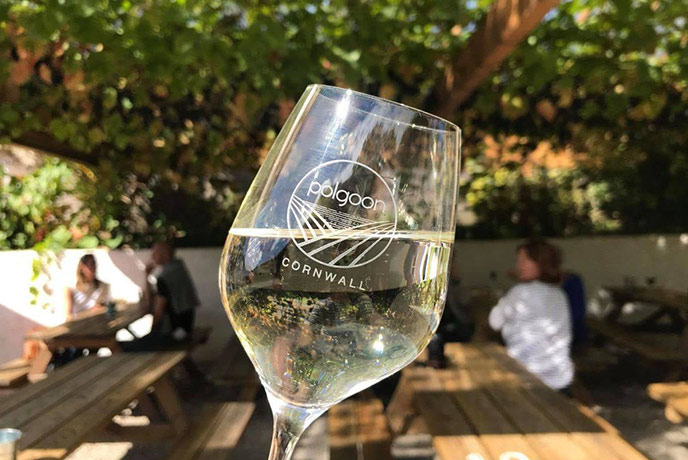 Rosehill, Penzance TR20 8TE
A family-run vineyard and orchard near Penzance on Cornwall's wild west coast, Polgoon is known for its popular range of artisan wines, ciders and juices. Polgoon was established after John and Kim Coulson decided they needed a change after trading as fish merchants in Newlyn for many years. They bought a ramshackle flower farm in Penzance, asked Bob Lindo at Camel Valley for some advice, and set about creating their very own Cornish vineyard producing award winning wine.
The first harvest in 2006 led to a Polgoon rosé which went on to win the Waitrose Trophy for Best Still Rosé in the UK. But a couple of bad harvests the following years led the pair to turn their hand to Cornish cider making instead.
From this they created a Cornish cider called Aval (Cornish for apple), a sparkling cider drink made using the same process French winemakers use to produce their sparkling wines. They went on to create a raspberry Aval, which is now the bestselling sparkling drink they sell.
Keen to learn more? Polgoon offers tours year-round. Book onto a guided vineyard tour and see the workings of a Cornish vineyard and orchard in action. Afterwards, head to the Vine House Kitchen to tuck into something tasty. How about a local crab sandwich with a glass of award-winning Bacchus white wine? Or a Cornish charcuterie platter with a bottle of Polgoon original cider?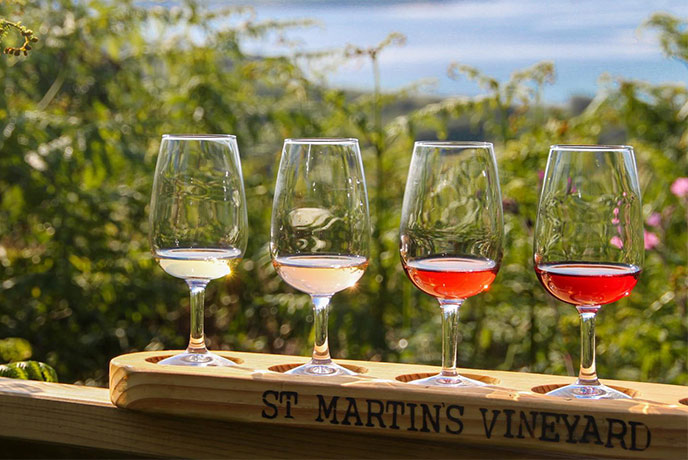 Higher Town St Martin's, Higher Town, Isles of Scilly TR25 0QL
Ok so we know it's not technically Cornwall, but with many of our visitors enjoying taking a day trip over to the Isles of Scilly, we thought St Martin's Vineyard was worthy of inclusion. This vineyard on St Martin island is located just 28 miles off the coast of Cornwall, making it the most south-westerly in the whole of the UK.
It's currently run by James and Holly, who left the landlocked midlands in 2020 to take over from Val and Graham who established the first vines here in 1996. The pair have a background in ecology and agriculture, and as keen vegetable growers and burgeoning winemakers, it seemed like the perfect fit.
You can currently book on to a vineyard self-guided tour, which comes with a guidebook and a signposted vine trail. At the end of the tour, why not indulge in a spot of wine tasting, where you'll enjoy a flight of St Martin's Vineyard wines.
Explore our guide to West Cornwall to find out everything this beautiful part of the county has to offer.
Looking for a Cornish holiday cottage to base your wine tour of Cornwall from? We have a huge range to discover, from cosy dog friendly cottages to coastal boltholes, there's something for every wine aficionado…