Best 5 tips for a weekend makeover on your holiday home
Interior design
How to restyle a room in a weekend
In an exciting new collaboration, Classic Cottages have joined forces with Caudwell & Co Interiors, based in the southwest, to bring you fresh and practical design inspiration for your holiday property or home.
We all know the feeling, there's a room in the house that needs a bit of TLC, but there's never enough time and the bookings are flooding in...
Never fear! Here are our top five tips to enable you to transform any room easily and cheaply, over just a weekend.
Tip 1. Get moving that furniture
Often a room can be transformed just by rearranging the furniture. Find a focal point and arrange around it. This may mean taking an item out, or perhaps bringing something in, but you'll be surprised at how quickly the space can change with just a few alterations.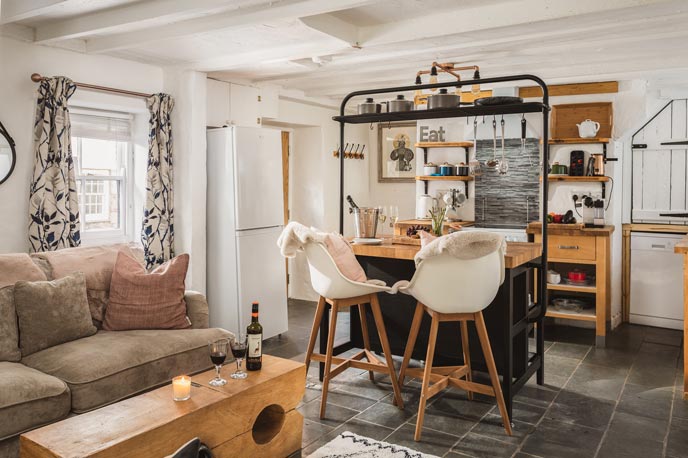 Springtide in Marazion has a free-standing kitchen workspace unit. A good use of the limited space and makes for a focal point in the room.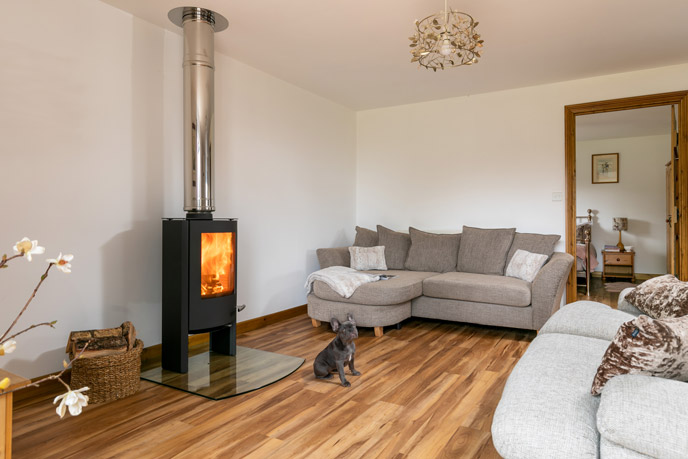 Willow Cottage near Helford has used the wood burner as the central part of this room, creating a warm and cosy environment.
Tip 2. Its time to upcycle
Upcycling just a single piece of furniture, or accessory in the room can add new interest. Be it a chair, a lamp or even fabrics, small changes can make a big difference. Re-purposing old items for a new use, or re-painting old furniture, the key thing is just to get stuck in.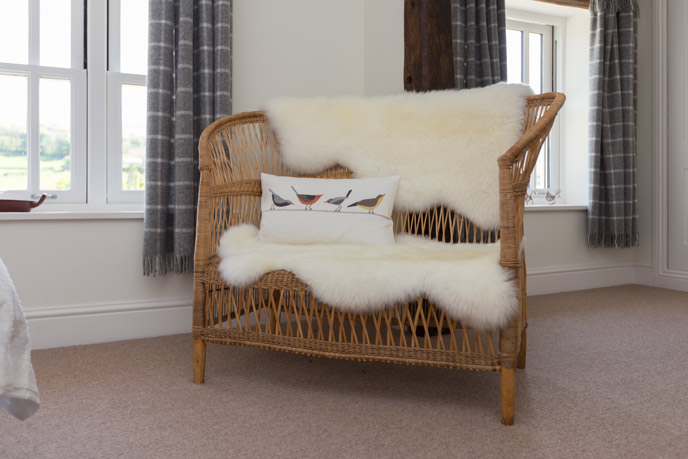 Riverview near Dulverton uses soft checked blankets as curtains in this bedroom to create a calm and tranquil feel.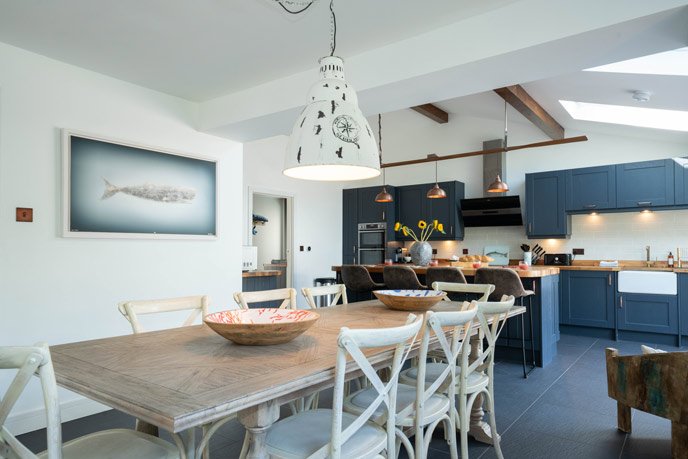 Redworth in Bembridge uses an interesting rustic nautical themed lampshade for the dining table and more unique hanging lighting in the kitchen.
Tip 3. Cushions, throws and rugs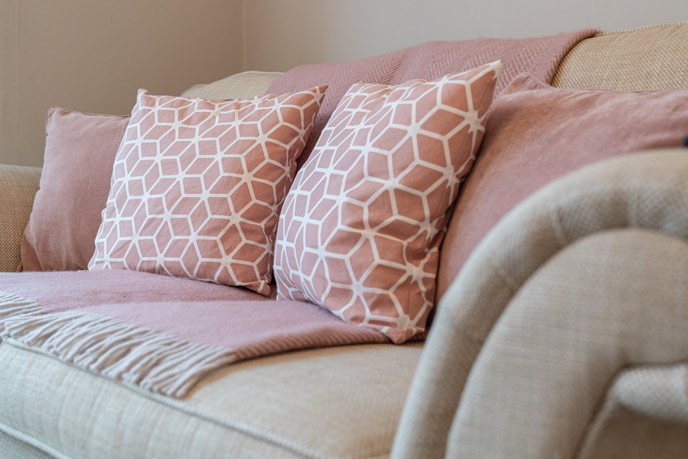 The addition of some new cushions for the sofa, a cosy throw for an armchair or a luxurious rug will give any room a completely new look and feel. Here are some on-trend items at the moment to give you some inspiration, all sourced from Westcountry based retailers.
Striped Throws www.devonbeachcompany.com
Longwool Sheepskin Cushion www.thedartmoorshepherd.co.uk
Red Deer hide rug www.caudwellandco.co.uk
Tip 4. Go big!
Sometimes all a room needs is a new focal point to create new interest.
Try your local antiques centre or charity shop for cheap art works. Either try one large piece or buy several smaller pictures and hang them all together to create an impact. Equally, a large mirror or a vase or bowl can make a real statement.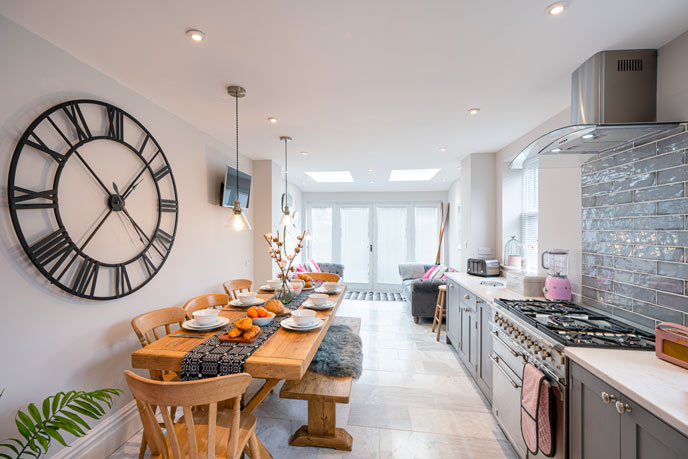 Pink Door at 54 in Pembrokeshire has this wonderful clock creating a real impact and compliments the room perfectly.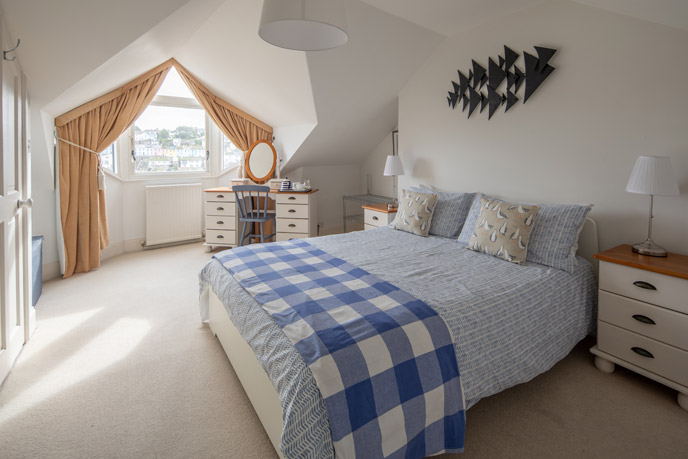 Harbour Watch in Brixham has pieces of art, like this one above the bed, around the property, finishing the room off perfectly.
Tip 5. Go green

Using plants and greenery can provide an instant impact in a room. If you don't have lots of space, use pot plants or macrame plant hangers to achieve the same effect.
If you really want low maintenance, then you can always go fake or dried, and there are some lovely options available from high street retailers. A vase of large white flowers create a lovely feature, dried lichens and mosses make beautiful decorations and a fake banana plant adds greenery to a sitting room.
For more information on anything you've seen here, please contact design@caudwellandco.co.uk or nas@classic.co.uk