South Devon is famous for its beaches, moors, hills and rivers - not to mention some stunning gardens and vineyards. It's a truly beautiful area with much to tempt you for a visit. The coastline here is unmissable, from the beach towns of Seaton, Sidmouth and Exmouth, the Harbour Towns of the English Riviera to the seafront city of Plymouth - all of which offer a great place to enjoy a fish and chips by the sea. Inland has much to offer too. Exeter is a beautiful cathedral city, and Totnes is a laid-back bohemian paradise.
For an unforgettable experience, why not catch the steam train from Paignton to Dartmouth, go crabbing in Stoke Gabriel, or get right off the beaten track up on Dartmoor. There are some seriously snap-worthy things to do in South Devon.
The area has lots of festivals throughout the year, but particularly unmissable are the International Agatha Christie Festival in Torquay, Glas-Denbury family-friendly music festival in Newton Abbot, and the October Food Festival in Dartmouth.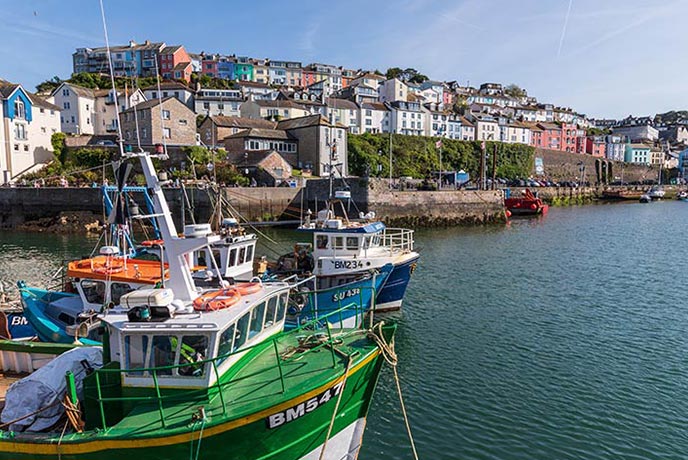 This last festival celebrates the area's love affair with great food. The quality and range of food on offer in this area have been something of a revolution in the past few years. Lovingly prepared, locally-sourced great food is celebrated in these parts like never before.
The range of great food on offer here is huge, and this guide will barely scratch the surface, but here are a few local highlights to get those taste buds tingling…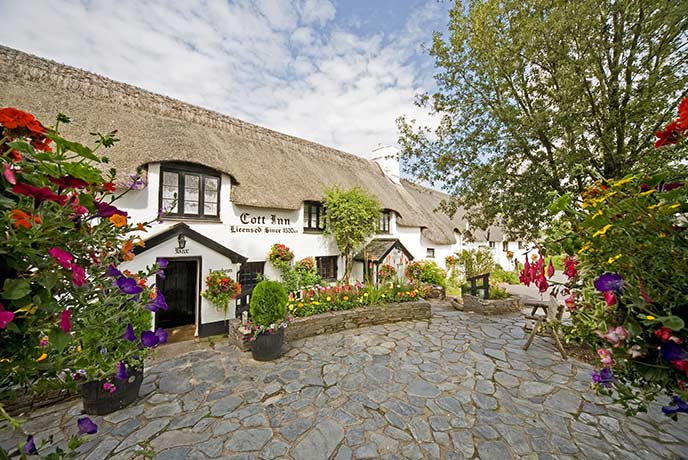 Cott Ln, Dartington, Totnes TQ9 6HE
The Cott Inn is a beautiful, thatched pub, hidden away at the end of a tiny lane in a small village in the South Hams area. The pub has been here since 1320, and you can sense the 700 years of history in its oak beams. The Cott Inn is a destination pub, which is rightly famous for its excellent Sunday lunches. It truly is a place to while away a Sunday afternoon by a real fire.
If you like seafood, the seafood chowder is a must with mussels, prawns and locally sourced fish bathing in white wine, fennel and cream. Vegans are well catered for as well - the grilled aubergine cannelloni in particular is a real treat. When it comes time to walk off your food, you are spoilt for choice, but a visit to the gardens of Dartington Hall is highly recommended.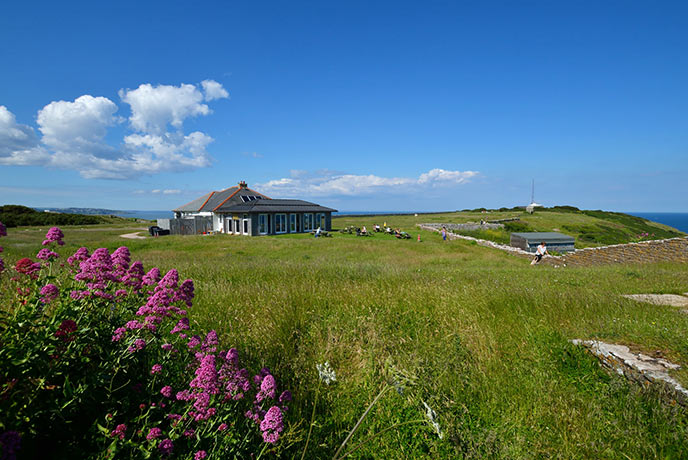 Berry Head Nature Reserve, Brixham TQ5 9AW
Set on the Berry Head promontory with glorious sea views in most directions, the Guardhouse Café is always popular. It has a relaxed atmosphere and serves a great café menu of breakfasts, light lunches and cream teas. Being both child and dog friendly, it's particularly popular with dog walkers and families.
Berry Head in Brixham has the remains of a Napoleonic Fort and a cute lighthouse. There are great walks in all directions, and it's a great place for wildlife spotting, with bird hides and miles of open sea for dolphin spotting. The food is all locally sourced where possible and the cakes are sublime so this is definitely one for the to-eat list!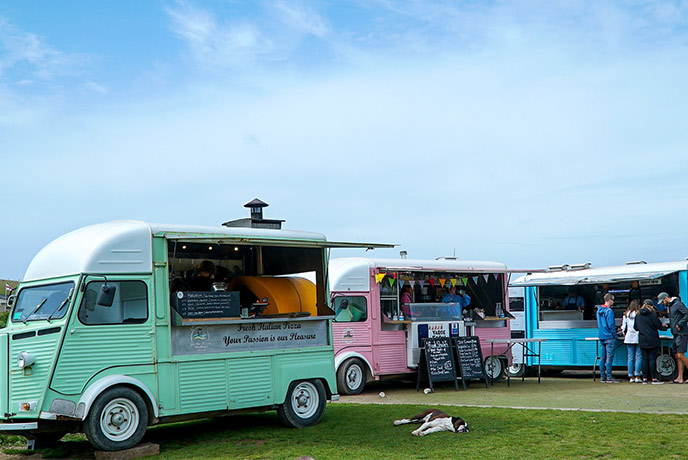 Thurlestone, Kingsbridge TQ7 3AN
In an area that's famous for its stunning beaches, a beach has to be truly epic to stand out. Well, Bantham Beach stands out! It has acres of soft golden sand and views across to the iconic Burgh Island. Until 2012, only one thing was missing - somewhere incredible to grab food. Enter The Gastrobus.
This stunning food van is a photographer's delight. With beautiful pastel colours and bunting, it would be nigh-impossible to take a bad photo. This delightful van would attract a crowd even if it served soggy jam sandwiches, but the food is just as fabulous as the setting. A range of snacks, ice creams and drinks are available, but best of all are the pizzas. Head Chef Antonio makes fresh sourdough pizzas with homemade tomato sauce and mozzarella cheese. Come for the beaches, stay for the pizzas.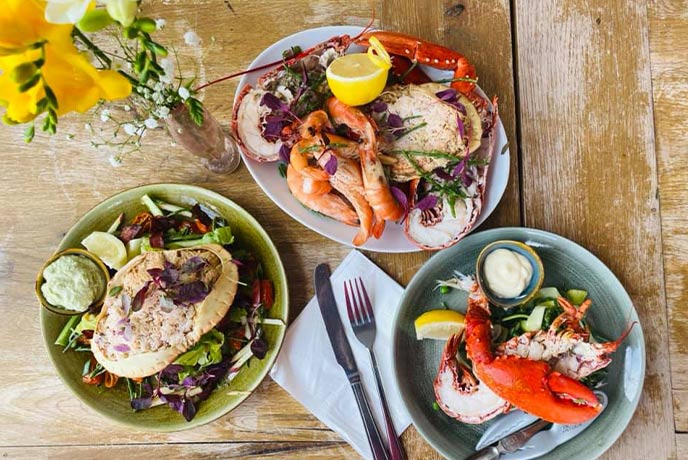 Young's Park Road, Paignton TQ4 6BU
Cantina is a local institution - and it's dog-friendly too! Sat behind arguably the best beach in the English Riviera, Cantina has a large grass outside area where children can run around and play outdoor games. Cantina Bar and Restaurant is a family-run eatery and drinks venue, which regularly has live music playing. They do fabulous rustic pizzas and amazing ice-cream sundaes so just pull up a chair and relax into some seriously good grub.
When you're ready to move on, a big recommendation is the Steam Train, which runs right past the beach. While in the area, why not also plan a visit to Paignton Zoo, with its famous Baboon Rock and delightful family of red pandas.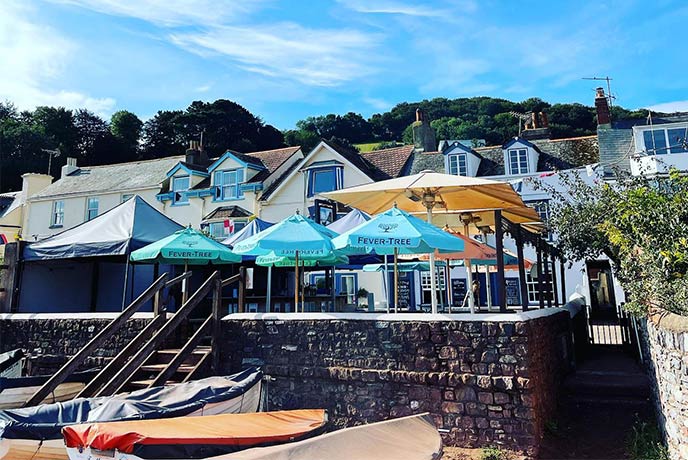 4 Strand, Shaldon, Teignmouth TQ14 0DL
Shaldon is one of the prettiest villages in England with pastel cottages that overlook the Teign Estuary and views across to the beach huts in Teignmouth. The Ferry Boat Inn really makes the most of this incredible location with a fabulous beer garden that leads straight onto the sand.
Kick your shoes off and relax with a local ale and sharing platter. Or, why not try one of their legendary hot dogs? These are a bit special, with huge smoked sausages, onions, gherkins and their own special slaw. After eating you can walk a few yards across the sand to catch the ferry from which the pub gets its name. The small foot ferry crosses the estuary to drop you in Teignmouth, which is well worth an exploration before you ferry back again.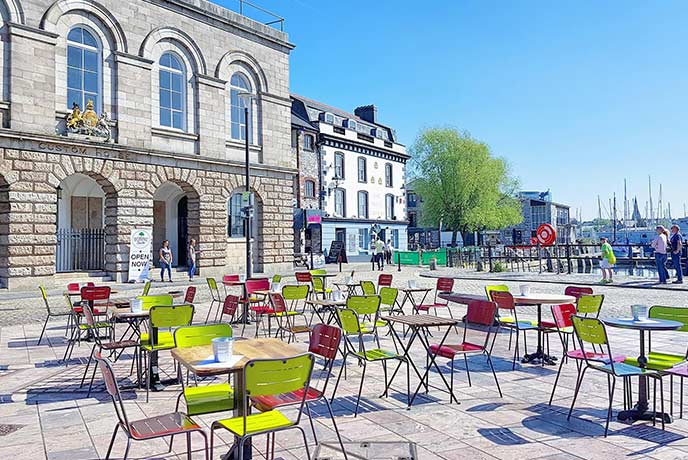 Custom house, Right side entrance, The Barbican, Plymouth PL1 2JP
Plymouth is an interesting seafront city with an incredible history. In a city with multiple charms, a favourite area is The Barbican huddled around the harbour. This is an artsy, relaxed quarter with numerous seafront eateries. Bonne Santé is a fresh-food restaurant and cocktail bar in a beautiful building on the water's edge.
There is a day menu with brunches, burgers and salads, and an evening menu including Thai curries, noodle dishes and sharing platters. The Thai red prawn curry has king prawns, asparagus, courgettes, red onion, bok-choy, bell peppers and baby corn. Bottomless brunches also take place here for a truly memorable morning out with friends. Plymouth is a city that rewards wandering, particularly around the seafront and harbour areas, but make sure you also visit The National Marine Aquarium for an eye-opening journey through the oceans.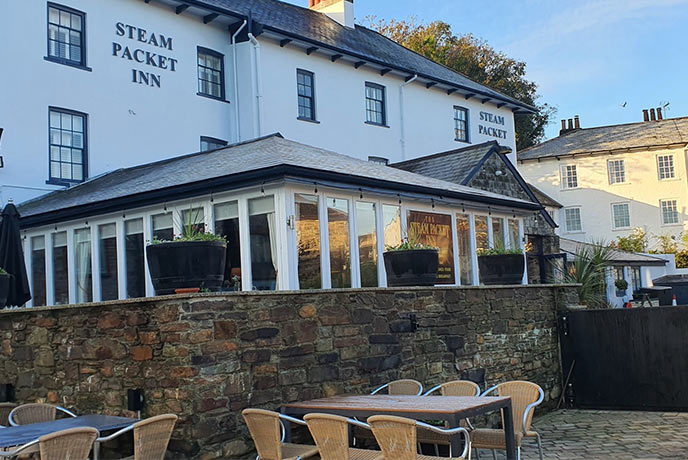 St Peter's Quay, Totnes TQ9 5EW
The Steam Packet Inn is a fantastic riverside pub in the colourful market town of Totnes. On winter evenings, you can snuggle up near their huge fire, or watch the River Dart go by. Choose between the outdoor terrace, the conservatory dining room, or the lounge bar. Or make a day of it and sample all three!
Cosy pubs don't get cosier than this. All food is made fresh on-site, and the inn has a full gluten-free menu. The menu changes regularly, with many daily specials, but you can expect lots of gastropub favourites like cod and chips, steak, and scampi - not to mention a week-defining Sunday lunch as well. There are great walks on either side of the River Dart to enjoy, or just wander along the high street browsing the many delightful independent shops. Or for a fabulous day out just up the river, why not book a wine tasting at Sharpham Vineyard?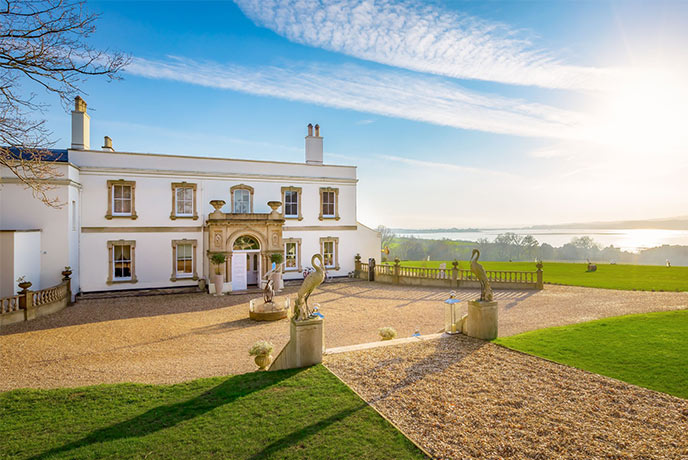 Courtlands Ln, Exmouth EX8 3NZ
There are a few great choices for Michelin-starred fine-dining in Devon, with Lympstone Manor being one of the best known. Lympstone Manor is a Georgian Hotel in the village of Lympstone, near Exmouth that enjoys views across the River Exe and along the Exe Estuary. There are several dining halls, but if you are not a resident, you will need to check availability.
It's well worth it though, as the menus are ready and waiting to whisk your tastebuds away with fresh, local ingredients and superb dishes. Whether you're in the mood for a romantic dinner for two or an afternoon tea with your bestie, why not treat yourself to a foodie experience at Lympstone Manor.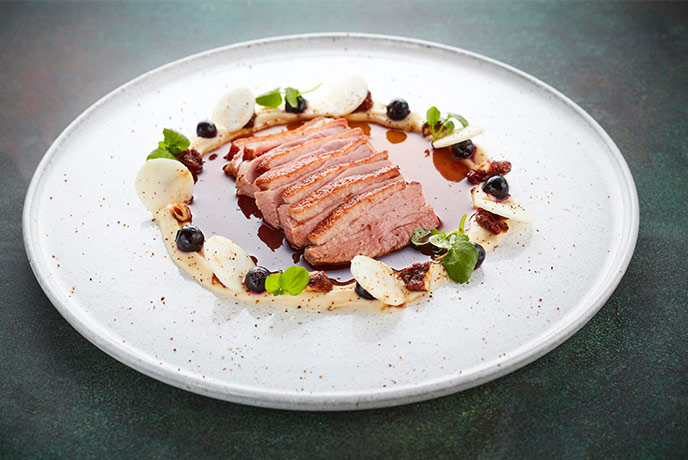 3&4 Beacon Hill, Torquay TQ1 2BH
A less well-known Michelin-starred restaurant is The Elephant in Torquay. This is a fine dining experience that feels like a real discovery. It is surprisingly relaxed and informal, with a real pride in their creative, inspiring dishes. Here the food is always the star of the show, which has allowed The Elephant to hold onto its Michelin Star for 15 years.
Simon Hulstone is the Head Chef who oversees a menu that specialises in seafood. The ever-changing tasting menu is incredibly popular and currently includes Sharpham camembert, dry-aged beef fillet, Orkney scallops and Brixham mussels. Food is sourced locally where possible, particularly from the neighbouring fishing town of Brixham. The Elephant claims to have the best value Michelin starred lunch in the UK and we're inclined to agree.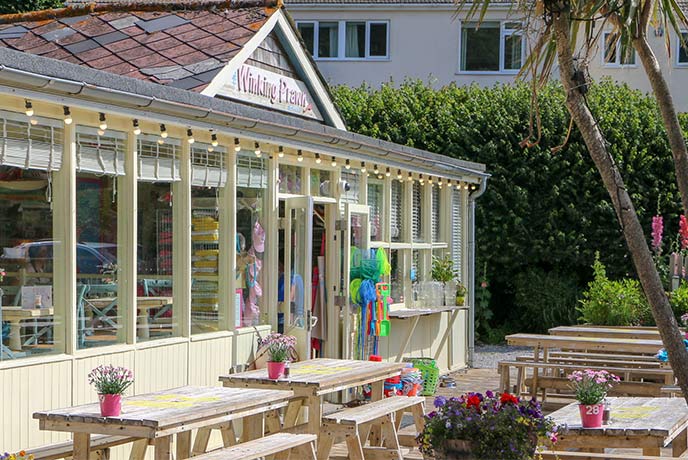 Beadon Rd, Salcombe TQ8 8LD
The Winking Prawn by Salcombe North Sands is a great family-run beach-side café. When you are sitting at their colourful tables next to this shabby chic café with incredible views of the beach you will feel more like you are in Big Sur, California than Salcombe, Devon. This café is very relaxed and welcoming, with people walking straight up from the beach in their flip-flops.
There are loads of great unique touches that create a casual, welcoming feel, including a children's dressing up box, a sand pit, and a barbecue area. As you'd expect, the menu has plenty of seafood, including an amazing fruits de mer with lobster, crab, scallops and prawns. Afterwards, you can drive or walk up the hill to the fabulous Overbecks House and Gardens for a relaxed wander.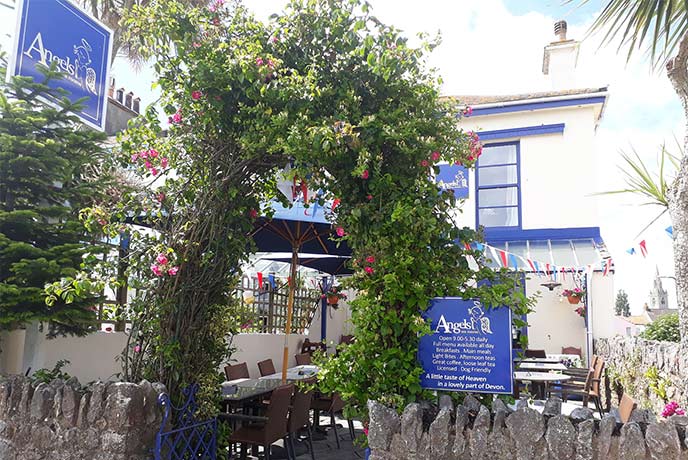 49 Babbacombe Downs Rd, Babbacombe, Torquay TQ1 3LP
Soak up an atmosphere of afternoon tea and fine china at the ever-so-cute Angels Tea Rooms in Babbacombe, which maintains a rarified ambience of refined gentility. Loose leaf tea is served in bone china cups as people slow down and soak up the jazz age sounds.
This charming café is famous for its afternoon teas with taster sandwiches on delicate cake stands. Or for an equally indulgent treat why not order the unparalleled Devon cream tea. Set aside plenty of time for choosing your scones as there is a huge range including plain, fruit, cherry, white chocolate, triple chocolate, dark chocolate, stem ginger, wholemeal, cheese, apple and cinnamon, and various gluten-free and specialist choices - whew! This fabulous clifftop café has a beautiful garden terrace, from which it's only a short walk to the Babbacombe Promenade, with expansive sea views as far as Weymouth on a clear day. At one end of the promenade is the famous cliff railway. This funicular railway has been transporting people to Oddicombe Beach since 1926.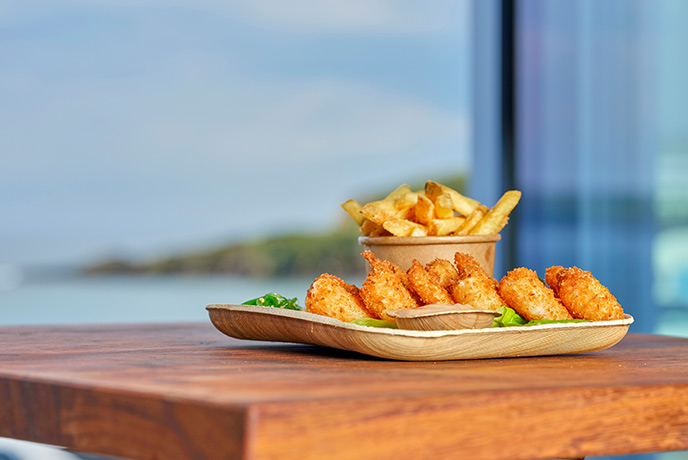 Sands, Blackpool, Dartmouth TQ6 0RG
Blackpool Sands, near Dartmouth, is another beach that regularly features in lists of the best beaches in the UK. It is framed by huge pines and has a perfectly formed crescent moon shape. Right on the beachfront is the ever-popular Venus Beach Café. A lot of beach cafés can be seasonal, but Venus Beach Café is open every day (except Christmas Day) so you always have access to a delicious beachy snack.
Understandably, it's quieter in winter but this can make it even more attractive. It has a great log fire and stunning beach views. It's a great place to eat a relaxing breakfast, a light lunch or grab some chips to go. If you are a walker, why not make this a lunch destination as you walk a favourite stretch of the South West Coast Path from Dartmouth to Start Point. A must-see en-route is the remains of Hallsands, the village that fell into the sea.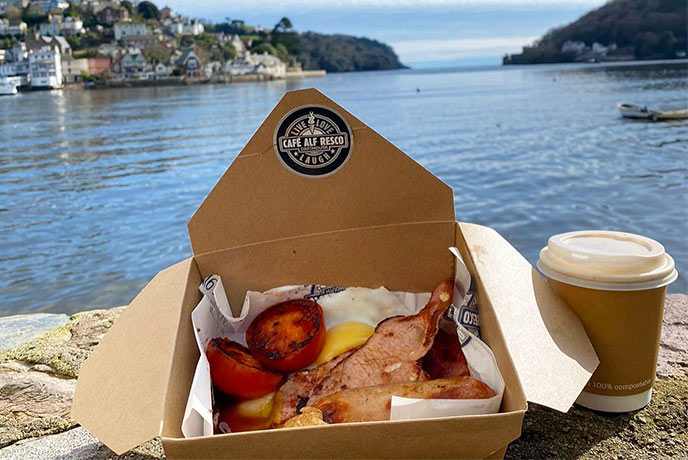 Lower St, Dartmouth TQ6 9AN
Pull up a chair in this delightful courtyard eatery in the back streets of Dartmouth and you will soon feel its charms working on you. Dartmouth is a beautiful town that's well worth a visit. Stop for breakfast in this lovely café and you'll be forgiven for thinking you're in a market village in Northern France. Few places replicate the relaxed ambience of France better than this delightful café.
The food is even cooked on an authentic French parlour stove, for that added bit of realism. The relaxed atmosphere, the friendly service and the great food all add up to a genuinely lovely experience. Even the light-hearted name suggests something friendly and stress-free. The breakfasts and light lunches are always popular, or you can make an evening of it with their supper menu from which you can try a fish, meat or vegetarian platter. Dartmouth itself is a picturesque hillside town with lots of art galleries and independent shops. One activity that is always popular is crabbing along the Quay Wall.
Take a look at our lovely cottages in South Devon and start planning your fabulous foodie getaway with an extra helping of sea views and countryside strolls.