There are so many pretty villages in South Devon that it will always be difficult to choose a few favourites. I've tried to include a mix of coastal and inland villages, with variety of different features. All of these villages have different things to recommend them, but they all have that picture-postcard wow factor. So, here is my list of the prettiest villages in South Devon.
Ashburton is a fantastic little market town. There are lots of independent shops, and it's the go-to place for antiques. But Ashburton's charms are greater than just its fabulous shops. It is a pretty little place, with charming old buildings. It is also situated right on the edge of Dartmoor, so it is surrounded by breath-taking scenery. Ashburton is full of charming cafes and coffee shops, so it is the perfect place for relaxing.
Bantham is a coastal village with a glorious shoreline. In 2015 Bantham Beach was named in the Lonely Planet's top ten best beaches in Europe. It has sheltered waters and yellow sand, as well as interesting rock features. Bantham has a lot to recommend it, but its standout features are its breath-taking views. In particular, the coastal view out towards Burgh Island is one which never fails to take your breath away. I have visited Bantham scores of times and each time I forget just how good this view is. And this isn't the only great view. There is the view across the mouth of the River Avon, the views inland towards the rolling hills and the views along the coast towards Hope Cove. The village itself has some pretty thatched cottages.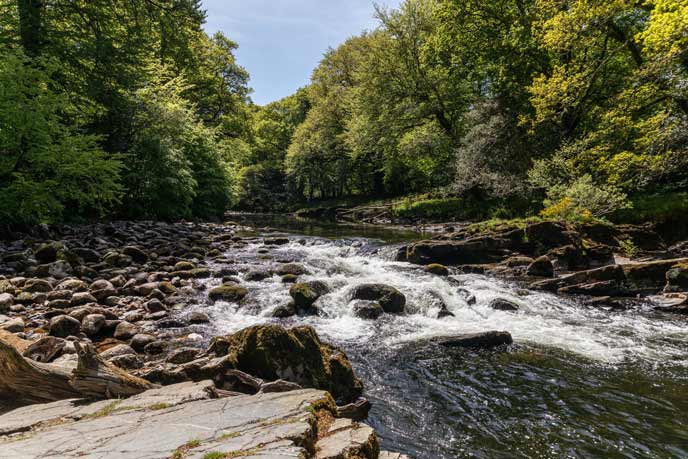 Buckfastleigh is an ancient wool town with some great historical buildings, not least of which is the world famous Buckfast Abbey. This huge Benedictine monastery is the perfect place to relax and unwind. It is a working monastery, but the monks are very welcoming, and enjoy sharing the building and lovely grounds with their many visitors. The town is situated on the edge of Dartmoor, with lots of great walking nearby. There are just a handful of shops and cafes, but there are lots of attractions nearby. As well as the abbey, there is Pennywell farm, Dartmoor Otters And Buckfast Butterflies. The South Devon Railway also stops here.
Cockington is a real step back in time. Although it is tucked between the busy towns of Paignton and Torquay, it is a quiet, rural place. There are thatched cottages, and winding lanes, duck ponds and wishing wells. The village has a blacksmiths, a water mill and some lovely tea rooms. All these pretty old buildings cluster around the magnificent manor house of Cockington Court. Cockington Court itself has three areas of craft studios as well as a church, rose garden, play area and well-maintained cricket pitch. It would be hard to find somewhere with more olde English charm than Cockington.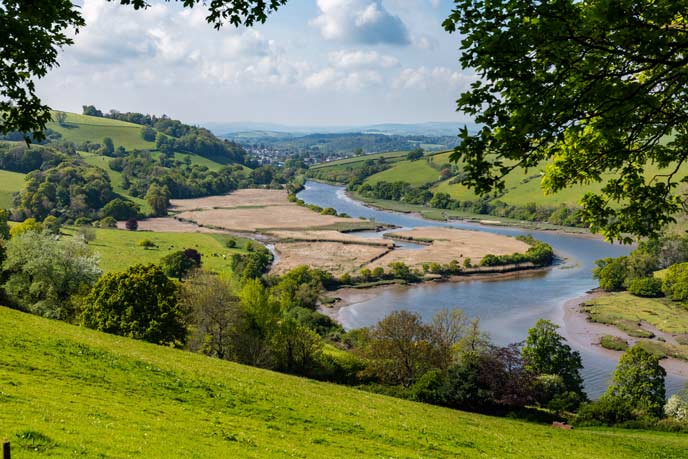 Dittisham is a lovely riverside village on the banks of the River Dart. It is one of Devon's many hidden gems. It lies down twisty lanes and isn't particularly well signposted, so many people don't even realise that it's there. But it's well worth seeking out. Pastel coloured cottages look straight out onto the peaceful waters. Across the river is Agatha Christie's holiday home of Greenway. It is worth bringing some crabbing nets and settling down on the quay for a spot of crabbing, before grabbing some lunch or a drink in the lovely riverside pub of The ferry Boat Inn.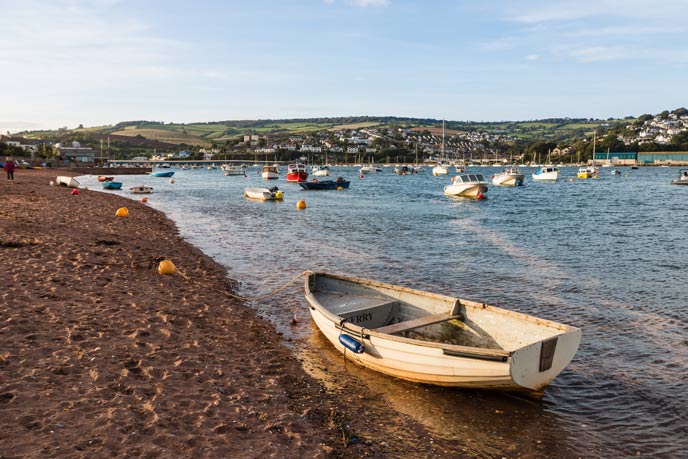 Shaldon lies on the Teign estuary and looks out across at the larger town of Teignmouth. Shaldon is a sea-front town with bunting, boats and bouys. A couple of the tea-rooms and pubs spill out onto the beach in the summer and add to the relaxed charm of this pretty village. It is a place for relaxing and beachcombing. There are many walks nearby, or you can catch the foot ferry across the estuary. There are botanical gardens, a couple of amazing beaches and even a small zoo.
I have a real soft-spot for this village. It lies at the mouth of a small creek of the River Dart, and is dominated by a peaceful mill pond. There are beautiful trees and fantastic cottages, as well as a gorgeous church. There is a great orchard and a thousand-year-old Yew tree. Small boats lie moored up along the quayside and children gather around the mill pond for a spot of crabbing.
Lying right at the heart of Dartmoor, Widecombe is a walker's paradise. It is situated in the Widecombe valley which you descend steeply as you enter the village. It is only a small place, but it is a lovely place to stop by, with its charming shops, pubs and tea-rooms. The church is huge for such a small village, and dominates the view, but there are picture-postcard views in whichever direction you turn.
If we have tempted you to visit one or all of these gorgeous villages, take a peek at our cottages in south Devon and Dartmoor to find somewhere to stay.