Devon might be best known for its incredible coastline and stunning beaches, but that's not to say it's a one-trick Dartmoor pony! Throughout this varied and beautiful county lie a number of incredible gardens that offer glimpses into the past, present and future through some seriously remarkable displays. There are also a few fabulous vineyards if you fancy your view with a glass of wine in hand!
Discover beautiful landscapes jam-packed with such dramatic sights that they rival the Devon coast – not to mention easy access to some of the best tea rooms in the county– and historic family homes that have created a garden oasis throughout the generations. Is your green thumb itching to get started? Here are some of the best gardens in Devon just waiting to be explored.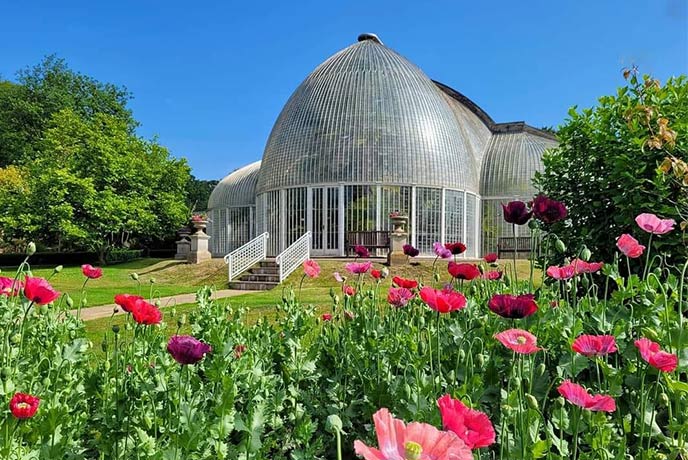 Whether you like your garden perfectly prim, lusciously tropical, or seriously stony, it's safe to say Bicton Park has it all. You'll have over 64 acres to explore, during which you'll discover the sights, smells, and delights of a variety of plants and displays. A walk around the jaw-dropping palm house is always recommended as the combination of towering palms at the impressive 18,000 panes of glass combine to create an incredible sight. You'll also find hidden amongst the foliage a tropical house, arid house, and temperate house, all of which are home to some stunning flora.
For those who want something a little different from their garden experience, Bicton Park has you covered with indoor and outdoor play areas, crazy golf, and even a countryside museum, which gives you a sneak peek at those bygone days. Finish it all off with a visit to the restaurant and you'll be counting the seconds till you can visit again!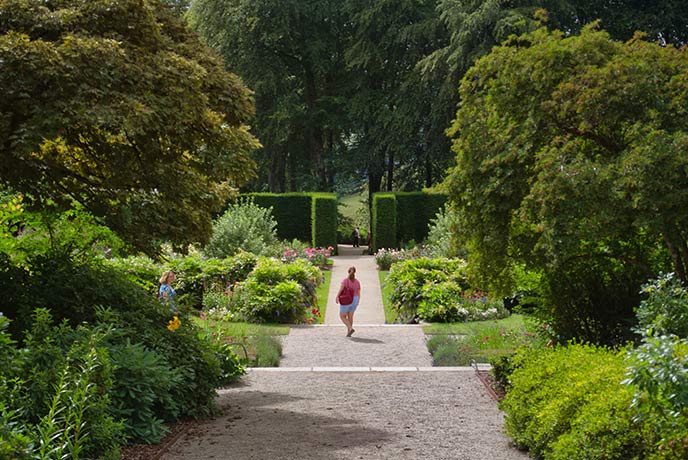 Going toe-to-toe with the castle for the title of best sight in the area, the gardens at Castle Drogo offer a fascinating sight whatever the time of year. The gardens themselves were carved right out of the granite over a century ago, providing a quintessential contrast between the ancient stone and blossoming flowers, especially in the sunken rose garden.
If you time your visit to coincide with spring, you'll find all the colours of the rainbow flourishing around you as rhododendrons, camellias, and magnolias wake to say hello and lend their blooms to the grounds. The formal garden boasts a particularly impressive accolade of being the highest garden in the care of the National Trust. Sitting comfortably at 250 metres high, it's safe to say the garden has an elevated reputation! After you've strolled through the gardens, smelling as you go, it's well worth popping into the castle itself, which is full to the rafters of history and fascinating tales. There's also a lovely walk around Teign Gorge nearby so why not pack the walking boots and make it a proper day out in Devon!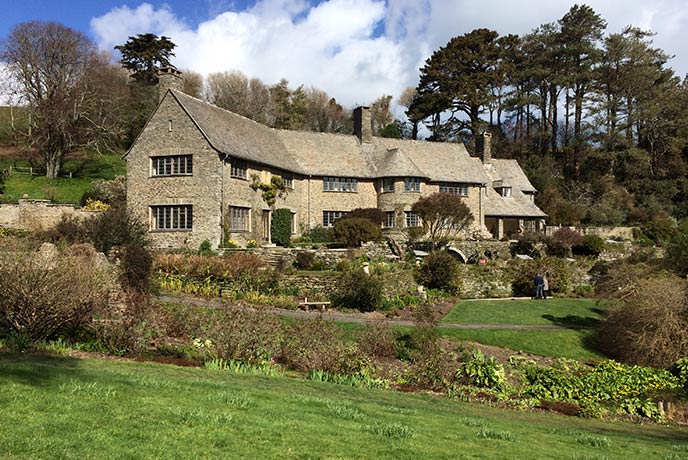 On our list of the best things to do in South Devon, a visit to Coleton Fishacre and its beautiful house and garden is a Devonshire must. Benefiting from a gloriously mild climate thanks to the giant trees that shelter the valley, there is plenty of spectacular sights to see in the gardens at Coleton Fishacre – not to mention some beautiful sea views! Starting in front of the house, enjoy the floral fireworks of the hot border before taking a stroll around the peaceful rill garden, named for the stream that runs through the centre.
Next, it's over to the terraces, which are made up of some lovely sun-loving plants and pools, creating a wonderfully calm atmosphere. Finally, head to the incredible coastal woodland garden and Scout Point for some sweeping sea views and a more informal horticultural tour. You'll find some utterly dreamy spots for a picnic around here so why not pack your bag with some tasty treats and get all your senses involved!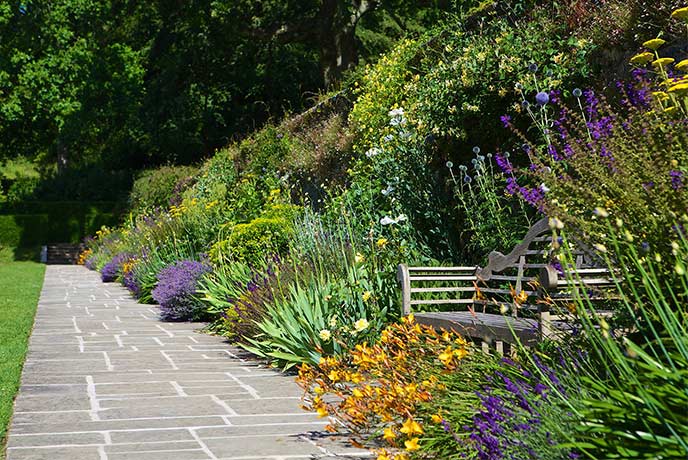 If you're looking for gardens that are over 1,000 years in the making, then Dartington Hall is definitely the place for you. Beginning life with a formal, Victorian aesthetic, the gardens have since been redesigned to have a wilder, more natural feel. You'll find paths carpeted with moss, stone walls that act as a home for lots of climbing beauties, and banks upon banks of wild and spring flowers – it really is a magical garden. The kids will love the low ropes course while those with a green thumb will get great enjoyment from discovering the many hidden secrets, including some incredible ancient trees.
While you can find some good grub at Dartington Hall, we recommend heading over to The Cott Inn, which boasts traditional charm and a lip-smacking menu – it's of little surprise that this thatched haven ended up on our list of the best places to eat in South Devon!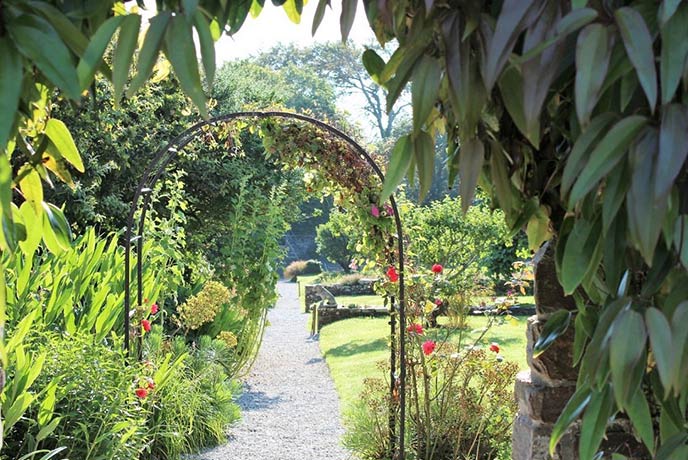 Famous for its strict no cars policy, there is little doubt as to why a visit to the picturesque village of Clovelly is one of the best things to do in North Devon. It doesn't end with sloping cobbled streets and a pretty harbour either, as the Court Gardens in Clovelly are a must-visit all on their own.
The sunny, sheltered aspect of the gardens ensures the plants here thrive, creating a beautiful symphony of sights and smells – not to mention a fantastic walled vegetable garden, which supplies the local Red Lion Hotel with fabulously fresh food - no wonder it's on our list of the best places to eat in North Devon! During your garden wanderings, you're sure to stumble across the Clovelly Court Great Terrace, where you'll find reaching views out to Lundy and Bideford bay on a clear day making it a superb spot for a picnic with a view. The deliciously warm greenhouses are home to an array of juicy apricots, peaches, nectarines, melons and much more, filling the air with sweet aromas that make the mouth water.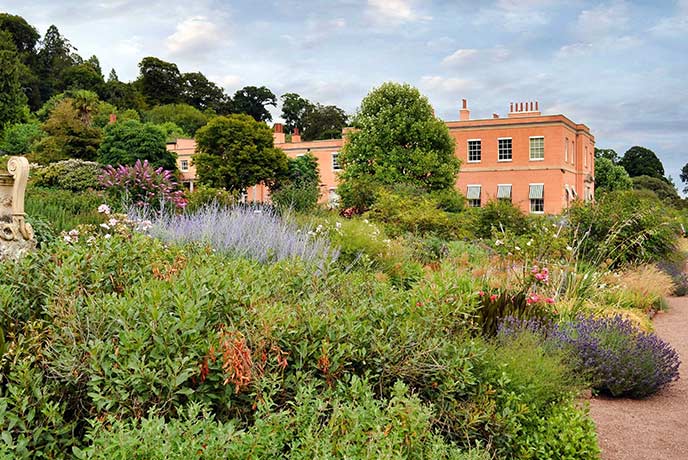 From ancient trees to a formal garden, there is something for every horticultural taste in the gardens at Killerton House. Herbaceous borders line the pretty terrace garden, which comes to life in the summer months. The formal garden continues the theme of idyllic scenes as you walk along the path discovering as you go why this was the 10th Baronet, Sir Thomas Acland's, favourite spot.
The rolling Devonshire countryside acts as an incredible backdrop to your visit and is emphasised all the more by the beautiful wildflower meadows that spread out beneath the bear's hut and throughout the Ha-Ha beds – for those that are unfamiliar with this giggly name, a Ha-Ha is a clever sunken fence that keeps livestock in without breaking the view. As your garden strolls come to an end, head inside Killerton house itself for more impressive sights, or stop by the ever-tempting Stables coffee shop or the Killerton Kitchen café for a delicious, sit-down treat.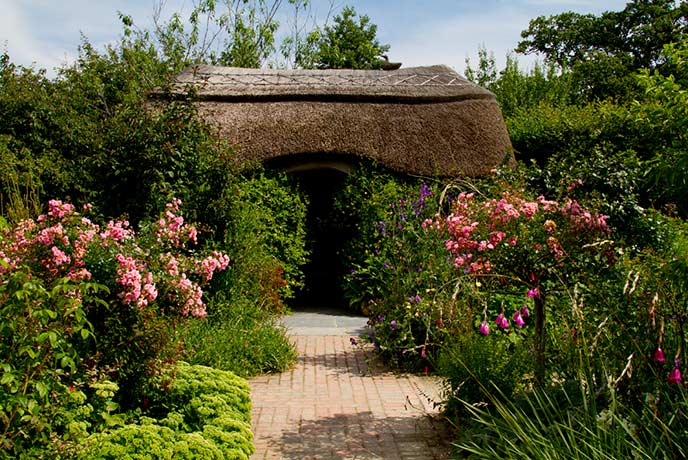 Whether you visit in the bloom of spring, the sun-soaked summer months or the magical depths of winter, you'll be blown away each time by the incredible variety on display. Marvel as the hot garden attempts (and succeeds) to represent every shade of warmth or, for a wilder outlook, head to the upper bog garden where you'll find an enchanting stream garden, rock gully and lake.
The stone garden is also well worth a visit with its historic lion statue and beautiful Japanese influences as well as the fruit and vegetable garden and the orchards, where more than a basketful of fresh produce is grown – it's great for inspiring your own budding veg patch! Once you've seen where the veg comes from, it's time to try it at the Garden Kitchen Restaurant, which offers a mouth-watering array of dishes and drinks. Then it's a leisurely browse through the garden centre to stock your garden shed and you'll be happier than a horticulturist in a - well - garden centre!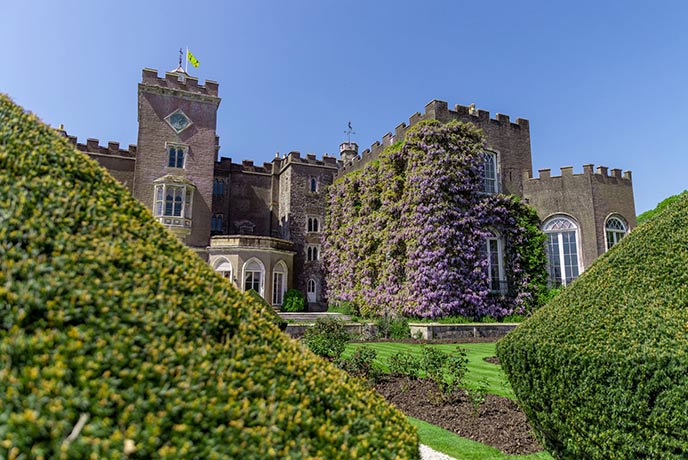 The home to some fantastic festivals, Powderham Castle is also a great spot for a bit of horticultural wandering through 600 years of history. The American garden, which was created by the third Viscount of Devon, is a welcome slice of peace and quiet amidst exotic trees and a particularly curious gothic summerhouse.
After a cheeky peek at the views from the top of the Belvedere Tower, the rose garden should be next on your list for a stroll, especially in June when the roses are in full bloom. It's not just roses on display here either as the garden enjoys sweeping views of the castle, deer park and even out along the Exe estuary – you'll be spoilt for choice for holiday snaps! Before heading back to your lovely Devonshire cottage, there are lots more secrets to discover at Powderham Castle, including the actual secret garden, which is home to some cuddle-worthy critters and a fab picnic area where you can plonk yourself down for a homemade cream tea… that's what picnics are for, right?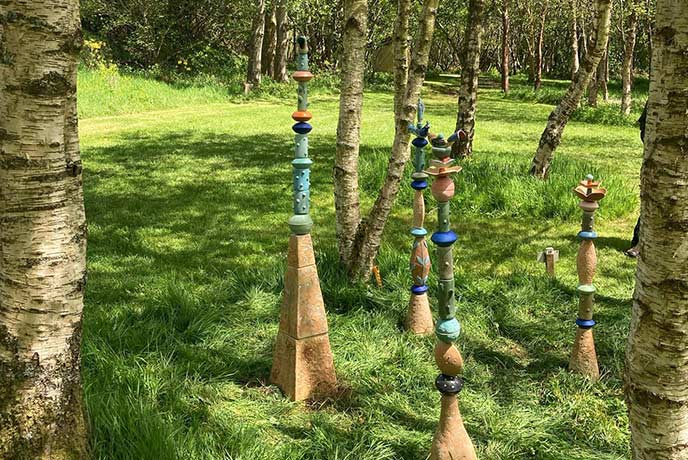 Perched on the edge of Dartmoor National Park, the Stone Lane Gardens are home to a cornucopia of sensory treats from the dappled beauty of the five-acre woodland to the peaceful sounds of the water garden, making it a great spot for family walks with the dog – the dogs are welcome in the tea room too!
As you stroll through the peaceful woodland in the summer months, keep an eye out for sculptures amongst the birch and alder trees. Held every year, the beautiful woods at Stone Lane Gardens play host to the prestigious Ashburner Prize, which sees a variety of west country artists coming together to showcase their works. The combination of ancient trees and contemporary art creates a truly enchanting sight, with a new and fascinating display around every corner.
If you do bring the pooch for a walk here, we definitely recommend venturing into Dartmoor National Park itself as well where there are some great dog-friendly walks that are absolutely worth barking about – not to mention some lovely dog-friendly cottages!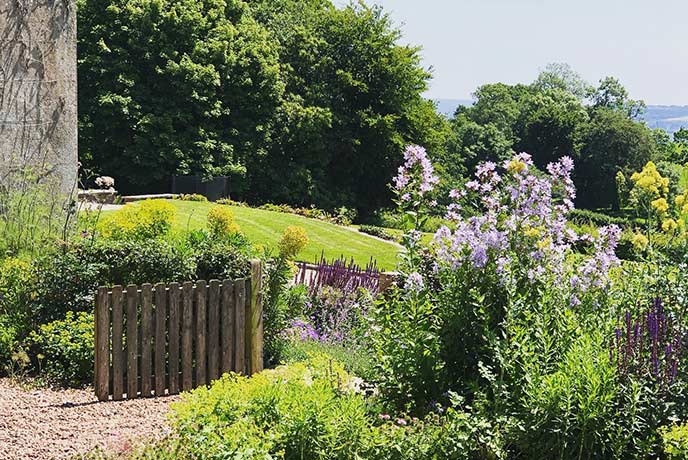 Another visual wonder near the wilds of Dartmoor, the gardens at Fursdon combine rural delights with the ever-lovely sights of terraces laden with roses, herbs, and perennials – we do love a mix and match garden!
You'll find a traditional array of borders, many of which enjoy a sheltered existence beneath the historic walls of Fursdon House, alongside the curiously named fox garden and the vine pavilion, which offers a superb spot for a picnic and a bit of garden meditation. For a walk on the wilder side of beauty, the meadow garden seeks to encourage wildlife with careful planting and a focus on wildflowers and the peaceful pond, which attracts countless critters to its tranquil waters. After you've taken your fill of the stunning gardens, head up to the Coach Hall tea room for one of Farmer Tom's famous ice creams - don't mind if we do!
Ready to explore the best gardens in Devon? Take a look at our welcoming cottages and start planning your escape to nature.