Devon is blessed with miles upon miles of cycle paths and trails that weave their way all over the county, and it's a lovely way to take in the gorgeous countryside and enjoy plenty of pit stops along the way - bike rides and cream teas really do go hand in hand!
Whether you're keen to explore the Devonshire coastline, wild moors, quiet countryside or idyllic villages, there's something for all interests and abilities, from families with young children, to keen cyclists to those who want leisurely exploration. Here are our favourite bike rides in Devon ready for you to discover- with many offering bike hire, too.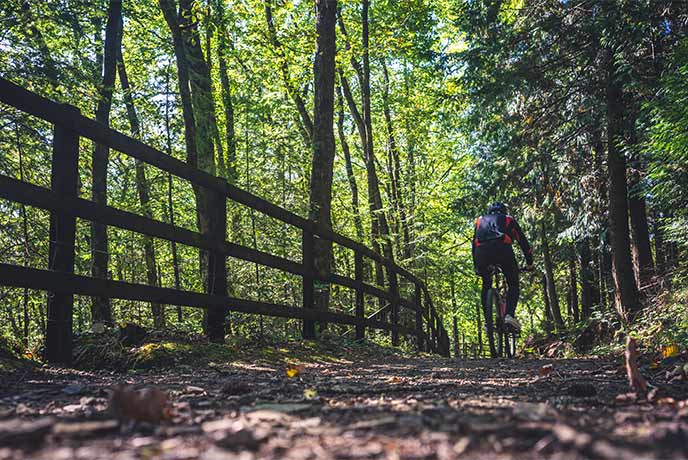 Best for: Multi-ability groups
• Distance: 15.5 miles (25km)
• Difficulty/terrain: Easy to moderate
• Starts/Ends: Tamar Trail Centre
• Parking: The car park is located at the Tamar Trail Centre
• Landmarks: A host of heritage mines, Blanchdown Wood, Tamar River
Situated in the Tamar Valley just across the river from Cornwall, the Tamar Trail is a designated Area of Outstanding Natural Beauty, and also forms part of the Cornwall & West Devon Mining Landscape World Heritage Site. With 25km of off-road biking trails to discover, this is a fantastic trail for families and dedicated mountain bikers alike.
The trails are mainly compact stone tracks, so great for mixed abilities. For beginners and families with younger children, the Mineral Railway Trail is a good bet, winding through woodland along parts of the old railway line. It's a level, wide track that's big enough for families to ride together. If you're more experienced, the Wheal Maria Trail offers challenging routes with steep climbs and descents, boasting stunning views over the valley. At the heart of the area is the Tamar Trail Centre, which has a café, heritage centre and car park.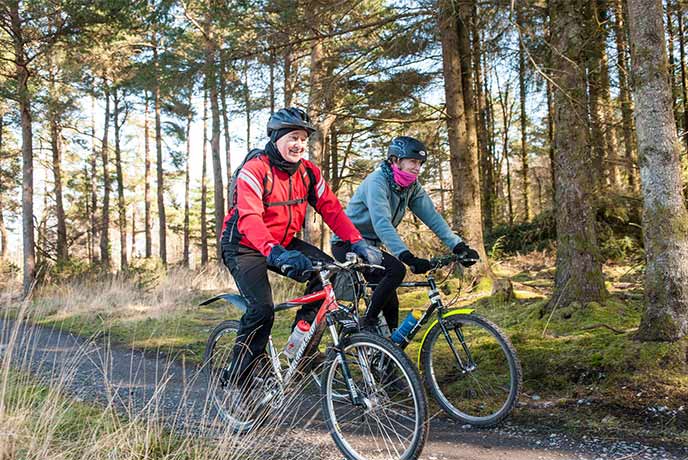 Best for: Nature lovers
• Distance: Varied, from 1.5 miles (2.5km) to 6 miles (9km)
• Difficulty/terrain: Easy to difficult
• Starts/Ends: Forest Centre
• Parking: Yes, at the entrance to the park
• Landmarks: Bird of prey viewpoint, Butlers Hill, Go Ape, Butterfly conservation area
• Bike hire: Forest Cycle Hire
With over 3,500 acres of woodland to explore, Haldon Forest Park is the perfect place to test your pedal power. Situated just outside Exeter, the park was established in 2006 with over four million trees and beautiful views across the city and surrounding countryside. If you don't have space to bring your bikes with you, you can hire them here with specialist bikes available (including electrically assisted bikes for those with reduced fitness or mobility).
Trails are graded from green (easy) to black (difficult), and there's a Skills Area and Pump Trail, which are purpose built to help cyclists with their off-road skills. Most of the park is a Site of Special Scientific Interest (SSSI), being an important habitat for raptors and butterflies such as the rare Nightjar and pearl-bordered fritillary.
Grand Western Canal Country Park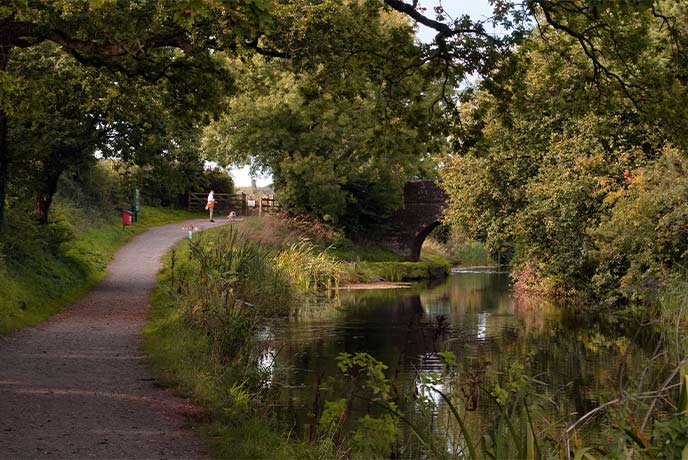 Best for: Leisurely cycling
• Distance: 11.25 miles (18km)
• Difficulty/terrain: Easy traffic-free tow path
• Starts/Ends: You can join the canal at any point along the way, but the main start point is at the Canal Basin
• Parking: The main car park is at the Canal Basin in Tiverton but there are lots of car parks and laybys along the route
• Landmarks: Snakes Wood, 15th century Ayshford Chapel
• Bike hire: Abbotshood Cycle Hire
Following the Grand Western Canal that runs between Tiverton and Lowdwells, this 11-mile traffic-free tow path winds through beautiful countryside and peaceful villages, passing under old bridges and through leafy woodland. Perfect for those wanting a gentle cycle rather than a challenging ride, this is a sedate, ambling pathway that's shared with walkers, anglers and horses alike, with barges and boats pootling their way along the canal. If you're starting from the Canal Basin, you'll find an interesting visitor centre to explore, toilets and a café for refreshments.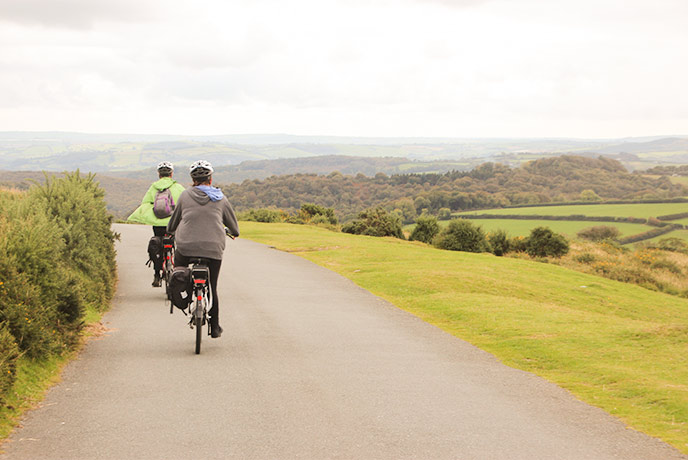 Best for: Those seeking a longer ride
• Distance: 95 miles (152.8km)
• Difficulty/terrain: Easy to difficult, wide variety of terrain from roads to high moorland
• Starts/Ends: It has access points throughout the trail, when it passes through hamlets, villages and towns
• Parking: Available all along the route
• Landmarks: Church of St Michael de Rupe, Bagtor, Wistman's Wood, Combestone Tor, Buckfast Abbey
• Bike hire: Devon Cycle Hire
This incredible route lets you discover the wild beauty of Dartmoor National Park, following the edge of the moor in a complete circuit for 95 miles. In addition to the main circular route, there's a 27 mile High Moorland route that goes right across the moor, creating a north circular route and a south circular route.
You can choose to do as much or as little of the trail as you like, over a day, weekend, or week, perhaps making it the focus of your holiday, perfect if you're staying in a cottage on Dartmoor. Passing through gorgeous countryside as well as pretty hamlets, villages and bustling market towns such as Okehampton, Tavistock, Ivybridge and Bovey Tracey, it's easy to factor in breaks, whether that's Sunday lunch at a country inn or picking up delicious local ingredients for a picnic.
The Granite Way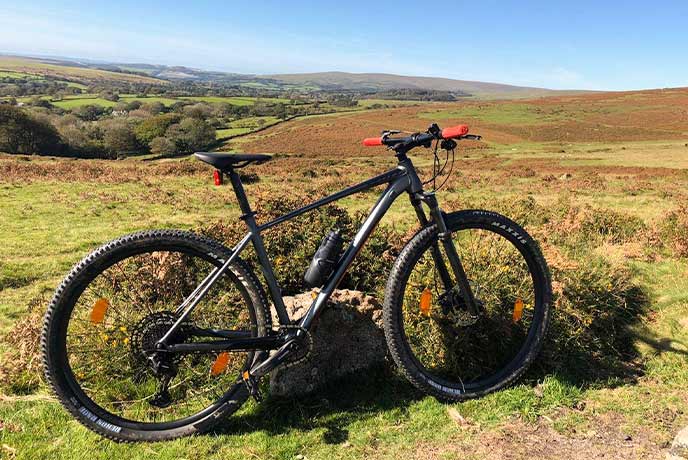 Best for: Moorland views
• Distance: 11 miles (17.7km)
• Difficulty/terrain: Easy, mostly traffic-free
• Starts/Ends: Okehampton Station or Lydford
• Parking: Available at Okehampton Station or Lydford
• Landmarks: Okehampton Castle, Lydford Gorge, Meldon Viaduct, Meldon Dam
• Bike hire: Devon Cycle Hire
This is a truly stunning cycle route for fantastic views over Dartmoor and the western tors. Passing close to the Museum of Dartmoor Life in Okehampton, Okehampton Castle and Lydford Gorge, there's plenty of opportunities to stop off along the way, including Meldon Viaduct which has great views of Medlon Dam, while Prewley Moor and Fernworthy Down are other highlights.
Following roadway, bridleway and a disused railway line, this multi-use trail is so-called for generally running below the granite cap of Dartmoor National Park and it's perfect for novice cyclists and families looking for a leisurely bike ride.
The Exe Estuary Trail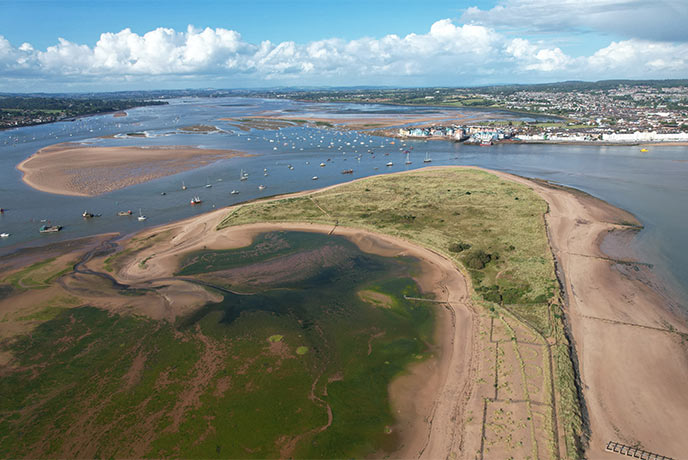 Best for: Wildlife lovers and estuary views
• Distance: 26 miles (41.8km)
• Difficulty/terrain: Easy, mainly flat cycle route and walkway
• Starts/Ends: You can start at either Exmouth or Dawlish Warren
• Parking: Available at Dawlish, Exeter, Topsham and Dawlish
• Landmarks: Black swans at Dawlish Warren, Powderham Castle
• Bike hire: Exmouth Cycle Hire
A fantastic cycle and walkway that runs around the whole of the Exe Estuary linking Exmouth, Exeter and Dawlish Warren. A wonderful route for wildlife lovers, the Estuary boasts a wide range of flora and fauna in its marshland, especially for wintering birds, making the area a Site of Special Scientific Interest (SSSI) that's managed by the RSPB.
Following the river for much of the way, the views over the water are just lovely, while the waterside villages of Topsham and Exton are particularly pretty and well worth a stop off. Should you wish to make the ride a loop, go to the seafront at Exmouth and catch the Starcross ferry back to the west side of the estuary. You'll find plenty of pit stops along the way for refreshments, particularly in Dawlish, Starcross, Exeter, Topsham, Lympstone and Exmouth.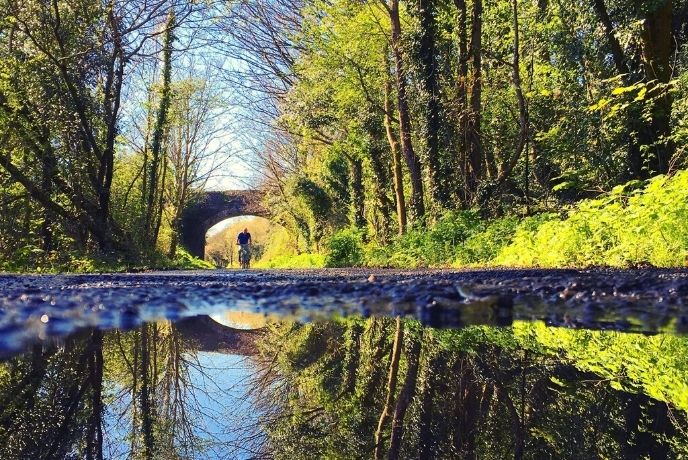 Best for: Families
• Distance: 32 miles (51.4km)
• Difficulty/terrain: Easy, entirely traffic-free
• Starts/Ends: Braunton to Meeth, but accessible from Barnstaple, Farmington Quay, Instow, Bideford and Torrington
• Parking: There are car parks at both Braunton (Caen Car Park) and Meeth (Meeth Halt)
• Landmarks: Meeth Quary Nature Reserve, Tapeley Park, Beaconside House
• Bike hire: Tarka Bikes
Incorporating one of Britain's longest, continuous traffic-free cycling paths and part of the Devon Coast to Coast Cycle Route, the Tarka Trail starts in Braunton and makes the most of disused railway tracks and is flat and easy to cycle, making it perfect for people of all ages and abilities.
With views over the Taw Estuary and passing through mud flats, salt marshes, woodland and meadows, it's a varied route with great stops along the way. A highlight is the Puffing Billy, a pub that was once Torrington railway station which lies right on the Tarka Trail. You'll also spot wooden sculptures and shelters along the route, perfect for a breather and to take in the surroundings, while Instow and Bideford are great places to stop off for a bite to eat before the trail ends at Meeth.
The Devon Coast to Coast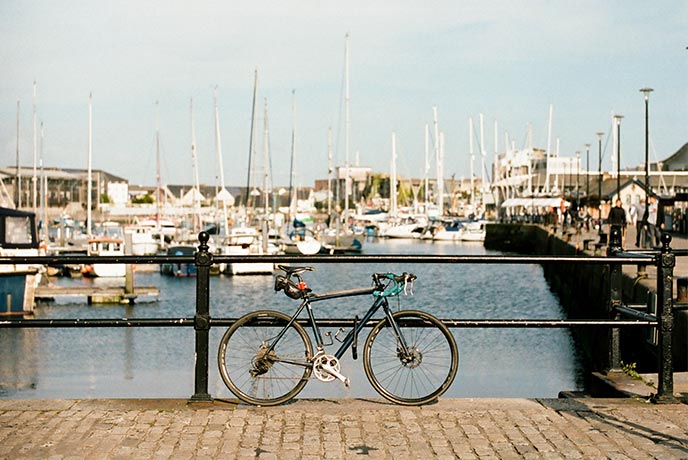 Best for: A great overview of Devon
• Distance: 97.6 miles (157km)
• Difficulty/terrain: Easy to difficult, with several stretches that are traffic-free and flat
• Starts/Ends: Ilfracombe to Plymouth
• Parking: Plenty of options along the route as well as in Ilfracombe and Plymouth
• Landmarks: Gem Bridge, National Marine Aquarium, Tinside Lido
This cycle route that starts in Ilfracombe takes in the whole expanse of Devon, combining beaches and estuaries, idyllic countryside and the western flank of Dartmoor. Travelling on former railway lines, over viaducts and through tunnels, it's a fantastic trail that you can do in parts should you want to, with the Tarka Trail (mentioned above) forming a traffic-free section that's great for families, the Granite Way (also mentioned above) and the newly-developed Drake's Trail, which runs from Tavistock to Plymouth, another traffic-free stretch that includes the super-high Gem Bridge. Ending in Plymouth, the route travels along the waterfront passing the National Marine Aquarium as you go.
Feeling inspired to explore scenic Devon on two wheels? Hop on your bike and discover our holiday cottages for a welcoming retreat from which to start your adventures.