Dartmoor is a beautiful place. I always find that its loneliness and stark beauty moves me. Parts of Dartmoor are a true wilderness. It's surprisingly easy to start walking in Dartmoor and quickly find yourself in a place with no evidence of other humans.
This is what I love best about the moors, they are a place where you can walk in almost any direction and find yourself alone. There is a delicious bleakness to Dartmoor, with bracing unhindered winds, huge expansive views, and imposing lumps of grey granite amongst the purple heather. It doesn't take you long to understand exactly why poets and painters have been attracted to this place for centuries. Arthur Conan Doyle set The Hound of the Baskervilles on the Moors and it's easy to see why.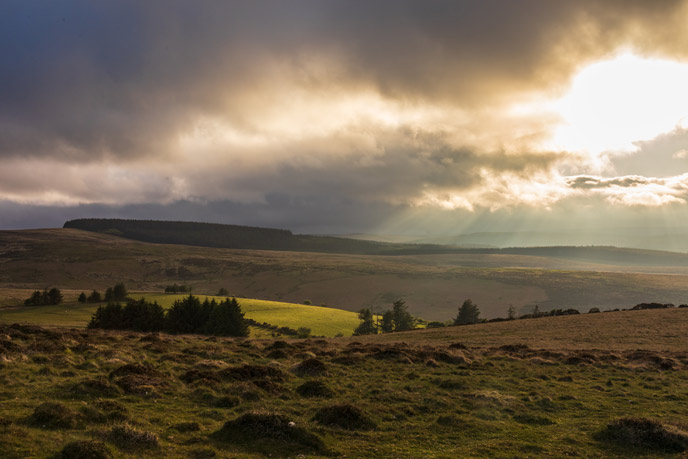 Dartmoor is a year-round destination for me. I've walked it in Spring, watching the wild ponies shake off the Winter chills. I've walked it in the heat of Summer, wild swimming or picnicking in the soft grass. I've walked it in Autumn, with the leaves turning brown on a few trees. And I've walked it in Winter, where it is often a destination for snow-chasers.
What should never be underestimated on the moors is the weather. It can change suddenly and dramatically, so it pays to be well prepared, with a few extra layers and some waterproofs in your bag. It also pays to have a good map.
I want others to discover the joys of this wild paradise for themselves so I'm hugely excited that there is a new train line opening in Dartmoor. On November 20th a new Dartmoor train line will open up a huge area of Northern Dartmoor to the many ramblers, picnickers, cyclists and wild campers who have previously only been able to access these parts by car or a very long walk.

The new train line will open in November, 2021, almost fifty years on from when it was abandoned, going from Exeter and delivering tourists to Okehampton Station. The project has cost over £40 million and has involved laying 11 miles of new track and a total of 24,000 new sleepers.
This line will make Dartmoor greatly more accessible from anywhere in the country, and deliver people straight to the heart of North Dartmoor, a destination previously under-visited compared to the more accessible South Moors. It will also have an environmental impact by relieving some of the traffic on the busy A30. The journey from Exeter St Davids station to Okehampton will take approximately 40 minutes, and will feature one short stop in the small town of Crediton. The first train will leave Exeter at 6.30am, and a return ticket is currently only £8. Initially, trains will run every two hours, but there are plans to increase this to hourly by next year.
Just wander
Firstly, just wander. I love going off the beaten track on the moors. It is very easy to find a winding path and follow your nose. The Moors rarely disappoint, and you'll be rewarded with huge views, interesting wildlife and expansive skies. There always seems to be something interesting or beautiful to see.
Go letterboxing
If you've not heard of Letterboxing you've been missing out. This quirky hobby is very popular on Dartmoor. It involves seeking out hidden 'letterboxes' on the moors by following clues. The clues can be found on-line or via letterboxing books. Don't be fooled by the name into thinking that hiding places are actual letterboxes though, they are just as likely to be waterproof bags or boxes. When you follow the clues and find a particular location, you use the unique stamp to mark your progress. Letterboxing is popular with all sorts of people, but it is particularly popular with families and a great way of introducing children to walking.
Visit a museum
Want to know about life on Dartmoor over the centuries? Then The Museum of Dartmoor Life is the place for you. The museum is in Okehampton itself and tells the story of the town and the region. Dartmoor Life is open between 10 and 4 on Mondays to Fridays, and 10 till 1 on Saturdays. It covers three floors and tells the story of 5,000 years of life on the moors, from the Bronze age to the mid-20th Century. The museum is family friendly, with a number of discovery zones, guides and even occasional workshops for the children.
Climb a Tor
Not far from where you alight the train is Meldon Viaduct, a good starting point for the ascent of High Willhays and Yes Tor, the two highest points on the Moors. The whole walk is approximately 10 miles, and it will take you to an altitude of 621 metres, so it is not for the faint-hearted, but the incline is gradual and if the mists aren't in, the views are spectacular.
Visit a 'castle'
Castle Drogo is a National Trust country house with spectacularly imposing views. It is built to resemble a castle, but it is surprisingly modern, built only around 100 years ago. It is the last castle to be built in England. Castle Drogo has beautiful gardens, and even more stunning riverside walks.
Wild camping
In most parts of the country it would be irresponsible for a guide to recommend wild camping, which is generally frowned upon. But one of the joys of Dartmoor is that it is one of the few parts of England that allows unhindered wild camping. So, grab your tent and your backpack and find a great place to pitch for the night.
Stargazing
One of the reasons that Wild Camping is so popular on the Moors is that stargazing here is second to none. So far from light pollution, and with such huge skies, any clear night will deliver an extraordinary array of countless stars. Lie back and let your mind drift.
Visit a Stannary town
Stannary Towns are former tin-mining towns. They are the locations where Devon's tin was bought and sold. 12 miles from Okehampton is the lovely Stannary town of Chagford, with its pretty octagonal Market House, affectionately known as the Pepperpot. As well as The Pepperpot, there are some fine churches and old granite buildings. Chagford also has many great arts and crafts studios and good places to eat.
Take a Circular Walk
If you want a good circular walk from Okehampton back round to where you start, then there is one from Battle Camp. From Battle Camp the route will lead you round west Mill Tor, past Bowtor and Scarey Tor, and through the cute village of Belstone.
Cycle The Granite Way
The Granite Way is an 11-mile cycle route with spectacular views of Dartmoor. It is a largely traffic-free route which traces Devon's industrial past and follows the course of the former Southern Region railway line.
Need somewhere to stay to explore the train line further? Take a look at our Dartmoor cottages.