When looking for dog-friendly holiday destinations, what's on the list? Somewhere with lots of interesting sights, smells, and nooks to explore? Wide-open spaces where you (and the dog) can run, leap, and bound? Stretches of coastline full of beaches that welcome all, whether you're on two legs or four? Well, this checklist sounds suspiciously like Devon, with its far-reaching countryside, stunning coastline and wild moors – pawfect!
Devon is one of our favourite spots for a dog-friendly holiday, with plenty of dog-friendly walks and attractions to satisfy every holiday itch – not to mention rivers to jump in and tors to climb. And to make your stay even more special, you can curl up in a welcoming dog-friendly cottage that really puts a wag in your tail.
So pack up that all-important holiday essential – and everyone's favourite member of the family – and head to one of our lovely dog-friendly cottages in Devon. Here are just some of our top picks to get you started…
North Devon
With lots to do in North Devon, your pup-tastic holiday won't be short of entertainment. Explore the dramatic North Devon coast or tour one of the many historic towns, complete with lots of dog-friendly eateries for the perfect end to your day.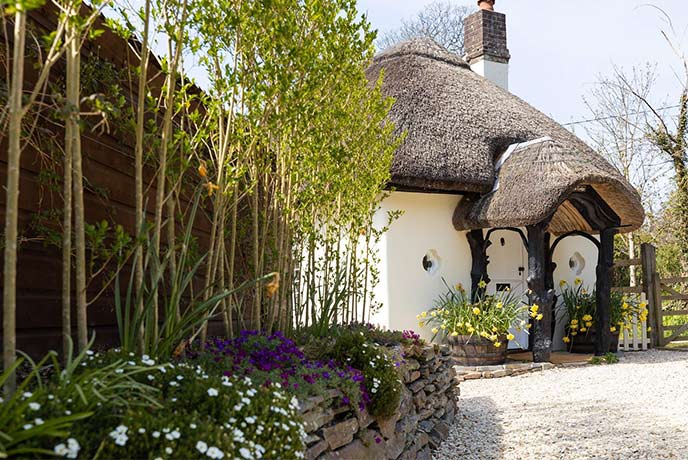 Barnstaple | Sleeps 2
Best for: A unique retreat for two… and the dog!
If you're looking for a fairy-tail escape for you, your favourite person and your best furry friend, then The Lodge in the quaint village of Tawstock should be high on your list. This thatched cottage comes complete with a picture-perfect garden and a wonderfully surprising reverse level – walking downstairs to bed just makes sense, doesn't it? Pair this tranquil spot with the nearby romp to Barnstaple and you've got yourself a delightful dog-friendly holiday.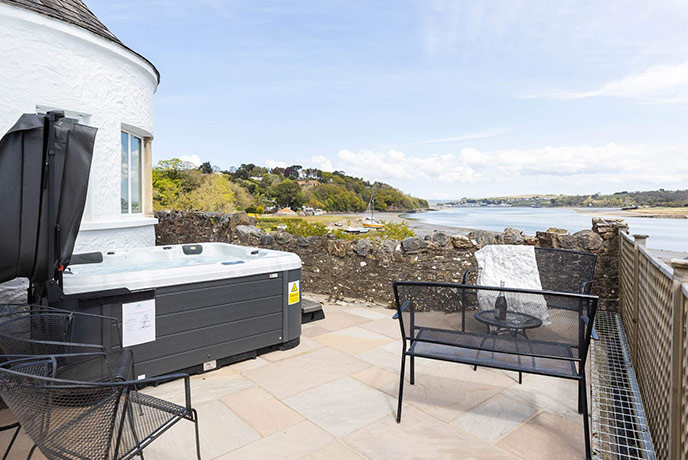 Bideford | Sleeps 8
Best for: Peaceful morning views
From the utterly unique shape of the property to the unbeatable views over the estuary, we just can't get over The Old Kiln. Within walking distance of Bideford, Appledore and the South West Coast Path, you can swap wheels for walkies with this one. And thanks to the four fabulous bedrooms (not to mention the games room), there's room for the whole family – dog included! Make the most of the nearby Tarka Trail for some seriously good walking (or cycling) or head to Instow and its fantastic dog-friendly beach.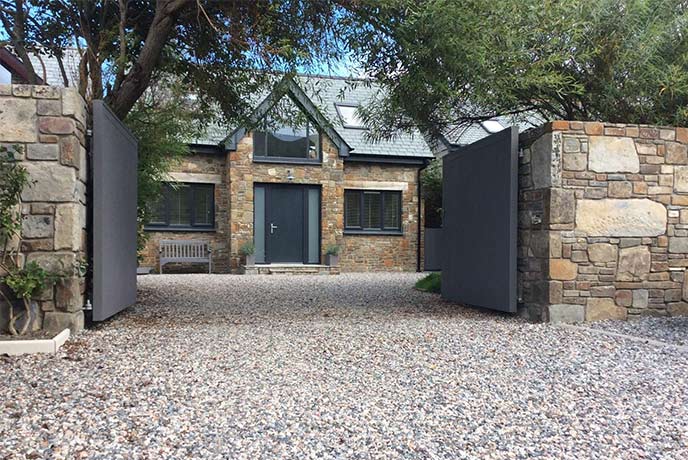 Westward Ho! | Sleeps 6
Best for: Relaxing in the garden
With the enclosed garden giving you peace of mind with the dog so you don't have to ask the question "who let the dogs out?" and the BBQ providing endless opportunities for some cheeky alfresco dining, you're definitely in for some holiday bliss at The Willows. After some well-deserved R&R in this lovely, modern property you can pull on the walking boots and head out for some of the best walks in the South West with the South West Coast Path and some lovely inland walks just a ball's throw away. And don't worry if the pooch finds some mud, the summer house is perfectly placed for a post-walk wash down!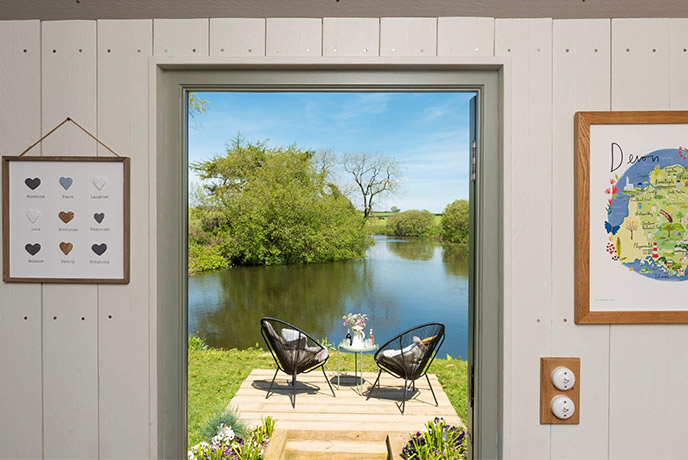 Bideford | Sleeps 2
Best for: Something a little different
With your very own hot tub, fishing lake (don't forget your rod) and cream teas and dog treats upon arrival, this slice of paradise has been carved out just for you, and oh, is it dreamy! Sit back amidst the bubbling tub as you do a bit of stargazing – thank you dark skies status! – or light up the BBQ for a meal with a view. Surrounded by glorious Devon farmland and with the North Devon coast nearby, you and the dog will want for nothing during this unique retreat.
Check out our other dreamy glamping opportunities in Devon for an equally out of this world holiday.
Dartmoor
Home to some of the best dog walks in Devon – plus a myriad of intriguing sights, sounds and smells – Dartmoor is basically one giant playground for dogs.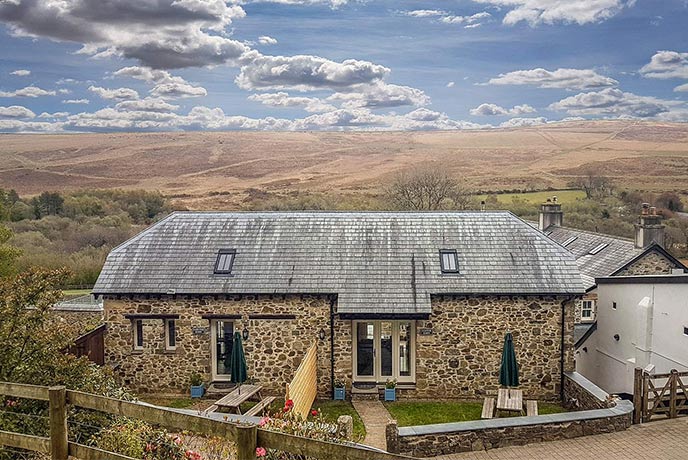 Tavistock | Sleeps 4
Best for: 360-degree views
Surrounded by the breath-taking idyls of Dartmoor, every view is a jaw-dropping one at Haretor Barn, giving you endless temptations to throw on the wellies or walking boots and head out for a proper moorland stomp with the pooch. At the end of each action-packed day, you'll return to this beautifully converted barn full of rich hues and luxury essentials – hello, Nespresso machine! Cosy up on the sofa or head out into the secluded garden for a nightcap under the stars.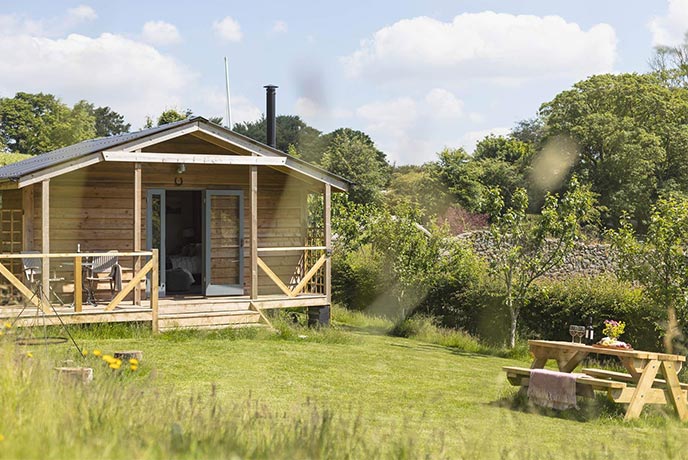 Widecombe in the Moor | Sleeps 2
Best for: Well, a room with a view!
Overlooking the heights of Haytor and Dartmoor National Park, there's little doubt as to where Room With A View got its name. Deliciously far from the grid, you can swap the monotony of day-to-day life for early morning romps through ancient woods or day-long treks along moor and tor. Back at your little oasis, the dog can have its own wind down in the enclosed garden while you stretch out with a glass of wine in front of the crackling fire pit – perfect!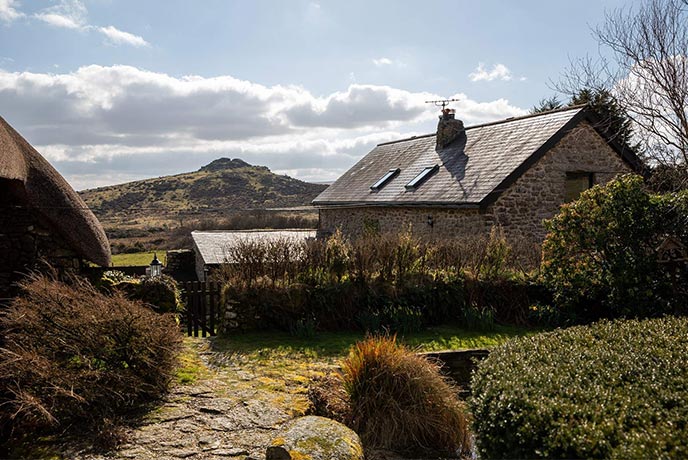 Ashburton | Sleeps 5
Best for: Wild ponies and wilderness
Slap bang in the middle of Dartmoor, you can't get much better than this for quick access to moorland walkies. Head up on the rocks for a breakfast like no other or pack up a picnic for a lunch along the tranquil River Dart or on the moor surrounded by ponies – there's no end to the possibilities of fabulous foodie settings here. Of course, you can always just relax in the peaceful setting of your enclosed garden, perfect for pups and kids alike.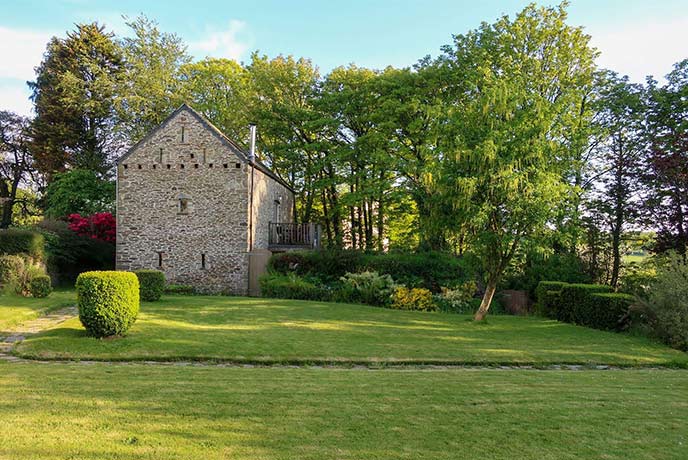 Tavistock | Sleeps 5
Best for: An action-packed holiday
Perched happily on the doorstep of the Dartmoor National Park, there's something for every taste and holiday temptation at The Barn at Yeoland. Whether it's a round at the nearby golf course, a tour of the historic market town of Tavistock, or blazing a trail along the famous Drake's cycle paths, you won't be short of things to do. Oh, and let us not forget the miles and miles of walking you can embark on before piling into the nearby (and dog-friendly) Who'd Have Thought It Inn.
South Devon
With plenty of things to see and do in South Devon, make the most of Devon's balmy southern stretch as you and the dog explore everything from white sandy beaches to the iconic Dartmouth Steam Railway.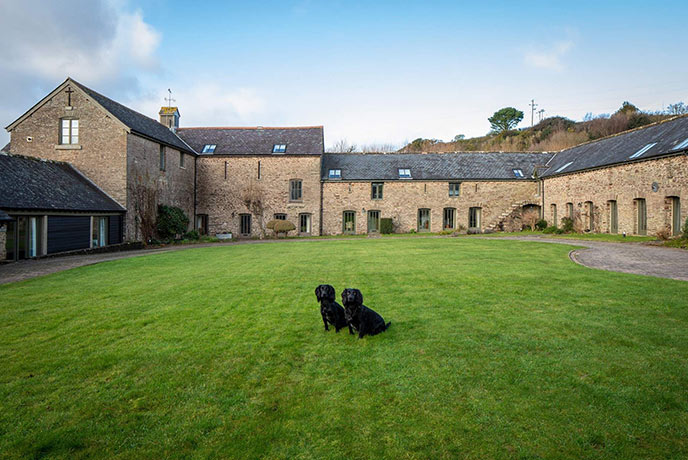 Kingsbridge | Sleeps 6
Best for: A peaceful country escape
With a spacious and stylish interior for cosy evenings and an enclosed garden and seating area for easy-going evenings in the sun, there's no one way to enjoy your stay at The Granary. After exploring the lovely converted barn, you can turn your feet in the direction of the beautiful surrounding countryside where you can tour the many walking and cycling trails or spend a glorious dog-friendly day on the beach at Slapton Sands.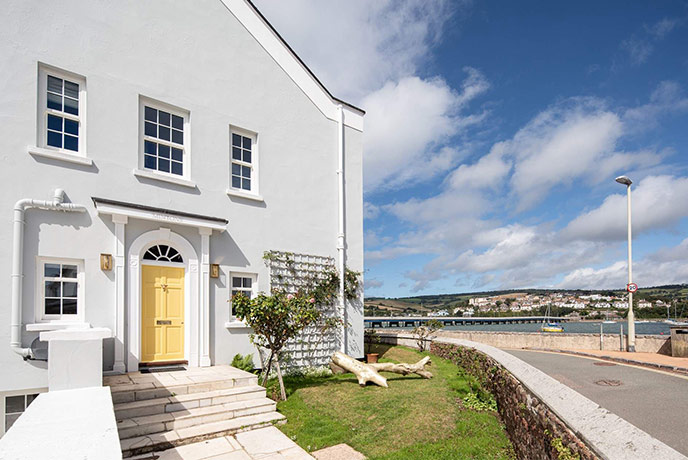 Shaldon | Sleeps 8
Best for: Waterside relaxation
As soon as you lay eyes on this immaculately styled Edwardian house with its waterside views, you won't want to leave! Luckily, the incredible location tempts you out with riverside beaches and the South West Coast Path offering plenty of stunning sights and sniffs for the family to enjoy – although we won't blame you if you want to spend your holiday reclining on the patio as the BBQ works its smoky magic.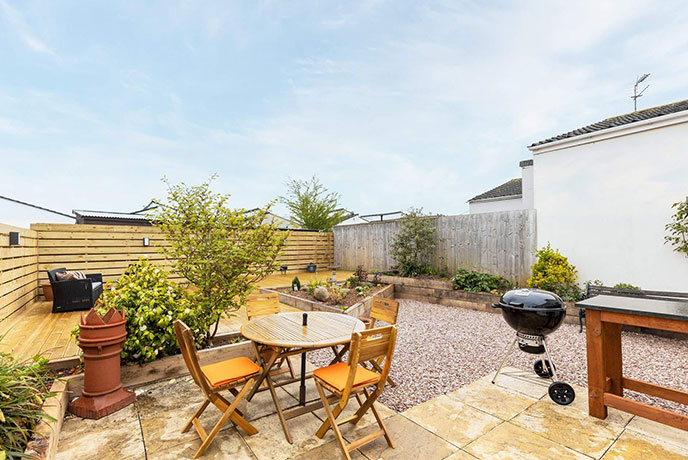 Brixham | Sleeps 6
Best for: Coastal excursions
Oh we do love to be beside the seaside, especially in the charming harbourside town of Brixham! The South West Coast path is right on your doorstep for days spent traversing the ups, downs and flats of the cliffs while two nearby dog-friendly coves provide all the beachy benefits of a coastal holiday in the English Riviera. For an extra-special holiday, leave the car keys on the hook, opting instead for the memorable steam railway and a fabulous day out in any direction.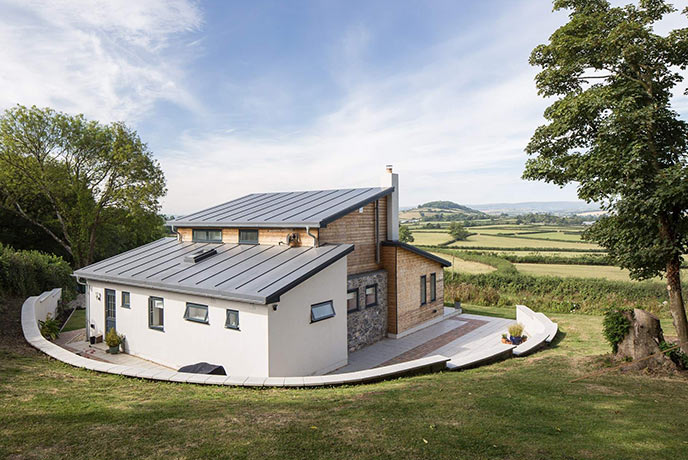 Newton Abbot | Sleeps 6
Best for: All the walks
When it comes to grand views, we're not sure which is grander, the surrounding Dartmoor countryside or the house itself! This gorgeously modern house has all the comforts of home (including a wood burner for those cosy nights with the pooch) as well as unrivalled access to some seriously beautiful South Devon walks. Or, if you fancy a cultured day out, a trip to Newton Abbot with its rich history, public parks and England's only traditional malthouse is a must.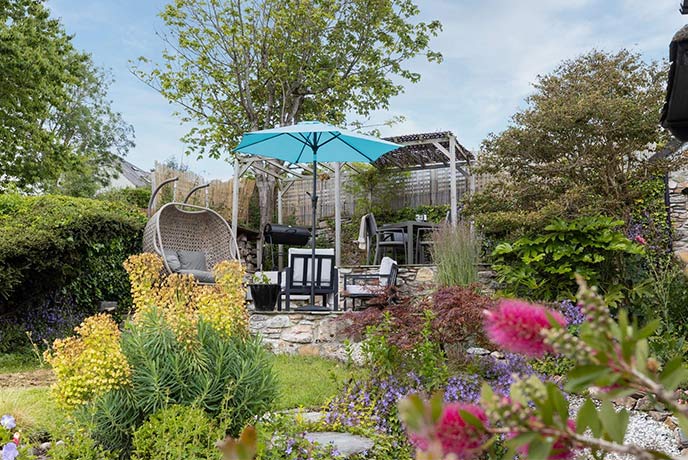 Yealmpton | Sleeps 4
Best for: A quintessential stay
Situated in the heart of Yealmpton in the South Hams, you're perfectly placed to make the most of this charming corner of Devon from this absolutely enchanting dog-friendly cottage. Stroll through the peaceful village for your morning walkies or venture further afield for riverside ambles or a relaxed tour of the maritime city of Plymouth, which is only 10 miles away. Of course, with a garden as picturesque as this, you might just fancy curling up with a book and the dog for a relaxed holiday like no other.
East Devon
With the Jurassic Coast and East Devon's Area of Outstanding Natural Beauty to keep you occupied, East Devon is guaranteed to get the tails wagging.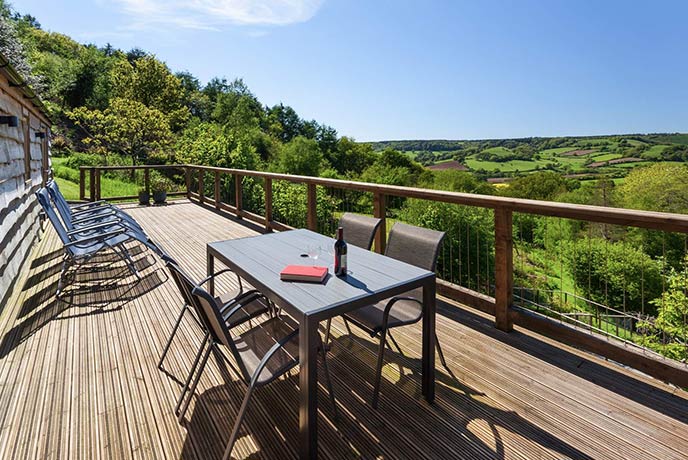 Sidmouth | Sleeps 4
Best for: Uninterrupted views and sunsets
Does it get much better than a west-facing terrace? Enjoy a sunset like no other as you watch the sun slowly disappear behind the valley or simply soak up the view with your morning coffee – no one will blame you if you spend all day with nothing but a good book, a well-stocked pile of snacks and the rolling Devonshire views. If you can tear yourself away from the terrace, the East Devon Way is a short walk from the barn and perfect for eager paws and wagging tails.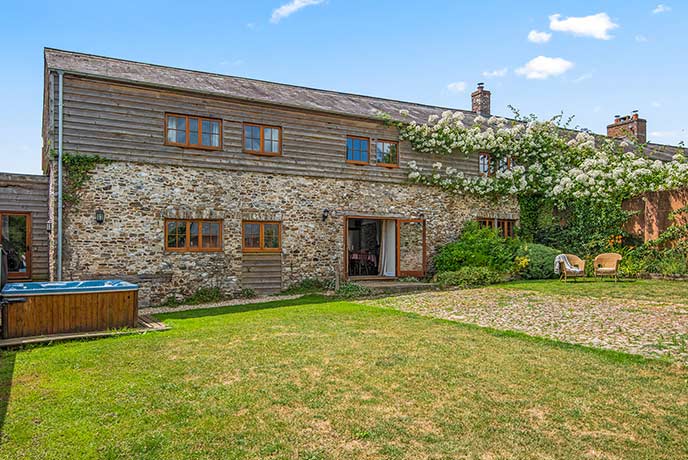 Honiton | Sleeps 10
Best for: The whole family
We do love a little bit of luxury now and then, which is why we're in love with Lambs Lawn with its cedar wood hot tub, children's play area and well-stocked games room – there really is something for everyone at this incredible barn conversion. If you can bear to leave the property, you'll be met with countless options for holiday fun, including stunning walks through the nearby AONB or a scientific excursion along the Jurassic coast – we bet the dog would love a billion-year-old bone!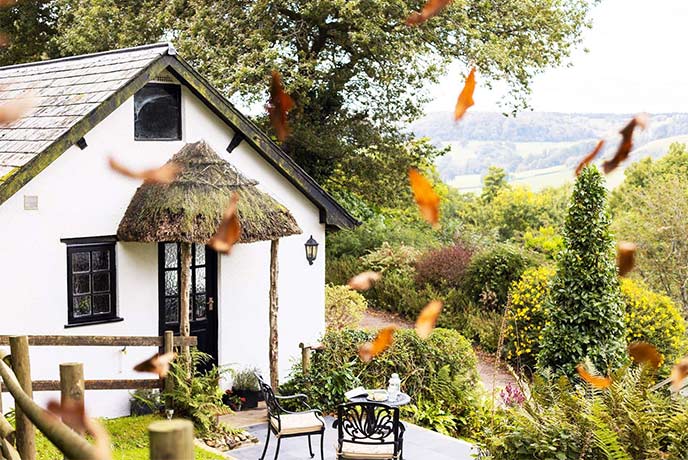 Sidmouth | Sleeps 2
Best for: A tranquil countryside retreat
They say the best things come in small packages and when we look at this little bolthole we have to agree. Nestled in the middle of the beautiful Devon countryside, Hatway Hideaway is the perfect base from which to explore with muddy boots and paws galore! Pack up the (smaller sized) pup and head out to the nearby Donkey Sanctuary or Sidmouth Town beach, both of which provide a cracking dog-friendly day out.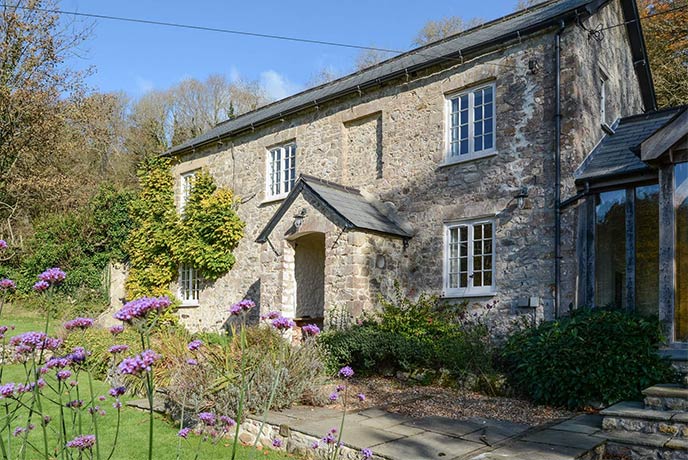 Branscombe | Sleeps 8
Best for: Fossil hunting
Wake up to views of Branscombe Vale and the World Heritage Jurassic Coast at Branscombe mouth before heading out and scouring the coastline for your very own fossilised holiday memento. You can also head out onto the nearby National Trust walking trail, which takes you around this lovely historic village (where plenty of pubs await). Or you can just laze around the stunning cottage as you discover who can nap the longest: you or the dog?
Ready to pack up the pooch and explore the delights of Devon? Explore our fantastic range of dog-friendly cottages in Devon and start planning your pup-tastic holiday.