It is hardly surprising that Devon is so full of exciting art galleries and quirky creative spaces because this beautiful county has long been a favourite with artists, both for its wildness and the sheer variety of landscapes. From the raw and rough north coast to the softer southern beaches, from the quiet estuaries and broad rushing rivers to the remote moorland and quaint thatched villages, there really is much to inspire!
With so many possible art venues to choose from it's hard to know where to visit first, so we have done the legwork for you! Here's our guide to some of the best art galleries in Devon.
North Devon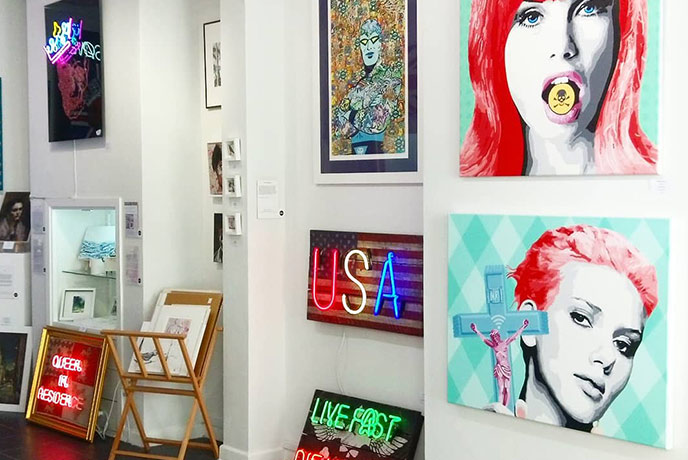 The seaside town of Ilfracombe is not only famous for its fish and chips, it is increasingly becoming an exciting hub for creativity, so much so that you can now follow its very own Art Trail, which takes you to a whopping 43 venues around the town.
The Fleek, which was established in 2017, is part of the trail and one of the town's favourite galleries. It is a contemporary fine art gallery that features up-and-coming local talent as well as internationally renowned artists. The gallery also showcases new work, both paintings and sculpture, from emerging artists in its regular exhibitions. Dan Martin, who runs Fleek Gallery, is on hand to offer friendly advice and talk you through the latest works by artists such as Damien Hirst, Raffaella Bertolini, Illuminati Neon and Jason Pengelly.
Appledore is an historic maritime village on the north Devon coast and this beautiful gallery is housed in a Grade II listed building which is thought to have once been a Cistercian Monastery. The gallery and shop is run by local artist Mark Woollacott who specialises in oil paintings of seascapes, all kinds of water-borne craft, racing yachts and picturesque scenes from around the stunning coastlines of Devon and Cornwall.
As well as Mark's work, the Docton Court Gallery also sells a variety of original paintings, prints, cards, crafts and gifts produced by local artists and craft makers and also by prominent artists from further afield.
Explore more of the West Country's art scene with galleries in Cornwall.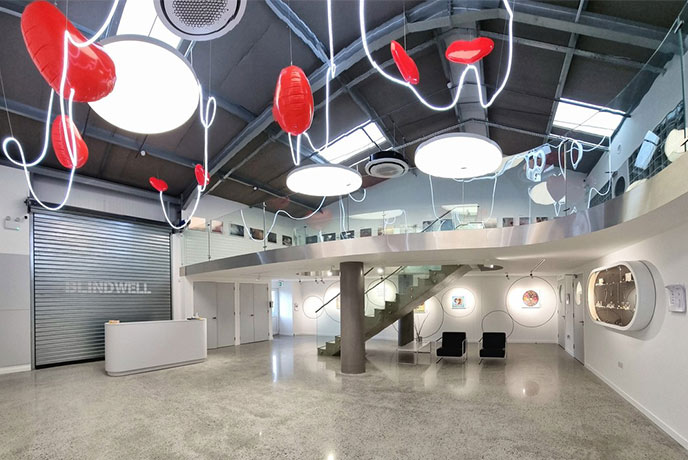 Blindwell is a new gallery and event space dedicated to photography and art in the broadest sense, though there is a distinct focus towards the contemporary. The gallery itself is an incredibly stylish, minimalist space of white walls and polished concrete, with the downstairs area lending itself to larger works.
Their featured artists cover an exciting and innovative spectrum of disciplines including iconic pop culture photography and surrealist oil & acrylic paintings born from the underground dance scene, to contemporary reinventions of the ancient tradition of lost wax casting.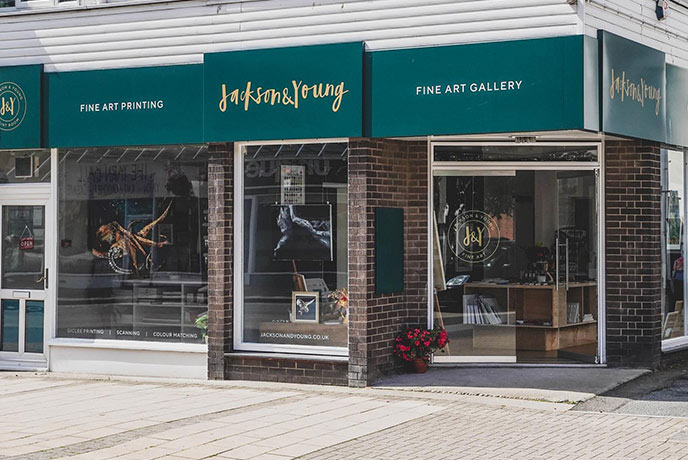 Jackson and Young is a gallery, studio and specialist fine art printer founded by collagist Sarah Jackson and oil-painter Corinne Young in December 2016.
Tucked away in the little town of Barnstable, where you can enjoy some great food, the light, bright gallery is brimming with vibrant seascapes, portraits, wildlife creations and one-of-a-kind collaborations. As well as original work the gallery also sells a wide range of affordable prints, some of which are embellished by hand with gold and silver leaf.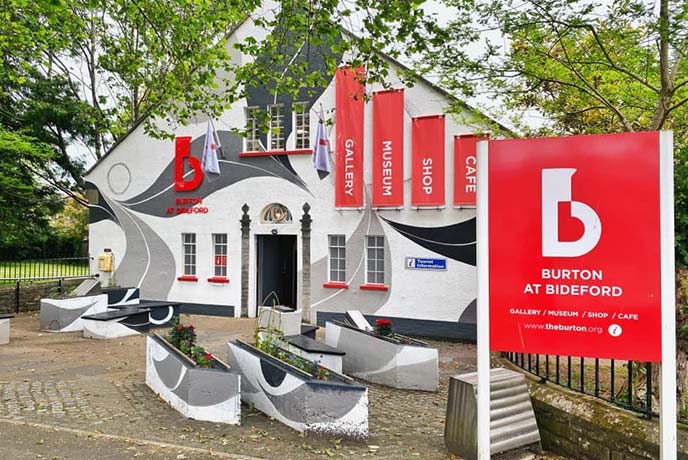 The Burton at Bideford, an art gallery and museum combined, celebrated its 70th birthday in 2021. And while the museum houses collections that illustrate the town's history and cultural heritage, the art gallery is bursting with work by local, national and international artists.
The exhibitions tend to display an eclectic mix of work from classic oil paintings and photography, to 3D installations and ceramics. This is very much a community venue with workshops and a café, as well as the gallery and shop where many beautiful pieces of work are available for purchase.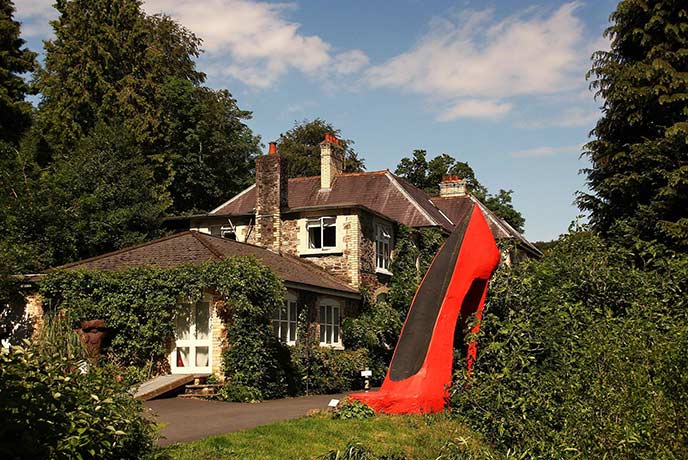 This delightful country estate has become something of a sanctuary for contemporary artists and art lovers alike. Broomhill works in conjunction with the Royal Society of Sculptors to feature some of the UK leading artists in a stunning rural location.
There are currently over 150 pieces of artwork on display in more than 5 acres of formal gardens, river meadows and ancient woodlands. Visitors will find a mix of permanent installations, blending seamlessly into the landscape, alongside new works that are available for purchase.
Established in 1991 the Salar Gallery provides a warm and friendly exhibition space for artists and craftspeople from across Devon. The gallery sits in the heart of the small market town of Hatherleigh not far from the wilds of Dartmoor, and specialises in works that celebrate the landscape, animals and rural subjects of the West Country as well as the rich traditional craftsmanship of the region.
Salar houses the work of artists, potters, printmakers, photographers, woodworkers, glass-makers and writers from across the area. There really is something for everyone in this Aladdin's cave of creativity.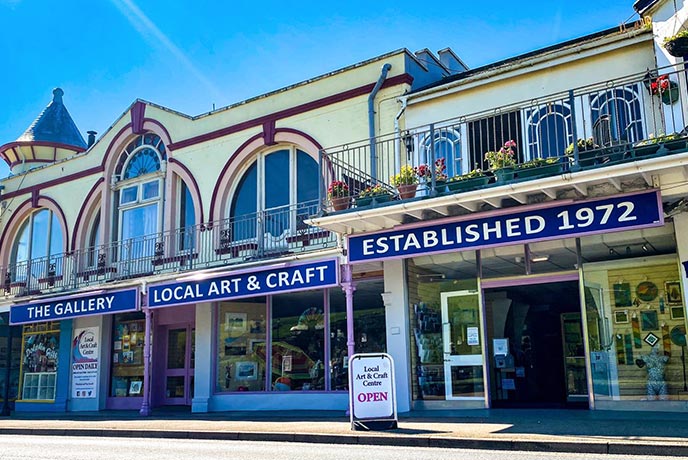 The Ilfracombe Art and Craft Society was founded some 40 years ago with the aim of promoting and encouraging art in north Devon. Located on the lovely seaside Promenade, the gallery, which is a registered charity, continues that mission by presenting a varied and exciting selection of local artists and their work.
The collections include original paintings influenced by the beauty of the surrounding countryside and coast. There is also a fascinating range of traditional craftwork from glass and jewellery, to woodturning and forged ironwork.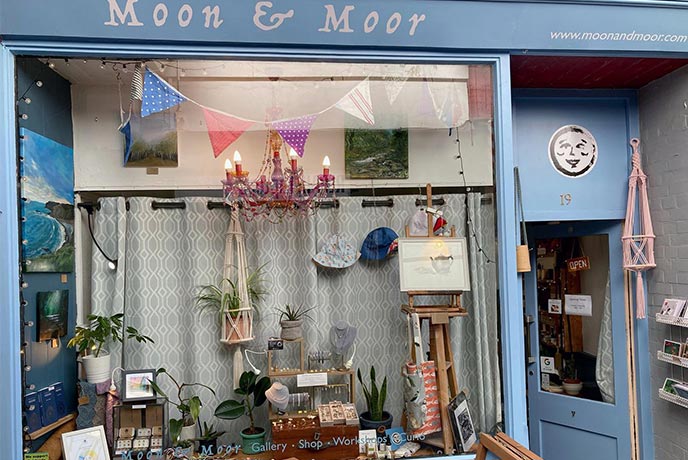 Moon and Moor is a gallery with a difference. Not only does it feature the work of a wide range of local artists and craftspeople including stylish displays of jewellery, paintings, woollen craft, woodcarving and Lino prints, but it is also a creative space where visitors are encouraged to get involved.
The workshops really are a highlight of Moon and Moor, inviting you to take part in the handmade, artist experience. You can learn new skills, find a space to relax and take time out of the everyday routine to get creative yourself! There are lots of workshops to choose from including leather making, macramé, crochet, Lino print and silver jewellery making.
Ready to take a tour of North Devon's art scene? Discover our wonderful range of cottages in the area.
South Devon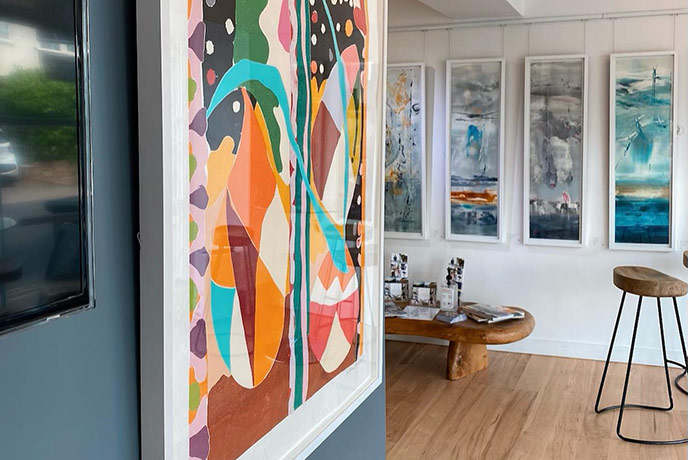 One of the most prestigious and best known galleries in Devon, the Brook Gallery began building its reputation back in 1997 with a collection of fine art prints. Since then it has expanded its portfolio to include some great local, national and international painters, sculptors and ceramists.
The Brook has a regular programme of exhibitions illustrating an array of creative themes and in addition to the gallery is a shop and art café selling artisan coffee and tasty lunches while the walls act as an additional exhibition space.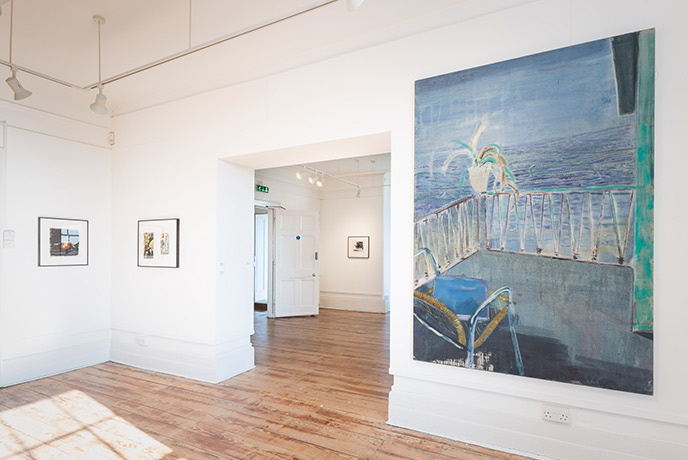 The Thelma Hulbert Gallery is an award-winning public art gallery in the town of Honiton that hosts an acclaimed exhibition programme of contemporary art & craft, together with a permanent collection of artist Thelma Hulbert's work.
Hulbert was born in Somerset in 1913 and became a celebrated visual artist known for her delicate still lives and ethereal landscapes. The gallery prides itself on making art accessible to all and in addition to the exhibition spaces there is a learning room and creative garden space with sensory planting. Accommodated in the beautiful Elmfield House, which was built around 1840, this gallery aims to bring together some of the region's key works and leading artists.
Teignmouth Arts Quarter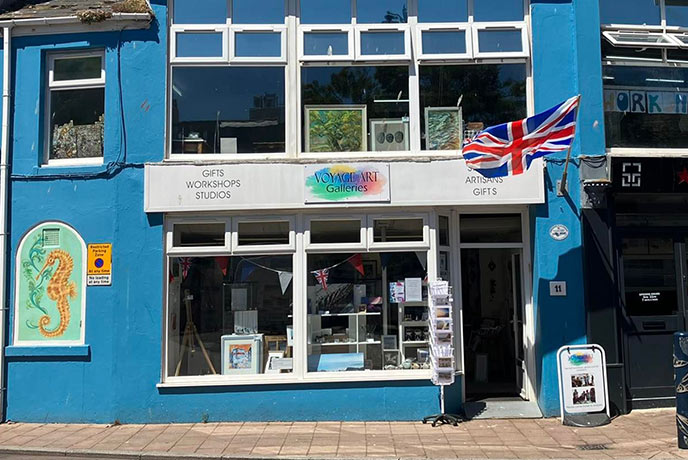 The area of Teignmouth close to its Back Beach has been designated as the town's Arts Quarter since 2016. The idea was the brainchild of Sam Birtwistle, owner and founder of Voyage Art Galleries, one of the many galleries you can discover in this interesting cluster of streets.
With the support of the local councillors and the mayor, this scheme to encourage a creative hub in the town has gone from strength to strength and now this beautiful, trendy area of Teignmouth really has lots to offer! Discover plenty of artistic shops and galleries featuring arts and crafts by local makers, as well as the Ice Factory Theatre and retro record shops. There are also copious quirky cafés, restaurants and pubs, making it a great place to sample some of the best food in South Devon and absorb the creative atmosphere.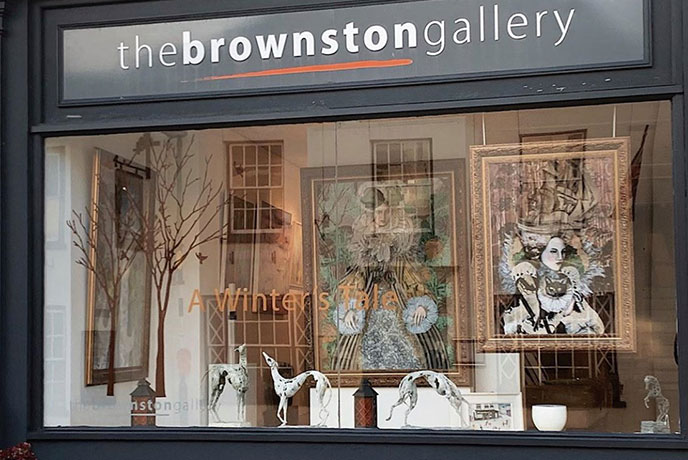 Situated in the historic Georgian market town of Modbury, the Brownston Art Gallery has earned a reputation as one of the leading contemporary fine art galleries in Devon. The team here represent not only established artists but also up and coming talent with regular exhibitions throughout the year.
With more than 40 different artists to choose from, the gallery is a treasure-trove just waiting to be explored. Discover the work of maritime artist, Anthony Amos, the atmospheric seascapes of Mike Moss or the bold abstracts of Jerry Browning. There are sculptural works too by Melanie Deegan and Ed Hill, and magical bronzes cast by Elisabeth Hadley.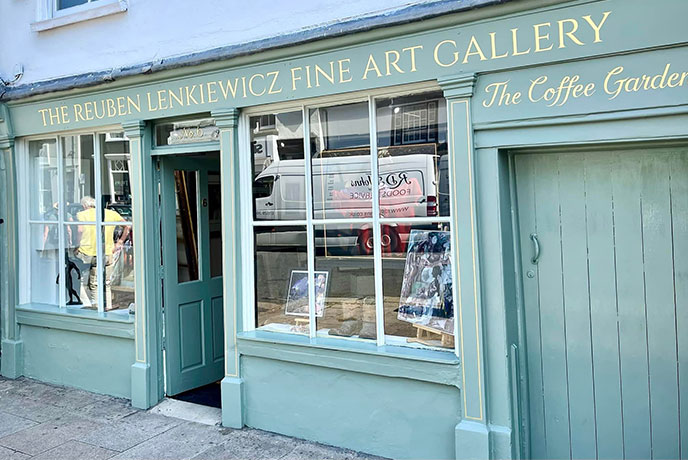 Considered to be one of the foremost galleries outside of London, this delightful space specialises in the work of the enigmatic painter Robert Lenkiewicz and is owned and run by the artist's son, Reuben. The Reuben Lenkiewicz Gallery is housed in a 16th century granite building in the lively town of Ashburton which sits within the Dartmoor National Park. Spread over five floors, there's lots to see and there is also an elegant café and secluded courtyard garden.
Besides the striking work of Lenkiewicz, the gallery features paintings by other landscape and figurative artists and will also provide valuations and restorations services. Visitors can expect to enjoy regular exhibitions as well as talks, painting classes and various workshops throughout the year.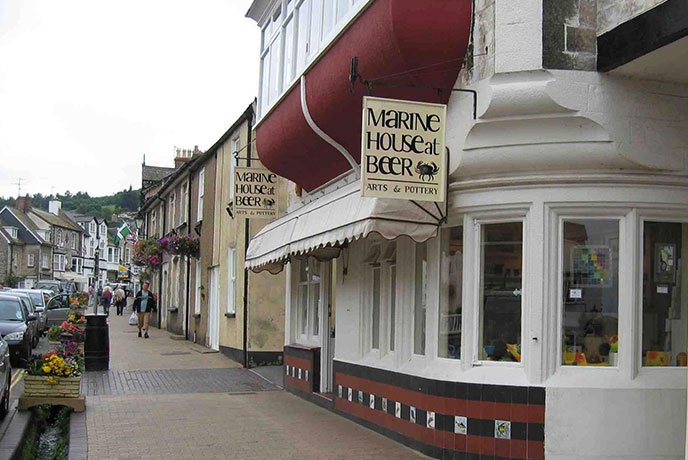 The picture perfect fishing village of Beer with its wide shingle beach is a hidden treasure found within the East Devon World Heritage Coast region. Though not traditionally thought of as an arty location, that all changed when The Marine House was established in 1998. This gallery is now considered one of the finest galleries in Devon, showcasing work by more than 100 painters, and hosts major solo shows from leading artists several times a year.
Run by husband and wife team, Mike and Rosemary Lambert, the gallery's ethos of high quality art at sensible prices has seen its reputation grow over the years and the pair have recently opened a second business nearby, The Steam Gallery, which specialises in studio glass and sculptural pottery.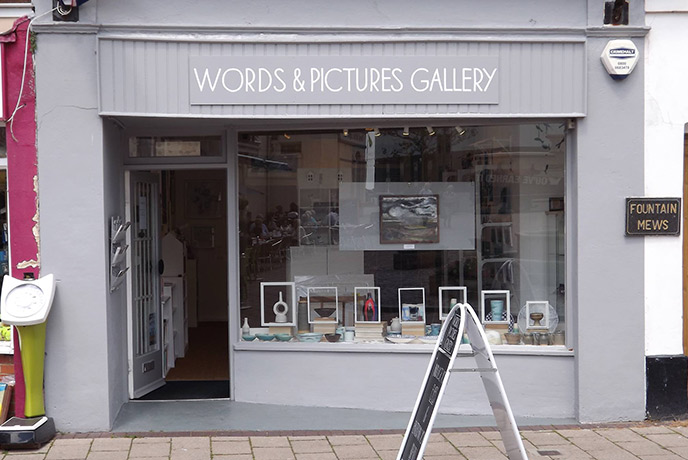 The Words & Pictures Gallery in the seaside town of Teignmouth is a contemporary art gallery with a wide range of paintings, sculpture, hand-made prints, ceramics, glass, jewellery and books. They focus on supporting local artists from all over the South West, but also exhibit a number of high profile artists with national and international reputations.
Part of what has become known as Teignmouth's Art Quarter, the gallery also has what they call their 'Back Room', a space dedicated to more 'challenging' art work from Avant-garde artists and recent graduates. The staff here aim to cultivate a friendly and welcoming atmosphere, where visitors are encouraged to fall head over heels in love with the art on display.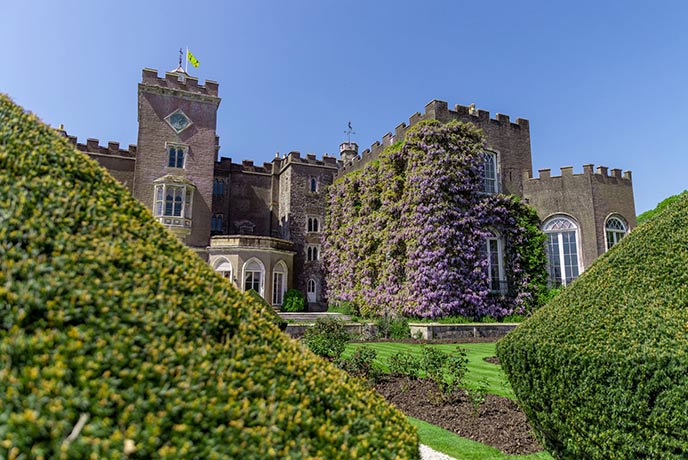 Combine art and history with a visit to Powderham Castle, also home to one of Devon's best festivals. Anna Fitzgerald is the castle's artist in residence and her gallery can be found within the grounds of this fortified manor house, famous for its lovely gardens. Trained as a fine art painter, Anna has developed a bright, unique and refreshing style. The gallery is part of the 'Art at Powderham' initiative which was set-up to support local artists, concentrating more on their development and less on commercial goals.
Anna works with a free, light touch and is known for her folklore-inspired animals, especially foxes, gulls, badgers, stags and hares, abstracts which are often multi-media, and characterful angels. You can also see her work in her art studio by appointment and in the Infusion Art Care in Exmouth town.
The Time House Museum, Totnes
The Time House is much more than a museum or a gallery, it is a truly unique experience. Hidden behind an unassuming shopfront is an imaginative and fun art installation which includes some 25 themed exhibitions.
Spread over four stories in this Tardis-like 18th century townhouse in the heart of Totnes, you will find art and multimedia displays that transport you through time. The Time House is both magical and unexpected, an art museum with a difference.
Check out our wonderful range of cottages in South Devon.