Brixham Cottages
Experience the wonders of the English riviera from one of our luxury holiday homes in Brixham, a classic English harbour town with pastel-coloured fishermen's cottages clinging to the hill in crooked rows. Check out the spectacular view from our Brixham harbour webcam. There's a swanky marina complete with restaurants and bars, a choice of beaches and a saltwater outdoor swimming pool, and Berry Head National Nature Reserve on the doorstep.Read more
The beautiful coastline here can be explored either by foot on the coast paths or by taking a trip on the 'Brixham Belle', which sails to Dartmouth, Paignton and Torquay. Brixham is a great place for a dog friendly holiday and with the South West Coast Path nearby, there are plenty of beautiful trails through woodland and cliff tops for you and your dog to enjoy.
If you're looking to get out and explore the town, Brixham provides an ideal location for your holiday activities. For literary travellers, Agatha Christie's holiday home Greenway is a simple boat ride - hop on a 'Greenways' ferry for a magical trip up-river. For a taste of nature, Berry Head National Nature Reserve provides a circular walk, featuring historical forts and Britain's highest and shortest lighthouse along the way.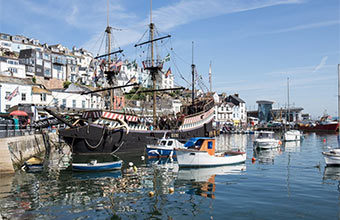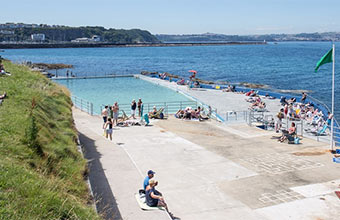 Another popular stop is the National Trust's Coleton Fishacre a 1920's country house with Art Deco interiors and resplendent gardens. Wander through the valley-hugging gardens and end it with a stunning sea view.
Head to Brixham on May Day weekend for a fun and family friendly Pirate Festival! And if you're looking for more ideas of family friendly take a look at our blog for things to do and places to eat in Brixham.
There are plenty of places to enjoy a local dish beside the harbour. If you want to cook for yourself, why not pick up some fish and seafood at the local fish market, where the fish is freshly caught and landed in Brixham harbour.
There's lots to discover and enjoy in this historic and beautiful corner of South Devon, and however you choose to spend your time, one of our luxury, handpicked and self catering holiday lets in Brixham will help make your holiday great.
We have 27 self catering cottages in Brixham to show you...