From the moment we turned off the country lane for our Devon glamping holiday deep in the Devonshire countryside, and made our way across a huge field (our grass track drive was fenced off from the field) we felt we could suddenly switch off from the hustle and bustle of everyday life. The children, Jacob age 6 and Benji age 3, couldn't wait to get out and explore our holiday safari tent and grounds. As soon as we stopped, the car doors flung open and off they went to explore the fabulous Beaver's Lodge Safari Tent. It was the Easter holidays and Benji was delighted to be the first find an 'Easter Tree' inside the tent complete with chocolate Easter eggs thoughtfully and kindly left for us by the Owners, Dave and Vicki, who farm the surrounding farmland. My husband and I were equally delighted by the bottle of fizz and the Devonshire cream tea left for us too!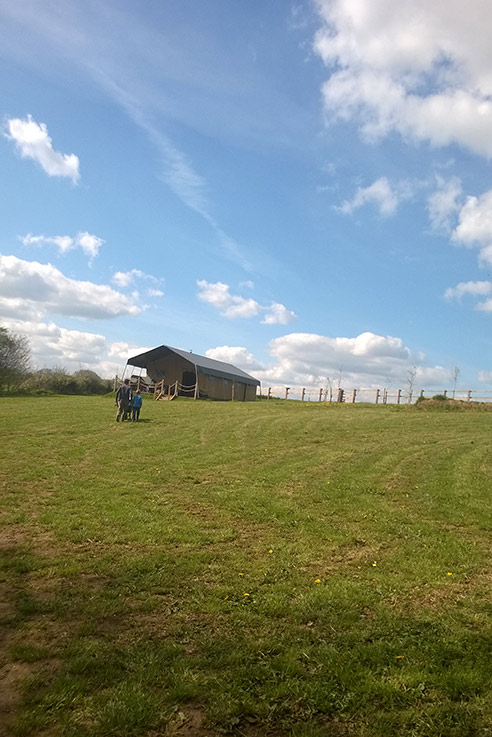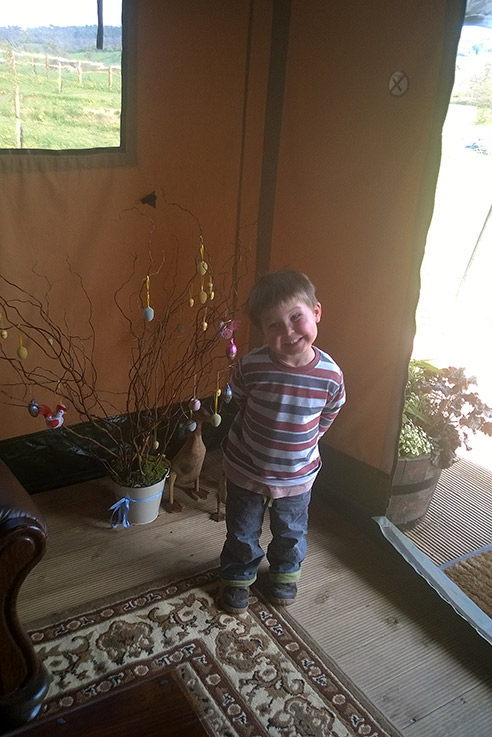 The children immediately set to exploring the tent – with its lovely farmhouse-style open plan living area, a double bedroom, a bunk bedroom complete with cuddly highland cow, an en suite shower-room with hot shower (yes, hot water in the middle of the countryside!), a toilet (the full flushing version!) and a wash-basin at the back of the tent plus a huge storage cupboard for all our possessions also at the back of the tent. After lots of 'wows' and 'this is so cool' we headed back to the car to collect our luggage.
More excitement in the form of luggage transportation (a wheelbarrow) and we got our belongings up to the tent and started to make ourselves at home. Then it was time to get the log-fired range lit so we could get the kettle on and enjoy our cream tea (of course we could have used the camping gas burner provided on the decking outside but with three 'boys', the thought of lighting a fire was much more enticing). This indeed was another adventure in itself; the children went off with Dad to collect lots of sticks to get the fire going whilst I unpacked and ate a sneaky Easter Egg from the Easter Tree – no-one would notice!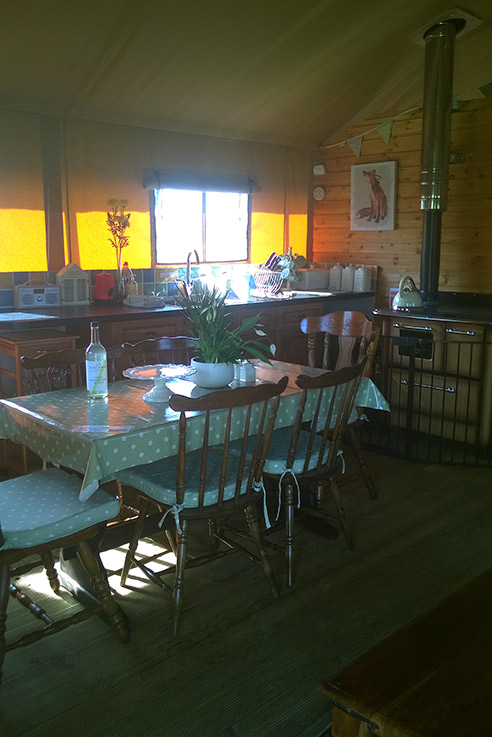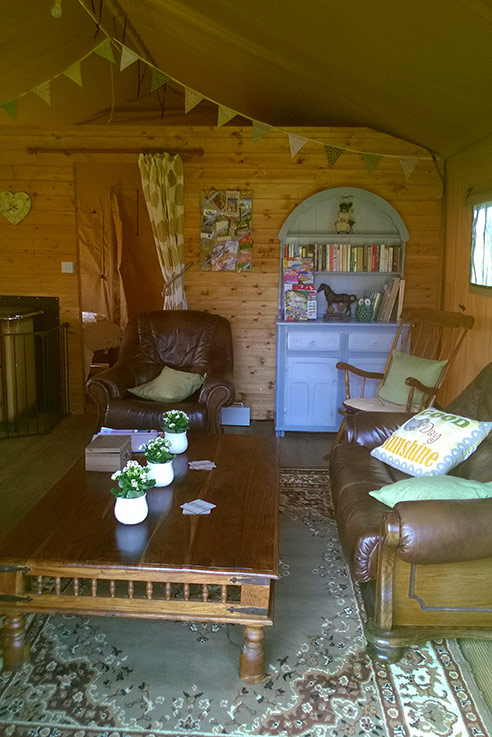 Once the fire was lit and our Cornish pasties were cooking, we decided to explore the beautiful countryside around us and try a spot of fishing in the lake just a short stroll from the tent and for our sole use. Half an hour later with not a bite in sight, we headed back to the warmth of our safari tent for our pasty supper. There is definitely something very rewarding about creating your own fire to cook on. Pasty supper eaten it was time for another explore in our huge corner of the field, we needed to collect a few more sticks for the fire and after all that hard work we were exhausted. Time for a hot shower, a story (thankfully the main lighting in the tent is run off a solar panel) and a very good sleep in the most comfortable of beds with lovely linens and thick warm duvets.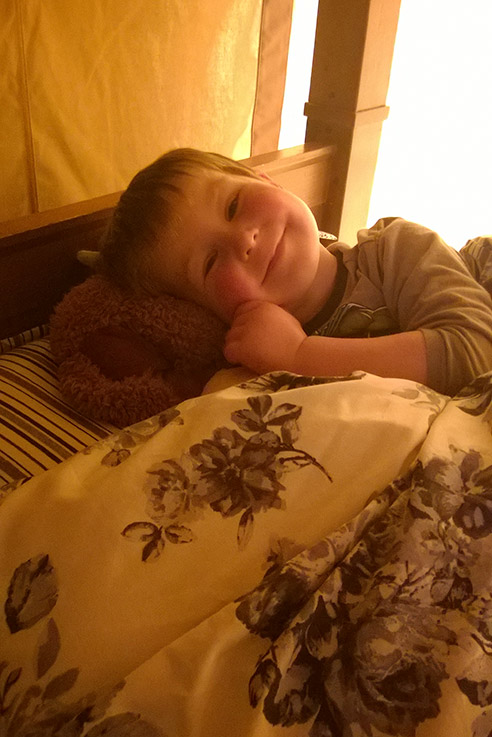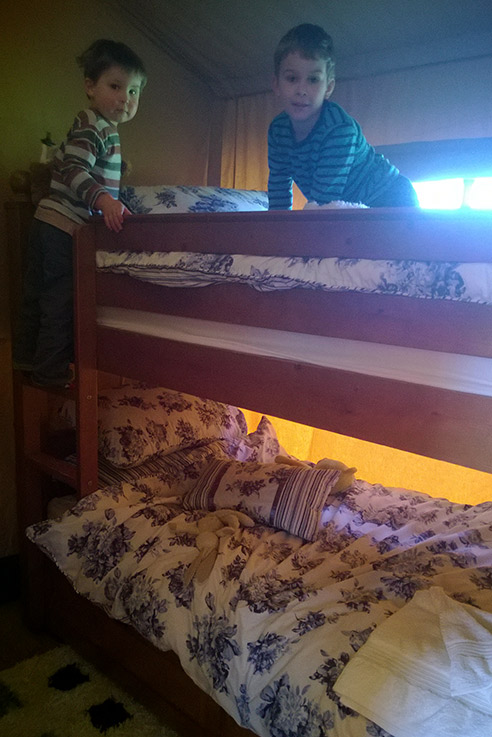 It was a good job we all had an early night as we were awoken at the crack of dawn by a chorus of birdsong, from woodpeckers to cuckoos to pheasants to you name it, we heard it! Time once again to get the fire lit and get the full English breakfast on the go (got to try and make it a little like staying in a luxury hotel!). The smell of breakfast in the middle of the Devonshire countryside was just bliss. We were fed and ready for our full day of adventure ahead.
We decided on a walk into the lovely old town of Ottery St Mary. There is a footpath directly from the tent that took us past Coleridge's famous Cave and along the River Otter to the bottom of the town. We headed into town to top up on essentials (more bacon, more sausages and burgers for supper and pasties (again!) for lunch, and a lovely loaf of bread just in case we got hungry!). We headed back to the tent along the same path and saw so much wildlife, we were hoping to catch a glimpse of the now famous resident beaver family but it wasn't to be this time although we did see examples of their tree surgery work en route.
After all that walking and shopping it was time for lunch and then a little afternoon rest on the decking in the sunshine with nothing but birdsong as our background music. Rested up we decided it was time to try for fish again and to go on another walk on one of the many footpaths leading from our glamping retreat. The children loved the woodland all around us providing great adventures and they loved looking for wildlife. Many a squirrel and buzzard was spotted and we even picked up a ladybird en route which delighted Benji and became his friend for the rest of the afternoon.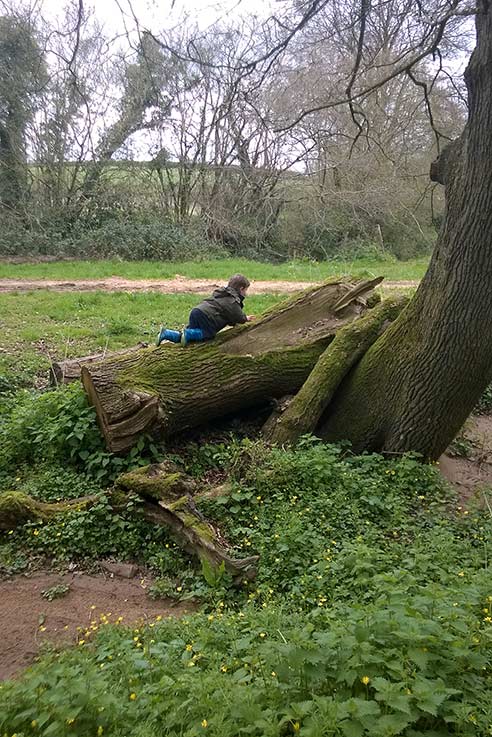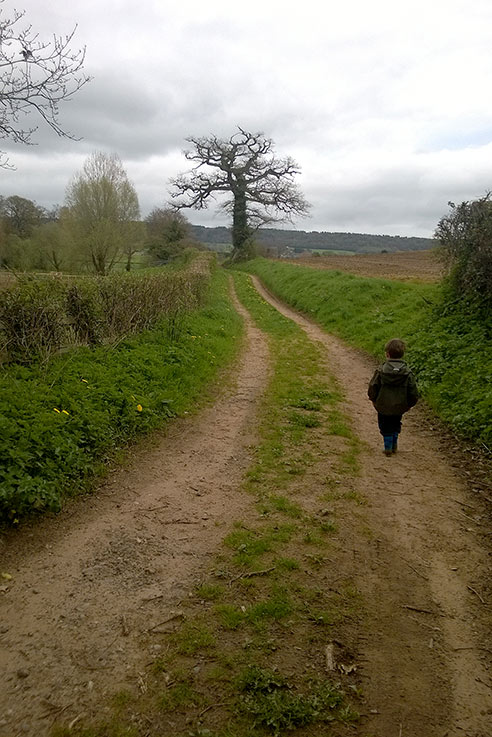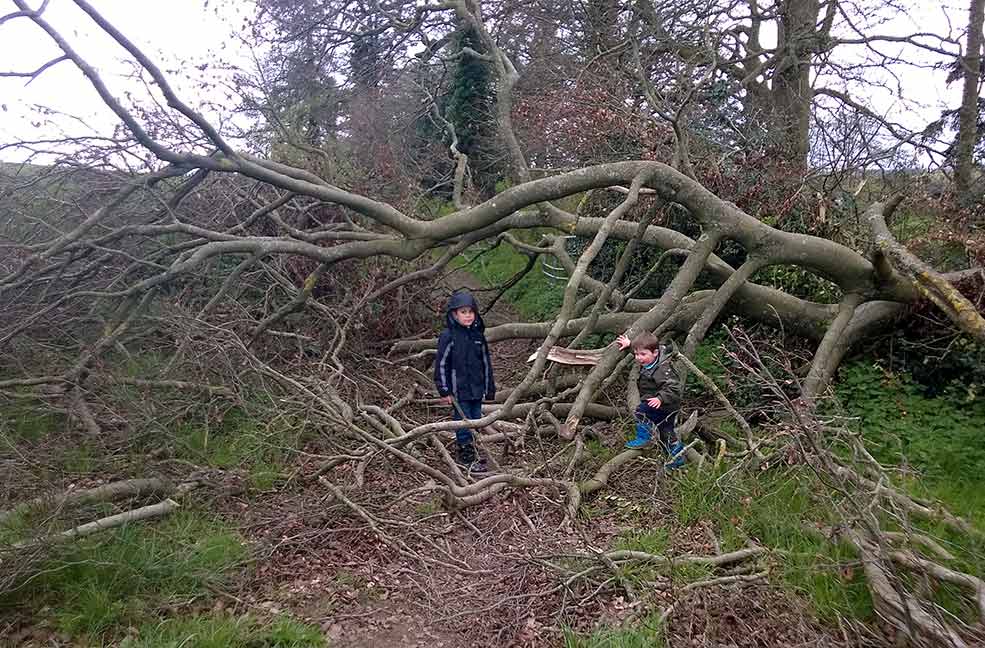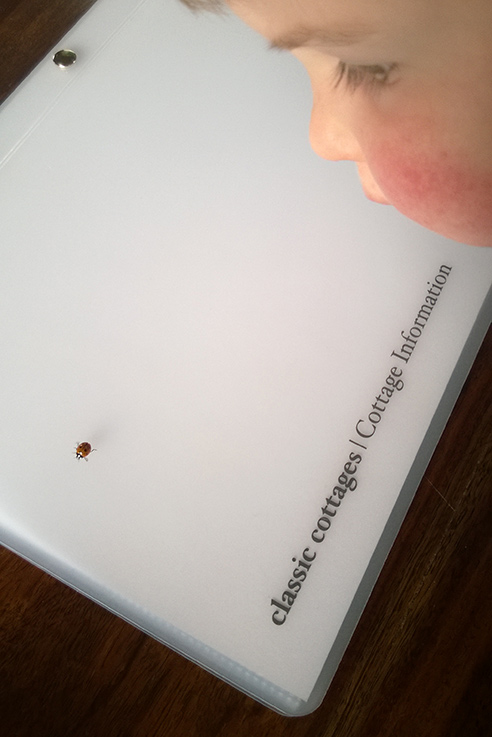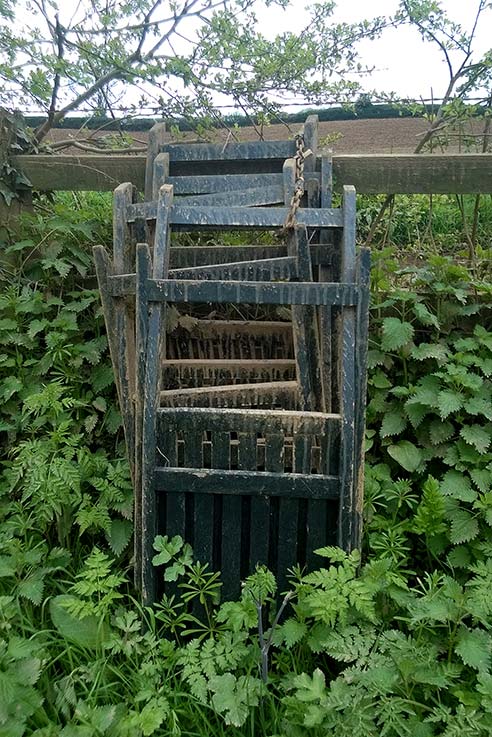 Once again it was time to head back to our safari tent collecting sticks en route for our fire pit barbecue supper. Why do sausages and burgers taste so much nicer cooked from the wood you have personally collected on a fire you have created and tended?!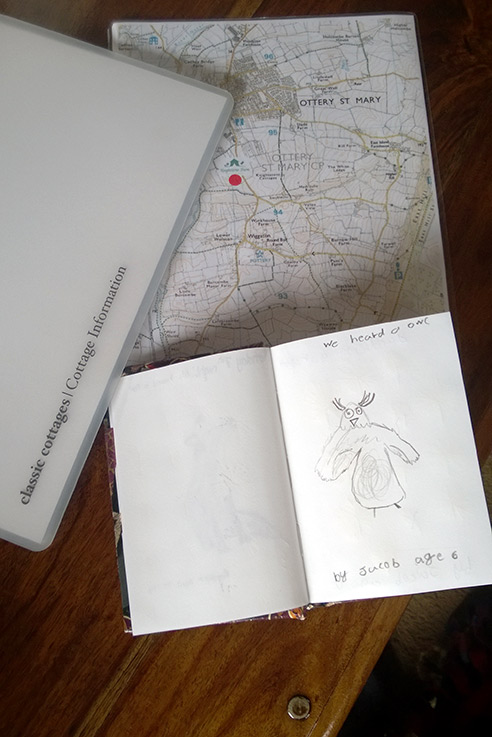 After a lovely barbecue with the sun setting it was time to settle in for the night. Our second night gave us an even deeper sleep (probably due to all the fresh air, exercise and adventures) and we were once again woken by the fabulous dawn chorus. We all had great fun jotting down the different bird sounds we heard. It was very much helped by the fact that the Owners had thoughtfully provided wildlife books which we referenced throughout our stay. We also enjoyed board games provided (and the fact there is no electricity and no TV!). The boys really enjoyed sketching what they had seen in the sketchbook provided ready for the next guests see and add to.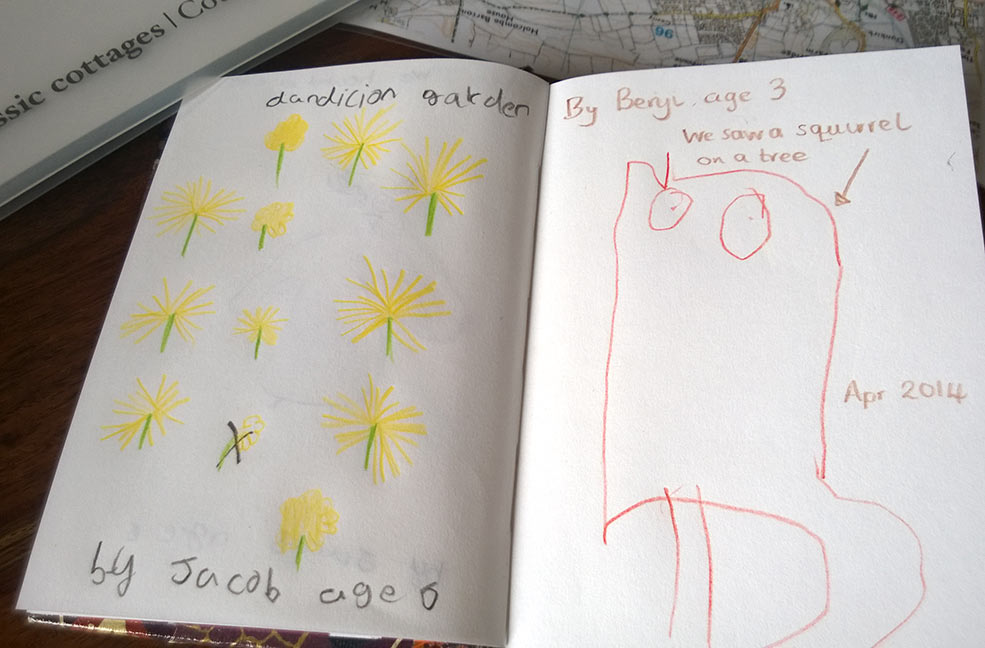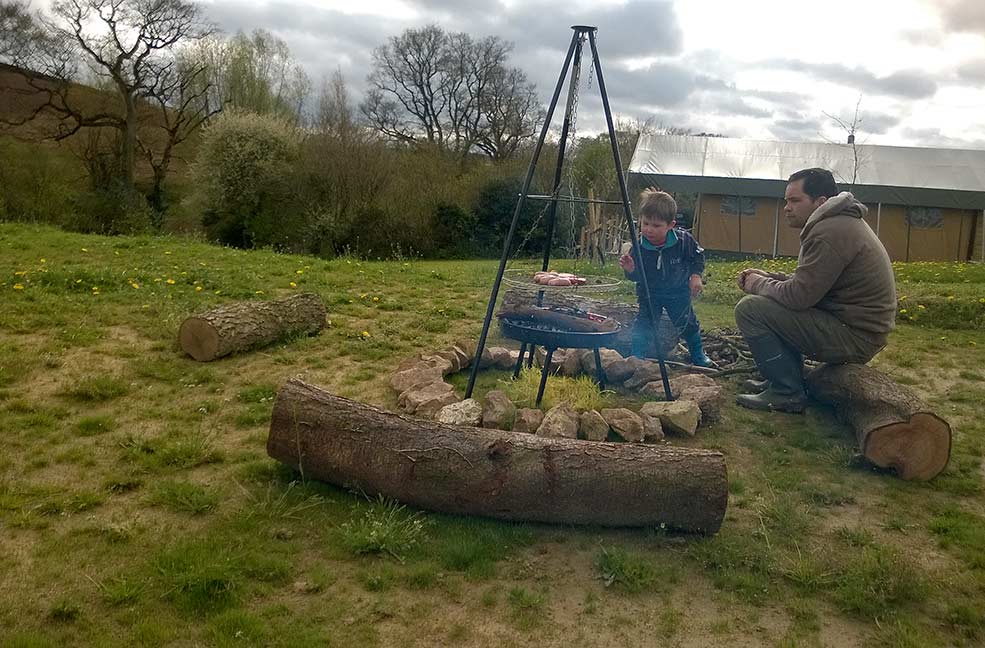 Sadly it was the end of our fantastic short break at Knightstone Farm Glamping Lodge but we really felt we had slowed ourselves down a little, had taken time to appreciate being 'off grid' and fully appreciated the sights and sounds of the countryside. We were very sad to say goodbye to our lovely safari tent and the fabulous countryside around us. The children were very disappointed we had to go home but their sadness was eased a little by our final wildlife spotting en route out across the field - a beautiful pheasant cock and hen.
Glamping at Knightstone Farm was a fantastic experience for the whole family and when I asked the children if they would rather go to a luxury hotel or go glamping, you can guess what their answer was - it looks like we will be going glamping again soon!