My family love a festival. The sense of freedom., the fun, the silliness. You don't have to camp in a muddy field to get a festival feeling (although you can do that too!), but festivals are a great excuse to dress-up and do something different.
Devon has a wide-range of different types and sizes of festivals. I've included free festivals, alongside ones where you have to book, so there should be something for everyone. Here's my round-up of Devon's best family-friendly festivals.
Brixham Pirate Festival
This free festival is a family favourite of ours. I love seeing the beautiful harbour-town of Brixham, transformed for one weekend into a pirate extravaganza. What I also like is that seemingly everyone dresses up. A pirate theme is such an easy outfit to throw together that almost everyone makes some effort. It really looks spectacular when thousands of pirates all wander around together.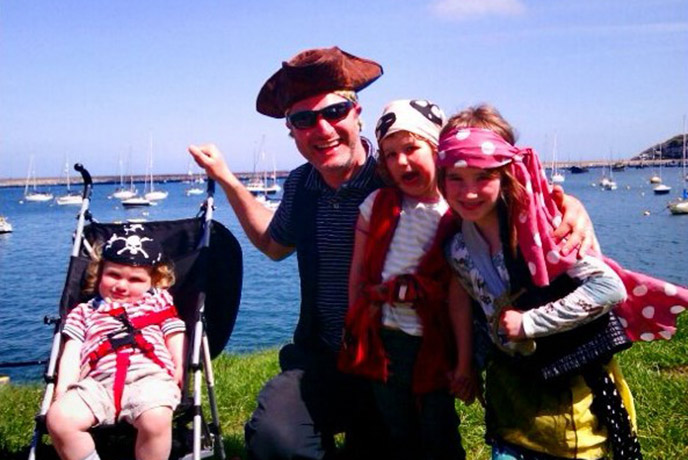 Glas-Denbury
Not to be confused with Glastonbury, this cleverly-named festival is a field full of wonder. The stand out feature of this festival is the variety. It is a celebration of all the best in creativity from the South West. Music, art, writing and entertainment all come together in a field in July. There are workshops and performances galore, so this is a good festival for keeping all the family entertained. Another thing to recommend this festival is the setting. Showcasing the best of Devon's rolling countryside, this festival takes place in the shadow of Denbury Hill.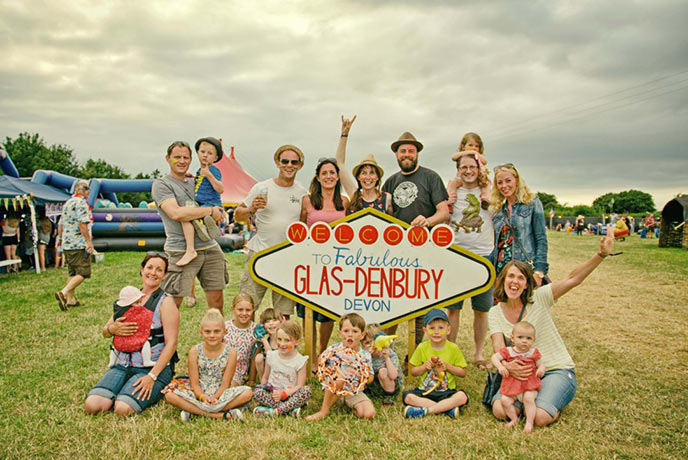 Exeter Festival of South West Food and Drink
A festival for foodies across two beautiful sites in Exeter. The main locations for the festival are Exeter Castle and Northernhay Gardens, both of which are absolutely stunning. This festival is a real treat for the senses. Your eyes will revel in the stunning views, your ears can enjoy plenty of musical entertainment, and your nose can delight in all the spices and smells. But it is your taste-buds which will be most rewarded by a visit to this event. There is even an after-dark element to this festival to keep you entertained into the evenings.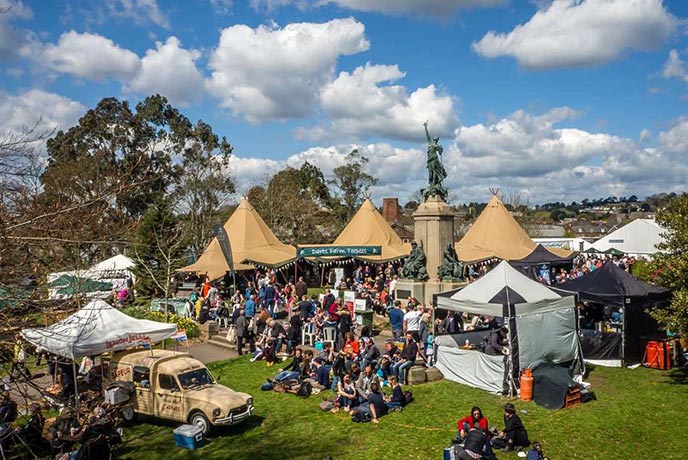 Beautiful Days
Arguably Devon's largest festival is Beautiful Days. It is certainly the place for hearing familiar bands and household names. Running near Escot for 16 years, this festival has a great pedigree for attracting some truly memorable acts. This is no small one-stage festival, and boasts a whopping 7 stages, so there truly is something for everyone.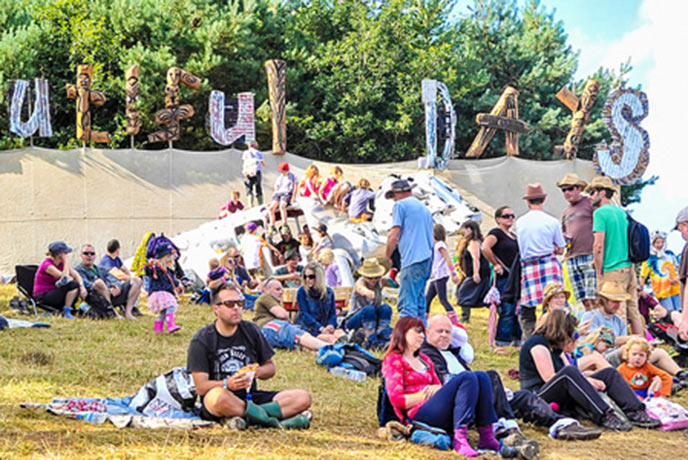 Sidmouth Folk Week
This well-respected folk week has years of pedigree under its belt. Set in the lovely seaside town of Sidmouth, this is a treat for folkies and non-folkies alike.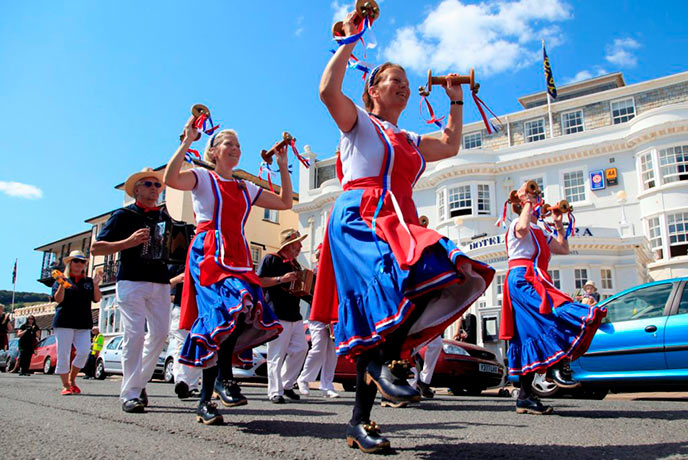 Dart Music Festival
Dartmouth swells to bursting each year for this free music festival. It's worth arriving early as the small town gets packed. This is a three-day celebration of music where the whole town seems chilled-out and funky. Dartmouth is a great place to visit at any time, but the music festival gives it an added buzz.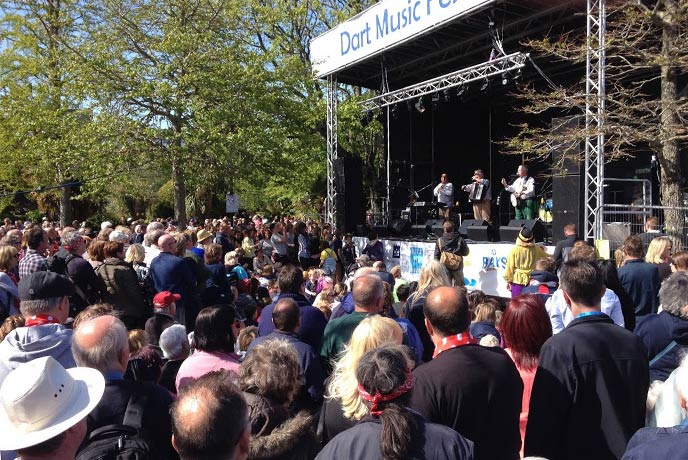 River Cottage Festival
Not many festivals offer foraging as a tempter, but this quirky festival does. I am quite a fan of hunting out free food, so this festival suits me. It's not just foraging on offer though. There is music, dancing, food and entertainment. This late-summer festival in Axminster is always a good way to keep the summer-vibe into the last weekend in August.
Read more about the annual River Cottage Food Fair >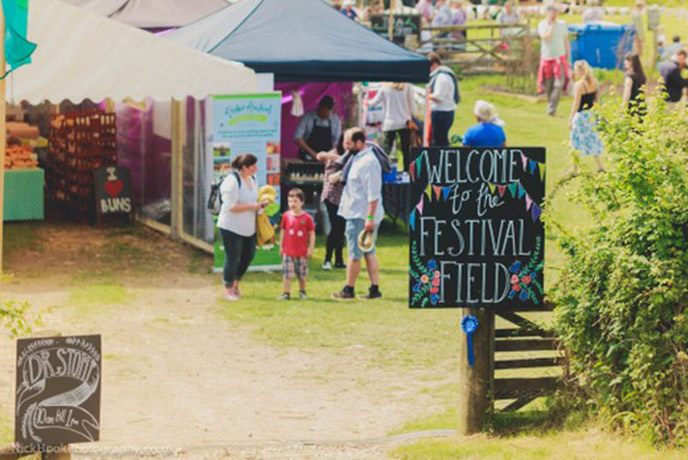 Tar Barrel Rolling
For something a bit different, why not try the Flaming Tar Barrels at Ottery St Mary? The event takes place on November 5th when people carry tar-soaked burning barrels through the streets of Ottery St Mary. It's noisy, crazy and exhilarating. Each barrel is lit outside a different local pub and then lifted through the streets as people jump quickly out of the way. This tradition dates back hundreds of years and was probably invented as a way of cleansing the town of evil spirits. The night ends on the banks of the River Otter where a huge bonfire is lit, and a funfair keeps the fun going late into the night.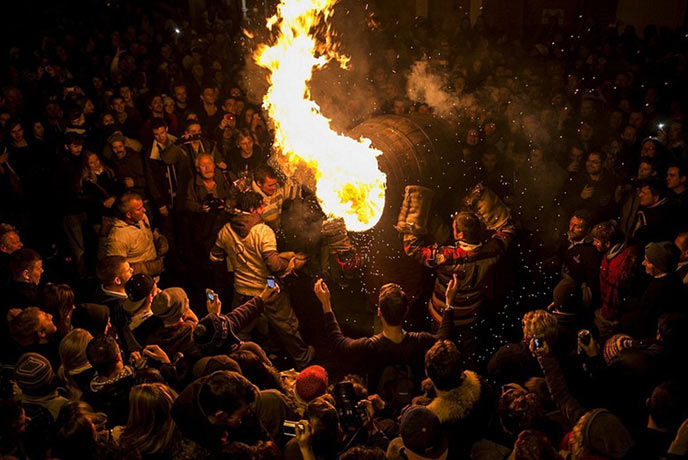 If you fancy all the fun of the fair, choose one of our holiday cottages in Devon and plan a festival into your visit.