When I found out that Jubilee Pool in Penzance throws an annual dog day, I was embarrassingly keen to go. The grand idea is an annual event that marks the closure of the pool over winter. For one day – and one day only – you and your four-legged friends can make a splash together at Jubilee Pool.
I'd been meaning to visit the Penzance Lido since it opened following the winter storm damage, but I live over an hour away and something always cropped up. But for dog day? I'd make it! Dog day kicked off at 10am, but after a Sunday lie-in and a relaxed brunch we arrived at around midday to a queue of dogs and their owners awaiting entry. Despite their obvious excitement the dogs remained incredibly British in their approach to queuing and there was no skipping, just plenty of tail wagging.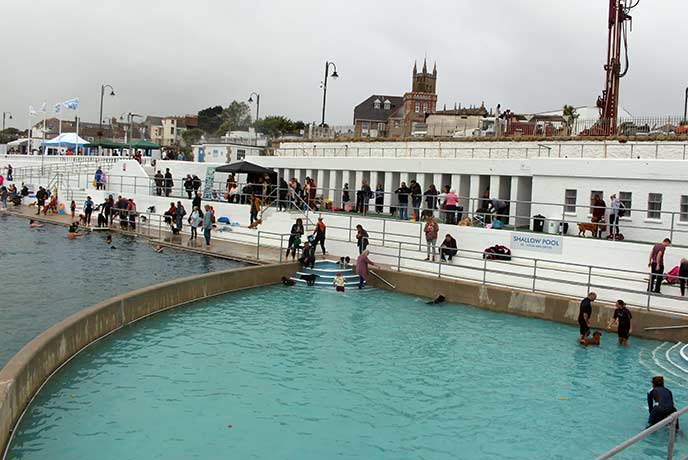 Once we had paid (£5 per adult plus £3 per dog) we popped into the cafe for a couple of drinks. It might have been the last day of September, but it was the kind of day where one minute it's overcast and mizzly and the next the sun is out in full force. We didn't have any food, but the cakes looked decent and the prices seemed fair. I'd definitely eat there on my next visit.
Hydrated and suitably cooled down, we headed down to the changing rooms. Let me tell you – getting changed and wrangling myself into a wetsuit with a 35kg dog in the changing room is an experience I'll never forget! But despite a few impatient looks from him, we made it. And then all that was left? A dramatic run and jump into the pool!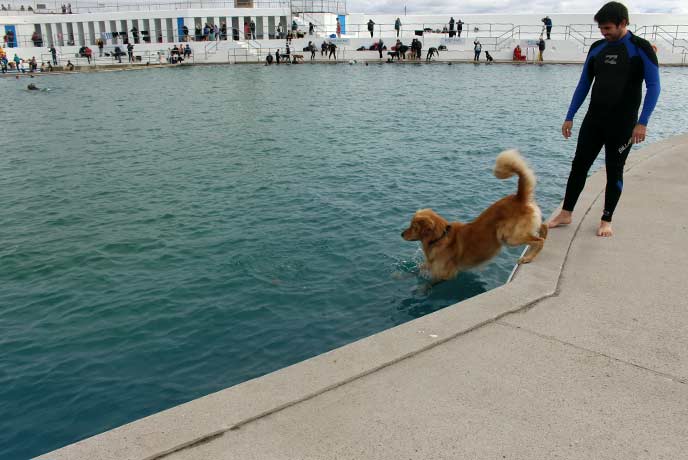 We brought a couple of balls with us, but the pool had stocked up and there were plenty to go around. We chucked the ball in the deep end and that's all the encouragement he needed - he was straight in. After a couple more throws we joined him and he could barely contain his excitement at being a pool with his two humans and surrounded by other dogs. He didn't know what to do with himself! So, we taught him how to drop the ball in the water and played a rather hilarious game of piggy in the middle with him. It was all fun and games, though he did get rather excited when he got near us in the water, as my husbands now severely scratched up wetsuit can attest!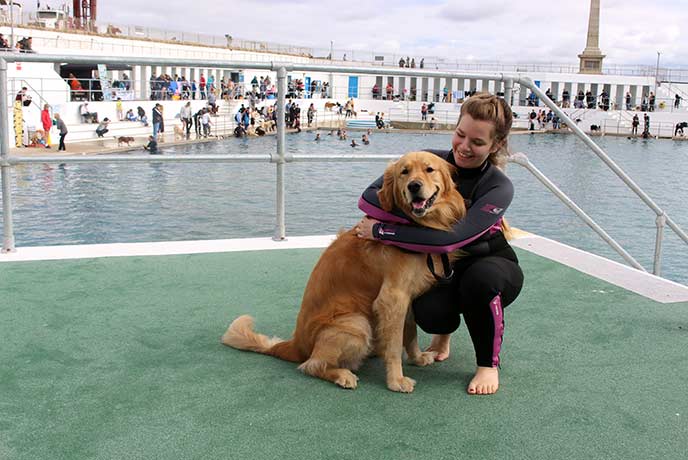 Despite being an incredibly popular event, it didn't ever feel overcrowded and there was so much space to swim and play with the dogs. It was also great to see the separate shallow pool was available for nervous and smaller dogs perhaps taking their very first swim.
Later on, the organisers ran a dog show competition which was just £1 to enter and included some great categories such as like 'Dog Most Like Their Owner'. We were both a bit cold after an hour or so, so headed off before it started. But we'll be back next year and I think after such a fun-filled day Monty might just be in with a chance of winning 'Waggiest Tail'!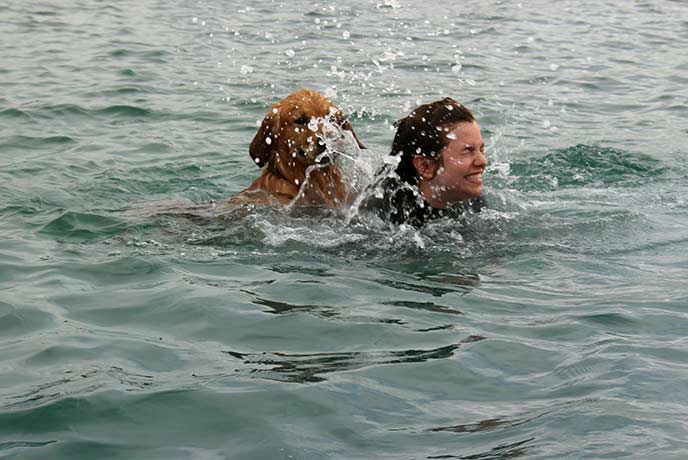 Get away with your four legged friend in one of our dog friendly cottages.