The glorious art deco pool has been an iconic presence in Penzance since the 1930s and continues to be a superb day out for locals and holiday visitors to this day. Check out our Penzance webcam for a live HD view of the picturesque promenade.
Between St Michael's Mount and the quaint fishing villages of Newlyn and Mousehole stands the white monument that is Jubilee Pool. Many Penzance locals love visiting for a quick dip before or after work in the summer months and there's a whole host of activities for kids, like their inflatable unicorn derby and the inflatable obstacle course.
The lido was built in 1935 and is one of Europe's last saltwater swimming pools. Whether you're simply looking for a calm place to catch a tan or somewhere to squeeze in a couple of lengths, this is a stunning spot for both and everything in between.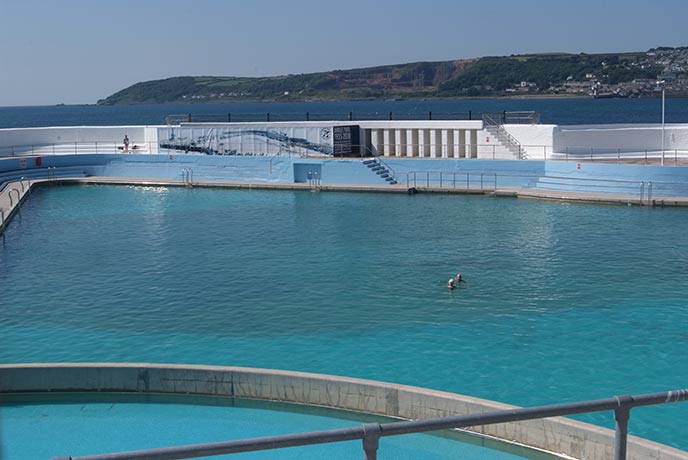 The on-site cafe makes the pool a great place to swim and stay for an afternoon. Serving up brunch, lunch, tea, coffee and cake alongside select evenings of pizza and cocktails, this versatile cafe caters for everyone. Plus, with a huge indoor space, you can hide from the rain if you happen to get caught in a shower.
But that's not all, as a truly welcoming place to visit, the Jubilee Pool throws open their doors to dogs at the very end of the season. Four legged friends are invited to join their humans for a splash around in the pool on the last day before the it closes for the season. This makes for some hilarious fun with dog shows, races and much more on the day, possibly the cutest day out in Cornwall you'll ever experience.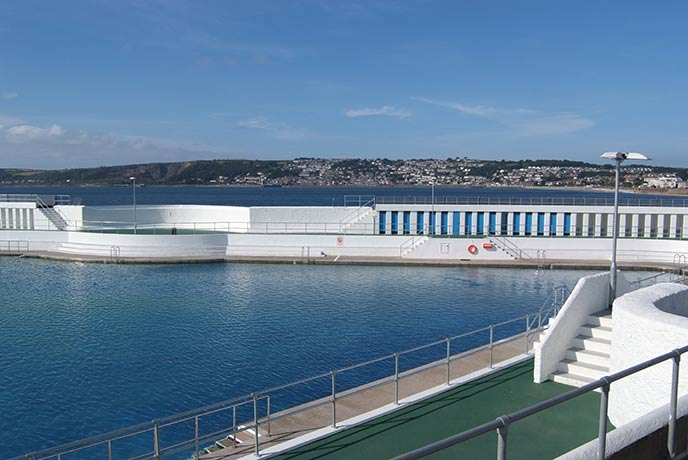 Our friends at Jubilee Pool are currently fundraising for a Geothermal pool which would mean they could keep this iconic Cornwall location open all year round. The pool is currently working to become a truly sustainable attraction and this brilliant addition would mean that no matter what time of year you visit, you'll be able to enjoy a dip in the water.
We'd love if you could take a look at their Crowdfunder page, share with your friends and maybe add a donation into the pot. Your support would be appreciated by us at Classic Cottages and the entire team at Jubilee Pool. Thank you.
If you love the Jubilee Pool, find out about more things to do in Penzance.