Dartmoor seems made for dogs. There are miles of wide open spaces for pooch to explore. Some days I like to walk for miles with Monty, my Cockapoo, and hardly see another soul. Other days I'm feeling less ambitious and we walk on the more popular paths.
Dartmoor has miles of well-worn paths, but its also got miles of semi-wilderness. Myself and the dog have explored acres of this wild moorland but have barely scratched the surface of what's here. Here is my guide to the best dog walks in Dartmoor.
Check out our lovely dog-friendly cottages in Devon for the perfect place to stay with the pooch.
Haytor Quarries
The ponds at Haytor Quarries are one of my favourite beauty spots. The rock walls shelter you on windy days, and reflect back the sun on warmer days. Both myself and my dog love a wild swim in these ponds, followed by a picnic on the grass. There is an Australian Film called Picnic at Hanging Rock, and this site always reminds me of this dream-like film. The crowds who troop up to Haytor are always absent here, and many times myself and my dog have been the only visitors.
Princetown Railway Track
The moors are not always the best place to be in bad weather. The ground can get boggy quickly and its easy to get lost away from the paths. Neither of these things will be a problem at Princetown Railway Track. This well-made path is good in all weathers, and easy to follow. As you arrive at Princetown, be sure to glance up at the imposing presence of HMP Dartmoor. After parking in the main car-park, head past the old fire station and follow signs to the track. This old railway track cuts a straight vein through the moors. There's lots to see from the track itself, but there are also lots of entertaining detours to the left and right. A mile and a half along the track, you can detour to Swelltor Quarry. This was one of the largest quarries on the moors, and operated until the early twentieth century. You can also access the smaller quarry at Foggintor.
Haytor Audio Walk
For something a little different, why not try the Haytor Audio Walk? While pooch sniffs and snuffles across the moors, you can lose yourself in a guided 10km tour, while accompanied by the folk music of local lad, Seth Lakeman. The tour starts at Haytor Visitor Centre, and then takes you around Hound Tor, the Granite Tramway, the Medieval Settlement, and Haytor itself. Each area has its own track, so you can skip areas if you wish, but the walk is worth doing as a whole if you can. Download the map here.
Parke
You don't have to venture far onto the moors for a lovely dog walk. Parke is an area of woodland just outside of Bovey Tracey. There are some great streams to follow, and lots of different paths, for a different experience on each visit. There are lots of easy tracks here, but also lots of places to explore just off the main paths. There is a walled garden which dates back to the 1800's, a medieval weir and lots of lovely streams. There is the fantastic dog-friendly Home Farm Café near to the main car-park, which is well worth a visit after your walk.
Bellever Forest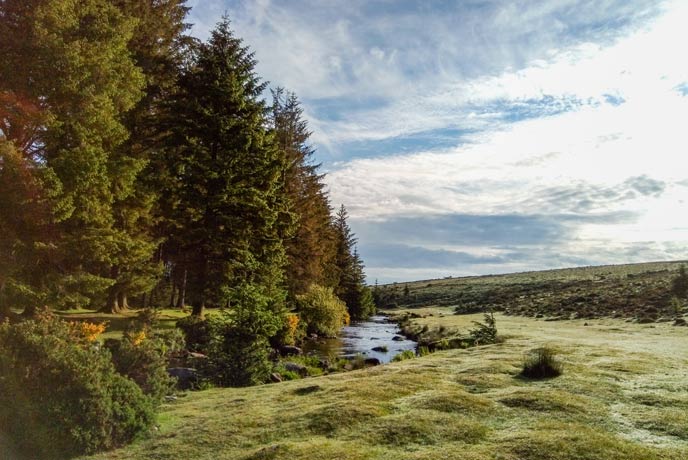 Bellever Forest has a delicious sparkling stream which bounces between granite boulders. There are lots of marked trails around Bellever and a good mix of easy and more challenging walks. There is much history here, with the historic bridleway, The Lich Way, and lots of ancient ruins and archaeological sites. This is also a good place to spot the iconic Dartmoor Ponies.
Spitchwick
Spitchwick is a fantastic forest clearing beside a sparkling river, perfect for wild swimming. There's lots of room here for dogs to roam. In the summer, the clearing becomes full of picnicking families, but the area is quiet for the rest of the year. Even in Summer it is easy to get away from the crowds by following the stream into the woods. Spitchwick is at its best in autumn when the leaves turn golden brown.
Wistman's Wood
Near to Two Bridges is the atmospheric Wistman's Wood. Few places match the moody, brooding presence of this ancient wood. Mosses coat the twisty oaks, and lichens hang down like webs. The floor is dotted with moss-covered boulders which sit grandly among the heather and ferns. My dog loves to clamber and sniff among these boulders, and the whole area is absolutely beautiful. There is a long track up to the woods which follows a small stream.
Take your pick of our holiday cottages and start planning your next Devon holiday.