People come to Devon for its beautiful scenery and its amazing coastline, both of which can be enjoyed on foot and on wheels. But there is also a more intangible quality which draws people to this amazing county, the pace of life. You can almost feel time slow down as you cross the county boundary, and the cares of this world seem to evaporate. The perfect way to enjoy this is with an afternoon tea. You can't hurry an afternoon tea, and why would you want to!
Devon already has a rich foodie culture with its local produce from land and sea. Add to this its long history of cream teas, where it is famous for serving the crumbliest home-made scones, perfect pots of tea, the most generous servings of jam, and the freshest, richest local clotted cream. Add in a generous but delicate array of finger sandwiches, and other savoury and sweet treats to delight you, and you have the perfect Devon afternoon tea.
Here are some of our favourite spots to enjoy this much-loved way to while away the afternoon, with stunning scenery to boot. And don't forget - the Devon way is cream then jam!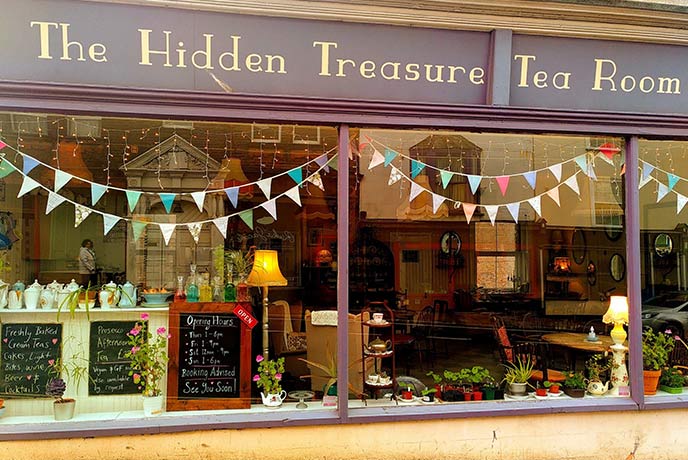 5A New Bridge St, Exeter EX4 3JW
This place is everything a tea shop should be. Friendly, delightful and indulgent - and what's more, its theme takes you on a journey to the roaring twenties! Most people opt for the set afternoon tea, which can vary slightly depending on what is seasonal. Every item is baked in their open kitchen, so you know it's completely fresh and delicious. There are vegan, GF and nut free versions of the menu, and some even say it is the best vegan afternoon tea around. Your indulgent experience includes a chilled glass of prosecco, followed by an amuse bouche.
By now you'll be perfectly ready for your afternoon tea, but, there's one agonising decision to make. Sweet or savoury? Savoury includes treats like smoked salmon pate on homemade oat bread, and sweet will include delights like Biscoff caramel cream tartlet. With a minimum of two people needed, clearly the best thing to do is to order one of each and share. Oh, and one more thing, if you prefer to eat your food al fresco you can order picnic boxes to take away.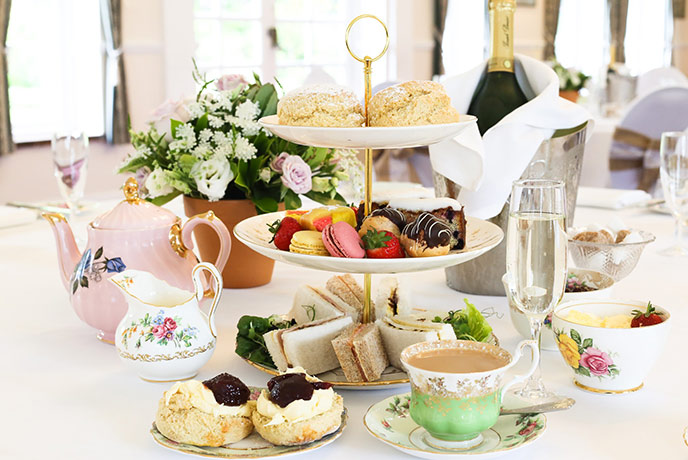 Two bridges, Dartmoor National Park PL20 6SW
In the heart of Dartmoor, with some delightful walks nearby, is Two Bridges Hotel. This is the starting point for one of the best walks on the whole of the moors: the walk up to Wistman's Woods. After your walk you'll have earned your afternoon tea - and what a perfect spot for it! With a small stream and a beautiful stone bridge, this beautiful venue is like an oasis in the unspoilt wilderness of the moors.
With crisp, white tablecloths and views across the finely manicured lawns, this has the feel of fine dining, so it's no surprise that this is exactly what you'll get. This award-winning restaurant has a Two Rosette award from the AA, and a Gold Award from Taste of the West. The afternoon tea is served either in the lounge or perhaps you'd prefer to take it in the gardens. Either way, this is a place for relaxing as you watch the little stream wind by.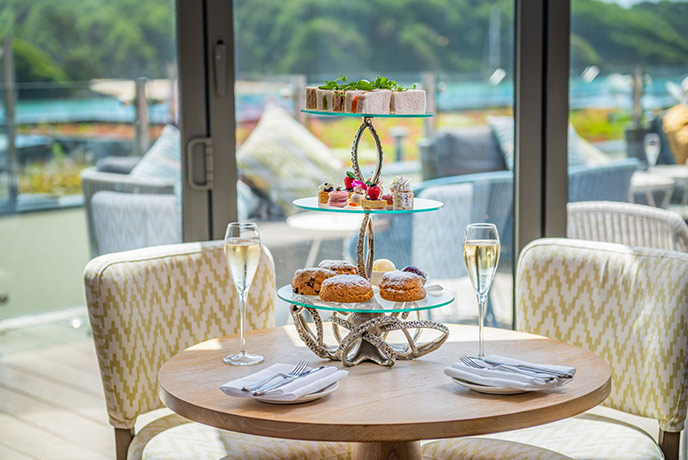 Salcombe Harbour Hotel, Cliff Road, Salcombe TQ8 8JH
Salcombe is one of the jewels of Devon. Well-beloved by the sailing fraternity, this pretty little town hugs close to the shoreline. And you'll be right on the shoreline too if you book into The Harbour for afternoon tea. Served on the traditional three-tier cake servers, this is a perfect way to enjoy an afternoon.
The views across the estuary will sometimes draw your eye, but you'll have plenty to focus on in front of you as well, as you look at the savoury and sweet treats laid out before you. Crumbly pastries, fresh home-cooked scones, delicate finger-sandwiches, delightful cakes, and other savoury bites will keep you occupied and delighted in equal measure. If you want to enhance the fabulousness even further you can always order a glass of fizz, or a cocktail or two!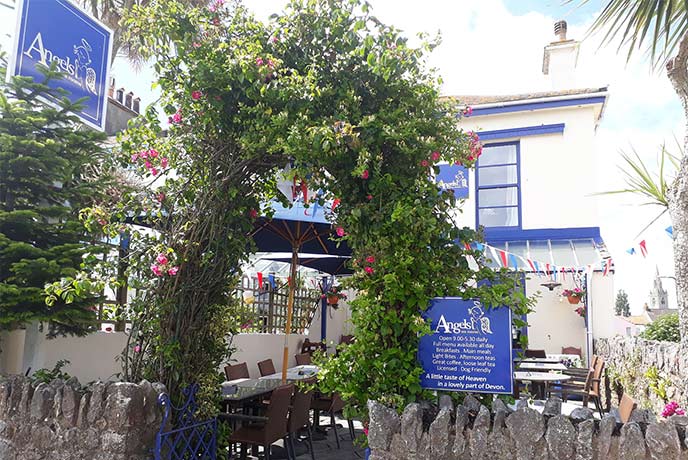 49 Babbacombe Downs, Torquay TQ1 3LP
Angels tea rooms in Babbacombe, Torquay is nothing short of an institution in these parts. An invitation to afternoon tea in Angels is like being invited to a different world. Babbacombe Downs is a fabulous place to promenade and take in both the sea air and the expansive sea views. From its elevated cliff-top position you really can see for miles. And if you want to get closer to the sea you can always take the incredible Babbacombe cliff railway down to the beach. And then back in time for tea.
First your server will dazzle you with an incredible choice of scones. The offers can include plain, fruit, cherry, white chocolate, triple chocolate, cheese, dark chocolate, stem ginger, or wholemeal as well as various gluten-free options and specialist choices. In an afternoon tea your savouries and scones will arrive on a cute higgeldy-piggeldy collection of crockery, which sets just the right tone of relaxed refinement.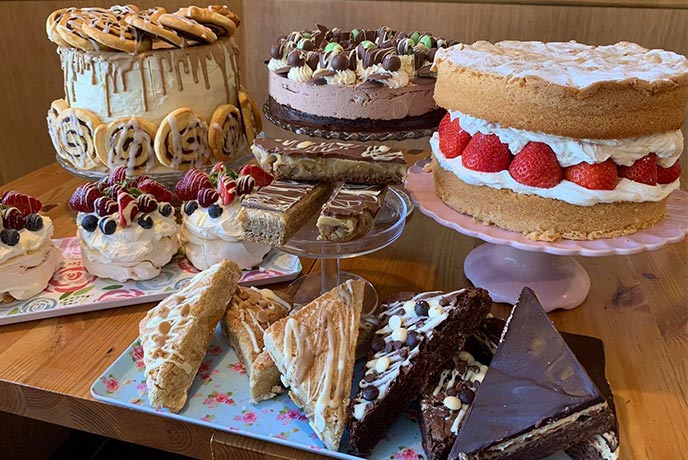 Golf Links Road, Westward Ho! EX39 1LH
A slight alternative to the afternoon tea is the high tea. At Tea on The Green In Westward Ho! you can pre book a high tea, though try to allow three day's notice for smaller groups of up to six people, or five day's notice for six to twelve people. Westward Ho! is the only town in the UK to have an exclamation mark as part of its name, because it's named after a book.
This pretty coastal village is a good central location for exploring North Devon, and the beach here has a deserved reputation as one of the best family-friendly and surfing beaches around. After all that sea air you will be ready for your high tea, which consists of filled rolls, quiche, cake and cream tea. With a quirky, retro look and friendly staff, this is one of the best places to eat in North Devon for afternoon tea.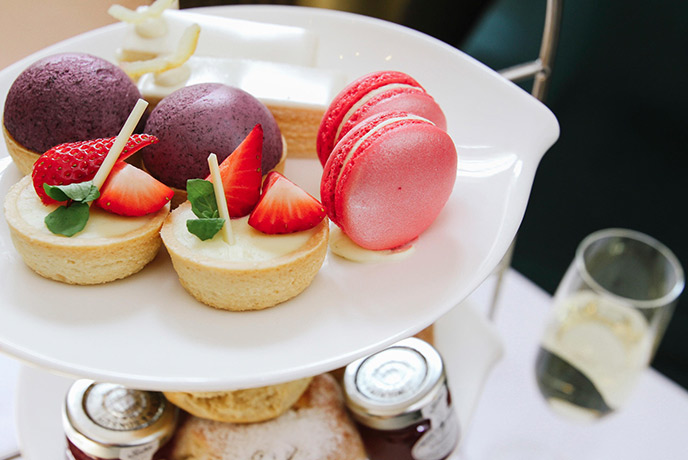 Boringdon Hall Hotel, Colebrook, Plympton, Plymouth PL7 4DP
Boringdon Hall in Plymouth is a five-star, dog-friendly hotel, with an excellent reputation. It is on the edge of Dartmoor but accessible for the excitement of Plymouth as well. At Boringdon Hall they take afternoon tea seriously, but also playfully. There has been a tradition of doing themed afternoon teas and changing the menu regularly.
It can be taken in the perfectly ostentatious Great Hall, or the bijou atmosphere of the mayflower Brasserie. Either way, this is afternoon tea with more than a hint of opulence. If you want to go all out with the height of indulgence, then the Laurent Perrier Champagne afternoon tea is for you! With this, or the traditional, or Vegan options, you will be in for an absolute treat.
Indulgence Tea Rooms, Newton Abbot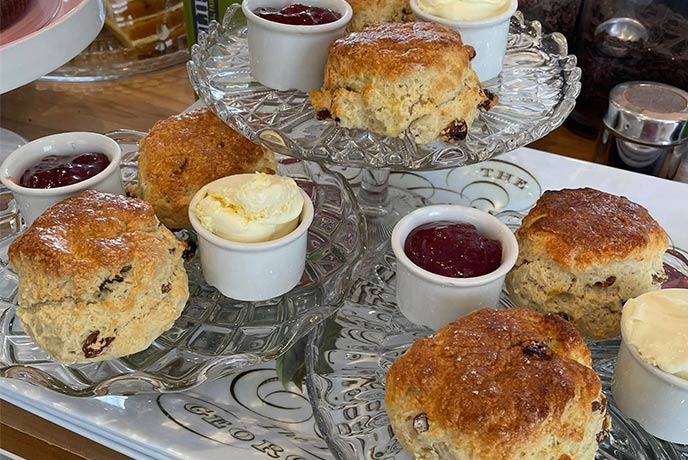 Devon Square, Newton Abbot TQ12 2HH
Indulgence Tea Rooms in Newton Abbot is a new and welcome addition to the world of afternoon tea in Devon. This enticingly named little place is beautifully decorated in pastel pinks and blues, with eclectic, retro pictures on the walls, and food is beautifully presented on cake stands - take a look at their social media to see the quirky café in action.
Amongst other offerings there is a choice of high tea, or their delicious savoury tea. High tea has delicate sandwiches and terrific homemade cake, while the very popular savoury tea has two homemade cheese scones, a beautifully presented tomato flower, caramelised onion chutney and cheddar cheese with a pot of tea or coffee. While you're there, be sure to pick up one of their delicious homemade jams available to buy and take home!
Singing Kettle, Buckfastleigh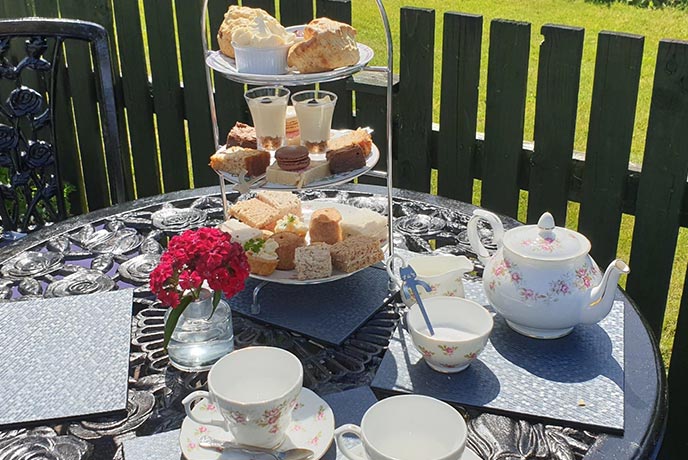 54 Fore Street, Buckfastleigh TQ11 0BS
The first of two venues in Devon serving afternoon tea called the Singing Kettle! People come to Buckfastleigh for many reasons including the fantastic Buckfast Abbey and the South Devon Steam Railway. There are also the twin family-friendly attractions of Dartmoor Otters and Buckfast Butterflies. With all these South Devon attractions on your doorstep, Buckfastleigh is a fantastic day out for all the family. So, when you need to stop and unwind, the Singing Kettle is on-hand to help you relax.
Many of the venues on this list do an afternoon tea for a minimum of two people, but the Singing Kettle does an afternoon tea for one. With this you will get two homemade scones, clotted cream and jam, with your pot of tea, alongside a selection of sandwiches and cakes. You can also add a glass of Prosecco for a very reasonable price. Discover more about their tantalising afternoon tea on their social media.
Singing Kettle, Dartmouth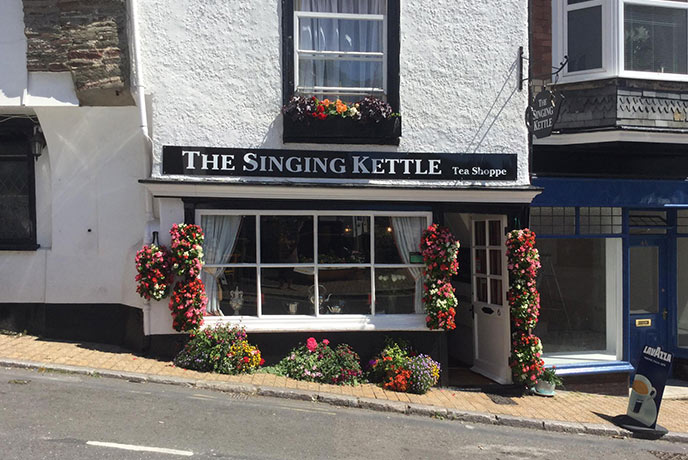 6 Smith St, Dartmouth TQ6 9QR
Not to be confused with the Singing Kettle in Buckfastleigh, is the quaint Singing Kettle in Dartmouth, where you'll find friendly service and lovingly made treats in this traditional tearooms. Dartmouth is a beautiful town overlooking the Dart Estuary. It must be one of the most photographed towns in England, and for good reason, as it really is one of those towns where you can turn your camera in almost any direction and get a great picture.
Dartmouth has also established itself as a foodie destination with its annual food festival, so all-comers can enjoy an afternoon tea here that won't disappoint. It offers gluten-free options and is dog-friendly too - perfect! Check out their social media for more tempting details.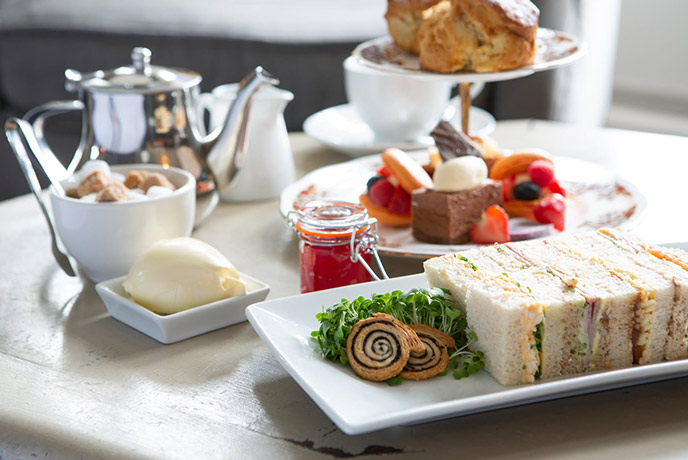 Mill End Hotel & Restaurant, Dartmoor National Park, Chagford TQ13 8JN
Mill End Hotel in Chagford is a venue which really pushes the boat out when it comes to afternoon tea, making it a destination spot for the aficionados (who isn't?!). Choose from sitting in their attractive gardens or in one of their lounges. On a warm day the garden is a must, with the river Teign running past and expansive views, while even on changeable days there is a beautiful all-weather garden lodge that is a must. Booking is essential for an afternoon tea here as they can take group bookings of up to 55 people. Located on the edge of Dartmoor, with the very popular National trust property of Castle Drogo nearby, this is a great pitstop for big days on the moors.
The village of Chagford is a typical Dartmoor village, and also worth exploring. The afternoon cream tea for two has some absolute delights, typically featuring such gems as the spinach and crème cheese roulade, the Devon blue cheese and red onion quiche, a variety of finger sandwiches, and many sweet treats alongside the homemade scones, clotted cream and jam with a pot of tea. The sweet treats might include chocolate fudge with salted caramel, sacher torte, and carrot and ginger cake among other items. To accompany such incredible treats, it might be worth considering a glass of fizz, with both Prosecco and Champagne available.
Ready to spend leisurely days discovering foodie delights in Devon? Explore our collection of holiday cottages and start planning your stay.