It's easy to lose yourself to the romance of West Sussex – a county famed for its regal castles, world-class restaurants, sprawling Areas of Outstanding Natural Beauty and extensive coastline. Whether you're planning on catching up on some well-deserved R&R or can't wait to head out and explore all the activities and attractions on offer, you will find yourself fully absorbed by the beauty and intrigue of the county.
Set between Hampshire, Surrey and East Sussex, West Sussex is one of the most diverse counties in the UK. Inhabited since the Lower Paleolithic times, its lands have long provided sanctuary for communities and drawn visitors looking to savour its balmy climes, fertile soils and picturesque scenery. From its chalk downland to glistening coast to patchwork fields, it provides beauty at every turn and it's easy to see why it's such an attractive destination for so many – its list of reasons to visit only rivalled by its list of reasons to stay.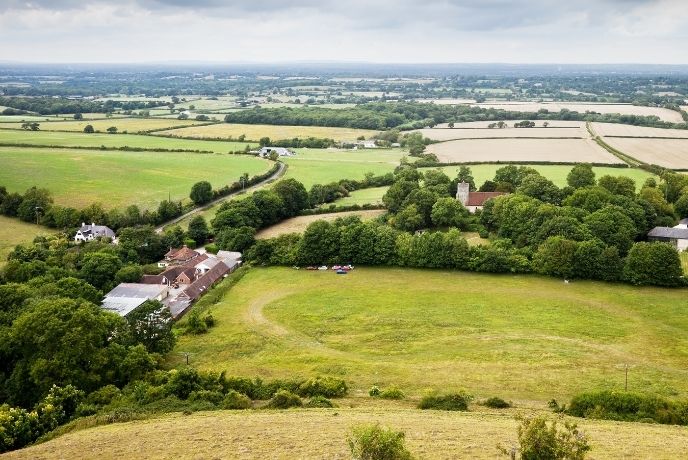 If you are planning a well-deserved holiday in one of West Sussex's historic market towns, buzzing city or seaside villages, then you can look forward to a huge array of things to see and do during your retreat. Travel through time and meet the kings and queens of old through the county's castles, sip Champagne and watch world-famous motoring events at Goodwood, picnic along the coast under cloudless skies, and fill your lungs with the freshest air in the South Downs National Park. Whether your boots are made to trace boutique streets, coast path or country trails, you'll find yourself making tracks into the dreamiest holiday imaginable.
Find out more
About West Sussex
The larger twin of East Sussex, West Sussex in South East England covers an area of 769 miles. Undeniably one of our favourite destinations in the UK, it has a unique appeal that lends itself to year-round holidays – not least because it also happens to be the sunniest county in the UK according to the Met Office. That said, we can hardly stake claim, as this idyllic pocket of the country has been inhabited for millennia since the Lower Paleolithic era. In fact, the oldest hominid remains in Britain were actually discovered in West Sussex at Eartham Pit, Boxgrove – dated at half a million years old.
Landscape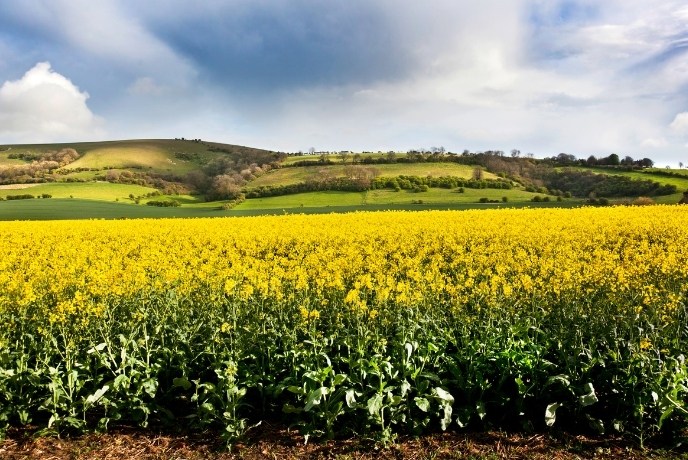 West Sussex shoulders Hampshire to the west, Surrey to the north and its twin county of East Sussex to the east. To the south, the land gives way to the English Channel, with around 50 miles of coastline peppered with famous landmarks and hidden gems just waiting to be discovered. Naturally beautiful, West Sussex's landscapes are made all the more magnificent with the golden glow of the sun that bathes the county throughout the year. The sunniest county in the UK, the area's towns, beaches, beautiful countryside and downland benefit from over 1,900 hours of sunshine on average every year.
Of course, some of the most famous features of the county include its two Areas of Outstanding Natural Beauty, Chichester Harbour and the High Weald, and the South Downs National Park. Running from Hampshire, through West Sussex and finishing in East Sussex, the South Downs is dubbed the "gateway to England". Characterised by undulating chalk hills, protected grassland and heathland, ancient woodland, dark sky sites and towering cliffs, it is one of the most diverse parks in the country. With so much on offer, you can easily while away the days exploring West Sussex's landscapes and its array of manmade and natural attractions.
Wildlife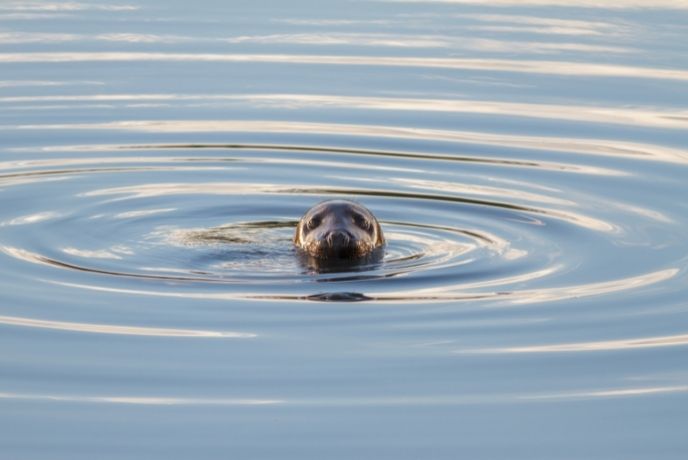 West Sussex is home to a large array of wildlife species. In the South Downs National Park alone there are over 1,000 nature conservation areas – many of which are located inside the county – that are home to some of the rarest birds, mammals and insects in Europe. From its downland covered with rare plants like round-headed rampion and orchids, to its ancient woodland home to barbastelle bat and native bluebells, to its wetland habitats teeming with waterfowl and amphibians, the park's wildlife is as diverse as it is magical. There are even carnivorous plants called sundews, or flypaper plants, that feast on trapped insects. Yummy.
Elsewhere, the rich woodland and rolling countryside of the High Wealds provide sanctuary for rare species including dormice, pearl bordered fritillary butterflies and nightjar. Meanwhile, the eagle-eyed may be able to spot magnificent marine wildlife cutting through the waves along West Sussex's 50 miles of coastline, including bottlenose, common and white-beaked dolphins and harbour porpoise. Closer to shore, common and grey seals can also be spotted, as well as many species of seabirds such as kittiwake, gannet, razorbill, guillemot, cormorant and shag. Needless to say, a pair of binoculars are a must when following the coast.
Coast and beaches
Since the start of the 19th Century, West Sussex's seaside honeypots and villages have been a favourite destination for those looking to recharge and revive. From the popular resorts of Littlehampton and Bognor Regis to the quieter beaches of East Head and Climping, Sussex's coast affords all kinds of irresistible settings in which to soak up the atmosphere and breathe in the sea air.
Bracklesham Bay
Bracklesham Bay lies at the foot of the seaside village of Bracklesham and treats beachgoers to views as far as the Isle of Wight on a clear day. Activities like swimming, snorkelling, kayaking, windsurfing and sailing are all popular, though the beach is not lifeguarded. There are also lots of facilities in the village itself.
Climping Beach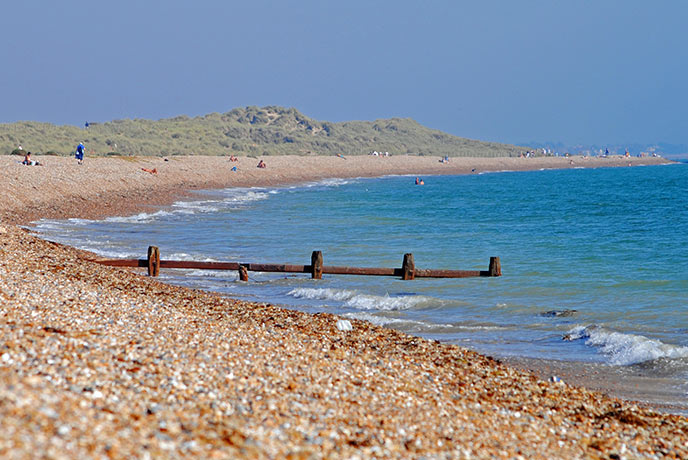 Also called Atherington, the year-round dog-friendly Climping Beach is set within a designated Site of Special Scientific Interest, about halfway between Littlehampton and Bognor. At high tide, the beach features a shingle collar, while at low tide, the water recedes to reveal sandy flats perfect for games of fetch along the shore.
East Head Beach, West Wittering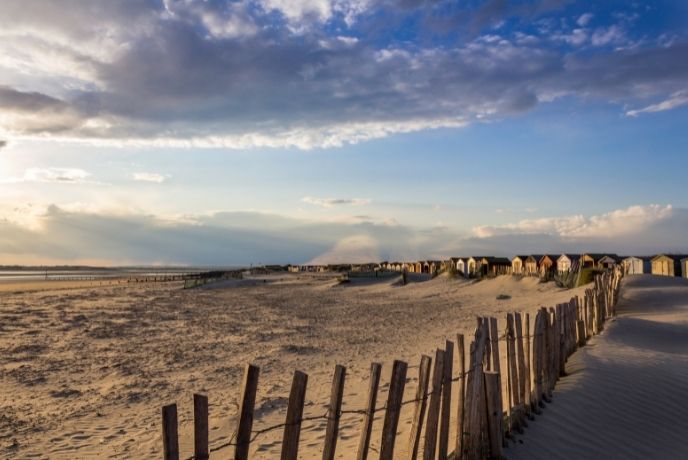 East Head Beach has lovely views over Bracklesham Bay and across the Solent and is often proclaimed to be one of Sussex's best beaches. Blending a range of habitats including sandy beach, dunes and saltmarsh, it's a great place for wildlife spotting, walking and simply sitting and watching the world go by.
East Wittering Beach
East Wittering Beach is a sand and shingle beach that provides bags of space for multi-generational fun, be it sandcastle building, brisk beach walks or paddling in the sea. On windy days, it is a popular destination amongst surfers, while on calmer days, bathers and stand up paddleboarders take to the mirror-topped sea.
Goring Beach
Setting a quintessentially Sussex scene, Goring Beach near Worthing in West Sussex is characterised by long swathes of pebble and shingle divided by wooden groynes. Lined with beach huts and backed by a large grassy area, this year-round dog-friendly beach is only a short walk from Goring town's shops and cafés.
Littlehampton East Beach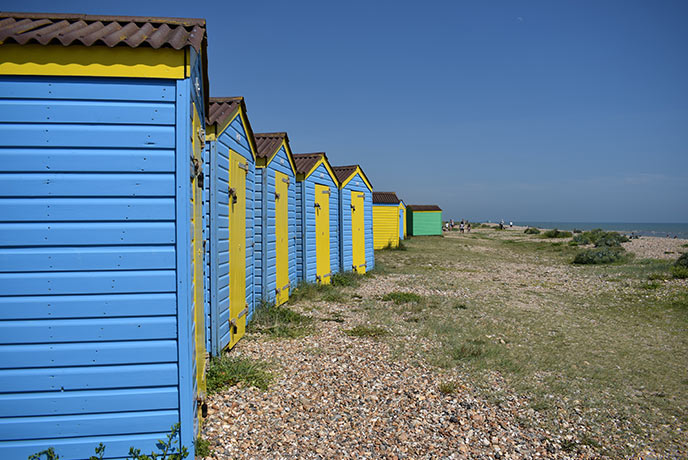 The award-winning Littlehampton East Beach is a mile-long sand and pebble beach. Home to Britain's longest bench and with plenty of room on the beach itself to sit, play and explore, it has something for all the family. It's bordered by a promenade, large seafront greens and amusements, and hosts activities and events throughout the year.
Littlehampton West Beach
Accessed via wooden walkways that weave through an extensive sand dune system, Littlehampton West Beach is a great dog-friendly beach in West Sussex. Made up of shingle that is complemented by large areas of sand at low tide, it is used for bathing and paddling on calm days – though like with many of Sussex's beaches there are no lifeguards throughout the year.
Middleton-on-Sea Beach
The sandy dog-friendly beach of Middleton-on-Sea lies to the east of Bognor Regis and is one of the quietest beaches in West Sussex. Due to limited access points, the beach is saved from the summer crowds and is a great choice for those looking to savour some downtime. For access, a small car park is located on Elmer Road.
South Lancing Beach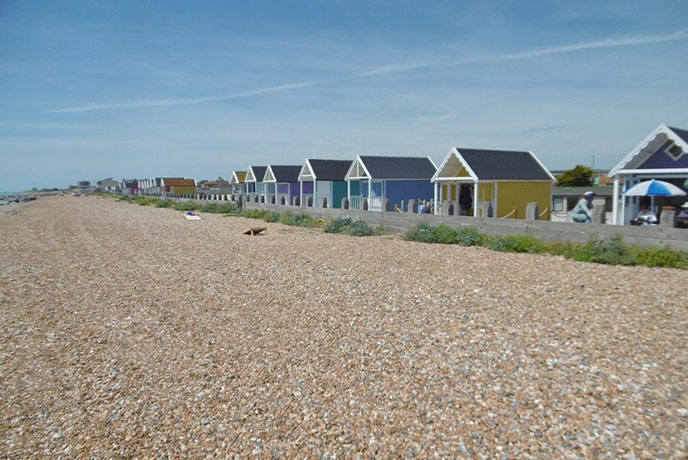 Whether you are a salty pro or fancy trying your hand for the first time, South Lancing Beach is the place to go for sailing in West Sussex. Home to a popular sailing club, it's a well-known destination amongst sailors and water sports enthusiasts. There's also a local café serving hot food and drinks right on the beach.
West Wittering Beach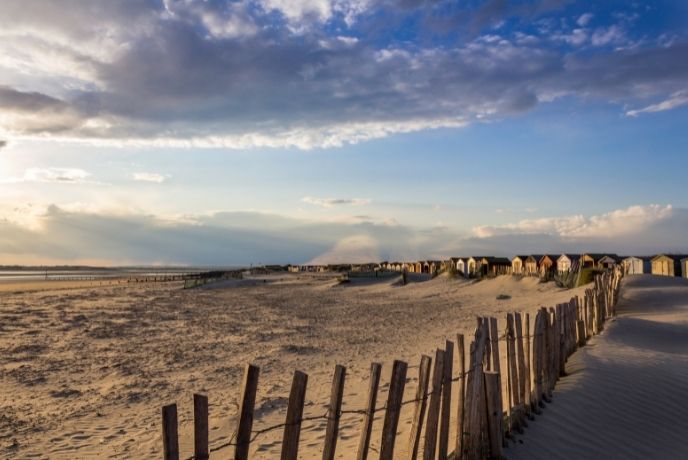 Lined with multi-coloured beach huts and met with a tranquil sea, West Wittering beach at the mouth of Chichester Harbour is an attractive sight and one of the best beaches near London. Served by local facilities and featuring a sloping, sandy shore, it's an ideal spot for sunbathing, birdwatching and, when the wind picks up, surfing, windsurfing and kitesurfing too.
Towns and villages
Blending the traditional with the contemporary, West Sussex's towns and villages feature a mishmash of picturesque houses, thatched cottages, historic buildings and modern homes. With each community exuding its own atmosphere, the opportunities for discovery are endless, whether you're following the Roman walls of Chichester, enjoying the buzzing seaside vibes of Bognor Regis or falling for the olde-worlde charm of Arundel.
Amberley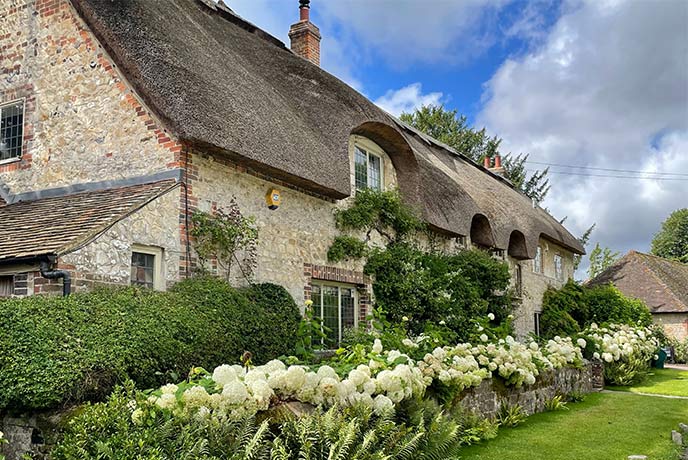 Amberley village sits on the banks of the River Arun and is famed for its picture-postcard aesthetics, decorated with flint-walled, thatched cottages. Head over to see its Medieval castle, visit its museum and wander through the Wildbrooks, a nearby nature reserve and SSSI featuring wet grassland encompassed by woodland.
Arundel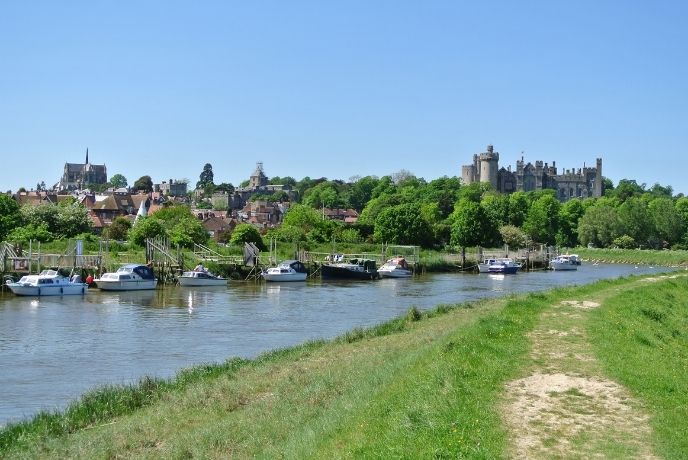 Arundel is a wonderful market town set on the slopes of a steep vale in the South Downs. Full of interest, it has a compact tangle of streets lined with Georgian and Victorian houses that lead up to a handsome Medieval castle. Enjoy the town's independent shops, museums and galleries and take a splash in its outdoor lido.
Billingshurst
One of West Sussex's rural villages, Billingshurst provides a great base for exploring – equidistant between the South Downs National Park, the Surrey Hills AONB and the coast. As well as its location, Billingshurst's timber-framed buildings make it a real attraction in its own right, with some buildings dating back to the 17th Century and a church from the 12th Century.
Bognor Regis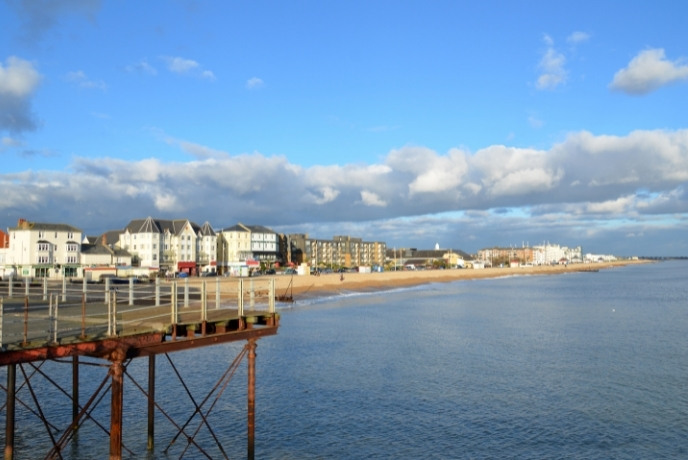 A vibrant seaside resort, Bognor Regis is packed full of activity and attractions. From its year-round festivals including kite festivals and motor galas to its seafront delights including promenade train rides and sea-view crazy golf, there is something for everyone here. Shop, eat, drink, play or chill on the beach and let the hours fly by.
Bosham
Residing within one of the smallest inlets of Chichester Harbour AONB, Bosham village is a must-visit for history buffs. Once one of the most important towns in Sussex, it was actually the place where King Harold set out to negotiate with William the Conqueror in 1064 and is also featured in the Bayeux Tapestry.
Chichester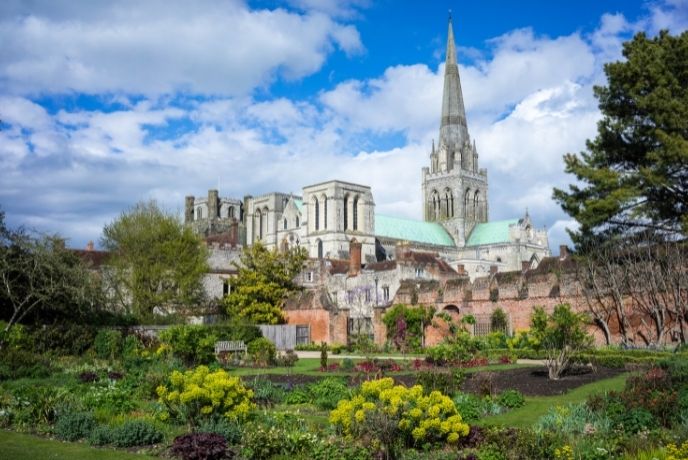 West Sussex's only city, Chichester has a huge amount going on within its ancient city walls. Dating back to the Roman times, its architecture spans the ages while its attractions flit between the historic and the contemporary. Must-sees include Chichester Cathedral, the Roman Fishbourne Palace and the Pallant House Gallery.
Horsham
The historic market town of Horsham dates back to AD 947 and is one of West Sussex's liveliest destinations. A hodgepodge of alleyways, pedestrianised lanes, paved streets and piazzas, it's the kind of place you can easily wander for hours, taking in the array of fashion shops, antique stores, weekly markets and popular eateries.
Littlehampton
Award-winning beaches, award-winning architecture, beautiful riverside settings, large seafront greens, eateries, and year-round events all make Littlehampton one of the best places to visit in West Sussex. Oh, and the presence of Britain's longest bench. With something for everyone, this town is not to be missed.
Midhurst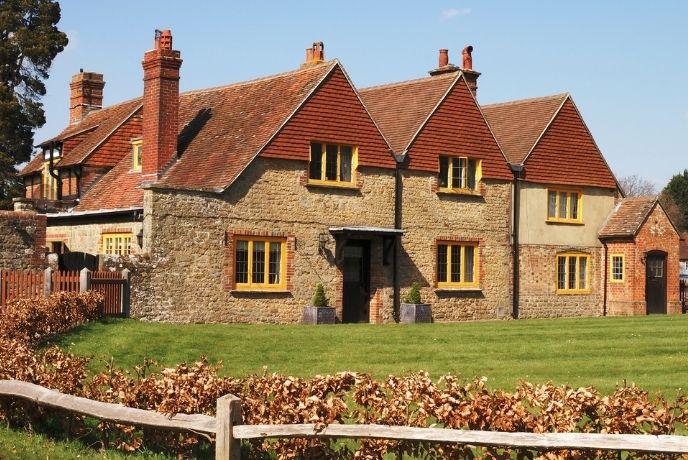 If you are planning on exploring the South Downs National Park, then Midhurst acts as a superb base from which to do so. To keep you fuelled, there's a great choice of eateries within the town, and to keep your interest piqued, there's also a wide array of shops, gardens, historic sites and more within a stone's throw of the town centre.
Selsey
The historic fishing town of Selsey is perched on the southernmost tip of the Manhood Peninsula in West Sussex. Lauded for its Selsey Crab which is recognised far and wide for its fresh flavours, the town has a proud fishing heritage and there is still a working fishing fleet operating from the town's shores today.
Shoreham-by-Sea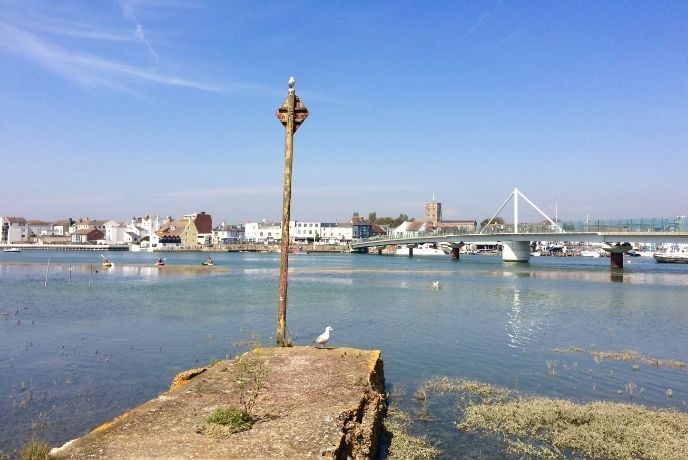 Divided into Old Shoreham and New Shoreham, Shoreham-by-Sea (often shortened to just 'Shoreham') is a busy port town on the West Sussex Coast. Among the town's highlights, visitors can look forward to a busy social calendar of events, a great beach scene and lots of outdoor activities including water sports, walks and bike rides along the River Adur.
Steyning
Set along the River Adur, the picture-perfect town of Steyning has existed since Anglo-Saxon times and today continues to lure visitors with its rich history and timber-framed buildings. For foodies, you'll find plentiful pubs and cafés, while shoppers should head to its Cobblestone Walk which boasts Sussex's largest collection of independent shops.
West Wittering
The village of West Wittering lies on the western coast of the Selsey Peninsula and is believed to be one of the first targets of invading Saxons. While its Norman church and smattering of local facilities add to its interest, it's the village's beach, West Wittering Beach, that really makes it one of the most popular destinations in the South East.
Worthing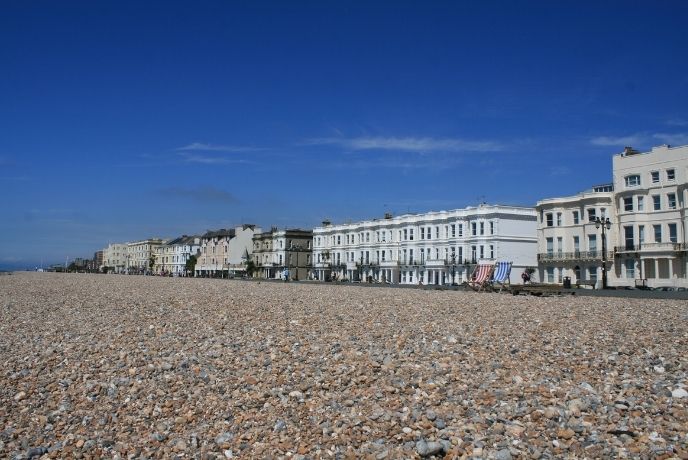 One of the largest seaside towns on England's South Coast, Worthing is a lively hub offering shopping, eating, entertainment and beach fun galore. Stroll along the palm-lined prom, visit the array of galleries and artist studios, snap some shots of Worthing Pier and visit the huge range of activity and entertainment venues peppered throughout the town.
Things to do
Whether you plan to spend all your time on the beach, wandering through Sussex's gardens, seeing the county's incredible castles, or exploring the amazing wilderness spaces, you will find plenty to keep your imagination sparked and your spirits high during a holiday in West Sussex. For the best adventures, have a browse of some of our favourite recommendations of things to do and places to visit in the county.
Arundel Castle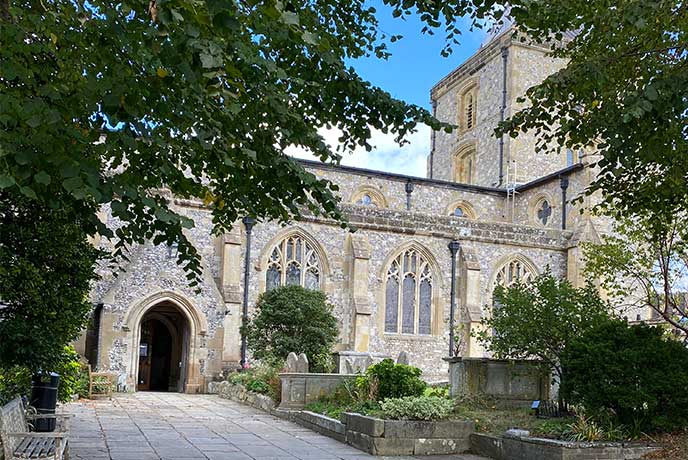 1,000 years of history are encapsulated within the walls of this great castle overlooking the River Arun in West Sussex. Built in the 11th Century, it still retains many of its original features including its Norman keep, Medieval Gatehouse and Barbican, making it one of the great Sussex landmarks.
Chichester Cathedral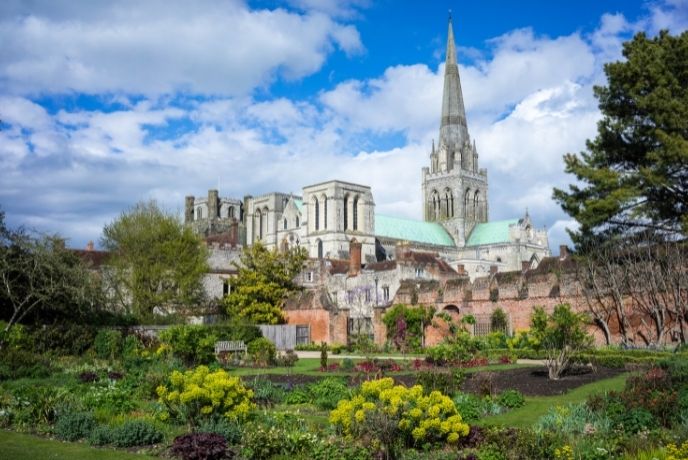 Chichester Cathedral was completed in 1108 and has been a welcome refuge for worship and reflection ever since. Drop-in and group guided tours are available and are a great way of learning all about the history of this fascinating cathedral.
Fishbourne Roman Palace
Fishbourne Roman Palace in Chichester is the largest Roman home in the UK. Showcasing well-preserved ruins, it invites you to walk around this once opulent Roman residence, see its recreated gardens and admire the largest collection of mosaics in-situ in Britain.
Goodwood House
Goodwood is a 12,000-acre estate in Westhampnett, Chichester. As well as being a family home, the house and its estate play host to some of the country's most popular festivals and events, including Goodwood Revival and the Festival of Speed.
Kingley Vale
One of the country's first National Nature Reserves, Kingley Vale is one of West Sussex's must-visit attractions for nature-lovers. Home to some of the oldest trees in the UK, some of its most aged residents are over 500 years old and measure more than 5m in circumference.
Leonardslee Lakes & Gardens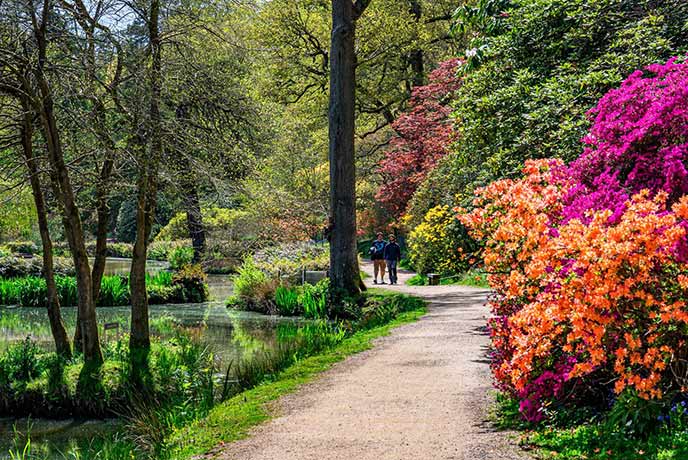 The subject of one of the UK's largest garden restoration projects, Leonardslee's Grade I listed gardens are a real highlight of any trip to West Sussex. Enjoy the eclectic array of onsite attractions, including a Victorian rock garden, dollhouse museum, wine tastings, and resident wallabies.
Nymans Gardens and House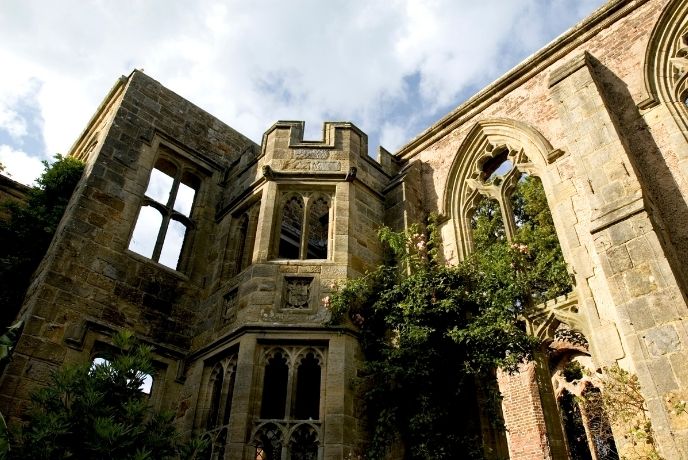 The gardens at Nymans near Haywards Heath are set around a partially ruined, Medieval-style manor draped in wisteria and creepers that burst into bloom in spring. Embellished with rare and unusual plant collections, the gardens feature a Rose Garden, woodland and waterways.
Petworth House and Park
Petworth House is the result of the extraordinary vision of generations of the same family over 900 years. Inspired by the Baroque palaces of Europe, it houses incredible art collections throughout the ages and is surrounded by landscaped parks and gardens.
Stansted Park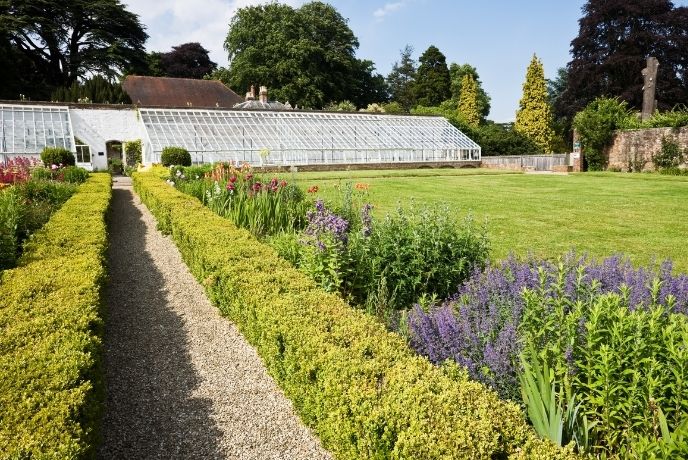 Stansted Park features a striking Edwardian mansion and 1,800 acres of landscaped parkland and ancient forest, all set within the South Downs National Park. Inside the house are preserved State Rooms open to the public, while outside there are extensive grounds, walled gardens, a maze, arboretum and more.
Wakehurst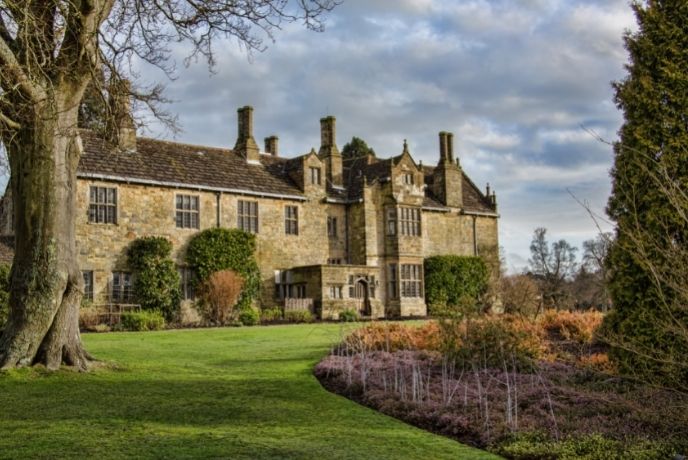 Wakehurst in West Sussex is one of the most biodiverse places on earth. Within its 500 acres are wild botanic gardens, ornamental gardens, woodlands and a nature reserve. There's also the Millennium Seed Bank – the UK's largest conservation project.
Weald & Downland Living Museum
An open-air museum, the Weald & Downland Living Museum in Singleton details 1,000 years of rural life through one fascinating attraction. Covering 40 acres, the museum has over 50 historic buildings showing life from 950AD to the 19th Century, as well as gardens, farm animals, walks and more.
Wine Tastings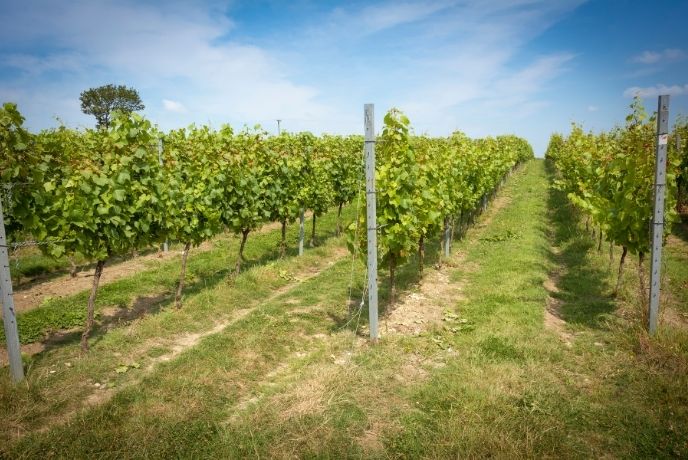 Why not treat your tastebuds to a delicious wine tasting experience during your holiday in West Sussex? Making the most of the county's sunny climes are a plethora of wineries, such as Tinwood Estate Vineyard, Kingscote Estate and Vineyard and Highdown Vineyard.
Walks
There are lots of brilliant walks in West Sussex which lead two and four-legged amblers through downland, countryside, woodland and coast. From short and easy routes to long-distance paths, you can set course, set pace and set off for some truly memorable walks. Here are just some of our favourites to get you going.
Ardingly Circular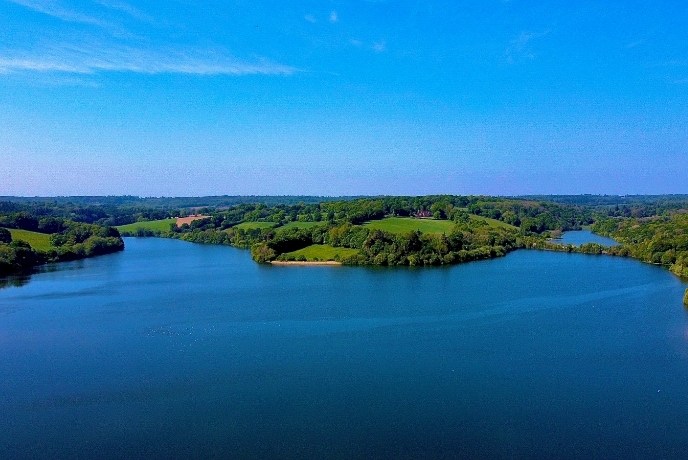 This great circular walk meanders its way through undulating Sussex countryside, following the curve of Ardingly Reservoir. It's only 3.5 miles long, but it can get a little muddy in the winter months so remember to wear good footwear.
Black Down Hill
Black Down Hill is the highest point in the South Downs National Park and there is a great 2-mile walk that leads you through the area's woodland and heathland. Pick up the trail and savour the landscapes much beloved by Alfred Lord Tennyson.
Devil's Dyke Walks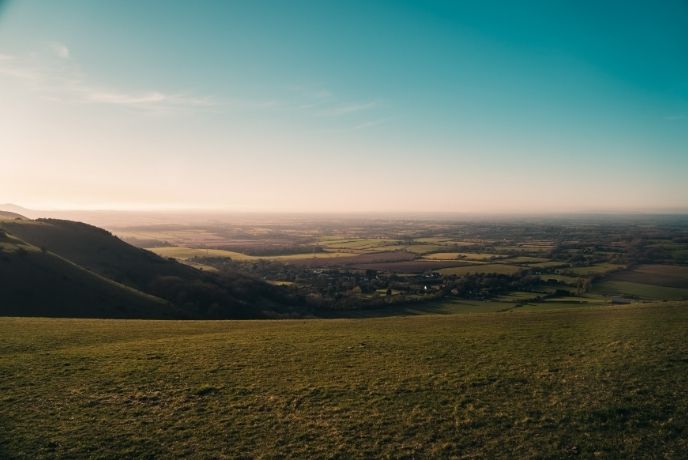 There are lots of walks around the Devil's Dyke, catering for various abilities and ages. Whether you're looking forward to a short stroll or want to make a day of it, you can choose from a variety of different trails around the area.
The Monarch's Way
The Monarch's Way is one of England's longest long-distance trails, following the journey undertaken by Prince Charles II during his escape to France in the English Civil War. There's a great section which loops around Bignor Hill which is well worth the effort for the views.
The Salterns Way
The 12-mile Salterns Way foot and cycle path stretches from Chichester to West Wittering Beach. Mostly safe and traffic-free, this family-friendly route is a great one for all generations whether you're exploring on foot or bike.
The South Downs Way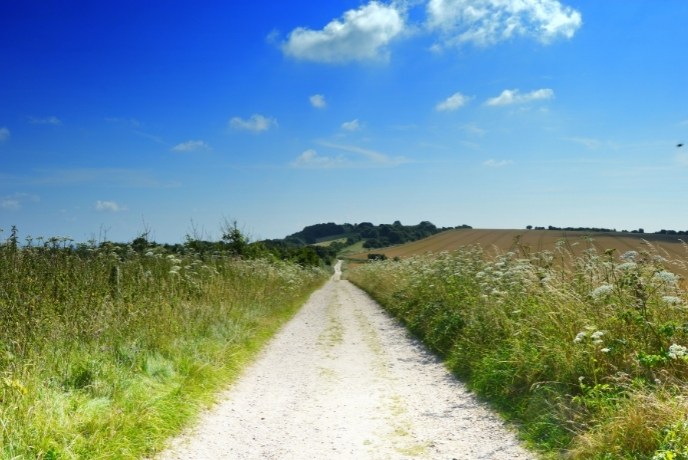 Running from Winchester in the west to the chalky cliffs of the Seven Sisters in the east, the South Downs Way is an epic long-distance route that cuts through West Sussex. Follow part of the 100-mile trail and see the scenery that left Virginia Woolf "overcome by beauty more extravagantly than one could expect."
There are some brilliant dog-friendly stretches along the route, so why not bring the dog and stay in one of our lovely dog-friendly cottages in Sussex.
Thorney Island Circular
Thorney Island is a little islet that juts out into Chichester Harbour, connected to the mainland via a little strip of land. Really beautiful for walks, the whole island can be traced during an 8.5 mile-walk that follows the shoreline.
Pubs and places to eat
From cosy pubs to Michelin star restaurants to sea-view cafés overlooking the ocean, there are all kinds of wonderful eateries across West Sussex. Serving up the very best of the best, we've picked out the top restaurants in the county as recommended by the Michelin guide.
Whether you're enjoying a drink in the pub's gardens or heading inside to your reserved table, the Cat Inn in West Hoathly is a welcome destination. Popular with locals and visitors alike, its tasty pub classics, beamed ceiling, open fires, and cosy nooks all combine to create an irresistible mix.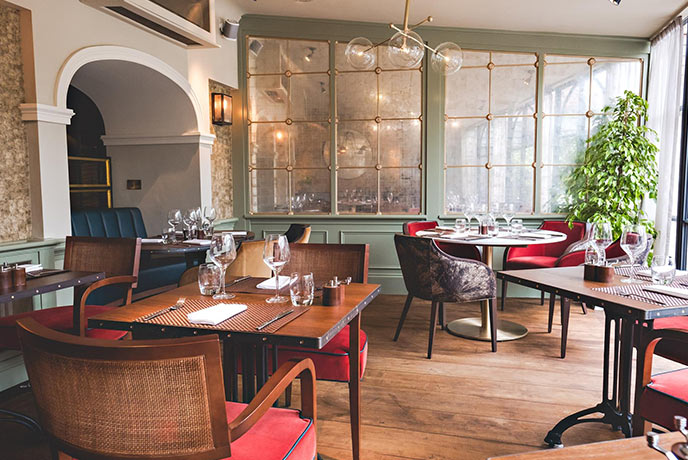 Surrounded by West Sussex countryside, E. Street Bar & Grill in Petworth benefits from a wealth of local produce that fills its menus and furnishes its plates. Focusing on simple excellence, the restaurant's food is exciting yet unpretentious.
The one Michelin star Gravetye Manor sits within 35 acres of glorious grounds and affords beautiful views over its gardens through floor-to-ceiling windows. Crafted with ingredients grown in the onsite kitchen garden, the restaurant's dishes provide a taste sensation with every bite.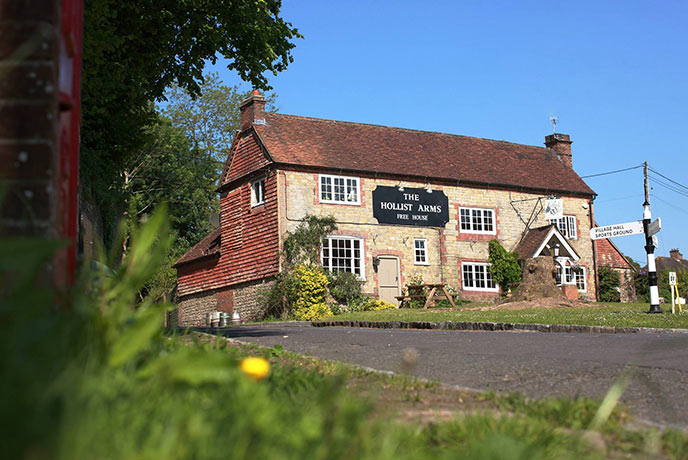 The Bib Gourmand Hollist Arms in Lodsworth is a quintessential country pub serving fodder and fare from land and sea. Expect traditional dishes splashed with European influences, friendly service and a relaxed atmosphere.
Interlude
Located within a Grade II listed Italianate mansion, Interlude is found within Leonardslee Estate in Lower Beeding. The holder of a Michelin star, this restaurant champions the highest quality food and fills its menus with foraged or locally sourced delicacies.
Lickfold Inn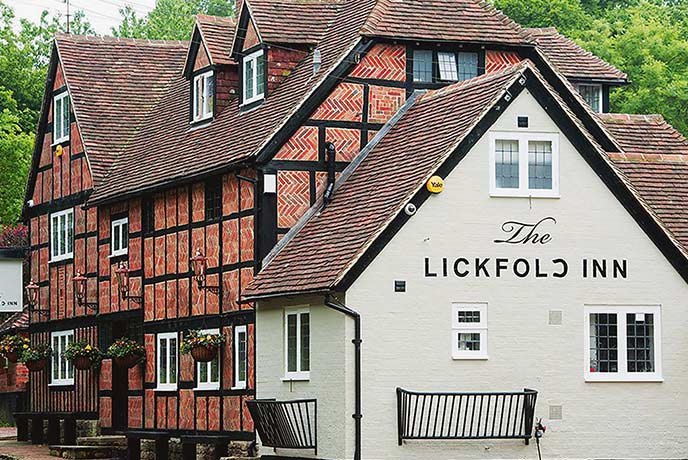 Perfect for light lunches and romantic dinner dates, the Lickfold Inn in Lickfold is a worthy choice for atmospheric meals. Don't let the charming 16th Century exteriors fool you, this restaurant's dishes are innovative, complex and deliciously sophisticated.
The Parsons Table
The Parsons Table in Arundel is somewhere you can enjoy an informal dining experience, savouring seasonal dishes and quality service. Echoing the seasons, the menus evolve throughout the year and showcase the best classic cooking infused with contemporary flair.
Queen's Room
For a unique dinner setting, head over to the Queen's Room restaurant in the 12th Century Amberley Castle. Take a seat where Henry VIII's wives would once have walked and enjoy modern dishes in a period setting, with vaulted ceilings, lancet windows and open fires.
Richmond Arms
Set on the edge of the South Downs National Park and the waterways of Chichester Harbour AONB, the Richmond Arms in West Ashling is a real favourite. Think: beautiful waterside location, locally-foraged ingredients and globally-inspired dishes.
Thinking of heading to Sussex for your next holiday or short break, then take a look at our beautiful collection of places to stay near West Sussex and start planning your next adventure today.