Whether you're all about history, the natural world, or a bit of old-fashioned entertainment, Sussex certainly enjoys its lion's share of landmarks and interesting places to visit.
Castles steeped in history survey the rolling countryside while the coastline enjoys 140 miles of non-stop views and stunning beaches – seriously, you do not want to forget your camera when visiting this bogglingly beautiful corner of the UK. Oh, and while not technically a landmark, we definitely recommend checking out some (if not all) of the incredible Michellin star restaurants the county offers!
Excited to tick things off your Sussex wanderlist? Here's our guide to the best landmarks in Sussex…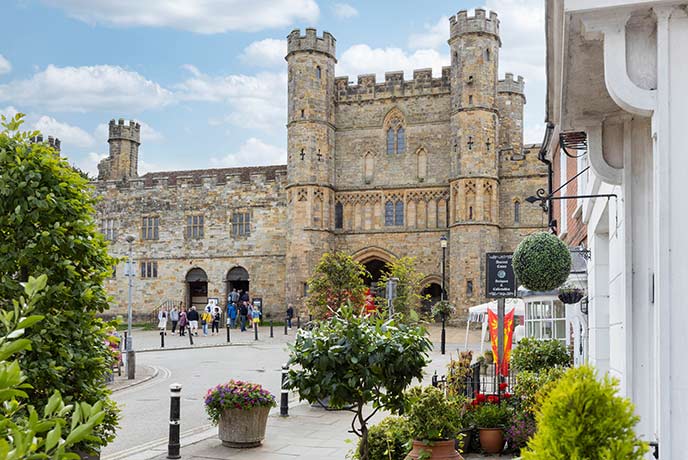 If you're a history buff, then a trip to Hastings has to be on the top of your list for must-visit places in Sussex. Home to one of the most famous battles in England – so integral that there is actually a town named after it – Hastings is full of significant sights and noteworthy history from the battlefields turned wildflower meadows that make up 1066 country to the eerily beautiful ruins of Battle Abbey.
Towering over the town with reaching views of the surrounding Sussex landscape, Battle Abbey is hard to miss, which is good because this spectacular slice of history is well worth a visit whatever the time of year. The ancient abbey was built by William the Conqueror shortly after his victory at the Battle of Hastings to assuage his guilt over the bloodshed during the battle - a conscience-fuelled choice we are very thankful for!
To really make the most of your visit, we recommend making use of the free audio system, which provides a fascinating commentary to accompany your tour of the abbey that really brings the history of the area to life. Surrounded by the gently rolling hills Sussex is known and loved for, the grounds of the abbey really are a spectacular sight to behold, making it a popular spot whether you're all about history or simply satisfying views. A quick trip into Battle is one for the books as well, which boasts lots of interesting things to do as well as some seriously moreish places to eat.
Beachy Head, Eastbourne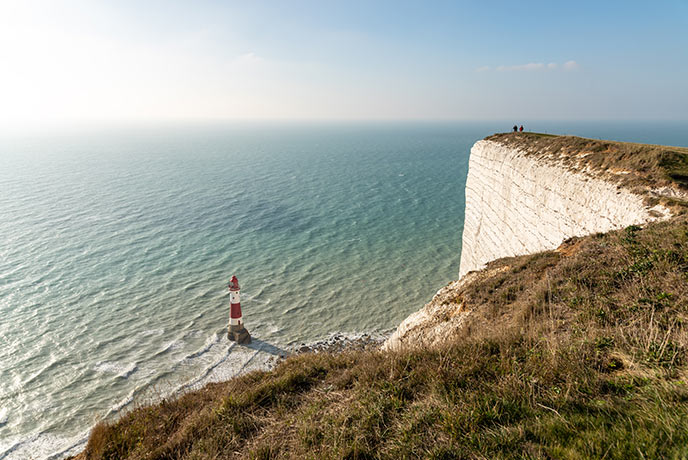 The chalk cliffs that punctuate the East Sussex coastline are a landmark in their own right, but none are more noteworthy than the dizzying heights at Beachy Head. Standing confidently at 530 feet tall, this iconic cliff offers visitors panoramic views by the camera load.
There are a few routes up to the top of Beachy Head, so you're covered whether you want a wheelchair-friendly ascent or a heartier stomp. For a real challenge, why not combine it with a trek along the surrounding Seven Sisters? This 14-mile hike is one of the most popular walks in East Sussex and it's easy to see why as each twist and turn reveals a new jaw-dropping view.
Of course, if you fancy a more relaxing visit, you can combine your cliff-side wanderings with a snooze on the welcoming sands of Cuckmere Haven, which not only holds the title of one of the best beaches in Sussex but one of the most famous too, thanks to films such as Robin Hood and Harry Potter.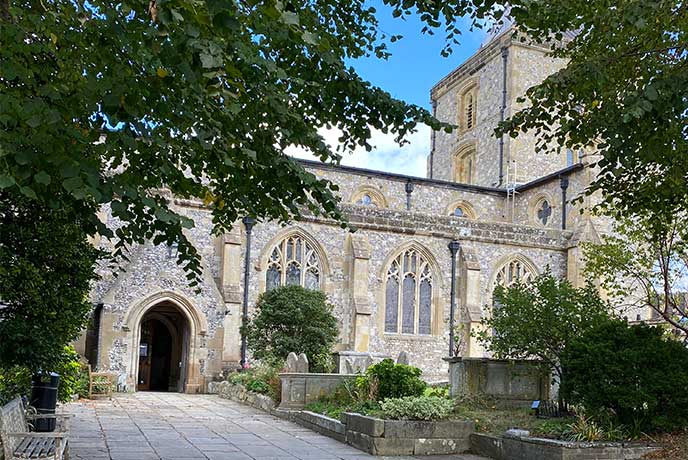 With plenty of castles in Sussex, it can be hard choosing just one to visit (which is why we heartily recommend adding all of them to your to-visit list). If you want to spread out the castley goodness – while giving yourself endless excuses to return to Sussex – then we recommend starting with the medieval prowess of Arundel Castle and Gardens.
Situated in the equally historic town of Arundel, which is full of interesting art galleries and riverside wanders, Arundel Castle is home to everything you'd expect from a good castle including a motte, moat, and a history full of drunken Dukes as well as the infamous War of the Roses.
So, whether you're bored of present-day sports and want to catch a round or two of jousting (a sport that really gets to the point!) or you fancy walking through a millennium of history, a trip to Arundel Castle will reward you with lots of entertaining things to see and do. Take a tour around the incredible state rooms, which offer a serious sense of grandeur thanks to the fabulous décor and mind-boggling size of the rooms, head into the gardens for a sweet-scented stroll or pop into the café and gift shop for a tasty treat or fantastical memento.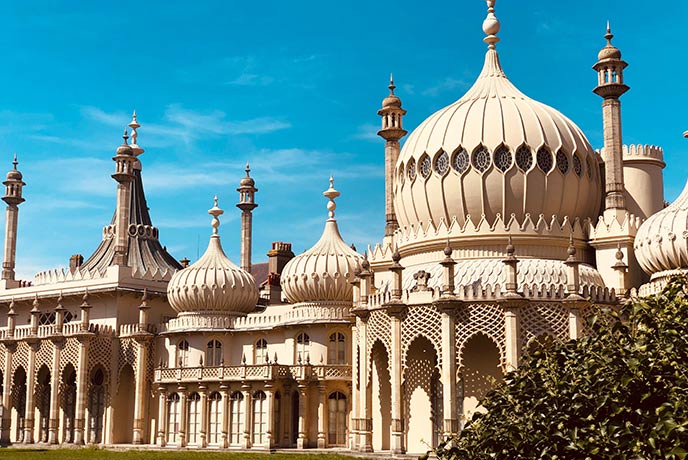 From seaside pleasure palace to iconic museum, the Royal Pavilion really is a cornerstone of Brighton's cultural offering and diverse history. The pavilion started life as a modest retreat for the Prince of Wales, before being utterly transformed into the lavish building we know and love today when George became King.
You'll discover incredible sights from wall to wall (literally, the Royal Pavilion is home to one of the best collections of Chinese wallpaper in the UK) as you walk through the historic displays and opulent rooms. Take a look at the Regency wardrobe for a glimpse at what the magical garments worn throughout the Regency era could have looked like from delicate parasols to luxurious ballgowns.
Or, if you're a fan of impressive architecture and spectacular décor, then the rooms around the pavilion might be more up your street. With an impressive historic line-up that includes the Italian composer Rossini, you would naturally expect the Music Room to hold a certain dignified appeal. Well… it certainly ticks that box! Nine lotus-shaped chandeliers hang lavishly from the gilded and domed ceiling while carved flying dragons and blue silk-satin draperies adorn the windows and walls. This is one room that will definitely have you questioning if you've got enough flying dragons in your own home!
After your regal tour, a visit to Brighton itself is always worth it, whether you fancy a cocktail in one of the many fantastic bars, a promenade along the infamous pier, or an ice cream on the beach for a truly British visit.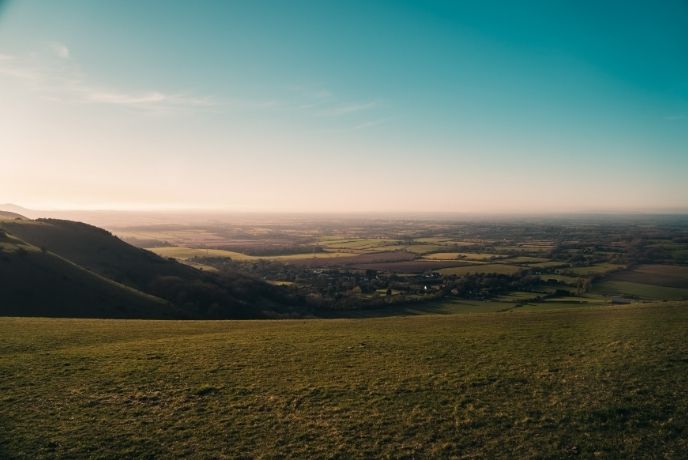 Situated within the walkers' paradise that is the South Downs National Park, Devil's Dyke remains one of the most remarkable views in Sussex (or even the world according to English painter, John Constable). At nearly a mile long, Devil's Dyke holds its fair share of records including the title of the 'longest, deepest and widest dry valley in the UK' and 'England's most colourful habitat' - an impressive resume by any valley's standards.
Walkers will love this area of West Sussex as it's home to many superb walks, including the several that loop in and around Devil's Dyke. Simply park up at the Devil's Dyke car park and set off for a superb stomp with unbeatable panoramic views.
For an evening you won't forget, visit Devil's Dyke at night when unbroken views combine the majesty of the night's sky with the curves of the surrounding landscape thanks to the area's Dark Sky Discovery Site status.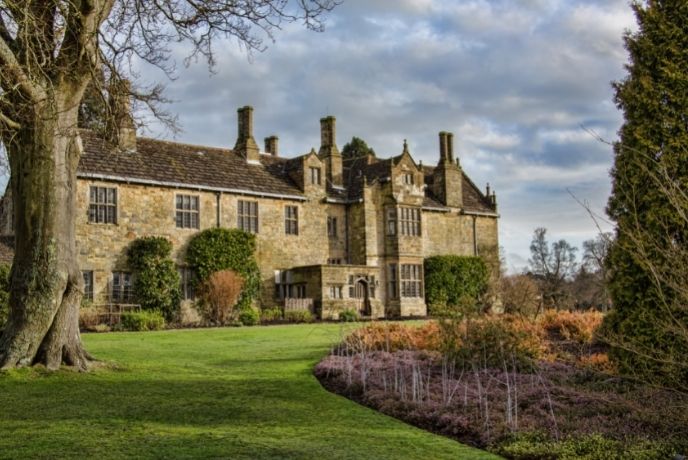 One of the many beautiful gardens in Sussex and sister to the incredible Royal Botanic Gardens at Kew, Wakehurst Place is a wild and wonderful haven nestled in the lovely Sussex countryside. You'll have over 500 acres to explore during your visit, within which you'll discover lots of natural delights from the ancient rock walk to the tranquil wetlands that many a wild animal calls home. In fact, if wildlife watching is your thing, then the impressive Loder Valley Nature Reserve with its 150 acres of natural goodness will be right up your valley. From the sleepy dormouse to the colourful kingfisher, there are lots of critters – not to mention over 300 plant species – to discover.
The calendar at Wakehurst has always got something to tempt you in as well, from forest bathing to badger watching to the enlightening Glow Wild display at Christmas, which lights up the gardens throughout the festive period, turning the stunning gardens into a winter wonderland like no other.
After your garden wanderings, it's not uncommon to be hit with the pangs of hunger so the Stables Kitchen and Pantry and the Seeds Café are always a welcome sight, where you can settle down for a freshly ground coffee and indulgent cake. Before you head back to your home from home, don't forget to pop into the plant centre and visitor centre shop, where you can browse through the fantastic range of plants and gifts that will have your green fingers wiggling in shopper's delight.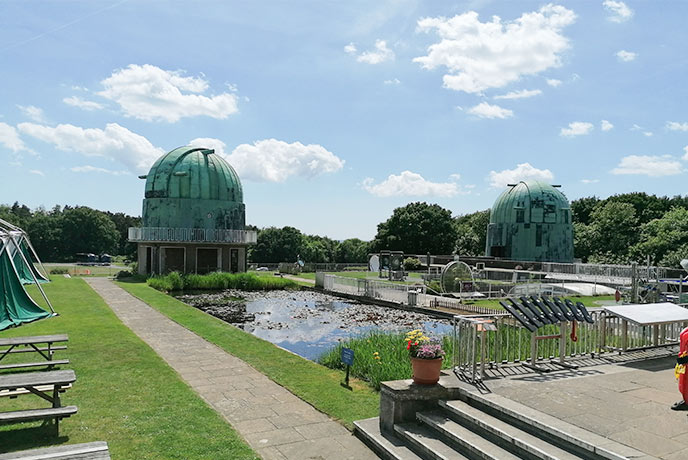 This fascinating destination will entertain both adults and children, making it a great choice for families. Set within the grounds of Herstmonceux Castle deep in the heart of the rolling countryside of East Sussex, the magnificent green domes that house the telescopes are easy to find and fantastic to explore.
From 1958 until 1990, The Observatory was the home of The Royal Greenwich Observatory and at its peak, over 200 people lived and worked here, mapping star positions and solar activity through giant telescopes. Unfortunately, it was decided Herstmonceux was not the best site (not helped by the inclement British weather we know and tolerate) so The Observatory was moved to a new home in Cambridge, leaving behind some of its collection of telescopes.
Today, visitors can enjoy a unique insight into the scientific world through a great variety of interactive exhibits (we defy anyone to visit and not have a go), all set in and around the original Grade II listed buildings.
Many of the exhibits are outside in the Discovery Park and Water Play areas but you will also find some amazing displays indoors, like the Spark Disk and the Infinity Well, the most amazing optical illusion. The list goes on and on, so it's safe to say with so much space and different displays, there's plenty for everyone to have a go. The telescopes are still in place in the domes, having been restored to their former glory and there's the opportunity to join stargazing evenings too where you can view amazing objects in the sky. There's even a café offering up refreshments to keep you refuelled. So, if you are looking for a unique experience during a visit to East Sussex then The Observatory Science Centre really is a must!
Ready to tour the famous landmarks in Sussex? Take a look at our lovely collection of cottages in Sussex, which provide a delightful base and stay during your visit.