Capturing the imaginations of all generations, Sussex's eclectic array of castles decorate the historic county from country to coast. Beautiful, imposing and haunting, these striking buildings provide fascinating windows into the past and serve to forever memorialise the conflict, culture and progression that has shaped both East and West Sussex over the last millennium.
From formidable fortresses built to defend the coast from invasion to regal structures engineered to exude power and wealth to the playgrounds of royalty, there are all sorts of intriguing castles found within the picturesque borders of East and West Sussex. Whether you are hoping to learn more about the county's past through historic house tours, retrace the footsteps of famous kings and queens across manicured grounds or simply enjoy the settings of these soulful buildings, there is somewhere for you to visit.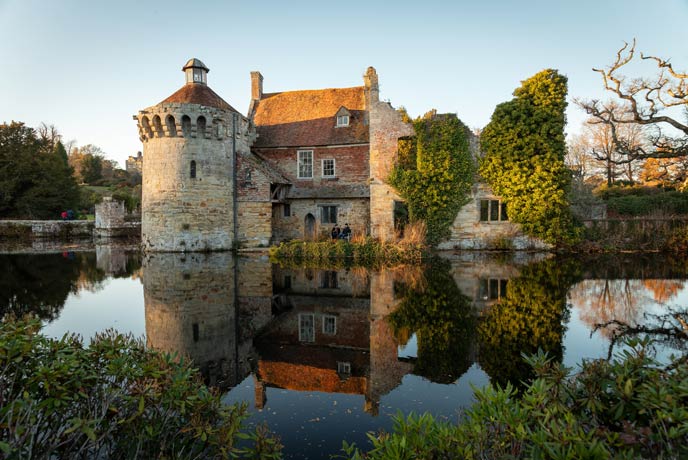 Ready for you to start your whirlwind tour, here is our comprehensive guide to castles in Sussex ready for you to see during a luxury escape to the county. Read on for more.
East Sussex
Bordered by Kent, West Sussex and Surrey, the county of East Sussex is known for its many beautiful landmarks and historic sites. Home to Medieval villages, sprawling countryside and miles of coastline, you will be surprised at the amount of castles that can be found here too. Some built in defensive efforts to protect the south of England from European invasion, and some simply built as opulent retreats for the elite, they each have unique and varied histories that never fail to intrigue. Wander along grand halls, sit beside mirror-like moats and explore romantic ruins with our list of castles in East Sussex, mind ablaze with wonder.
It's hard to imagine anything more perfect than Bodiam when trying to visualise what a quintessential castle would look like. Located on the border of Kent and East Sussex, this 14th century moated castle sits in symmetrical glory with proud turrets and regal towers and simply demands to be admired from every angle. Mirrored in a flooded moat and surrounded by picturesque parkland, it really does look like something plucked from the pages of a fairy-tale. While the interiors of the castle are sadly succumbing to the wear and tear of time, it's still open to the public for exploration.
To begin, step across the wooden drawbridge and join up with a guided tour for the full experience. One of the highlights is the heart-pounding climb up the spiral staircase to the castle roof to savour the tower-top views of the River Rother valley. You can also look out for the slitted windows through which arrows were once fired; the original wooden portcullis in the gatehouse and the well room where the castle staff once sourced their water. If you go in the evening, you may also be able to spot some of the castle's resident bats – as it is home to the largest bat roost in Southeast England. During the day, make sure you stop off at the onsite National Trust tearoom and giftshop too.
Camber Castle is one of Sussex's hidden gems. Located between Rye and Winchelsea, this English Heritage and Sussex Wildlife Trust-managed castle actually sits within a coastal nature reserve and is only accessible via a 1-mile walk along footpaths from Rye. With no vehicular access and guided tours only available sporadically, it certainly makes it a little harder to visit this historic beauty but all the more satisfying if you do. Just remember to don sturdy footwear if you're up for the amble.
Originally built as an artillery fort, Camber's purpose was to guard the port of Rye. That said, as well as its unusual location, it's hard not to be surprised by its unique design. Largely unaltered, it was constructed in the time of Henry VIII and still retains its original flower-like exterior curtain wall which softens its appearance with graceful curves. It also still has its brick-vaulted tunnels which can be explored through guided tours. As you wander, you'll appreciate that despite its defensive history, the only guards present these days are the resident sheep that graze contentedly in the surrounding fields.
Hastings Castle
Hastings Castle is one of the most famous castles in the country, not just Sussex. Recognised for its connection to the famous Battle of Hastings in which Anglo-Saxon King Harold Godwinson was ocularly felled on the battlefield by a rogue arrow, the castle plays a hugely important part in British history. In fact, no sooner had William the Conqueror established his presence in the country, he set about constructing a number of Norman castles – of which Hastings Castle was one.
These days, this iconic castle still sits high above the town of Hastings, commanding far-reaching views of countryside and coast. Though looking a little worse for wear these days, its crumbling remains are still clinging onto their grip on time and lend a striking reminder of one of the country's most influential defeats. Visit today and look around the castle's remains, making time for the castle's on-site cinema which screens the 1066 Story. For an added bonus, you can also take the West Cliff Lift, a 'light railway' which transports passengers up the cliff from the seafront, and then head over to Battle Abbey, built on the site of the Battle of Hastings, just a few miles away.
For a jaw-dropping setting, Herstmonceux Castle in East Sussex will not disappoint. One of the oldest brick buildings in England, this 15th century castle near Herstmonceux has been wowing visitors for hundreds of years. A moated castle, it's set within a 300-acre estate – decorated with formal and themed gardens and fringed with verdant woodland. Naturally, with its striking appearance, wealth of space and on-site facilities, it is somewhere that appeals to all ages for year-round visits. Especially as dogs are welcome in the grounds too.
If you feel like making your way over to Herstmonceux, then you will find more than enough to keep you occupied. The castle itself isn't open to visitors (as it is actually home to an international study centre) but you can sometimes book onto limited guided tours and make use of the extensive grounds instead. Divided into several themed and formal areas, the walks here are simply lovely, especially in spring and autumn when the colours are at their most dramatic. For refreshment, the Chestnut Tearooms are located within the grounds too and serve drinks and snacks.
Lewes Castle is a slate-grey, Medieval castle situated in the thriving town of Lewes in East Sussex. Originally called Bray Castle, its hilltop position provided far-reaching views over the surrounds and helped to protect the gap in the South Downs created by the River Ouse. Dating back from the Norman times, it's famous for having not one but actually two mounds which created additional vantage points. It was also constructed with a shell keep and tower keep, though only two of its towers and outer gatehouse remain.
If you're staying near Lewes, then you should definitely visit Lewes Castle – worthwhile for its jaw-dropping panoramas alone. In the castle grounds you can find intriguing antiquities such as locally-made railings that were constructed for St Paul's Cathedral, an Armada cannon, a Russian gun that was brought back from the Crimea and even two prehistoric canoes. And, if you want to learn more, then you can always pop next door to the Museum of Sussex Archaeology, which reveals the history of the local area through a series of fascinating exhibits, displays and a short film.
Pevensey Castle is one of the oldest castles in the county with a history stretching back over 16 centuries. In fact, it has one of the richest histories of all the fortresses on the whole of Britain's south coast. It's also, impressively, where William the Conqueror's army landed in 1066, ready to set off a most fateful chain of events (poor Harold). Naturally, it is a must-visit on our list of castles in Sussex and one that every history-enthusiast should venture to see at least once.
Beginning its life in the 4th century, Pevensey Castle was one of the last and strongest of the Roman 'Saxon Shore' forts. It was later extended and modified after the Norman Conquest – shaped into the building it is (or partly remains) today. Well, it still has two-thirds of its towered walls, anyway. Should you visit, you will be able to stroll the open grounds around the castle, see the dungeons and enjoy the scenic views of the surrounding landscapes. You'll also find exhibitions detailing the castle's history, spanning all the way from the Roman times to World War Two.
Also known as Ypres Tower, Rye Castle sits at the foot of the town of Rye overlooking the River Rother. Built in 1249 to protect Rye against potential attacks from across the channel, it was originally built for defence – though it has served lots of other purposes since then. Over the centuries, this Grade I listed building has been a fort, private home, prison, mortuary and a court hall. While it is fair to say that it has experienced its fair share of grim tales over the centuries, fortunately these days the castle is enjoying a much more relaxed retirement in the form of a family-friendly museum.
Rye's town museum, Rye Castle has much to offer. Head over and see where murderer John Breads was imprisoned, where other doomed prisoners were held and chained, a rare smuggler's lantern, a map of ships wrecked along the Sussex and Kent coast and much more. For those who can manage the spiral staircase, the first-floor balcony showcases beautiful views, and for those who can't, there is a virtual tour available.
West Sussex
Encompassed by the counties of Hampshire, Surrey and East Sussex, West Sussex is the perfect destination for a short break or week away. Home to the city of Chichester, picture-perfect towns and villages and a range of landscapes from rolling countryside to downland to coast, it has it all. It's also home to a number of castles, and while some have sadly fallen victim to the ravages of time, others have heroically survived into the 21st century. So, whether you're after historical insight or simply want to add a fun dimension to your day, here are some of the best castles in West Sussex.
The story of Arundel Castle begins in 1067 when it was established by Roger de Montgomery on Christmas Day. Set high above the River Arun and surrounding countryside, it boasts over 1,000 years of history and hides countless tales within its walls. While much of the castle 'proper' today is Victorian Gothic (having been restored in the 18th century), some of its oldest features are its original motte (constructed in 1068) and gatehouse (built in 1070). Despite some modern alterations, it still remains one of the most impressive castles in Sussex and draws the eye for miles around.
Around the castle itself, the keep, barbican, state rooms and bedrooms are all open for exploration, with tiered ticketing available depending on what you'd like to see. Meanwhile outside, you can also visit the Fitzalan Chapel in the grounds, originally founded in 1380 by the 4th Earl of Arundel, and the award-winning gardens. Verdant spaces where you can immerse yourself in colour and breathe in the heady scents of countless floral perfumes, the gardens include the tropical and English Gardens, stumpery, kitchen garden, rose garden and more.
There is a beautiful circular walk around here, one of the many lovely walks in West Sussex.
Though little remains of it today, Bramber Castle was once an important Norman motte-and-bailey castle founded by William de Braose. Intended to serve as a defensive and administrative centre for Bramber after the Norman Conquest, it enjoyed pride of place on a 9-meter-high motte atop what was already a high knoll – making for the best vantage point around. Built with locally-sourced materials, it would have certainly been an imposing structure, as its one surviving, 14-meter tower wall attests.
Even today, the views from the top of the motte over the countryside and River Adur are really beautiful, so we can only imagine what they would have been like from the top of the castle. If you have time during your Sussex holiday, it's well worth the visit and does make for a great spot to sit back with a picnic and relax. As well as the gatehouse wall, the keen-eyed among you may be able to make out the foundations of what was an old guardhouse and the dressed pillars of a former entranceway.
The ruins of Cowdray Castle, located near the town of Midhurst in the heart of the South Downs, had to make it into our guide of castles in Sussex. Set within the peaceful Cowdray Park, the ruins are actually the remains of one of England's most important Tudor Houses. Visited by both Henry VIII, a young Edward VI and Queen Elizabeth, its walkways have been traced by some of the most famous figures in British history. It's even true that Guy Fawkes, who was instrumental in the failed Gunpowder Plot of 1605, worked there for a while – a fact that consequently implicated the resident Viscount and subjected him to a year-long house arrest before he was formally pardoned.
Originally built in the 13th century, much of the castle was unfortunately destroyed in 1793. At the time, refurbishments were being carried out in preparation for the marriage of the 8th Viscount Montague, but a fire took hold and most of the castle was destroyed. Sadly, tragedy continued when the same Viscount later lost his life trying to shoot rapids on the River Rhine. Despite its skeletal frame, Cowdray Castle is still a hugely impressive sight. These days, it is occasionally open for heritage event days and guided tours, so make sure you keep an eye on upcoming events in the castle's calendar if you would like to see it for yourself.
The Medieval Knepp Castle, otherwise known as Old Knepp Castle, sits on the western reaches of the village of West Grinstead in West Sussex. It is not far from the 19th century Knepp Castle, part of the 3,500-acre Knepp Castle Estate, which is a private mansion and estate currently leading an ambitious rewilding project aimed at vital nature conservation. While you can't visit the modern Gothic castle, you can certainly visit the Medieval original which stands in (slightly depleted) glory amongst rolling countryside.
Initially constructed as a motte castle in the 12th century by William de Braose, whose family had also founded Bramber Castle, Knepp Castle was rebuilt as a stone castle in the following century. Eventually, having been neglected over the years and having had materials repurposed for other constructions, by the 1700s the castle had been all but destroyed. That said, its keep wall still stands at over 10 meters high on its original motte in tenacious defiance – a jagged face against a backdrop of ever-changing skies; a reminder of all it has seen. Poetically, within the 2.5-meter-thick wall (the tower's west wall) is a doorway – a doorway that now invites entry to nowhere but a memory of a time long-forgotten.
For more ideas of places to visit and things to see, here are some great things to do in Sussex. And, if you are looking for a comfortable home-from-home to return to after a day exploring, you can find a cottage in Sussex here.