Ready to swap the bright lights of city life for a sun-drenched seascape for a day… or two? Luckily, there's a whole slew of great beaches near London that simply require a packed bag and sometimes not even a car.
Head to Sussex for impressively long beaches, Essex for seaside wanders and Kent for dramatic cliffs that beg to be photographed. In fact, the great thing about heading for a beach day from London is that you really do have your pick of the litter with wild coves, vibrant seafront scenes and everything in between at your fingertips.
Ready for your out-of-city break? Here are some of the best beaches near London to sink your spade into…
Camber Sands, East Sussex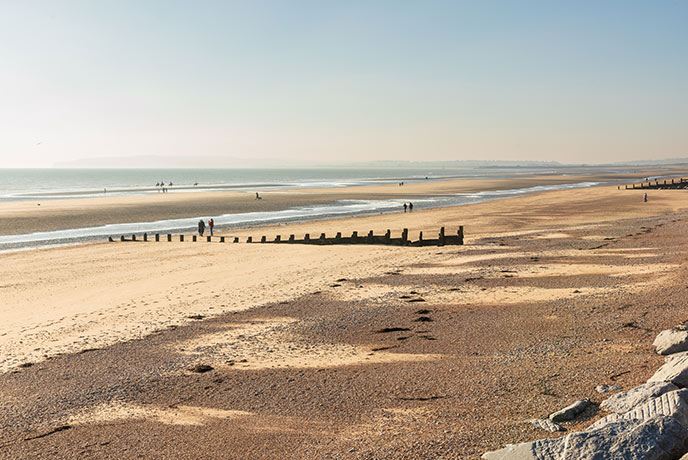 Lifeguard cover: No
Parking: By the beach
Accessibility: Easy access from the car park with a train station in Rye
Facilities: Slipway, cafés, toilets and disabled toilets in the car park
On our list of the best beaches in Sussex, Camber Sands certainly lives up to its name. In fact, it's one of the few beaches in East Sussex to actually have sand, so if you fancy building a sandcastle, this is definitely the beach to head for… and it's only a couple of hours from London! Five miles of sand, shingle, and dunes create a perfect spot for a balmy beach day. It's not just for those wanting a snooze in the sands, either. Thanks to its windy aspect, Camber Sands is very popular with kitesurfers, who can be seen flying above the waves all along the beach. Talk about beachside entertainment! It's also dog-friendly off-season, so the pup can join you on your adventures.
Swap your beach day for a weekend getaway with our fabulous cottages in Sussex. Make sure to check out our dog-friendly cottages if the pooch loves a beachy holiday, too!
The Naze, Essex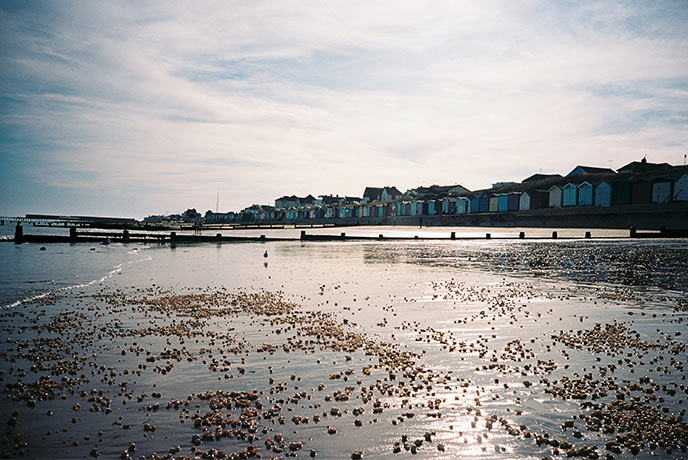 Lifeguard cover: During peak season
Parking: Car park and street parking by the beach
Accessibility: There is a slipway, disabled access to the beach and a train station in Walton-on-the-Naze
Facilities: Toilets, cafés, shops, and deckchair and beach hut hire
Whether you fancy a spot of fossil hunting, kayaking or seaside shopping, The Naze has you covered, and it's only an hour and a half from London! In fact, you don't even have to start the car for this one as the train station in Walton-on-the-Naze is perfectly placed for a car-free day trip from London - check out our guide on what to bring to the beach so you can pack nice and light. Enjoy a stroll down the second-longest pier in Great Britain or make the most of the sandcastle-worthy sand – not to mention the many beachside cafés and ice cream parlours for that all-important getaway treat. Oh, and it's dog-friendly all year round so perfect for a day out for the whole family.
Botany Bay, Kent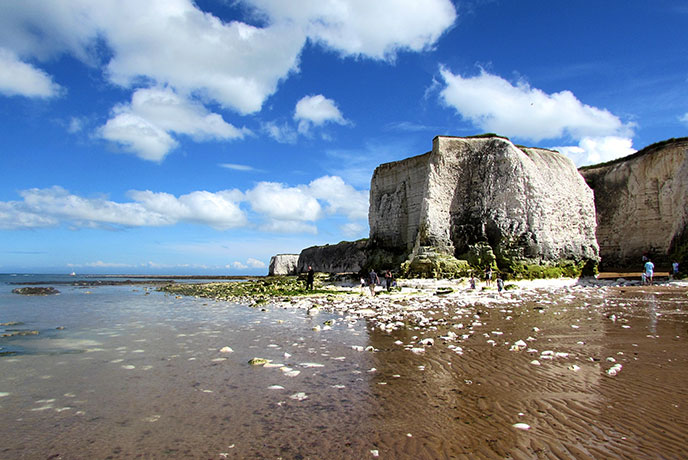 Lifeguard cover: During peak season
Parking: Palm Bay Avenue car park or Palm Bay beach car park
Accessibility: Shallow steps down to the beach, train station in Margate
Facilities: Café on the beach with toilets
This stunning stretch of world-class coastline is perhaps one of the most iconic and instantly recognisable spots on the South coast thanks to the startling chalk cliffs and long, sandy beaches. Among a collection of beaches in Kent that are close to London (around an hour and a half to be more precise), which includes the equally famed Joss Bay and Vikings Bay, Botany Bay is amongst the most photographed beaches in the UK. As soon as you see the towering alabaster cliffs and striking chalk pillars that jut out from the sand, you'll understand why it's hard to visit this historic bay without whipping out the camera.
Check out our lovely cottages in Kent that can turn your day trip into a weekender!
West Wittering, Sussex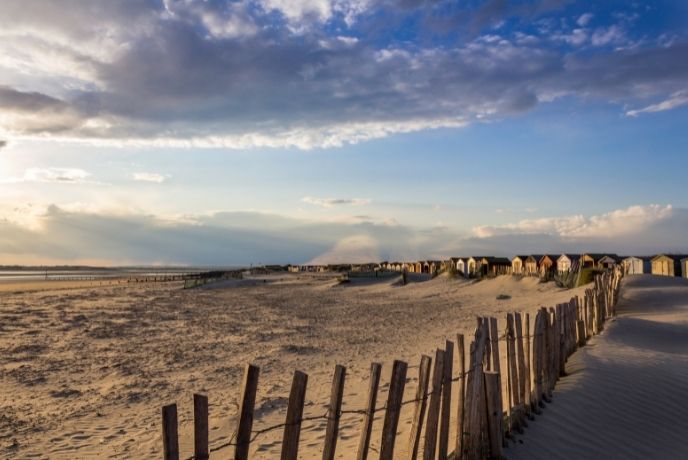 Lifeguard cover: Seasonal (May – September)
Parking: Car park next to sand dunes
Accessibility: Access over the dunes, train station in Chichester
Facilities: Toilets, showers, café
A mere hour and a half from the streets of London lies West Wittering beach, with its Blue Flag sand and sea, and reaching views of Chichester Harbour and the Isles of Wight – seriously, it's hard to believe this oasis of beachy goodness is so close to the UK's capital. The beach itself is lined with some fabulously colourful beach huts that really add that seaside holiday vibe, even if it's just for the day. Sunbathe, delve into that book you've been wanting to read, or take to the waters for some thrilling watersports, from windsurfing to kitesurfing. The beach has dog-free zones in the summer months, but you can still pack up the pooch and head to one of the dog-friendly sections for a doggy day out.
Isle of Grain beach, Kent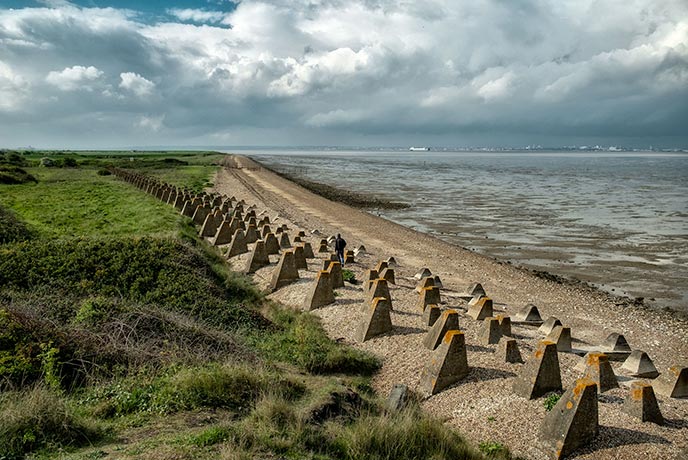 Lifeguard cover: No
Parking: Isle of Grain Coastal Park car park
Accessibility: Short walk from the car park, train station in the Isle of Grain
Facilities: Pub and a shop in the village
Only an hour from London, this secluded beach is quite possibly one of the closest beaches to London and yet it still manages to maintain its quiet charm. There isn't much by way of facilities, but this stretch of dog-friendly sand is still great for a day by the sea. Pack up the frisbee and a picnic and you'll want for nothing as you loll around on the sand and shingle beach. A short walk across some fields delivers you to the village pub where you can enjoy a refreshing drink before heading back home.
Birling Gap, East Sussex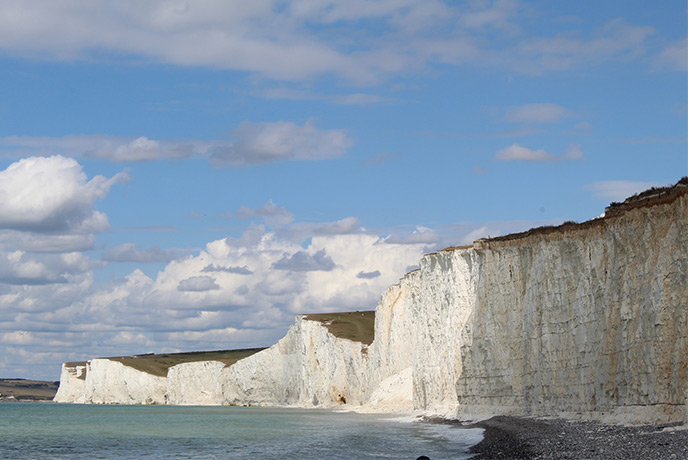 Lifeguard cover: No
Parking: National Trust car park
Accessibility: Access from the Crowlink car park is best, with wide kissing gates and open grassland, train station in Eastbourne
Facilities: Café, toilets
With the towering chalk cliffs of the Seven Sisters offering an impressive backdrop, Birling Gap beach in East Sussex is another iconic spot for a beach day, just 90 minutes from London. From rockpooling to fossil hunting to beach zoomies with the dog, there are lots of fun activities to keep the kids entertained during your visit – as well as a café for a cheeky ice cream. You can also use the visit as an excuse to clamber along the famous cliffs to Beachy Head, the highest chalk sea cliff in the UK and an incredible photo opportunity.
Make yourself at home for a while with one of our charming cottages in East Sussex.
Whitstable beach, Kent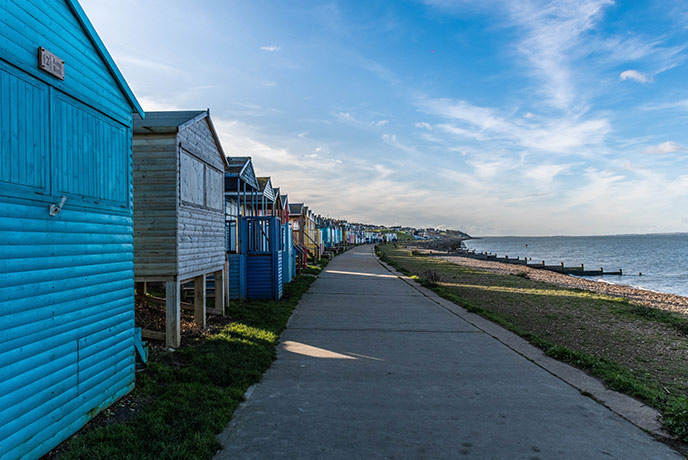 Lifeguard cover: No
Parking: Gorrell Tank car park or it's a 10-minute walk from the train station
Accessibility: Flat access to the beach and a slipway, train station in Whitstable
Facilities: Pub, restaurant
One of the closest beaches to London – a tempting 65 minutes away – Whitstable beach is high on the list for day trips out of London, whether you're bundling into the car or hopping on the train with the dog in tow. Following the southern style of shingle over sand, Whitstable beach has buckets of character as well as great seas for swimming and access to a seriously delicious array of seafood thanks to the Whitstable Oyster Company – fish and chips on the beach, anyone? The Old Neptune – also known as the pub on the beach – is also close at hand for those that dream of craft ales and sea views.
Shoreham beach, West Sussex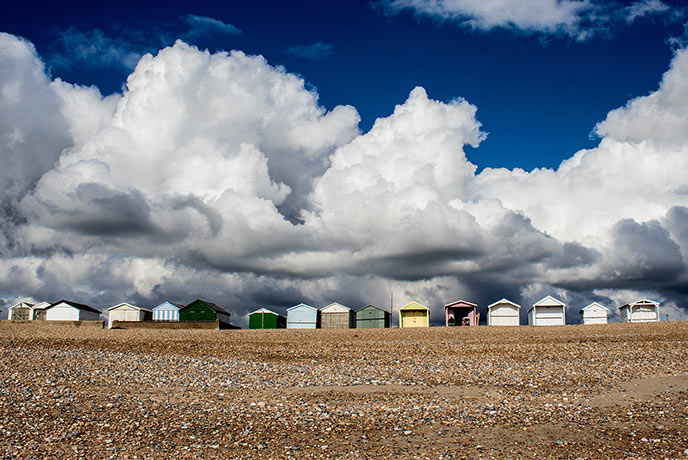 Lifeguard cover: No
Parking: Widewater Lagoon car park
Accessibility: Flat access to the beach, train station in Shoreham-by-Sea
Facilities: Shop
Trading a couple of hours in the car for a day by the sea in West Sussex is a very easy deal to make. While people often head to Brighton beach for a slice of traditional sea views and lots of amenities, for just a few miles more, you can set up camp on Shoreham beach, which boasts all of the beauty with none of the crowds - plus it's dog-friendly! Enjoy the colourful beach huts that decorate the edge of the beach or pop up to the children's play area to tucker them out before the return journey.
Church Norton, West Sussex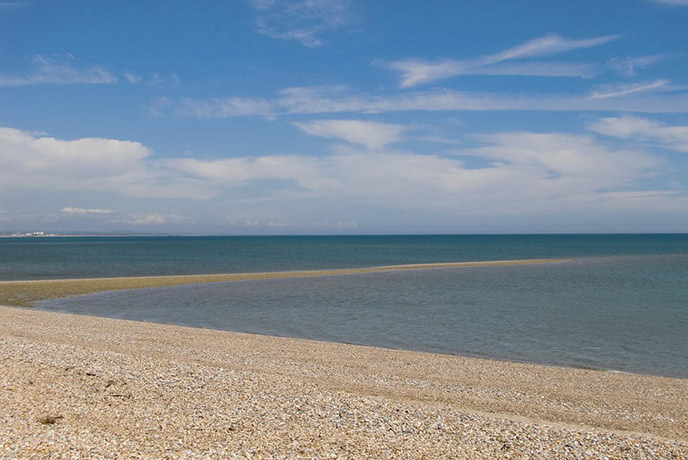 Lifeguard cover: No
Parking: St Wilfrid's Chapel
Accessibility: It's a half-mile walk to the beach, train station in Norton
Facilities: No
If you're looking to truly escape the crowds of London, then the wonderfully wild, shingle beach at Church Norton is the one for you. With limited parking at the church and a pretty walk down to the beach, you'll rarely find more than a handful of beachgoers at this remote hideaway. Twitchers flock to the beach to watch the breeding birds nest (dogs must be kept on leads here), while those who fancy leaving the swimsuit at home can do so freely as the western end of Church Norton is also popular with naturists.
Looking for inspiration for your next holiday? Check out our fantastic array of wonderful cottages in the UK and start planning your dream getaway.