From the chalky faces of the Seven Sisters, to the pinnacle peak of Black Down Hill and the all-but endless flow of the South Downs Way, the South Downs National Park has an irresistible collection of attractions to delight all those who visit. As perfect for luxury short breaks as drawn-out sojourns, it's the kind of place that quickly enraptures all those who visit.
The undulating sprawl of the South Downs National Park extends for nearly 90 miles across some of the most enchanting countryside and coast in the UK. Running through the south-eastern counties of Hampshire, West Sussex and East Sussex from Winchester to Eastbourne, it boasts some of the prettiest villages and richest landscapes imaginable – combining human history and the beauty of Mother Nature to create a region unlike anywhere else.
The youngest National Park in England, the South Downs covers over 600sqm of magnificent scenery. Characterised by rolling chalk downland, ancient woodland heaths, towering white cliffs and a patchwork of quaint villages and towns that are each as pretty as the next, it's an area that captivates all those who visit. Often quieter than many of the UK's other National Parks, perhaps due to its younger status, it makes for an ideal destination for staycations and luxury breaks – only a stone's throw from London and easily accessible via various transport links.
If you are planning your holiday in the area, read on for our complete guide to the South Downs National Park, brimming with all the best places to visit, must-see attractions and insider top-tips.
About the South Downs
The South Downs is the newest National Park in the UK, having been granted its official status as recently as 2011. That said, the park is young in status only, having had its landscapes shaped by man and nature alike over thousands of years. Etched into the very fabric of the region, man's connection with the South Downs dates all the way back to Neolithic times. To this day, it still bears evidence of its gone-but-not-forgotten cultures in the form of Neolithic flint mines, Bronze Age burial mounds and Iron Age hill forts.
The Landscape
Recognised for its rich variety of habitats, the South Downs boasts an intricate tapestry of rolling pastureland, ancient woodlands, scrubby heath, tranquil river valleys and dramatic coastline. Despite its luscious façade though, the region is primarily made up of thick bands of chalk deposited during the Cretaceous Period – a time when giant tyrannosaurs roamed and winged pterosaurs soared. Comprised of chalky layers of microscopic plankton skeletons, it's hard to imagine that this area was actually once at the bottom of a shallow sea.
Now firmly above water, the South Downs National Park extends for around 90 miles, while the South Downs chalk escarpment itself stretches for around 70 miles. Starting in the River Itchen Valley near Winchester, Hampshire and finishing at Beachy Head near Eastbourne, East Sussex, it encapsulates a wide array of settings. With its hills described by the English poet and playwright Algernon Swinburne as "green, smooth-swelling, unending" and its "touch of sea" exalted by Alfred Lord Tennyson, the region, in our eyes, makes for one of the most arresting national parks in the country. Well, we think Alfred and Algernon would agree.
The Wildlife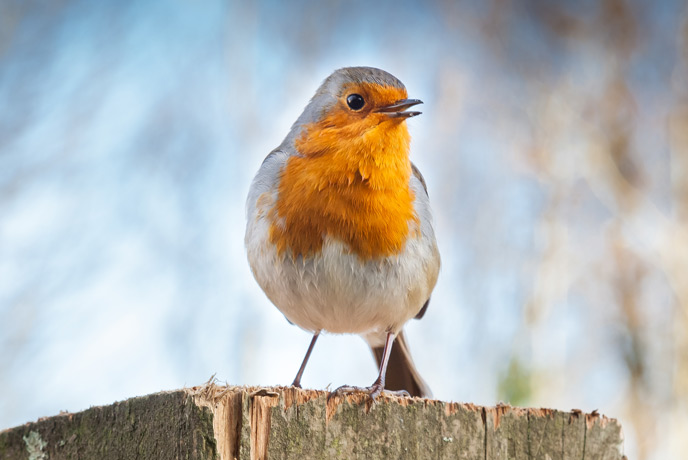 The South Downs National Park is home to many different wildlife species, from delicate flora like burnt orchid and round-headed rampion to large mammals like otters and badgers. Swooping through the night skies are tawnies and barn owls and gliding through the park's waters are brown trout, bullheads, grayling (known as the 'Lady of the Stream') and lampreys. You can even find many rare, threatened and endangered species including barbastelle bats and greater mouse-eared bats. For wildlife lovers, it's certainly an amazing place to explore.
Should you like to learn more about the park's wildlife, there are certain designated areas where you can go to try and catch a glimpse of some of its resident and visiting species, viewed quietly from a distance. While you may see wildlife all over the park, we especially recommend going to the Arundel Wetland Centre, Beacon Hill Nature Reserve and West Dean Woods Nature Reserve. With its designated viewing areas and hides, Arundel Wetland Centre in particular is wonderful for birdwatchers, with dozens of species visible throughout the year.
South Downs Way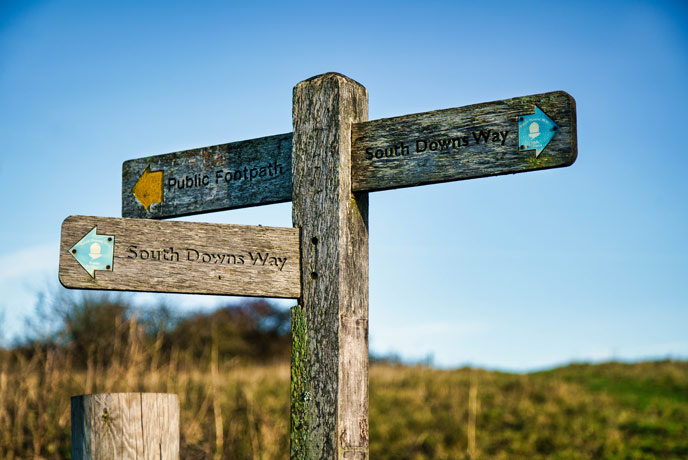 The South Downs Way has achieved global recognition from walkers – and rightly so. At 100 miles long, this enormous National Trail weaves its way along the entire length of the South Downs and, if completed in total, takes 9 days to traverse. From the crest of chalky ridgelines to the depths of adumbral valleys, this long-distance trail follows a historic route that has been walked by humans for thousands of years. Needless to say, it's rather special.
Whether you want to conquer all or part of the South Downs, there are plenty of options to walk, cycle or even horse ride the route. Officially starting in Winchester and ending in Eastbourne, it's well waymarked along the way and can be walked at any time of year, as long as the weather is cooperating. As you wend your way along, you'll find yourself both physically and mentally transported miles from the hubbub of the city and be treated to some of the most spectacular views in the country, including the "pleasant pastures" that inspired Blake's Jerusalem and the iconic white chalk cliffs of the Seven Sisters. Don a pair of stout boots and let your footsteps lead the way.
Walks, South Downs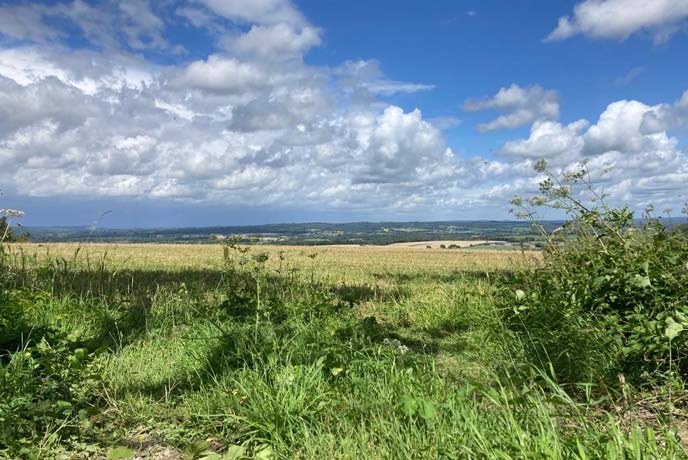 Whether you can't wait to put in the miles over fast-paced hikes or are simply looking forward to enjoying the scenery in your own time, you will love the variety of walking routes in the South Downs National Park. From one of the country's most spectacular long-distance routes to superb day hikes, here are some of our favourites.
The Devil's Dyke is one of the most well-known features of the South Downs National Park, a stunning 100-meter-deep, V-shaped valley. To explore the area on foot, you can hike down through the valley and explore some of the area's many walking trails – ranging from 1 to 6 miles in length. As you walk, you may see some of the local pros paragliding overhead.
The South Downs Way walk is undoubtedly the National Park's most epic walk. At 100 miles long, it starts in Winchester and follows old routes and drove-ways, leading walkers on an unforgettable adventure. As the route is well signposted, it's easy to pick up sections of the trail, enabling you to cover as much or as little as you please.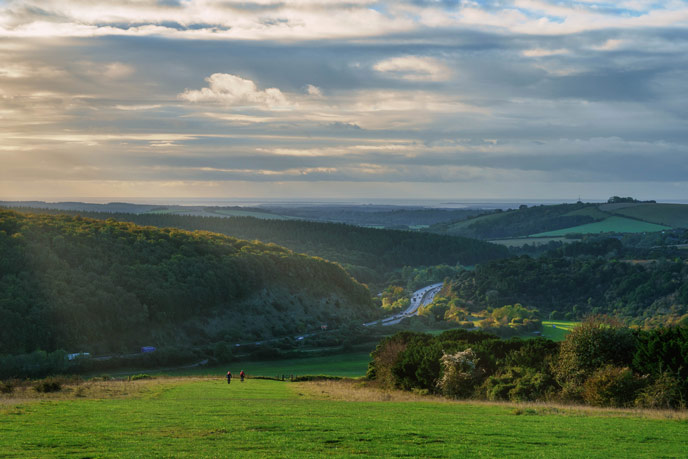 Butser Hill walk is one of the best South Downs circular walks, covering a loop of approximately 3 miles in length. Found near Petersfield in Hampshire, the trail wends its way through National Nature Reserve and Special Areas of Conservation and navigates the top of Butser Hill, the highest point of the South Down's chalky ridge.
An intriguing feature of the South Downs National Park is the hanging woods, a series of steep-sided wooded hills known locally as "the hangers". For a great walk, you can follow the 21-mile Hangers Way, a route that starts at Alton and finishes at Queen Elizabeth Country Park, cutting through Selborne, Steep and Petersfield.
Around 5 miles from Chichester is the Trundle, an Iron Age hillfort that sits atop St Roche's Hill. Park at one of several car parks around the base of the hill and relish a relatively short walk to the top. Although all that remains of the fort itself is grass-covered earthworks, the views from the top extend all the way to the English Channel and are well worth the wander.
The Kingley Vale and Devil's Humps walk is another circular walking route in the South Downs, encompassing 3 miles over 240 meters of elevation. A great one for birdwatchers, the path leads around the Kingley Vale National Nature Reserve and often rewards amblers with glimpses of beautiful birds, including red kites, buzzards, warblers, woodpeckers and more.
Activities and Things to Do
From biking through 'some of England's finest' countryside (as Bill Bryson described it) to exploring some of the country's oldest castles to taking a ride on vintage fairground rides, there is no shortage of activities and things to do in the South Downs National Park.
Castle Tour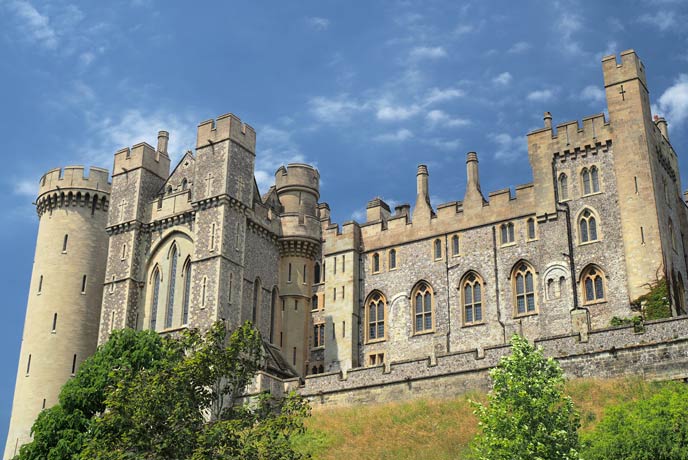 The South Downs' position on the South Coast has made it an important defensive outpost for thousands of years. As such, the region is home to a panoply of castles, including some of the most beautiful castles in Sussex. During a holiday in the South Downs, you should definitely put some time aside to explore Arundel Castle in Arundel, a restored Medieval castle that originally dates back to 1067.
Kingley Vale near Chichester is loved for its groves of ancient trees, including wizened oaks and twisted yews. One old yew was even shortlisted for the 'Tree of the Year' award in 2019. A Site of Special Scientific Interest, the reserve boasts 14 scheduled ancient monuments and is home to all kinds of beautiful wildlife species – all combining to create a truly magical setting for a woodland walk.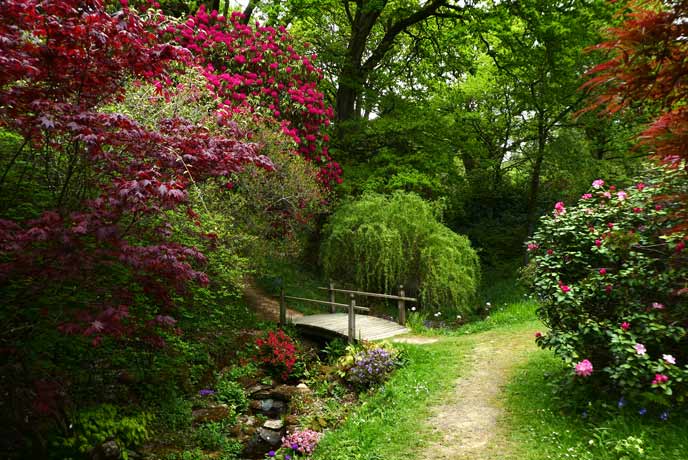 The award-winning Ramster Garden in the Surrey Hills is only open a handful of times every year, so it's worth keeping an eye on its social calendar. Featuring 25 acres of peaceful woodland and manicured gardens, it's a superb place to simply stroll and soak up the setting. As well as its views, the gardens are especially well-known for their rhododendron, azalea and camellia displays.
Cissbury Ring is one of the oldest landmarks in human history in the South Downs. With roots dating back over 6,000 years, it's believed the site was once used as a Neolithic flint mine before being reappropriated as a Bronze Age ritual burial ground. Later, in the Iron Age, it was turned into a hillfort – and it's the faded remains of this structure that can still be made out today.
Hollycombe Steam in the Country near Liphook houses the most eclectic collection of steam-powered vehicles and fairground rides in the UK, with highlights including a functioning Edwardian steam fairground and a 1.5-mile-long steam railway that leads visitors through woodland and fields. Open between April and October every year, this is especially popular with families and a great activity for rainy days.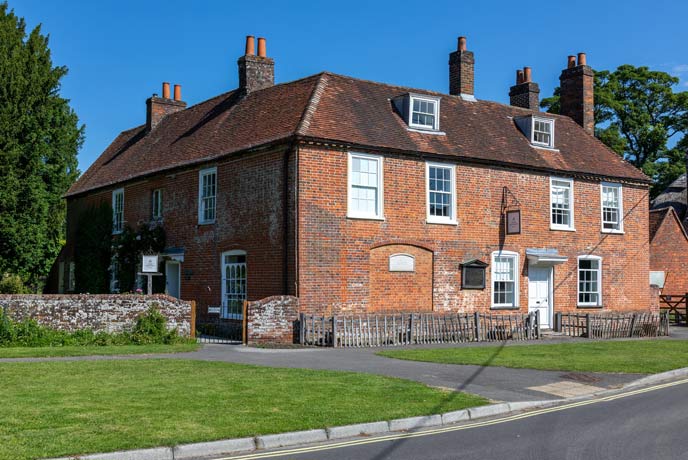 Jane Austen's House on Winchester Road, Chawton, is the house in which novelist Jane Austen made herself at home during the last 8 years of her life. A place of pilgrimage for literary fans, this Grade I listed building is where Austen wrote six of her novels and is now a museum dedicated to her work and life. Some of its collections include her jewellery, first-edition books, furniture and writing table.
Blackdown Hill
Blackdown Hill is the highest point in both the county of Sussex and the South Downs National Park. Carpeted in thick tufts of grass, purple heather and wildflowers, both its immediate setting and far-reaching views make it a wonderful place to walk. If the sun is shining, make use of the two free National Trust car parks on Tennyson's Lane and follow the hill's sandy tracks, following signs for the Temple of the Wind for jaw-dropping panoramas.
The Goodwood Estate is situated in the heart of West Sussex, surrounded by 12,000 acres of grounds and sprawling countryside. The family home of the Dukes of Richmond for over 300 years, it's a house full of history. That said, it's probably the estate's attractions that lure most people these days, as it hosts a wide range of events including the world-famous Festival of Speed, Goodwood Revival and Glorious Goodwood.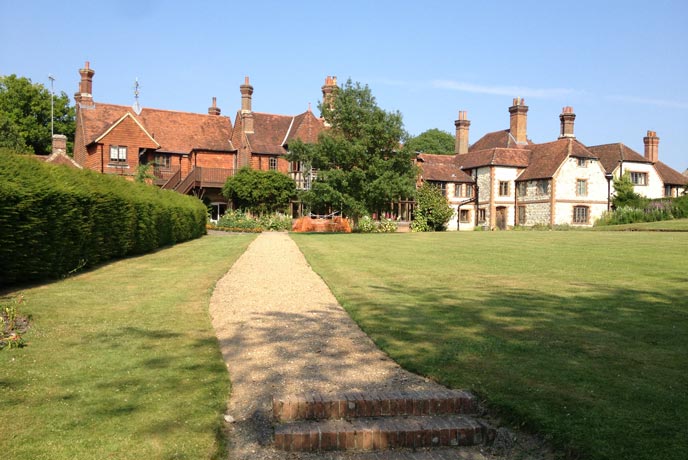 The former home of Gilbert White, the 18th Century naturalist, this beautiful house and its gardens make for a great family-friendly attraction in Selbourne in the South Downs National Park. Amongst its intriguing assemblage, you can find a museum packed with fascinating collections and unique activities like bat walks and meadow exploring. To keep you fuelled, there's also a café on site, located in the old stable block.
Visiting the area's ancient sites is a really fascinating thing to do, but sometimes it's hard to really visualise what they would have looked like in times gone by. This is where Butser Ancient Farm comes in. A unique historical experience, Butser Farm features reconstructions of ancient buildings from the Stone Age, Iron Age, Roman and Saxon periods. Internationally famous, they provide an unrivalled opportunity to travel back in time.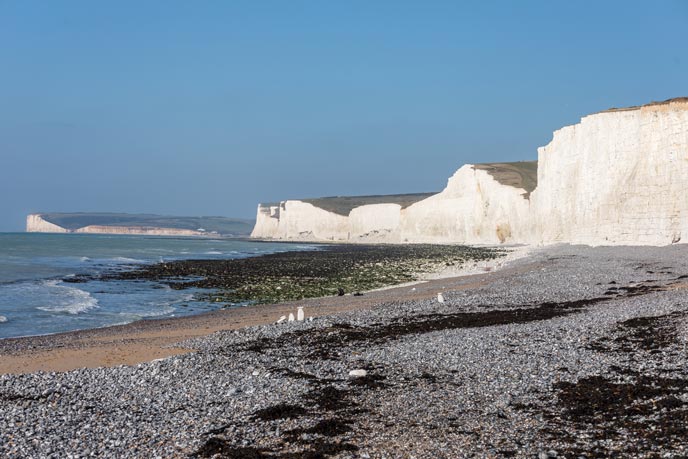 Comprised of nearly 700 acres of coast, river valley and chalk grassland, the Seven Sisters South Downs Country Park is one of the highlights of the National Park. Popular with all generations, it is open for all kinds of activities, such as hiking, biking, canoeing, paddleboarding, picnicking and wildlife-watching. The real showstoppers of the park, though, are the cliffs after which it is named – just stay well back from the edge!
Star Gazing
For a novel way to spend an evening, why not give stargazing a go? With the skies above the South Downs having recently been granted International Dark Sky Reserve status, they offer one of the best stargazing opportunities in the country. Some of the best viewpoints can be found atop Devil's Dyke, the Birling Gap, and Butser Hill, though, as long as the clouds stay away, stargazing can be enjoyed from wherever you are in the park.
Villages, Towns and Cities
The South Downs boasts the largest market towns and prettiest villages of any of the UK's National Parks. With their own character, appearance and sense of identity, each thrives thanks to vibrant local communities and strong cultural and historical links.
Arundel
Established in 1076, the town of Arundel with its stunning castle and picturesque streets has been voted as Europe's most relaxing weekend break. Head over and enjoy its Georgian and Victorian streets lined with welcoming pubs, independent stores and antiques shops.
Winchester
The cathedral city of Winchester in Hampshire lies on the edge of the South Downs National Park. It's best-known for its stunning Medieval cathedral, Theatre Royal, national museums, Christmas market, and a wide range of shops, eateries and galleries.
Midhurst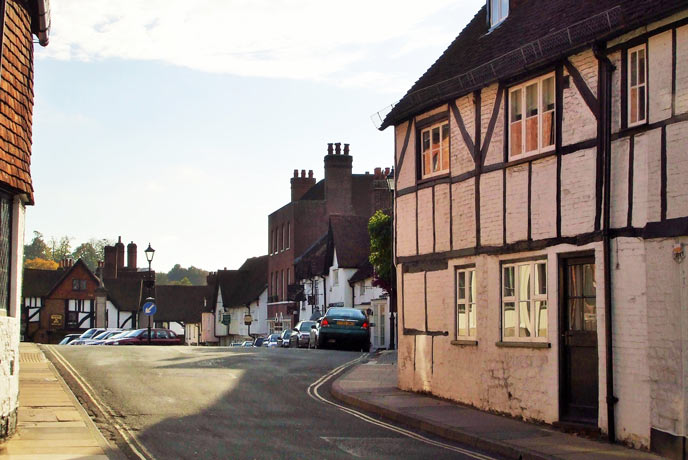 An idyllic place for a few hours of gallivanting, Midhurst is a quaint market town filled with Medieval, Georgian, Victorian and Edwardian houses. Walk around its historic streets, relishing the mishmash of architecture, before visiting the Midhurst Museum and Tearooms.
Petersfield
Petersfield is encompassed by glorious countryside in the middle of the South Downs National Park. Located in East Hampshire, it is one of the largest towns in the Park and is known for its regular markets held in its attractive Market Square.
Eastbourne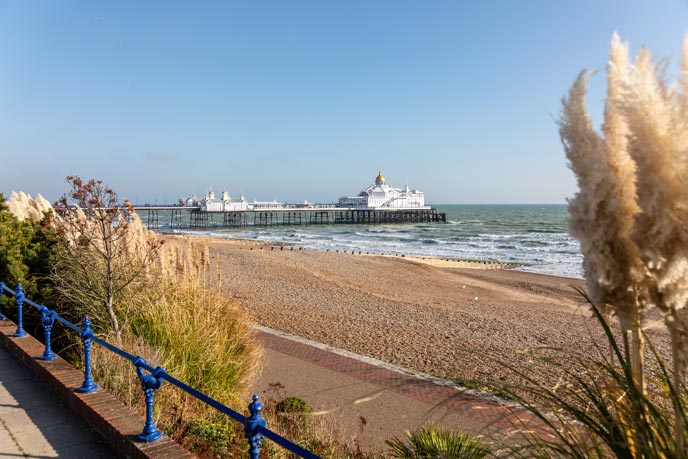 Where the South Downs meet the sea, Eastbourne marks the end of the South Downs National Park. Dubbed the UK's sunniest place, this seaside resort has more than one reason to visit with its Seven Sisters cliffs, beach, arts scene and café culture.
Chichester
Chichester in West Sussex is packed with iconic buildings and structures, from its towering cathedral to its Medieval market cross to its handsome Guildhall. One for the history-lovers, the culture-vultures and the shopaholics alike, there's something for everyone.
Lewes
Located in the county of East Sussex in the South Downs, Lewes is a really lovely place to spend a few hours or a few days. Some of its most prominent features include Lewes Castle, the remains of Lewes Priory, and Anne of Cleves House.
Alfriston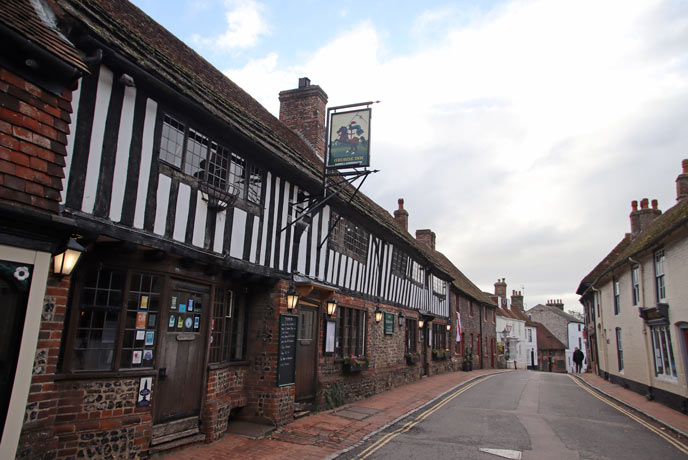 The village of Alfriston sits on the banks of the Cuckmere River. As well as a wide variety of shops and welcoming places to eat, the village is also home to the Clergy House, the first ever property bought by the National Trust.
Selborne
The village of Selborne is most well-known for its connections with the 18th Century literary naturalist, Gilbert White. To the west of the village is also Selborne Common, a 267-acre area of countryside and woodland.
Pubs and Places to Eat
No holiday in the South Downs would be complete without sampling some of the fine food and drink from the area. Products of land and sea, there are all kinds of delicacies on offer, available across the Park.
Vineyards
The South Downs National Park benefits from a large number of vineyards and wineries, all making the most of the region's sun-soaked slopes. Rathfinny Estate, Ridgeview Vineyard, Stopham Vineyard, Bolney Wine Estate and Upperton Vineyard are just some of the vineyards in the National Park, each offering tours and tasting experiences.
A traditional English pub in a village setting, offering gloriously rustic interiors and generous portions to keep all generations happy.
A welcoming gastropub situated within a 400-year-old brick and timber frame. Here, you can expect complex dishes low on pretence and full on flavour.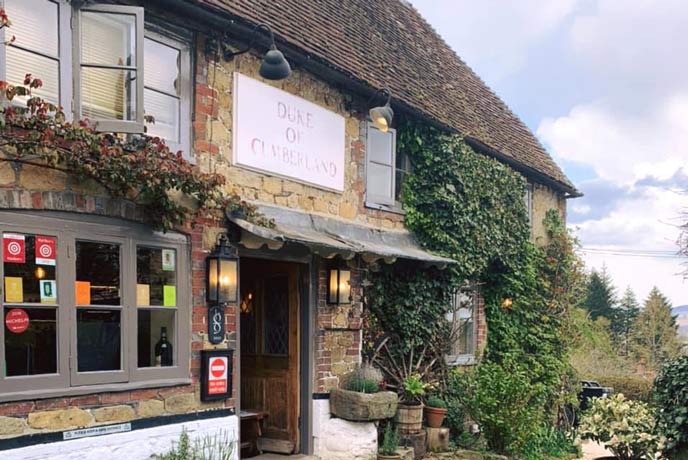 This award-winning pub enjoys a bucolic setting amongst tiered gardens and proffers a menu of hearty dishes crafted with fresh local produce.
An attractive village pub with pared-down interiors, the Hollist Arms has a warm atmosphere and serves dishes you can rely on to treat the tongue and warm the belly.
The Queen's Arms is located within the walls of a 12th Century castle. Look forward to flavourful modern dishes in a regal setting.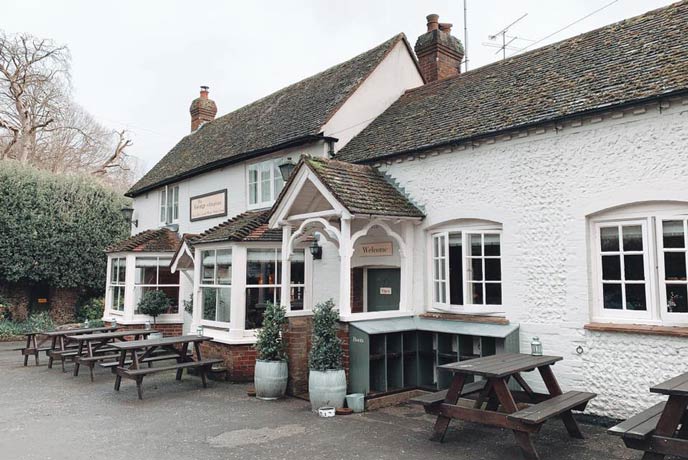 A country pub bedecked with old beams and warmed with open fires, the George is a great one for well-priced, feel-good dishes, including a popular 'Pie of the Day'.
Run by a husband and wife team, the Parsons Table restaurant is founded on a dedication to the highest standards and commitment to local, seasonal ingredients.
This fine-dining restaurant, which specialises in game and fish dishes, is perfect for those special evenings and romantic dinner dates.
Seeking culinary inspiration from across the globe, this pub combines locally sourced and foraged food with zingy exotic influences.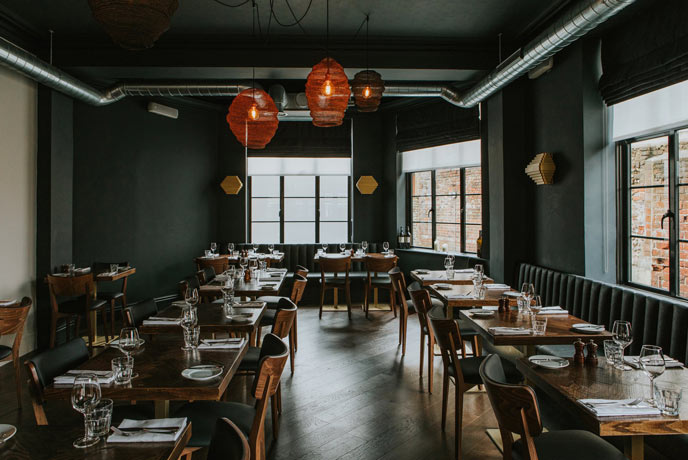 A family-friendly, dog-friendly pub, the Ginger Fox is one of the best places to go in East Sussex for both refined dishes and hearty plates.
Thinking of heading to the South Downs for your next holiday or short break, then take a look at our beautiful collection of places to stay near the South Downs National Park in Sussex and start planning your next adventure today.