Famed for its iconic coast and rolling countryside, Sussex promises a well-trodden myriad of excellent walks and routes, whether you long for the chalk clad cliffs of the East (followed by a pub lunch, of course) or the rural patchwork of trails found in West Sussex - not to mention the many vibrant gardens that promise a sweet-smelling stroll.
This colourful county also delights its visitors with rich green woodlands, where shaded walks and tree-topped adventures await. Full of magic, dappled wonder, and stumps to climb – not to mention some seriously woof-worthy sticks for the pooch – woodland walks are always a family favourite. You can even go head-to-head in a round of Pooh sticks in the very woods the game was made!
So, lace up those walking boots and pack your bag with some tasty treats for the trail, it's time to explore some of the best woodland walks in Sussex…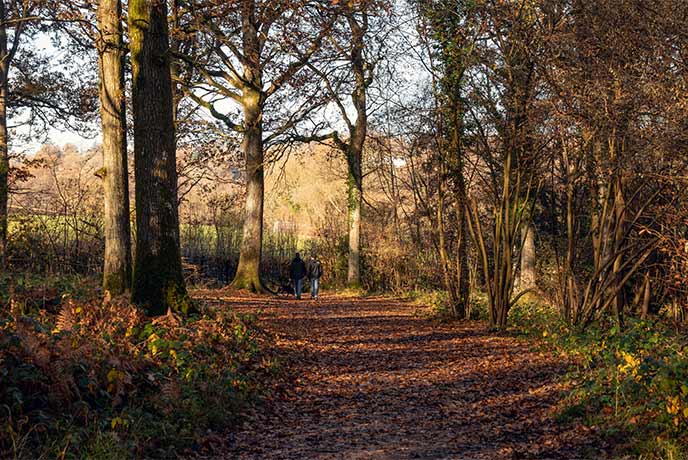 Best for: A game of Pooh sticks in 100 Aker Wood
• Terrain: Bumpy, sometimes steep, forest tracks
• Facilities: Car parks, visitor centre, toilets, cafés, dog-friendly
As soon as you step foot in the dappled delights of Ashdown Forest, it's clear why this wondrous place inspired everyone's favourite honey-loving bear and his enchanting home. Oh yes, the home of A.A Milne's Winnie-the-Pooh, this wooded paradise is the perfect place for a family walk steeped in magic. There are 10 routes throughout the forest to choose from, with lengths ranging from 2 miles to a whopping 14-mile circular for those with a Tigger-like spring in their step. Visit in autumn for a woodland dipped in honey!
A there-and-back-again trail takes you across the famous Pooh Bridge (where a game of Pooh sticks is all but mandatory) and past Owl's House, another treasured part of the beloved Winnie-the-Pooh books, allowing you to let your inner child run totally free! Or you can gather up the whole family for a stroll through 100 Aker Woods, discovering the famous clumps of Scots Pine as you go. It's not just storybook scenes that await you in Ashdown, oh no! A hunger-quelling collection of cafés are sprinkled throughout the forest, providing the perfect place to refuel during your walk – head to Duddleswell Tea Rooms if you have the dog with you or Pooh Corner for some child-like wonder.
High Woods at Kingley Vale, Chichester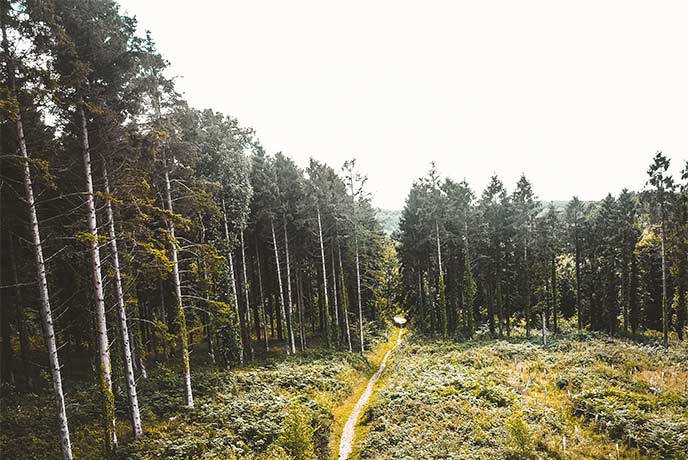 Best for: Retracing ancient steps
• Terrain: Uneven country paths and forest floors
• Facilities: Car park, coffee van, dog-friendly
Tucked away in the incomprehensibly beautiful South Downs National Park lies the gnarled haven of Kingley Vale, where ancient footsteps have carved the way through the trees. After parking up – and grabbing a coffee from the local vendor who sets up shop most days in the car park – a short 15-minute walk will lead you to the edge of the country's first nature reserve, Kingley Vale. Home to a wild and wonderful collection of yew trees, this twisted and oh-so-magical wood looks as if it sprouted straight from the mind of Tim Burton, creating a seriously ogle-worthy backdrop to your walk.
There are many twisting paths through the tangled branches of yew trees, giving you plenty of choice. Coloured waymarkers lead the way, with yellow denoting footpaths, blue bridleways, and pink for byways, or you can follow the acorns for the National Trails. As you follow the winding paths through the mind-boggling trees, it's fun to think about those who have trodden these paths before, from Viking kings to druids centuries ago. Alongside stepping off the path to weave your way through the branches that carve their own way through the wood, you can enjoy a short detour to the nearby heights of the Devil's Humps on Bow Hill, which boast dramatic views across to Chichester and even the Isle of Wight on a clear day.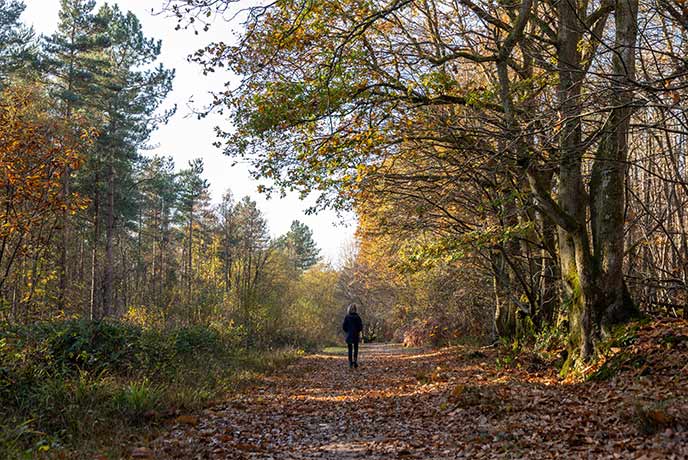 Best for: Carpets of bluebells in the spring
• Terrain: Uneven paths, grassland, sandy heaths
• Facilities: Car park, dog-friendly
Made up of 10 rambling woods in East Sussex, Brede High Woods is a walker's dream as many winding routes make their home under the leaf-strewn roof of the trees. Ranging from a family-friendly stroll that's under a mile to a hearty 7.5-mile stomp, there's a route for every outing, whether you have half an hour or half a day to explore the towering woods and vistas hidden within. With a rich industrial and agricultural past that dates as far back as the Romans, there's a vibrant history to uncover under the canopy.
Amble along the dappled paths, pop yourself down for a rest above the reservoir, or head into the grassland or heathland for some wide-open space before heading back into the welcoming arms of the ancient woodland. These woods are home to many creatures and critters, from tiny dormice and weasels to wild boar and roe and fallow deer, giving you plenty of wildlife watching opportunities. If you visit in the spring months, you'll be treated to a carpet of periwinkle blue and dazzling white as the bluebells and wood anemones take over the forest floor.
Slindon Forest, Arundel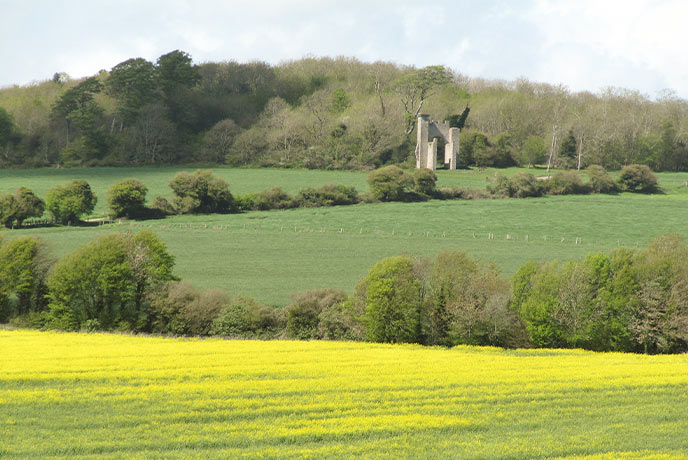 Best for: A stunning mix of woodland and country estate
• Terrain: Uneven country paths, with well-surfaced paths in the village and Slindon Park Woods
• Facilities: Dog-friendly
Owned and maintained by the National Trust, Slindon Estate enjoys a heady mix of country views and sweeping woodland for a fantastically varied jaunt in West Sussex. There isn't much in the way of facilities, which we take as an excuse to pack a toothsome picnic we can enjoy wherever the mood strikes during the walk – there are some exceptional views to choose from.
Kick off your adventure with the Roman ramble to Gumbar Farm (3.75 miles), take in the dappled sights along the Nore Hill Folly walk (3.8 miles), or embark on a trek you can really sink your boots into from Bridle Road to Bignor (6.5 miles), which takes you through long wavy grass, past gently flowing rivers, and through lightly dappled forests as you traverse through the South Downs National Park. The historic Slindon village is always worth a visit too, with its 12th-century deer park, 19th-century lock-up, and Victorian school. If you head into nearby Arundel, you'll find mouth-watering Michelin star restaurant The Parsons Table, which is sure to fill the corners after your rural adventure.
Abbot's Wood, Polegate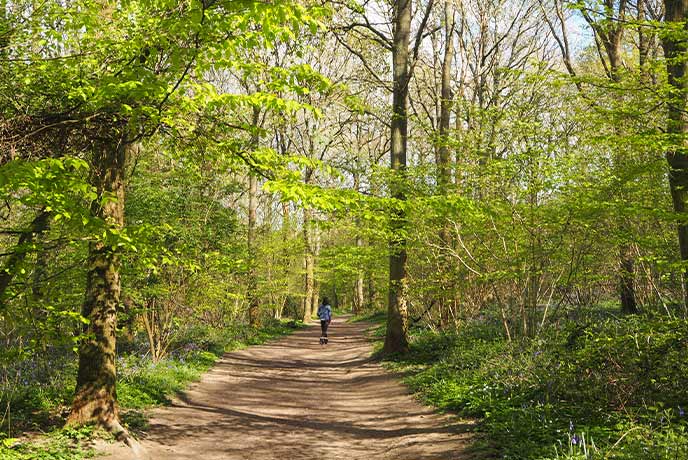 Best for: Wheel-friendly woodland walks
• Terrain: Two wheel-friendly routes as well as other more uneven paths
• Facilities: Play area, BBQ hire, picnic tables, dog-friendly
With two wheel-friendly routes to choose from (it can get muddy during wet weather and the winter months), Abbot's Wood is the perfect place to explore with the whole family in tow – you can even finish the walk off with a BBQ! The shortest wheel-friendly route is the Oak Walk trail (0.75 miles), which follows the brown waymarkers and offers visitors a quick and easy jaunt in the fresh forest air. The Abbot's Amble trail (1.5 miles) is slightly longer but well worth the added steps, as it takes you past some beautiful sights that are just waiting to be enjoyed from the comfort of your picnic blanket. The route is fabulously easy to follow as yellow waymarkers dot the path.
This trail is ideal for those who love a walk with a side of history as the path takes you past Abbot's Wood Lake, which was dug by medieval monks. It's also a great one for nature-lovers as the woods are home to roe deer as well as skittering squirrels who live in the ancient oaks – can your budding biologists spot all 30 species of butterfly? In spring, a carpet of bluebells casts the woodland in colour, turning the already beautiful wood into a truly special sight. Abbot's Wood really is a rather spectacular place to (metaphorically) get lost in.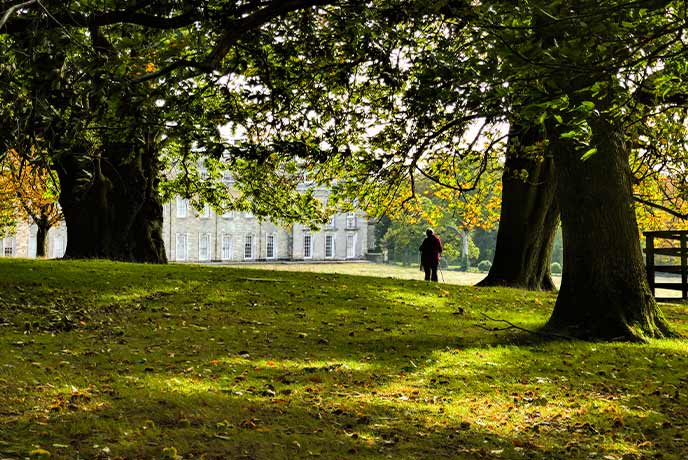 Best for: A fun and fascinating mix of wood and wetland
• Terrain: Hilly and uneven
• Facilities: Car park, toilets, café, dog-friendly
The National Trust Treasure House might be home to one of the finest collections of art, but it's the parkland that holds the real beauty. With 700-acres to play with, the whole family can let loose as you explore this stunning example of English landscaping. Ancient trees, some of which are close to celebrating their 1,000th birthday, make up the historic woodland, including a 'Beelzebub' oak that dates back to the 18th century, a lime tree that's at least 500 years old, and a selection of sweet chestnuts that could be anything up to 600 years old.
There are a few walks to choose from here, varying from 1 mile in length to a heartier 4 miles. The Pentworth ancient trees walk is the one to go for if you want pin-stripe patterns courtesy of the sun through the trees, while other routes take you past herds of deer that have lived here nearly as long as some of the trees. Whichever route you opt for, you're sure to find peace, tranquillity, and a steady supply of natural beauty.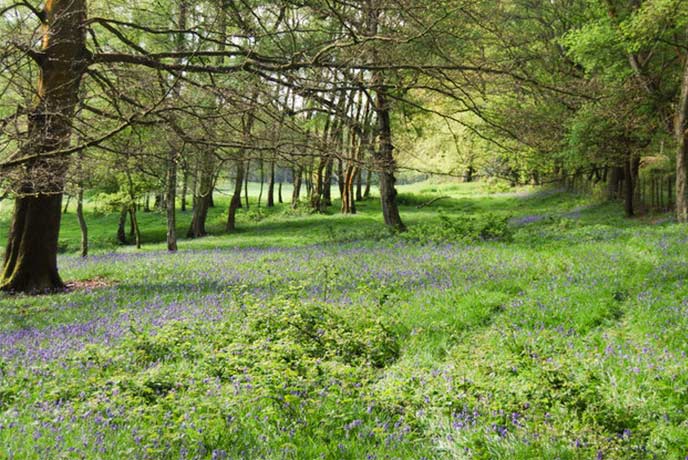 Best for: Tales of dragons and family-friendly paths
• Terrain: Generally flat with some slopes
• Facilities: Car park, dog-friendly
Nestled within the High Weald Area of Outstanding Natural Beauty, St Leonard's Forest certainly holds up its end of the bargain. The paths are nice and flat here, providing plenty of accessible routes the whole family can enjoy. Kids will love the mythical histories that surround the woods, including the fantastic story of the French hermit who fought and slayed a dragon here in the 6th century.
A criss-cross of shaded paths and trails can be found throughout the 700-acre park, each hiding its own hidden delights (and plenty of sticks for the four-legged visitors amongst you). An information board in the car park offers a brilliant over-arching glimpse at the routes you can take – we recommend taking a photo so you can carry the map with you as you go. Butterflies are frequent visitors to the woods in the summer months, adding a fluttering splash of colour to your adventure. You'll also find some great bridleways here, ideal for those wanting to turn their woodland walk into a dappled horse ride.
Sussex is full of sprawling woodlands and ancient forests waiting to be explored on foot. Browse our collection of cosy holiday cottages to find the perfect base for your rambling holiday, and embark on a sun-shaded adventure into the trees.