With the title of sunniest county in the whole of the United Kingdom, it's hard to imagine a better place to pull on the old walking boots and head out for a bracing walk or gentle ramble.
Take a leisurely stroll across rolling hills or a more energetic stomp along the dramatic coastline in West Sussex where you can expect stunning scenery and perfect pitstops every step of the way thanks to the wonderfully varied landscape.
Woolbeding Countryside – River Rother and Midhurst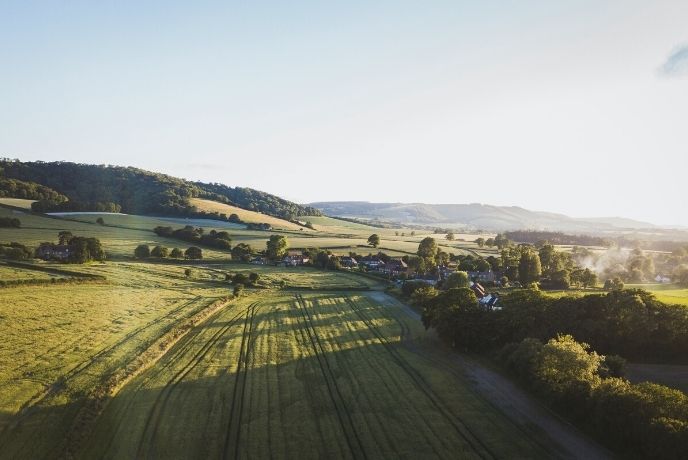 Best for: Riverside, woodland and wetland wandering
● Distance: 3 miles
● Time: 1 hour 30 minutes
● Difficulty rating: Easy
● Starts/ends: Midhurst High Street
● Parking: Town centre car parks
● Landmarks: Wheatsheaf & Half Moon pubs, Woolbeding church, Rother river
A route that you can begin and end at the pub – what more could you ask for? This gentle stroll isn't too challenging either, so it's ideal for those (semi) lazy days. What better way to burn off that hearty pub lunch you just devoured before setting off?
You'll start out at the Wheatsheaf pub in Midhurst town centre before heading up June Lane past the tennis courts and bowling green en route to the main road. Passing the Half Moon pub, you can then follow the marker and signpost for the Rother walk.
Welcome to Woolbeding Parkland! Stroll past cute grazing cows, sheep, and the river before heading through Whiphill Wood towards Woolbeding church and the lake. At the latter, look out for that magical streak of electric blue that may signify the presence of a kingfisher.
You can then meander along the stream to the wetlands, where you may witness damselflies with delicate, dark blue wings dancing among the reeds and rushes. The final leg will then take you past the river Rother, back towards the high street once more. An ideal opportunity for a pint at the Wheatsheaf, we think.
Saddlescombe Farm and Newtimber walk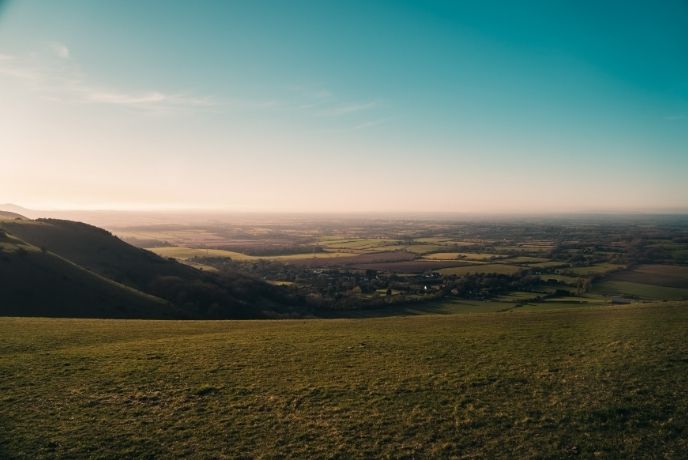 Best for: Fertile farmland and the Wildflour cafe
● Distance: 1.5 miles
● Time: 1 hour 30 minutes
● Difficulty rating: Moderate
● Starts/ends: layby opposite Saddlescombe Farm
● Parking: Newtimber Hill car park
● Landmarks: Newtimber Hill, Saddlescombe Farm, Wildflour cafe
Starting out at the National Trust 'Newtimber Hill' sign, this moderate walk takes you through Saddlescombe Farm and past an old chalk quarry before rewarding you with panoramic views over the Devil's Dyke valley.
After snapping and sharing away to your heart's content – or simply soaking up the scenery – skirt the edge of an ancient barrow before taking the grassy trail past a couple of dew ponds.
You'll then follow a cross ridge dyke downwards towards Saddlescombe Farm. During spring and early summer, you might be lucky enough to see the slope covered in its seasonal carpet of colourful wildflowers.
The final stop is the Saddlescombe Donkey Wheel, by which time a rest and refuelling stop at the farm's Wildflour cafe has surely been earned. Phew!
Slindon Medieval Park Pale and village walk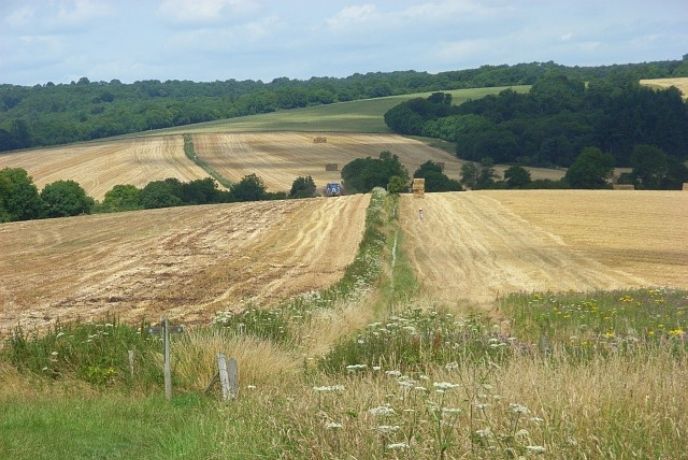 Best for: Meandering among medieval and Stone Age sites
● Distance: 1.8 miles
● Time: 1 hour
● Difficulty rating: East
● Starts/ends: Park Lane car park
● Parking: Park Lane car park
● Landmarks: The Pale, Stone Age beach, Slindon House
Slindon is a sizable South Downs National Trust estate, and on this walk you can go deer-spotting before wandering through this appealing little Sussex village. If you fancy a diversion, you can also meander off the track slightly to see pumpkins during autumn, or a raised beach dating from the Stone Age.
Leaving the car park, the first section takes you through woodland that's carpeted with bluebells in spring. Passing through a gap in 'The Pale' – a sloping medieval bank – a few white tree trunks act as a tribute to the Slindon Beeches that were sadly destroyed by a 1987 storm.
Next stop is a raised beach – though the sea is now miles distant – where Stone Age tools have been discovered. You can then pass the remains of a fire-struck regency tea house before passing imposing Slindon House. A downhill stroll on Church Hill will then lead you back to the car park.
Arundel and Swanbourne Lake Circular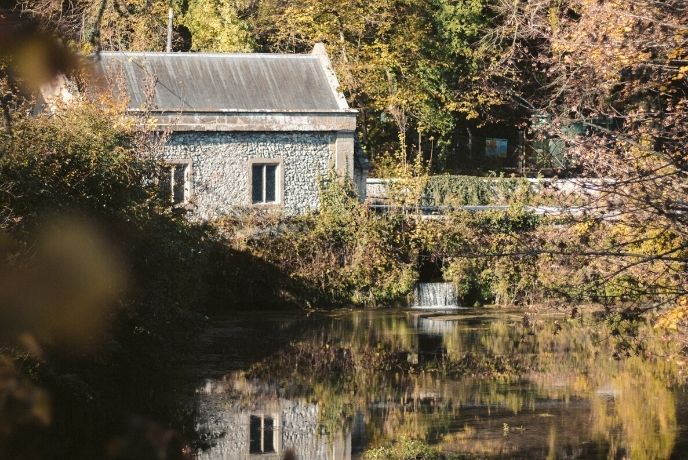 Best for: A lakeside walk around the best of Arundel
● Distance: 3.1 miles
● Time: 1 hour
● Difficulty rating: Easy
● Starts/ends: Arundel Park gates
● Parking: Arundel Park car park
● Landmarks: Arundel Park, Hiorne Tower, Swanbourne Lake, Arundel town centre
This pleasing walk takes you in a loop around Arundel, along a lakeside track frequented by local hikers and dog walkers. With a clutch of pubs to pick from in central Arundel, it would surely only be good manners to dine at one of the local hostelries at the walk's end!
A highlight of this walk is the fact that it takes in the picturesque landscapes of the Arundel area, including the local castle. So there are Instagrammable moments a-plenty.
Simply follow the route along a chalk path to take in Hiorne Tower, Arundel Castle (with its lovely gardens), Swanbourne Lake and Arundel town centre. Or if you fancy a diversion you can hire a boat to take on the lake or chance your hand at the putting green you'll pass en route.
Longmere Point – St Nicholas Church Loop from Emsworth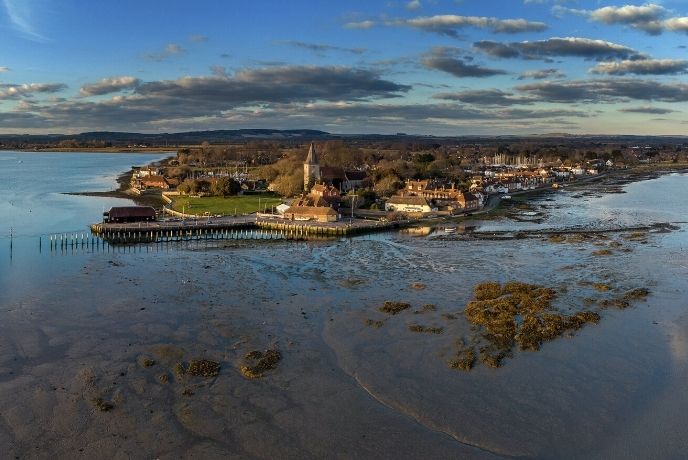 Best for: Following the coastal trail to an ancient church
● Distance: 8.3 miles
● Time: 3 hours 30 minutes
● Difficulty rating: Moderate
● Starts/ends: Thorney Road bus station
● Parking: Town centre car parks
● Landmarks: Chichester Harbour AONB, St Nicholas church
This moderate route takes you from central Emsworth past Chichester Harbour plus the grass-fringed beaches at Pilsea Island and Longmere Point, before passing by an impressive 12th and 13th century church.
If you love the coastline, this is surely the walk for you. It loops around the edge of Thorney Island, adjacent to the Chichester Harbour Area of Outstanding Natural Beauty, before ending at Grade I listed St Nicholas church. This dates back as far as medieval times.
Trail at Cissbury Ring – Chanctonbury Ring Loop from Washington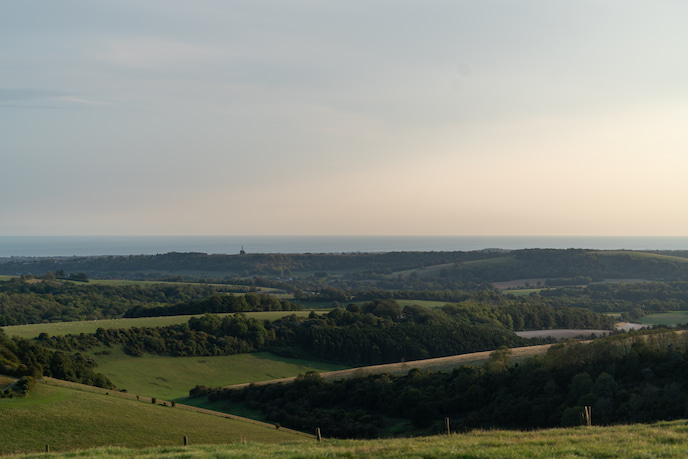 Best for: Stepping back in time to the Iron Age
● Distance: 7 miles
● Time: 3 hours 30 minutes
● Difficulty rating: Moderate
● Starts/ends: Bus stop adjacent to Bramber Road
● Parking: Town centre car parks
● Landmarks: Cissbury & Chanctonbury Rings, Washington village
This refreshing route takes in some of the finest yet lesser-known sights in Sussex, including historic Steyning, the Iron Age hill forts at Cissbury and Chanctonbury Rings, and Washington village.
First you'll follow grassy and woodland paths towards Cissbury Ring and then Chanctonbury Ring. Here you can admire the Iron Age relics from the hill forts that once kept watch over the South Downs region.
Opt to head to Washington for a quick (or lingering) drink at the Frankland Arms, where you can hole up in the beer garden for the afternoon during summer. Alternatively, head back to Steyning via farmland, Wiston House and the sweetly-named Mouse Lane. Aww!
If all this talk of walking has whetted your appetite for a Sussex style break, why not take a look at the cosy Sussex cottages we offer?
You can also check out some of the breathtaking walks in East Sussex to continue your tour of this stunning county.