If you love good food and glorious views, this guide to Michelin star restaurants in Sussex ticks lots of boxes. Covering Michelin star restaurants in both East and West Sussex, there are some seriously impressive eateries to be found close to the southern coast of England.
Whether seaside or South Downs is more your style, there are three Michelin star restaurants in West Sussex, located in Horsham and East Grinstead. The former is home to two – stylish Interlude and relaxed Restaurant Tristan – while the latter claims the grand Gravetye Manor as its very own.
Also covered are the Michelin recommended restaurants in Sussex. Our top tip is to get into any of these culinary beauties while you still can, before the awarding of their first star inevitably spells longer waiting lists and higher prices.
From a cosy, historic English Inn with South Downs views to a smart city eatery close to Brighton seafront or a family-run restaurant in bookish Arundel, these are the Michelin-approved places to dine while staying in the picturesque county of Sussex.
Sussex restaurants with Michelin Stars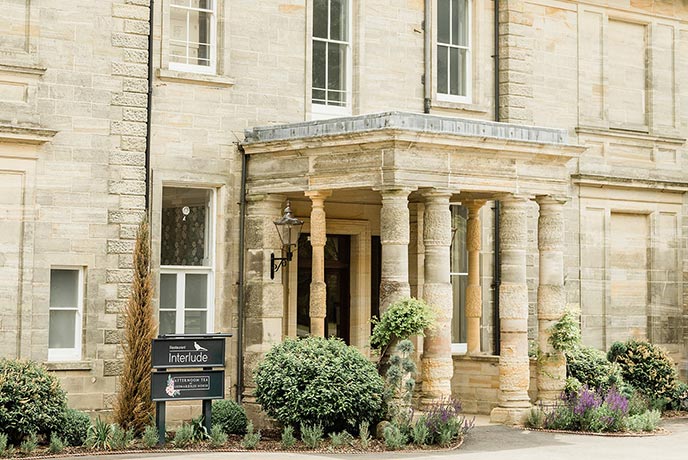 Leonardslee Gardens, Brighton Rd, Horsham RH13 6PP
One Michelin Star
If you're the sort of person who finds it hard to choose from the menu, Interlude could be the eatery for you. This restaurant in Lower Beeding near Horsham specialises in seasonal 14 and 19 course menus, so a visit is guaranteed to leave your taste buds feeling thoroughly satisfied. Dishes range from crowd-pleasing smoked scallops to more audacious snail fricassée.
The site is pretty special too. It's a renovated Italianate mansion that sits among 240 acres of gardens and lakes that are awash with blooming rhododendrons and azaleas every spring. If you spot something that looks decidedly antipodean bounding around outdoors, your eyes aren't actually deceiving you – it'll be a member of the resident wallaby clan!
The fact that the chef is South African is clearly reflected in the wine list, yet when it comes to food the focus is firmly on locally sourced fare. Set menus vary along with the seasons, making this one to revisit throughout the year.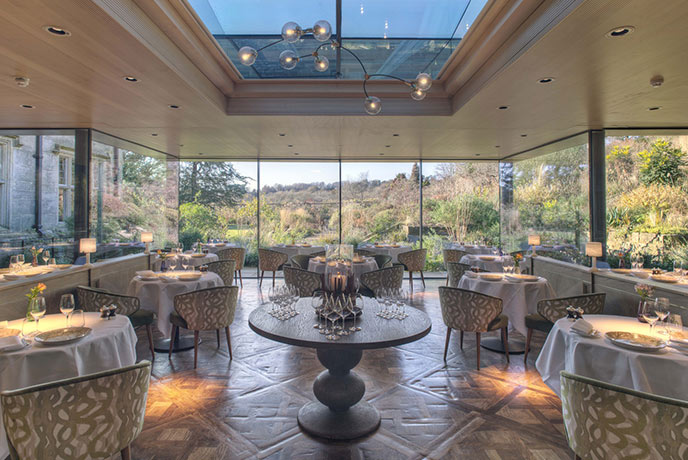 Vowels Ln, East Grinstead RH19 4LJ
One Michelin Star
Housed in a historic building on a 1,000 acre site, the setting of Gravetye Manor creates a dramatic atmosphere before you even step through the doors – let alone take a seat. Though the grand house dates from Elizabethan times, the cuisine is contemporary in style, combining gastronomic flair with the freshest produce from the on-site kitchen garden.
The food is also seriously Instagrammable, so you may want to resist diving straight in before you've snapped a quick pic. Tantalise your tastebuds with Dorset crab to start and delectable duck with swede, honey and lavender for main. Finish with a selection of Sussex artisan cheese and a scrumptious sweet treat. It's quite simply art on a plate, featuring skilful presentation, pretty flourishes and pleasing colour palettes.
The restaurant occupies a sympathetic, light-flooded extension, with lots of large windows so you can see out over the glorious gardens. If you want to dine out in style in Sussex, a visit to Michelin-starred Gravetye Manor is an absolute must.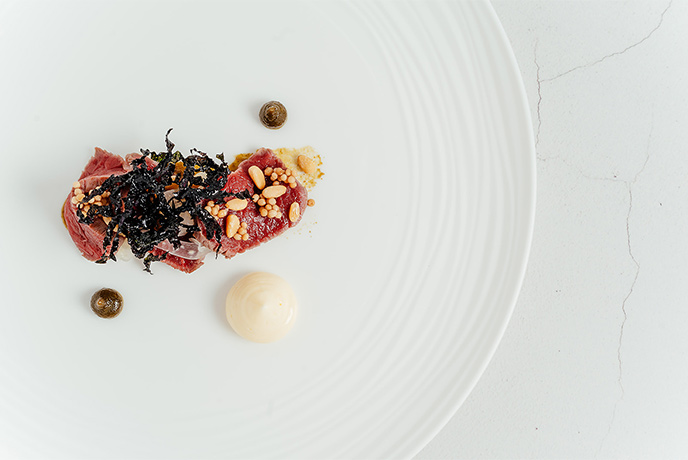 South Lodge Hotel, Brighton Road, Lower Beeding, Crabtree, Horsham RH13 6PS
One Michelin star
Situated in the heart of South Lodge, The Pass is flourishing under the skilful gaze of Ben Wilkinson, whose incredible efforts have earned the restaurant its first Michelin star. An intimate yet relaxed space, taking a seat at one of the high tables offers the chance to enjoy dinner and a show as the team of chefs set to work in front of you.
This open-plan layout combined with the ever-changing seven course tasting menu creates a delicious atmosphere of anticipation, excitement, and soul-quenching satisfaction as you taste your way through each carefully created dish. While the menu changes with the seasons – and the creative flares of the chefs – you can look forward to a myriad of flavours that build with each plate and bowl. Feast on the likes of venison with beetroot, kale, and red wine, Newhaven day boat turbot with asparagus, oyster, and Ridgeview sparkling, and Yorkshire rhubarb with ewes' curd, vanilla, and rose. Of course, dining your way through a mouth-watering menu can be thirsty work so why not duet your indulgent meal with the recommended wines – you won't find a more perfect pairing!
From the kitchen laid out before you to each dish artfully presented, The Pass is a delightful addition to the incredible Michelin starred restaurants in Sussex and is well worth a visit when staying in West Sussex.
Best Michelin recommended restaurants in Sussex
Michelin restaurants in East Sussex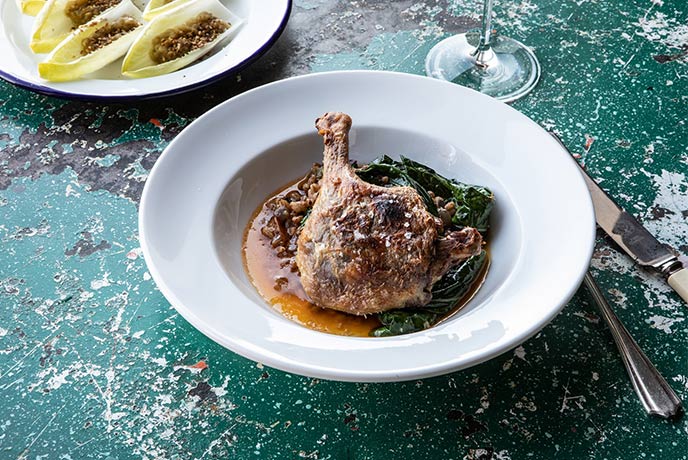 Dew Farm Dew Lane Peasmarsh, Rye TN31 6XD
Green Michelin Star
Situated on a 70 acre farm and wine estate, local and organic produce is the name of the game at Tillingham. The restaurant received the coveted Green Michelin Star this year for the way the estate is farmed to ensure no waste and no harm to the environment. Even the vineyard is 'biodynamic' – it may sound quite science-y but it essentially means that a sustainable and wholly organic approach is taken. The same care and attention is applied to their produce, plants, livestock and walled garden. It's about as ethical and ecological as it gets!
As you'd expect, much of the produce is from the farm or local areas. Stop by for lunch if you're after a more laid-back affair, where plates are served as they come from the kitchen. Or a more refined a la carte menu is available at dinner.
To start, indulge in tasty trofie with cavolo nero and pine nuts, or opt for something more adventurous with the devilled duck hearts and aioli on toast. For the main event, try the braised squid or the grilled beef onglet. Vegetarians can opt for the roast squash with cannellini beans, kale and hazelnuts.
Finish with a decadent chocolate ganache or a selection of Neals Yard cheese. To accompany your meal, Tillingham offers a hand-picked selection of wines from across the globe. Or to really embrace the local theme, try one of the options from their very own vineyard.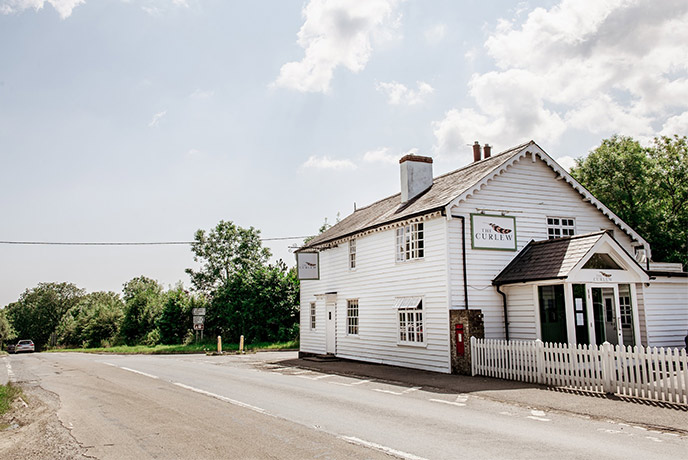 Junction Rd, Bodiam TN32 5UY
Housed in an old coaching inn, The Curlew's interior seamlessly blends classic touches like painted wood panelling in sage green with a mix of soft, sink-into dining chairs in neutral tweed, leather or racing green velvet. Jars of preserves and pickled eggs line the windowsills, a playful touch serving to highlight that it's all about the food here.
In fact those pickles and preserves are made on site, while The Curlew's own smallholding provides fruit and vegetables as well as fresh and cured meats from their pigs. There is also a focus on sustainability: single-use plastic products are shunned, while energy comes from renewable sources.
There's a large outdoor terrace for romantic summer dinners à deux or larger, more sociable gatherings. Food-wise it's all about dining in the most modern British style. Think venison tacos, wild rabbit tagine, and grilled lemon sole with a sea purslane butter. While outside the white clapboard exterior will bring to mind the coastal locations and colourful falling leaves of New England.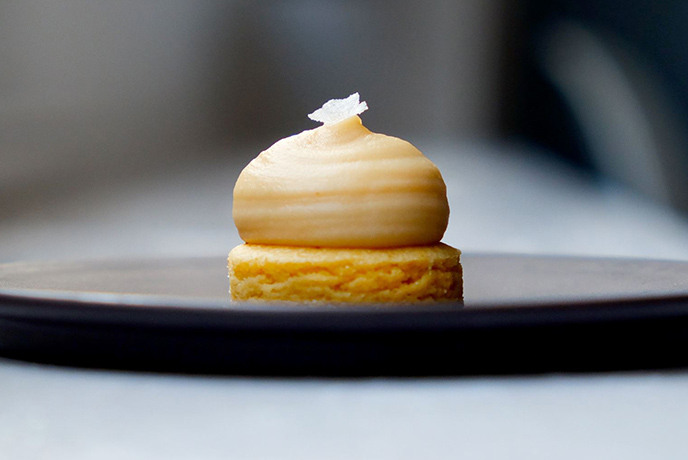 2 Gloucester St, Brighton BN1 4EW
If you love to feast on locally sourced fare, Isaac At provides a range of dishes based on Sussex produce, as well as going one better: the wine list stands out here because it consists of only English creations. Dishes range from beetroot tartare with elderberry capers to homely rolled chicken breast with miso glazed potatoes. Finish with honey poached parsnip and some sumptuous Sussex cheeses.
Located on Gloucester Street in Brighton, Isaac At has a bright, appealing dining room that buzzes with life. You can watch the youthful kitchen team at work via the TV screens provided, or perch at the counter for an even closer view.
Some forward planning is required here as you'll need to book a table in advance of your visit. With just eight dishes featured each day and room for 20 covers only, this Brighton eatery has an intimate, laid-back feel that will make you feel right at home while you sample what the restaurant proudly proclaims as 'Sussex on a plate'.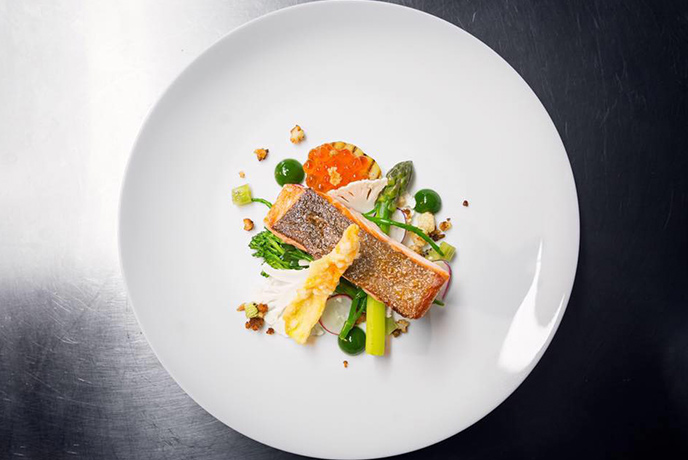 10 Upper Market St, Hove BN3 1AS
If you adore les fruits de mer, then you won't be able to resist booking into The Little Fish Market in Hove. The seafood theme is evident everywhere, from the location opposite a former Victorian fish market to the fact that the building once housed a fishmongers.
A set six course menu offers great value for money as well as the chance to try half-a-dozen of the chef's finest dishes – all prepared by his very own pair of hands, no less. The ingredients are the artist's materials here, leading the way from the ocean to pan to plate.
The restaurant can accommodate only 20 diners, giving it a cosy and exclusive feel. You can opt for a wine flight to accentuate each course perfectly if you like, and the set menu evolves with the changing seasons.
From down-to-earth options like egg and soldiers or freshly-caught cod to refined specialities based on oysters or wild prawns, the tasting menu is a feast for the eyes as well as the palate.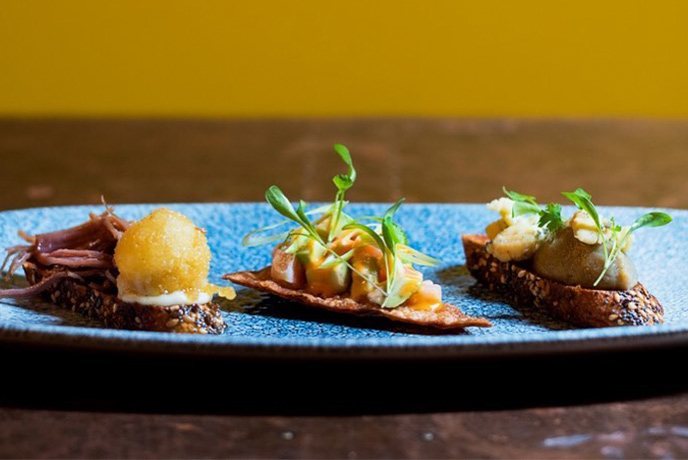 43-44 Marine Parade, Kemptown, Brighton BN2 1PE
Situated in a vibrant Kemptown basement, Amarillo is anything but dull. Thanks to its position on Marine Parade, this contemporary eatery benefits from the bright, coastal light that pervades via shuttered bay windows.
In fact it would be impossible to feel anything but joyful in such a place, decorated as it is with yellow walls and lots of tiny, twinkling fairy lights. The presentation of each dish is also a wonder; it looks so pretty that you may well feel barely able to grab that fork and dig in.
Only one tasting menu is offered at Amarillo, so bring your adventurous side and wait for your senses to be seduced by an appealing selection of incredibly appetising main meals and morsels. Whether it's a flavoursome venison tartare with smoked pine oil and jalapeño sauce or exquisite pan fried sea bass fillet with horseradish and dill dressing. With a Spanish influence, flavours here are at times bordering on the audacious, but in this case the chef who dares most certainly wins.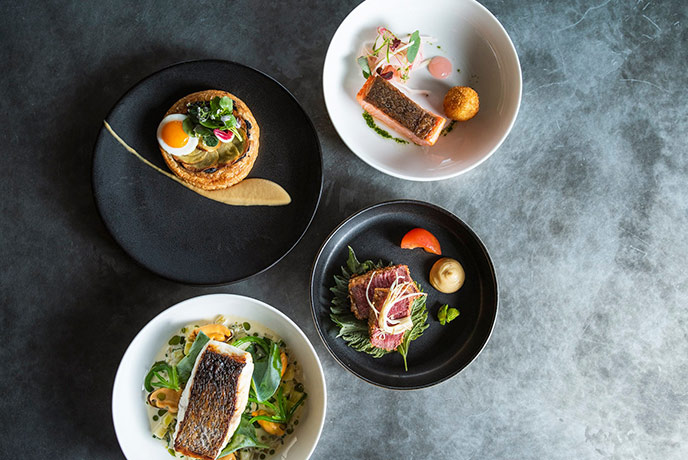 Alfriston, Polegate BN26 5TU
It would be well worth paying the Rathfinny Tasting Room a visit based on the unparalleled views alone. Vast floor-to-ceiling windows allow diners to look out over the green panorama of a beautiful vineyard. In summer, a spacious outdoor deck means you can even get right out there to drink in those vistas while relaxing with a post-dinner drink.
A trio of set menus awaits once you've taken in the sublime setting. Guests can pick between Garden, Land and Sea. Indulge in woodfired quail with offal kebab or turbot roasted on the bone with brown butter and mussel sauce. Or opt for the risotto primavera with spring vegetables, truffle, aged pecorino and bee pollen. Whichever you plump for, local, seasonal produce is the order of the day, and each dish is executed with both elegance and flair.
The vineyard isn't only for aesthetic purposes, of course. While admiring the landscape you can also sample a glass or two of the finest English fizz. It's produced from the very vines you can't help gazing at from the moment you set foot inside this sleek, high ceilinged space.
If you're going to be in the area, check out our guide to affable Alfriston in East Sussex.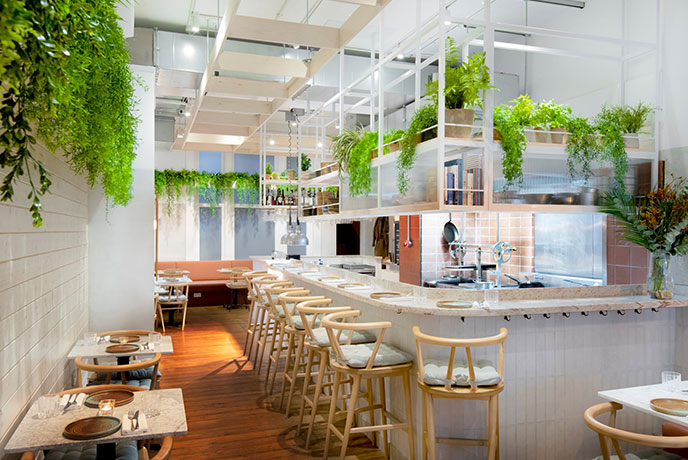 69 East St, Brighton BN1 1HQ
Book into Kindling and you can expect your taste buds to be set alight by the innovative, locally sourced food to be found within. Located on East Street, this eatery has an industrial-style interior abundant in bright white.
Stark, monochrome lines are softened by trailing greenery, terracotta tiling and warm wood flooring. You can opt to eat at the marble-topped counter or bag a cosy table of your own.
The ethos at Kindling is to supply delicious, environmentally responsible food that nourishes the soul as well as the body. As you might expect, there is also a focus on char-grilling, giving this restaurant a summery feel even during the dismal depths of a wet, British winter by the sea.
From plant-based fare, such as grilled pickled carrot or grilled king oyster mushroom, to succulent grilled meats and fish, such as venison shoulder or line-caught Sussex bass, Kindling is guaranteed to awaken your appetite for cuisine based on locally sourced produce. All washed down with a few sophisticated cocktails.
Discover more about this scenic part of the UK in our East Sussex guide.
Michelin restaurants in West Sussex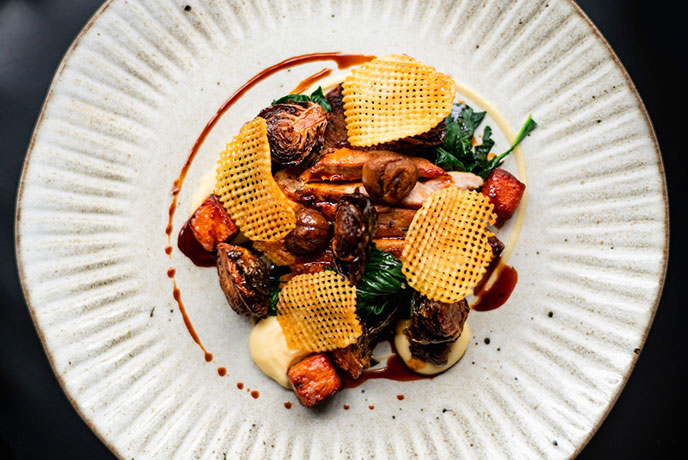 Muddleswood, Road, Hassocks BN6 9EA
Among the stunning scenery of the South Downs in Sussex you'll find The Ginger Fox, a clubby, pubby kind of place with original panelled windows, button-back sofas, plenty of natural wood and subtly striped velvet armchairs.
A magical, playful feel awaits from the moment of arrival, when you mustn't forget to spot the thatched ginger fox running riot across the rooftop while chasing a pheasant. The laid-back beer garden is also a delight, with gently humming bee hives, a kids' play area and a vine heavy with ripe fruit by late summer. It's the perfect place to unwind after a bracing walk in the West Sussex countryside.
The menu contrasts traditionally hearty fare against more delicate, finely balanced options. Try the braised pig cheek or the smoked mackerel rillette to start, followed by a 35 day aged rump steak or hake fillet. Vegetarians will love the vegetarian tasting plate that's bursting with flavours and fresh ingredients.
Do make sure you leave sufficient space for sampling the show-stopping desserts. For a selection of modern European-style dishes served with a side helping of breathtaking South Downs views, the Ginger Fox is simply unbeatable.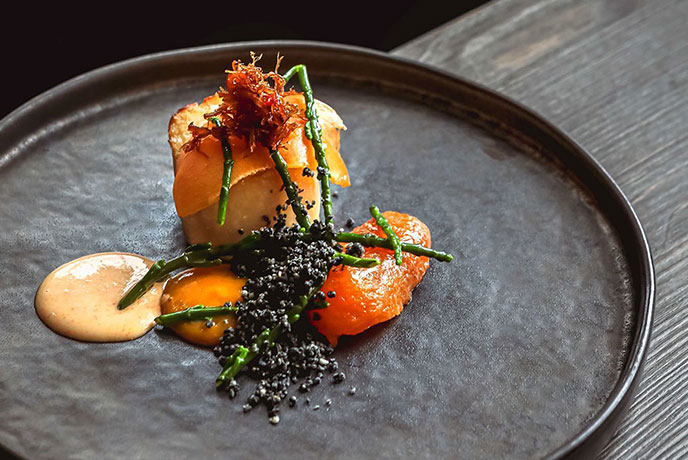 Park Rd, Slaugham, Haywards Heath RH17 6AQ
This Edwardian country pub in picturesque Slaugham near Haywards Heath is a leading light in terms of fine food and genuine hospitality. It's relaxed enough to mean that you can still sup a pint of ale at the bar, yet elegant enough to ensure that most of its business these days centres on food.
Visit at lunchtime and you can savour a good value set menu, or book your table for the evening when the focus shifts to the impressive tasting menus. Dishes include delightful dressed crab with lobster cream and red meat radish, or venison loin with ragout, salsify and passionfruit. Whenever you time your visit to Heritage, you can expect the finest seasonal ingredients presented as creative, flavoursome dishes.
Within, the feel is contemporary yet traditional, with exposed brickwork, polished wood floors, marble-topped tables and pops of bold colour picking out the skirting boards, accent walls or bar stools. At Heritage, it's all about relaxed luxury, superb service and outstanding food.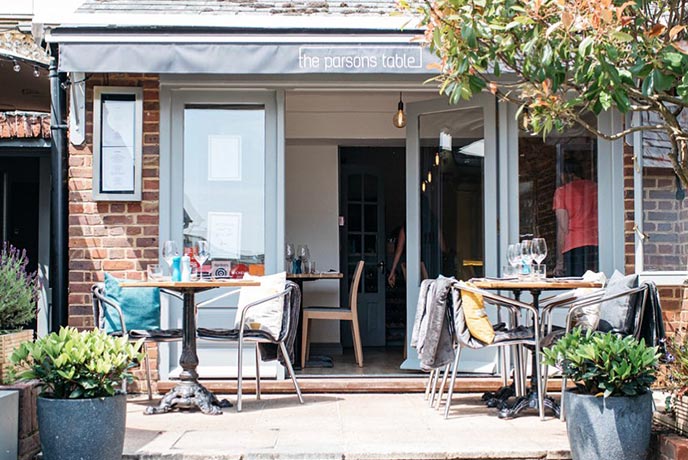 2 & 8, Castle Mews, Tarrant St, Arundel BN18 9DG
For British fare with more than a dash of French culinary influence, The Parsons Table in the smart town of Arundel is the place to go. This impressive little eatery is smoothly run by the experienced couple at the helm, and the food is every bit as fresh and bright as the coastal-style, light-filled interior.
Take a seat at a blond wood table or on a cosy bench upholstered in kingfisher blue while you await the arrival of the main event – a range of colourful, flavour-packed dishes presented on marbled or rustic-looking platters. Will you choose the smoked salmon ravioli or the heritage beetroot and goats curd to start? For the main, is it a hearty pork chop or the locally sourced fish of the day? Don't forget to leave room for one of several mouth-watering desserts.
Everything about this place is personal. It's named for the husband and wife team who own it, and it shows. Both the food and the service are unpretentious, yet very skilfully judged indeed.
While you're in the area, be sure to pay a visit to Arundel Castle, one of many amazing castles in Sussex.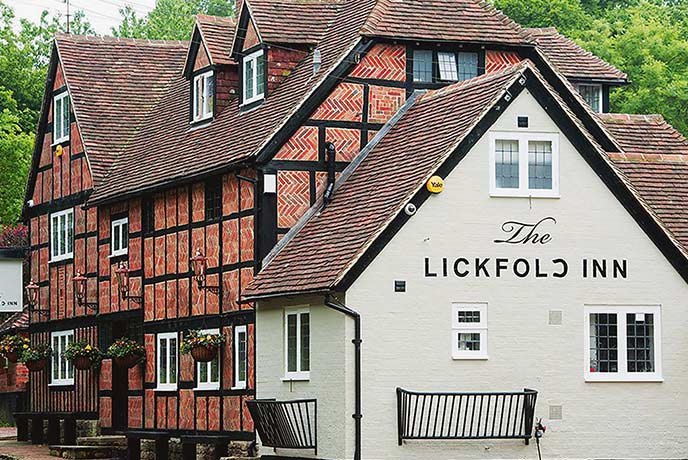 Highstead Ln, Lickfold, Petworth GU28 9EY
Nestled in the heart of the beautiful South Downs, Lickfold Inn is a grade II listed pub with a traditional country inn feel and a friendly team. Whether you like an award-winning ale by the fire or fine wine and dining, Lickfold Inn does both impeccably well. The lounge-bar caters for the casual diner, offering up small plates from the kitchen. While the first floor restaurant provides a more formal affair.
The menu focuses on seasonal British cuisine with a European twist, always using locally sourced ingredients. Lickfold Inn caters well for all diners, with a compelling range of vegetarian, vegan and gluten free options available.
Kick things off with smoked pig cheek sausage roll, Moules Mariniere, or wild mushroom and truffle vol au vent. For the main course, meat lovers will relish the classic confit pork belly or the 28-day aged fillet with mille-feuille chips. Fish fiends can tuck into roasted cod loin or seafood bouillabaisse, while vegan diners can start with vegan scallops then a scrumptious celeriac steak.
It's not over yet – there is an extensive dessert menu featuring all the fan-favourites, from sticky toffee pudding to spiced orange panna cotta. If you're in the area on a Sunday, make sure you stop by for a hearty pub roast at this Michelin recommended restaurant in the Cotswolds.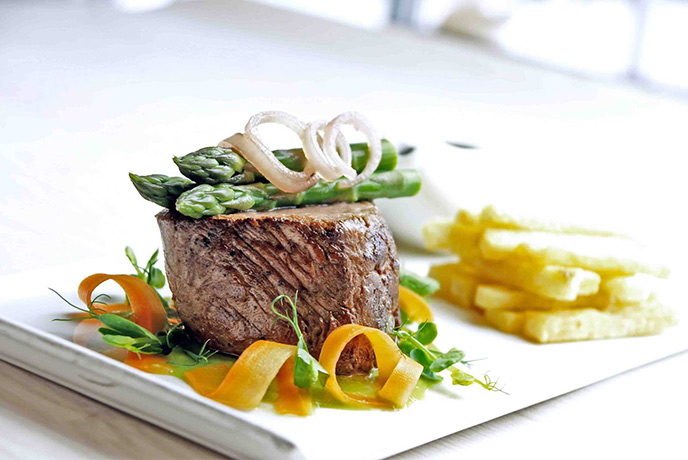 Arundel Road, Tangmere PO18 0DU
Cassons is a warm and welcoming restaurant with a rustic interior. Exposed brick, wooden beams and classic furnishing make it feel like a home from home. The real star of the show is the exceptional culinary offering. The passion of the team at Cassons really shines through in both their friendly service and exquisite cooking.
Discover innovative dishes with a fun and imaginative twist, featuring a number of seafood and game specialities. Start with ballotine of wood pigeon or gin cured sea trout, followed by sesame crusted cod loin or Iberian pork pluma. Vegetarians will love the millefeuilles of goat's cheese and heritage beetroot croustade, while vegans can tuck into the open lasagne of celeriac and wild mushroom ragout.
Finish with a quartet of desserts if you can't decide which of their delectable sweet treats to choose. Cassons is the ultimate place to enjoy exceptional food in a relaxed atmosphere – all at a reasonable price.
If this guide to Michelin starred and recommended eateries has whetted your appetite for a stay in Sussex, why not take a look at the range of stylish and character-packed Sussex cottages we offer across the county?