Lined with beaches and enjoying more than its fair share of sun (it's actually one of the sunniest counties in England), Sussex is a supremely glorious place to visit. This temperate climate has ensured the gardens in Sussex have the very best conditions in which to grow, blossom, and bloom, providing some seriously spectacular spots for a Sunday stroll or weekend picnic… and yes, a cream tea or two.
As you embark on your horticultural tour of Sussex, you'll discover some beautiful National Trust gardens, castles with ancient topiaries, and even a woodland walk, providing endless options for days out and about. So, without further beating around the perfectly pruned bush, here are some of the best gardens to visit in Sussex…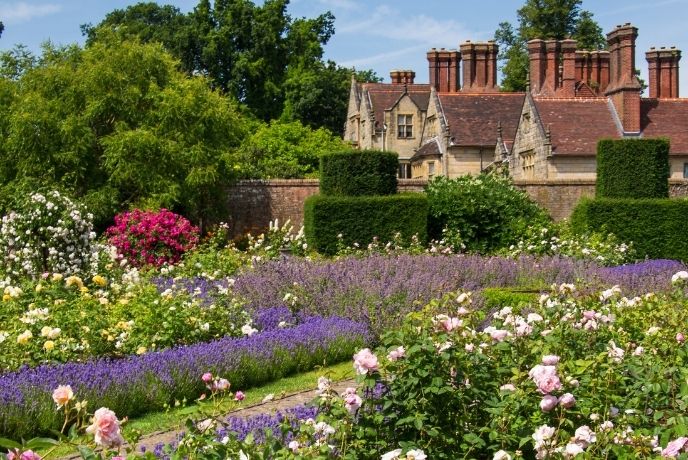 While you will find some beautiful floral displays at this award-winning garden near Haywards Heath, Borde Hill is famed for its trees more than its flowers. This green thumb's paradise is home to the best private collection of champion trees in Britain as well as one of the most comprehensive collections of trees in the world, so you know you're barking up the right tree with this one. Families with the dog in tow will love these spacious gardens packed with incredible sights and smells that are sure to entertain every age and species.
Stroll through Warren Wood and Stephanie's Glade as the landscape comes alive in spring and summer before stopping at one of the many seating areas surrounded by aromatic serenity. Don't worry if the kids aren't particularly nature-minded as they'll find balance bars, climbing frames and a zip wire in the adventure playground as well as Easter egg hunts and Halloween trails.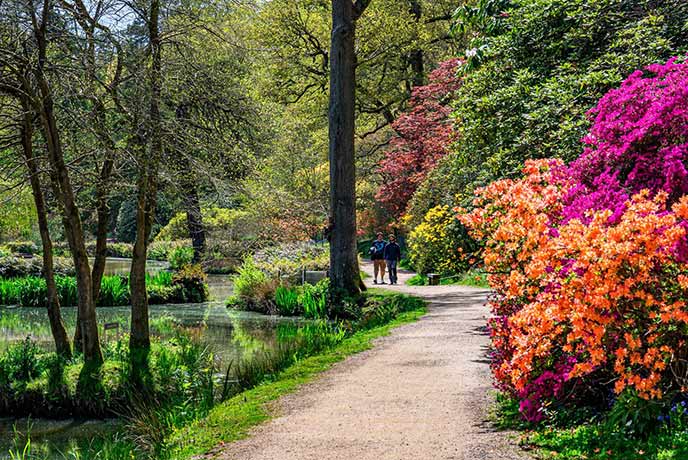 If you're looking for somewhere with a bit (and by bit we mean a whole lot) of space, then the 240 acres at Leonardslee Lakes and Gardens should do it. While the seven stunning lakes and 10 miles of sweet-smelling paths through gardens and woodland are a big draw, the biggest pull to this Sussex garden has to be the unusual method of keeping the grass cut… Yep, these gardens are kept in line by a group of hungry wallabies alongside the more common deer and wildfowl.
After you've finished cooing over the unexpected Aussie residents, there are a few other unique attractions to capture your attention. A fascinating miniature village has received worldwide acclaim while the Bonsai courtyard continues the theme of small greatness with its collection of perfectly formed, gold-winning tiny trees. If you visit at Christmas, you'll be treated to a boggling display of light and colour as Leonardslee Illuminated turns the gardens into an enchanting world the whole family will enjoy.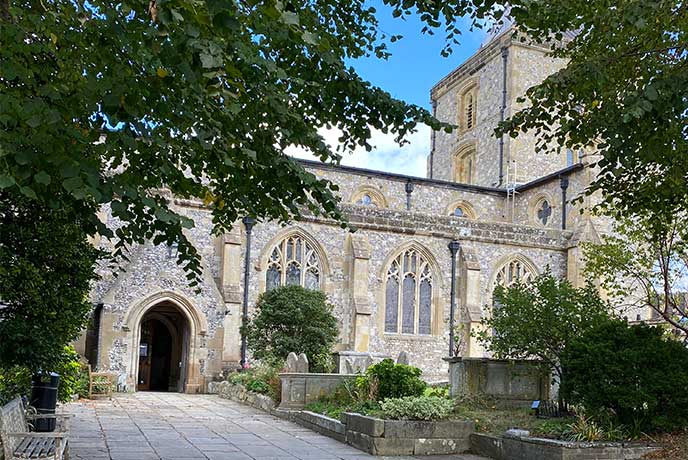 When it comes to an impressive backdrop to a garden, you don't get much better than a castle, which is why Arundel Castle will always be on our list of top gardens in Sussex (and West Sussex if you want to get even more specific). Mixing tropical with traditional English, you'll find many interesting surprises as you amble around these ancient grounds. From the fabulously quirky Stumpery (we're in love with that name by the way) to the deliciously warm glasshouses with their happily flourishing chillies, grapes and lemons. After your aromatic tour of the rose gardens and the white garden, head inside for a nose around the castle itself before settling down in the café for a fresh, castle-made scone – don't mind if we do!
You can continue your scenic wanderings with the nearby Arundel circular walk, one of the many pretty walks in West Sussex followed by a well-deserved pint at one of the cosiest pubs in Sussex, The George.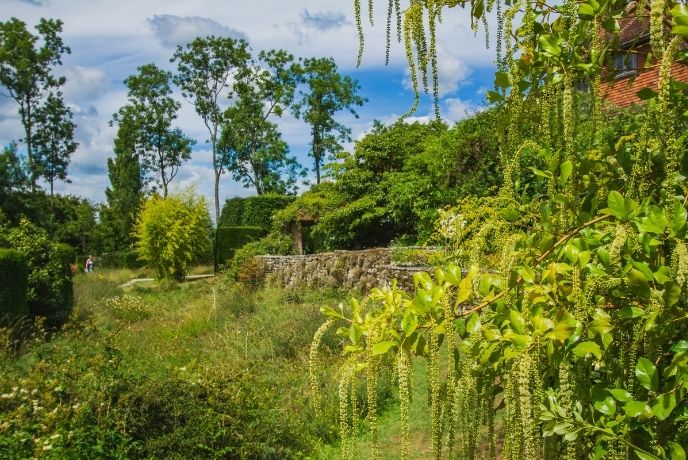 The family home of the late, great, and green-thumbed Christopher Lloyd, the Great Dixter Gardens are a beacon for horticulturists everywhere. Nestled in the beautiful East Sussex countryside, Dixter House is completely surrounded by its famous gardens – and with 19 in total, each with its own character and charm, there is certainly enough to fill an afternoon jaunt or two. And if you fancy continuing your tour on foot, the Saxon's Way is close by and offers an excellent place to stretch the legs with a walk in East Sussex.
Marvel at the bizarre, leafy masterpieces in the peacock garden and topiary lawn, delve into the tropics in the exotic garden and discover where the horse pond gets its name from. If you want to take a piece of this gardener's paradise home with you, a visit to the nursery is a must where you can pick up a variety of plants from hand-picked seeds to more established potted prizes.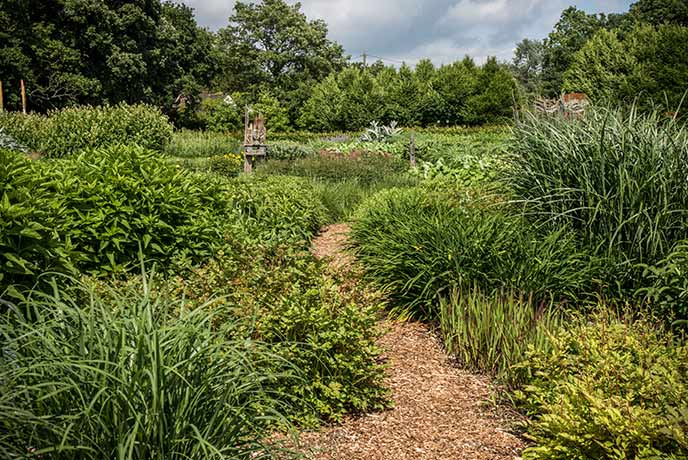 You might hear prairie and picture expansive grassland out in mid-western America, but at the Sussex Prairies Garden you'll find rich floral borders interlocking in a stunning arc that really make you jealous of the birds getting to enjoy the view from above. Spreading over eight acres of intricately placed plantings and encircled with mature oak trees, Sussex Prairies is an exceptional amalgamation of formal and natural landscapes. The best part is that you're actively encouraged to step off the beaten track and into the flower beds where you can really appreciate all the different colours, shapes, textures, and scents.
Don't worry if you rock up to this picnic-worthy garden without any tasty morsels to enjoy. The teashop here is full of takeaway teas, coffees, and wonderfully moreish homemade cakes and ice cream, which you can whisk away to your favourite corner of the gardens to enjoy in blissful harmony with nature.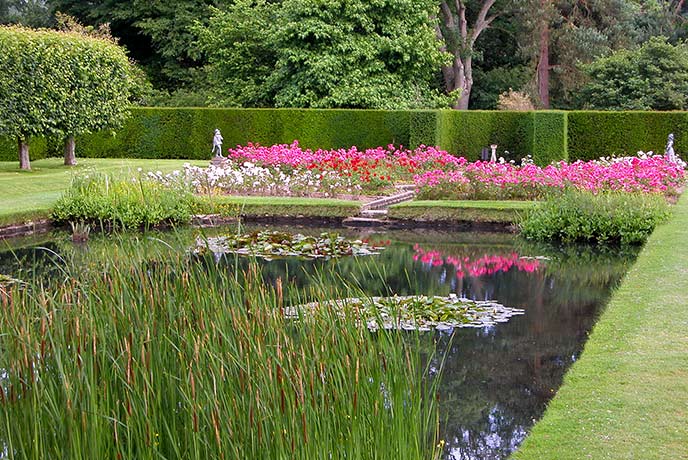 Home of the great writer Rudyard Kipling, it's safe to say that Bateman's is a truly storybook home and garden – for many reasons. Before you even get close to the centre of the estate, acres and acres of beautiful Sussex countryside and woodland provide endless twists and turns of English beauty. When you get to the centre, you'll find 12 acres of rose gardens, orchards, wildflowers and pretty lawns, which are just calling for a good game of croquet.
Special mention goes to the rose garden, which was designed by Kipling himself after he was awarded the Noble Prize in Literature in 1907 and includes a lovely water feature and pond alongside rows and rows of roses that fill the air with sweet smells and the buzzing of bees. Dogs on short leads are welcome here so why not pack up the pup for a garden wonder that's just so.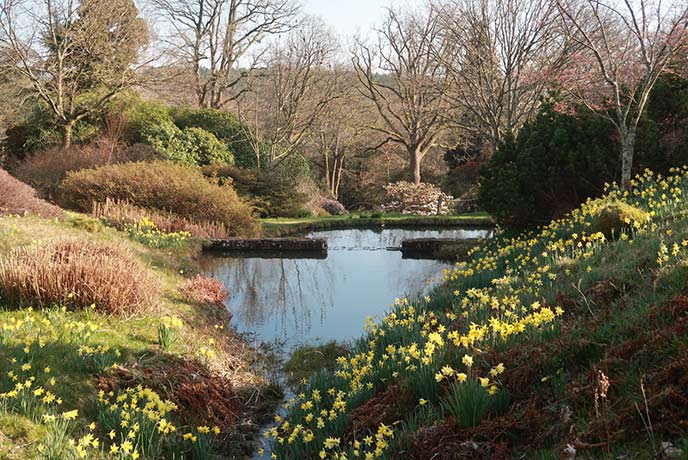 For all the modern technology we have access to, High Beeches remembers its roots and prefers a more traditional approach to its garden maintenance. Heavy horses from The Working Horse Trust harrow the wildflower meadow each year while the Hayward Tyler Hot Air Engine can still be seen on certain days throughout the year pumping away as it has done for over a century.
Other noteworthy residents of the woodlands and water gardens here are the coastal redwoods that make up the garden's Silent Space, a shaded area you can escape to for some quiet reflection away from the hustle and bustle of everyday life. Of course, you can always create your own little silent space at any point around the gardens. Just plop yourself down and take a moment to just be.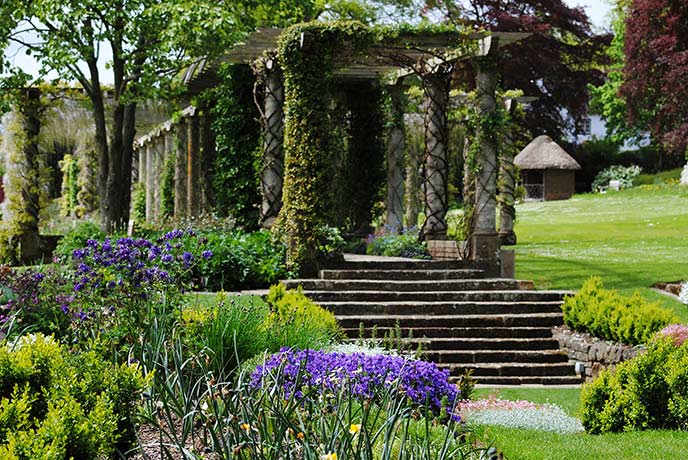 Full to overflowing with interesting features for visitors (of human and insect varieties), the West Dean Gardens is another stunner that ensures your day is well and truly immersed in all the sights, sounds, and scents of nature. The impressive 100-metre-long Edwardian pergola is particularly stroll-worthy with roses, magnolias and honeysuckle from pillar to post. It's then on to the open-air amphitheatre where superb theatrical performances are held in the summer months or the supremely beautiful sunken garden where it's easy to get lost in the moment surrounded by the gradually ascending displays.
As you approach the spring gardens and pond you might notice something a little different about the trees there… not all of them are real! Yep, this picture-perfect corner is home to two rather spectacular fibreglass tree sculptures that were created by Edward James. Giving everlasting life to two trees that were lost to disease and old age, the sculptures are a fascinating and wholly unique sight amongst the natural beauty of the gardens.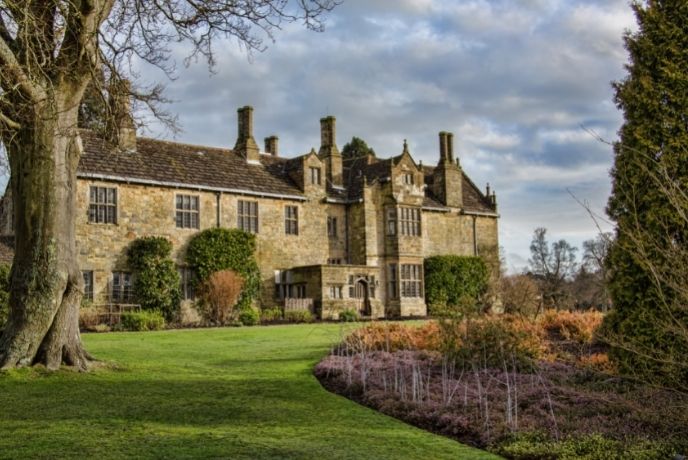 Sister to the Royal Botanic Gardens at Kew, Wakehurst offers a wild alternative in the heart of Sussex with over 500 acres of plants to enjoy. While there are lots of exquisite displays to satisfy the part of you that longs for aesthetic order, a detour through the rock walk will give you a whole new appreciation of what it is to be beautiful. Gnarly roots and rocky outcrops create an ethereal world and unique hiking experience, some of which date back over 140 million years – and we thought we looked good for our age!
When you feel like returning to this century, you can point your feet in the direction of the mansion gardens, which hold five intimate landscapes to explore, each coming alive at different times of the year from the walled garden that blooms in spring to the quiet peace of the winter garden.
Is your green thumb itching to explore the gardens of Sussex? Explore our lovely cottages for the perfect roost.