Pembrokeshire is part of west Wales and consists of 186 miles of stunning coastline and over 50 gorgeous beaches. Haverfordwest is the county town and St Davids is the city. It doesn't matter where you are in Pembrokeshire, you will always be treated to some great views and plenty to explore. Fun fact: Cornwall used to be called 'Little Wales' due to it's similarities to this Welsh county across the water. Equally pretty counties but a distinct difference between the local accents!
A quick history of Pembrokeshire
Pembrokeshire, as it is now known, has been around forever, well about 70,000 years at least. So it is no surprise that prehistoric and Neolithic remains are being discovered. While there is little mention of the Pembrokeshire area during the Roman period, we do know that the Vikings raided the area and set up trading posts at Haverfordwest, Fishguard and Caldey Island before the Normans turned up.
Fast forward to 1457 and Henry Tudor was born at Pembroke Castle (built in 1090). Henry also stopped off in Cardigan to rally support for his battle against Richard III in 1485, of which he won and became Henry VII. The Elizabethan Era (1558-1603) renewed Pembrokeshire's prosperity with the return of agriculture, mining, and fishing.
Moving onto the 20th Century, and Pembrokeshire had a role in both World Wars. Milford Haven became a Naval base due to German U-Boats off the coast in the area, and Preseli Hills became a popular spot for military exercises.
Within the National Park in Pembrokeshire lies Britain's smallest city, St Davids. The Cathedral has been around since the 12th Century, and the Nave is the oldest surviving part of it. Named after the patron saint of Wales from the 6th Century, the area has been a place of pilgrimage for many centuries. William the Conqueror visited in 1081, recognising St Davids as a holy and respected place before the cathedral was built.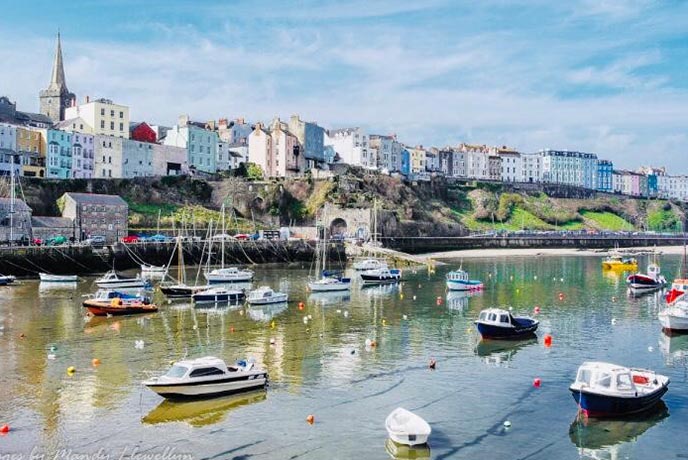 Tenby has been another strategic location throughout history. Used as a lookout location when there was the threat of the Spanish Armada and Henry VII hid in Tenby before his exile. More recently though Tenby was very popular with the Georgian's and Victorian's as the town was renowned as a health resort and centre for botanical and geological study.
Top beaches in Pembrokeshire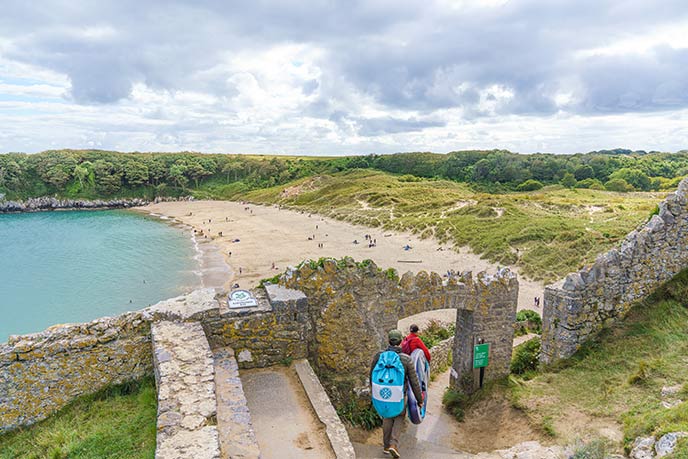 You're spoilt for choice when it comes to beaches in Pembrokeshire with over 50 scattered along the county's beautiful coastline. The Sunday Times' 'Best Beach 2019' went to Castle Beach in Tenby. At low tide St Catherine's Island can be reached from the beach, though you'll have to keep an eye on the tide to make sure you don't get cut off by the incoming water. There is a seasonal dog ban on Castle Beach.
Another fabulous beach is Freshwater West, near Castlemartin. Dog friendly all year round and super sandy! It is a hot spot for surfers and if it looks familiar to you that's because it was featured in Harry Potter and the Deathly Hallows (where Bill Weasley and Fleur Delacour lived in Shell Cottage) and the Ridley Scott version of Robin Hood. To find out more about the best beaches to visit (with or without the dog), check out out top beaches in Pembrokeshire blog.
Popular towns
Haverfordwest
Haverfordwest is the county town of Pembrokeshire with all the main transport links going out from it. The castle in Haverfordwest was built in 1120, though none of the original building remains and what you see today was built in the 13th Century. The castle has dominated the town since it was built and continues to, to this day. There is a farmers market every Friday and lots of your usual high street shops in town.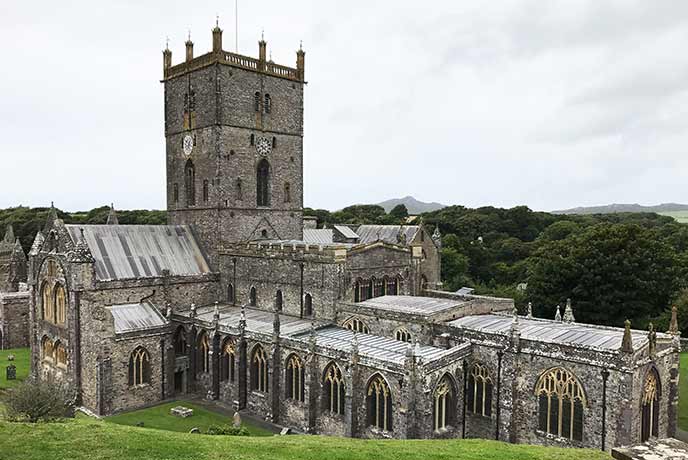 St Davids is the smallest city in Britain with a population of less than 1,500. It may be small but it does have everything you need. There is a particularly good shop called St Davids Food & Wine. They make some delicious sandwiches which are perfect after a morning of exploring the local area. If you've forgotten your swimmers or in need of a bodyboard, Belmont is the place to go. When it comes to sampling the local beers and food, The Farmers Arms provides both and will leave you wanting to come back for more! Booking is recommended. We also recommend Bishops, The Cross, and The Sloop & The Shed Bistro at nearby Porthgain. Boat trips to the bird islands, sailing from St Justinian's, can also be booked from St Davids.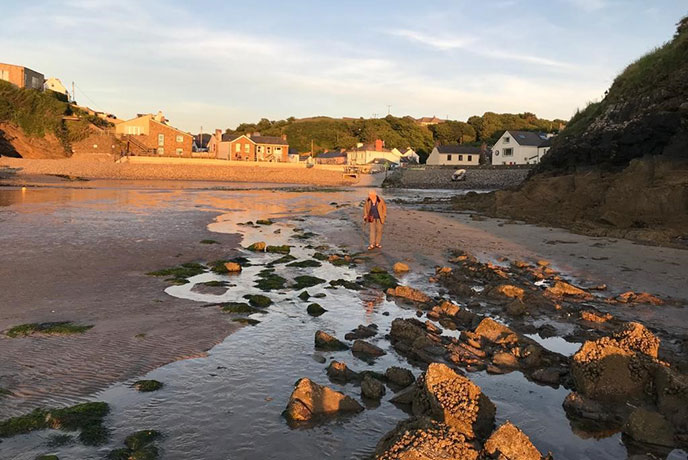 A popular picturesque old fishing village with a sandy beach and an excellent choice of pubs. We recommend The Swan Inn, The Castle and The St Brides, all of which serve a good choice of freshly prepared food, including fresh fish and seafood. If you're looking for something lighter for lunch Corner House Café is brilliant. They serve freshly baked artisan bread, some delicious desserts and the best Pembrokeshire ice-cream. Next to Little Haven is Broad Haven. The beach there is popular with water sport enthusiasts and families. Haven Sports offer hire facilities for wet suits, surfboards, body-boards and kayaks.
Dale is an unspoiled village in the heart of the Pembrokeshire Coast National Park. It has a lovely shingle beach and if you are interested in kayaking, sailing or windsurfing then why not give it a go here? There are lots of other water-based activities you can try too. After a refreshing dip in the sea, head to The Griffin for a well-deserved pint and some super tasty food. Check before you arrive as their opening times vary during the winter. Dale is also said to be the sunniest spot in Wales…
Things to do in Pembrokeshire
There is so much to do in Pembrokeshire that we would be here all day if we were to list everything, so here are our top recommendations.
Walking the Coast National Park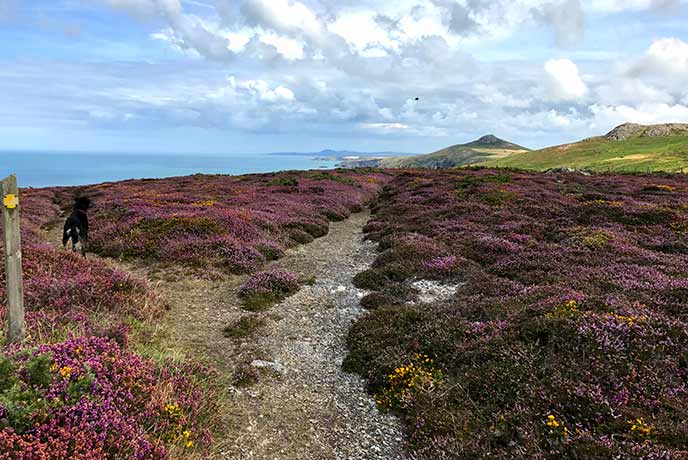 The National Trust owns 60 miles of the Pembrokeshire coastline, including the St Davids Peninsula. All of the coastline in the county is stunning and there are so many walks that you can go on in the area. One that we recommend is around the Dale peninsula. It is about six and a half miles for a complete circular walk and has some truly spectacular views. To find out a bit more about walking the coast National Park click here to read our blog. To find a walk that will suit your ability we recommend Walking in the Park.
The Smalls
Apart from walking the stunning Welsh coastline, why not visit The Smalls? Off of St Davids Head and 35km to sea stands the 41m tall lighthouse. The current lighthouse was built in 1861 with the helipad being added in 1978. You can visit the lighthouse, weather depending, but it is not the easiest to get to. A few boat operators take trips out to it, so if you catch it on a good day, we highly recommend the trip.
Spend the day exploring the castle that Henry Tudor, to then become King Henry VII, was born in. Having stood against many sieges, this castle is rich in history, and has many interactive exhibitions for the whole family to get involved with. Head along to the castle for a wonderful day of immersing yourself in history.
Open to anyone, whether you have never ridden before or are a pro, give one of their trips a go. Gallop (if you're happy with galloping) along the beach and explore the coastline on horseback. Being guided by someone who knows the area like the back of their hand, you will be in very safe hands and will be shown the wonderful Pembrokeshire Coast Path from a new angle.
Theme parks in Pembrokeshire
If you're after something slightly different and want to go to a theme park then the south Pembrokeshire will be able to sort you right out. There is Oakwood, Heatherton Sports Park, the Dinosaur Park (check opening hours before you go), Manor Wildlife Park, and the multi-award-winning Folly Farm. There will be something for everyone at each of these theme parks, and will make for a super fun day out!
So if a holiday in Pembrokeshire sounds like something up your street, why not check out our fabulous holiday cottages in Pembrokeshire?