Perfect for escaping the hustle and bustle and disappearing amongst emerald tunnels for a while, the beautiful array of woodland walks in Pembrokeshire will leave you spell-bound. From the first flourishes of spring to the golden blaze of autumn, these tranquil settings provide year-round havens for nature-lovers, amblers, and tranquillity seekers of all ages.
Canaston Woods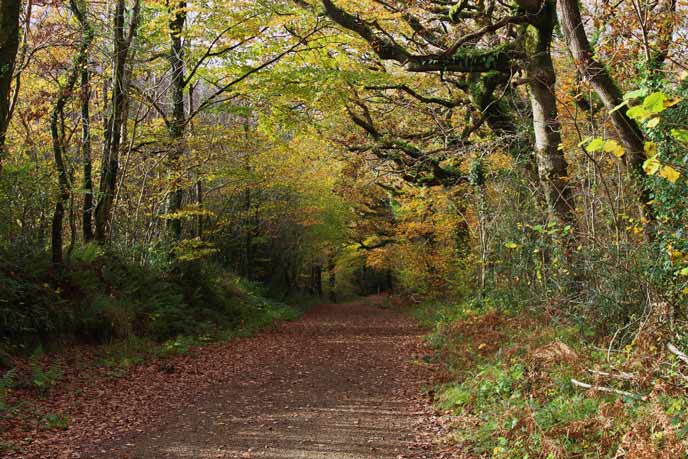 A picturesque oak and beech forest, the 420-acre Canaston Woods near Narberth sit on the upper reaches of the Daugleddau estuary within the old Slebech Estate. Criss-crossed by copious trails, the main path through Canaston Woods is known as the Knights' Way. Imprinted with the footsteps of time, the Knights' Way was once used by ancient pilgrims travelling between St David's Cathedral to the north west and the coastal village of Amroth on the south east coast of Pembrokeshire. A trip to St Davids in Pembrokeshire is always a must and is one of our top places to visit in Wales.
One particularly pleasant 5-mile circular walk starts and ends at Canaston Bridge and includes visits to the medieval chapel of Mounton and the old Blackpool Mill. As you walk around the woods, keep your eyes peeled for the abundance of wildlife species that make themselves at home between the wood's scattered trunks. If you're lucky you might see kingfishers, herons, foxes, owls, woodpeckers and even otters.
Colby Woods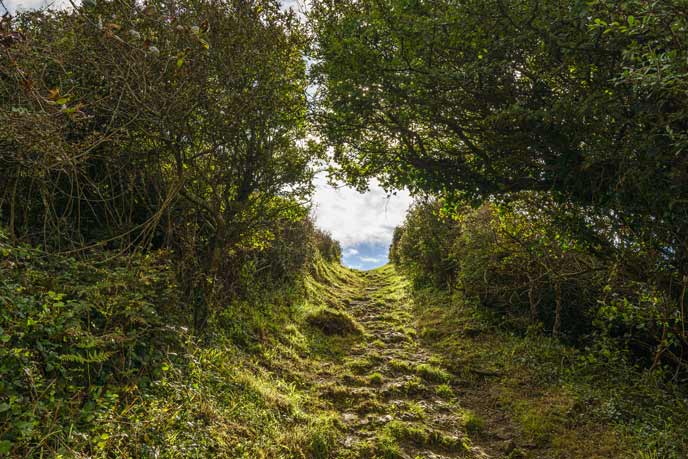 Enjoy the gorgeous woodland setting and secret garden of Colby. Set within a hidden valley near to the sandy swathes of Amroth, Colby Woods is a real haven with a surprising industrial past. Full of allure, a visit to the area will reveal a plethora of amazing woodlands walks, unique flora and fauna and all sorts of play opportunities for children with rope swings, den forts and sometimes free pond dipping kits too.
If you can't wait to stretch your legs, there lots of different trails that you can take around Colby's woods and gardens. In spring, bluebells take centre stage along with crocuses and daffodils, while in summer, the walled garden pops with colour and the scent of a thousand blooms. When you've walked all you can walk, there will be no better way to round off your adventure than with a picnic in the wildflower meadow. Just remember to bring some treats!
Gwaun Valley Woods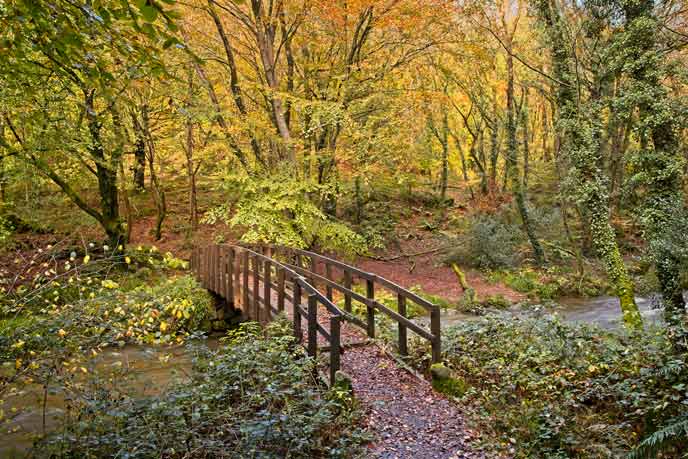 Across the valley from Ty Canol lies Gwaun Valley, another must-visit woodland for walks amongst towering trees. Located within a steep-sided valley – one of Britain's most important geological throwbacks from the last Ice Age – Gwaun's thickly wooded depths provide an unrivalled setting. Lined with beech and hazel, ash and oak and humming with wildlife, it is a real bosky paradise and has been hailed by the Rough Guide as one of the great surprises of Pembrokeshire.
Not just awash with nature but legend too, locals here still follow certain dates from the pre-1752 Julian calendar, celebrating New Year (Hen Galan) on 13th January. To explore the woods and visit one of the area's hamlets, Pontfaen, the Gwaun Valley Trail affords walkers with 6 miles of easy terrain. Conveniently enough, Pontfaen also has a great local pub, the Dyffryn Arms, which may be worth a visit for a chance to refuel!
Cleddau Woodlands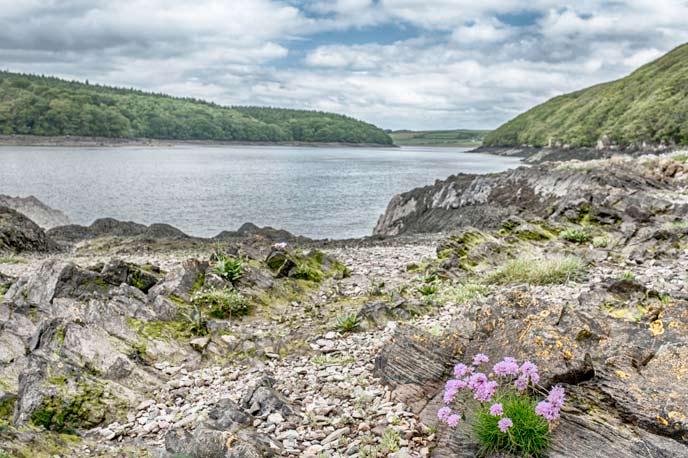 For jaw-dropping views and a diverse range of habitats, Cleddau Woodlands are a real favourite. Following the Cleddau waterway from Haverfordwest to Milford Haven, the area covers huge stretches of ancient woodland, saltmarsh and tidal creeks that provide peaceful walking conditions for all. With something for everyone, you can take your pick of walks and explore this arboreal pocket of Pembrokeshire.
Passing through various different areas, some of the most significant of the Cleddau woodlands are Little Milford Wood and the ancient oak woodland of Lawrenny, the latter of which has a really nice 3-mile circular walk that affords spectacular river views. Just a few miles upriver of Lawrenny, Minwear Woods cover an area of 5 acres, with a 1.5-mile circular walk and grassy picnic areas for lunch in the sunshine.
Pengelli Forest
Pengelli Forest makes up part of the largest area of ancient oak woodland in West Wales, with some parts believed to be 10,000 years old. Roughly divided into two sections, the forest comprises of Pant-Teg Wood, which supports sessile oak and birch and carpets of grasses and moss, and the main body of Pengelli Forest, which is made up of birch, ash, alder and hybrid oaks. Once an important source of local timber for the local economy, much work has been put into regenerating the forest in recent years.
Comprising 160 acres, there are plenty of walks around Pengelli Forest, although some can be steep and muddy in the winter months. If you are looking for a relaxed amble, there is a short 2-mile walk that will lead you through its verdant underbelly. In an area known for its rich diversity of wildlife species, a decent pair of binoculars or keen eagle eyes may well help you to catch sight of badgers, polecats, lizards, butterflies and striking birds of prey.
Ty Canol Woods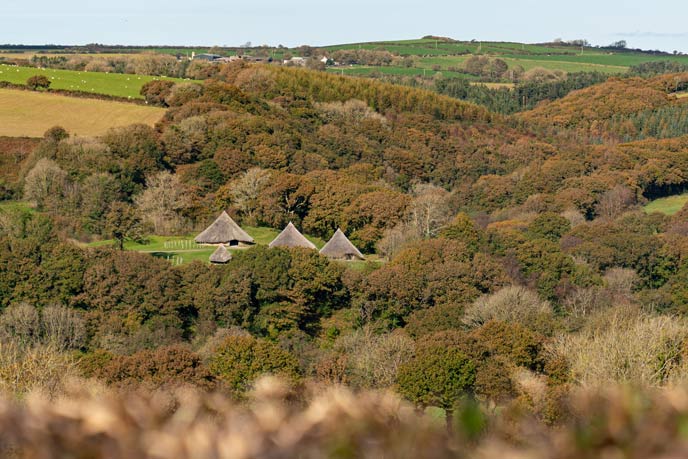 Found in Newport, Ty Canol is another destination we'd highly recommend for woodland walks in Pembrokeshire. Boasting 170 acres of ancient oak woodland, it is one of only six Welsh wood pasture sites of international importance due to the 400 species of lichens which thrive there. Loved by everyone from photographers to artists to scientists, the woods are a hive of inspiration and a wonderful place to breathe in lungfuls of fresh air.
A mystical setting with many paths to choose from, there are no facilities here but that all adds to the natural appeal. If you feel like extending your journey of exploration, near Ty Canol is Pentre Ifan Cromiech, a Neolithic Chambered Dolmen believed to date from 3,500 BC. With parts of the woodland thousands of years old, it's amazing to think that ancient peoples would have wandered through similar settings all those millennia ago.
Need somewhere to stay to go on all these gorgeous walks? Well, you're in luck, we have a lovely selection of properties in Pembrokeshire for you to choose from.