Did you know that waterfalls are officially good for you? When water hits rocks from a height, it releases negative ions, which when breathed in makes us happier and more alert. Whether they're hidden down mossy valleys, cascading regally from a great height, or playfully spilling over boulders, there's nothing like falling water to stop you in your tracks and take a moment with your thoughts, and Wales is certainly blessed with a bounty of beauties to visit.
There are two main words for waterfall in Welsh. In South Wales its sgwd (pronounced skood) and in North Wales its rhaeadr (pronounced hrhai-uh-dur). Dotted across Wales, they're wonderful to visit at any time of year, though especially in the wetter months when rainfall is higher. Visit in spring to see the waterside flora and fauna bursting into life, while autumn is a great time to spot migratory fish making their way upriver to spawn. In winter, the rivers will be full of rainwater, and nothing beats the roar of water falling, or if it's cold enough, the eerie beauty of dangling icicles are a thing to behold.
Ready for some magic? Here are our favourite waterfalls to visit in Wales…
Pistyll Rhaeadr, Powys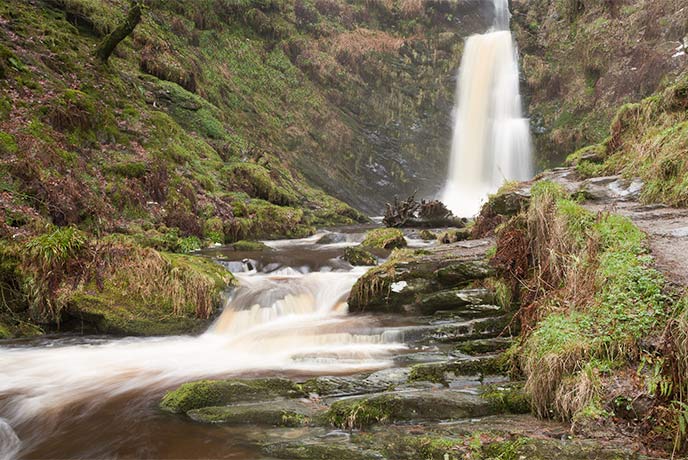 At 240ft (80 metres) high, Pistyll Rhaeadr, meaning 'Spring of the waterfall', is Britain's tallest single-drop waterfall. Said to be the male counterpart to Cornwall's St Nectan's Glen, this is a thoroughly enchanting waterfall that lies just inside Wales in the county of Powys, with lots of walks covering the Berwyn Mountains. Accessible via a four mile single track road, it's very popular in summer so get there early or late afternoon for quieter spells, while a visit in autumn or winter will reward you with a more peaceful visit at any time of day.
Make sure to stop off at Tan-y-Pistyll (meaning the little house under the waterfall), a wonderful log cabin tea room with a roaring wood fire. It's a short walk to the base of the falls from the car park, while the public footpath takes about 20 minutes to reach the top. If you have time, pay a visit to nearby Lake Vyrnwy – a stunning five mile long reservoir surrounded by mountains and forest.
Conwy Falls, Conwy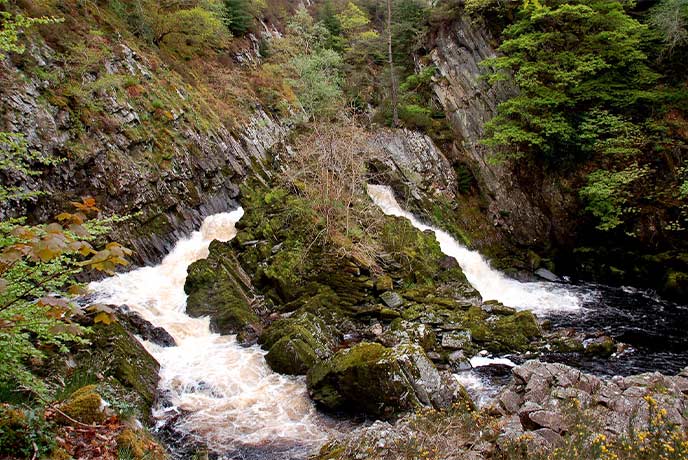 A series of falls cascading around a central rock, Conwy Falls' original Welsh name is Rhaeadr y Grad Lwyd, which means 'waterfall of the grey rock'. Today, it takes its name from the river not the pretty town, and it is located just outside Betws-y-Coed in Eryi (Snowdonia) National Park.
Set in the deep gorges of the Fairy Glen in 10 acres of ancient native woodland, it's a SSSI (Site of Special Scientific Interest). The paths and viewpoints are kept as natural as possible, so bear in mind it can be a little tricky underfoot. It's a great spot for a picnic, or visit the onsite Conwy Falls Café for a coffee and bite. Access to the park is next to the café through the turnstile.
Tregynon Waterfall, Pembrokeshire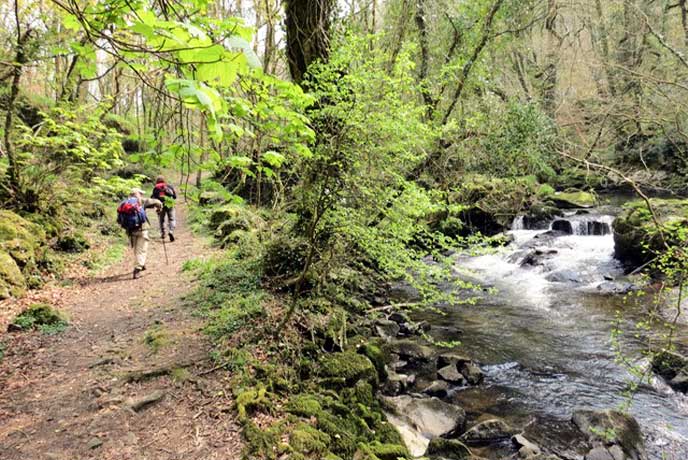 Hidden away (and we mean hidden) in the spectacular and unusual Gwaun Valley, these falls have only recently been considered to be the tallest in Pembrokeshire. Gwaun Valley lies in the Pembrokeshire Coast National Park near Fishguard and is an idyllic, unspoilt spot seeped in legend and tradition. The residents of the area honour the ancient Julian calendar (only used before 1752), so they celebrate New Year on the 13th January! In comparison, the walk to the falls only opened a few years ago in 2019, where you descend 200 feet into a wooded gorge to view the impressive drop in all its glory.
Afterwards, you cross the bridge and climb up the other side, passing an iron age fort as you go, making sure to stop at The Dyffrn Arms (known as Bessie's) at Pontfaen before you leave. This remarkable pub has been in the same family since 1840 and they only serve beer through a hole in the wall, poured straight from a jug, so it's a truly unique experience!
Cenarth Falls, Ceredigion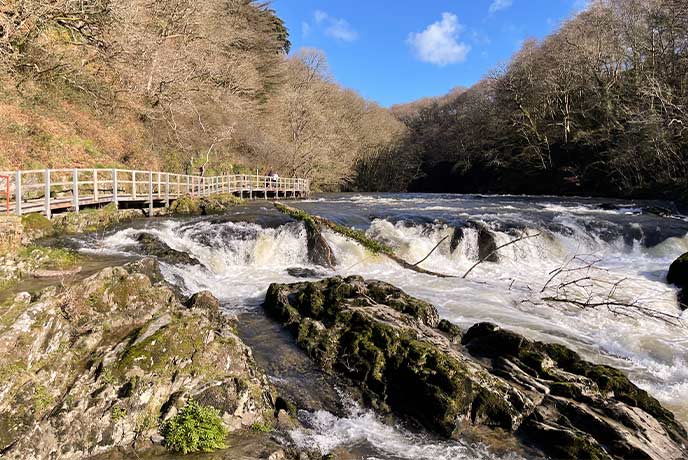 Running through Cenarth, a pretty village, the River Teifi marks the border between Pembrokeshire, Ceredigion and Carmarthenshire, with the beautiful falls, flowing down a series of steps, the star attraction. On the Ceredigion side there is a lovely circular walk with an easily-accessed boardwalk along the river, while the Carmarthenshire side is home to the quirky National Coracle Museum and a holy well. During autumn, you might be lucky enough to spot migrating salmon, making their way upstream to spawn. As the falls are on the doorstep of the village, there are lots of places for refreshments and a car park too.
Swallow Falls, Conwy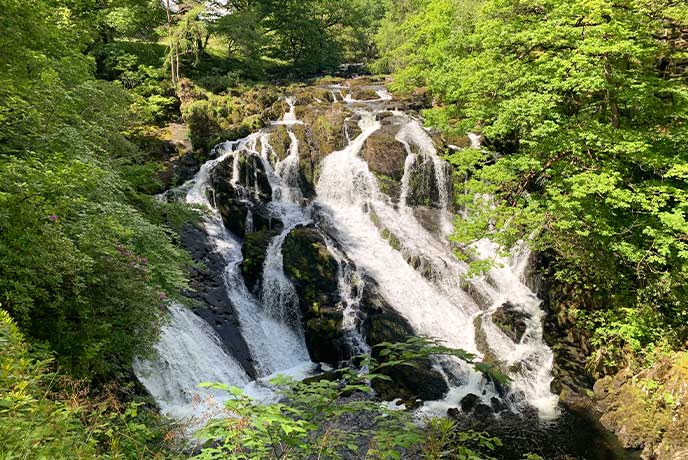 Set in an Area of Outstanding Natural Beauty (AONB), this stunning waterfall is where the Afon (River) Llugwy flows through a narrow chasm before cascading onto the rocks below. Located in Snowdonia National Park within the beautiful Gwydir Forest, there are purpose built viewing platforms to view both tiers of Swallow Falls with its spectacular backdrop of beech and birch trees, which look particularly stunning in autumn.
It's easily accessed via the entrance gate on the A5, with no difficult walking, but for the more energetic, you can walk the trail on the north bank that begins in Betws-y-Coed and follow the Afon Llugwy for a couple of miles, ending at the falls. Alternatively try the Swallow Falls Walk, a strenuous 2.2 mile circular walk with rough narrow paths and steep steps, with a bench at the waterfall to catch your breath and soak up the views.
Dolgoch Falls, Gwynedd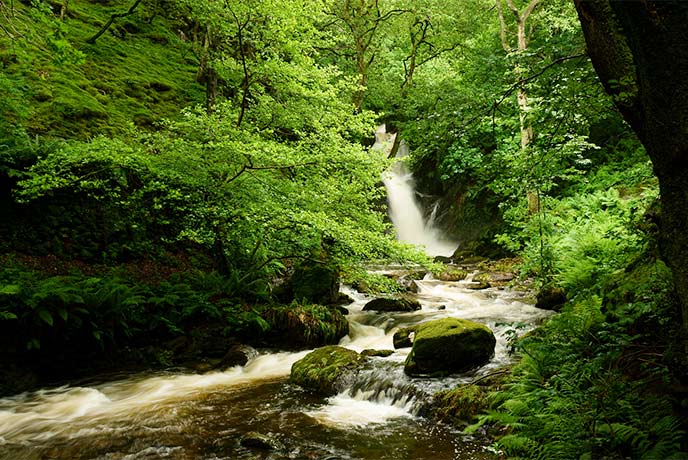 A lovely atmospheric gorge walk in Southern Snowdonia, Dolgoch Falls are a set of three spectacular waterfalls that are a part of the Nant Dol-Goch stream, the source of the River Fathew in Gwynedd. It's a lovely low-level walk from the car park along the river, for about half a mile through a wooded ravine to the picnic site overlooking the upper cascade, passing moss-covered caves and tunnels as you climb up.
Alternatively, you can combine it with a trip on the Tal y Llyn Railway arriving by steam train from Tywyn, where you'll find clear signposts leading you towards the falls. If arriving by car, bring change for the car park and if it's wet do be careful as the walking can be hazardous in places.
Haford, Ceredigion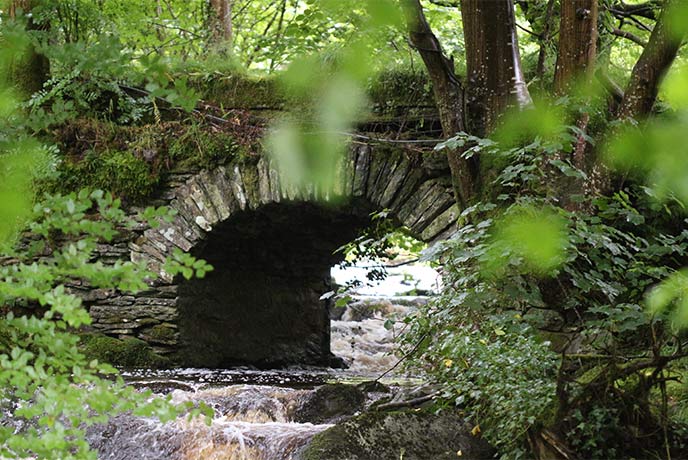 Pay a visit to the 200-acre Hafod Estate in Ceredigion and you'll find a multitude of walking routes that take in a series of lovely waterfalls, including Rhaeadr Peiran and Mossy Seat Falls. A beautiful 18th century estate whose owner subtly enhanced the natural beauty of the estate, walks include the more challenging Gentleman's Walk and the gentler Lady's Walk. Its biggest and most unusual waterfall is viewed from inside a cave, and is one of the most unique waterfalls in Wales, but at the time of writing it is closed for safety reasons.
Although a managed estate, Hafod still veers on the wild side, being a Site of Special Scientific Interest (SSSI) that's rich in biodiversity, especially for lichens, ferns, mosses and fungi as well as otters and kingfishers by the river, pine martens in the woodland and buzzards and red kites flying high above the trees. Exploration is rewarding wherever you end up, and trail maps can be bought for a small donation.
Devil's Bridge Falls, Ceredigion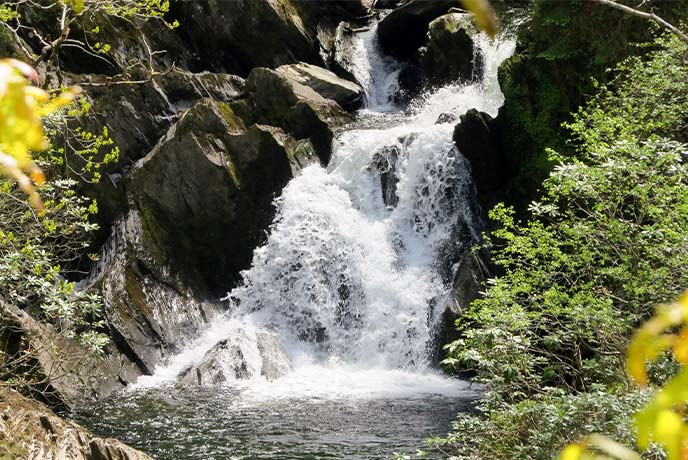 Steeped in folklore where the Devil himself built a bridge over this beautiful waterfall only to be outwitted by an old lady and cast out of the county, Devil's Bridge Falls Nature Trail has been attracting visitors since the 18th century, including the poet William Wordsworth. The main attraction is the 300 ft Mynych Waterfalls and the astonishing three bridges, built one on top of each other.
The Trail takes approximately 45 minutes and is a circular walk that leads to the falls through the wooded gorge, while the shorter 'Three Bridges and Punchbowl' trail is around ten minutes. Please note the longer trail is a challenging walk with lots of steep steps, and dogs must be kept on leads. Situated 12 miles from Aberwystwyth, you can arrive by steam train on the Vale of Rheidol Railway, just a four-minute walk from the falls (the trains run from March to November), or there's a free car park near the entrance.
Pistyll Gwyn, Gwynedd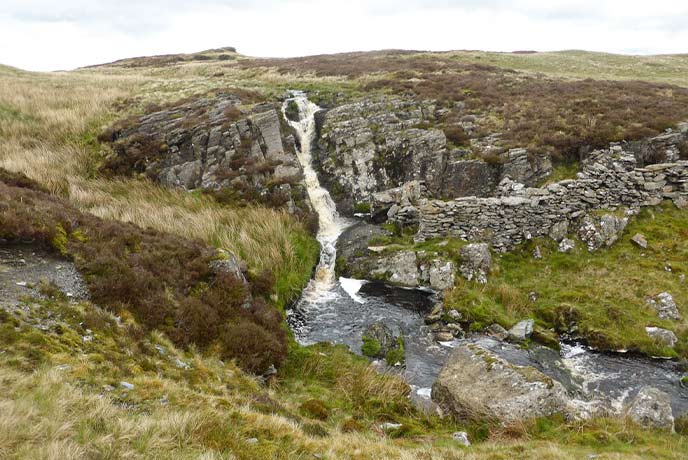 If you're seeking a truly remote clamber over woodland and moorland, this one's for you. Nestled in Graigddu Woods, Pistyll Gwyn is accessed via a leisurely 3-mile circular route that takes you through what is thought to be some of the last true wilderness in Wales, with great views over southern Snowdonia.
Passing by the ruined remains of forestry workers' cottages and the beautiful Pistyll Glwyn waterfall, this is a great one for families due to its easy terrain. There's free parking near Graigddu Woods through the gated road off of the A470 about half a mile south of Bronaber – follow this for a couple of miles and you'll find the car park.
Aber Falls, Gwynedd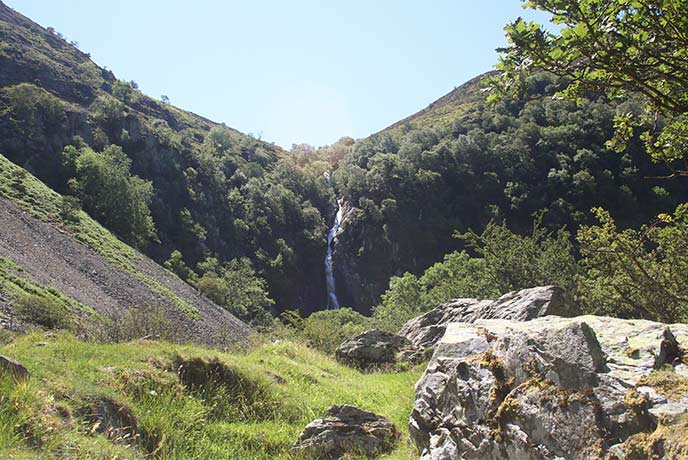 Located about 2 miles south of the village of Abergwyngregyn, Aber Falls is definitely one of Snowdonia's most dramatic waterfalls. At 120 feet (37m) high, the waters crash into a shallow rocky pool (perfect for a paddle) and is wonderfully accessible for all, including people with wheelchairs and pushchairs, as the gravel paths are largely flat and even and on a steady incline.
There are two small car parks at the start of the walk to Aber Falls, which can get busy at weekends and school holidays, so it's worth timing your arrival earlier or later in the day if you can, or if you don't mind walking a little further you can park in the village. Dogs are advised to be kept on leads as there are a lot of sheep about. Afterwards, why not head to the Aber Falls Whiskey Distillery for a distillery tour and some tastings, or perhaps even partake in a gin lab experience to create your own gin!
Waterfall Country, The Brecon Beacons (Bannau Brycheiniog)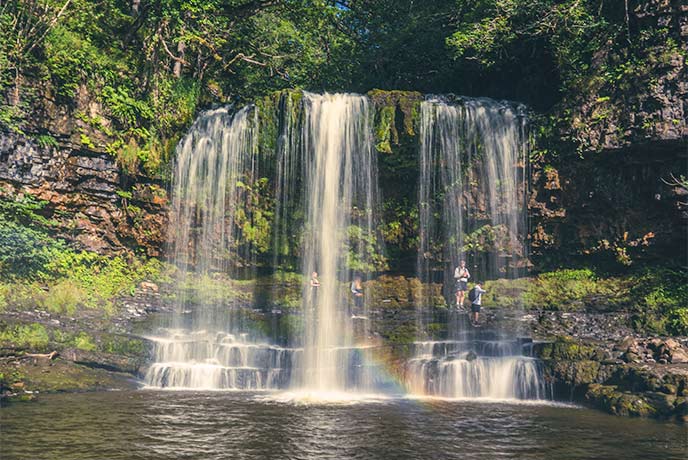 This ecologically fragile area is located on the south-westerly edge of the Brecon Beacons National Park and is where three rivers – the Mellte, Hepste and Need-fechan – have carved their way through the soft stone landscape to create a terrain of gorges, caves and waterfalls, before coming together to form the River Neath.
There are lots of trails that weave their way through Waterfall County, with the Four Falls Trail being the most popular. It's a long, challenging walk and you should allow at least three hours to explore, with Sgwd yr Eira (the 'waterfall of snow') the most photographed of the falls as you're able to walk behind the curtain of water (it's wet and slippery, so be careful). You can start the walk from Cwm Porth car park, Comin y Rhos car park, or Gwaun Hepste car park (all around a 5 mile round trip). There are no toilets along the way, and do take care during the winter or after heavy rainfall.
Nantcol Waterfalls, Gwynedd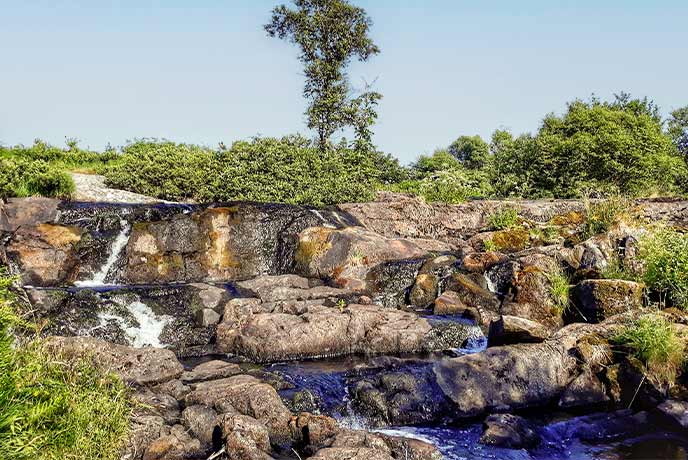 Tucked away on private farmland, the lovely owners of Nantcol Waterfalls have created a series of woodland and riverside walks, from 10-minute ambles to 90-minute strolls, all starting from the car park, that take in the falls. Originally opened in 1970, there are plenty of information posts around the route that explain the natural history of the area, while the children's Island Walk is a 10-minute circular potter identifying different trees as you go – a lovely walk for miniature nature lovers! The falls cascade over stones and it's a popular spot for paddling and swimming.
Nantcol also has a campsite and a working sheep farm, so please keep dogs on leads. Another lovely walk nearby is in the fantastic Morfa Dyffryn nature reserve that follows the Mawddach Estuary all the way to its mouth where the great bridge crosses to Barmouth.
Furnace Falls, Ceredigion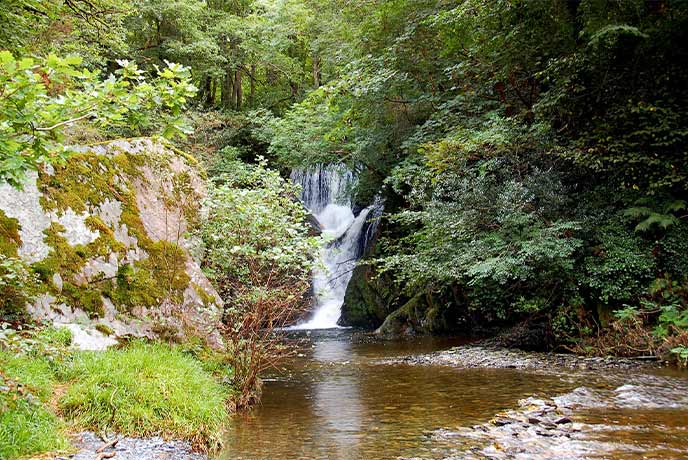 This historic location is home to the Dyfi Furnace, a perfectly preserved example of Welsh industry in the 16th century, where the power of the River Einion and its crashing falls were used to drive the waterwheel, which in turn worked a huge set of bellows. The furnace only operated for 50 years before being abandoned, then years later it was used as a sawmill.
While visiting, walk up to Coed Cwm Einion, a steep woodland with sessile oak, rowan and birch trees, for a wander in the dappled shade, or visit nearby RSPB Ynys-hir Nature Reserve where the backdrop of southern Snowdonia offers the perfect space to look out for wading birds and butterflies in summer and ducks and geese in winter – BBC Springwatch filmed here a few years ago.
Ffynone Waterfall, Pembrokeshire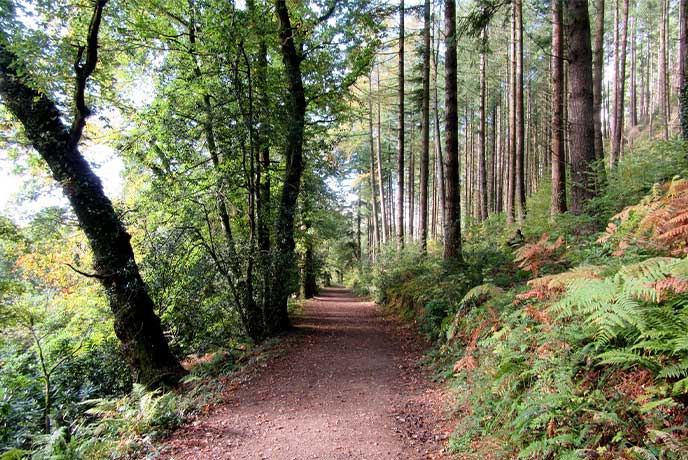 Situated in Pembrokeshire but also about 7 miles south of Cardigan, this stunning waterfall hides away in Ffynone Wood, a gorgeously leafy spot of over 325 acres of ancient woodland and steep valleys. Four rivers flow through the woods, with ancient oaks jostling for space around the water's edge. The waterfall itself is on the Dulas River (a Site of Scientific Special Interest) in the Cwm Cych valley, and is a gentle, accessible walk of about 20 minutes from the free car park which is about a mile from the falls at the entrance to the woods.
Left entirely in its natural state (apart from the odd bench), the pool area has beautifully clear water and is perfect for a spot of wild swimming if you're feeling brave! According to local legend, the falls are a portal to the otherworld (known as Annwfn) lending the area a very beautiful but otherworldly feel. Head to nearby Nag's Head for a slap-up Sunday lunch - the perfect end to your magical waterfall visit!
Tips and tricks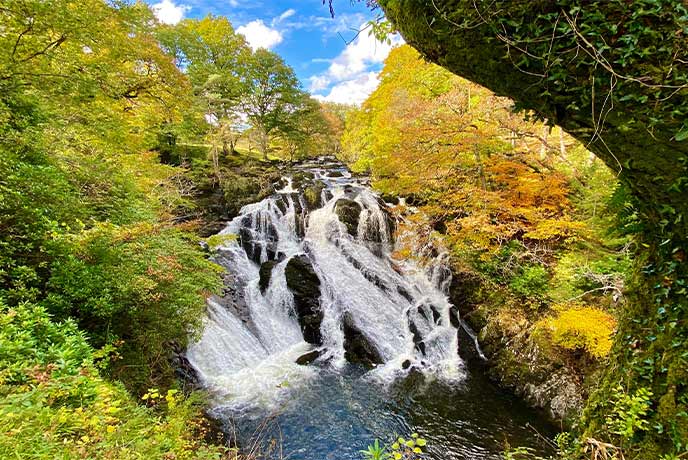 Whatever time of year you visit, it's essential to pack for every eventuality during your walk to a waterfall. Wales is famed for its 'liquid gold', so always pack your waterproofs (they'll also protect you from any spray from the waterfalls), and good hiking boots or shoes with excellent grip are a must – many of the footpaths, platforms and rocks will be slippery when wet, not to mention covered in moss and leaves. If you're going on longer, more meandering routes, invest in an OS map for detailed cover of the area you're exploring. Also, most of the car parks tend to be cash only, so take lots of change with you, and generally dogs need to be kept on leads due to big drops.
Feeling inspired to explore these gushing delights? Take a peek at our beautiful holiday cottages in Wales and start planning your waterfall-themed escape today.