Stretching from the Menai Strait and Anglesey all the way down to Aberdfyi and across to Llyn Tegid (Lake Bala), Gwynedd is an area that encompasses the wildest and most dramatic parts of Wales, including the whole of Snowdonia National Park.
With moody mountains, untouched forests with thundering waterfalls and a simply breathtaking coastline dotted with impressive medieval castles, this is a wonderful destination for both wilderness and history lovers. For those wanting a gentler pace and some home comforts, the pretty market towns are a delight to pootle about in, while its world-famous railway lines mean you can see the extraordinary scenery without donning walking boots.
Here's just a handful of the best things to do when out and about in Gwynedd.
Snowdonia National Park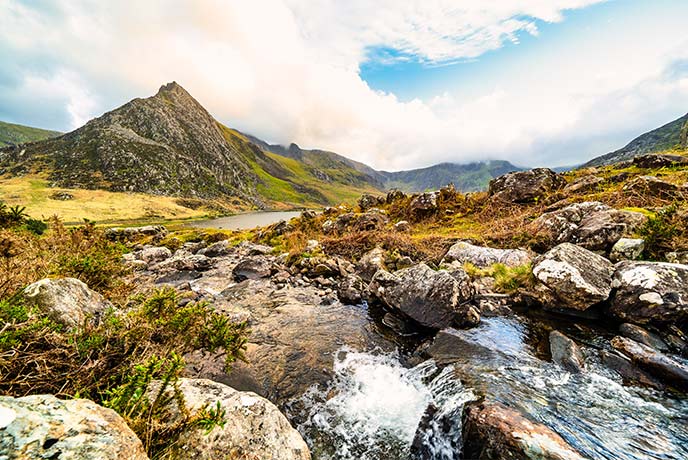 Home to Wales's highest peak and largest lake, Snowdonia National Park is Gwynedd's largest natural playground, where both adventurers and nature-lovers are spoiled with spectacular surroundings. From climbing the peak itself (some 3,560 feet) to canoeing on Llyn Tegid, zip-wiring through caves, and playing a round of golf at one of the 20 courses within the park, there's something to appeal to your every whim.
Other activities include hiking, cycling, climbing, horse riding and caving, while if you're after a dose of history there are lots of castles and museums to explore, as well as several narrow gauge railways, including one that goes all the way to the top of Snowdon!
Conwy Castle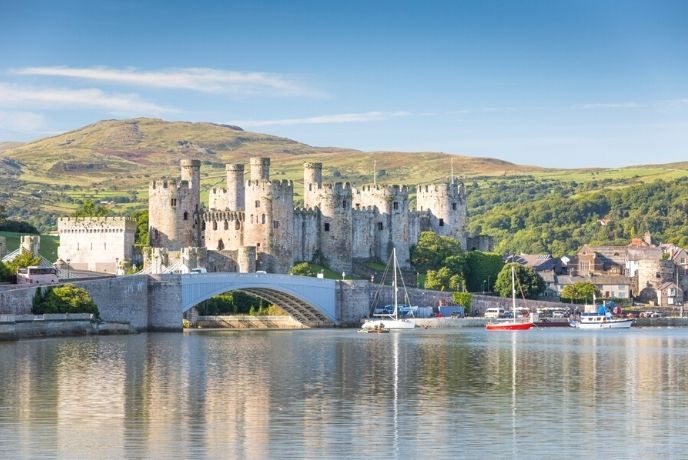 Rose Hill Street, Conwy LL32 8AY
Built by King Edward I in just four years between 1283 and 1287, Conwy Castle is an incredible feat of the medieval period that still stands proudly after 700 years. It's an exceptionally well preserved example of a medieval fortress, where you'll discover royal apartments (the most intact in Wales), a high curtain wall and eight magnificent towers - little changed since they were built.
Thanks to a restoration project, you can also climb the spiral staircases within the towers and walk a complete circuit around the battlements, or follow the servants' passages between such rooms as the King's Great Chamber and the beautiful chapel. A climb to the battlements offers incredible views over Snowdonia and down into the town of Conwy itself, out towards the harbour. Together with the other castles of Beaumaris, Harlech and Caernarfon, Conwy Castle forms part of a World Heritage Site in Gwynedd.
Blaenau Ffestiniog Railway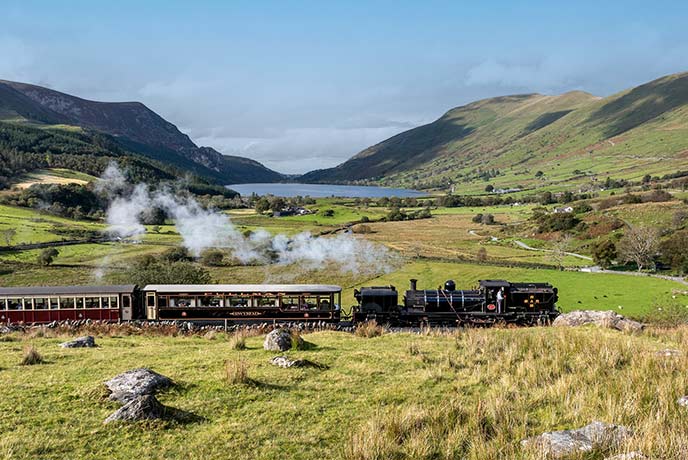 Ffestiniog Railway, Harbour Station, Porthmadog LL49 9NF
If you're holidaying in Gwynedd, a visit to Blaenau Ffestiniog Railway, the oldest independent railway company in the world, is a must. Built to serve the slate industry of Blaenau Ffestiniog, the line was originally an ingenious work of gravity using only brakes and wagons laden with slate, until steam trains were introduced in the 1860s. Today, some of those very engines are still in operation, carrying visitors rather than slate through the gorgeous countryside of Snowdonia National Park.
Porthmadog's harbour station is where most trains begin and end, with a gift shop on site and Spooner's Café and Bar, set in an old goods shed, that's won lots of awards as a 'Local Pub of the Year' by CAMRA. Stop halfway at Tan-y-Bwlch station for a mid-way walk in Meirionnydd Oakwoods, before carrying on to Blaenau Ffestiniog itself, set at the head of the valley, where the scars of its industrial past are still visible, and where you can explore a quarry and get a glimpse at how tough life would have been as a miner.
Portmeirion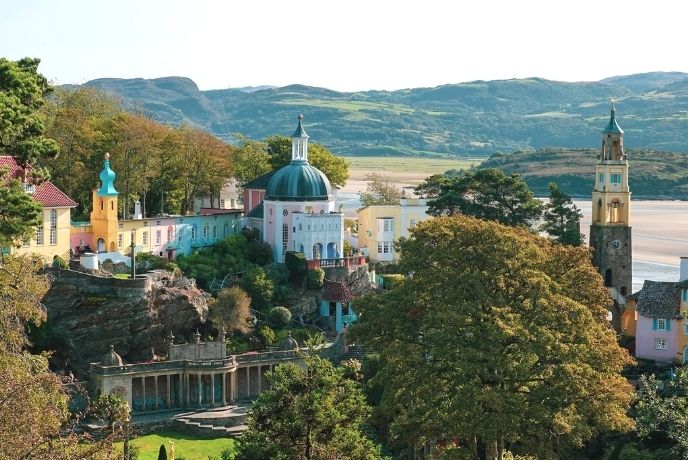 Situated at the edge of Snowdonia, you'd be forgiven for thinking you'd wandered into some far corner of the Mediterranean. Designed and built back in 1925, the beautiful-yet-quirky Italianate village of Portmerion lies on its own peninsula and has featured in film and TV, such as the 60's spy drama The Prisoner. A gentleman's folly, it was designed by Sir Clough Williams-Ellis and is home to a selection of shops, cafés, a picturesque piazza, exhibitions and an array of colourful buildings chock-full with statues and colonnades.
In addition, there are 70 acres of exotic woodland to explore with forest trails and coastline paths, while down in the quayside make sure to take a look at the Amis Reunis, a fascinating stone boat based on a local shipwreck, where children will love playing pirates. And finally, if you're a fan of Portmeirion pottery there's a variety available to purchase to take home with you as a reminder of your visit to this much-loved Welsh destination.
The Royal Welch Fusiliers Museum at Caernarfon Castle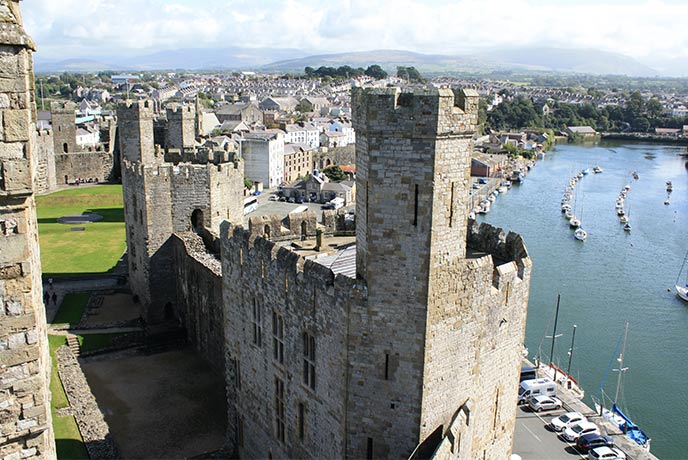 Caernarfon Castle, Caernarfon LL55 2AY
Housed within two towers of the impressive Caernarfon Castle, this fascinating museum tells the history of Wales' oldest infantry regiment that spans over 300 years, beginning with the campaigns of William III to the present day. Covering such battles as the American War of Independence, the Crimean War, the Boer War and both the First and Second World Wars, The Royal Welch Fusiliers Museum also looks into the peace-keeping and humanitarian operations undertaken with the UN and NATO in Bosnia, Iraq and Afghanistan.
The incredible exhibits are brought to vivid life with film, sound and models, and you'll find out how 14 Victoria Crosses were won and what it was like for the famous writers who served during the First World War, such as Siegfried Sassoon and Robert Graves.
Aberdaron and the Llŷn Peninsula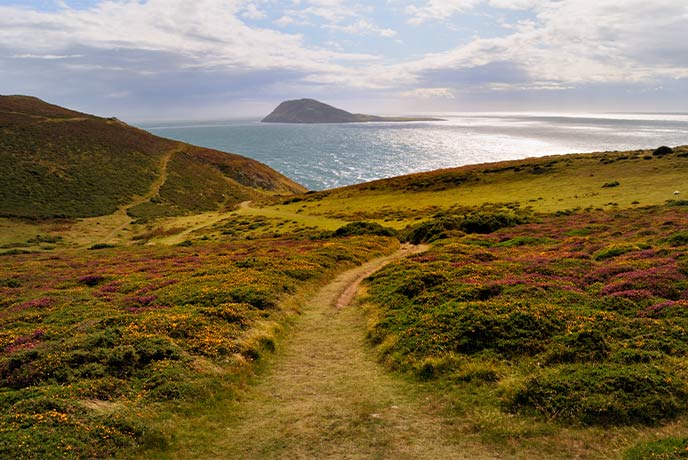 Where the Afon Daron (River Daron) meets the Irish Sea lies beautiful Aberdaron, set on the very end of the Llŷn Peninsula and the furthest west you can get in Wales. A designated Area of Outstanding Natural Beauty, it's a beautiful spot to visit for wild expansive views and total peace. The last stop for pilgrims on the way to Bardsey Island (Ynys Enlli) known as the 'Isle of 20,000 Saints' Aberdaron has a rich Celtic history as well as a glorious mile-long sandy beach that flanks the Irish Sea.
From here you can also walk the Wales Coast Path to other sandy beaches such as Porthor (2.6 miles) or Porth Iago (4.5 miles), or the pretty fishing inlet of Porth Meudwy (6 miles round walk) – you can also catch a boat to Bardsey Island from here between March and April (famed for its abundant birdlife including choughs, puffins and oystercatchers, as well as a ruined abbey). Alternatively, walk to the headland of the Llŷn Peninsula for stunning views towards Bardsey Island and keep an eye out for dolphins. The Porth y Swnt National Trust Centre in the centre of Aberdaron is a useful stop for lots of information on what to do in the area, as well as to learn about its history.
Gypsy Wood Family Park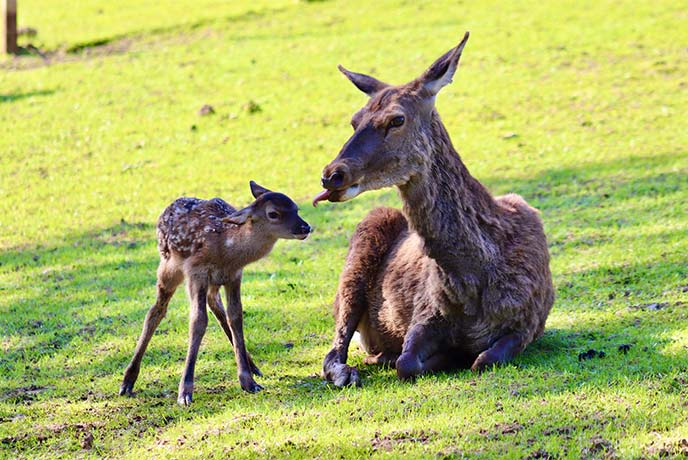 Bontnewydd, Caernarfon LL55 2YA
A fantastic day out for families, Gypsy Wood Family Park is a magical place to visit with animals to pet, wetlands to explore and plenty of activities to keep little ones entertained. Starting life as a sanctuary for ponies, today Gypsy Wood covers an area of some 20 acres, filled with woodland and gorgeous countryside, as well as a host of things to do.
Children will love a ride through the park on Woody's railway; finding their way through the maze; testing their skills on the mini-digger attraction, and making music in the musical tree house. They can also meet the resident Fairy Princess, take part in duck racing and burn off energy in the play area and mini zip wire! There's also plenty of animals that call Gypsy Wood home, from alpacas and pygmy goats to pot-bellied pigs, donkeys and ponies. There's a café on site for light lunches and snacks, or you're very welcome to bring your own picnic with you.
Plas yn Rhiw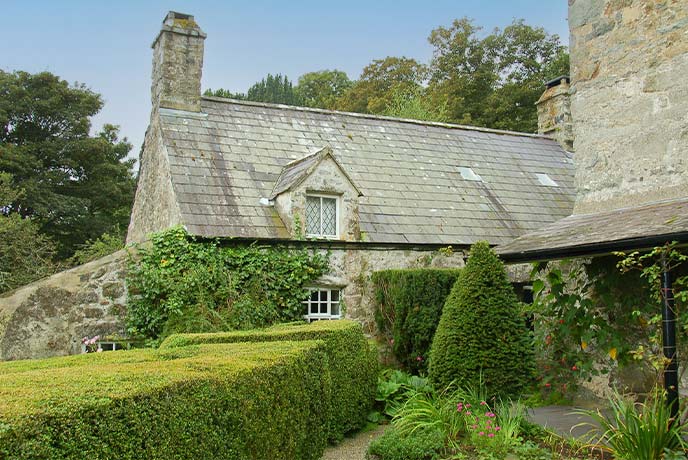 Phiw, Pwllheli LL53 8AB
Recovered in 1939 by three sisters, tranquil Plas yn Rhiw is a beautiful 17th century house that's managed by the National Trust. Restoring the property was a labour of love for Eileen, Lorna and Honora Keating, from Nottingham, who on arrival had to climb through brambles and a window to get into the house. Today, the beautiful home stands in lush gardens that's just over an acre in size with box hedging, paths and a stunning magnolia tree.
Inside, the house is very much inspired by their friend Sir Clough Williams-Ellis, the architect that created Portmeirion, who brought lots of pieces to the house, such as the green slate floor and impressive Gothic door. The décor is as the sisters left it, creating a lovely homely feel, where stunning 17th century furniture sits side by side with a fully-stocked medicine cupboard that helped cure the sisters of various ailments up to the last sister's death in 1981 – offering a fascinating look into the past. After you've explored, take a stroll around the wider grounds that include woodland, a flower meadow and a fruit orchard, before popping into the tea room for afternoon tea.
Beacon Climbing Centre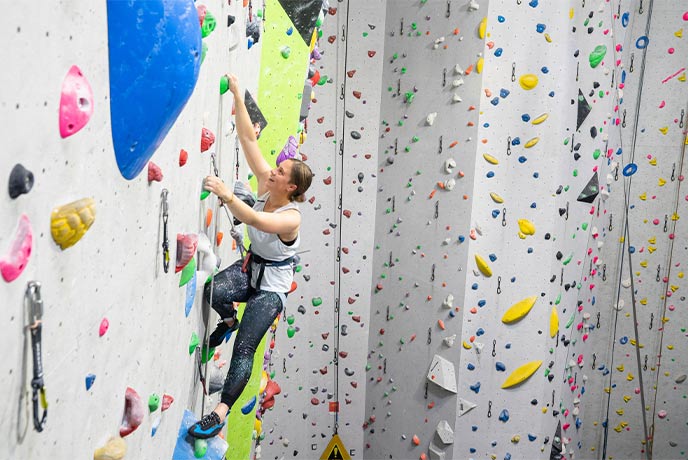 Zone 5 Cibyn Estate, Caernarfon LL55 2BD
Beacon Climbing Centre is an exciting all-weather place to visit for all the family, offering all types of climbing challenges, whatever your age or ability. If you've never tried before, the CrazyClimb is a fun introduction with experts on hand to help, while there are hundreds of different colour-coded climbs to test and challenge, from the super easy to the strenuous, making it a fun day out for everyone, from 5 to 80+ year olds!
The centre offers fully instructed sessions for those new to climbing, while if you're keen to try 'bouldering' (low level climbing) they offer a one-hour session for those 16 and over. If not all of you want to climb to giddy heights, there's a great café that overlooks the climbing area on one side and the mountains of Snowdonia on the other. We suggest booking in advance to ensure a space.
Airworld Aviation Museum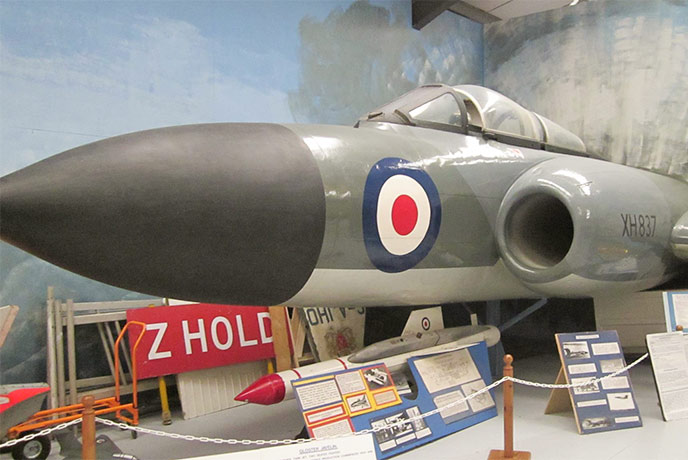 Caernarfon Airport, Dinas Dinlle, Caernarfon LL54 5TP
Set on a working airfield, the fascinating Airworld Aviation Museum offers a glimpse into the world of aviation, focussing on the Second World War when the Welsh Coast was considered to be one of the first places to be invaded from the Irish Sea. A visit here is a must for aviation enthusiasts, where you will find yourself up close and personal with historic aircraft, such as a D H Vampire, Hawker Hunter and the only T2 Bae Harrier left in the world – and some of which you can actually sit in the cockpit.
There's also a new flight simulator, where you can fly around Caernarfon Airport in the aircraft of your choice. The museum is dedicated in part to the RAF Mountain Rescue Service which was set up here in 1942. There's a café, and be sure to check out the shop on site which specialises in model kits.
Menai Strait Cruises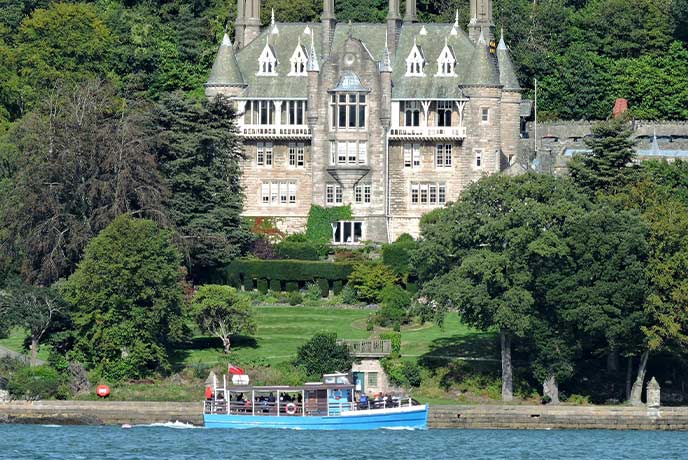 Slate Quay, Caernarfon Harbour LL55 2PB
Take to the illustrious Queen of the Sea, running since the 1940s, for a unique view of Gwynedd's extraordinary coastline. Menai Strait Cruises offers 45 minute to two hour boat trips along the coast, where you'll have the most spectacular views of Caernarfon Castle, Snowdonia mountain range, the Llŷn Peninsula, Belan Fort and the Isle of Anglesey to list just a few. Running from May to the end of October, tours depart from Caernarfon Harbour and run hourly from 11am, but keep an eye on their website for tide and weather information.
Gwydir Forest Park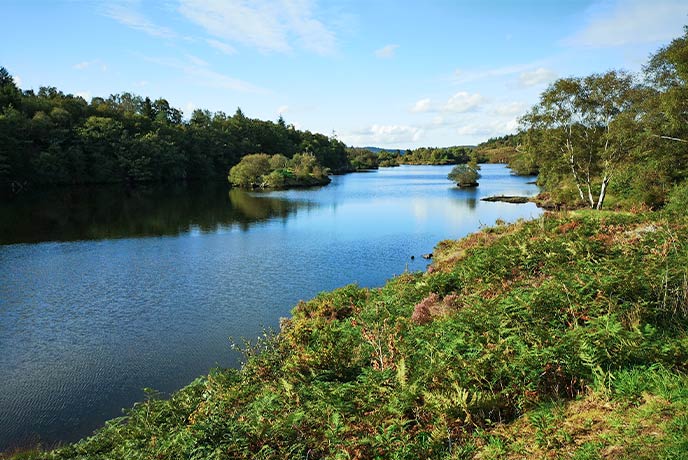 Holyhead Road, Betws-y-Coed LL24 0AA
A peaceful forest scattered with lakes and mountains, Gwydir Forest Park is home to a large variety of outdoor activities as well as wildlife. Walkers will love the winding tracks, old miner's paths and forest walks, while if you like being on two wheels, there are plenty of cycle trails to explore, too. For something a little different, take to one of the three courses that start just outside Betws-y-coed – graded to British Orienteering Federation standards, for a great way to test your map-reading skills.
Feeling inspired? Book yourself a holiday cottage in Gwynedd to explore these incredible places that call this wildly beautiful corner of Wales home.