Who else bases their holidays around food? We certainly do, and we have to say it makes for a wonderfully moreish stay! From full English breakfasts to slap-up Sunday roasts, planning your day around the next big feed is a sure-fire way to have a good time, especially when you consider the many mouth-watering dishes made famous across our great Isles.
Oh yes, from Cornish pasties to haggis, the UK has a myriad of specialty dishes from tip to top, meaning you can travel from Land's End to John o' Groats and taste something unique in every county. Of course, while there are many dishes you can enjoy across the country (we're looking at you fish and chips), there are some that simply shine brightest when made in their county of origin – some even have protected status, which means they can't officially be made anywhere else!
Ready for the ultimate taste tour? Here are some of the most famous regional foods from around the UK…
Kendal Mint Cake, Lake District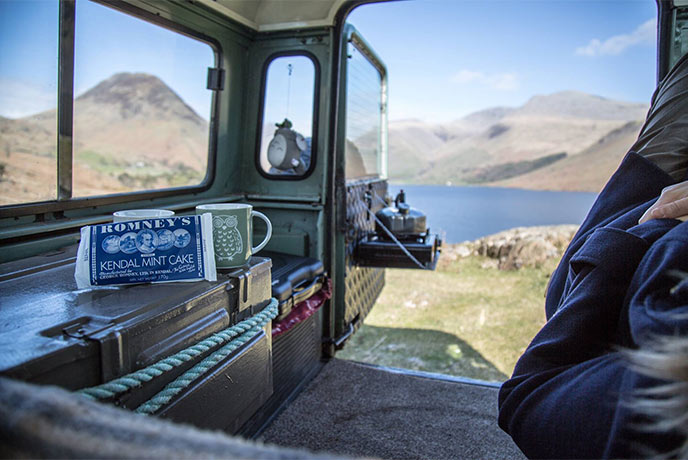 Touted as the world's first energy bar, Kendal Mint Cake is still used to this day by avid walkers and climbers - especially by those exploring the famous fells of the Lakes. Originating in Kendal after someone overboiled their glacier mints (or so the story goes), this sugar-packed bar has provided people with bursts of energy and refreshing flavours for years. It's helped people reach the summit of Everest, it's sustained people on lengthy tours and Antarctic expeditions, and has even kept soldiers fueled. Of course, the Lakes is also famous as the birthplace of sticky toffee pudding and Grasmere Gingerbread so it's definitely the place to be for the sweetest of treats. Why not stock up on Kendal Mint Cake and make the most of the fabulous playground that is the Lake District.
Yorkshire pudding, Yorkshire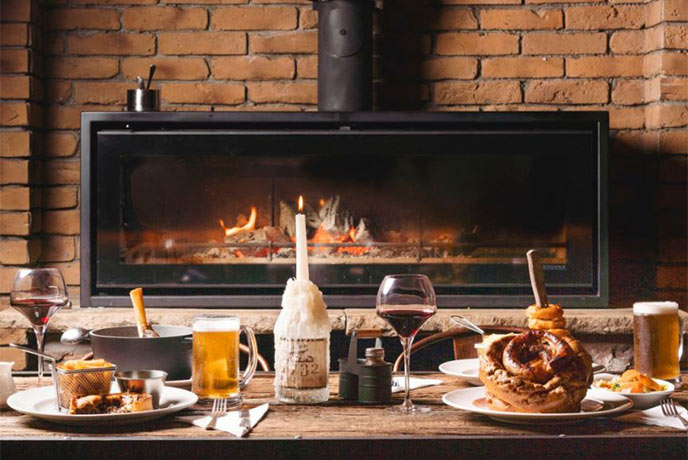 Yorkshire might be the home of Party Rings, Terry's Chocolate Orange, and Wensleydale cheese, but there's a roast dinner staple that calls this wild and wonderful county home we wouldn't dream of missing out… Yorkshire puddings. The inseparable sidekick to roast beef, this pillowy addition to a Sunday lunch has been filling our plates (and stomachs) for centuries. While the specific origins are unknown, it has been attributed to the North of England, specifically Yorkshire, since at least 1747. One of the many savoury puddings made in the UK (we also love hogs, white, and black puddings), you'll find Yorkshire puddings on menus across the nation, with some creative eateries even making Yorkshire pudding wraps – a Sunday roast you can enjoy on the go! It also makes up the base of pub favourite toad in the hole. Head to one of Yorkshire's fabulous pubs or restaurants to enjoy this Northern delicacy properly.
Dorset Knobs, Dorset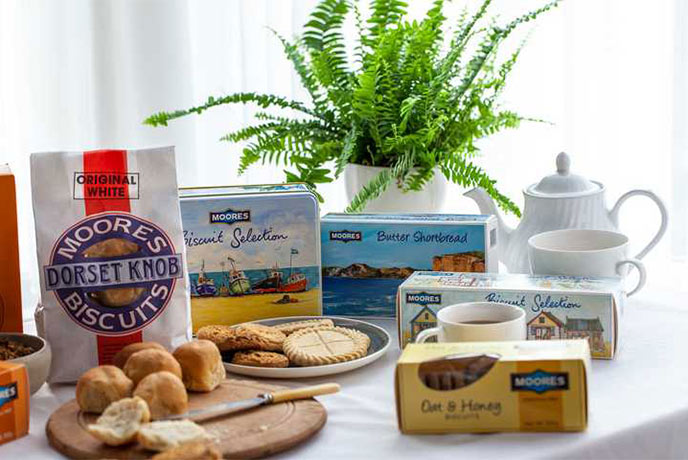 If there's one thing we know how to make in the UK, it's biscuits, and Dorset has one of the best going. From its beginnings as a farmer's breakfast (they actually poured sweet tea over them and enjoyed the biscuits like a hot cereal) to its current tradition of delicious pairings with salted butter or cheese, the humble Dorset Knob has certainly made an impact over the last 150 years – it was a firm favourite of novelist Thomas Hardy, who enjoyed his after dinner with a side of stilton. The Moores family are still the exclusive producers of Dorset Knobs and follow the same delicious recipe, which involves baking the biscuits three times for extra crisp! Fill your bags and enjoy these crunchy treats oceanside with a flask of tea for the ultimate Dorset experience, or head to one of Dorset's many fabulous food festivals for even more local delights.
Cornish pasty, Cornwall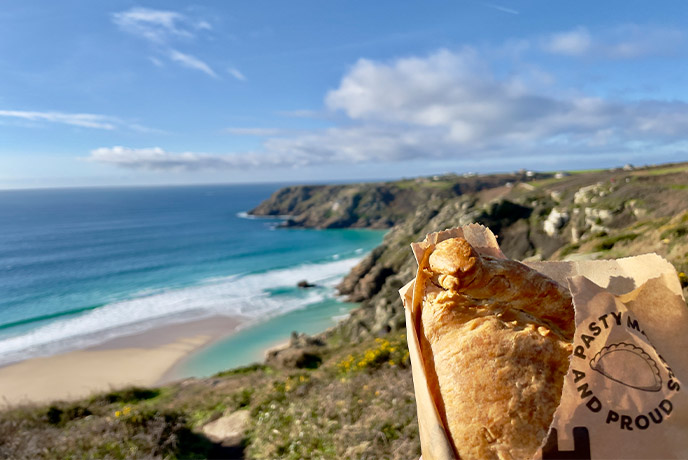 Packed with history, tradition, and beef, the Cornish pasty is a true celebration of Cornish heritage. Dating back to the county's rich mining past, this hand-held pie has gone from miner's lunch to bakery staple – you can even find Cornish pasties up and down the country. Of course, due to its protected status, a true Cornish pasty must be made in Cornwall following a traditional recipe. That means potato, onion, and swede combined with beef skirt, all parcelled up in a shortcrust pastry. Nowadays, you can find pretty much anything in a pasty if you look hard enough, from Moroccan lamb and Chicken tikka to apple and custard - there are even breakfast pasties full of bacon and baked beans! Furthermore, most bakeries now stock vegetarian and vegan alternatives to a traditional pasty too – Ansum!
Dundee Cake, Dundee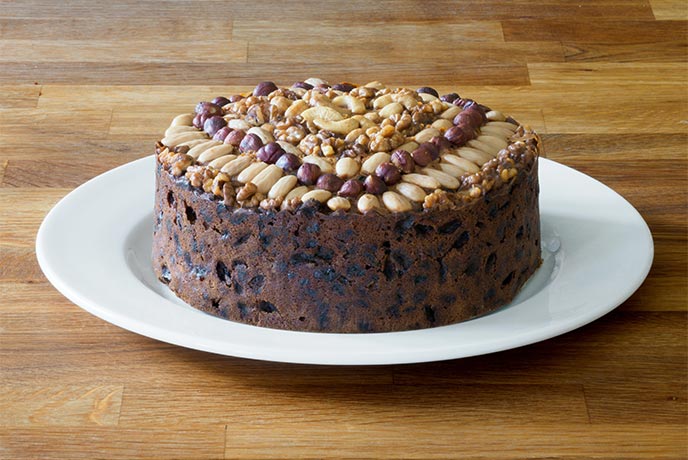 From haggis with neeps and tatties (turnip and potatoes) to deep fried Mars bars, Scotland enjoys a wonderfully diverse mix of local dishes. The one that goes best with a brew has to be the fruity and moreish delights of Dundee Cake, with its iconic almond-topped design. Boasting a royally fascinating past, Dundee Cake is thought to have connections with the Queen of Scots herself, as well as being a confirmed favourite of Winston Churchill and Queen Elizabeth II. The cake really found fame in the 18th century when the Keiller Marmalade Factory began producing Seville orange marmalade and chose Dundee Cake as its perfect pairing. Today, you can still find marmalade and Dundee cake in tandem, adding a wonderfully Scottish twist to many an afternoon tea.
Cheddar, Somerset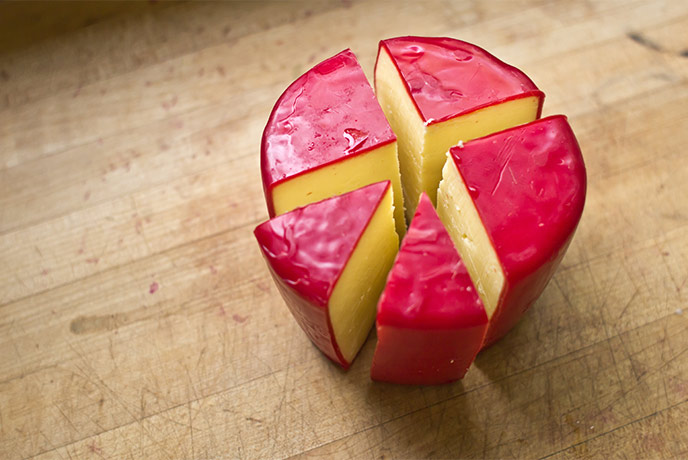 Whether you love a hearty ploughman's after an epic stomp through the countryside or a toothsome cheese course at the end of your meal, there is one cheese that can be found on plates across the whole of the UK and beyond... Cheddar is one of those cheeses that's so much a part of life we rarely pause to think about its origins before popping it in our mouths with an extra big dollop of chutney. Well, unsurprisingly, this crumbly cheese originates in Cheddar in Somerset, where it's been churned out for over a millennium. Whey back when cheddar was first created, the cheese had to be made within 30 miles of Wells Cathedral. Nowadays, this picnic favourite is made all over the world, giving everyone easy access to this West Country specialty.
Welsh cakes, Wales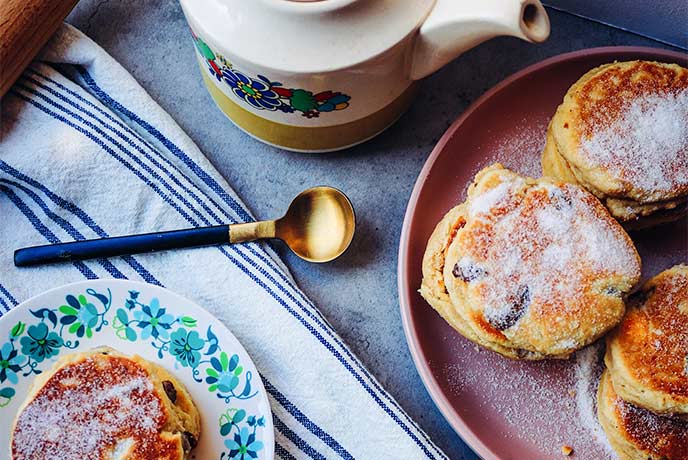 A delicious cross between a scone, biscuit, and pancake, Welsh cakes are sweet treats that are hard to beat. They're so infused with Wales that no-one is really sure where they originated. Easy to prepare and sturdy, these little cakes were perfect for miners' lunches as well as school children, creating a fabulously universal love for the snack-sized treat. Today, you can find them in most bakeries across the country, with some even selling great bags full of Welsh cakes you can take home and freeze. After all, you can take the Welsh cake out of Wales, but you can't take Wales out of the Welsh cake!
Cumberland sausage, Cumbria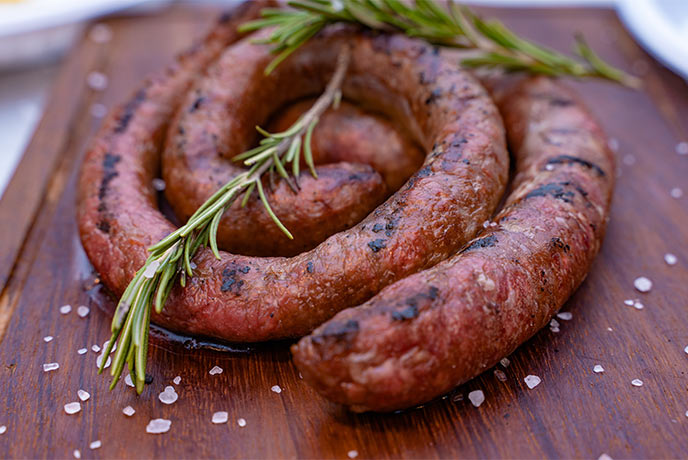 Another delicious UK delicacy to enjoy protected status, the Cumberland sausage is big, beautiful, and oh-so tasty – no wonder it's one of the most famous British sausages out there. The tell-tale sign of a Cumberland sausage (aside from its Cumbrian origin) is the long, spiral shape and meaty texture, which comes from the filling being chopped rather than minced. Enjoy this fabulous British banger atop creamy mash that's swimming in gravy or go off-piste with a Cumberland sausage bap – a match made in heaven!
Gallybagger cheese, Isle of Wight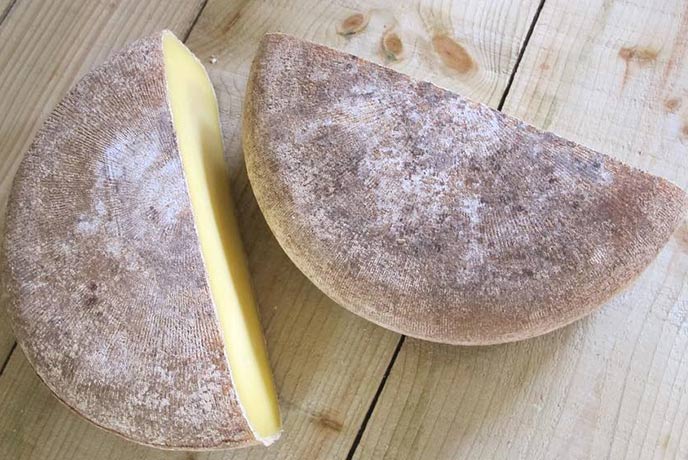 Boasting a rather fabulous name (Gallybagger is Island for scarecrow) and a distinctive flavour, this cheese is almost exclusively found on the Isle of Wight, giving you every excuse to hop on the ferry for a culinary adventure. It's made using a similar method to that of cheddar, with the notable exception that the cheese is pressed in modern Dutch Gouda moulds and aged on Lawson Cypress wooden shelves. Both these processes help to create the famous look and taste of the cheese. For the ultimate Island experience, why not pack a picnic with all the local delicacies on offer, including Gallybagger cheese, black garlic (there's actually an Isle of Wight Garlic Festival), and some Isle of White tomatoes, and head to one of the many beautiful beaches for a picnic to end all picnics.
Banoffee pie, Sussex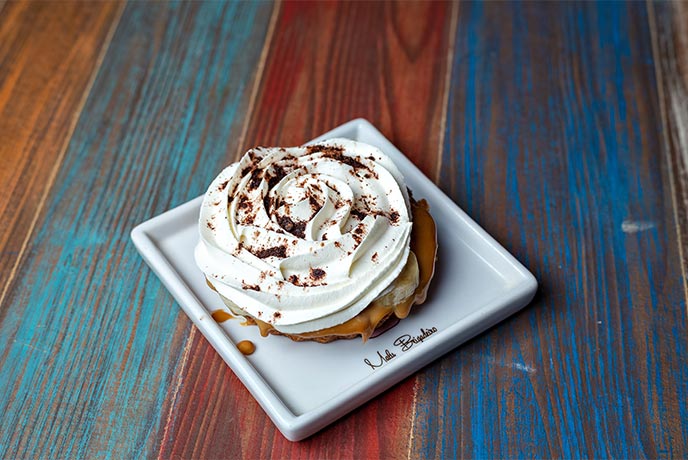 Did you know that banoffee pie originated in East Sussex? Oh yes, this creamy, toffee-topped dessert was the brainchild of restaurant owner Nigel Mackenzie, who created the dish when he found they were one pudding short for their menu. Luckily, the head chef recalled an American toffee pie recipe he'd had in the states. With bananas added, alongside a freshly whipped double cream topping, banoffee pie quickly went down in culinary history, with people travelling from afar to feast at The Hungry Monk in Sussex. To truly celebrate this historic pud, we recommend pairing a hearty walk with a pub visit in East Sussex, where you can dine on this toothsome dessert in the very corner it came to be.
Homity pie, Devon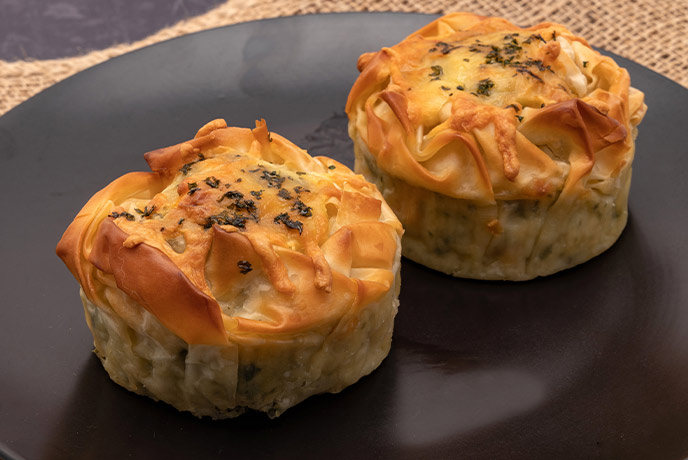 Known far and wide as 'Devon Pie', this cheesy, veg-packed pie has become a firm favourite with those seeking the tastiest of comfort foods. While the exact origin is unsure - it is possible that the pie originated in the Women's Land Army in the Second World War - one thing is for certain: potatoes, leek, and cheese are meant to be together! Tuck into this Devonshire delight fireside at your local dog-friendly inn after a hearty stomp or make one yourself in your home-from-home where you can cosy down with a glass of wine and a good book - the ultimate comfy setting! Devon has many great foodie delights, which can be sampled at one of its mouth-watering food festivals.
Stargazy pie, Cornwall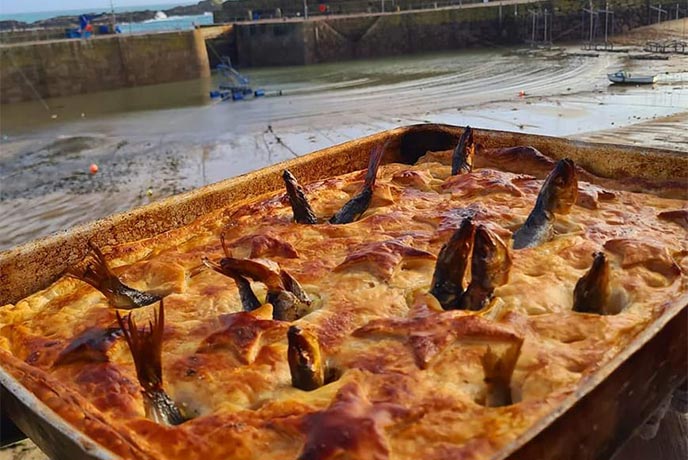 This iconic Cornish pie comes around only once a year on Tom Bawcock's Eve (23rd of December) in Mousehole, making it by far the most elusive food on this list! Stargazy pie is made using pilchards, which are baked inside the pie and on top for an instantly recognisable dish. The pie is made to celebrate Tom Bawcock, who kept the village fed with fish during a very stormy winter. This heroic tale was later immortalised by the story of The Mousehole Cat, who called Tom and his friends home during the storm. If you visit Mousehole at Christmas, not only will you be able to sample this famous pie and see the impressive Christmas lights display, but you might even catch a production of The Mousehole Cat in person.
Shortbread, Scotland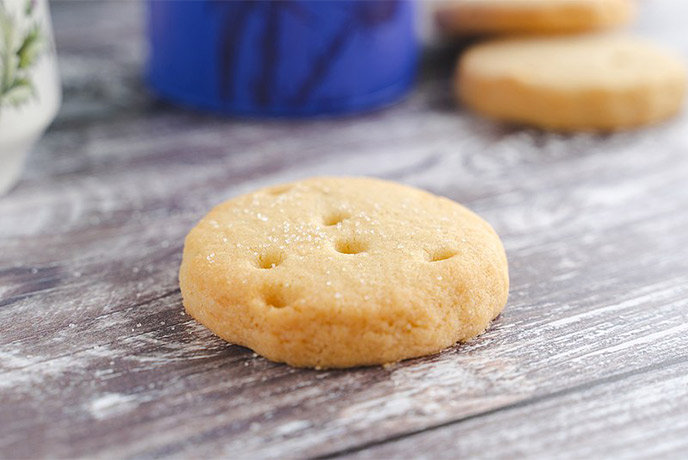 Whether you love nothing more than filling the cupboards at Christmas or collecting the beautiful and oh-so-Scottish tins, there's one thing we can all agree on: nothing beats a piece of proper Scottish shortbread! Tracing its origins back to medieval biscuit bread and with ties to Mary Queen of Scots herself, these delicious fingers have been a favourite for a very long time, with people usually reserving the sweet treat for special occasions (or a really big cup of tea). While historically Scottish shortbread has been flavoured with caraway seeds and candied citrus peels, in more recent years, recipes have reverted to a simpler list of ingredients. After all, you can't go wrong with flour, butter, and sugar! Why not pick up a tin as a memento after touring the North Coast 500? It's the ultimate way to celebrate Scotland's most famous drive.
Singin' Hinnies, Northumberland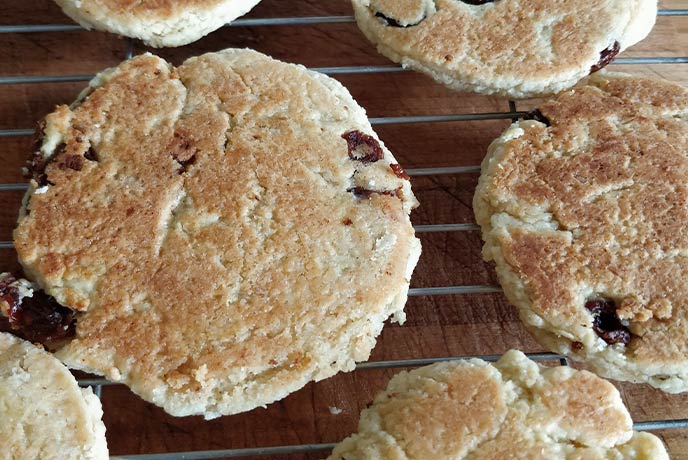 Named for both the noise these delicious morsels emit when cooked and a northern term of endearment, "singin' hinnies" are as charming as they are scrumptious. Somewhere between a scone and Welsh cake, these current-filled delights are cooked on a griddle rather than being baked in an oven. It's this method of almost-frying that causes the hinnies to sing! If the stories are true, they got their name from the famous reply to the oft heard question, "are they ready yet?". To which the return chorus of, "no, they're still singing, hinnie" is invariably heard.
Feeling hungry? Pick your favourite and head straight there or embark on a UK-wide foodie tour, sampling dishes as you go – it's the tastiest way to enjoy your UK staycation!