Whether you're a gentle ambler or a passionate strider, a holiday in Wales offers some of the most stunning walks to be found in the UK. Besides the extraordinary 870-mile coastal path which runs from the top to the bottom of the country, there are plenty of long-distance trails to discover, covering dramatic mountain ranges, sleepy gentle countryside and riverside walks, depending on how the mood takes you. It's also blissfully easy to find a quiet corner to call your own here - perfect for those seeking to disconnect and delve deep into nature.
So slip on your boots and hoist on your backpack, and let our pick of the top walks in Wales inspire you…
Llanberis Path, Mount Snowdon (Yr Wyddfa), Gwynedd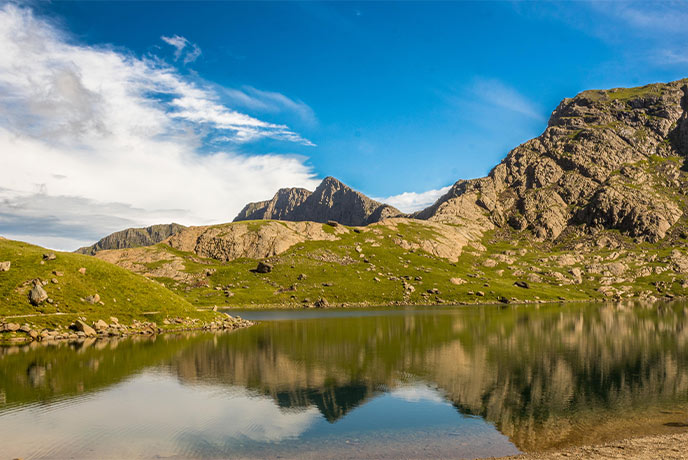 Best for: Exceptional views and a bucket list climb
Distance: 9 miles
Time: 6 – 7 hours
Difficulty: Challenging in areas
Starts/ends: Llanberis, opposite the Victoria Hotel
Parking: Parc Padarn Car Park
Landmarks: Llyn Llydaw reservoir, Llyn Glaslyn lake, Snowdon summit
Mount Snowdon (Yr Wyddfa in Welsh) is the highest mountain in England and Wales at 1,085 metres (3,560 feet) and covers an area of 16 square miles that has lots of trails winding their way to the summit. There are six routes up the mountain to choose from, with Llanberis being the longest, but most gradual ascent up to 3,000 feet. Don't be fooled though, it's still a challenging climb! Ascending the north-west side of the mountain, the Llanberis Path follows the track of the Snowdon Mountain Railway, making it a popular route.
On your way up you'll pass the Halfway House where you can get something to eat and drink, and it's worth noting that from here the path gets steeper and less predictable, so it's a good place to turn back if you don't feel up to it. As you climb further up, you'll have the most incredible views of the surrounding landscape - just make sure of your footing as you go. On reaching the summit, bask in your huge achievement and take in the astonishing vista for a while, before retracing your steps back down again. Treat yourself to a stop at Pen-y-Ceunant Isaf Tea Rooms if you have time, to rest your legs and refuel for the descent. For this walk you'll need a good level of fitness and clothing for all weathers.
Snowdonia National Park is full of fabulous walks, from The Rhinogs to the many stunning waterfalls, giving you plenty of reasons to explore this wild and beautiful area of Wales.
St David's Head, Pembrokeshire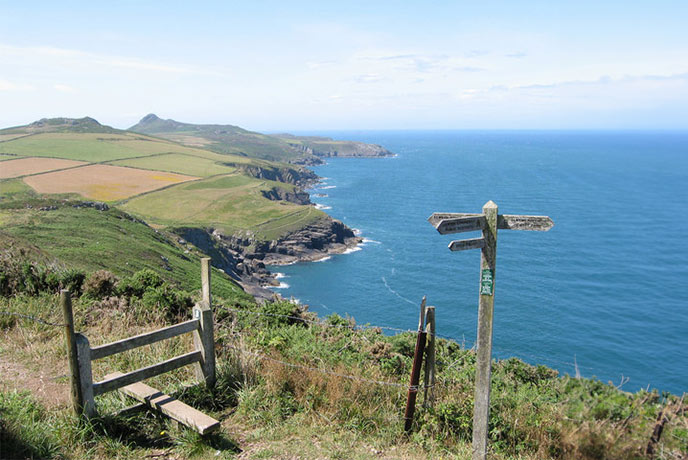 Best for: Historic sites and stunning sea views
Distance: 3.75 miles
Time: 1 hour 15 mins
Difficulty: Moderate
Starts/ends: Whitesands car park
Parking: Whitesands car park
Landmarks: St Patrick's Chapel, Coetan Arthur Neolithic burial chamber, Porthmelgan cove
Just a short drive from Wales's smallest city St David's, this is a spectacular walk that takes in Pembrokeshire's most dramatic coastline out towards St David's Head. The marked footpath is easy to follow (which is handy as the cliffs can be steep so make sure to stay on track). This is a special place of geological interest, as the headland is made of volcanic rock dating back some 5,000 million years, best seen in the jagged outcrop of Carn Llidi and the rocky islands of Ramsey, and the collection of islands called 'Bishops and Clerks'. It's interesting to note that Whitesands Bay is said to be where St Patrick sailed to Ireland, and you'll pass the remains of a chapel dedicated to him during your walk.
You'll also pass Coetan Arthur, a Neolithic burial chamber, as well as an Iron Age coastal fort at the end of the peninsula, giving an insight into the ancient past of this incredible area. The cliffs and coastal heathland are home to a plethora of wildlife, such as peregrine falcons, ravens, swifts and choughs, so it's worth taking binoculars if you have them. St David's Head is about 15 miles from the island of Grassholm, home to one of the largest gannetries in the world (with approximately 34,000 breeding pairs of gannets) so you might be lucky to spot them too. During the summer the headland is crowned in gorse and heather, making it a veritable paradise for butterflies, moths and beetles who live amongst the Welsh mountain ponies which graze here.
Llithfaen Circular Walk, Llŷn Peninsula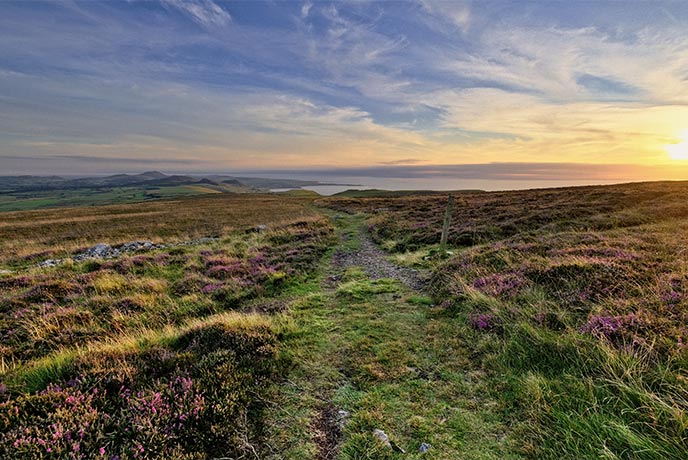 Best for: Incredible views over the Llŷn Peninsula and ancient landmarks
Distance: 8 miles
Time: 4 hours
Difficulty: Moderate to difficult
Starts/ends: Yr Eifl Car Park
Parking: Yr Eifl Car Park
Landmarks: Tre'r Ceiri Iron Age hill fort, Yr Eifl peaks
Offering one of the best views over the Llŷn Peninsula, this is an incredibly scenic walk set within the Llŷn Area of Outstanding Natural Beauty (AONB) that also explores the fascinating history of the area. Passing the well-preserved and important Iron Age hill fort of Tre'r Ceiri, which is considered to be one of the best preserved in northern Europe, and the abandoned quarry village that has now been turned into a National Welsh Language and Heritage Centre, it's definitely not just about the sea views here.
You'll also pass over Yr Eifl, the three beautiful peaks of Tre'r Ceiri (485m), Garn Ganol (564m and the highest point on the Llŷn Peninsula) and Garn For (444m). Often called 'The Rivals' in English, they offer spectacular panoramic views as far as the Wicklow Mountains in Ireland on a clear day. This is a spectacular walk, just make sure to check the forecast before you go and pack for all weathers, as it can change very quickly at this height.
The Mawddach Trail, Gwynedd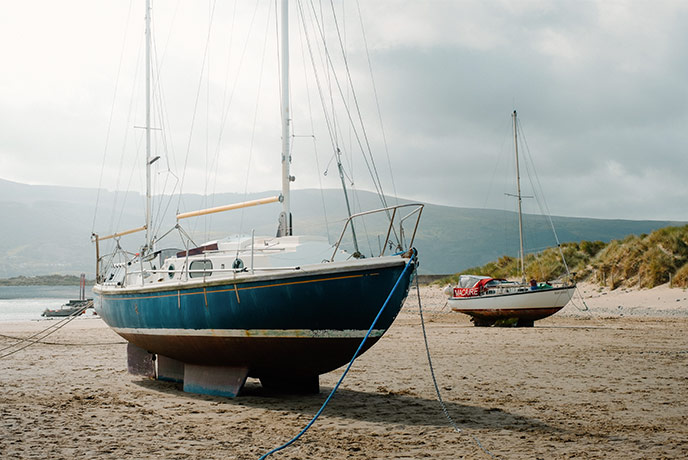 Best for: A flat, accessible route
Distance: 9.5 miles
Time: 5 – 6 hours
Difficulty: Easy
Starts/ends: Dolgellau/Barmouth (but can be joined at several points including Pont y Wernddu, Penmaenpool/Taicynhaeaf, Arthog and Morfa Mawddach)
Parking: Marian Cefn Car Park (Dolgellau) or Promenade Car Park (Barmouth)
Landmarks: the RSPB reserves of Arthog and Taicynhaeaf, Barmouth bridge
This beautiful, almost traffic-free trail consists of a disused railway track that follows the southern edge of the Mawddach Estuary, where the River Mawddach meets the sea and forms a huge sandy estuary. Back in the 18th century this was a bustling centre for ship building and gold panning, however today there's little evidence of its industrial past, being a peaceful and scenic spot that's an important habitat for fish, birds and other wildlife – pretty much the whole area is listed as a Site of Special Scientific Interest (SSSI). The Mawddach Trail can be walked or cycled, and it's flat, even and at least three metres wide, making it perfect for everyone including wheelchair users and prams.
The trail passes through such spots as the RSPB site of Arthog Bog nature reserve, home to flocks of siskins and finches, and the former signal box at the old station at Penmaenpool, which has been turned into a pretty RSPB observatory. There are spectacular views of the surrounding mountains, meaning you'll always have something to please the eye while you walk. The trail ends by crossing the iconic railway bridge over the mouth of the estuary into Barmouth, with expansive views of the coast and some of Wales' best beaches, after which you can walk into Barmouth and catch a bus back to Dolgellau. There are some very pretty towns and villages along this route, making it perfect for an urban wander and some window shopping.
Skomer Island, Pembrokeshire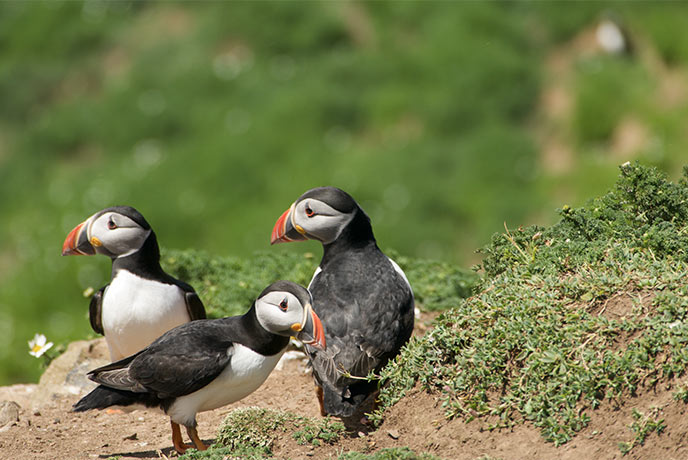 Best for: Bird and nature lovers
Distance: 3.5 miles
Time: 1.5
Difficulty: Moderate
Starts/ends: North Haven
Parking: Martin's Haven National Trust car park
Landmarks: The stunning colonies of birdlife
For a walk with a difference, we recommend this lovely island that's open to the public from April through to September. A National Nature Reserve since 1959, Skomer Island is an incredibly important wildlife site for puffins, grey seals, northern ravens and even lizards. Skomer is also home to the largest breeding colony of Manx shearwaters in the word – phenomenally, some 350,000 breeding pairs! To start the walk you'll need to take the 15-minute ferry from Martin's Haven where volunteers will meet and greet you, then there's the 87-step climb up onto the coastal path.
Following the path you'll spot nesting birds such as razorbills, kittiwakes, fulmars and of course puffins (active from May to August) as you walk towards Skomer Head, then you turn north, passing Garland Stone which is the best place to spot grey seals. On the way back to North Haven and the ferry, you take the inland route, passing over the highest point of the island that's perfect for panoramic views and gorgeous wildflowers. Please check out the ferry timetable to plan your trip (tickets must be booked in advance), and note that there are no boats on Mondays and they are less frequent in August and September. There are toilets on the island but no café, so ensure you stock up with food and drink before you catch the ferry.
Hafod Estate, Ceredigion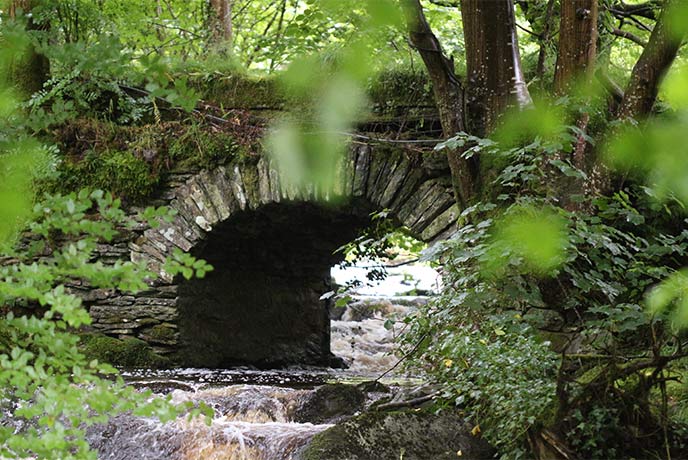 Best for: Curated wilderness and Bridgerton lovers
Distance: 1 mile to 3.5 miles
Time: 1 to 3 hours
Difficulty: Moderate to difficult
Starts/ends: The National Trust car park
Parking: National Trust car park
Landmarks: Peiran Falls, Alpine Bridge, Cavern Cascade, Hefod church, Mariamne's Garden and Mrs Johnes' Flower Garden
While Hafod Mansion has long been demolished, the stunning 200-acre Hafod Estate with its three million trees, parkland, bridges and waterfalls are still very much alive and have attracted visitors since the late 18th century. There are five waymarked trails around the site such as the Lady's Walk and Gentleman's Walk which were laid when the estate was first built. Each trail is different in length and terrain, taking in the gorgeous countryside filled with waterfalls, gardens, bridges and mystical mossy glades.
Highlights include the Peiran Falls, a cascading waterfall on the Lady's Walk, and Mariamne's Garden, originally a retreat for the daughter of the estate and a beautiful alpine garden. Although a managed estate, Hafod still veers on the wild side, being a Site of Special Scientific Interest (SSSI) that's rich in biodiversity, especially for lichens, ferns, mosses and fungi as well as otters and kingfishers by the river, pine martens in the woodland and buzzards and red kites flying high above the trees.
Pull on your walking boots and step into a blissful country escape in one of our gorgeous holiday cottages in Wales, just what's needed to recharge the batteries!