Famed for its beautiful beaches, bustling harbour and thriving art scene, St Ives is a truly idyllic holiday destination that you'd have to dig deep to beat. Situated in the west of Cornwall, St Ives plays host to thousands of visitors throughout the year in search of its stunning harbour, quaint shops and plethora of museums and galleries.
Beaches in St Ives: golden sands, turquoise waters and crystal-clear rock pools
While St Ives offers many attractions and activities to holidaymakers and day-trippers alike, the beating heart of this much-loved town has got to be its iconic beaches.
From stretches of golden sands through to intimate coves, Cornish beaches have earned themselves the 'Cornifornia' hashtag for good reason over the years. Offering white sands and sky-blue waters, many of the beaches in St Ives deliver something close to the Golden State experience but without having to go anywhere near a pair of rollerblades.
Whether you're soaking up the sun on Porthminster beach, exploring the harbour or venturing out of town to discover neighbouring beaches such as Carbis Bay or Godrevy beach, you could easily spend a fortnight exploring the St Ives coast and still run out of time to tick off your bucket and spade list.
A quick word on logistics
It's worth mentioning that parking in St Ives can be tricky in the busier months. If the idea of competitive parking breaks you out in a hot sweat, we'd advise parking at the St Erth Multi Modal Hub.
From here you can take a leisurely walk along the South West Coast Path National Trail into the heart of the town. Alternatively, you can catch the train from St Erth into St Ives. If you do decide to drive to St Ives, we'd recommend setting the alarm and bagging yourself a space while other holidaying folk are still filling up on a fry-up.
Also, although quite a few of the beaches in St Ives have lifeguard cover during certain months of the year, some of the lesser-known ones don't. It's worth digging out the latest advice before your visit to be extra safe.
Porthminster beach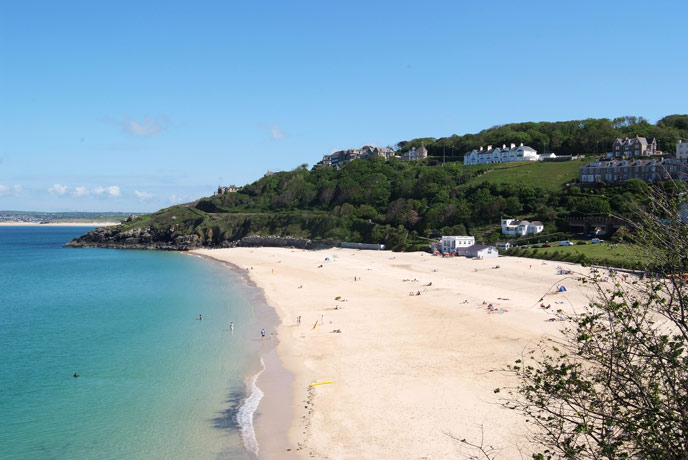 Offering golden sands with a gentle slope, this sheltered beach is a perfect place to spend a day with the family. One of the first sights you will stumble upon when you arrive in St Ives, Porthminster beach is one of Cornwall's finest Blue Flag beaches and is kept pristine all year round.
Activity lovers will be spoilt for choice here, too. Whether you're into paddleboarding, kayaking or you're more of a surf seeker, Porthminster beach is perfectly set up for kit hire or supervised sessions, courtesy of the St Ives Surf School. Swimming is also a popular pursuit here, so if the idea of pulling yourself into a wetsuit feels akin to getting toothpaste back in the tube, throw on a swimming costume and banish the neoprene to the back of the wardrobe for good.
There's also an 18-hole mini-golf course at the beach so you can easily squeeze in a quick round with the family before refuelling on fish and chips at one of the many takeaway restaurants nearby.
And when the lunchtime belly rumbles kick in, the Porthminster Beach Cafe is a stone's throw from the beach and offers an array of Mediterranean and Asian seafood options as well as light bites.
St Ives harbour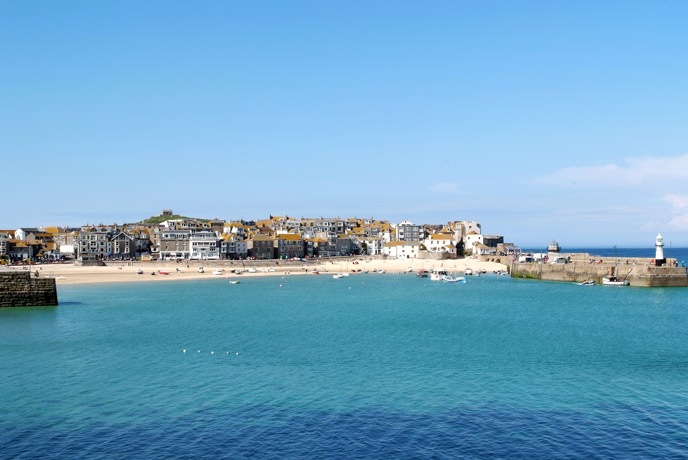 An iconic landmark in Cornwall, St Ives harbour is not to be missed. It is probably one of the most photographed locations in St Ives (one of our webcams is there if you want to take a peek). Visitors can dip safely at high tide or simply sit back and watch the comings and goings of this spectacular spot with friends, family or a dog (note: there is a dog ban in the summer months here - read our guide on dog-friendly beaches in Cornwall for more info).
As one of Cornwall's busy working ports, the harbour is a hive of activity and visitors can enjoy watching fishermen land their daily catches of seafood. Lovers of Cornish cuisine won't go home hungry thanks to a tempting array of pasties and cream teas on offer at eateries surrounding the harbour, but be sure to pop the jam on first to keep the locals happy.
The local Lifeboat Station is also open to the public between April and October, so head on over and discover what the RNLI is all about and how much it has done for the local area over the years.
Bamaluz beach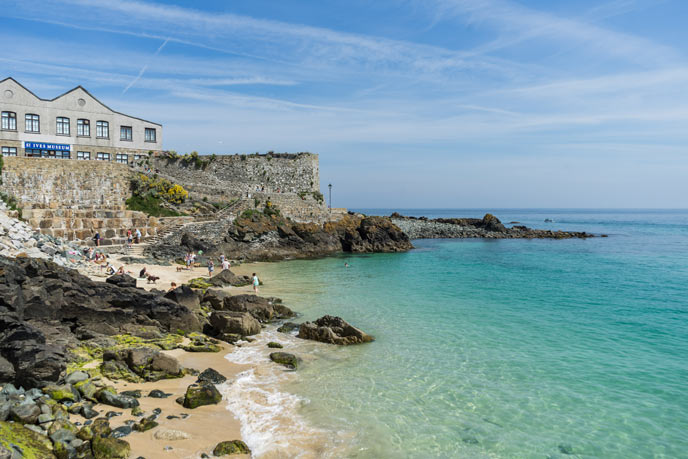 While the hustle and bustle of St Ives is pretty hard to rival, it's not for everyone. Peace seekers in search of a more tranquil day out will fall hard for the sheltered location of Bamaluz beach.
Situated between the harbour and Porthgwidden, this small, intertidal beach is perfect for a leisurely swim at low tide. However, at high tide, the beach itself is usually pretty submerged so it's worth checking out tide times.
Unlike some other beaches in St Ives, this secluded spot is not subject to a dog ban so your furry friend can charge around and cool down in the water at any time of the year. And since it's one of the lesser-known beaches in St Ives, if you're looking for peace and quiet, you'll hit the jackpot at this stunning location.
Once you've had a dip and a stroll, take a peek at what's on offer at the St Ives Museum which sits just above this beach, before meandering back to your Classic Cottage sanctuary to have a much-needed siesta before dinner.
Porthgwidden beach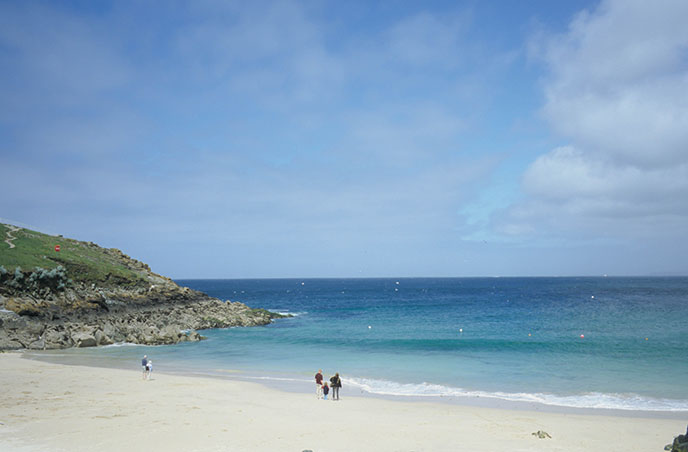 Instagrammers, this one's for you. With soft golden sands, a gentle slope and turquoise waters, Porthgwidden beach is a must-have for your grid. Secluded and off the beaten track, this beautiful spot is usually pretty quiet and seems to fall off the radar of many holidaymakers. While the beach is small (and the overlooking car park, too), you can often have the beach to yourself if you time it right.
And, because no trip to the beach is complete without a good feed afterwards, Porthgwidden Beach Cafe has you well and truly covered for breakfast, lunch and dinner.
Porthmeor beach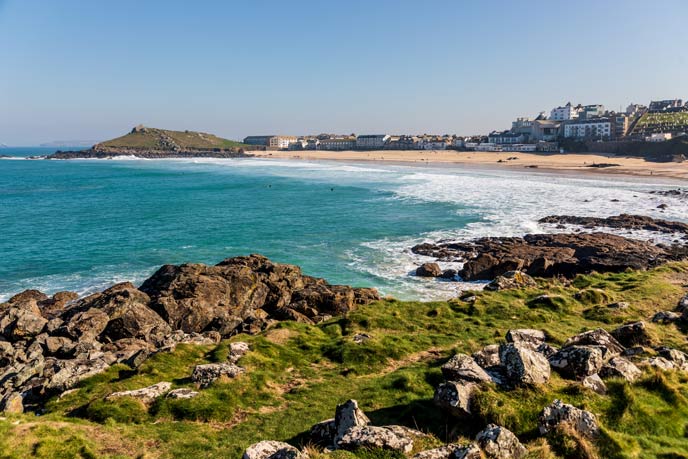 We couldn't possibly write a roundup of beaches in St Ives and not mention this iconic location. A popular destination for surf lovers, this much-loved beach sits just below Tate St Ives, another essential one to tick off your to-do list.
Offering a stretch of golden sands, this Blue Flag beach is situated to the west of the town and is one of the most popular beaches in St Ives. It is great for a family day out, but take care in stormy conditions when the mega rollers come in.
When lunchtime hits, pack up a picnic and watch the surfers give it some welly, or pop over to Porthmeor Beach Cafe for a cup of something warm and a plate of something filling.
While there are plenty of beaches to discover in St Ives, there are also little gems to explore in the neighbouring areas, as well as the lesser-known beaches within the town. If you fancy escaping the crowds or venturing off the beaten track, read on.
Lambeth Walk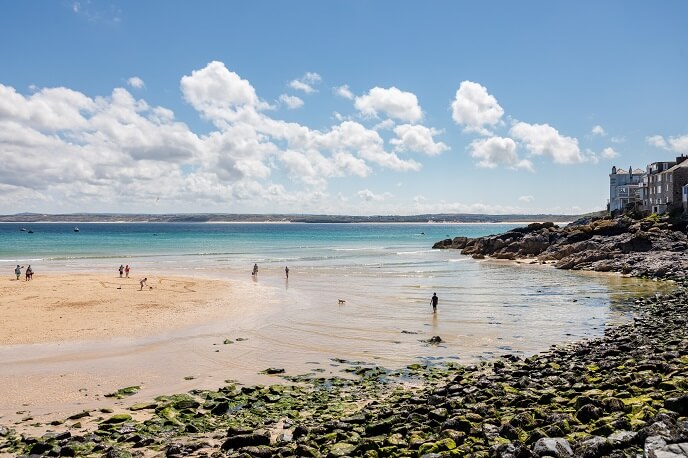 Sitting fairly central in the town and strewn with rocks and boulders along the foreshore, the intertidal beach at Lambeth Walk is almost non-existent at high tide. At low tide, it's a completely different story so it's worth consulting a tide table so you know what to expect.
When the tide goes out, this beach connects with the harbour beach. At a really low tide, you can sometimes walk to Porthminster beach from this location. And since it's a dog-friendly spot, you can give your pooch a runaround at any time of the year without any restrictions.
Wondering about the name? Us too. It is believed that Lambeth Walk got its name from the viral dance craze back in the 1920s that had everyone snapping their fingers and slapping their knees in a swaggering, jaunty kind of way: think TikTok but without the digital footprint to come back and haunt us with. Good times.
Clodgy Point beach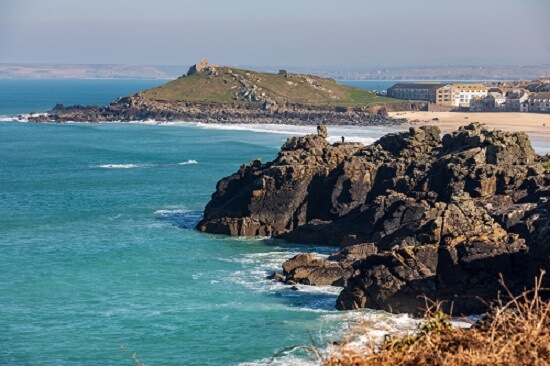 Situated to the west of the town and a short distance from Porthmeor beach, Clodgy Point is well worth checking out. While it's not your average golden-sand option and is fairly rugged, it does benefit from a touch more shelter from the wind than Porthmeor. Featuring a mix of rocks and boulders, this quirky spot is accessible mostly at low tide but can be a bit tricky to get to. Agile walkers can also follow the coast path at this spot but it's not ideal for anyone with accessibility issues.
Visitors can bring their four-legged friends here at any time of the year, on or off a lead, so that's a giant tick in the box for the dog lovers among us.
Carbis Bay beach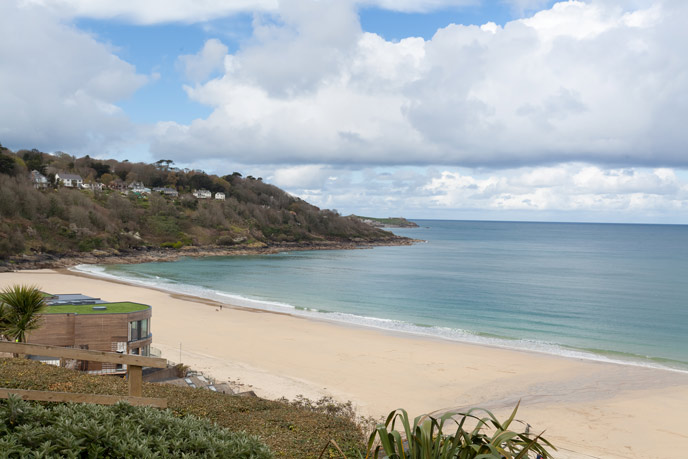 Located at the east of the town, Carbis Bay is pretty iconic. If the name is ringing a bell, it's probably because Carbis Bay is set to host the G7 summit in June 2021. And if it's good enough for some of the world leaders, it's good enough for us.
Situated just a mile from St Ives, Carbis Bay beach is perfect for families. If wildlife's your thing, the valley above the beach is also a popular spot with twitchers. The birdlife along this section of coast is varied and fascinating, and the local microclimate makes way for many species of subtropical plants. Combine this with the turquoise waters and golden sands and you've got yourself a five-star Cornish day out on your hands.
When you've had your fill of sandy fun, there are plenty of activities and attractions nearby to take full advantage of. The Ocean Sports Centre offers a range of watersport lessons and has equipment available for hire. Keen walkers can follow the coast path from the Carbis Bay Hotel all the way to St Ives and enjoy the breathtaking views over St Ives Bay.
Porthkidney beach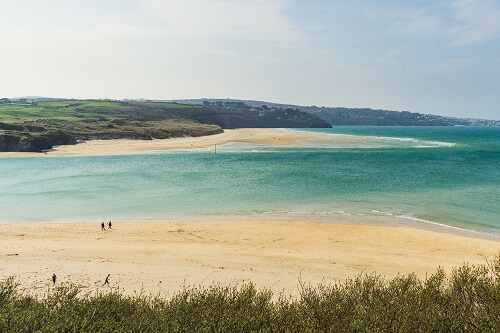 This north-facing beach is possibly one of the most picturesque options that west Cornwall beaches has to offer. Surrounded by sand dunes, this dog-friendly beach boasts almost a mile of golden sands at low tide.
Golf fans can make the most of the facilities at West Cornwall Golf Club, the oldest golf course in Cornwall, while birdwatchers might spot migrant terns roosting on the beach if they're lucky.
While catering facilities are limited at this spot, a one-mile walk from Porthkidney beach will take you to Carbis Bay where you'll be spoilt for culinary choice.
All of this and much more is on offer along the St Ives coast but, while we're on the topic, we must also give Hayle's beautiful coastline a big shoutout.
All hail, Hayle
Situated on the opposite side of St Ives Bay, there are plenty of beaches here that you won't want to miss. Famous for a three-mile expanse of golden sands, the Hayle beaches are seriously spectacular.
Visitors can bathe and relax in the sheltered spot of Hayle Towans beach and spend a day with the kids. Or without them: your call. Go beyond the rivermouth and you'll stumble upon the sheltered spot of Black Cliff beach which is backed by low cliffs that offer some protection from the wind.
You can continue along the beach or follow the South West Coast Path through the dunes all the way to Gwithian and Godrevy at the far end of the bay, taking in Mexico Towans beach, Phillack Towans and Upton Towans along the way. Incidentally, if you were curious, the word 'towan' comes from the word 'tewyn' in the Cornish language which means 'sand dune'.
If surfing's more your thing, you can usually catch a few waves at Gwithian beach and enjoy a picnic afterwards. Venture a bit further along and you'll come across Godrevy beach which is owned by the National Trust. As one of the more exposed areas along this section of coast, Godrevy beach is the perfect backdrop to a day spent rock-pooling or building sandcastles, just as much as it is on a wild, wintry day to blow away the cobwebs from the night before.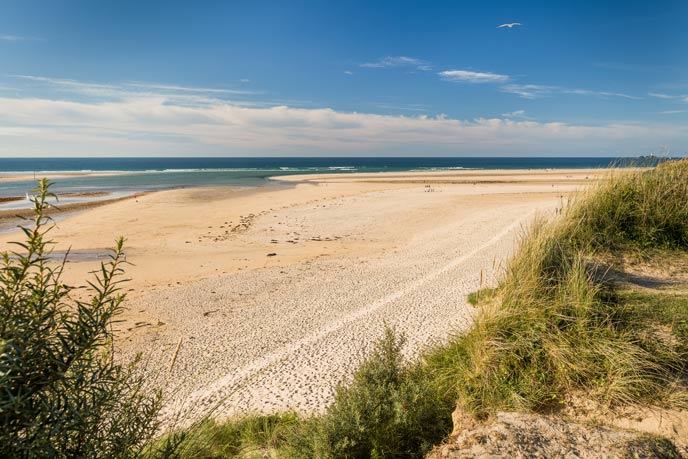 Virginia Woolf fans can hop on a boat trip to the magnificent Godrevy Lighthouse and take in the spectacular views. Foodies will fall hard for the tasty treats on offer at Godrevy Cafe which is nestled within the dunes just next to the car park.
Experienced surfers can expect some of the best surfing conditions in this area of Cornwall. The beach is also popular with canoeists and 'goat boaters'. Yep, we once had to Google that, too.
With all of this on offer and so much more, you'll certainly get your money's worth when you stay at this iconic part of Cornwall. From rock-pooling to dipping, from catching a wave to enjoying a stomp, the St Ives coast will deliver again and again.
Simply pick one of our cosy cottages either in St Ives or the surrounding areas in Cornwall, pack a bag and head west for a trip you'll never forget.