With miles upon miles of stunning countryside and jaw-dropping coastline, there are two things the scenery of East Sussex gets us excited for… a good walk and a belly-popping meal at one of the best pubs in East Sussex… we mean, the two do kind of go hand in hand!
As you stroll around the vividly green countryside, you'll stumble across many historic pubs and inns, many of which boast crackling fires for the winter months (check out our top cosy pubs in Sussex for the run down) and suntrap gardens for the summer, giving you lots of opportunities to put your feet up after a day of coastal trekking.
Here are just some of our favourites to get your tastebuds tingling…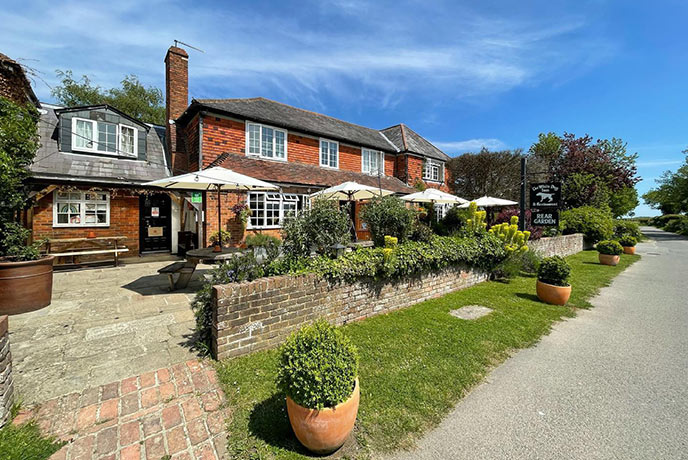 Village Street, Ewhurst Green, Robertsbridge TN32 5TD
You just can't beat a village pub when it comes to a pint of real ale and some good, honest pub grub. At the White Dog Inn, you'll find all of the country inn essentials including a log fire, sunny beer garden and even the picture-perfect red-brick façade, giving you the very best surroundings in which to enjoy your White Dog Inn burger, which might just be the best burger you'll ever sink your teeth into – thank you, bacon jam!
There is plenty to see and do around The White Dog Inn as well including the historic Bodiam Castle, one of the many impressive castles in Sussex (which you can actually see from the beer garden), and the beautiful Sussex gardens of Great Dixter – both providing a fabulous place to stretch the legs after a good feed.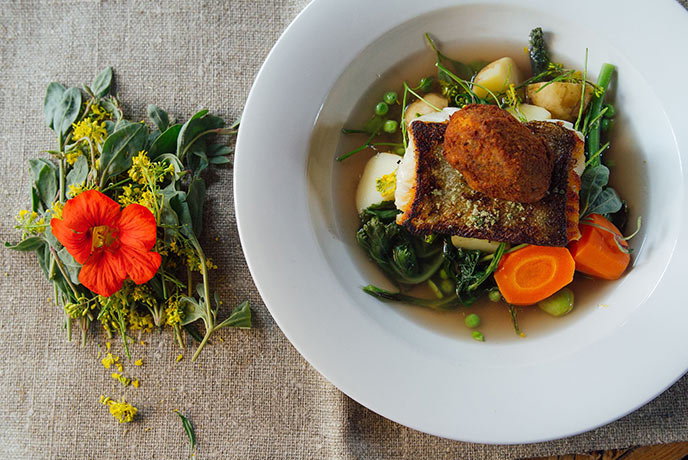 64-66 All Saints St, Hastings TN34 3BN
There's nothing quite like a beach day for resetting the mind, body and soul, especially when you can pair it with a tremendous meal and a G&T (or two). Head along the beautiful beaches of Sussex to the pebbly beauty of Hastings where, just a stone's throw away, you'll find The Crown in all its fabulous glory.
Sleek, stylish, and (obviously) full to the rafters of craft beers, European wines and specialist spirits, there are few places we're happier, especially when you take into account the mouth-watering menu full of fresh, local ingredients. Nibble on hot-out-oven bar snacks as you chat about the day or sit down to a three-course meal that's sure to knock your socks off – yes, we're in love with the ice cream sundae here and we're not afraid to admit it!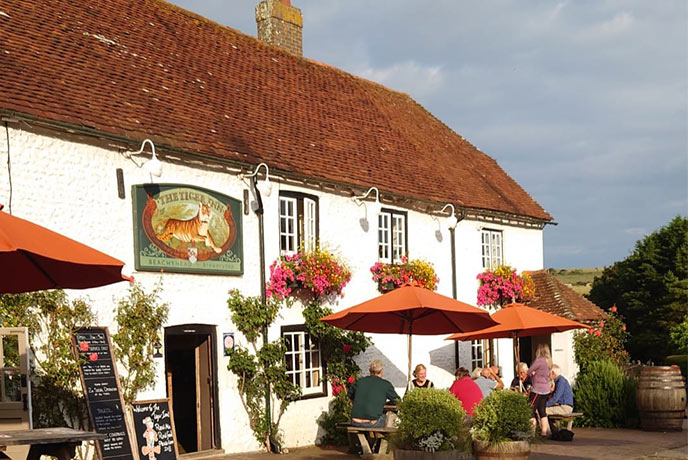 Village Green, East Dean BN20 0BY
Serving everyone from soldiers to smugglers since the 16th century (we assume smugglers are rare patrons nowadays), this quintessentially English pub perfected its welcoming atmosphere many years ago.
Low-slung beams and red brick walls really add to the charm of this ancient bolthole while the menu takes a welcome leap into the current century for its inspiration, with a superb mix of vegan, gluten-free, and kids' meals – who's ready for a tiger burger? Curl up by the roaring fire or bask in the sun after a day spent lolling about on the nearby beach at Birling Gap – we don't know about you, but we're about ready to settle down for an afternoon of country bliss at The Tiger.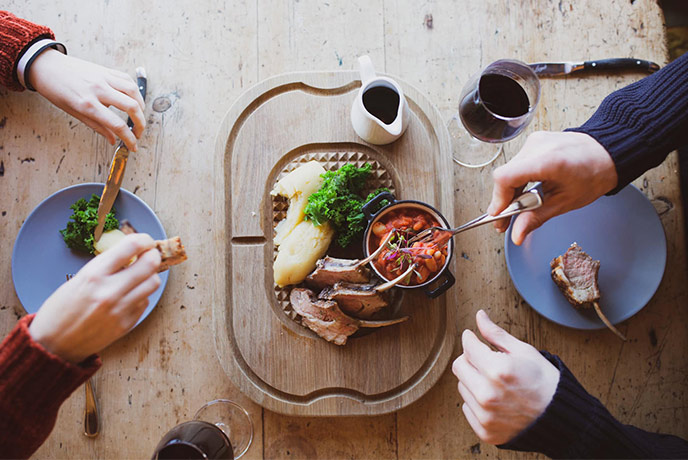 Milton Street, Polegate BN26 5RL
The third pub on our list to share its name with an animal (we don't know why the pubs of East Sussex are so mammal-minded but we're absolutely on board with it), The Sussex Ox continues the tradition of cosy vibes and airy spaces. A deliciously inviting beamed snug, complete with an open fire, tempts you in while the warmer weather can be enjoyed in the light and bright Garden Room, which looks out over Cuckmere Valley.
Once you've fallen in love with the idyllic setting, one look at the menu will have you falling head over heels all over again. Beef from their own cattle and lamb from their own flock give new meaning to the term 'locally-sourced' as you don't get much more local than that. And for those who have a sweet tooth, you'll be hard-pressed to find a more tempting array of puddings… Local ice cream? Don't mind if we do!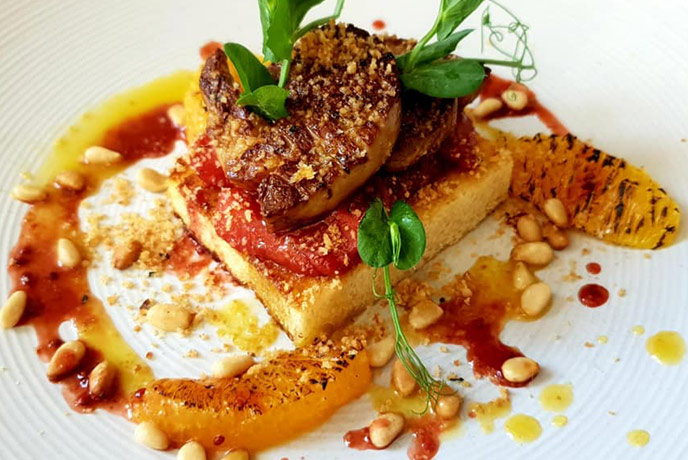 The Green, Newick, Lewes BN8 4LA
There are few things better than an invigorating walk through the natural beauty of East Sussex. In fact, the only thing better is finishing that walk off with a Sunday roast with all the trimmings… no one's leaving out the roasties and Yorkshire puds on our watch! Yep, shake off those muddy boots and head to The Bull for a feast that's sure to fill you up good and proper.
Inside the welcoming brick and flint exterior, you'll find all the trappings of a traditional pub including a rosy-cheeked selection of real ales and four (yes, FOUR) log burners for those chilly winter nights – or those sunny spring evenings when you kind of just want to be cosy anyway.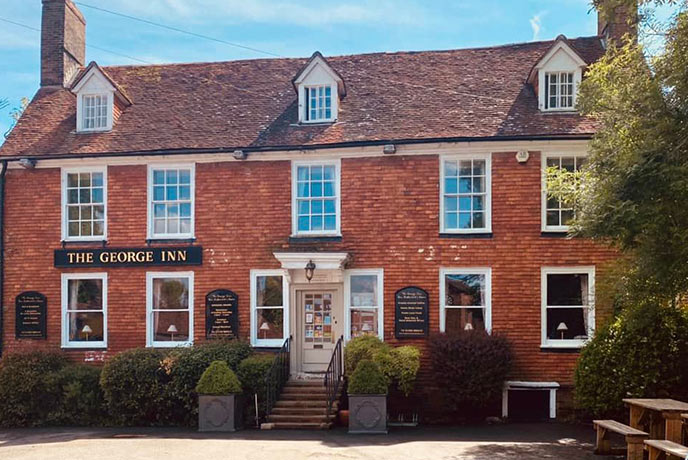 High Street, Robertsbridge TN32 5AW
Near the historic towns of Hastings, Battle and Royal Tunbridge, The George Inn is perfectly placed for a cheeky bit of sightseeing before pulling up a pew and strapping on the feed bags after an all-encompassing day trip! You can bring your four-legged friend along too as dogs are welcome at this friendly Sussex inn. Check out our dog-friendly cottages in Sussex so you can really sink into some time away with the pooch.
The menu is awash with local produce, so whether you're in the mood for chunky, crispy chips or a juicy chargrilled burger, you know your plate is going to be full of proper Sussex fare. Oh, did we mention they do a whole baked camembert? Yes, it probably is intended for sharing, but that's never stopped us before! Over on the 'mini me' menu, you'll find lots of great mini meals to satisfy even the pickiest of eaters.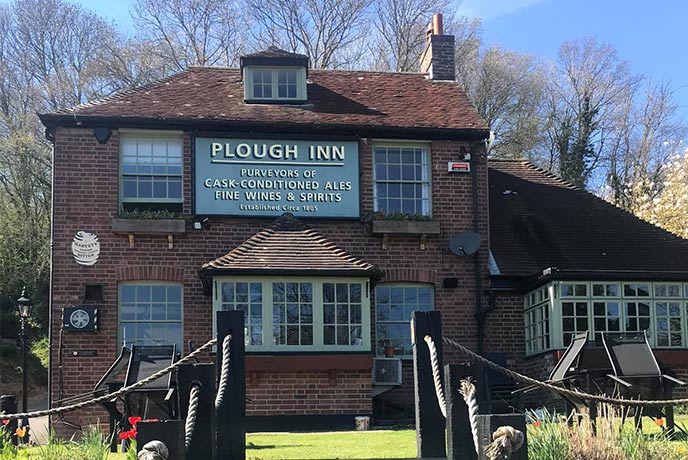 1 Plough Lane, Crowhurst TN33 9AW
Red bricked and surrounded by green, you can't get much more storybook than The Plough Inn! For those who like nothing better than to while away a sunny afternoon with a pint in hand, the pretty beer garden has you covered (both metaphorically and literally if you prefer the cool shade of a parasol).
Heading indoors you'll find a relaxed atmosphere and menus full of proper pub grub alongside some ingenious creations from bhaji burgers to truffle oil club sandwiches – we're already drooling. You're also quite likely to find some wagging tails in The Plough Inn, which welcomes all smiling faces, whether they belong to people or pups!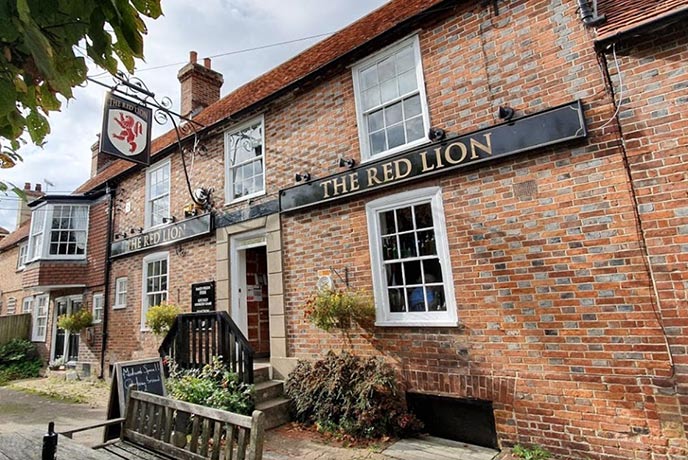 Denbigh Road, Hooe, Battle TN33 9EU
With over 600 Red Lions in the UK, this 15th-century smugglers' haunt has to be amongst our favourites. Dubbed Sussex's best-kept secret (shh, don't tell anyone we told you), The Red Lion in Hooe takes great pride in offering an ever-changing menu that really makes the most of the local countryside and seas.
While the show-stopper dishes change on a daily basis, you'll always find your pub favourites from fish and chips to steak and ale pie. In the mood for something with a little more sizzle? The wood-fired kitchen is ready to turn up the heat, serving up delicious pizzas covered with a drool-worthy selection of toppings.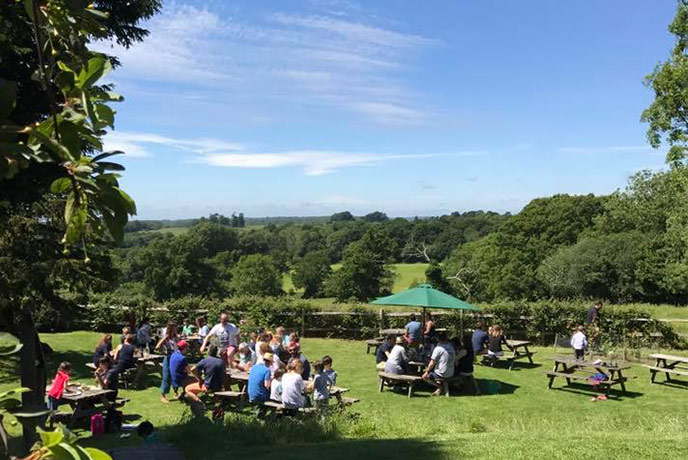 High Street, Fletching TN22 3SS
Before we get onto the subject of food and drink, we can't help but mention the drawing factor of The Griffin Inn – the two-acre garden! With reaching views across the South Downs and a gloriously sunny aspect, you won't find a better spot for a drink in all of East Sussex. Join them for a pint of Harvey's Best Bitter, a BBQ or a painting masterclass where you'll try and capture the idyllic views before you – just don't mix up your brush water with your G&T.
Curated around the seasons, the menu here is always working alongside the land and sea for the very best dishes. Tuck the napkin in for a plate of The Griffin's famous roast or let your eyes go straight for the puddings… yes, we're looking at you, cheese board!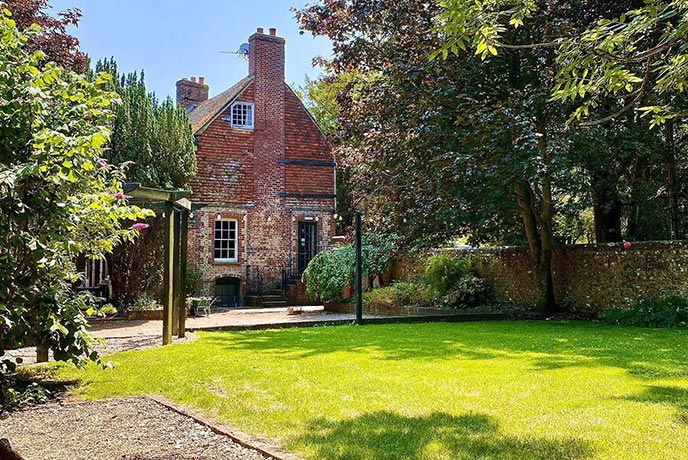 Firle, Lewes BN8 6NS
As you walk up the quiet street that bears no road markings or streetlamps and approach the brick and flint exterior of The Ram Inn, you'll be entirely forgiven if you forget you're in the 21st century. Local, fresh and seasonal ingredients make up the menu, which features lamb and game from the nearby Firle Place and Firle Estate, ensuring an impressively short distance between farm and fork.
There's something for everyone at this family-friendly inn with a play area keeping the kids entertained and the terrace offering a quiet space to relax and refuel after a day spent rambling through the natural beauty of the surrounding South Downs National Park.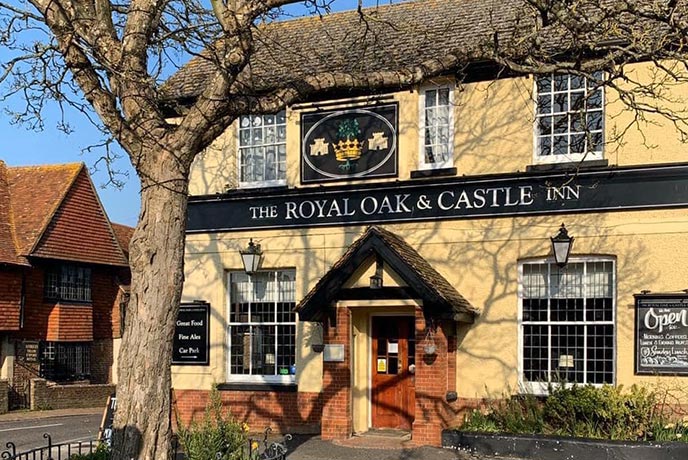 High Street, Pevensey BN24 5LE
If you're looking for a Sussex pub that offers more than just your run of the mill dining experience, then The Royal Oak and Castle is definitely worth a visit. With a packed calendar full of yoga breakfasts (yep, that's a thing), painting classes and quiz nights, you can pair your white wine with the fish and a fun activity. And don't worry if the kids are coming too, they'll find endless enjoyment in the outdoor play area, which comes with bouncy wood chippings and plenty of things to run, jump and leap over.
When the time comes to turn to the menu, you won't be disappointed as a mouth-watering mix of pub classics awaits – just wait till you try their traditional cottage rolls! Catering to an array of dietary needs (including the canine variety), there really is something for everyone at this uber welcoming bolthole in East Sussex.
Pevensey Marsh, Hooe, Battle TN33 9HH
Mentioned in the Doomsday Book in 1084 before making the change from shepherd's cottage to inn where poorly lambs could be warmed by the fire, you can't help but fall in love with the history behind this local drinkery. Keeping the tradition alive today, the aptly named Lamb Inn enjoys a 24-hour license during lambing season so local farmers can unwind at any time of the day or night.
With six different menus to peruse, including puddings and brunch, there's no shortage of choice here. Take your time going down the tempting lists as you sip on a glass of the local best… after all, there's nothing better than the possibilities of food!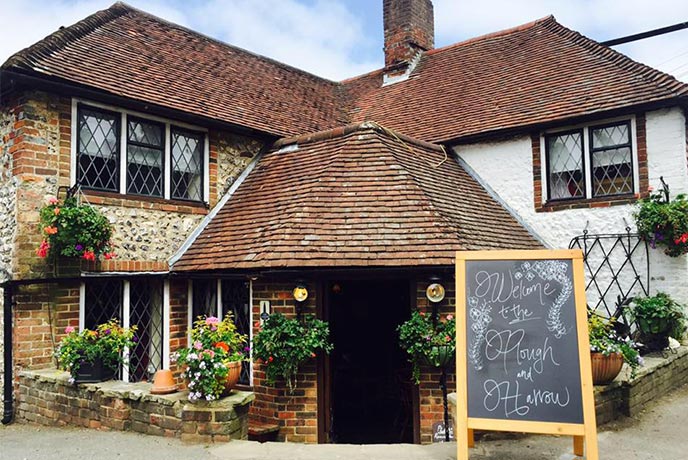 The Street, Litlington BN26 5RE
A quaint country inn through and through, The Plough and Harrow has got 17th-century charm written all over it from the inside out. Traditional beams line the ceiling as roaring fires fill the whole place up with a cosy atmosphere you won't want to leave (and after tasting your way through the daily selection of real ales, you might not be able to).
Aside from the button-popping Sunday roasts, you'll find all your favourites on the menu from beer battered fish and chips to the pub classic to top all classics, Sussex ham, egg and chips – you just can't beat a bit of pub comfort food!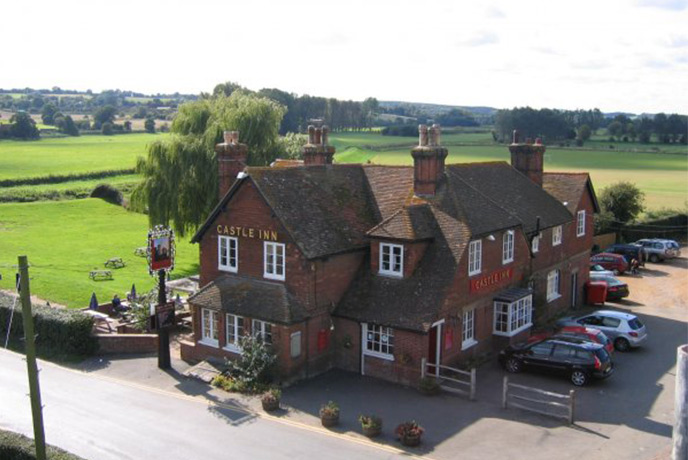 Main Road, Bodiam, Robertsbridge TN32 5UB
After a day spent exploring the nooks and crannies of Bodiam Castle, you can't help but pop across the road to Castle Inn – we mean, it's right there in the name! Fresh food, local ales and a garden that looks out over the Sussex Downs, river and steam railway all add up to an unbeatable country pub experience that almost makes you skip out on visiting the castle completely – we'll admit, we've been tempted to head straight to the inn from time to time.
From breakfasts that get you ready and raring for the day, to a mushroom and Guinness pie that ends your evening on the right note, the menu here is just as eye-catching as the inn itself. Sit back and relax with the family as you swap holiday moments and plan your next exciting day in East Sussex.
Have the pubs in East Sussex got your mouth watering and your fingers itching to book your next staycation? Browse our welcoming cottages to find the perfect match for your foodie stay.