Whether you're a nature lover who wants nothing more than to disappear into the fells for a week-long adventure or you're a historian at heart looking for the richest retellings of the area's fascinating past, the Lake District has you well and truly covered.
From lakes that inspired childhood books to forests that have played backdrop to your favourite space operas, you'd be hard-pressed to find a holiday destination with as much variety – even the landscape varies from deep lakes to towering fells! This green-topped wonderland is fantastic for family holidays, with attractions such as Beatrix Potter World delighting kids and big kids of every age.
Swim in the almost unending waters of England's largest natural lake (Lake Windermere), hike to the top of England's tallest mountain (Scafell Pike), or chow down on one of the area's iconic foods, including Cumberland sausage and sticky toffee pudding – oh yes, this syrupy pud was invented right here on the banks of Ullswater!
So, fuel up (or pack an epic lunch) and let's discover the many ways in which you can fill your days in the Lake District…
Honister, Keswick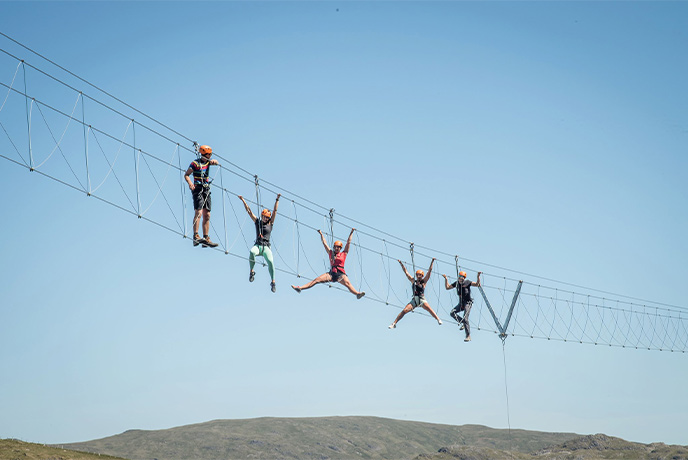 Whether your interests lie in art, history, or hair-raising feats of daring, Honister Slate Mine must be seen to be believed. Enjoying incredible views atop a mountain pass in the heart of the Lake District National Park, this memorable mine, which happens to be the last working slate mine in England, packs a real punch when it comes to location. You can enjoy a guided tour into the mines, which takes you through winding passageways and caverns steeped in history (and slate), or you can test your mettle with one of their many adrenaline activities, from canyoning to walking across the jaw-dropping infinity bridge. Finish your visit off with a nose around the gift shop, where incredible examples of artistry can be found.
Bridge House, Ambleside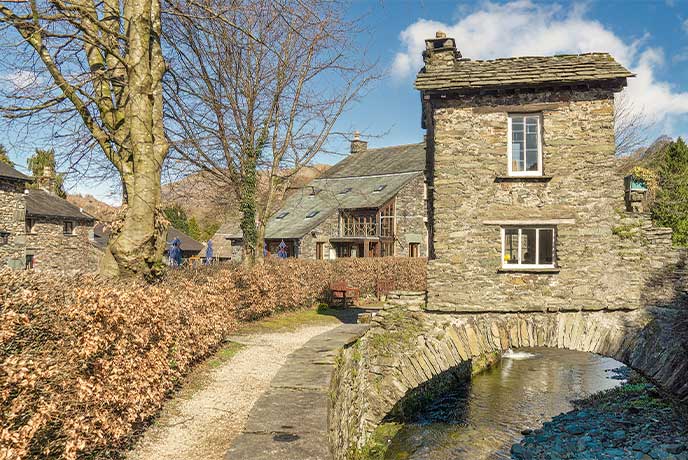 Tucked away in the pretty town of Ambleside lies, or rather perches, one of the most photographed sights in the Lake District, Bridge House. A curious sight, this two-room house plays the role of bridge very well. You can enter the National Trust oddity for free, seeing the pocket-size rooms for yourself. Backed by reaching fells, Ambleside is well worth a tour or two during your visit. Little cafés and shops line the streets and the impressive Stock Ghyll Force waterfall is a short walk away, the waters of which run beneath the charming Bridge House.
Grasmere Gingerbread, Grasmere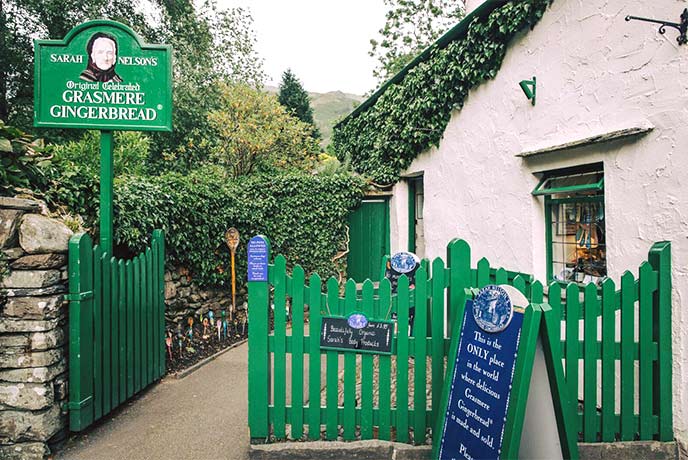 Ok, so this might not technically be a 'thing to do', but no visit to the Lake District is complete without visiting this iconic little shop in Grasmere. Created by the fabulous Victorian inventor Sarah Nelson, Grasmere Gingerbread has become a household name for anyone who enjoys the warming flavours of this soulful spice. The teeny tiny shop transports you back in time, with the lovely employees sporting Victorian outfits as they serve up slabs of the UK's best gingerbread (in our humble opinion). Our advice? Buy more than you think you need as it will disappear all too quickly!
The World of Beatrix Potter, Bowness-on-Windermere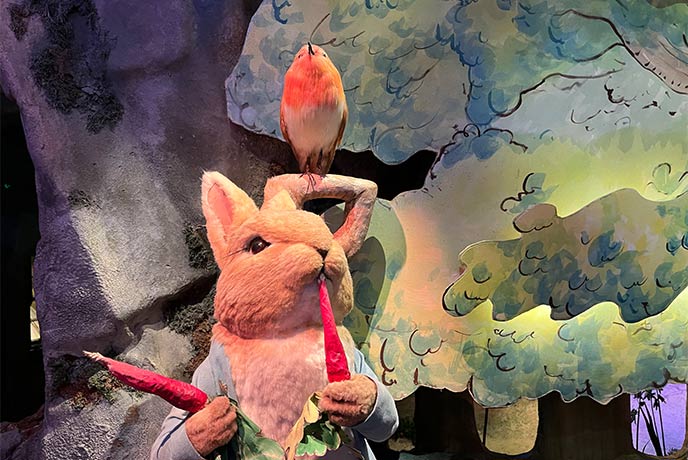 Celebrate the incredible mind that filled childhoods everywhere with the curious tales of Peter Rabbit and Jemima Puddle-Duck, with a heart-warming visit to The World of Beatrix Potter. Walk through her many captivating stories, from Jemima's woodland glade to the Peter Rabbit Garden – all the while keeping an eye out for Mr McGregor! Incredible shows are held at The Old Laundry Theatre, where the tales are brought to life on the stage. You can also stop by for a quick bite to eat in the café and a look around the fabulous shop.
Ullswater Steamers, Ullswater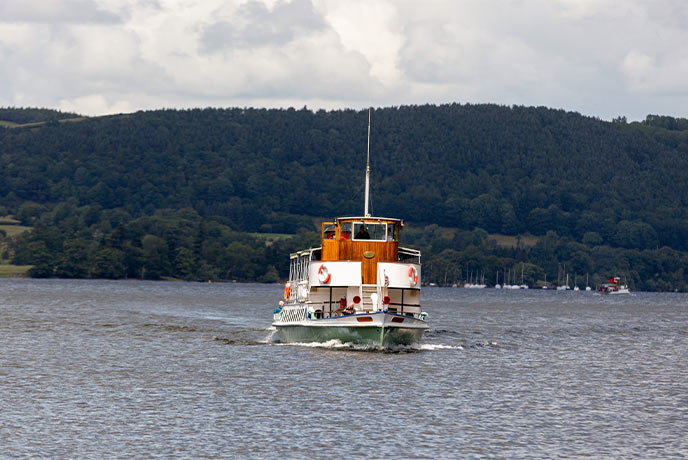 When visiting the Lake District, there's one activity that stands, or rather floats, above all the rest… Boat tours are a superb way to not only experience the beautiful lakes from a different perspective, but when enjoyed on the likes of the Ullswater Steamers, they provide the chance to step back in time as you enjoy the gentle chug-chug of the steam engine. Whether you visit in spring when Wordsworth's daffodils are in full bloom, or you're after a fun way to get to your walk's next starting point, these family (and dog) friendly boat trips are an experience in their own right.
Ravenglass and Eskdale Railway, Ravenglass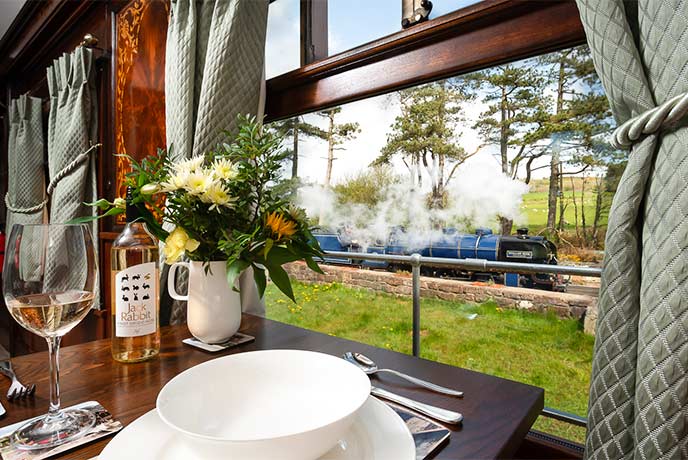 Continuing the steam theme, Ravenglass and Eskdale Railway is another great way to explore the Lakes. The 7-mile journey takes you through many stunning scenes, including the only coastal village in the National Park. Known locally as 'La'al Ratty', which means 'little railway', this family-friendly attraction can act as the start or end of your journey, with many excellent things to do at either end, from the Ravenglass Railway Museum to some exceptional local walking trails. The steam engines also provide an experience of their own, with special events catering to every taste – we're particularly big fans of the gin train and the pie, mash, and pudding trains!
Derwent Pencil Museum, Keswick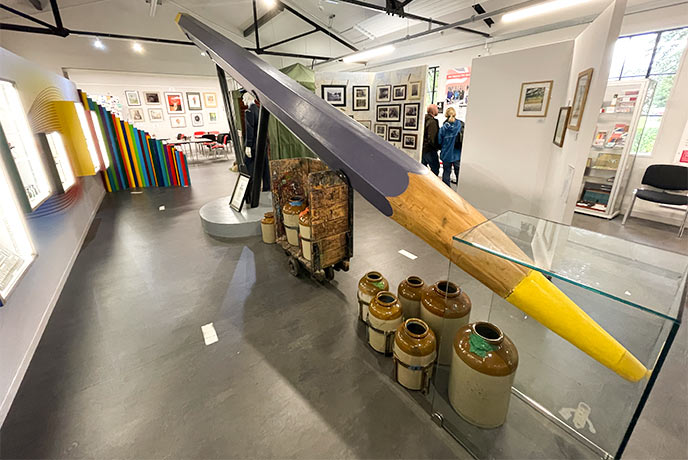 Pencils might be more commonly used to tick off to-visit lists rather than featuring on them, but this fascinating museum in Keswick is definitely worth pencilling in your diary. Oh yes, the Derwent Pencil Museum is the place to be for all your lead-based questions, from how pencils were used to smuggle secrets during World War II to where pencils began. Kids will love entering through the replica graphite mine, while everyone will enjoy the facts and remnants found throughout the museum. The gift shop has a superb array of art supplies (not just pencils), so why not unleash your creative side and capture moments from your stay on paper.
Castlerigg Stone Circle, Keswick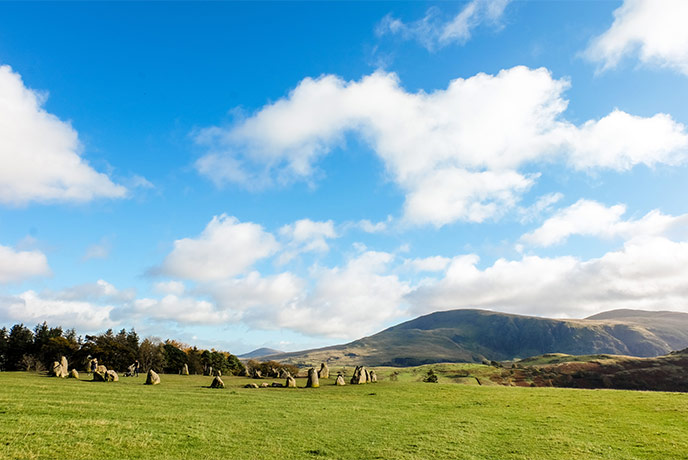 One of the UK's top destinations for avid walkers, the Lake District is famous for its epic stomps. From up-fell rambles to beautiful lakeside wanders, this glorious area boasts plenty of jaw-dropping scenes for your walk. One of the most famous has to be the short trek from Keswick to Castlerigg Stone Circle. 4 miles in total, this there-and-back-again adventure enjoys incredible views, especially when you reach the iconic stone circle that offers 360-degree views. If you fancy the full treatment, you can sign up to one of the great Lake District National Park guided tours, which include this and many other superb routes. The circle itself dates to Neolithic times some 4,000 years ago. The original use of the circle is unknown (it could have been anything from a meeting place to an astronomical observatory), but it's always fun pondering the possibilities when you visit this fascinating National Trust site.
Lowther Castle, Penrith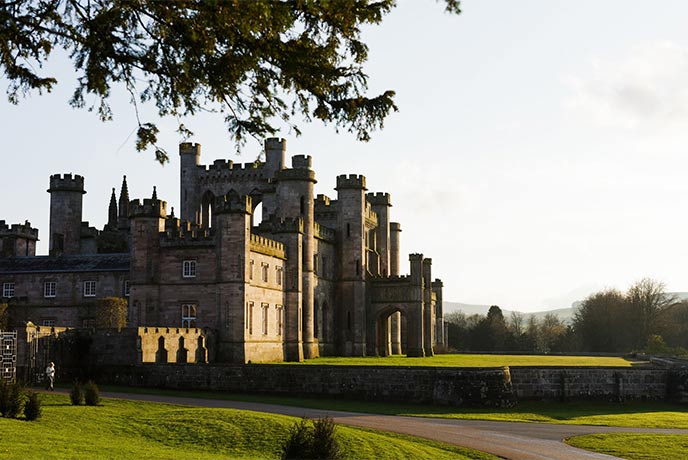 From walking down hallowed halls (and picturing yourself in a time long since passed) to uncovering hidden secrets, a trip to a castle is one of the grandest ways to learn about the history of an area, and nowhere is this more true Lowther Castle. Built in the 19th century, this looming exterior used to house a room for every day of the year, before being internally demolished over 50 years ago. The impressive façade continues on though, with equally remarkable (and dog-friendly) gardens stretching around it, providing plenty of astounding sights with which to fill your visit – there's even an adventure playground where the little ones can let off steam.
Sprinkling Tarn, Seathwaite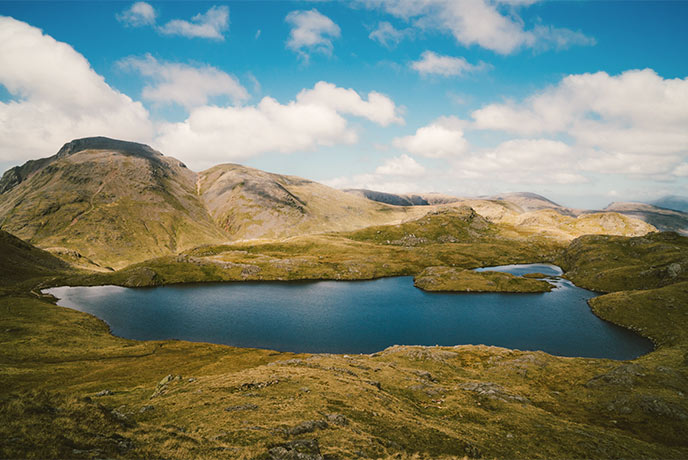 From the deepest lakes (literally, the Lake District is home to England's deepest lake) to the wild and wonderful tarns that pepper the landscapes, the Lake District boasts some truly astonishing wild swimming spots. Oh yes, proving once and for all that you don't need a great roster of beaches to offer a great swim, the Lake District is fast becoming a favourite for those who love a bit of cold water therapy. One of the best places for a truly wild swim has to be Sprinkling Tarn, with its beautiful and towering backdrops. The waters run deep here, so even in the height of summer you can expect an uber-refreshing dip, or you can simply pop yourself down on the banks for a scenic picnic during your ascent or descent of Scafell Pike.
Grizedale Forest, Coniston Water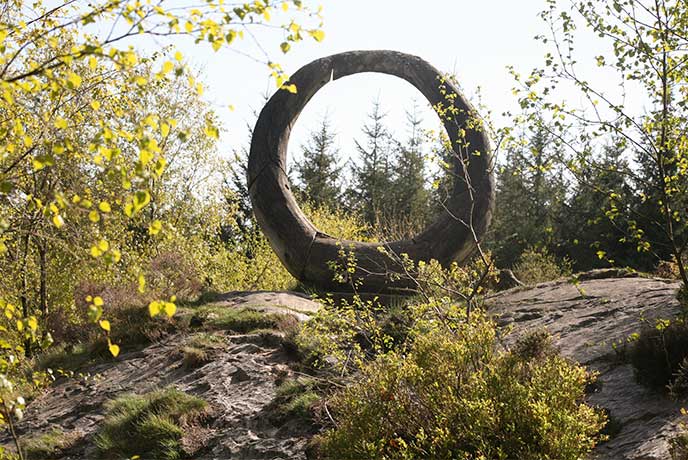 A sweeping mass of ancient trees and criss-crossing trails, Grizedale Forest is a dappled dream for nature lovers. One of the biggest draws to the forest are the numerous mountain biking trails, which zigzag through the trees. You'll find plenty of opportunities for every ability too, whether you're an experienced off-roader or you're new to the world of shredding mud. If you love the idea of two wheels, but fancy a more relaxed experience, the Go Ape segways are a great way to explore the forest. Kids will love the many adventure playgrounds, while the artists among you will adore the exhibition space and sculpture trails. If you visit in the depth of night, you can also catch a rather spectacular show in the night sky. The Lake District is a Dark Skies Discovery Site and Grizedale Forest often puts on stargazing events, with talks and telescopes giving you an in-depth look at the wonderland above.
Dove Cottage, Grasmere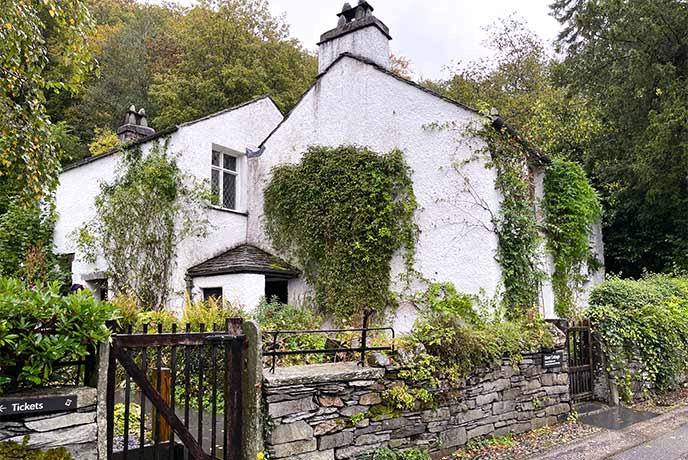 William Wordsworth is synonymous with the wild and beautiful landscape he wrote about. From the hosts of golden daffodils that carpet the floor in spring to the art of mindfulness in nature, Wordsworth painted a picture of the Lake District with pen and paper alone. At his former home, Dove Cottage, you can delve deeper than ever before into the life and works of this esteemed poet as you walk through moments brought to life from Wordsworth's own writings. A garden-orchard and woodland provide many quiet places where you can enjoy the teachings of nature, while the museum takes you on a tour through Wordsworth's creative life.
Windermere Jetty Museum, Windermere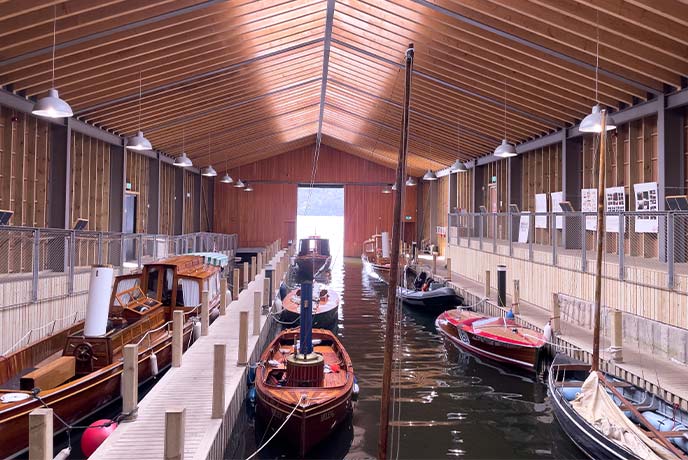 Perched on the banks of one of the Lake District's most famous lakes, the Windermere Jetty Museum is an award-winning celebration of life on the water. Over 200 years of boating history are explored throughout the museum, including the beautiful boatshed, which still houses many incredible vessels. Throughout the museum you will discover a multitude of boats, each designed with a different purpose in mind, as well as incredible exhibitions that are sure to spark the imagination. A dedicated workshop on-site ensures boats are carefully restored, while the Edwardian jetty acts as home base for the many daily sailings that take place. There's a beautiful glass-walled café and terrace where you can sit and soak up your waterside surroundings as you enjoy a cup of coffee and a hunger-quelling brunch.
Ready to explore all the Lake District has to offer? Take a look at our welcoming holiday cottages and start planning your epic stay in this stunning corner of the UK.