Where better to dine on heavenly foods than in 'God's Own County'. Oh yes, promising miles upon miles of wild and wonderful landscapes and more than its fair share of delectable dining options, Yorkshire is a sure-fire people-pleaser when it comes to fabulous feasts.
Home of the Yorkshire pudding, Forced Rhubarb, and over 50 delicious cheeses (so many there's a whole annual festival dedicated to the creamy delights!), you'll be spoilt for choice when it comes to soul-satisfying foods - not to mention a heady selection of home-grown wines. Head to a cosy country pub after a Heathcliff-worthy walk on the moors for a Sunday roast or spectacular Christmas dinner, one of the many Michelin star restaurants for an extra special experience, a home-grown farm shop for picky tea essentials, or an oceanside chippy for that all-important fish and chips after a day on the beach.
Feeling peckish? This list of lip-smacking Yorkshire eateries is sure to fill the corners…
The Black swan, Oldstead
Oldstead, York YO61 4BL
Boasting the highest number of Michelin star restaurants outside of London, Yorkshire is no stranger to top-notch dining, and neither is The Black Swan. The traditional inn, which is owned by the Banks family, holds a Michelin star for its supremely delicious dishes as well as a Michelin green star for its sustainable approach to dining, ensuring a delicious and wonderfully green meal whenever you visit.
The tasting menus follow the seasons, showcasing ingredients plucked from the very ground that surrounds the restaurant, providing a true taste of Yorkshire throughout the year. Feast on the likes of beef with fermented carrot, pork, black apple, and turnip, and rhubarb, yoghurt, and lemon verbena – not to mention a heady drinks menu that packs a refreshing punch.
The Abbey Inn, Byland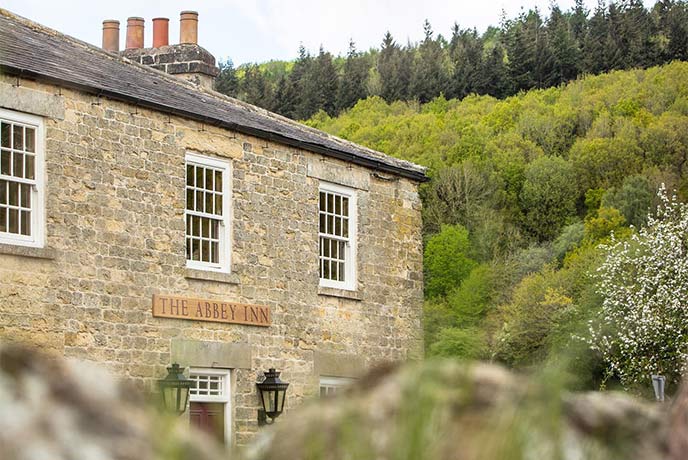 Byland, York YO61 4BD
Continuing Tommy Banks' family ethos of quality local fare, Yorkshire's exciting new restaurant The Abbey Inn is a true celebration of home-grown and reared delights. The beautifully restored 19th century country inn boasts oodles of charm and character throughout, with a hearty menu that mirrors each season perfectly.
Oldstead Dexter beef, independent cheeses, and foraged fruits are just some of the local showstoppers you can find throughout the menu – we're particularly in love with the Forced Rhubarb Schnapps negroni! With three dining locations to choose from, the pub garden, Coxwold Room, and Piggery, you're sure to find a setting and dish for any occasion.
Coach House, Richmond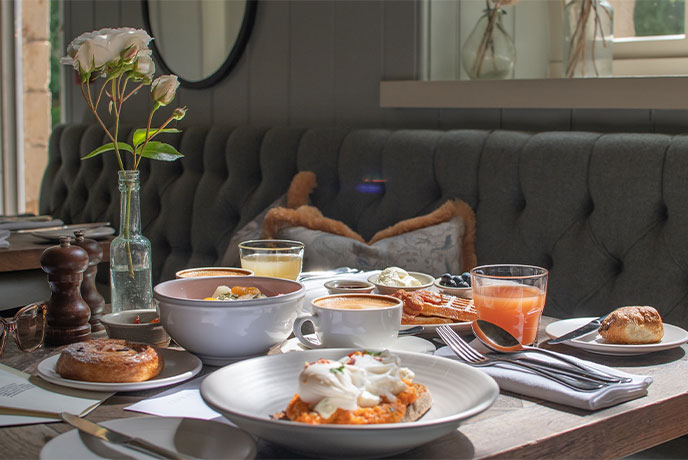 Kneeton Lane, Middleton Tyas, Richmond DL10 6NJ
Nestled on the Middleton Lodge estate, Coach House promises an idyllic mix of peaceful interiors and an estate-to-plate ethos that creates a wonderfully rich menu. Many of the ingredients come from the walled gardens and local suppliers, while the dishes themselves take inspiration from the Mediterranean – there's just something about homemade focaccia that sparks pure joy.
Expanding its culinary offering even further, you can now dine at the estate's newest restaurant, Forge, which offers the same exceptional service and setting with a tasting menu that takes you on a toothsome journey through Yorkshire, including honey from the surrounding estate.
Star Inn, Harome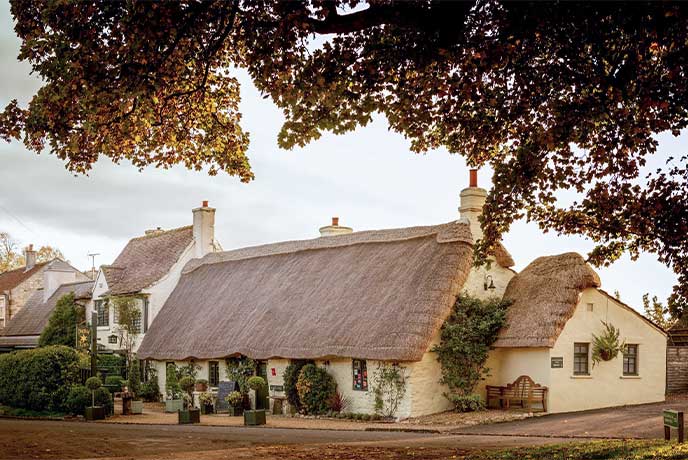 High Street, Harome, York YO62 5JE
With an almost unending list of awards to its name, including a Michelin star, Star Inn is a powerhouse of country charm and delectable dining. From the thatched roof to the Yorkshire-grown foods on your plate, it's wonderfully easy to be swept up by the home-spun atmosphere of this 14th century pub.
Soak up the cosy warmth of the pub bar after a blustery walk on the North Yorkshire Moors or soak up the sun in the garden as you sup on the Star Inn's signature black pudding dish and wash it all down with a perfectly paired glass of wine. The tasting menu is ideal for those who wish to try a bit of everything, and with a menu that features the likes of white asparagus with dressed white Whitby crab and BBQ lamb shoulder, it's definitely a winning choice.
The Secret Garden Bistro, Malham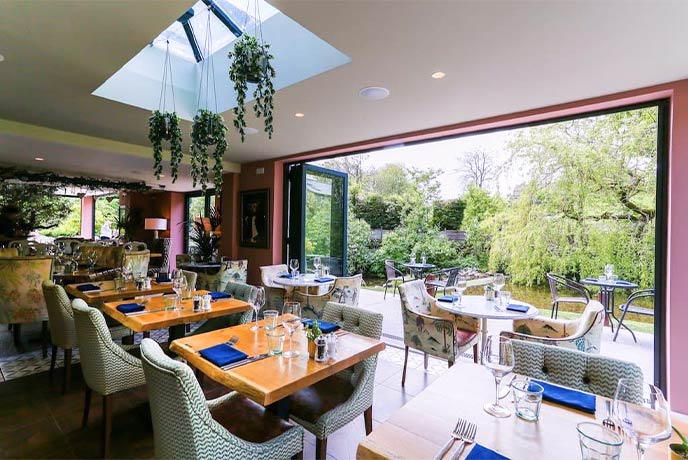 Beck Hall, Cove Road, Malham, Skipton BD23 4DJ
From the magical surrounding landscapes (including the real-life backdrop to Harry Potter and the Deathly Hallows) to the fairytale streamside setting, The Secret Garden Bistro at Beck Hall is a pretty spectacular place to eat in Yorkshire. Welcoming muddy boots and uber-dog-friendly, this waterside bistro is the perfect place to rest and refuel after a hearty walk in the Dales. Bask in the sun with some al fresco dining or cosy down in the snug where an open fire waits to warm wind-bitten cheeks.
On the menu, find anything and everything, including big and beautiful breakfasts to fuel your day of walking, indulgent afternoon teas that add a spot of lip-smacking elegance to your visit, or a round of Yorkshire tapas, from shredded beef in wine to crispy garlic mushrooms with a wild herb dip – all served with an idyllic backdrop and friendly atmosphere.
Magpie Café, Whitby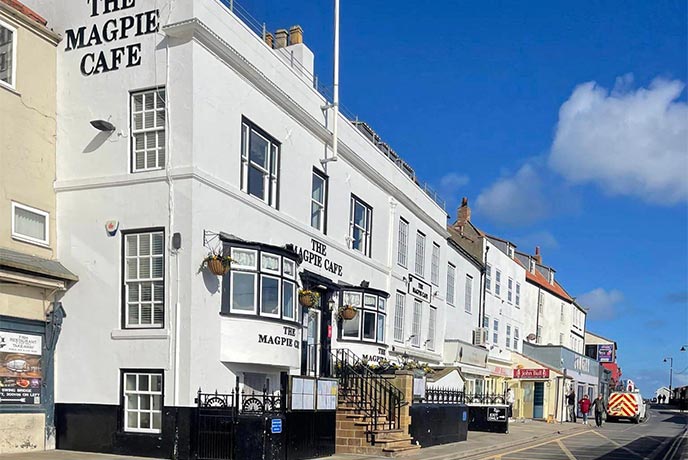 14 Pier Road, Whitby YO21 3PU
You've just spent the day exploring Yorkshire's stunning coastline, which boasts fascinating ruins and a myriad of fabulous beaches… What better way to round the memories off than with a plate of the nation's favourite seaside dish. Famed across the country as one of the best fish and chips in the UK, Magpie Café boasts harbour views and a menu to satisfy even the hungriest coastal explorers.
Feast on battered haddock, steamed mussels, and, of course, great mountains of chips. Enjoy your fish fried, grilled, or poached, and smother your chips in curry sauce, mushy peas, or lashings of vinegar, the choice is utterly – and deliciously – yours! You can enjoy your meal in the restaurant, or you can take the nation's favourite takeaway to go and enjoy it oceanside for the ultimate Whitby experience.
Tapasya Marina, Hull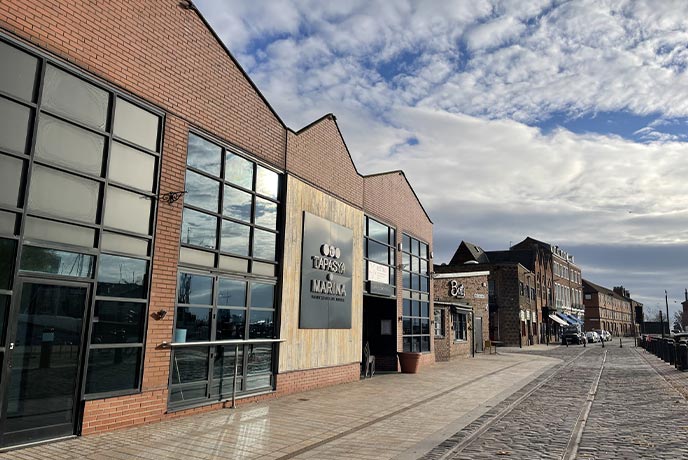 2-3 Humber Dock Street, Hull HU1 1TB
Combining Indian cuisine with fine dining excellence, Tapasya is the place to go when nothing but a curry will do. The menu takes a refreshing look at authentic Indian cuisine, with unusual pairings and time-honoured favourites creating a mouth-watering celebration, from tandoori monkfish to Nalli Gosht with Yorkshire lamb.
Choose from the a la carte menu for a myriad of oh-so-tempting dishes or opt for the tasting menu for a whistle-stop tour of the land, sea, and sky – garam masala infused chocolate mousse might be our new favourite dessert! The restaurant itself boasts phenomenal harbourside views and a relaxed yet grand atmosphere, creating the perfect setting for a truly memorable meal.
The Blue Lion, Leyburn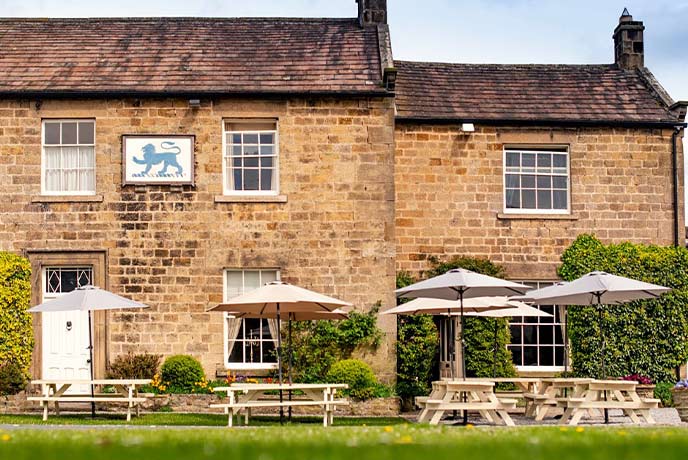 Main Road, East Witton, Leyburn DL8 4SN
Nestled in the rolling idylls of the Yorkshire Dales, this country pub serves up everything a hungry walker could need, from a real ale bar to a menu chock-full with hearty delights. While the a la carte menu is home to many a delicious dish (the grilled sea bass is particularly note-worthy), it's the Sunday lunches that have patrons rolling out the door with a satisfied look on their faces.
Oh yes, whether you fancy 28-day matured Yorkshire beef with Yorkshire puddings or smoked haddock on a bed of new potatoes, this cosy pub has your Sunday feast well and truly covered. Finish it all off with a selection of cheeses or St Clement's posset to end your week on the tastiest of notes. The surrounding Dales are renowned for their winding walks, the perfect way to stretch the legs after a monumental Sunday feed.
Lutt & Turner, Malton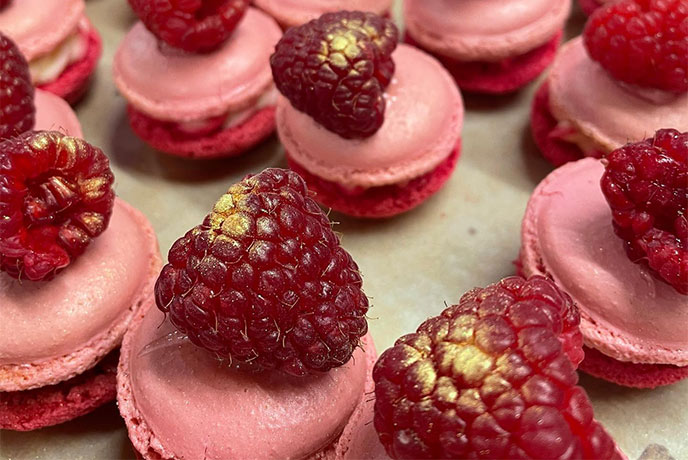 12-14 Market Street, Malton YO17 7LY
Where better to indulge in some delightful bakes than the food capital of Yorkshire? Offering up delectable treats from YO Bakehouse, Lutt & Turner is one of the moreish eateries that have turned Malton into the foodie scene it is today.
Start your day off just right with a toothsome breakfast or brunch (featuring the likes of eggs benedict and loaded crumpets), enjoy a relaxed lunch of Yorkshire rarebit and sumptuous salads, or pop in for a Roost coffee and a piece of mouth-watering cake as you explore the winding streets of Malton.
Pullman Dining Train, North York Moors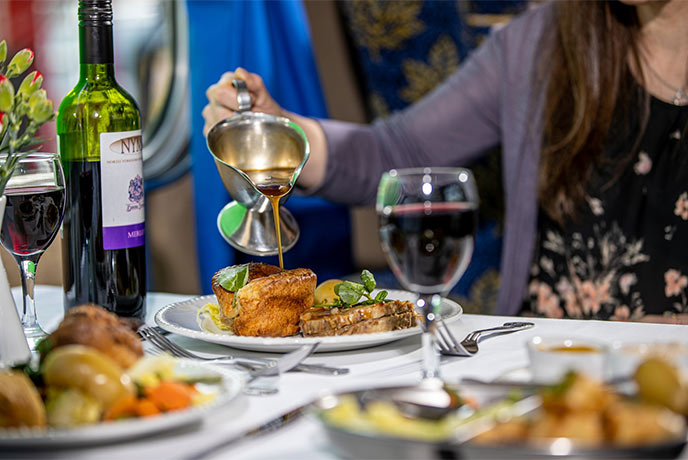 Front Street, Grosmont, Whitby YO22 5QE
Somewhere between a family-friendly day out and a dining experience to remember, the fabulous Pullman Dining Train is ready to take you on a rather spectacular journey through the North York Moors National Park – it's not every day the view from your restaurant window changes with each passing moment!
From afternoon teas to sumptuous three course meals, this feast for the senses is a great way to tour Yorkshire's incredible landscape and its home-grown foods all at once. North Yorkshire Moors Railway also hosts special events, including the annual Yorkshire Day festivities, which celebrate all of the incredible foods Yorkshire is known for.
Ready to explore the many delicious delights of Yorkshire? Browse our collection of beautiful holiday cottages and start planning your foodie tour of God's Own County.