Somerset is a paradise for keen walkers. Whether you're an experienced hiker or a fair-weather wanderer, this enchanting county has a walk for you. From coastal vistas and ancient woodlands to quaint towns and iconic landmarks like Cheddar Gorge and Glastonbury, there is no shortage of compelling hikes to be had in these parts.
Packed full of areas of outstanding natural beauty, from Exmoor National Park, famed for its wild deer and ponies, to the Quantock Hills, with its Bronze Age barrows and Iron Age forts, there is something to keep everyone entertained.
You'll be pleased to learn that Somerset is home to a cracking selection of tempting restaurants, traditional pubs, and hearty cafés, perfect for fuelling up before or after your big walk.
So, what are you waiting for? Book yourself a cottage in Somerset, pack your walking boots and set off on an adventure…
Cheddar Gorge, Cheddar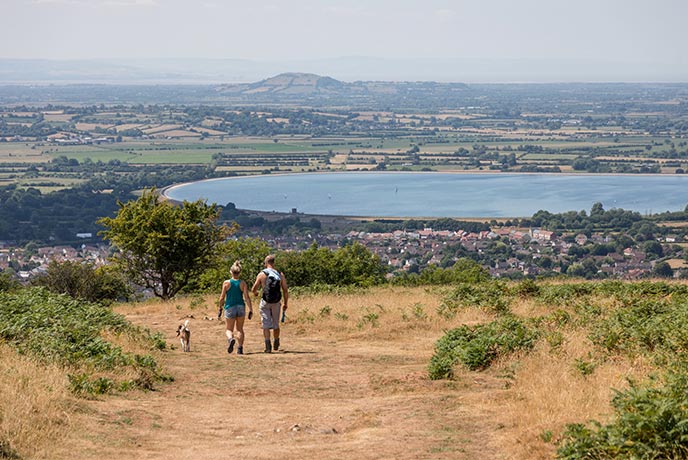 Best for: Cheese lovers with a head for heights
•Distance: 4 miles
•Time: 3 hours
•Difficulty: Challenging
•Starts/ends: The National Trust information centre
•Parking: Cheddar Gorge & Caves car park
•Landmarks: Cheddar Gorge, Pavey's Lookout Tower and Jacob's Ladder
England's biggest gorge, Cheddar Gorge is three miles long and slices 400ft deep through the Mendip Hills. It's home to plenty of unusual features like weathered crags and pinnacles, along with some of the finest views in the county, which you'll see on your way around this clifftop 4-mile route. This geological phenomenon came to be after the end of the Ice Age as meltwaters carved through the rock and then eroded the limestone to form the caves it's now famous for.
This walk starts off at the National Trust information centre, which is well worth a visit before you begin. Afterwards, you'll see the signs for the trail. Given the clifftop nature of the walk, there is a stony path that is quite steep in places and it can be very muddy underfoot after rain, so make sure you wear appropriate footwear.
Once you get through the woods and spot the Gorge walk sign you can look back and soak up the glorious views of Cheddar, Glastonbury Tor, the Somerset levels and Bridgwater Bay. From here, you'll follow a clear path alongside the Gorge, before taking a long set of steps that will take you down into the valley. If you'd like to add more sights to your experience, book a Cheddar Gorge and Caves Explorer Ticket or you can explore Pavey's Lookout tower and Jacob's Ladder steps too.
Afterwards, head into Cheddar to refuel. Head to the Cheddar Gorge Cheese Company to sample some authentic Cheddar cheese or walk down to the Lower Gorge for quaint tearooms, cafés and pubs aplenty.
Porlock Bay, nr Minehead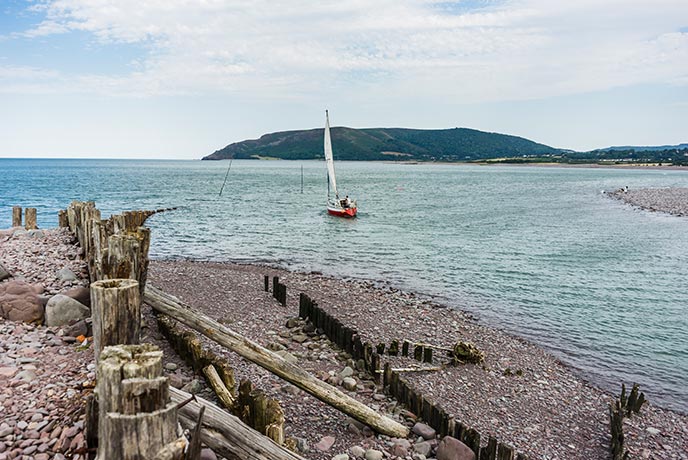 Best for: Coastal lovers and pub lunch fans
•Distance: 9 miles
•Time: 5 hours
•Difficulty: Moderate
•Starts/ends: Porlock Weir
•Parking: Porlock Weir car park
•Landmarks: Exmoor National Park, South West Coast Path
Ready for something challenging but rewarding? This nine miler along the coast could be just the ticket. It'll take you along the Somerset coast and see you skimming by Exmoor National Park before you head back via the saltmarshes.
Leave the car park at Porlock Weir and head down onto the dog-friendly beach. Keep your eyes peeled for treasure, seep storm berms run parallel to the water and large chunks of driftwood often turn up here. At the 2.5-mile mark, you'll reach a trail that will take you up on the South West Coast Path.
Hop off the official path that tracks the shoreline until you reach Hurlstone Point. Here you'll enjoy gorgeous coastal vistas across the Bristol channel before tacking the uphill climb and on toward Bossington Hill followed by Lynch Combe. Feeling peckish? Stop off for a cream tea or wedge of cake at Kitnors before heading back to Bossington by the South West Coast Path. Look out for wildlife here including herons and curlews. Keep heading on until you get back to Porlock Weir where a pub lunch awaits you at The Bottom Ship.
Keen for more beach exploring? Check out our blog post on the best beaches in Somerset.
Glastonbury Tor, Glastonbury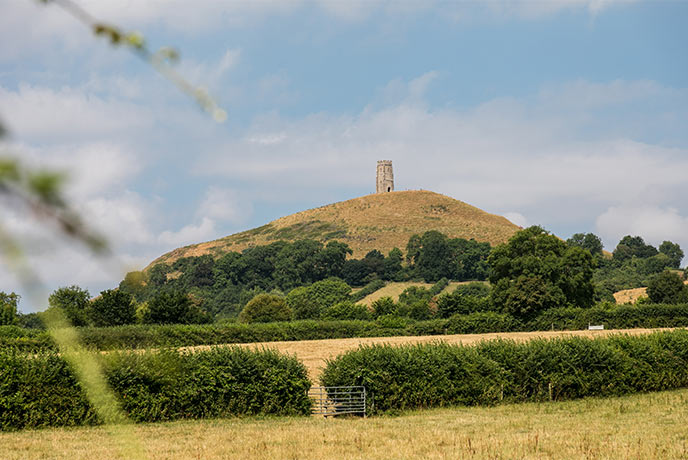 Best for: Families, historians and the magically inclined
•Distance: 2.5 miles
•Time: 1.5 hours
•Difficulty: Easy
•Starts/ends: Glastonbury Tourist Information Centre
•Parking: Multiple town centre options
•Landmarks: Glastonbury Tor, Glastonbury Abbey, Glastonbury
If you're looking for a walk that's low on effort and big on scenery, history and cultural significance, look no further than this 2.5 mile walk around Glastonbury Tor. This striking landmark rises out of the Somerset Levels and can be spotted from miles away.
This iconic landmark is not only steeped in history, and one of the country's most renowned cultural landmarks, but it boasts glorious reviews across the Somerset levels. With its easy access and short nature, this is a great option for families. Kids will love exploring St Michael's Tower, a listed building that sits atop the hill dominating the landscape. To reach it, there is a short but fairly sharp climb. But once you get to the top, you'll be able to see across to Wiltshire, Dorset and the coastal plains of Somerset to boot.
Afterwards, head into Glastonbury and immerse yourself in the mystery, magic and history of this legendary place that was once a place of pilgrimage for Christians and Britain's more ancient religion of Paganism. Intrigued? Head to the Glastonbury Tourist Information Centre and the close-by abbey to find out more about this mysterious place. If your stomach rumbles after all that fun, head to Rainbows End Café for healthy but hearty grub.
Tarr Steps, Exmoor national park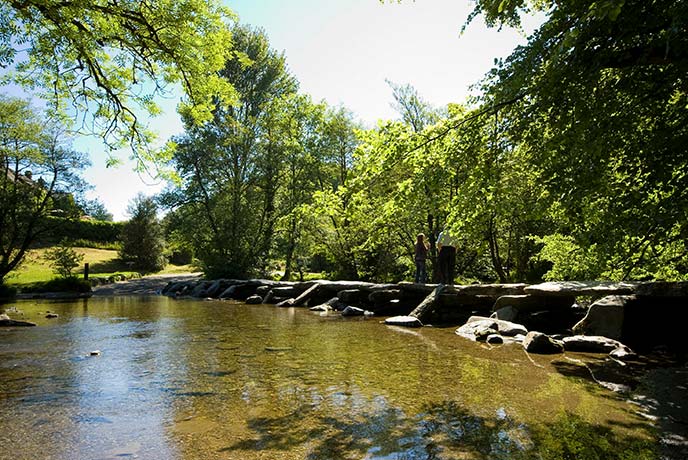 Best for: History buffs and wildlife fans
•Distance: 12 miles
•Time: 6 hours
•Difficulty: Moderate
•Starts/ends: Marsh Bridge
•Parking: Tarr Steps car park
•Landmarks: Tarr Steps
One of Exmoor's gems, and popular with locals and visitors alike, there is a certain charm to Tarr Steps that keeps people coming back. While the ancient bridge is billed as the main attraction, the surrounding wooded valley of the River Barle is remarkable in its own right. Combined with the heathland of Winsford Hill and the wild ponies, this is a very varied walk, suiting keen ramblers as well as wildlife fans.
This route starts at the National Park Centre in Dulverton and will take you along tracks, fields and farms before you drop into the woodland and find the Tarr Steps clapper bridge. The 17-span clapper bridge, which is a bridge made out of unmortared stones, is the biggest of its kind in the country. It dates back to at least the Tudor times and has had to be repaired on multiple occasions after stones – some weighing up to two tonnes! - have been dislodged and washed downstream.
Once you're done exploring the bridge, take note of the woodlands, which are now a National Nature Reserve renowned for the mosses, liverworts and lichens. There is even a type of moss in the burrows here that glows in the dark! And if you time your visit with spring, you can enjoy a glorious view of the bluebells.
If you're in need of refreshments, look no further than Tarr Farm Inn, which dates back to the 1600s. Book a table quick though, this award-winning spot has been chosen to provide the catering for Badminton Retreat and the VIP area at the Glastonbury Festival!
Staple Plain, Quantock Hills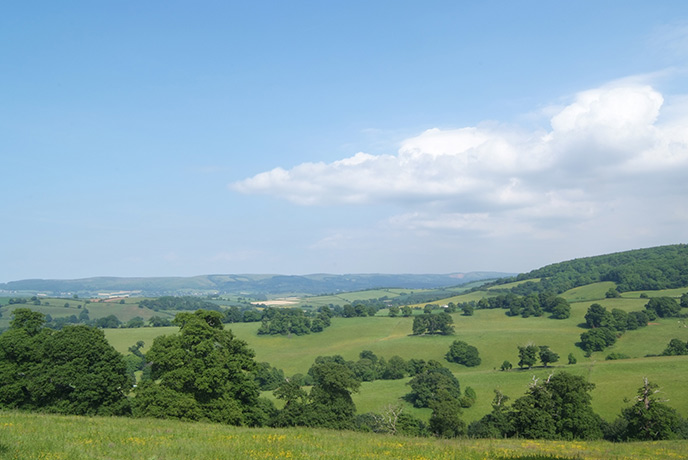 Best for: Viewing the most places simultaneously
•Distance: 2 miles
•Time: 1 hour
•Difficulty: Easy
•Starts/ends: Staple Plain car park
•Parking: Staple Plain car park
•Landmarks: Beacon Hill
Somerset boasts multiple Areas of Outstanding Natural Beauty, but perhaps none more famous than the Quantock Hills and with its upland heath, wooded valleys and Jurassic coastline, it's little wonder why.
This easy 2-mile route will see you at the top of Beacon Hill where you can soak up the mesmerising panoramic views across the Quantock Hills and beyond. You'll also explore some of the lowland heathland. Pack your binoculars as you might spot a skylark or Dartford warbler and there's always the chance you might see a red deer, too.
After leaving the car park, you'll join a woodland track that will take you down into Weacombe Combe, over a stream and to the top of the combe. On a clear day, you can see across to Minehead and Dunkery Beacon in Exmoor. Head on and eventually, you'll arrive at a triangulation point on a mound of stones where you'll be able to see (get ready for this) Wales, Steep Holm in the Bristol Channel, Weston-Super-Mare, Brean Down, Bridgwater Bay, Quantock Common, Exmoor and Minehead - phew, talk about an all-rounder!
Chew Magna Circular, Chew Magna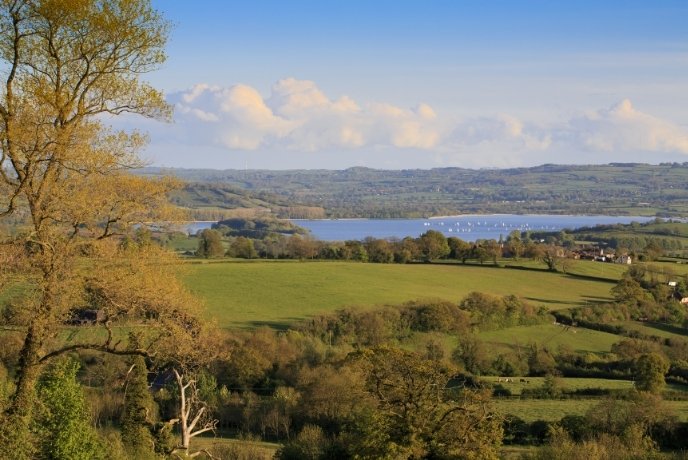 Best for: Water-loving dogs (and their owners)
•Distance: 4.5 miles
•Time: 2.5 hours
•Difficulty: Moderate
•Starts/ends: The Pelican
•Parking: The Pelican
•Landmarks: Village of Chew Magna
Looking for a dog-friendly walk in Somerset? You can't beat this circular walk that will treat you and your dog to countryside fields, views across Chew Valley Lake and multiple dog-friendly places to stop for food along the way. You could take a midway break for fish and chips at Salt & Malt or save yourself until you're done and have a pub lunch at the dog-friendly The Pelican.
After leaving the car park, you'll turn into a shady woodland and start the river walk. This section along the river is perfect for dogs on a hot day as they can run in and out of the water to their hearts' content (though it is best to keep them on their leads due to livestock in the area).
After passing through some fields, it's back to woodland before heading onto a few roads (where your dog will definitely need to go on a lead). When you spot signs for Chew Valley Lake there is the option to stop for fish and chips at Salt & Malt or plonk yourself down for a midway picnic.
Then it's on past the lake where you can extend your walk by taking a loop around the lake (which is also a nature reserve) or keep going and loop back towards The Pelican where surely a pint and something hearty have been earned? Maybe a cheeky dog biscuit too.
Staple Fitzpaine Herepath, nr Taunton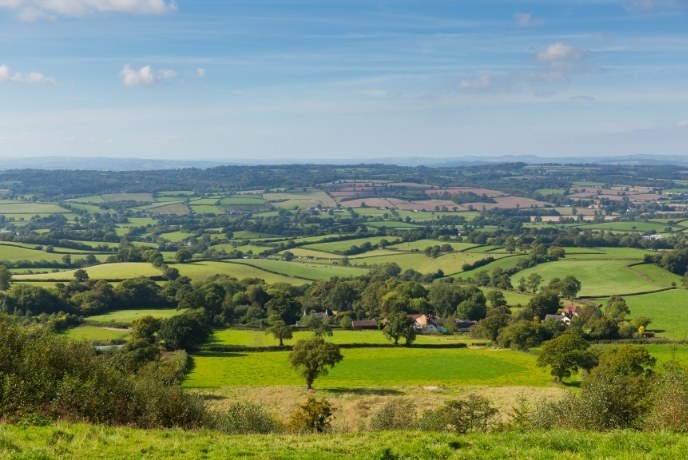 Best for: Woodland wanderers
•Distance: 14 miles
•Time: 6.5 hours
•Difficulty: Moderate
•Starts/ends: Staple Hill Plantation
•Parking: Staple Hill Plantation
•Landmarks: Slice of Neroche sculpture
If a walk through ancient woodlands sounds like your idea of a good time, you'll love the Staple Fitzpaine Herepath walk. There is a shared cycle and walking bridleway that forms a loop around Staple Fitzpaine in the gorgeous Blackdown Hills and this is where this 14-mile circular walk will take you.
You can start from the Staple Hill Plantation car park and make your way up a short climb to reach Castle Neroche, the site of a former Norman motte-and-bailey castle that's actually on the site of an even earlier hill fort. Then it's into the woods and then out onto the open countryside before looking for the Staple Hill trig point. These days the surrounding area is covered in woodland, so the view isn't quite what it might have been some seventy years ago!
Beyond, you'll find a sculpture called the 'Slice of Neroche', which provides a tactile model of the geology of the area by detailing the layers beneath the ground. It was sculpted by local artist, Rob Jakes, out of a local oak tree just 1km from where it sits now.
You'll have worked up a serious appetite after that hike, so head to The Greyhound Inn, the local family-run pub in Staple Fitzpaine serving up traditional food.
Feeling inspired to lace up your boots and soak up some fine Somerset views? Find your perfect cottage in Somerset to base your adventure from. Bonus points for decadent bathtubs to ease tired muscles and close pub proximity for hearty refuelling!