Known far and wide as one of the best walking destinations in the UK, the Lake District beckons to all who love lacing up the walking boots, packing the bag with Kendal Mint Cake, and touring the surrounding scenery by foot.
You'll find towering fells that never fail to take your breath away (especially on the way up) and sprawling lakes that capture the mountainous reflections perfectly – this dramatic landscape really does need to be seen to be believed, which is perhaps why it's been used so many times as a stand in for far away worlds in film. And what better way to soak up this wild and wonderful scenery than a circular walk that deposits you right back at the start after an exquisite journey through the Lakeland fells.
Not to worry if you're not a seasoned hiker, the Lake District more than provides for those looking for a smoother journey. The area's many beautiful shore walks are great for families and promise perfectly neat circular routes, with picnic spots aplenty – not to mention the hunger-quelling slew of eateries that make refuelling a delicious dream.
Feet itching to get started? Here are some of our favourite circular walks in the Lake District… Let the adventures begin!
Buttermere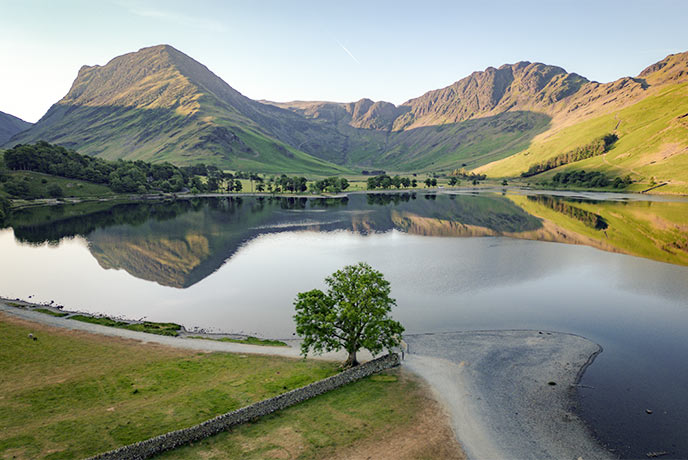 Best for: A family-friendly adventure
• Distance: 4.5 miles
• Time: 1-2 hours
• Difficulty: Easy
• Starts/ends: Buttermere
• Parking: National Trust car park
• Landmarks: Buttermere Lake, St James' Church, Hassness Tunnel
Not only is this lakeside wander one of the most popular walks in the Lake District, it's family friendly and circular to boot! The easy-going route takes you right around the edge of the stunning lake, filling your route with some exceptional views of the mountains that surround you.
The route is wonderfully easy to follow as it hugs the lake for most of the journey, with just a small roadside section that takes you along Honister Pass. It's up to you as to whether you keep the lake on your right or left, meaning there is no right or wrong route around this spectacular walk. While the route is mainly flat with paths, it's worth wearing sturdy footwear as some sections can get muddy. You'll also find plenty of beautiful picnic spots and off-shoots, so you can extend the walk as little or as much as you like.
Tarn Hows, Coniston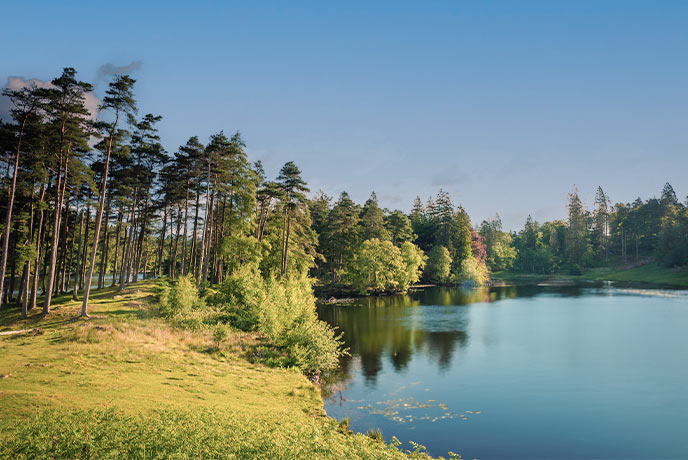 Best for: Total accessibility
• Distance: 2 miles
• Time: 1 hour
• Difficulty: Easy
• Starts/ends: Tarn Hows car park
• Parking: Tarn Hows car park
• Landmarks: Cumbria Way, Rose Castle
Another fabulously family friendly walk, the circular Tarn Hows welcomes one and all to its magnificent shores with a path that's wheelchair accessible – you can even book one of the National Trust's tramper all-terrain mobility scooters.
Boasting all the views without the hassle, this joyously short walk packs a punch when it comes to jaw-dropping scenery. Forests cover the landscape, which provide a spectacular wash of coppery hues in the autumn months, and the uniquely shaped tarn reflects it all on its mirrored surface. The first section of the route actually takes you part of the way along the famous Cumbria Way, before taking you to a fork in the road. Those wanting a wheel-friendly route can carry straight on, while others can take the higher path up to the Viewing car park, where – yes, you guessed it – incredible views await, before following the circular route back round to the starting point.
Aira Force and Gowbarrow, Penrith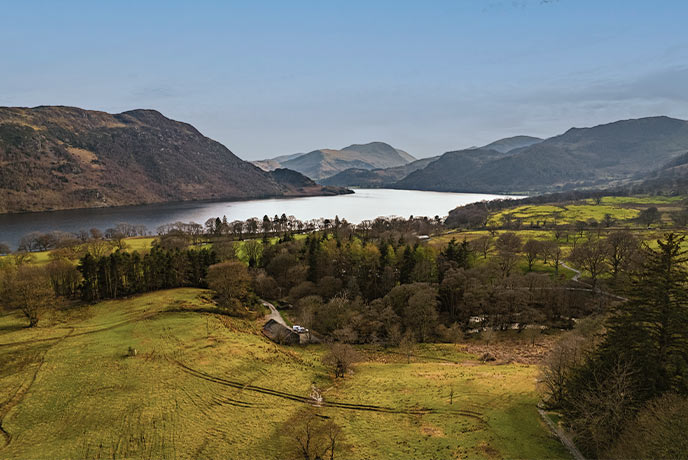 Best for: Waterfalls and woodland
• Distance: 4.5 miles
• Time: 3 hours
• Difficulty: Moderate
• Starts/ends: Aira Force National Trust car park
• Parking: Aira Force National Trust car park
• Landmarks: Aira Force, Ullswater Lake, Gowbarrow Fell, Gowbarrow Park
Taking you on a monumental journey across towering fells, through historic woodland, and past thundering waterfalls, this popular Lakeland circular enjoys many of the National Park's top sights. It's a short walk to reach the famous waterfall at Aira Force, which is surprisingly best seen in the rain, when the deluge adds even more volume to the iconic falls – although catching the waterfall in the sun with a rainbow dancing through the mist is rather special too.
After the falls, it's time to start your ascent – not to worry though, the breath-taking views are actually a rather good excuse to catch your breath as you go! At the top of Gowbarrow Fell on a clear day you can easily play a round of Lakeland bingo as you take in the incredible formations that make up the panoramic views, including Place Fell, Red Screes, Kirkstone, Helvellyn, and more. As you near the bottom of the fell, you'll find some lovely waterside vantage points, taking in the glassy hues of Ullswater Lake. The final stretch back to the car park features its own impressive list of landmarks, including Lyulph's Tower and the spectacular viewpoint at Memorial Seat.
Old Man Coniston, Coniston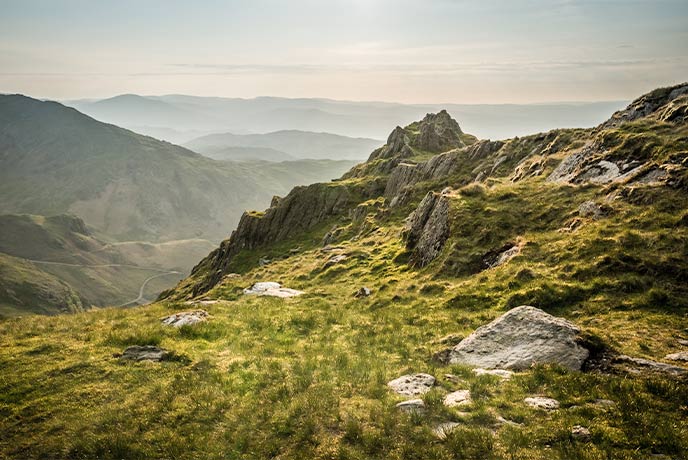 Best for: A hearty climb
• Distance: 6 miles
• Time: 4 hours
• Difficulty: Moderate/challenging
• Starts/ends: Walna Scar car park
• Parking: Walna Scar car park
• Landmarks: Old Man Coniston, Goats Water, Low Water
It wouldn't really be a guide to walking in the Lake District without at least one generous climb, so we've opted for the lofty heights of Old Man Coniston, one of the most beloved fells in the Lakes. There are a few different routes to the summit of this wonderous fell, giving you plenty of choice for a there-and-back-again climb, or you can combine two for a rather spectacular circular walk.
Starting things off in the Walna Scar car park (you can begin in Coniston, but we recommend skipping the initial climb in favour of exploring the town after and enjoying a refreshing drink in one of the welcoming pubs), you'll begin your ascent with a relatively flat path north that acts as a superb warm up to the climb. And climb there is! We find the steep section on the Low Water route is best done on the ascent, with the more gradual path creating a preferable route back to the car park. The climb can get fairly steep, with loose bits of rubble creating uneven ground, so we recommend pulling on a trusty pair of walking boots for this trail.
During the ascent, you'll pass the eerie remnants from the area's mining days, which make for a wonderful excuse for a breather – as do the increasingly panoramic views and the refreshing depths of the nearby tarn. You can pause at Low Water for an invigorating swim before reaching the summit, or you can simply sit back and soak up the dramatic – yet oh-so-serene – landscape that surrounds you. Indeed, this whole walk is dotted with some spectacular picnic spots. From here, it's a zig-zig path and final climb to the top, where the real views of the Coniston Fells begin.
The final section of the loop takes you down the Goats Water route, along which you'll enjoy some ridge walking, beautiful grassy plains, and another opportunity to get some wild swimming in.
Wray Castle to Blelham Tarn, Ambleside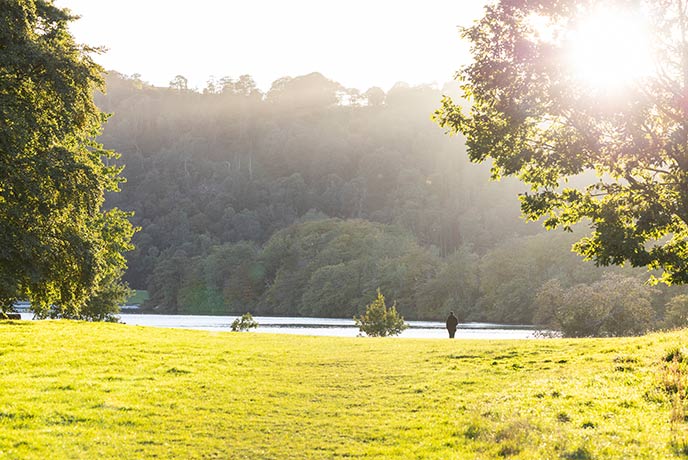 Best for: Historic sightseeing
• Distance: 3.5 miles
• Time: 2 hours
• Difficulty: Moderate
• Starts/ends: Wray Castle car park
• Parking: Wray Castle car park
• Landmarks: Wray Castle, Blelham Tarn, Iron Age remnants, Lake Windermere
When it comes to things to do in the Lakes – aside from jaw-dropping walks – you just can't beat a castle visit, which is why we love this stunning circular near Ambleside that manages to sneak in both! This looping trail takes in some extraordinary sights and sites, with many boasting fascinating histories, from the grand turrets of Wray Castle to the Iron Age remnants that pepper the area. Time your visit for autumn to see the surrounding woodlands take on a warming glow as the leaves turn from bright green to copper.
Beginning your journey by heading in-land towards Blelham Tarn, you'll follow some public bridleways that pass a scattering of medieval relics, including a bloomery and the discovery site of a rare and fascinating Iron Age sword. After some more paths that wind in and out of woodland and grassy knolls, you'll circle around Blelham Tarn and follow signs back toward Wray Castle where you'll walk along the peaceful shoreline of Lake Windermere. The castle itself boasts incredible, cathedral-like ceilings and a photography exhibit that follows the photographic works of Herbert Bell and Rupert Potter, the father of beloved children's author and Lakeland icon Beatrix Potter. Nearby Ambleside and Windermere are chock-full of fascinating museums and tempting eateries, giving you everything you need to build a fun, family day out.
Silurian Way, Grizedale Forest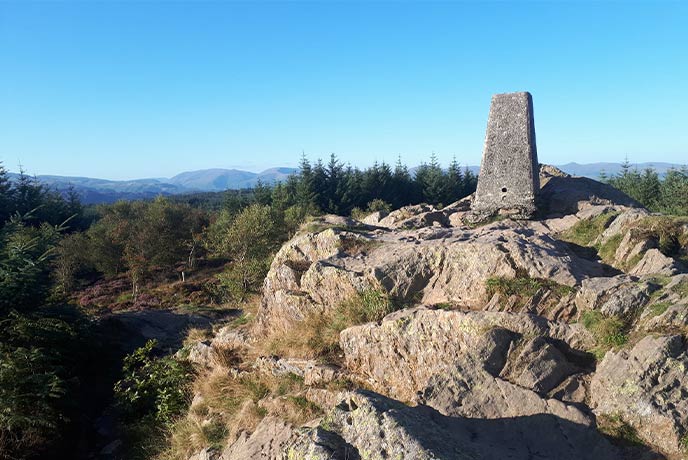 Best for: A cultured woodland wander
• Distance: 10 miles
• Time: 5+ hours
• Difficulty: Moderate
• Starts/ends: Grizedale Forest Visitor Centre
• Parking: Grizedale Forest car park
• Landmarks: Grizedale Valley, Carron Crag, Go Ape, various sculptures
With eight dappled trails to choose from, Grizedale Forest is a veritable playground for walkers – and cyclists! If you're looking for the ultimate tour of this ancient forest, the Silurian Way is the one to follow with its mammoth 10-mile loop that takes in many of the valley's fascinating secrets. Although it's long, and steep in places, the trail is excellently marked (simply follow the green way markers from the visitor centre), so you can trundle on without the need for map checks.
As you explore this magical World Heritage Site, keep your eyes open for the artistic treasures that hide beneath the trees thanks to Grizedale's incredible sculpture collection. You'll ascend to the summit of Carron Crag during your journey too, which boasts unbeatable views over the sprawling forest and beyond. You can easily turn your visit into a day trip, with the Go Ape course appealing to little ones and the café tempting everyone in for a refuel after the tree-lined adventures.
Exploring the Lake District on foot is all the better when returning to a cosy cottage where you can put your feet up. Check out our beautiful Lakeland cottages and start planning your adventures in this wild and wonderful corner of the UK.