It might not be the biggest county, but boy does Dorset pack a punch when it comes to food festivals. Known for its pretty coastline and sweeping countryside, it's easy to see why this peaceful county produces such good food and drink.
With enough food festivals to feed, well, a bunch of people who love food festivals, and some of the best music events in the country, Dorset has something for everyone in its jam-packed social calendar – there's even something for dinosaur lovers! Here are just some of the best food festivals in Dorset in 2022…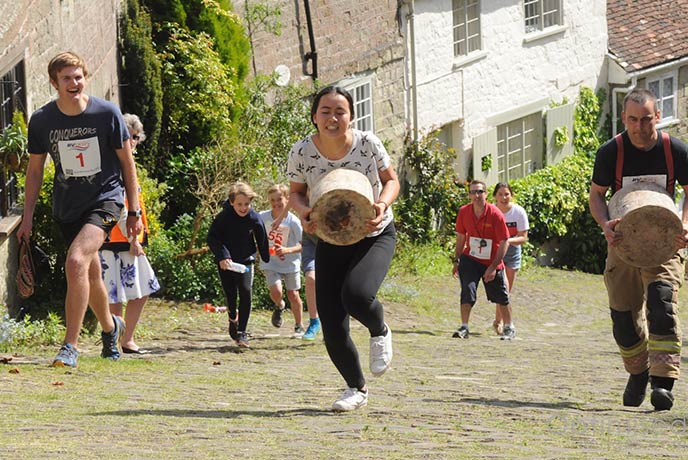 When: 8th May
Where: Shaftesbury
Access: There are several car parks around the town
Let's be honest, what would a Dorset event round-up be without some food festivals where you can eat till the cows come home… and then eat some more! Head over to Shaftesbury on 8th May to experience the very best that local producers have to offer while listening to some superb live music. Live cookery demonstrations will give you the skills to make some of these jaw-droppingly good meals at home while a host of vendors mean you don't have to! And to top it all off, you can sit back and relax with your tasty treats in hand as you watch a group of wonderfully bonkers people chase cheese up a hill. What more do you need out of a food festival?
Explore cottages in Shaftesbury.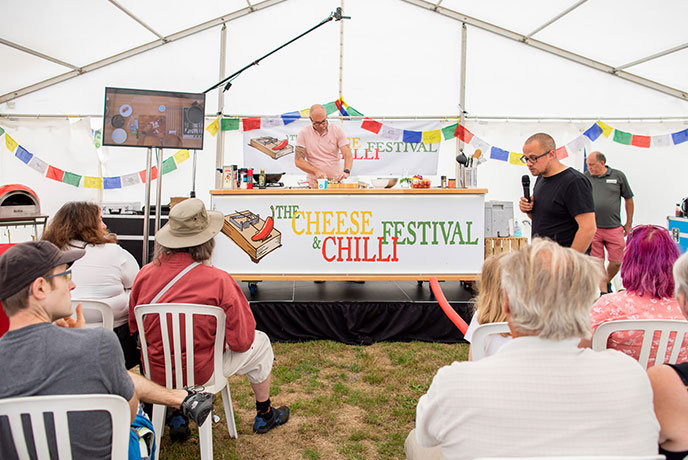 When: 28th – 29th May
Where: Christchurch
Access: Free parking on site
Whether you love chillies or cheese or a mix of the two (and who doesn't love a combination of dairy and daring), the Christchurch Cheese & Chilli Festival is the only place to find both in a dog-friendly, festival setting. What does this mean? You can spend two glorious days chowing down on cheese and chillies from around the world while enjoying fantastical merriment in the form of circus performers, live music and everyone's favourite past-time of watching a group of teary people consume increasingly hot chillies. Now that's entertainment!
Explore cottages in Christchurch.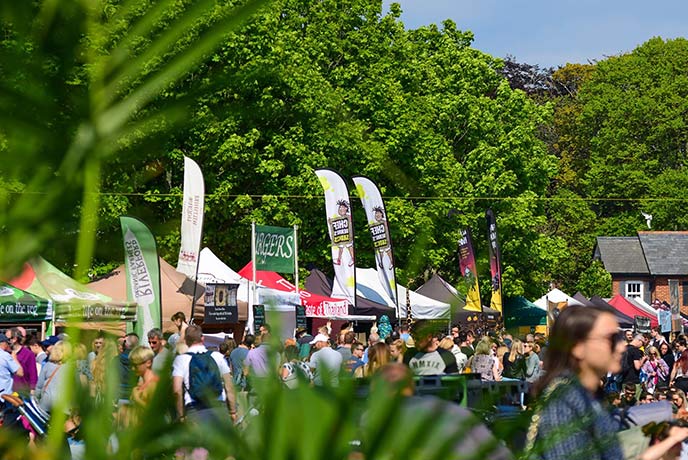 When: 2nd – 5th June
Where: Christchurch
Access: Plenty of car parks around the town
Another food festival, we must have been good this year! In 2022, the Christchurch Food Festival is back and bigger than ever as it makes the most of the long weekend thanks to the Queen's Jubilee, which means four days of fabulous food and entertainment. Over the weekend you'll get to follow your nose as you sniff out your next culinary adventure with lots of great food from all over the south and south west. Watch how the professionals get it just right in a slew of cookery demos and enjoy a gargantuan array of activities that are sure to entertain everyone, whether you're fifty or five!
Explore cottages in Christchurch.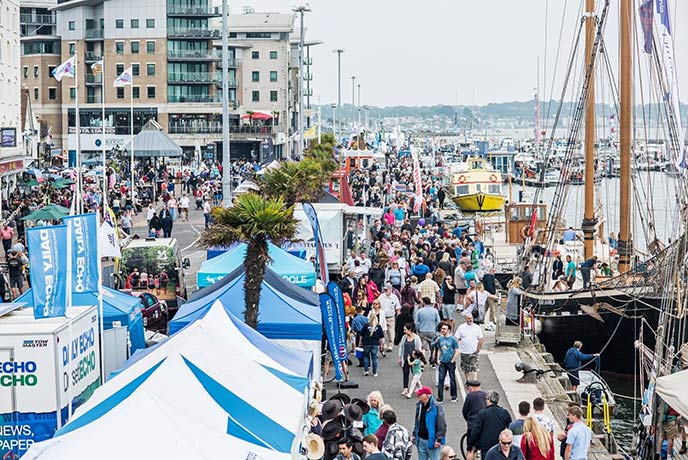 When: 3rd – 5th June
Where: Poole
Access: Parking in the area is limited but can be found at either of the Harbourside car parks
Whether you fancy unwinding at the Champagne and oyster bar or letting the beat take you at the live music stage, the Poole Seafood Festival is back for another year of oceanic levels of fun and food. Known for its seafood far and wide, Poole is the perfect coastal location for a celebration of all things marine and marinated. Don't worry if seafood isn't to your taste as the countless stalls and food vendors will be cooking up a variety of cuisines and dishes to ensure everyone finds their favourite food. As you let your stomach breath in between courses, you can take a gentle stroll through the other stalls and areas, which feature unique local art and crafts, perfect for a little memento of your foodie holiday.
Explore cottages in Poole.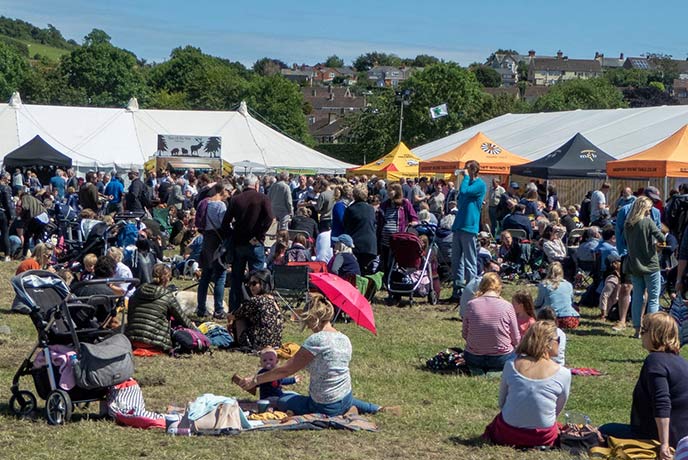 When: 12th – 24th June
Where: Bridport
Access: Parking will be available at the Bridport Leisure Centre Rugby Pitch
Showcasing all of the fantastic local growers, producers and makers, the Bridport Food Festival is one of the best places to go to get a true taste of the south west. Fill your bags (and belly) with copious amounts of artisan cheese, bread and cakes throughout the week while checking out the area's best tipples – we mean, who doesn't love the taste of locally made gin! Local musicians will lend their melodious talents to the festival, providing a glorious background sound to the day's foodie delights. Lots of fabulous fingerlickin' fun can be had throughout the week but the showcase event will be held on Saturday 18th of June, where raffles, beer round tables and music can be enjoyed.
Explore cottages in Bridport.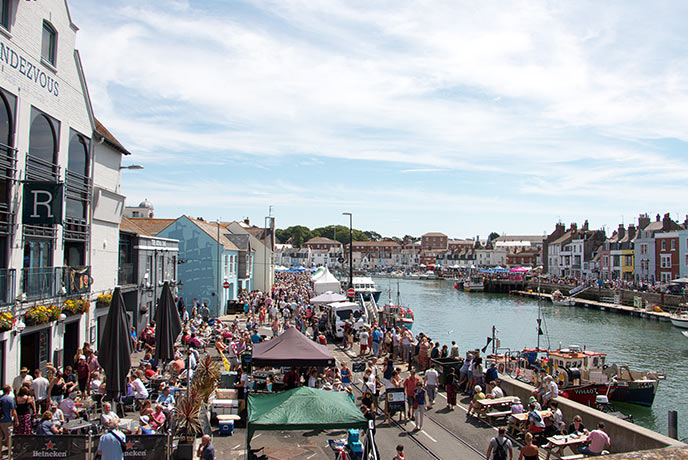 When: 30th – 31st July
Where: Weymouth
Access: Parking at Lodmoor Country Park and Beach road car parks, both just five minutes' walk away
Whether you love eating food, watching food be professionally prepared, or eating food (wait, did we say that twice?), Weymouth Food Festival has something to suit your discerning taste buds. Food might be what brings you, but you'll stay for the fantastic live music and chocolate eating competition (yes, you read that right). Are dogs allowed you might ask? Well, we'll answer that with the other draw to this family-friendly festival: the Dog Companion Show, where everyone can enter their beloved pooch in a variety of categories including waggiest tail.
Explore cottages in Weymouth.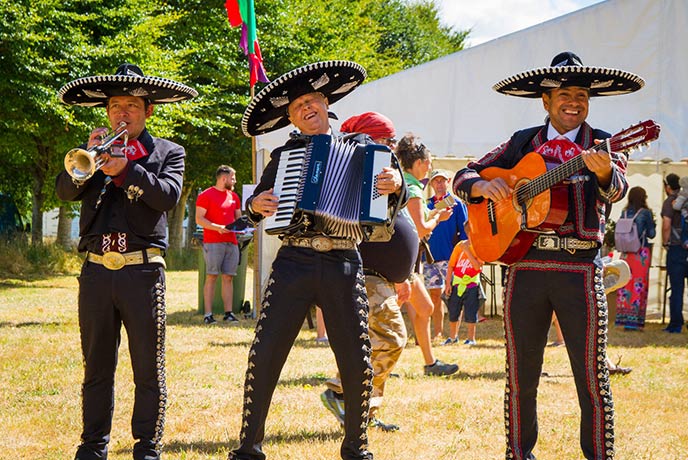 When: 6th – 7th August
Where: Sturminster Newton
Access: Parking on-site
Whether your chilli interests lie in condiments, plants or ceramics, it's safe to say that there's something for everyone at this taste explosion of a festival – even some much-needed ice cream for when things really heat up. See how high you can go on the Scoville scale – are you more bell pepper or ghost chilli – while sampling your way through the countless stalls. There's lots of entertainment on offer too, so you can slip into your dancing shoes for some musical interludes in between each chilli tasting.
Explore cottages in Sturminster Newton.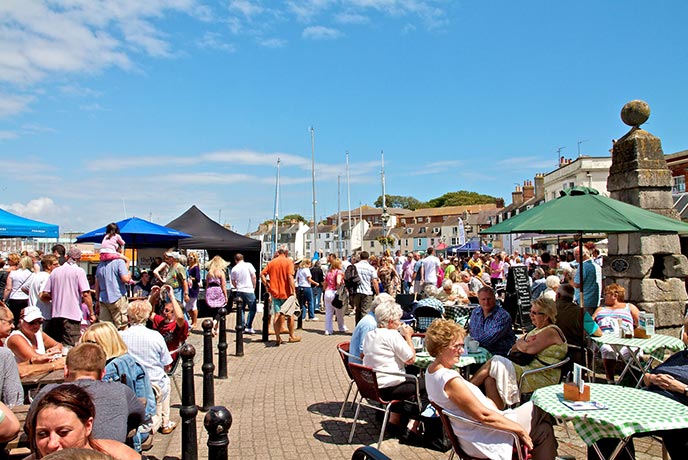 When: 10th – 11th September
Where: Weymouth
Access: Town centre car parks fill up quickly, so we recommend using the Weymouth park and rid
This award-winning Dorset Seafood Festival in Weymouth is all about celebrating and understanding the incredible seafood that's available to us all around our beautiful coastline, from cockles to cod. Pair your seafood explorations with some delicious local wines and ales while making the most of the terrific entertainment, which includes countless demonstrations and some fab live music. There's a great focus on sustainability and responsible sourcing, which means visitors can learn all about ocean health and underutilised alternatives. And of course, the entire event takes place next to one of the stunning Dorset beaches.
Explore cottages in Weymouth.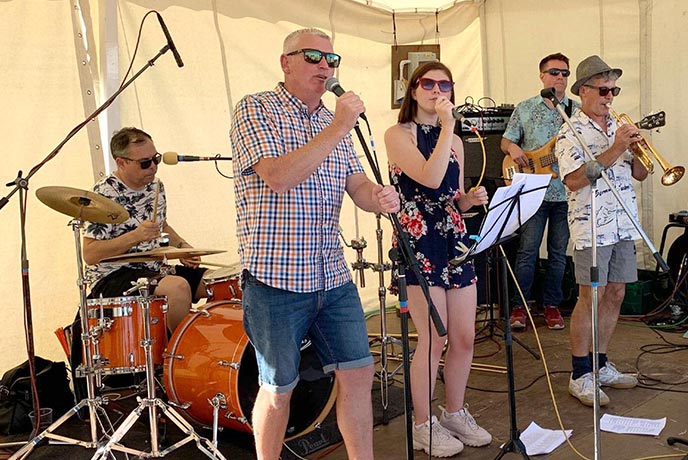 When: 10th – 11th September
Where: Sturminster Newton
Access: Car park at Durrant Field, opposite the venue
Now what kind of cheese festival would this be without all the Babybels and whistles! You'll find plenty of chilli jams, ciders and maybe even a cracker or two to compliment your favourite and newly discovered cheeses. Alongside cheeses you can take home, you'll also find a mouth-watering array of food vendors from pancakes to gelato! Throw in some cracking food demos and you've got a weekend that Wallace and Gromit would be proud of.
Explore cottages in Sturminster Newton.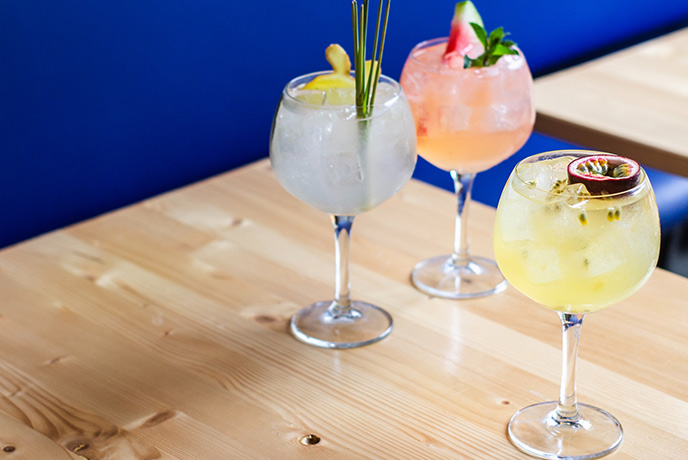 When: 14th – 15th October
Where: Bournemouth
Access: Car parking on-site
Now, this is our kind of festival! Over 120 gins await at this gin-spired festival with a difference. As you enter, you'll be handed your very own gin Copa glass and gin guide, giving you everything you need to make the most of this botanically-infused experience. Live music makes up the soundtrack to the event as a host of artisan distillers join to celebrate all things gin…. as well as a few other craft spirits for good measure!
Explore cottages in Bournemouth.
Book your stay in one of our welcoming cottages in Dorset and make the most of this action-packed calendar.