With a vast craggy coastline lapped by the rich waters of the north Atlantic and stunning countryside that's as lush as it is fertile, it's not surprising Pembrokeshire has a veritable larder of local produce to feast on. Whether it's fresh fish hauled in by dedicated fishermen, rich-tasting beef and lamb left to roam the mountains and fields, or fruit and vegetables expertly grown and carefully foraged, the local fare found around this balmy corner of Wales is second to none - you'll even find some local vineyards tucked away in the countryside!
Embracing the field-to-fork ethic, many of Pembrokeshire's top eateries are embracing the importance of keeping things as local as possible to ensure quality and freshness, meaning every bite is as tasty as it can be. Combined with the talent and passion of the people that prepare such glorious dishes and the influences they call upon - whether that's from abroad or their own unique take on traditional Welsh fare - you're guaranteed a flavoursome, memorable meal.
Whether you've been walking and discovering the countryside, enjoying a long day on the beach, or exploring the many fascinating places to visit in Pembrokeshire, you'll find cosy inns, bustling cafés, Michelin restaurants and kitchen kiosks serving epic cuisine to satisfy the hungriest of tums.
We've explored the length and breadth of this lovely county and here's just a few fantastic eateries to discover for yourself.
Blas Restaurant, St Davids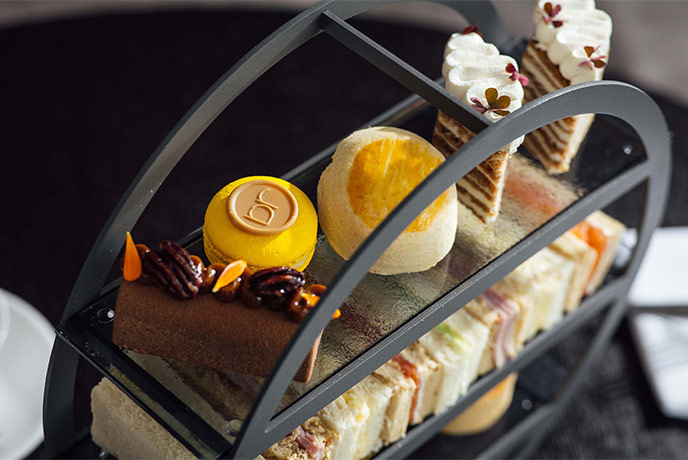 Caerfai Road, St Davids SA62 6QT
Meaning 'Taste' in Welsh, this gorgeous restaurant is a feast for the eyes as well as hungry stomachs. Taking inspiration from the art gallery that's also within the Twr y Fein Hotel, presentation is everything with food served as art on a plate, focussing on the changing seasons and local produce sourced predominantly from Wales and Pembrokeshire.
Blas Restaurant's a la carte menu is home to the likes of stone bass, Welsh lamb and exceptional cheeses whipped to new heights of taste - it's also a great spot for afternoon tea with a modern twist! The atmospheric, contemporary setting makes for a memorable meal while out and about in St Davids.
Tap & Tân, Tenby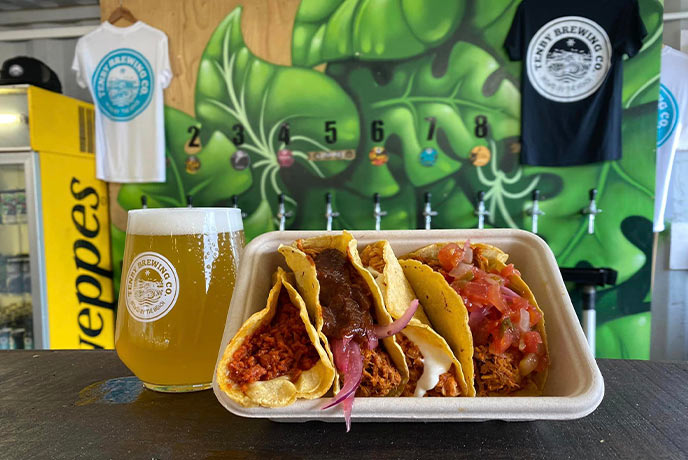 The Mews, Upper Frog Street, Tenby SA70 7JD
After a day on the beach at Tenby, you're sure to have built up an appetite so we recommend you head to nearby Tap & Tân who specialise in barbeque and live fire cookery. Run by the Tenby Brewing Company alongside Feast Pembrokeshire, you can sink your teeth into mouth-watering BBQ special platters, succulent rib eye steak or roasted butternut squash.
While there's a bias towards mega meaty meals, veggies and vegans don't miss out either, so everyone is catered for. This laid back joint doesn't take bookings so it's on a first-come, first-served basis, and it's also dog friendly.
Ffwrn, Fishguard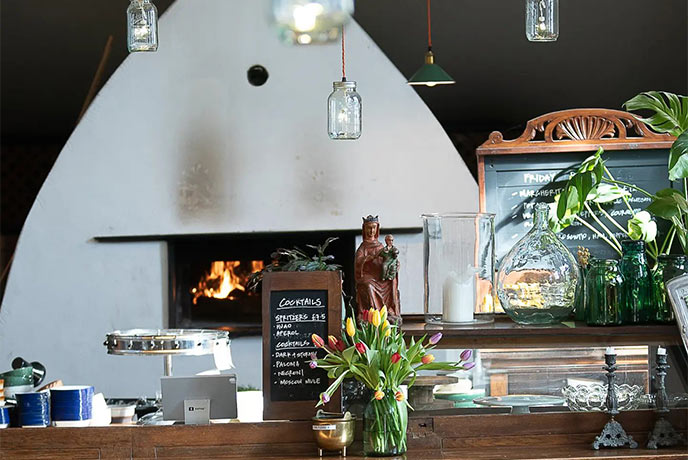 6 Main Street, Fishguard SA65 9HH
Situated just off of Market Square lies Ffwrn, a buzzy, friendly place that serves live music alongside exceptional food. It's also a wine bar, and they serve artisan pizza once a week from their wood-fired oven.
Other nights offer Italian fare (think hearty ragu, lasagne, carbonara and hefty antipasti plates), or burgers and steak - you can see the calendar on their website, which details both food and music events. Dog friendly, it's a great stop to fuel up after a blustery walk along the coast towards Strumble Head.
Wavecrest Café, Pembroke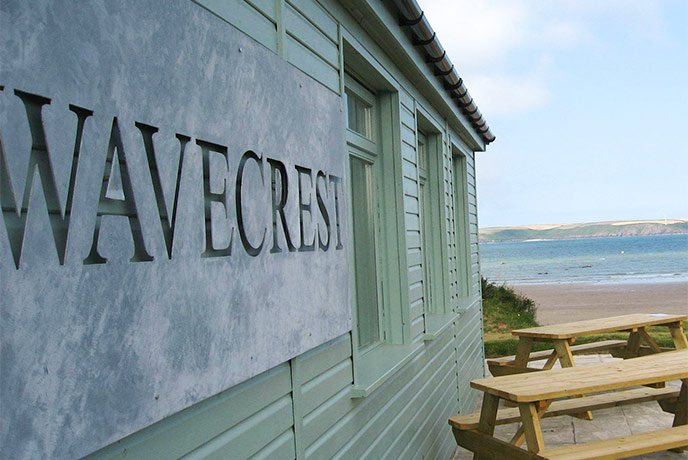 West Angle Bay, Pembroke SA71 5BE
If you happen to be walking the Pembrokeshire Coast Path around West Angle Bay, make sure to stop and have a break at Wavecrest Café. With magnificent sea views, this fantastic wooden beach café is a wonderful place to refuel and put your feet up for a while.
From caprese salad to stuffed baguettes, afternoon tea to fluffy jacket potatoes, you're sure to fill up all those corners, and afterwards potter down to the beach for a paddle and a spot of rock pooling.
Grain, St Davids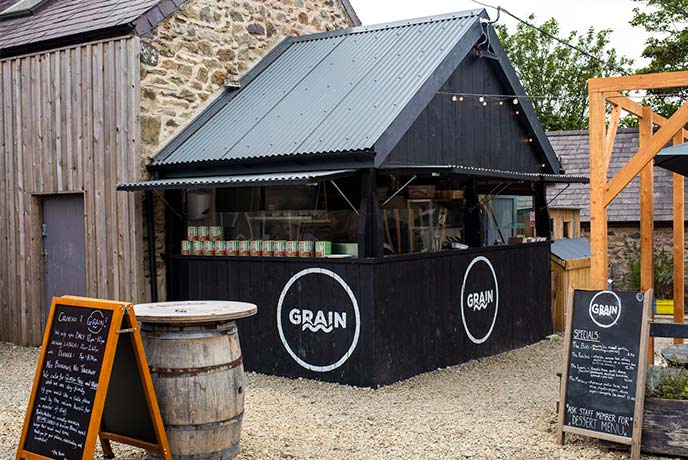 1 High Street, St Davids SA62 6SA
If you've worked up an appetite exploring nearby Picton Castle Gardens and St David's Cathedral, why not pop into Grain for a taste of Italy in the heart of Wales. Laid back and welcoming, this eatery is open every day and offers delicious and unusual pizzas such as 'Ndu-Ja Like it Spicy' with Pant y Spawn goats cheese and Trealy Farm Nduja, alongside more traditional favourites such as pepperoni, romesco and Hawaii.
If you want to create your own, that's cool too – and there are gluten-free bases available. There's an excellent selection of drinks on offer including draft beer and larger from Bluestone Brewery Company, just 30 miles away.
Billycan, Tenby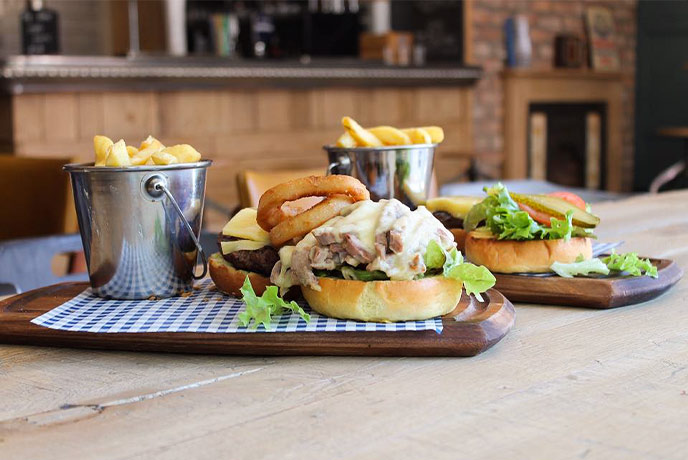 Lower Frog Street, Tenby SA70 7HS
Set within the old walls of Tenby, Billycan is a fantastic eatery if you're looking for somewhere laid back and casual that's also great for families. Serving a wide range of pub classics and bistro favourites with a hint of the Mediterranean, there's a delicious dish for every taste - and a superb children's menu to boot!
Portions are generous and the service is quick, so great if you have little ones in tow. Afterwards, take a walk on the huge sandy beach to blow away the cobwebs and let your meal go down.
Mannings Grocers, Fishguard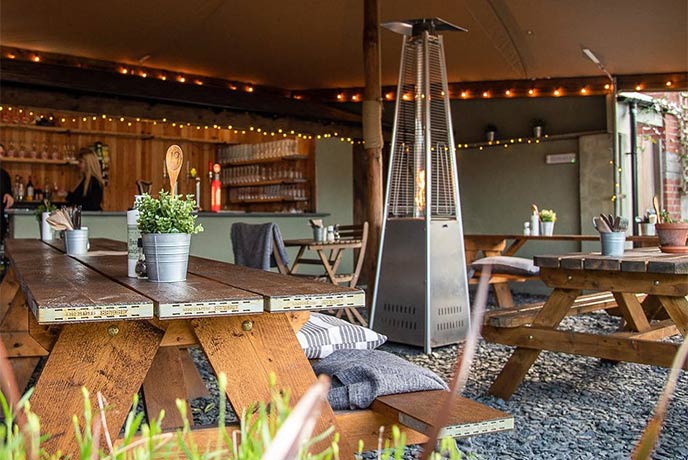 18 West Street, Fishguard SA65 9AE
If you're out and about exploring the town of Fishguard, head to Mannings Grocers if you're after breakfast or coffee and cake. This excellent little café makes coffee fit for a connoisseur, as well as rib-stickingly good cooked breakfasts, perfect for setting you up for a day's exploring.
If the weather's on your side, there's a charming outside area to sit, complete with twinkling lights, or there's a good amount of space indoors for a cosy meal. From cheesy leek rarebit to three-layered coffee cake, the quality and quantity of tasty delights means everyone will be happy, and there's even a pantry and grocers on site so you can take goodies back to your holiday cottage.
Café Rose, Pembroke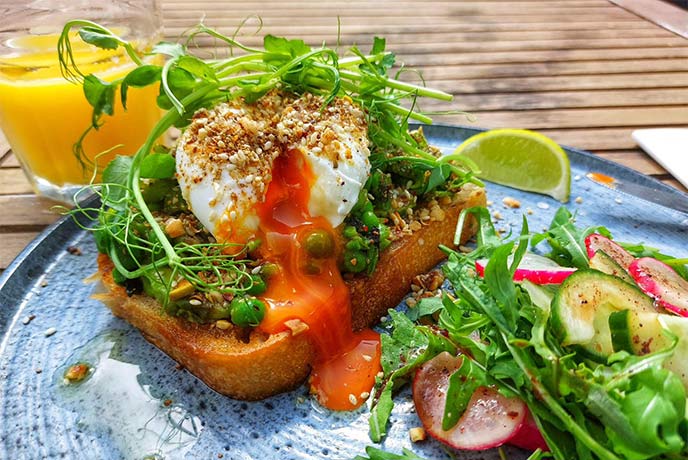 28 Main Street, Pembroke SA71 4NP
Discover a little corner of Turkey in this beautiful café-come-restaurant in Pembroke. Café Rose is open for breakfast, lunch and dinner, so you can pop in at any time. Their Shakshuka dish of eggs poached in a spicy tomato sauce will wake you up ahead of a day's exploration, while lunch and dinner menus are equally drool-worthy.
Dinners, served Friday and Saturday evening only, are tapas and mezze style, meant for taking your time with a glass of something special – delicious! If the weather is good, there's a lovely outside space too. A wonderful stop off after visiting Pembroke Castle.
The Griffin, Dale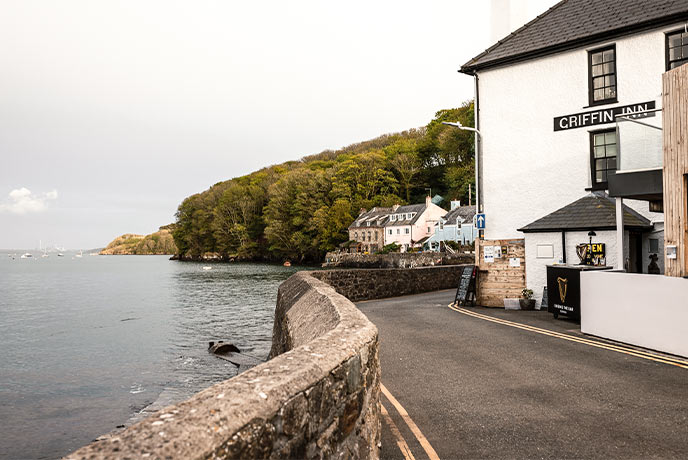 Dale, Haverfordwest SA62 3RB
Lying in the small but perfectly formed seaside village of Dale, The Griffin has been a pub and restaurant for over 300 years, set right on the water overlooking the mouth of the Milford Haven waterway. An award-winning eatery, its speciality is focussed on seafood caught in the local area.
Dishes are simple but beautifully cooked, allowing the ingredients to sing for themselves, whether you've a hankering for lobster, gurnard or razor clams, or steak, lasagne or vegan crumble – every taste is catered for, and there's even a children's menu. With floor-to-ceiling glass windows making the most of the sea views and a roaring wood fire, this is a lovely spot to visit in the colder months, while the patio is just perfect for summer feasts.
The Brewery Inn, Cosheston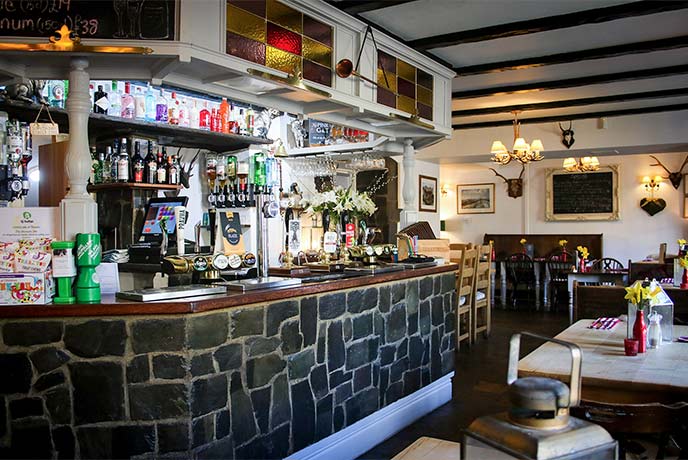 The Cross, Cosheston, Pembroke Dock SA72 4UD
Much-loved by locals and visitors alike, a stop at the The Brewery Inn is a must when visiting Cosheston or after exploring nearby Upton Castle. Describing its food as 'proper pub grub with a dash of panache', this dog-friendly pub serves lip-smackingly good food such as black pudding and honey Scotch eggs, moules marinière, lamb shank and beef short ribs, as well as excellent veggie/vegan options and a children's menu.
A Free House at its heart, there's a fantastic selection of beers, ales, wines and spirits to choose from to make your meal go swimmingly – just make sure to book ahead as it's so popular!
The Really Wild Emporium, St Davids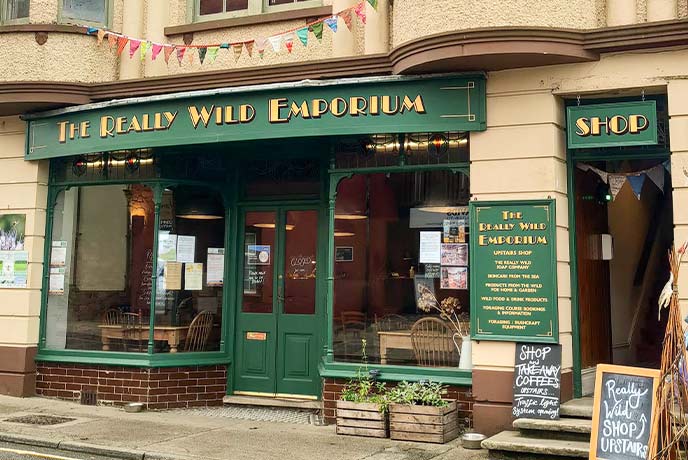 24 High Street, St Davids SA62 6SD
This fantastic spot is the place to go if you're passionate about eating truly local. With a six-course tasting menu, everything served at The Really Wild Emporium is mainly foraged or sourced from local Pembrokeshire producers. There's a menu for vegans too, so everyone is catered for.
With passionate staff who really know their stuff and a setting that's laid back and rustic, this is the perfect evening out when you want great food without the pretence. If you're feeling inspired after your feast, these keen folks offer foraging courses that explore the Pembrokeshire coastline as well as along the River Cleddau.
Westgate House, Tenby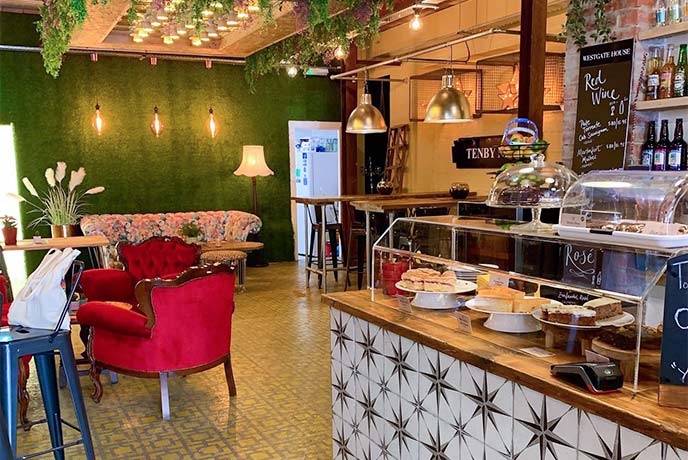 15 Westgate House, South Parade, Tenby SA70 7DL
A great stop off for brunch, lunch, coffee and even cocktails, Westgate House makes for a fantastic place to eat during the day - made even better by a glass of something special. Whether you're after a fresh crab sandwich paired with a chilled glass of white wine, or homemade beans and eggs on sourdough with a latte, there's plenty of choice.
Open some evenings, they create fantastic meat and cheese boards to soak up their delicious cocktails (the menu is fabulously extensive!) and occasionally they have live music too. Afterwards, stroll around the ancient cobbled streets, soaking up the medieval history of this characterful seaside town.
Cŵlbox, Saundersfoot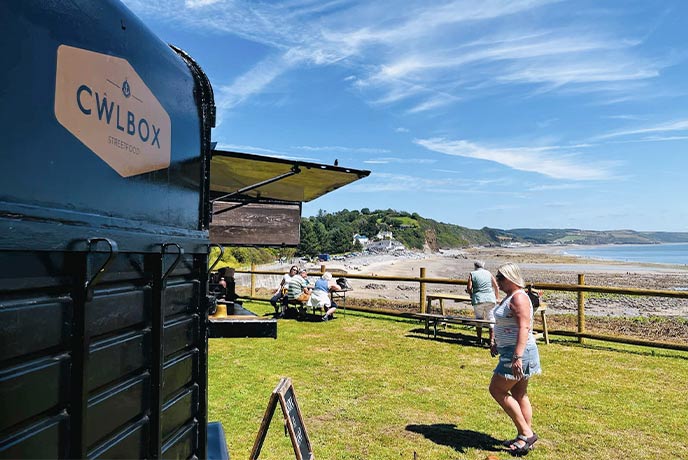 Saundersfoot Beach, Wiseman's Bridge, Saundersfoot
After a morning of swimming and paddleboarding on glorious Saundersfoot Beach, make sure to pop along to Cŵlbox for replenishment! Serving a selection of goodies from a lovely little horse box with lots of picnic benches spread over a grassy knoll, this is a wonderful spot with beautiful sea views at the west end of the beach.
Expect delicious street food such as bang bang prawns, dirty fries, halloumi burgers and the like - this is laid-back food just perfect for a day on the beach. It's super dog friendly (as is the beach) with bowls of water on hand and treats too. Check their Facebook page ahead of your visit as they can be weather dependent.
MamGu Welshcakes, Solva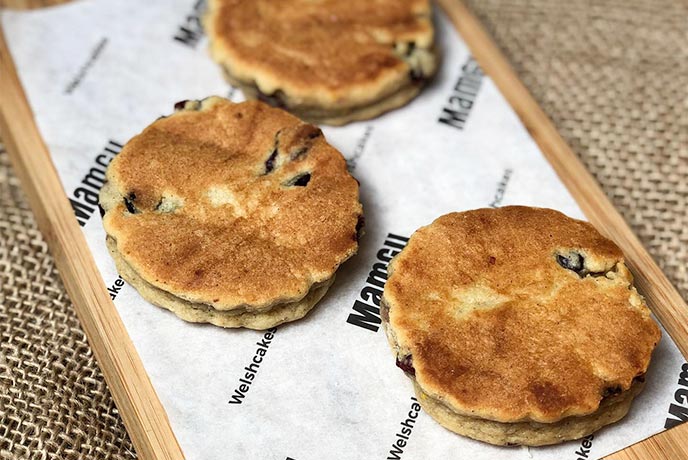 20 Main Street, Solva SA62 6UU
If you've never had one (or only ever had shop bought), head to the incredible ManGu Welshcakes in the pretty harbour village of Solva to find the best you'll ever taste. So popular they even have an online shop these days, step inside and you'll find both sweet (cinnamon, honey and lavender and ginger for example) and savoury (such as cheese and leek and el Mexicana) Welsh cakes, while vegan and gluten-free options are available too, all served fresh and hot off of the griddle.
Of course, there's plenty of other things to eat, all washed down with Pembrokeshire tea and fantastic coffee. The best thing? When you're back home after your holiday, you can order these delicious morsels to be delivered right to your doorstep.
Runwayskiln, Marloes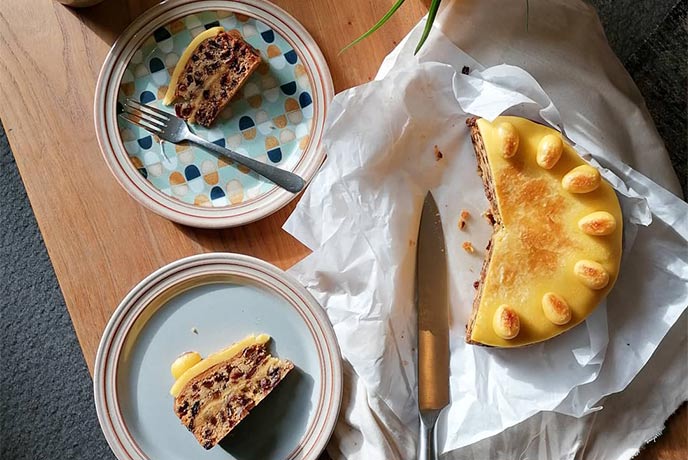 Marloes Sands, Marloes SA62 3BH
Nature lovers adore the golden sands and prolific wildlife of Marloes Sands, and whether you've been spotting seals in the water or walking through the surrounding deer park, a visit to Runwayskiln for lunch is a must. With hearty dishes such as smoked haddock gratin, beer-battered hake and chips and Myrddin Heritage pork and bean tacos, this is more than your average café!
They also serve breakfast rolls should you need something to fill you up before you set off exploring, and coffee and cake is served up to 6pm. Indoor space is cosy with just seven tables, but there's lots of space outside when it's sunny and they offer a takeaway service too. The kiosk is open all week, while the kitchen (which serves full meals), is open Wednesday to Monday.
Paternoster Farm, Pembroke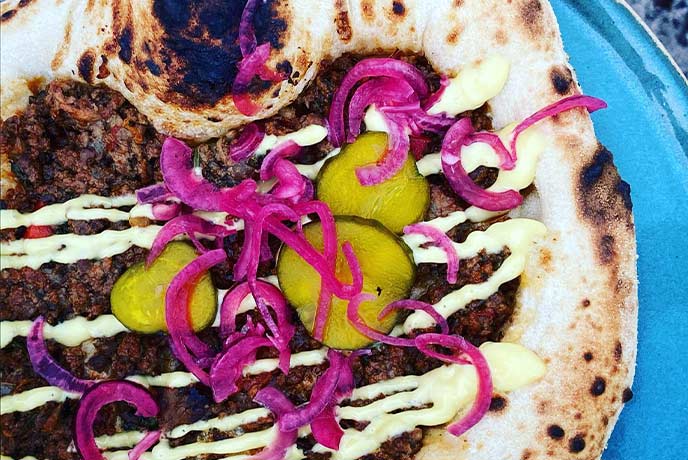 Paternoster Farm, Hundleton SA71 5RX
If you're looking for a hidden foodie gem, you can't get much more hidden than Paternoster Farm, which sits nestled in the beautiful countryside near Pembroke. Calling a former cowshed home, this quirky eatery is the passion project of self-taught Michelle Evens, who swapped legal humdrum for culinary creations - and we're so pleased she did!
Celebrating farm-to-fork in the tastiest way, you'll find an ever-changing menu here that makes the most of seasonal and local produce. Open Friday and Saturday evenings, this is one foodie experience you won't want to miss. Check out the farm's social media for updates on the incredible menu!
Nags Head, Abercych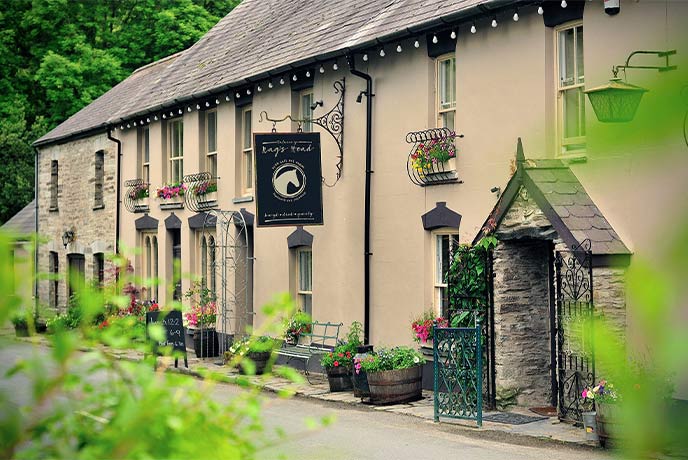 Abercych SA37 0HJ
If you've spent the morning visiting the majestic Cenarth Falls or walking through the Ffynone woods to find the impressive Ffynone Waterfall, chances are you'll have worked up an appetite and there's no better place to stop than at the Nag's Head. Using local produce, this lovely hostelry offers traditional pub grub and epic Sunday roasts (Welsh roast beef, or parsnip and wild mushroom nut roast anybody?).
For ale-lovers, there's a fantastic selection to choose from with a focus on local microbreweries such as Mantle, Bluestone and Cardigan Bay, while there's an excellent selection of Tanners wines. There's a lovely garden (complete with bubbling stream) with covered seating, while inside there's a welcoming roaring fire beneath the eaves – bliss!
Mrs Will the Fish, Solva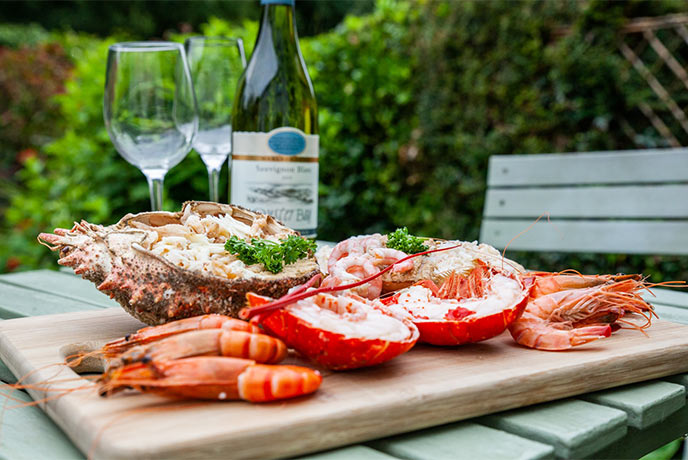 Parc Benny, Solva SA62 6TN
If you're a seafood lover, look no further than Mrs Will the Fish. Serving delicious takeaways such as a seafood whole lobster platter, delicious seafood crab platter or more simple fare such as dressed brown crab, spider crab or lobster, this is definitely more than your local chippy!
Whether you opt to take it back to your holiday cottage or head to the beach for a decadent picnic, Mrs Will is the perfect place to go to. Make sure to order in advance and pick it up before 3pm.
Feeling peckish? Take a look at our beautiful holiday cottages in Pembrokeshire and start planning your foodie getaway today.