Home to over 52 beaches and jaw-dropping coastline, Pembrokeshire is a haven for both two and four-legged wanderers.
As atmospheric in winter as serene in summer, its vast sandy swathes and secret coves make for the perfect playgrounds for those looking to enjoy a backdrop of golds, blues and greens. Tear yourself away from your luxury cottage, grabbing leads, boots and treats, and make way for one of Pembrokeshire's top dog-friendly beaches:

Best beaches to visit in summer
Barafundle Bay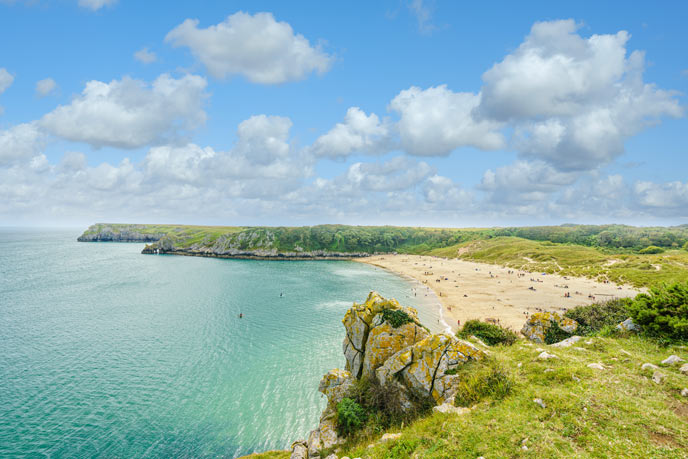 A natural and tucked away beach.
One of the most beautiful Pembrokeshire beaches, Barafundle Bay is a glistening gem painted with turquoise seas and golden sands. Boasting the much-coveted Blue Flag status, its untouched natural beauty is in part thanks to its location off-the-beaten-track. A gentle arch backed by dunes and woodland, it is only accessible along the coast path, with the nearest car park found in Stackpole over half a mile away. Of course, we don't think your pup will mind the extra leg pump – and the prize at the end is more than worth it!
Freshwater East
A family day out kind of a beach.
A fantastic option for families with youngsters and loyal canine chums in tow, Freshwater East offers something for everyone. Just a short walk from the village, the beach's powder-soft sand compacted along the shoreline provides the perfect surface for energetic games of fetch, before diving into the crystal-clear waters to cool off. Play, relax and play some more, and, once you're all ready for replenishment, there is a shop and café nearby too.
Freshwater West Beach
For long strolls along the beach.
Watch your dog leap and bound with joyous abandon along the honey-coloured sands of Freshwater West Beach – a spot once infamous for its connection with smugglers. A long sandy expanse hugged by the undulating dunes of Broomhill Burrows, this beach is ideal for those looking to enjoy dreamy strolls along the water's edge, padded paws and pink toes cooled by the gentle lap of the sea. Find yourself a sheltered spot for a cwtch with your pup before heading off once more, finding refreshment at the seasonal Café Mor.
Manorbier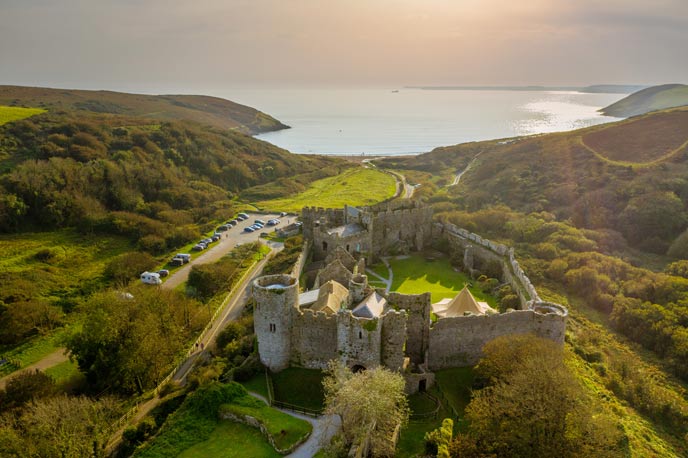 Perfect for pretty and historic sights
Indescribably pretty, Manorbier beach won't fail to win over human explorers, while dogs may be more interested in all the exciting new sights and scents! Surrounded by cliffs and overlooked by 12th century St. James Church and the medieval Manorbier Castle, this beach is a picture opportunity at every turn. Paws for thought drinking in the views and meander your way along the soft sand. Dog-friendly year-round, this is somewhere you'll want to come back to again and again.
Monkstone Beach
A walker's ideal spot.
Only a couple of miles from the multi-coloured cottage fronts of Tenby, Monkstone Beach provides another solid argument for why the Pembrokeshire coastline is the most beautiful in the world. A stretch of fine sand that narrows with the tide and peppered with rock pools, its gorgeous setting will call to active types looking to experience its beauty first-hand. To get there, wander along the coast path and take the 150 steps down to the beach.
Newport Sands
Good for huge expanse of beach for games and walks.
Lap up the views of Dinas Head at Newport Sands and give all your pack the adventure of a lifetime. Known locally as Traeth Mawr, the Welsh translates as "big beach" – which is no understatement. At around one and a half miles long, the tide recedes to reveal a huge expanse of sand, perfect for throwing frisbees and tennis balls for your four-legged friend and, of course, finding somewhere quiet to unwind afterwards. Park in the village (there are plenty of options) and head down the slipway to get onto the beach, later making use of the local dog-friendly eateries such as Cat Rock Café.
Porthsychan Beach
The scenic coastal walk beach.
A quiet secluded beach best reached via the coastal path. The beach is mainly shingle and pebble and is great for rock pooling. Due to it's location the area is seldom busy and dogs are allowed year round, making it the perfect mid walk pit stop. Want to stay nearby? Check out our properties in Fishguard.
Best Winter Beaches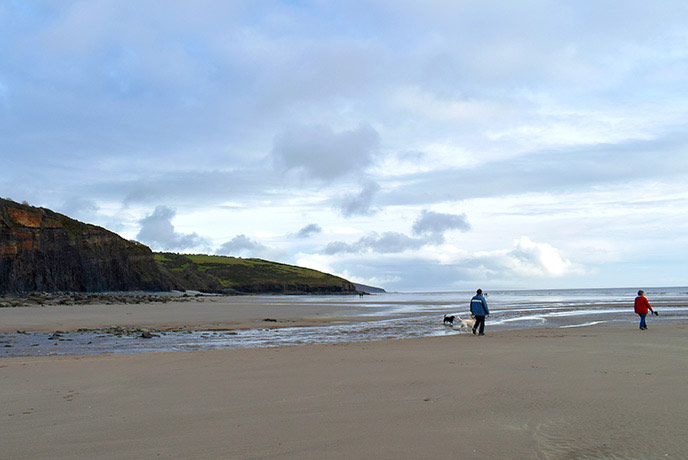 Brilliant for coastal walks and beach games.
A real doggy paradise, Amroth is sure to be a firm favourite in no time. Taking on an almost surreal quality in winter when milky skies are reflected in the thin veils of water topping the sand, it really is beautiful. Of course, your dog will adore letting off steam here as you admire the scenery, scattering paw prints along the shore and saying hello to new friends. And, if you fancy extending your walk, you can walk to Saundersfoot beach from here along the coast path: a 2.5-mile route that takes you past Wiseman's Bridge.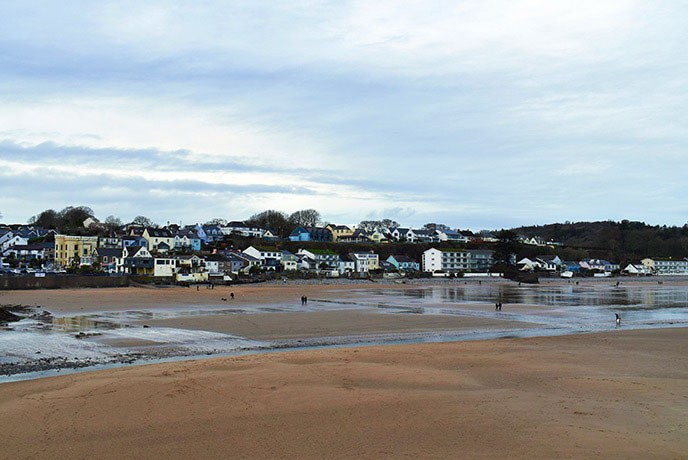 A town beach.
A popular summer seaside town, Saundersfoot is graced with a massive sandy beach. A real attraction for dogs and their faithful humans, this beach is dog-friendly in the winter months and a great location for exhilarating walks. Pop it on your list of the top dog-friendly beaches in Pembrokeshire and head over; once you've finished your walk, wander over to the harbour and watch the activity before warming up in one of the local cafés.

A beach with spectacular views.
A lovely sandy beach between Tenby, the castle and St Catherine's Island. At low tide it's possible to walk to St Catherines Island where you can reach a historic fort up a steep flight of steps. From here you'll have fabulous views of the beach and town. A great run around for the dog too. Check out our properties in Tenby here.
Blustery water sport spectating.
Another great option for summer sojourns, Broad Haven Sands comes into its own during the winter months for canine companions. One of two beaches cradled within the sweeping arc of Brides Bay, its gentle gradients, smooth sand and jaw-dropping panoramas are all but part of its appeal. Pad across the sand with your waggy-tailed mate and watch the lithe shapes of windsurfers and kite surfers catching air and cutting over the water.
Little Haven Beach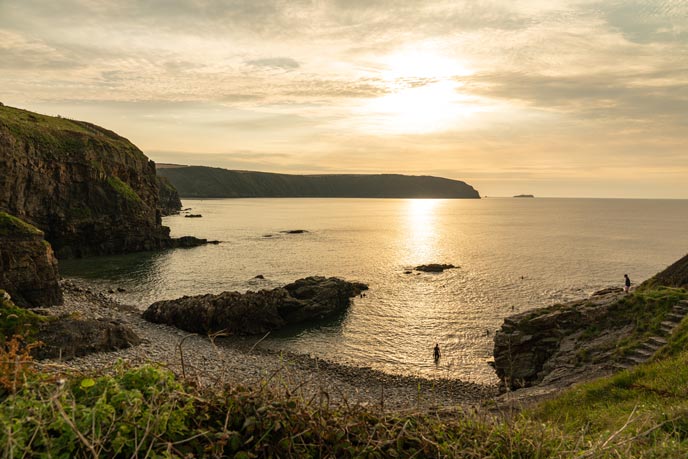 A quaint village beach.
This small inlet is pebbly and ideal for families. There are lots of rockpools to discover so don't forget your bucket and net. At low tide it's possible to walk round to the wide sandy bay next door called The Settlands and further round still to Broad Haven beach. If you want to stay in Little Haven, we have a lovely collection of properties in the area, check them out here.
Take a look at where all these fabulous beaches are on the map below.
If this has tempted you to stay in the gorgeous county of Pembrokeshire why not have a look at some of the fabulous places you can stay in here.
To find out more about Pembrokeshire, check out our guide to Pembrokeshire blog.