Chimney maintenance for your holiday home
Letting with classic
Halt the fire before it starts!
The idea of sitting next to a roaring fire, with heat flooding the room and a rosy glow in our cheeks, is for most of us one of the highlights of the holidays. The warmth of flickering flames and the atmosphere it can add to a room is enough to make anyone's toes curl; however, majesty can quickly turn to misery. With around 7,000 chimney fires every year in England alone, it's imperative that we do our bit to minimise risk and keep safe.
Even though it is actually a legal requirement for Owners to carry out a fire risk assessment at their holiday home, and to have it regularly updated, we have put together a few more top tips to keep you safe this winter.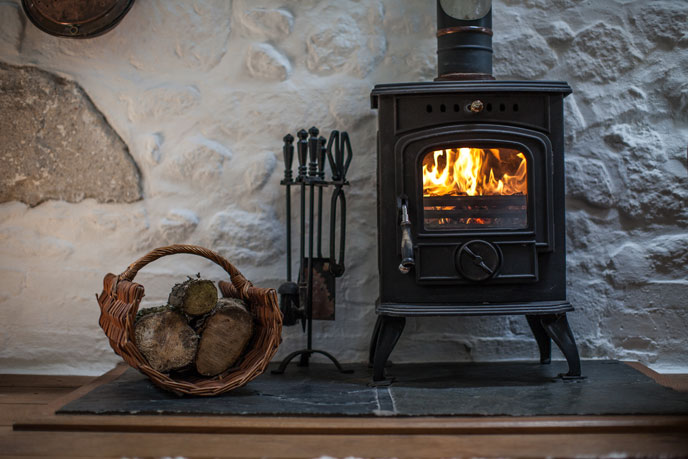 Regularly cleaning and maintaining your chimneys and flues
If you haven't used your chimney for a while: sweep it. Chimneys can easily get blocked, from bird's nests, to moss, to soot build up. As a consequence of this, the threat of chimney fires and carbon monoxide poisoning is greatly increased, putting yourself and guests at risk. However, there are many services you can contact who will provide professional help to regularly maintain your chimneys and put your mind at ease.
Visit these online websites to get in touch with your nearest network of professional chimney sweeps:
The Guild of Master Chimney Sweeps, www.guildofmasterchimneysweeps.co.uk; The National Association of Chimney Sweeps www.nacs.org.uk.
Steering clear of burning unseasoned, wet wood
Unseasoned wood has the highest content of moisture. Not only does it burn very poorly, it also causes highly flammable creosote to quickly build up in your chimney which causes a real risk of fire. Be sure to use wood that has been well-seasoned for at least one year to enjoy the warmest fires with least risk!
Making sure embers are properly put out before leaving the room
Overnight burning and leaving wood to smoulder are some of the most common causes of chimney fires. It may look like a fire has gone to sleep, but it is incredibly easy for embers to spark back to life. By ensuring that you have properly put out your fire before going to bed or leaving the house, you can remove the risk of losing control of your fire.
Displaying a fire notice
All owners need to provide guests with a fire notice so that they know what to do in case of a fire. Some guests may not be familiar with fire safety, so displaying a fire notice will help if there is any uncertainty.
Using a fire-guard
Fires commonly spit and spark. By investing in a good fire guard for your home you minimize damage to furniture and floors, but more importantly the risk of fire. Make sure your guard is available all year round so that guests are protected whatever the weather!
Removing flammable objects and accelerants
When considering the placement of appliances and furniture, make sure there is nothing flammable too close to fires or BBQs. Additionally, remove any liquids and materials that may be used to artificially accelerate the lightning or burning of fuels. This is so that guests won't be at risk of dangerously attempting to cook food or light fires.
Purchasing the appropriately sized appliance for your room
Like burning damp woods, using appliances that aren't the right size for your room causes creosote build-up. An appliance that is too large for a room, for example, cannot be used at a temperature hot enough to volatize all the fuel within wood, leaving smoke from unburned fuel to pass up the chimney and condense as creosote. Seeking professional advice and investing in the correct size appliance can save costly damage and a lot of stress.
Purchasing a fire alarm, and regularly checking batteries
If worse came to the worst, making sure that fire alarms and batteries are regularly tested could save your home and save lives. Classic insist on smoke detectors, carbon monoxide alarms and fire extinguishers to be present in all holiday homes.