Tips for reducing energy, water and waste in your home
How to holiday let

Making your home more energy efficient comes in many forms. From significant changes, such as installing ground source heat pumps, through to the type of firewood you buy.

Our guide walks through the ways we can make changes to how we run our homes to reduce energy usage and waste as well as methods to improve water preservation. We've also added some useful links so you can find out more about the subjects covered.

Quicklinks to each section below: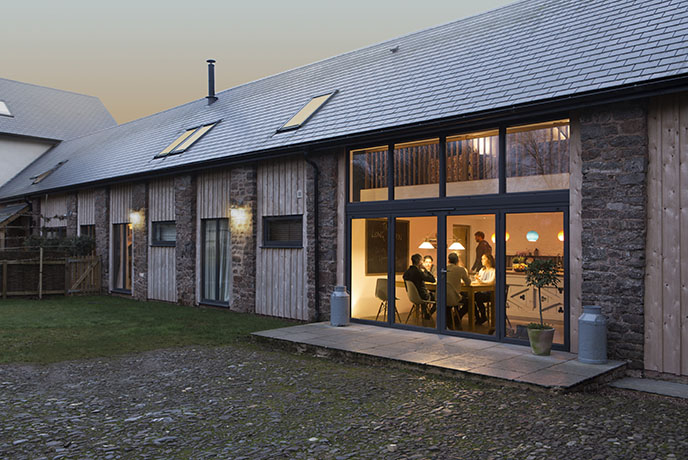 1. Energy
Insulate
Good insulation keeps your property warmer and dryer in the winter, and cooler in the summer. It will save money, reduce carbon emissions, and protect the fabric of the building from mould. The most effective methods include:
Loft insulation
Installing effective loft insulation can save you hundreds of pounds on energy bills, according to Which?, who've published a detailed article last year on the cost savings on loft insulation.
Draught exclusion
Make sure you reduce draughts around doors, windows, floorboards and other routes to the outside such as letter boxes and open chimneys. Draught proofing windows and doors could save you around £45 per year, according to the Energy Saving Trust. Plus, draught free houses feel more comfortable because there is less cooler air movement, so there is a theory that the thermostat will not need to be as high.
Double glazing
There really is every style of window available in double glazing now, so you do not need to worry about this impacting the aesthetics of your house. There is also a variety of materials to choose from. Which? have put together a guide to different window types and where to buy them from.
Floor insulation
The amount you can save on energy bills by installing quality floor heating depends on two things; the type of property and the type of floors. A typical suspended floor in a detached house could save you as much as £130 per year in heating bills.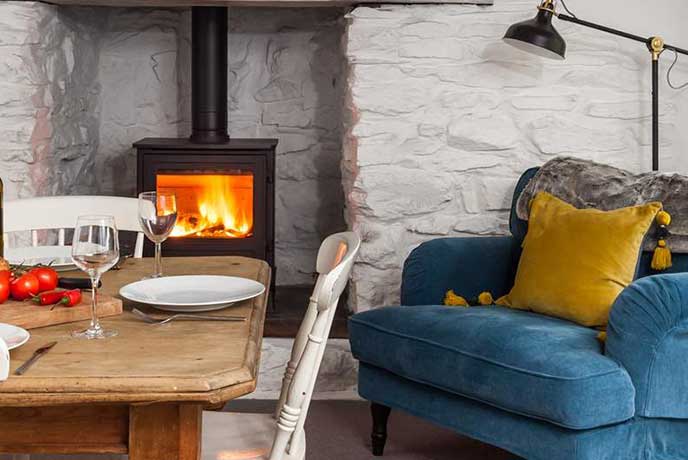 Burn dry wood
If you have a wood burning stove, buy the right wood. Damp wood is bad for air quality and doesn't warm well; imported wood brings a huge carbon footprint. Buy local, buy seasoned and/or kiln dried wood and insulate your property to make sure the fire isn't just heating the sky!
Stove industry alliance have highlighted the heat output from a log at different moisture levels (kWh):
20% or less moisture content = 5kWh
30% moisture content = 3.3kWh
40% moisture content = 2.7kWh
By burning dry wood, it produces more heat and therefore means you don't need to burn as much – this means that in turn you will also save money on wood stock. Read the full article on using dry wood here.
Buy quality equipment
When buying new equipment, choose the most energy-efficient option you can afford. Don't assume anything before purchasing. Every tonne of equipment we buy, such as white goods, costs about ten tonnes in raw materials. They're resource expensive. Make sure you're getting the most energy efficient.
What to look for when buying new appliances
Look for the energy label. This tells you how much energy that particular item uses. It is also good to consider the size of the appliance you need. This is a quick and easy way to reduce energy usage.
How to read an energy label on an appliance
Each appliance is rated by the amount of energy it needs when used. The scale is A - G, with A being the most efficient. It is also worth noting that the size of the product also impacts on the energy usage but does not change the label. For example you can have a different sized fridge, both with the energy label A, but the larger fridge will inevitably use more electricity.
Example
According to the Energy Saving Trust, if you take a G-rated 265 litre fridge freezer, it would cost around £80 a year to run, whereas a larger 424 litre fridge freezer with an F rating could cost around £90 a year to run.
Install energy saving technology
From low energy light bulbs to renewables, if your home is right, you can install new technologies such as air source or ground source heat pumps. You need to ensure your home is extremely well insulated first to ensure optimum impact; the technology is not yet cheap, although some support may be available. The government are offering the following grants up until 2025:
- £5,000 off air source heat pump installation costs
- £5,000 off biomass boiler installation costs
- £6,000 off ground source heat pumps
To check whether you're eligible, read their terms here.
Renewable energy supplier
All progressive businesses are now considering their energy source. The money you pay each month is either going principally to investments in fossil fuels, or principally to renewables. It's currently an uncertain time to move energy provider: but it's certainly worth understanding what your current provider is doing and ascertain whether or not there is any greenwashing you need to challenge.
With energy providers, this includes them saying they are "going net zero" when it simply means they are continuing to invest in fossil fuels and planting some trees to "compensate". They may often use the term "offsetting". Good businesses will reduce all the carbon they can, and then possibly offset the remainder of the carbon they can't reduce. Businesses that are not reducing their carbon emissions (for example offering the same product or service without improving its environmental impact) and at the same time "offsetting" are guilty of greenwashing.
Which? have recommended three "Eco Providers" for 2022, based on their analysis on green energy companies. These are Good Energy, GEUK and Ecotricity.
2. Water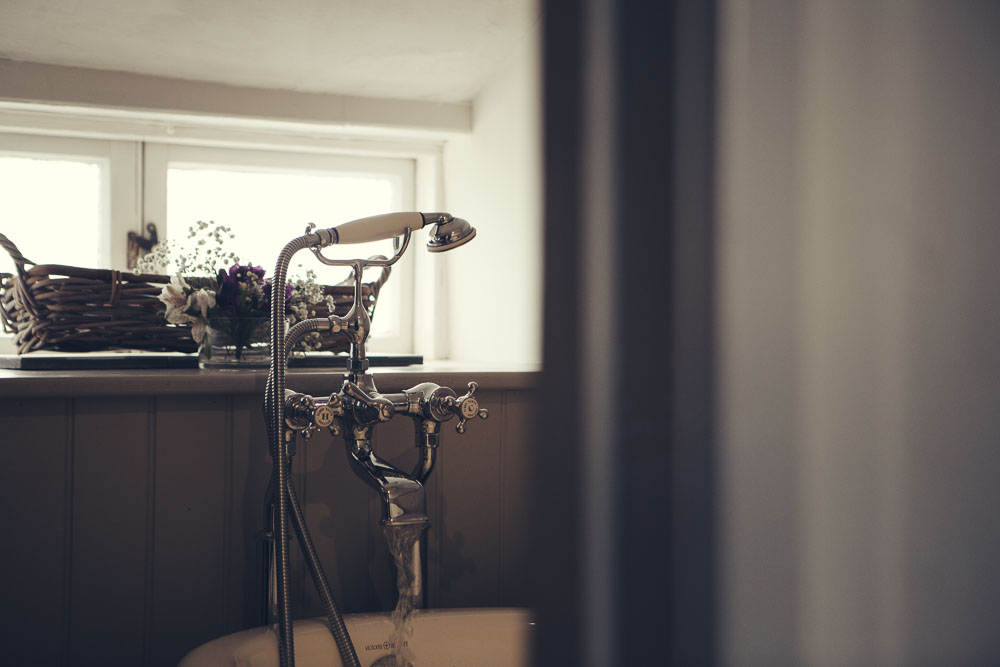 Manage your water use in your property optimally by installing appropriate water-saving devices. These include:
Aerating shower and tap devices
By aerating the water as it comes out of the tap, it helps to reduce the amount of water used. These can be fitted to existing kitchen taps easily.
Small cisterns in toilets
New toilets can be fitted with smaller cisterns, meaning they require less water on every flush. There are also cistern displacement devices. These can easily be put into the toilet cistern. When you flush, it inflates and saves you water (this can save up to two litres of water every time you flush).
Install a water butt
Fit a water butt outside for gardening (which can store up 200 litres of rainwater). With hosepipes using up to 1,000 litres an hour, a water butt is a cost saving and water saving exercise.
If you're not sure where to start when it comes to buying and installing a water butt for your holiday let, 'gardener's world' have published an article explaining all of the details, naming the top brands to buy, ranging from £37.99 to just over £400.
3. Waste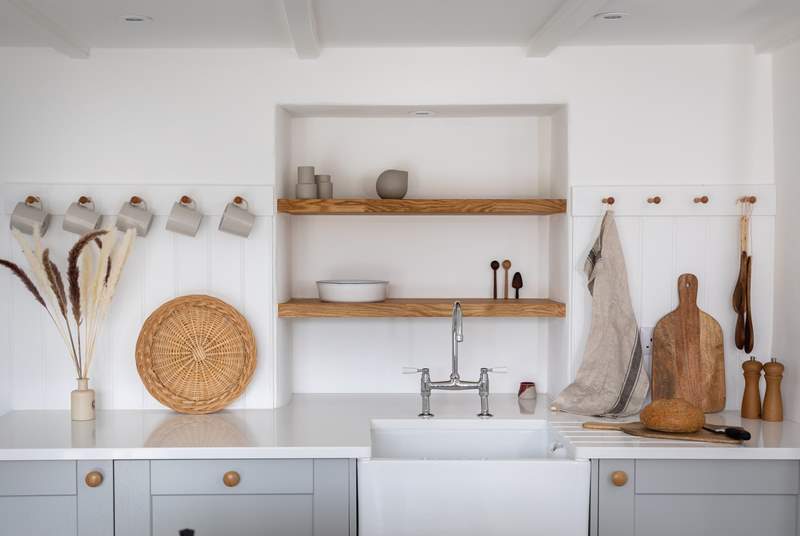 Reducing waste doesn't necessarily help with your home's energy efficiency but it is key to helping our natural environment. Here are a few simple ways to make sure you're providing guests with everything they need so their holiday can be as environmentally friendly as possible:
Refillable bottles
If you use refillable bottles throughout your home for essential items, such as soaps and washing up liquid, not only could it reduce the amount of money you spend on these items, but it will also reduce the number of plastic bottles being purchases. There are now refill stations and shops in most towns across the country, offering food and dried goods as well as low-impact cleaning products.
Help guests to recycle
Create inspiring and engaging signs to explain what goes in which recycling bin. The more effectively people use them, the less hassle or clearing up you have to do. And then thank them!
Compost
Use a caddy and a compost bin and encourage your guests to compost their vegetable peelings, coffee grinds, eggshells and fruit cores. You can buy simple biodegradable bags to put inside the caddies for them to take to the compost bin outside.
Communication is key
It is important to involve the guest and share how you are taking action to reduce your home's impact on the environment. This way they will want to help you help the planet and will be conscious of their energy usage when they stay at your property. Oh, and make sure you say thank you! Guests will enjoy being involved when it comes to helping the planet, and thanking them is just a nice sentiment and will go a long way.
If you would like anymore information on how to make your holiday home more energy efficient, please contact the Classic team on property@classic.co.uk and we'd be happy to provide any suggestions or advice on the subjects discussed above.